There is a kind of silence and tranquility about William's running.  Occasionally there might be a hard set to his jaw but his steps are always light and his pace almost precise and clock work efficient.   A veteran of many many ultra races he is a consummate endurance athlete.  No bravado, no hype, just get on the track and go for as long as you can.  After 22 days that of course is a significant total.
His mileage to date is 1288 miles.  A good number by any standard but still a little off the pace which is 1,311.  When you see him run, particularly late in evening when the track becomes his almost serene personal loop, there is little doubt he will gradually gather up all the missing miles and then some.
"We were hit with a heat wave earlier on and though I do heat training before I come out here.  It obviously doesn't equate being hot for 18 hours a day.  I had to work my way through that."  William also had a day of stomach upset that also set him back.
"I cope with everything and I am very philosophical.  My philosophy is to run as far as I can every day.  Despite the circumstances, whether it be physical or weather issues, or health.  Whatever I get I am happy with.  That is my philosophy so I might as well relax.  I am more relaxed than I was 4 years ago."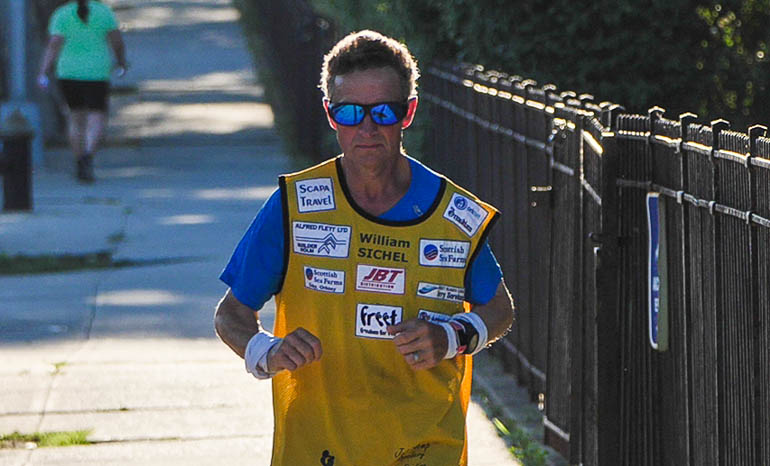 "With experience you learn to look at the bigger picture.  The vast majority of time it is just about the next lap, this day, and nothing more.  That is the way I do it."
"I have various athletic goals.  To finish in a certain position and obviously I would like to complete the distance within the time limit.  But to be honest I wouldn't be devastated if I didn't.  As long as I have done my best to achieve the greatest possible distance every day."
"I try to make everything as simple as possible.  I used to have complex plans and mantras.  I still do use mantras occasionally.  Mostly I just boil it all down and focus on my breathing.  If my mind is drifting or I think I have a problem I always bring it back by focusing on my breathing.   That is the most important thing I am doing."
"Most of the day I am just thinking about my breathing."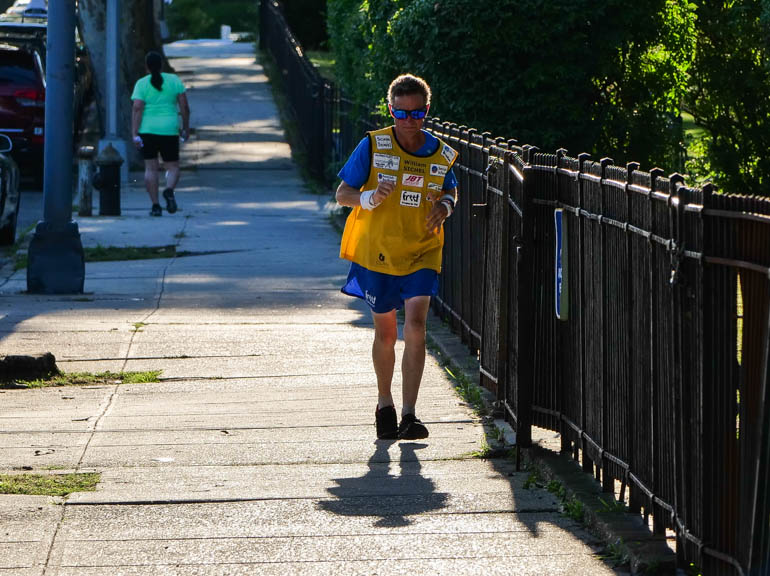 William says it gives him peace and he appreciates the simplicity of it.  "It is always there.  I am not forcing any changes.  The breath is doing its own thing.  I just go along with it."
"It is essential for me to have a crew supporting me.  4 years ago I tried to go without for the first 2 weeks, so I do know what it is like being unsupported." He says that too much time is wasted if he doesn't have the support of helpers.
"I do love the evenings. I love it after 8 or 9pm especially.  To me that is when I come alive, when it goes quiet here.  The crowds have all gone it is just me and the race.  To me that is my golden time, the evening."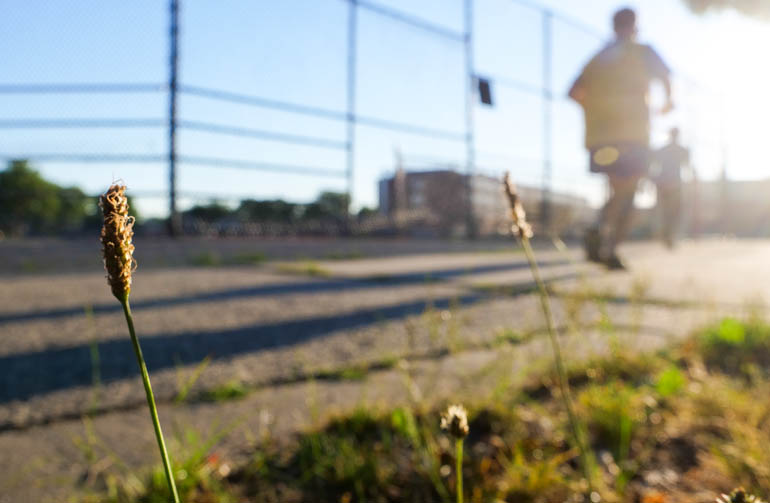 The condition of Yolanda's feet was such that she went to a foot specialist to seek further treatment.  On her facebook page she released the following statement.  When the opportunity takes place I will ask for a further update.
The New York concrete got the best of my feet! I must stay off my feet for two weeks Thanks Dr Haskins & Dr. Karen Silver!!!
The Board at the start of Day 23 *Note the totals may not be accurate* The magic number is 1,311 miles
The early time
The morning chat
Paramartha setting up the tables
William comes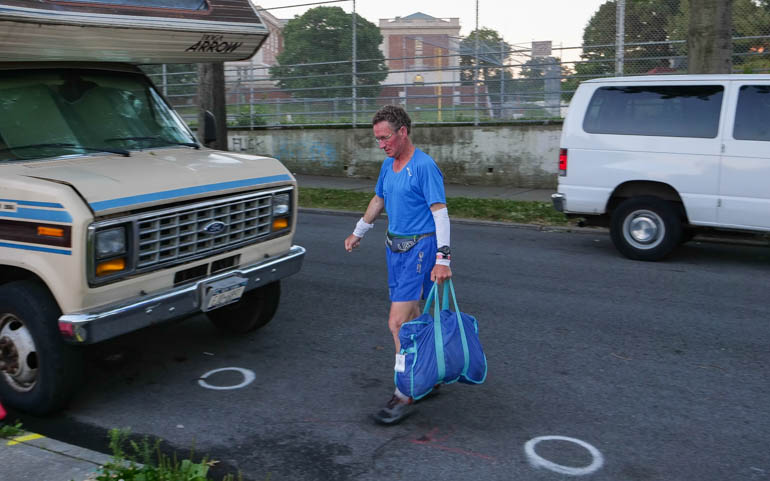 Rupantar checks the daily mileage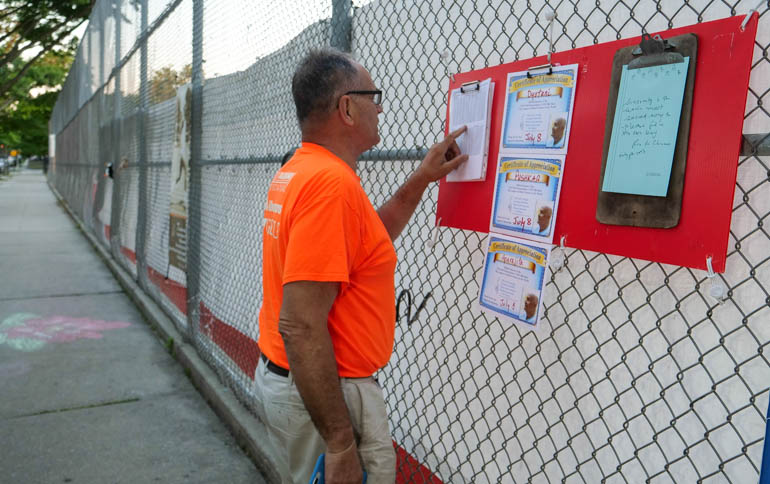 Surasa arrives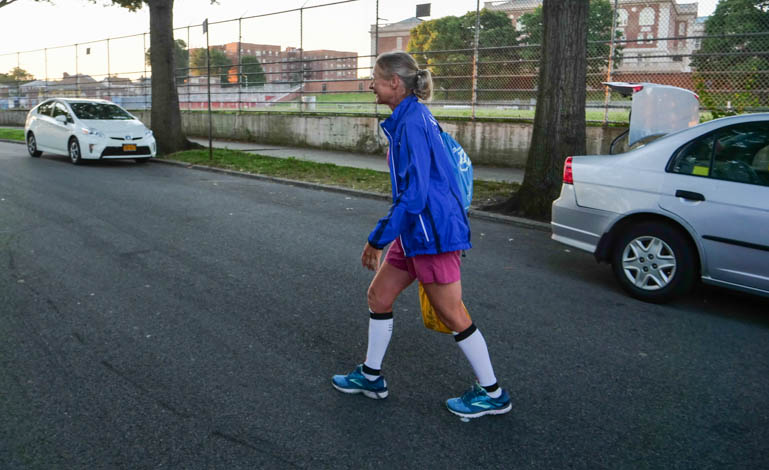 Sorting out the counting tables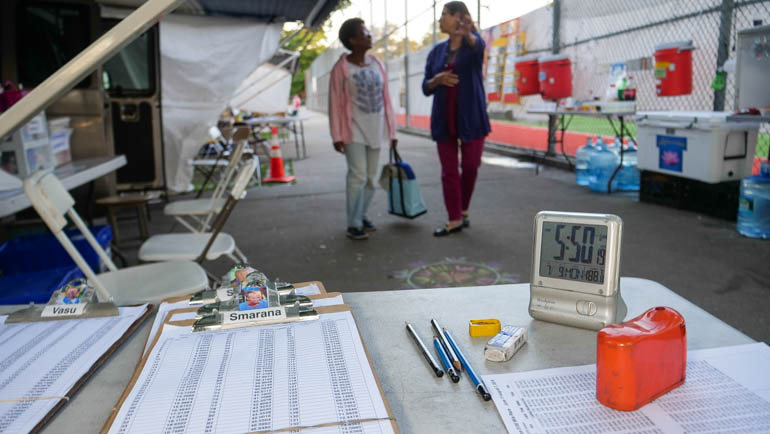 At work with Kobi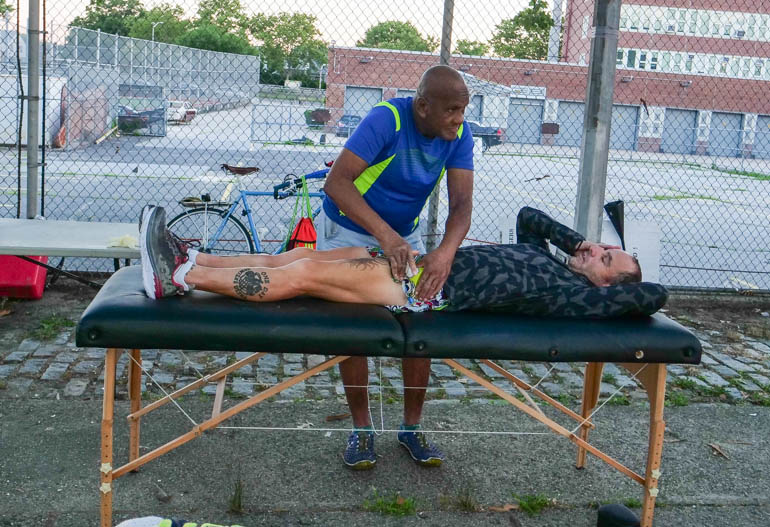 William with his feet
Kaneenika comes
Smarana and Ananada-Lahari
Vajra leaves
Ushika
Heading to the tables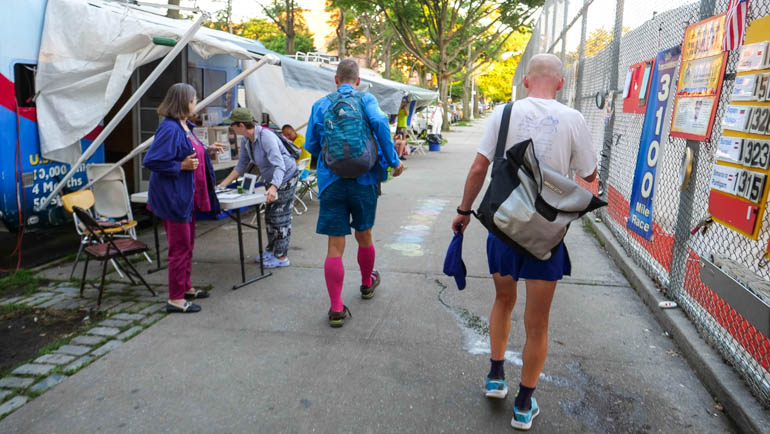 The Girls
Start Day 23
A beautiful morning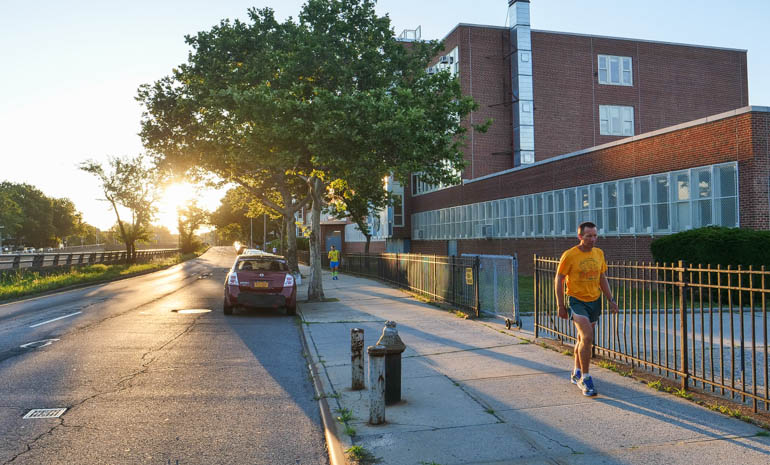 Vasu did 68 miles
He will pass half way early in the day.  The presence of Kobi has inspired him to run harder just as Vasu inspires Kobi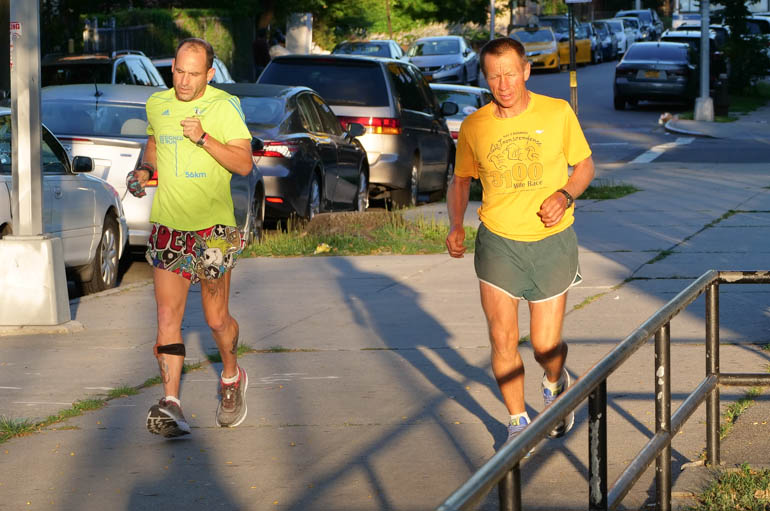 Vasu has 1541 miles
With Alexei
He leads Kobi by 30 miles
Vasu gets mail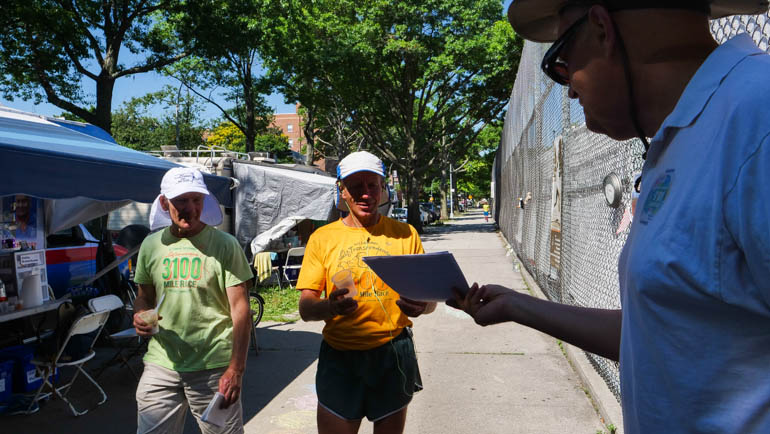 Flower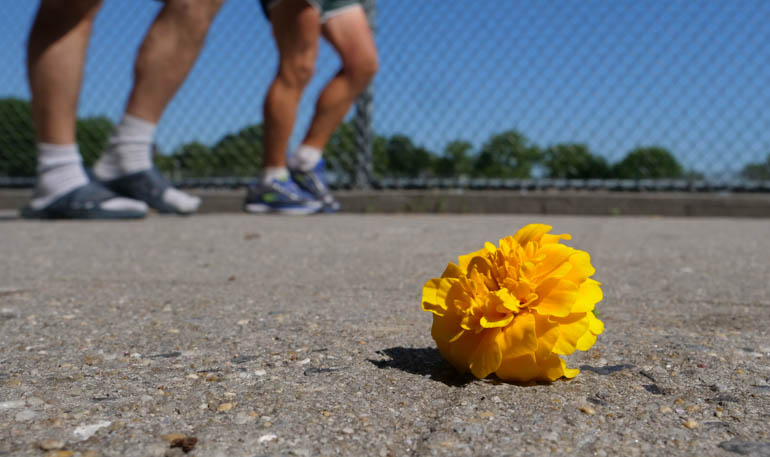 Bashata counting
Kobi did 63 miles
Kobi has 1511 miles.  Every morning he thanks the singers for coming out to inspire the runners.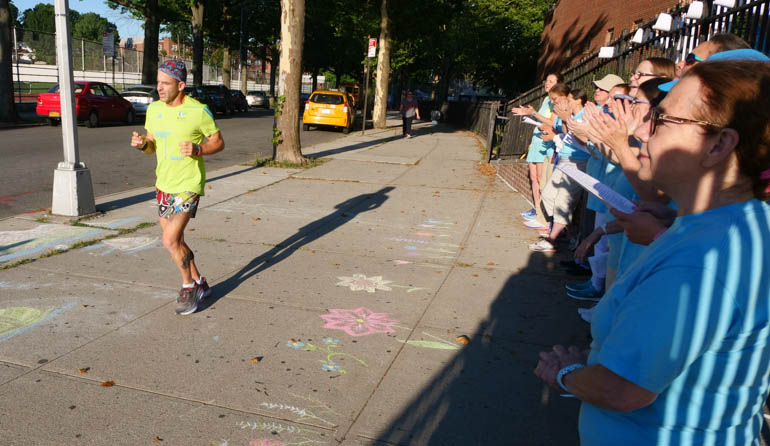 Kobi is doing very very well
Oskar has just come back with some frozen treats
Flower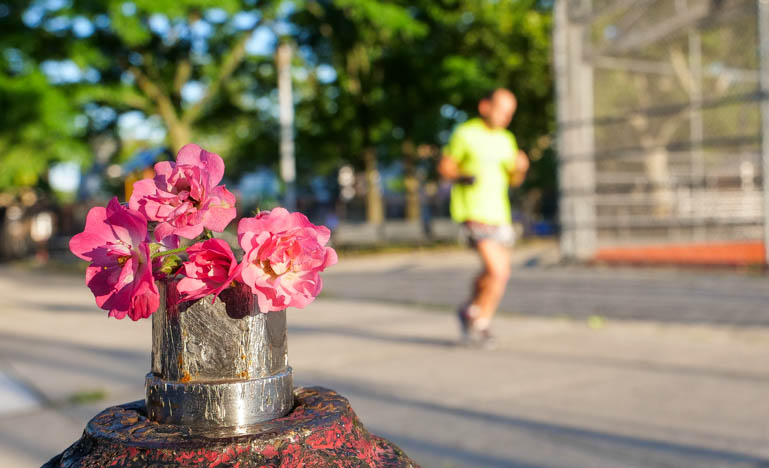 Just passing through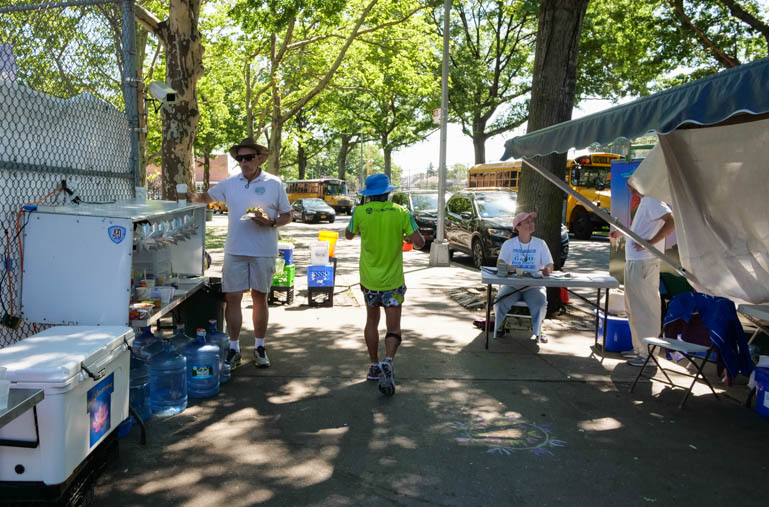 Sopan did 62 miles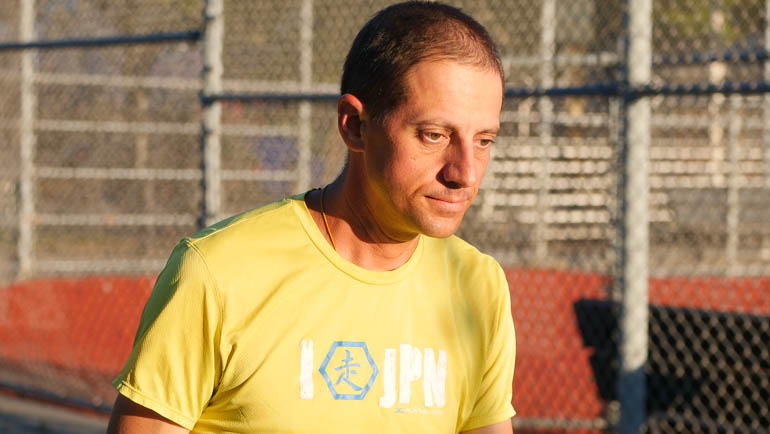 In the footsteps
He now has 1330 miles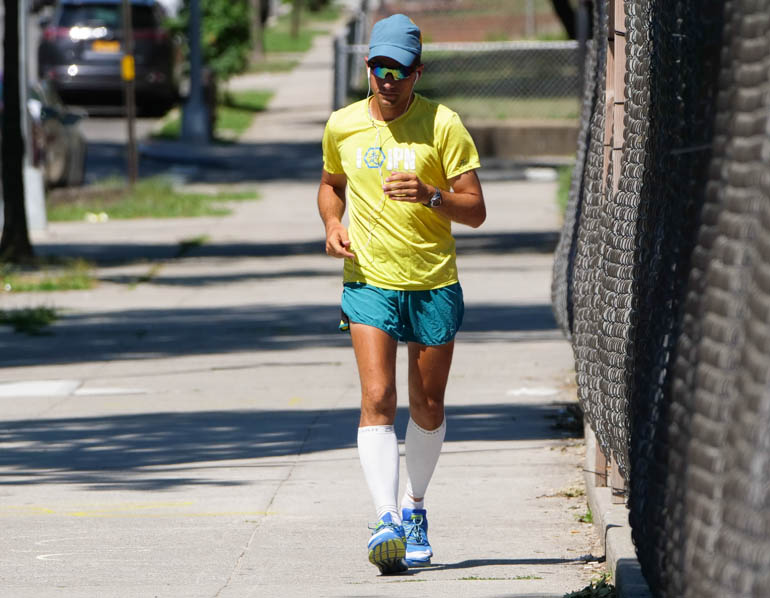 Sopan is 19 miles above the magic number
Flower
Surasa did 61 miles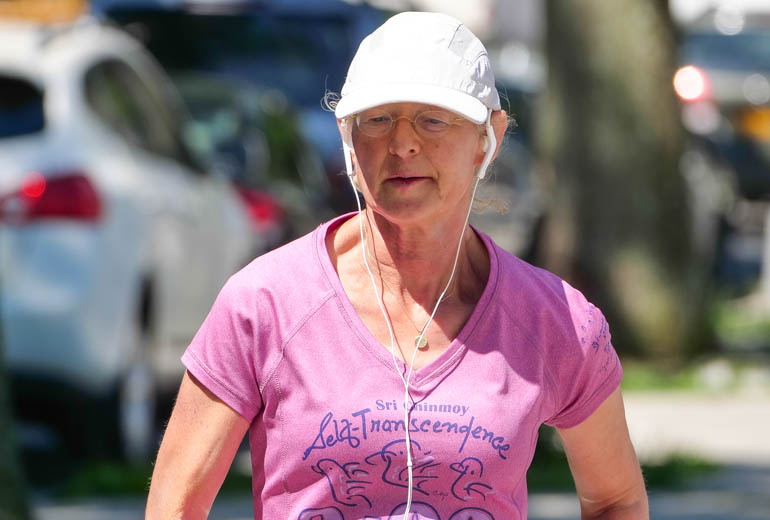 She now has 1327 miles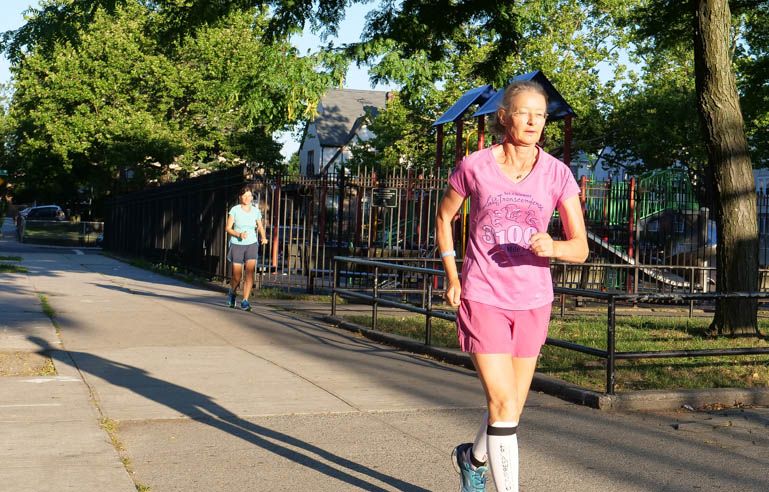 With Vishvarupani
Flower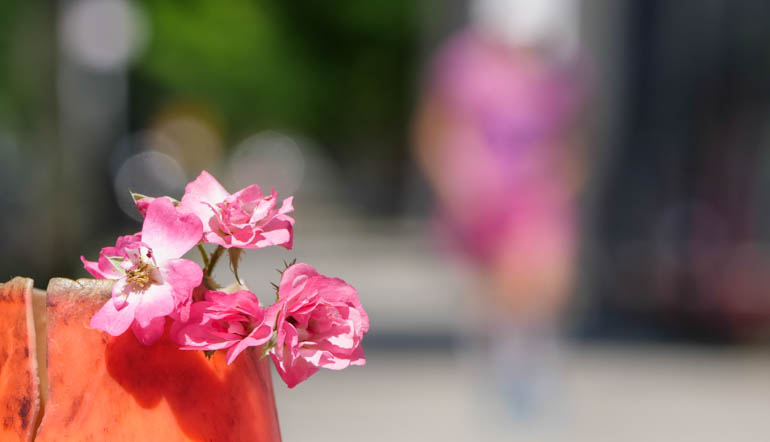 Sahishnu updates the board
Ushika did 60 miles
He now has 1318 miles.  With Max and Sopan
He is 7 miles above the magic number
Flower
Max is ready
Smarana did 43 miles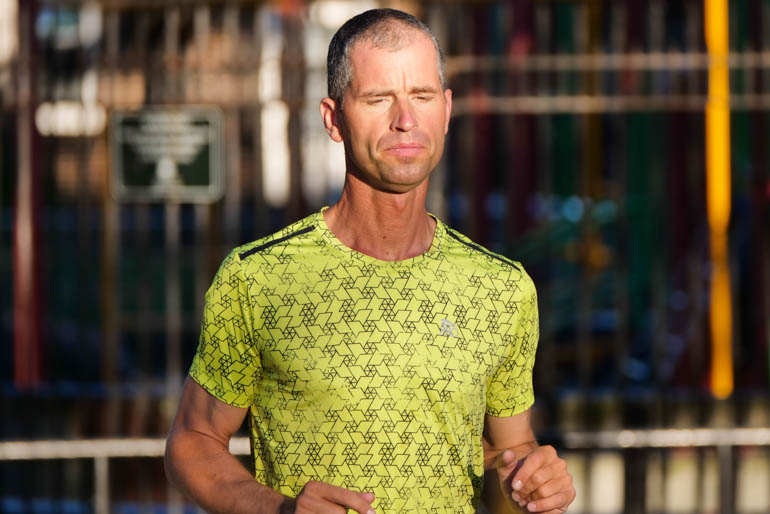 He now has 1315 miles
Very close to the magic number
Flower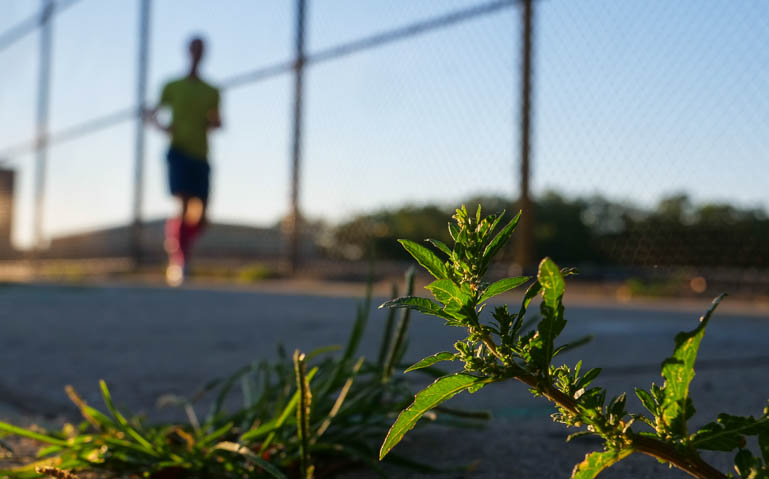 William did 62 miles
William has 1288 miles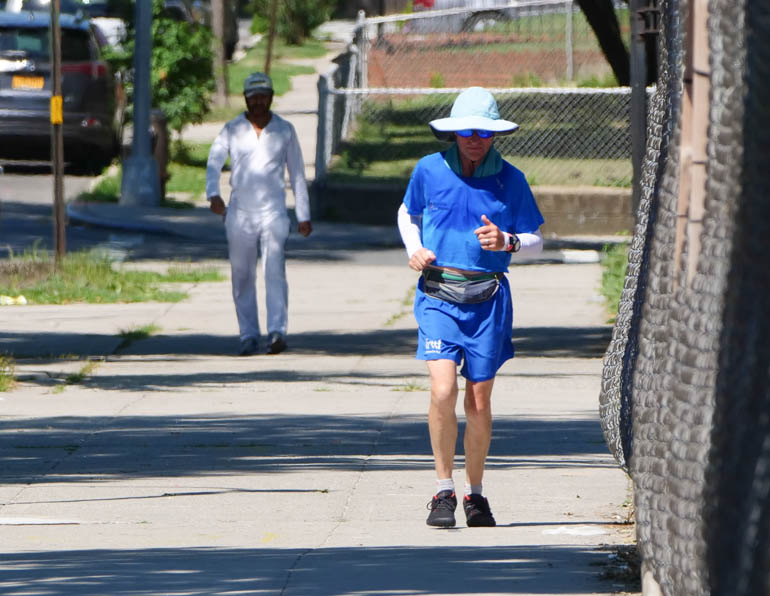 Tim is helping out this week
Telling another great joke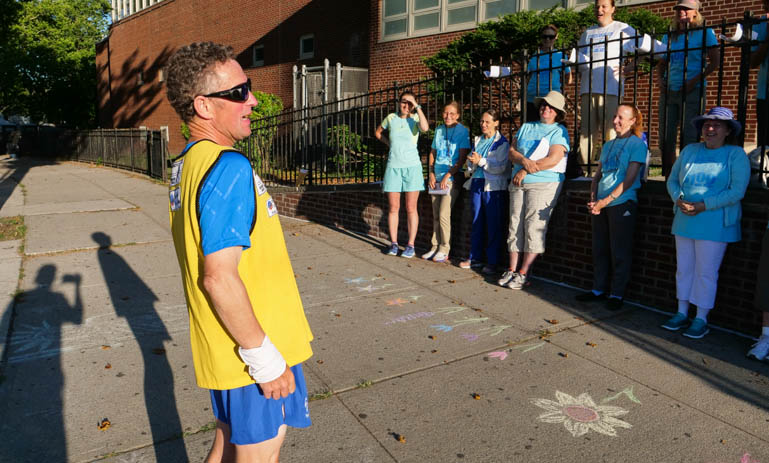 Flower
Alan still on the job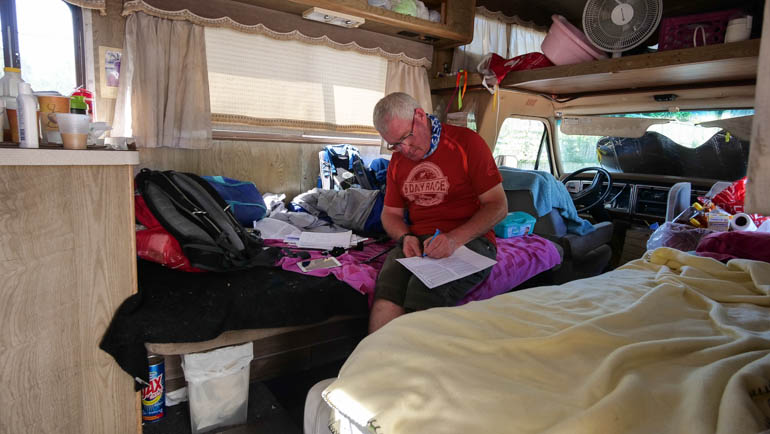 Ananda-Lahari did 45 milees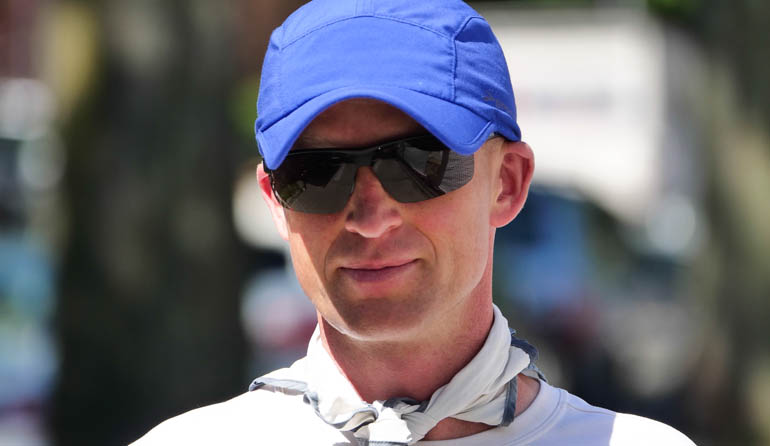 He now has 1271 miles on Day 23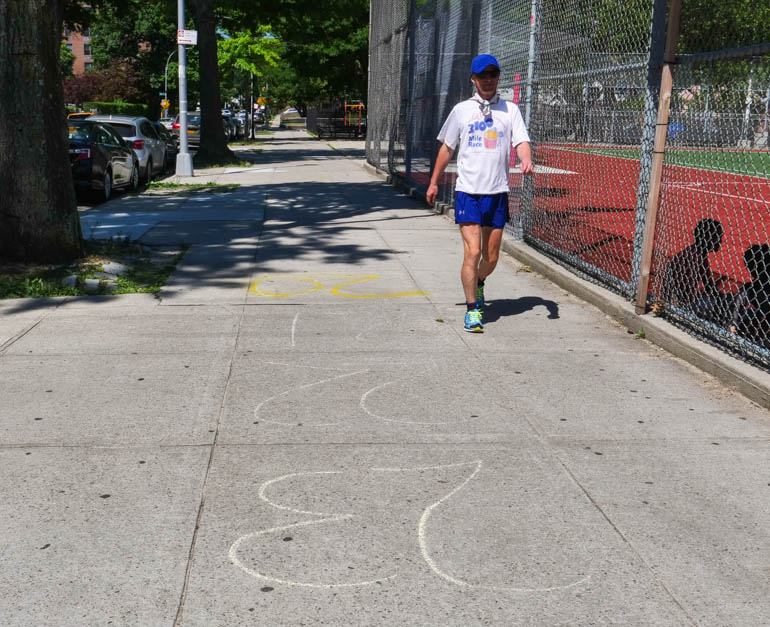 He really enjoys the race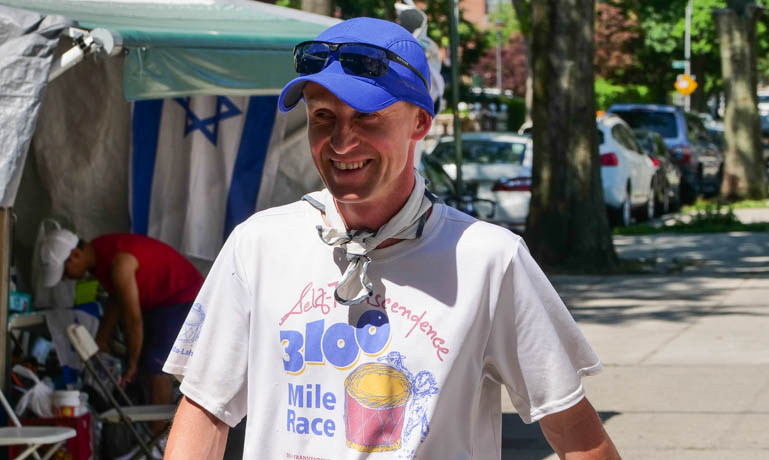 Green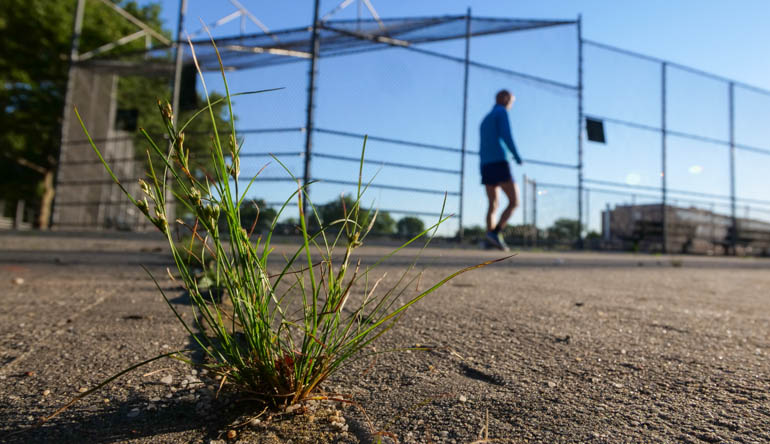 Keeping everything clean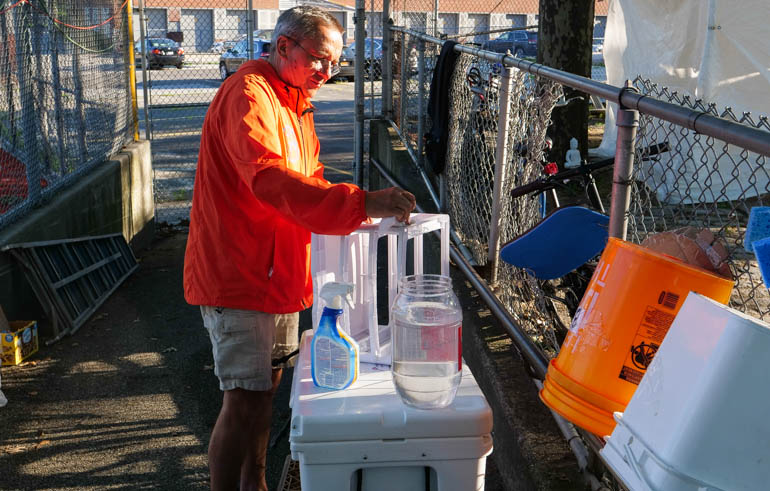 Kaneenika did 58 miles
She now has 1265 miles
So happy
With Lotika
A true inspiration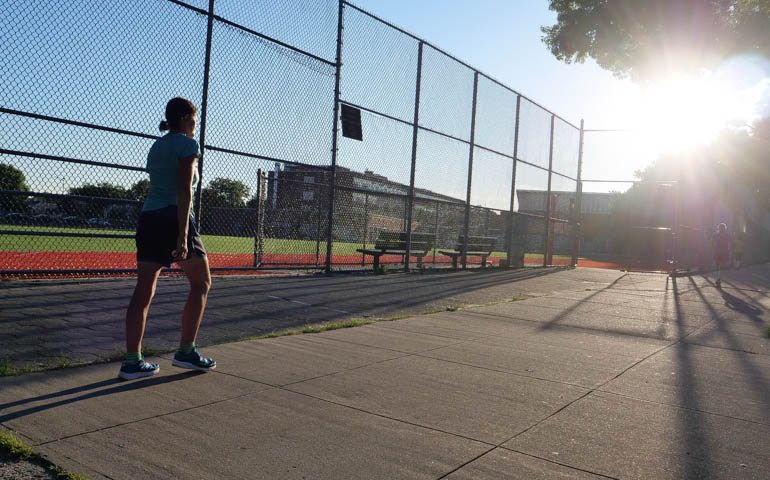 Flower
Swamiji
Green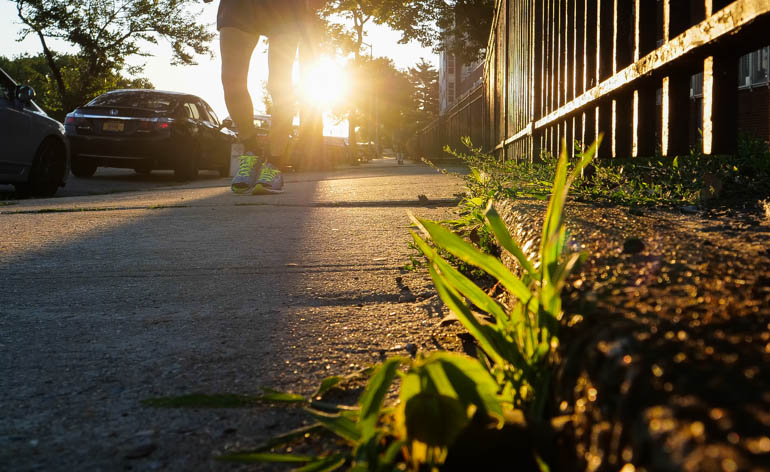 "Listen I don't mind small pastries, but where is my coffee?"
Poem of the Day read by Bashata
Click to Play:
Audio clip: Adobe Flash Player (version 9 or above) is required to play this audio clip. Download the latest version here. You also need to have JavaScript enabled in your browser.
Enthusiasm Awakeners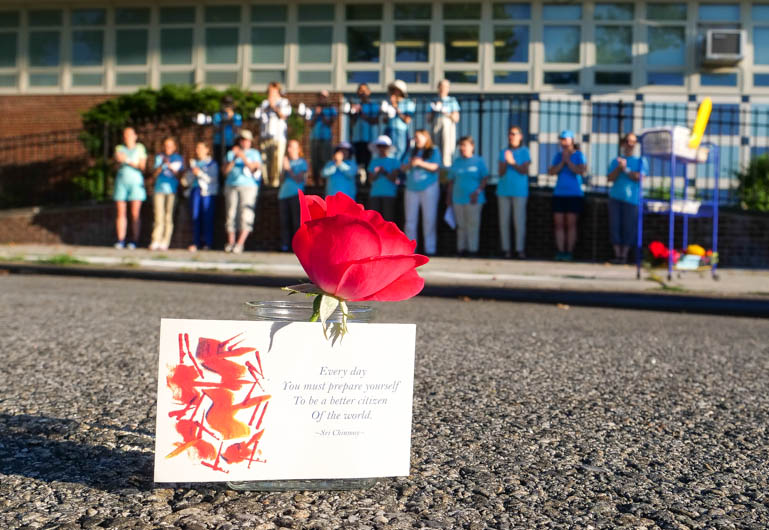 Click to Play:
Audio clip: Adobe Flash Player (version 9 or above) is required to play this audio clip. Download the latest version here. You also need to have JavaScript enabled in your browser.
In the inner world,
Anything that is inspiring,
Illumining and fulfilling
Is very simple.