In 1988 a small child asked this question of Sri Chinmoy
Are you a famous painter?
Sri Chinmoy: Good boy, I am not famous, but I paint. I have painted my inner life and now I will paint my outer life.
It took me hundreds and thousands of years, thousands and thousands of years to paint the inner life. And now I have started painting the outer life. God alone knows when I will complete painting my outer life.
With my inner painting I cried and cried for God the Creator. With my outer painting I am smiling and smiling at God the creation. We are all God's creation, you and I and all of us.
In March Sri Chinmoy gave 16 lectures in Canada, from March 16th to 29th.
In April he celebrated his 10th anniversary of coming to America.
On April 29th Sri Chinmoy wrote 360 poems in 24 hours.  They were published in a book called, The Goal is Won
From June 24th to July 21st he gave 21 lectures at universities in Europe.
On November 10th Sri Chinmoy completed his 200th book.
By December 10th he had completed 1,000 paintings.
By December 28th the first exhibit of painting was held in Hollis, Queens NY
Sri Chinmoy was in Canada for 6 days that November to give a series of 4 Public Meditations that took place in Montreal, Ottawa, and Toronto. On the 18th Sri Chinmoy planted an oak tree on federal parkland in Ottawa.
In dedicating the tree, he said: "O Aspiration-dawn of Canada, you will succeed. The universal earth-cry you will embody. You will proceed. The transcendental Heaven-Smile you will reveal. You will become. Infinity's all-illumining vision you will become. You are. Immortality's oneness-reality you eternally are."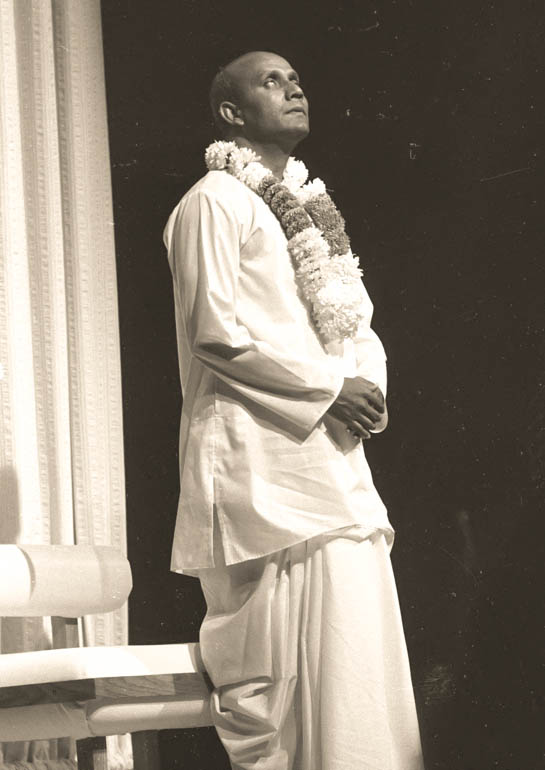 The public meditations for the most part were given at Universities. In Ottawa on the 19th Sri Chinmoy gave a meditation at the University of Ottawa.  The next night a mediation was held at Carleton University.
At one of the meditation held in a classroom, Sri Chinmoy went to the chalk board and gave us a hint of just how spontaneous and prolific he would become.
Fortunately Sarama recorded a divine gift that would so soon be brushed away.
Eventually great galleries would be full to bursting with Sri Chinmoy's Jharna Kala art.