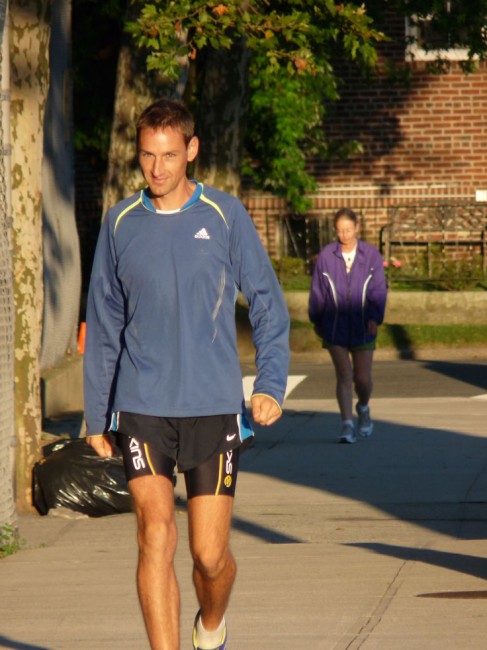 Three years ago, on this date, Sri Chinmoy wrote the following poem, dedicated to all those who were taking part in the 3100 mile race.
A Single God Touch
Gives the seeker
Enormous thrills
Ceaseless unimaginable
by Sri Chinmoy
"Inwardly when you are doing something divine, which comes from your heart.  Somehow there is an inner feeling that God is doing it in and through you.  And that is what I feel is the God touch." Vajra recited the poem today and gave his own interpretation of its meaning.
Three years ago when Sri Chinmoy was inspired to write these daily poems they were immediately copied and handed out to the runners.  They were meant to inspire them of course on their long journey.  In the following years they are again continued to be handed out, on the appropriate day. The message as inspiring then as they will continue to be for eternity.
They are meant for everyone of course, and each person will find their own unique and personal meaning in them. For most of us who are caught up in the daily circus which is life, it may seem impossible most of the time, to imagine that God even exists little alone that he has the power to touch and inspire us with his love.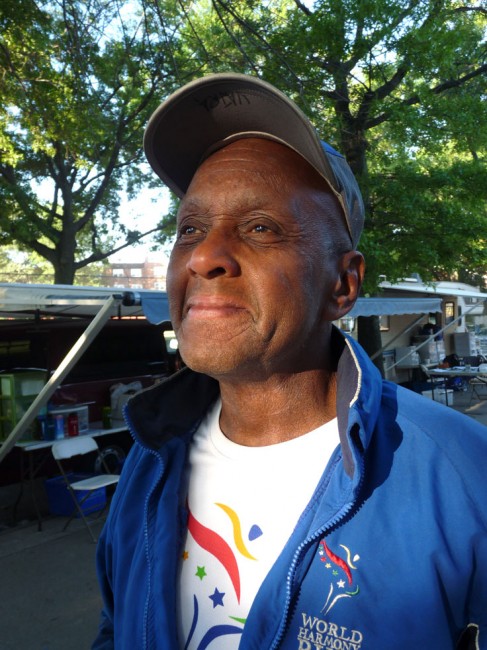 There are special moments in a seekers life however in which, not only the existence of their own souls,  but also God's constant inner connection with it becomes an irrefutable reality.  At that time only one goal exists.  Make ourselves an instrument of the divine.
These are precious moments and they can carry us through the times in which our own doubts seem more real than our own precious divinity.  It is a long road home.  Yet eventually we all must take it.
The runners here are on this sacred road like very few others.  What sustains and carries them on is their inner strength and their inner connection to the divine within.  On some days it is all God and on others, well, sometimes there are just bad days for everyone.
Yesterday Dharbhasana had a most remarkable day.  He had calculated that the 1/3 mark of the race would come today, at 17 days and 6 hours and that he was in danger of not being able to complete the race by the 52 day cut off.  In order to achieve the standard he would have to run more miles in one day than he ever had done before.  It was going to be a phenomenal achievement of running 68 miles.  He thought, if he was lucky, he might just do it by midnight.
He not only made the distance, he made it by 10:30 last night.  His wife and daughter were there to see it, and Shakti even rode the final lap with him on her bike.  It was a glorious victory for him, for his family, and for all those who love self-transcendence when it manifests itself in bright and beautiful ways such as this.