"We are trying to break the record for the world's largest flower garland.  So we have 185,000 stems of carnations freshly arrived from Colombia." …. Pavaka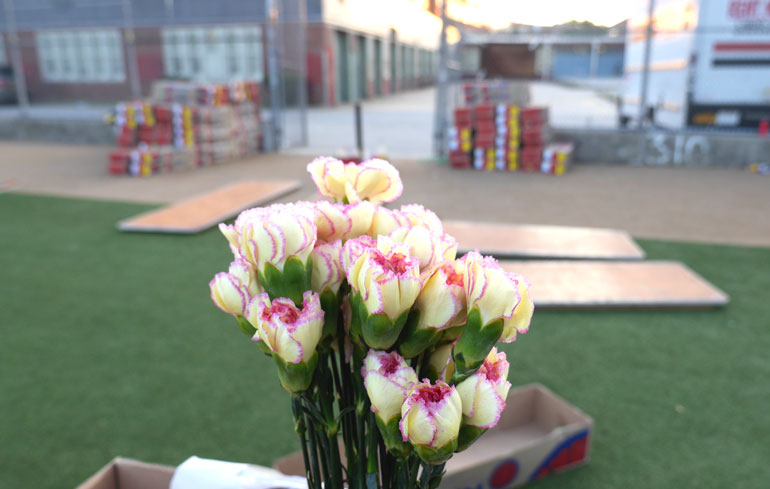 The sun has just started to brighten up the large playing field in Queens.  Many hours earlier around 5 am Pavaka, had gone and picked up the huge mountain of boxes from a warehouse. Now that the boxes, filled with cool carnation flowers are stacked by the gate.   The real job of breaking the Guinness record has just begun.
It is not something that Ashrita has not attempted before.  Being the man with the most Guinness records period he continually scours the book looking for new challenges.  But this record is uniquely special.  Tomorrow would have been Sri Chinmoy's, his spiritual Masters 83rd birthday.
So he, along with the help of Pavaka, and gradually increasing crowd of fellow student disciples are attempting to do something which is not just record breaking but really awe inspiring.  It will take a lot of work, it will not be easy, and as the day progresses it gets hotter all the time.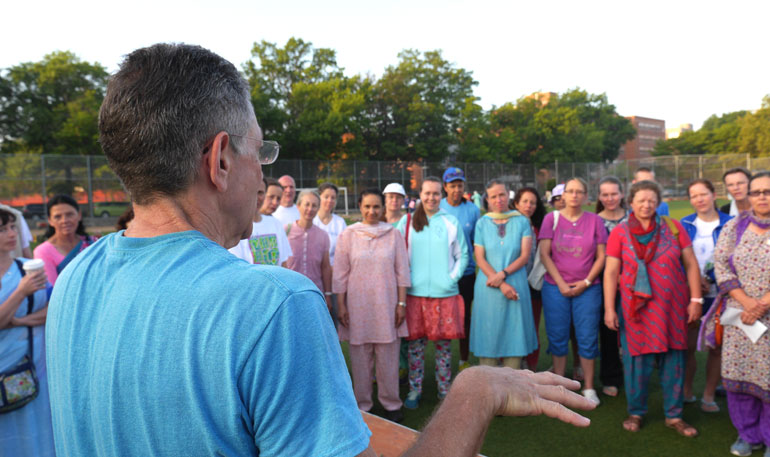 Pavaka says, "we had gotten the record 2 years ago.  I think it was 2 and 1/4 miles I think, and that was since broken.  So now we are trying to get it back.  I believe it was broken in India."
"The 185,000 flowers is what we calculated would give us a 5 mile long garland.  Which would really break the record."  Pavaka explains that the flower tops will be cut off of each stem and then a slim wire is inserted through a section of tightly bunched flowers.  This in turn is connected to another section, and so on.  This will continue until all the flowers are looped around the perimeter of the field.  "So it is not like it is 5 miles of a single strand.  There is a wire going through the whole thing.  We are going to assemble it in 3 foot segments."
Pavaka actually works in the flower import business and he tells me he is familiar with the very farm in Colombia where the flowers were grown.  He told them that he wanted flowers for a special project.  "So they sent us very short carnations, at a very good price.  Those flowers flew from Colombia last Monday to Miami.  A week ago they were cut."  He says that the short stems meant the flowers were less expensive to ship and also that only the blossoms will be used.
"Carnations are one of the hardiest flowers out there."
I ask him, as one who works all the time in the flower business what he enjoys about this project.  "I am personally doing this as a volunteer.  It is quite a unique project and everyone working in the chain of it was quite interested in what we were doing." There is also, to add to the pressure, a time limit on how long the project can take.  Pavaka says they have use of the field only until 1pm.  Now just 6 hours away.
He says he will stay no matter how long it takes.
Click to Play Interview:
Audio clip: Adobe Flash Player (version 9 or above) is required to play this audio clip. Download the latest version here. You also need to have JavaScript enabled in your browser.