"I feel it was a soulful offering to my Guru."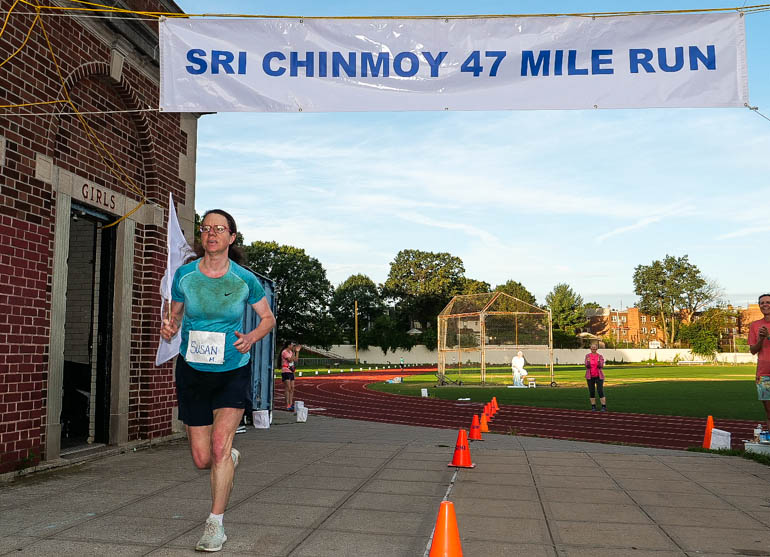 Susan Interview:
Susan had a terrific performance in this years 47 mile race.  Her time of 6:54:06 placed her first in the girls category and was fast enough for 2nd overall. She won the race as well last year with a time 7:09:45 which means she transcended herself by almost 15 minutes.
I spoke with her moments after she had finished the race and she expressed how she was looking forward to being receptive for the rest of Sri Chinmoy's birthday celebration. "What I love about Sri Chinmoy's birthday is that I feel that I have done something to honor him.  Now I can really enjoy the day without my mind getting in the way."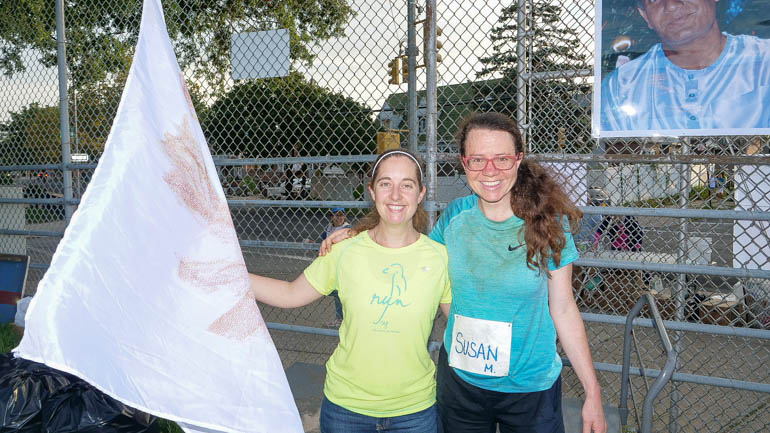 Looking back over the previous hours she says her experience was a bit of a blur.  "I try as much as possible not to have any mind.  I had hard laps and I had good laps.  I try not to have any mind and that for me is the best way to do these races.  So that I can be most receptive to our inner capacity, and most importantly why we are doing this.  Which is to offer something to God.  Our mind is not our friend here."
Susan has done a personal best and so has transcended herself at this years 47 mile race.  She feels it will take a day or so for it all to become clearer to her.  "I know things happen on the spiritual level so I am happy with that."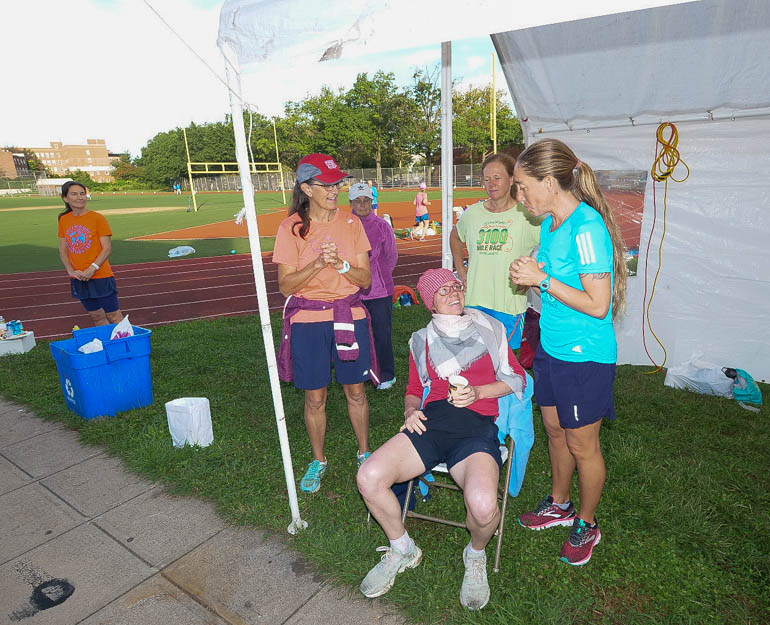 "I have lost count."  You can't really blame Dipali for not remembering just how many times she has run the 47 miles race.   Scanning back over the records one thing is clear and that is she has won the race 26 times since 1986 and her time this year of 7:44 (3rd place )is only 34 minutes slower than her winning time that year which was 7:09.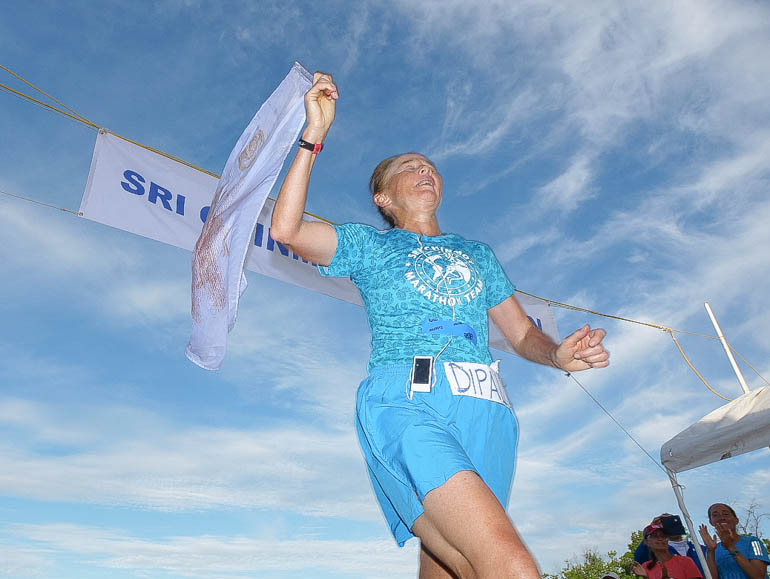 Dipali Interview:
"I came out here with no training.  I just wanted to finish."
Dipali as fate would have it shares the same birthday, August 27th as Sri Chinmoy.  So the 47 mile race has always played a unique role in her running calendar and more importantly in her spiritual life.  Turning 61 it can be expected that she might run slower but she has a tremendous running base and her motivation to do her best is unparalleled.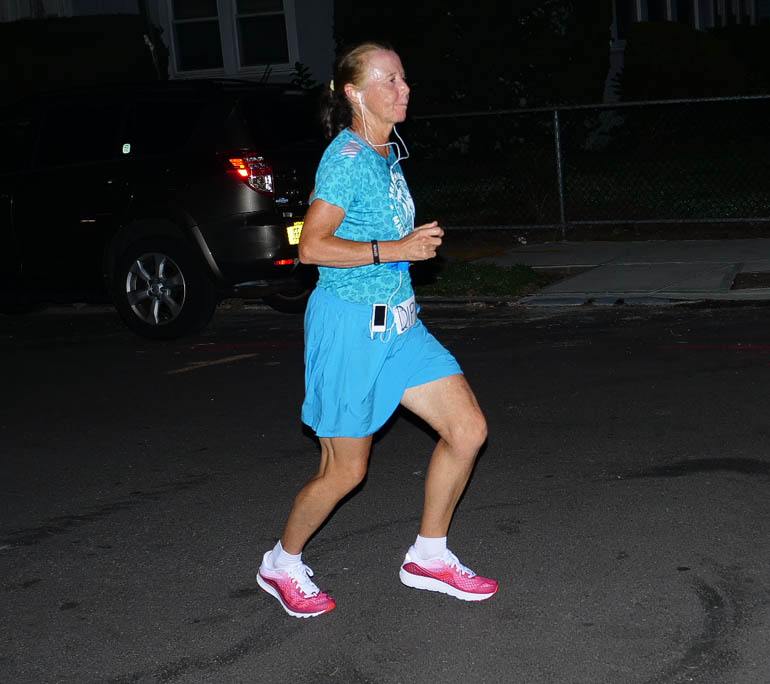 "I have had some health issues.  I wanted to come back and run it just for the fun.  But during the night I felt so strong.  At the halfway point there was so much power.  I wasn't training for it but it was just there."
"From 20 to 30 laps I had a nice experience.  I got really tired and my stomach was bothering me."  Dipali says that in order to conquer the fatigue she imagined herself instead in a multi day race.  One in which she was on the verge of completing.  "With that little bit to go.  Like I had already done hundreds of miles.  With that in my mind and in my heart.  It made it so much easier."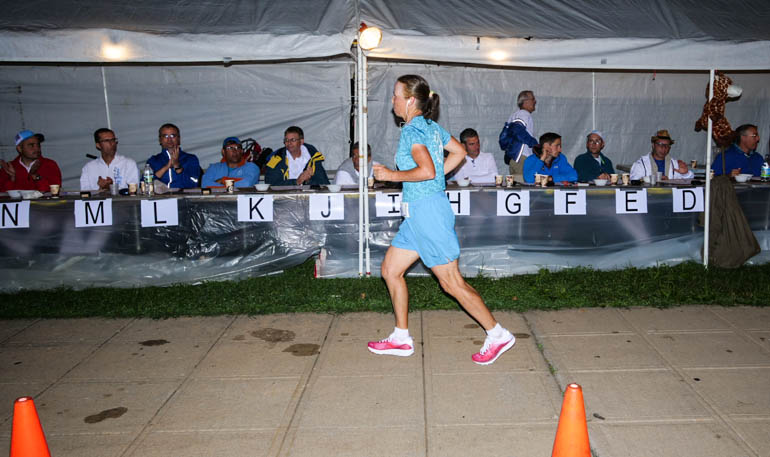 "It was a beautiful night.  It was so cool, and I reminisced about multi day running, because I had been taken away from it for a while.  I had tears near the end because I felt like I had done it."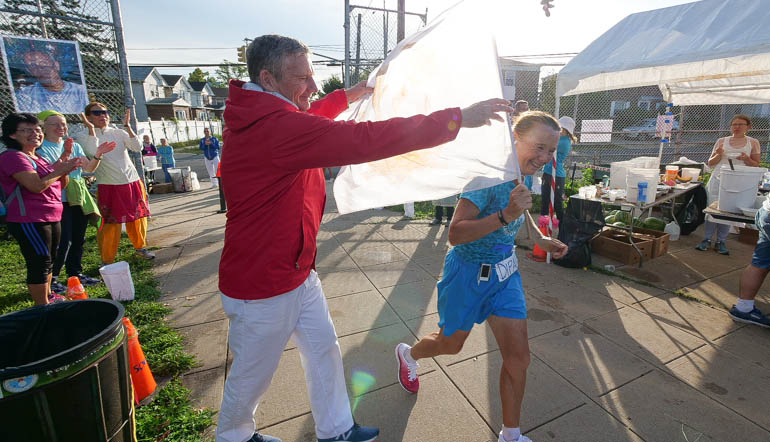 "I didn't care about the place on the board.  It just came.  I just wanted to finish.  I have missed running for the past 4 years.  I get emotional because I haven't been able to run the way I once did."
"Just sharing the same birthday with Sri Chinmoy…..what a blessing. I feel so honored that this race exists.  It is such a beautiful atmosphere.  No matter what the board says we are all family.  We encourage each other and we support each other."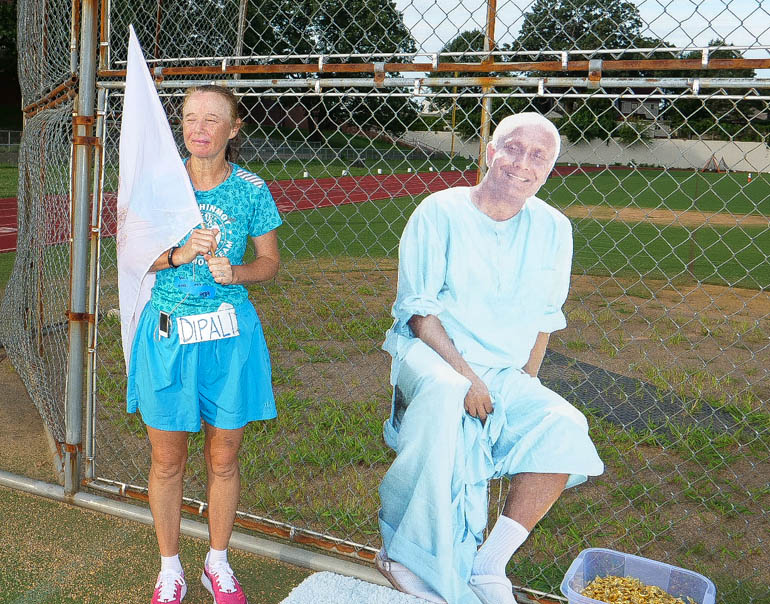 "If I don't run this race on my birthday then it just doesn't set the day right for me.  I am going to be wobbling and sore all day but it makes me feel good.  I know I gave my all on my birthday.  Sri Chinmoy once told me that I don't run with my feet, that I run with my soul."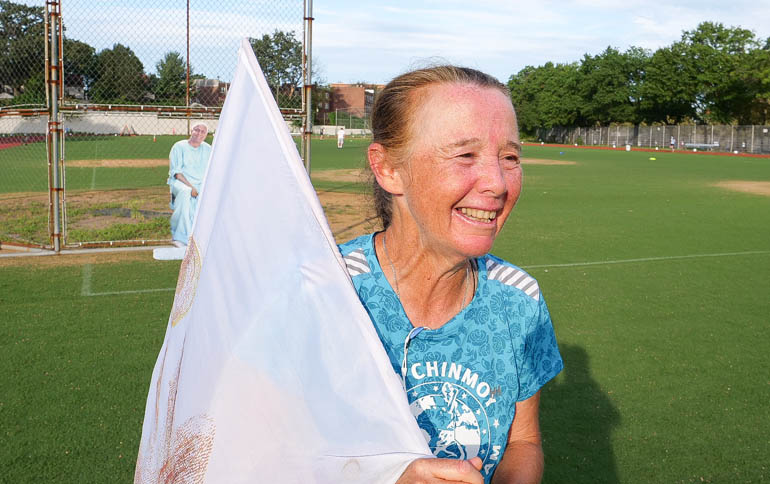 "So I feel that my soul is to the fore on this day.  I feel that I am running with my soul all night and that is what I experienced last night."
When my body runs,
My soul jumps,
And my Lord Supreme sings and dances
With enormous Delight.