Most will look back at this years race no doubt as the wet one.  The year in which the rain came heavily and it came lightly and it came in every descriptive form of precipitation in between.    It sprinkled and it pounded and then it would go away only to dart back with a soggy full throated roar. Today will be just like that.  The rain switching on and off so often you just might like to call the person holding the switch and ask them to please make up their mind.
If you had the luxury of just sitting and watching it might be amusing to see swirling rivers flowing past your feet and little Niagras tumbling off of van roofs. But not if you are trying to cobble together 60 soaking miles of puddles, with shoes and socks flooded nearly every step of the way.
It is the year in which
at the start of the day one never had enough dry shirts,  dry socks and dry shorts.  When shoes became damp so often they never really dried.  Causing then, on dry days, a stew of musty odors to rise up and out of sport bags.  When one umbrella was not enough.   When if you were foolish and ever tempted the weather gods they would eventually find an opportunity to strike you with a merciless downpour on the far side of course leaving you many minutes away from the timid shelter of an awning covering your folding chair.
Yet they will also be able to say that it was the cool one.  The one in which there were no 90 degree days in July which has not happened in more than 100 years.  The average temperature for the month just a little over 71.  Maybe there was some meteorological bargain that was enacted on some distant plane that said simply, "We will keep it cool but your are going to have the wet instead."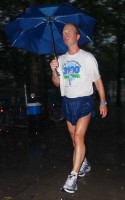 Saturday will be something of historical note.  Sahishnu believes that never have 3 runners finished on the same day ever before.  Tomorrow which is day 49 will see Vlady, Pranjal, and Stutisheel finish their long journeys.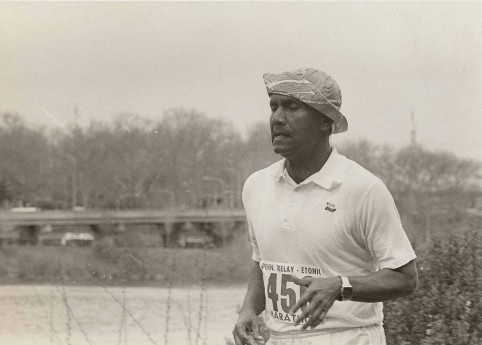 My mind