"I am feeling pretty good.  A little tired.  You know, standard answer after 35 days."
*cover picture by Alakananda*
When we greet each other a routine question is usually to ask the other person how they are.  Nirbhasa has spent the last 35 days doing very little else than running around the block here in Jamaica Queens.
Yesterday he tied with Kaneenika for the most mileage of the day with a very good 64 miles 117 laps.  Probably there can be no better answer than his , "pretty good."  Particularly when you take into account that he has so far run 2233 miles and still has 867 more miles to go.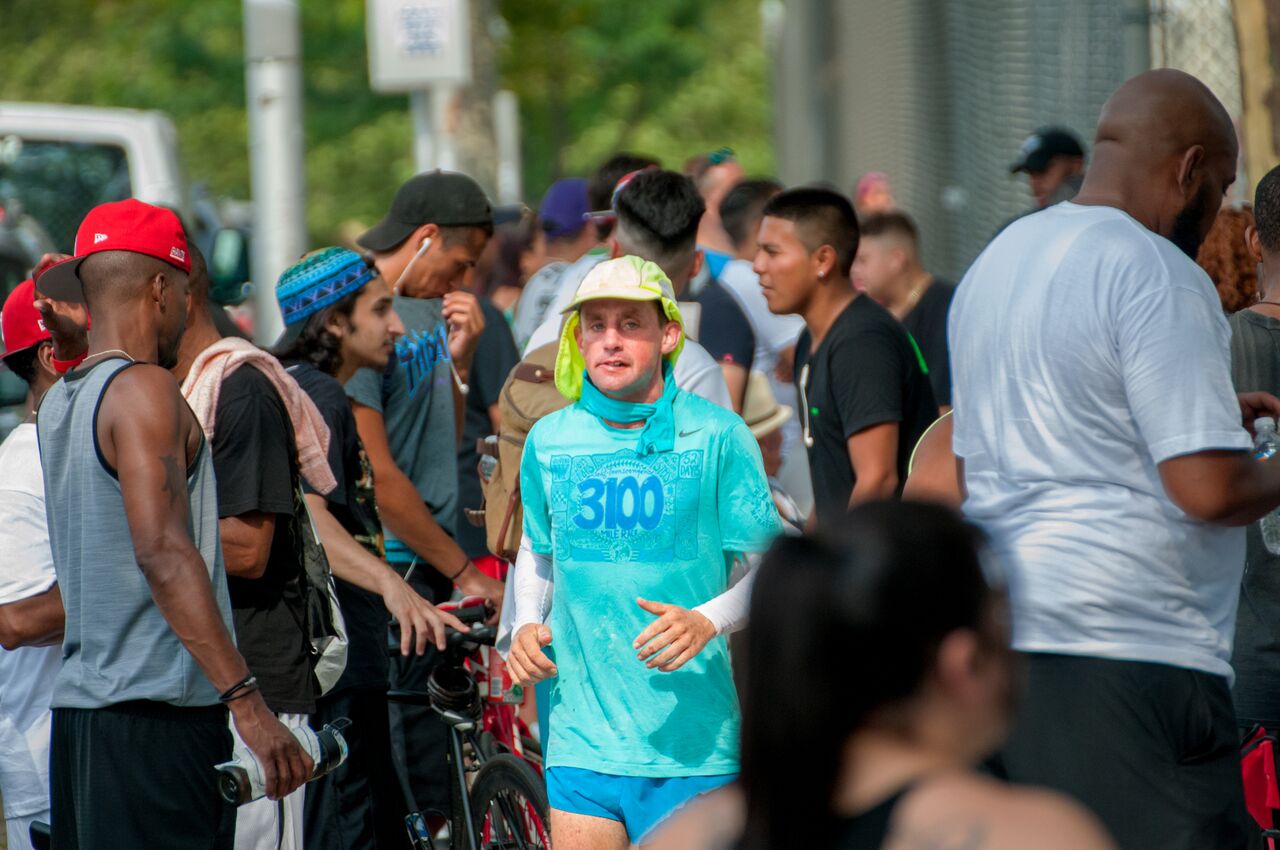 The conditions on the course yesterday were best described as brutal.  Crowds swarmed around a handball tournament in the corner and the day was hot and muggy.  Welcome to the Self Transcendence 3100 mile race.
I start our conversation this morning by telling Nirbhasa about a story I had printed in the blog yesterday about the great Indian Spiritual Master Sri Ramakrishna.  I mentioned how he had given a spiritual experience to a family member who had not strived and worked for it so did not fully comprehend or appreciate what they had received.  I wondered how he felt that, compared to his and the other runners super human efforts to achieve their goals here.
"I think on some level you are obviously pushing.  You obviously want to do the fastest possible time.  You want to get in as many laps a day as possible.  But I think on another level the real struggle is inner."
"Then again it is not really a struggle it is more a surrender of the mind.  The Inner Silence.  That is definitely something that as the race progresses it is very easy to feel that inner silence and inner vastness here."
"The key is to keep surrendering.  It is not so much of a struggle as a matter of trying to fall into it.  Trying to calm everything down.  Don't think how you are physically doing.  Don't let your mind get agitated.  You are almost just trying to relax it."
"There is a little over 2 weeks to go in the race.  In terms of the actual length of the race we have done 5 weeks already.  So 2 weeks seems like we are kind of near the end but it is a long way away.  You can't think of the end at all.  You have to continue on doing what you have been doing every day.  Take every day one at a time."
"Really use it as an opportunity for an inner exploration.  Which we never get to do to the same extent in the normal life."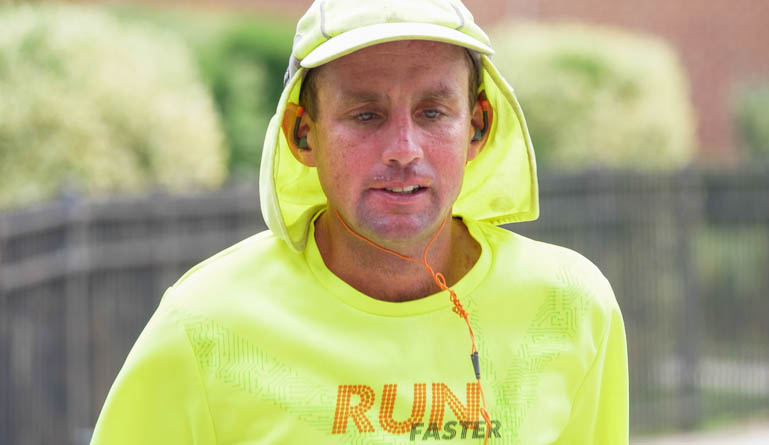 Nirbhasa emphasized the importance of feeling gratitude is the essential thing.  "For just being able to run, for being here, and having access to that space of inner silence.  It really is the key, gratitude."
"Whenever I get a little bit, thoughts turning towards the end.  Or I get a little bit…..O God.  I want to be home in bed.  I really try and somehow invoke gratitude, and be happy for the experience of being out here."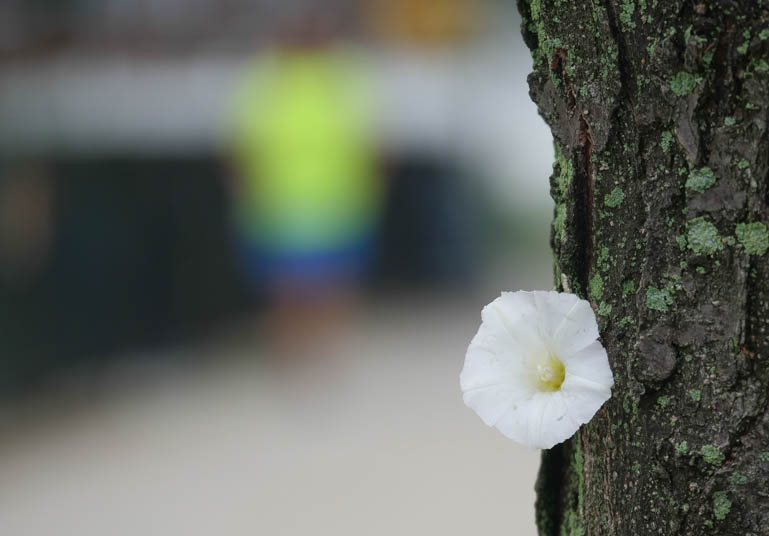 Silence inspires me.
Silence encourages me.
Silence helps me
To enter into my heart-temple
And meet with my Inner Pilot.
The board at the start of Day 36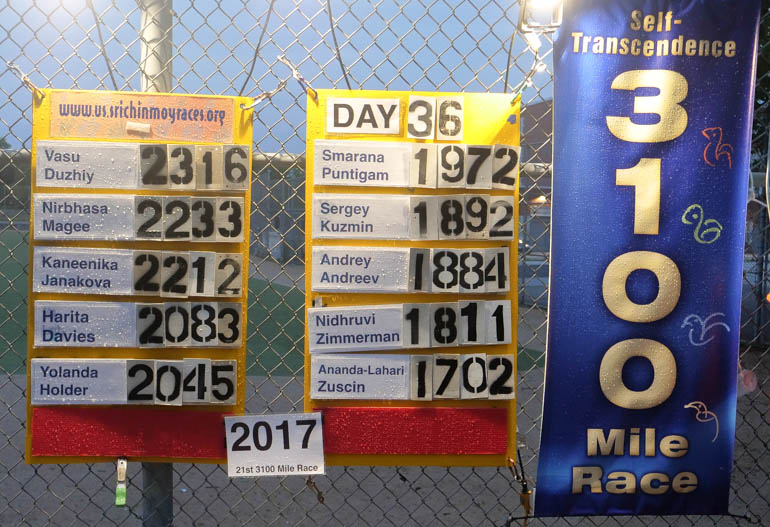 camp
Sergey and Andrey
Yuri
Today is Arpan's 65th birthday.  He was in a race yesterday and combined with the mileage then and what he will run today he will complete 65 miles
Nidhruvi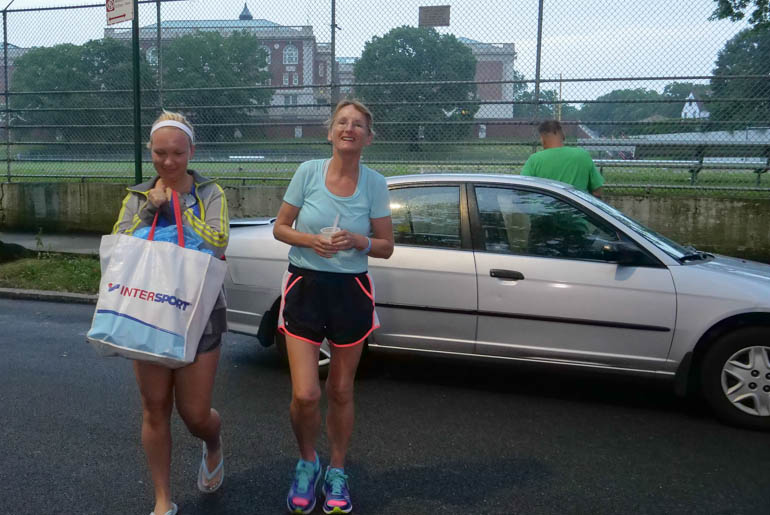 boys
Rupantar
Girls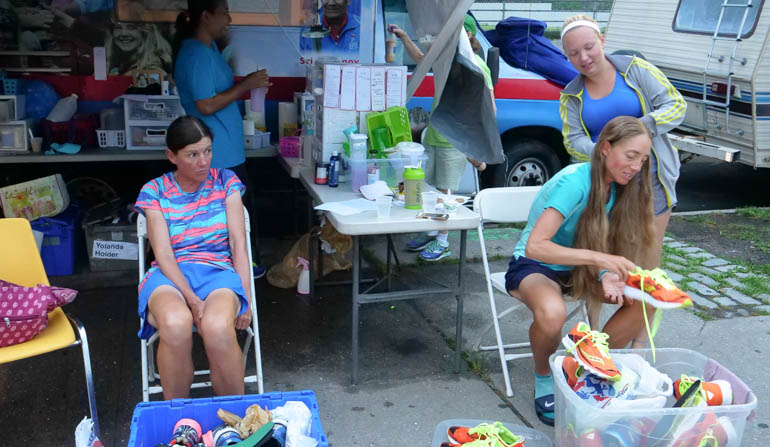 Vasu
Shoe going on
Start Day 36
Overcast and not so hot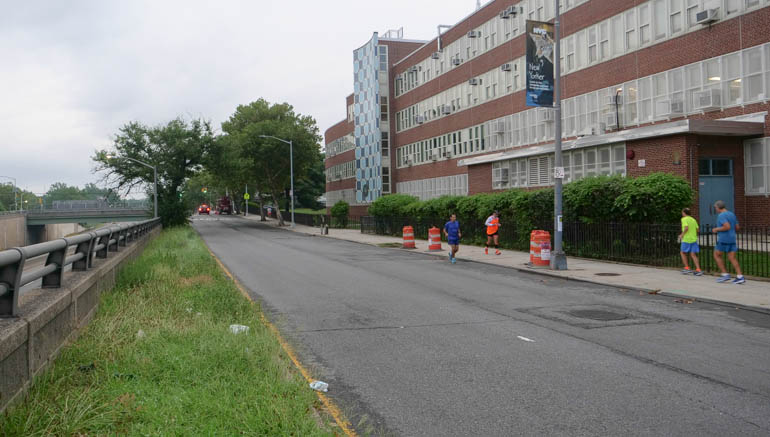 Vasu did 62 miles 113 laps
He starts the day with 2316 miles
He is 86 miles ahead of last year
Flower
Nirbhasa did 64 miles 117 laps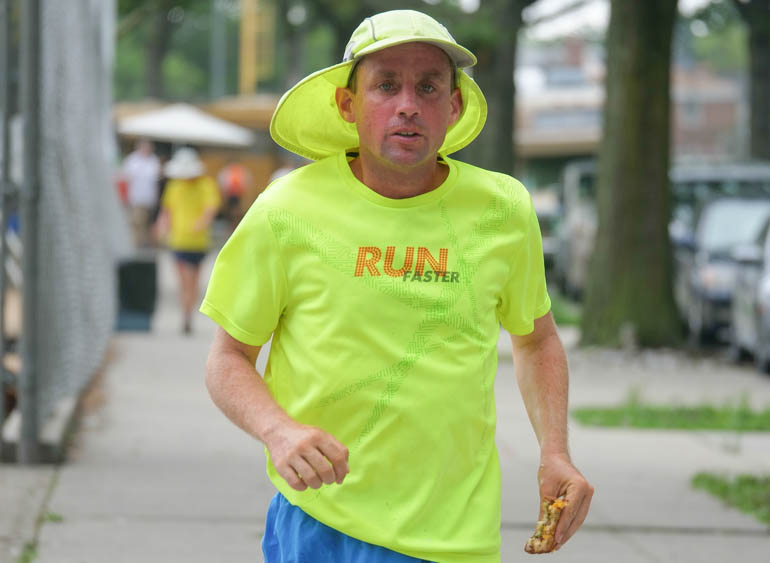 He now has 2233 miles
Telling a joke with Stutisheel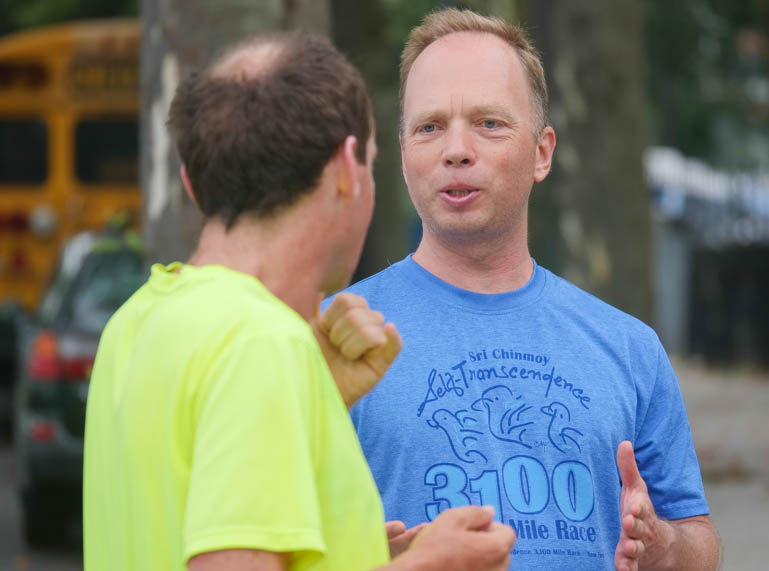 doing so well
A bit of green
Kaneenika had a great 64 miles 117 laps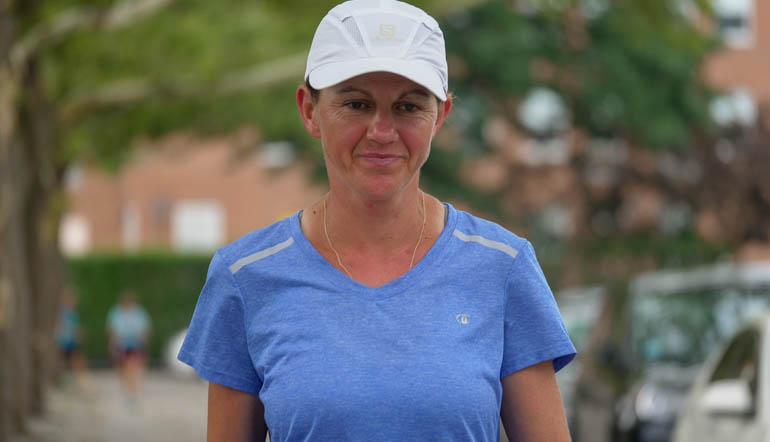 She now has 2212 miles
With Tanya and Dipali
Flower
Harita had 60 miles 110 laps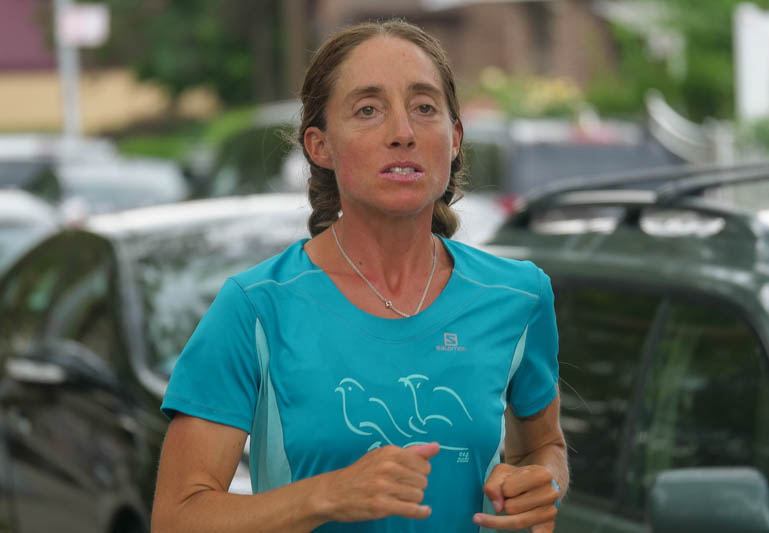 She now has 2083 miles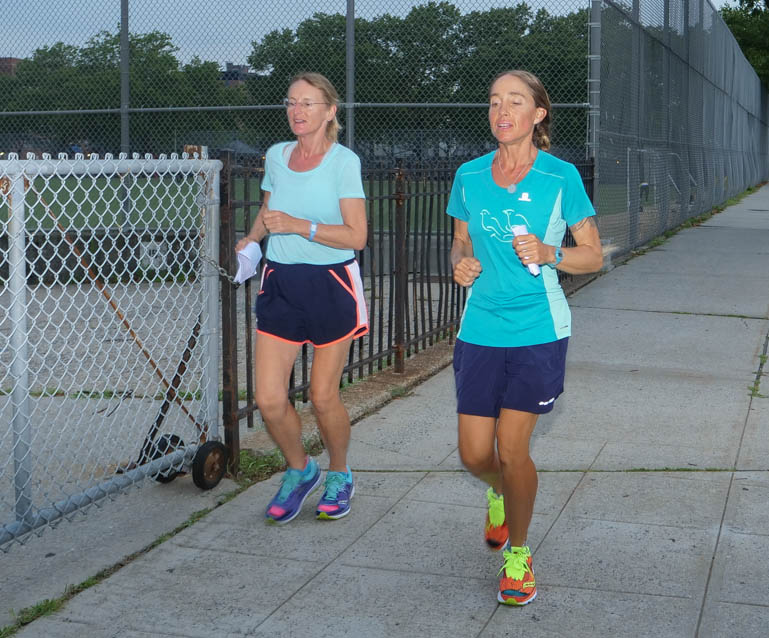 Adesh playing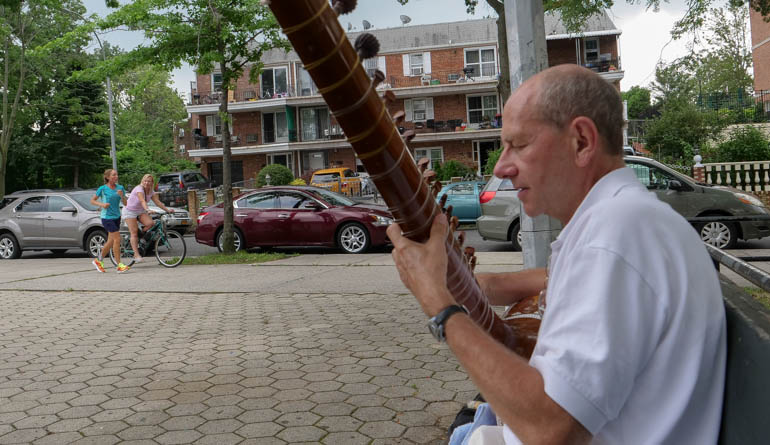 With Katya
telling jokes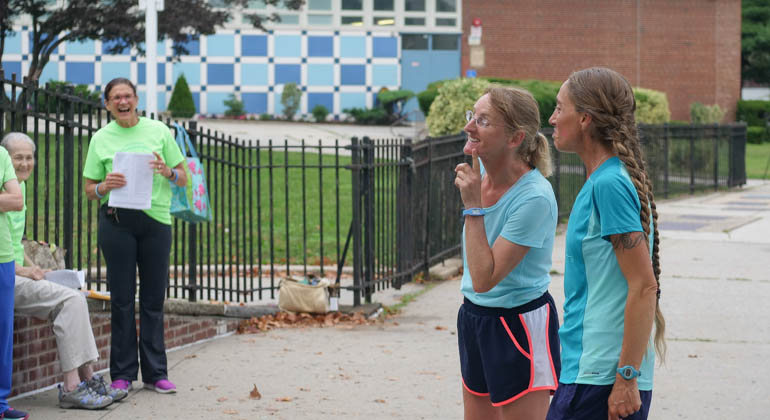 Doing well
flower
Yolanda had 62 miles 113 laps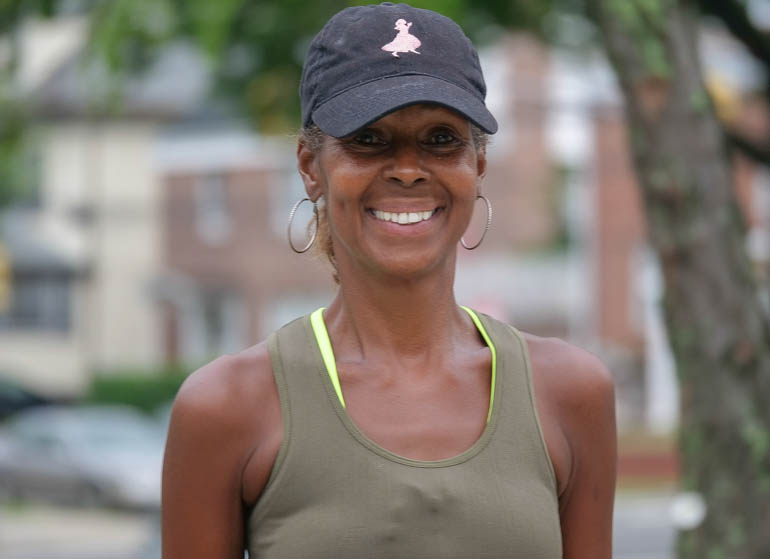 An interview with VOA
Showing her feet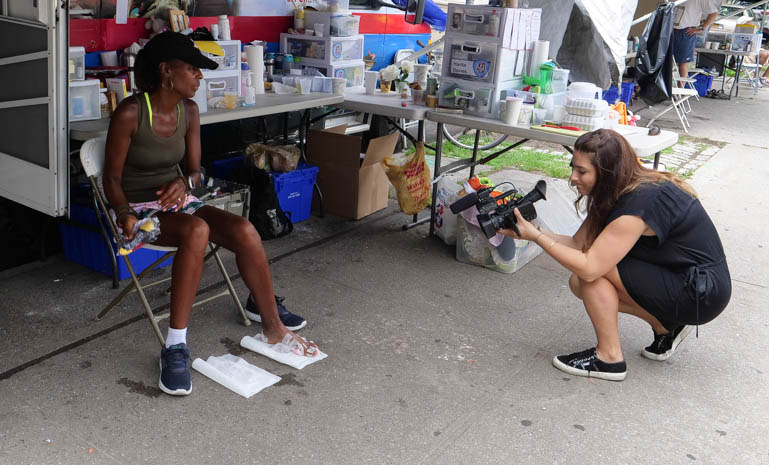 Dazzling smile
Needs to keep up the pace
Flower
Smarana did 34 miles 62 laps
He now has 1972 miles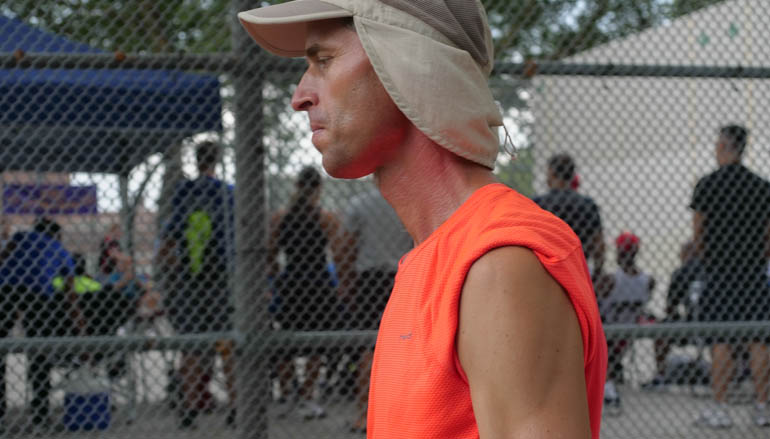 Flower
Sergey did 37 miles 69 laps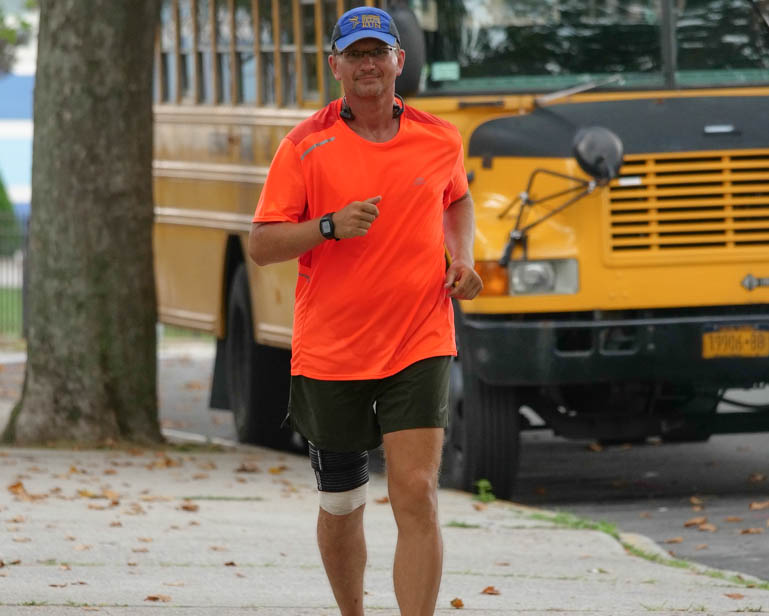 He now has 1884 miles
Flower
Andrey did 51 miles 94 laps
He now has 1884 miles
Flower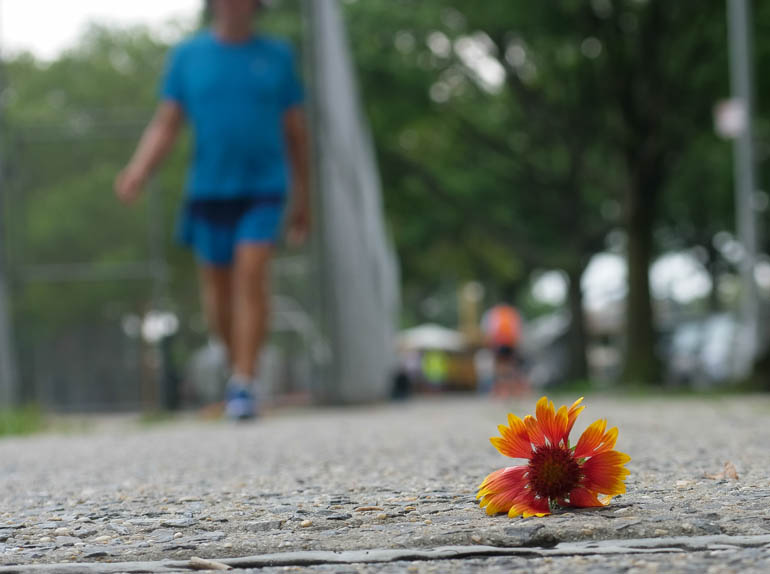 Nidhruvi did 51 miles 94 laps
She now has 1811 miles
With Mareike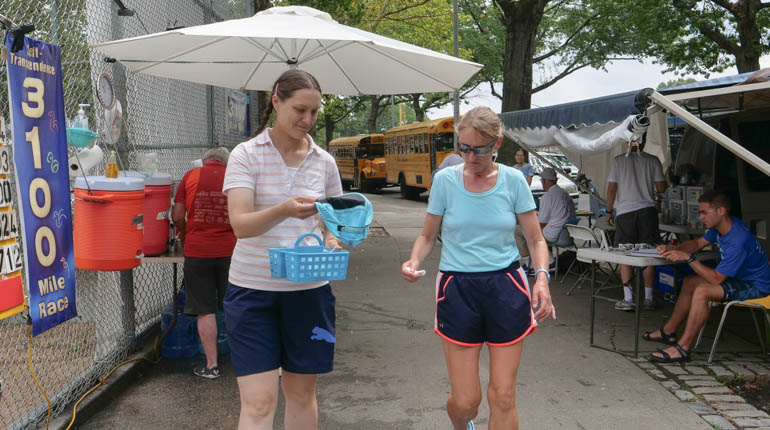 A bit of green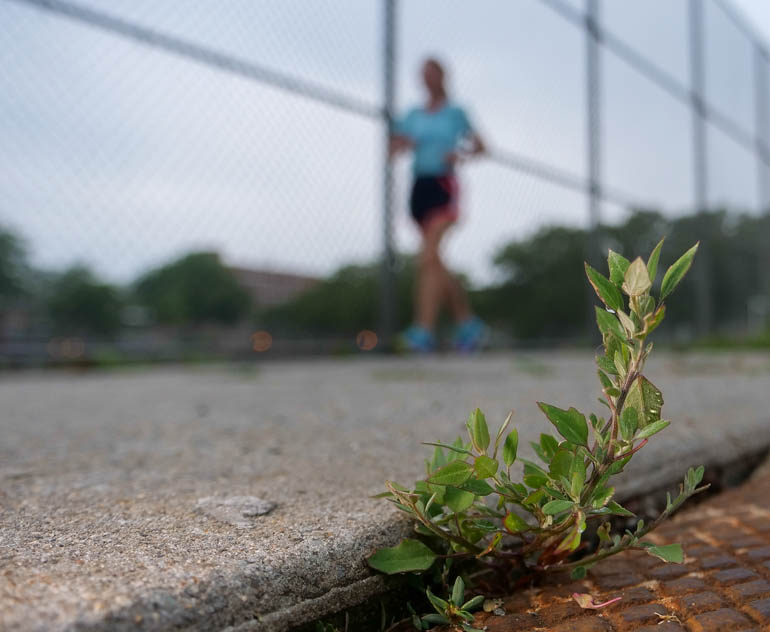 Ananda-Lahari did 41 miles 76 laps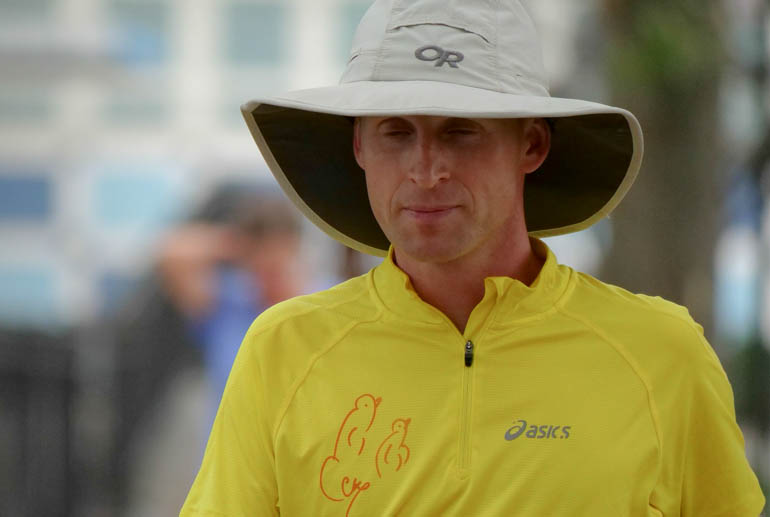 He now has 1702 miles
Being interviewed
One more day of handball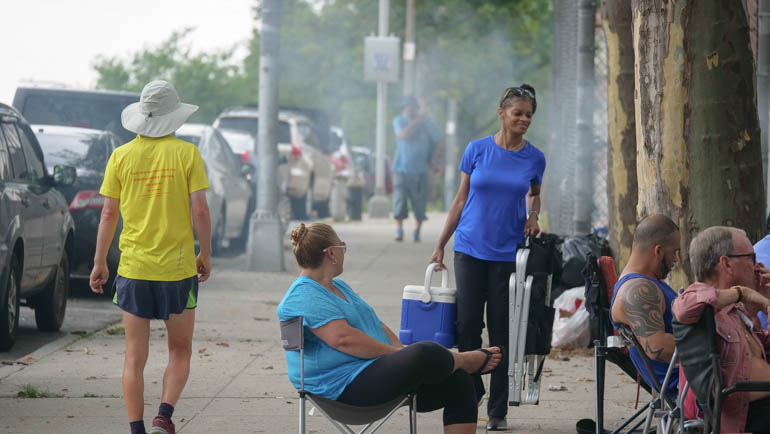 Flower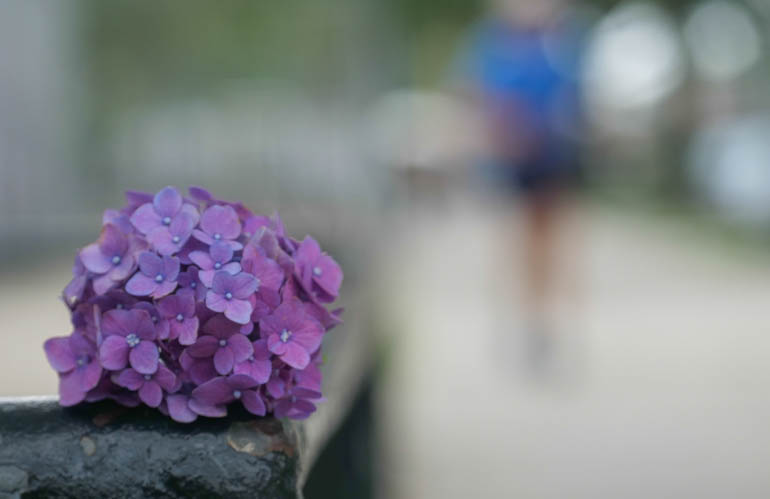 Arpan's birthday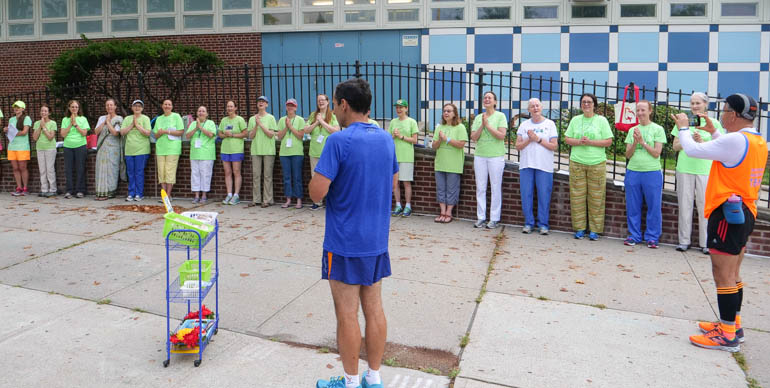 Helped today by Mario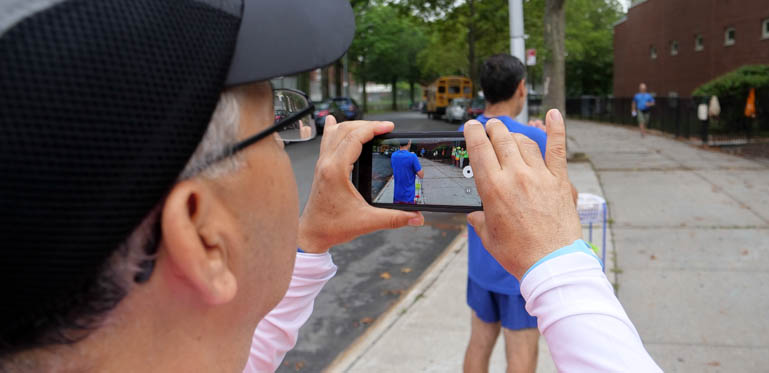 Edy who runs here on the weekends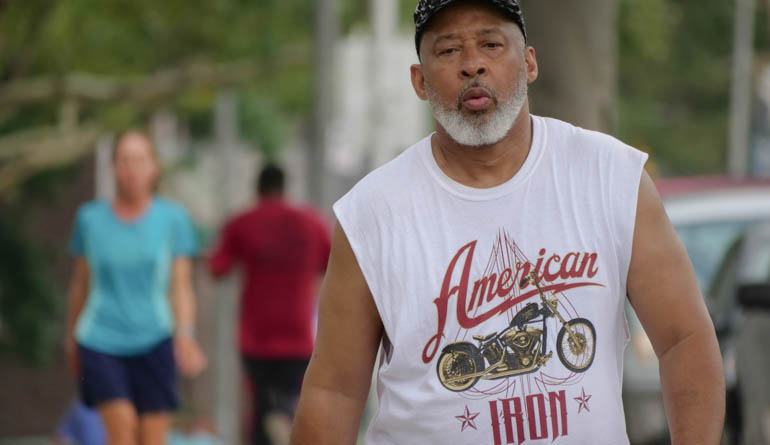 Swamiji
Flower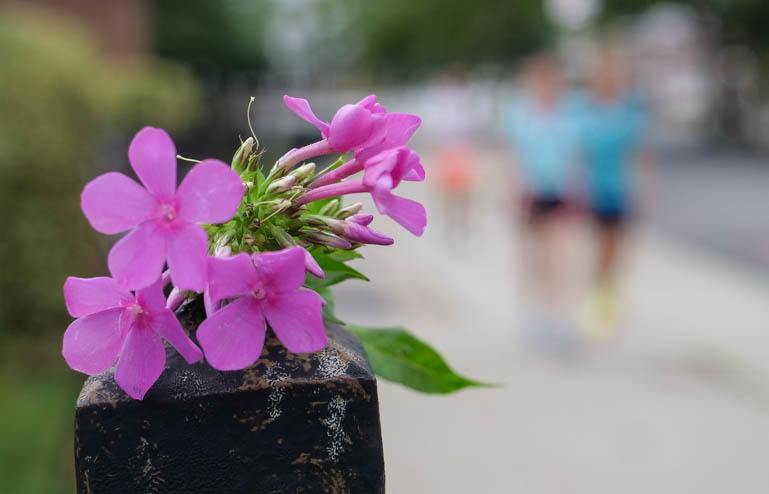 Karteek leaves tomorrow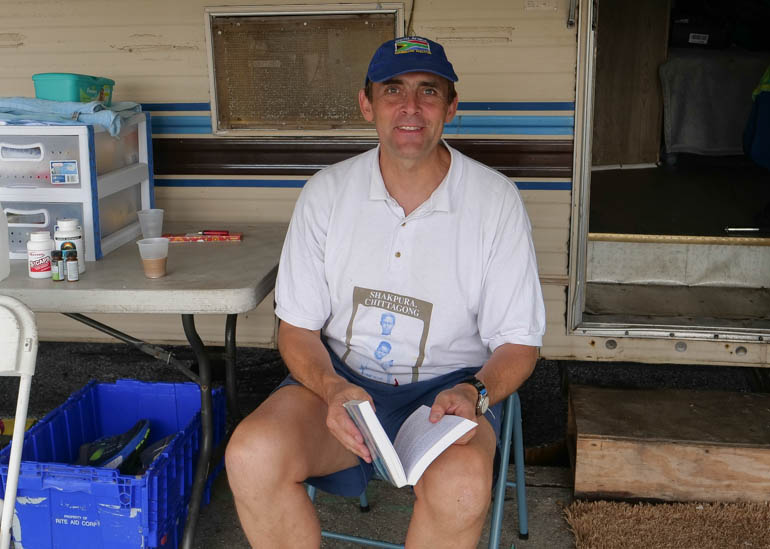 Alexy cleaning shoes
"I am certain there is a secret opening down here somewhere.  Or if all else fails I can tear it open with my teeth."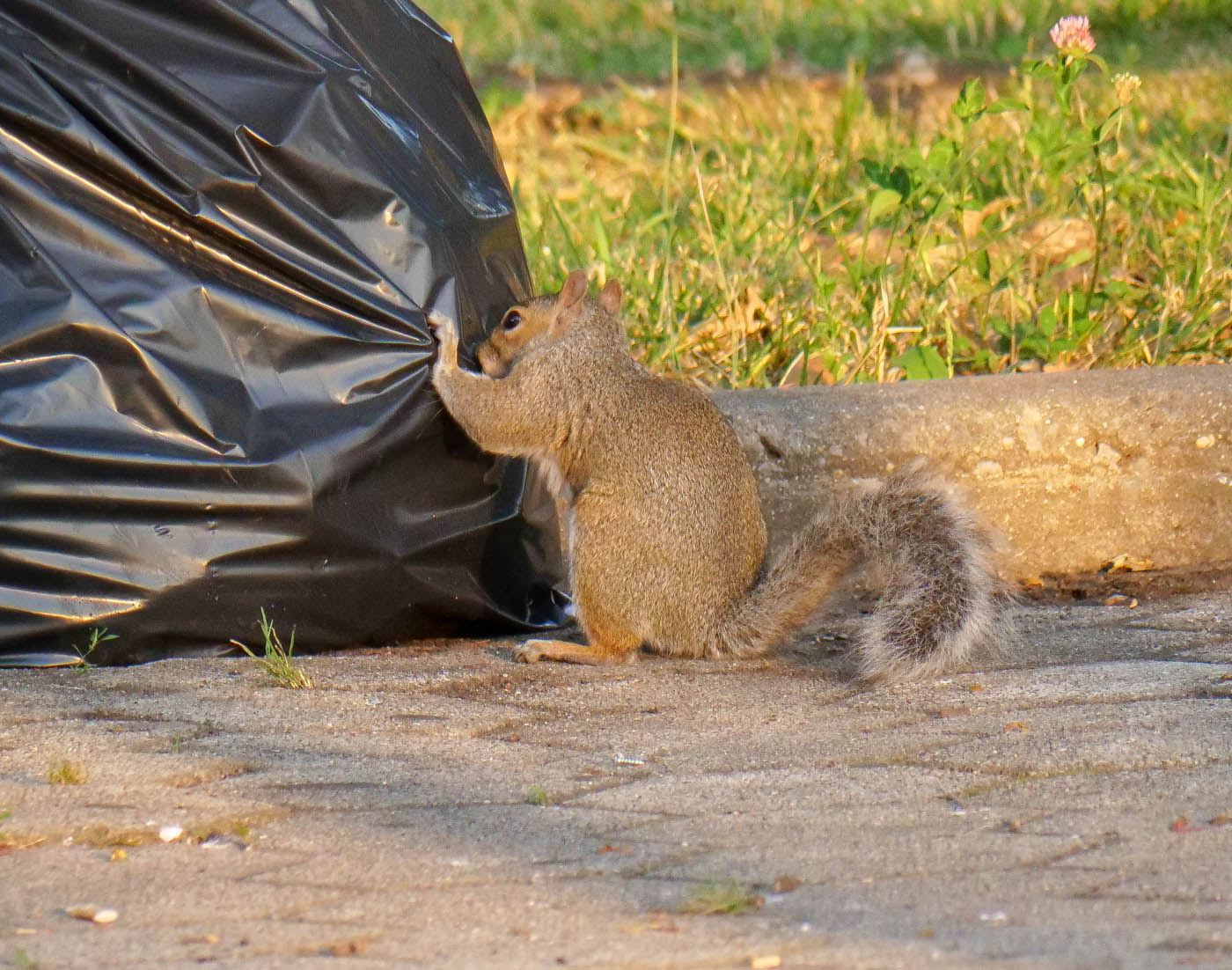 Alan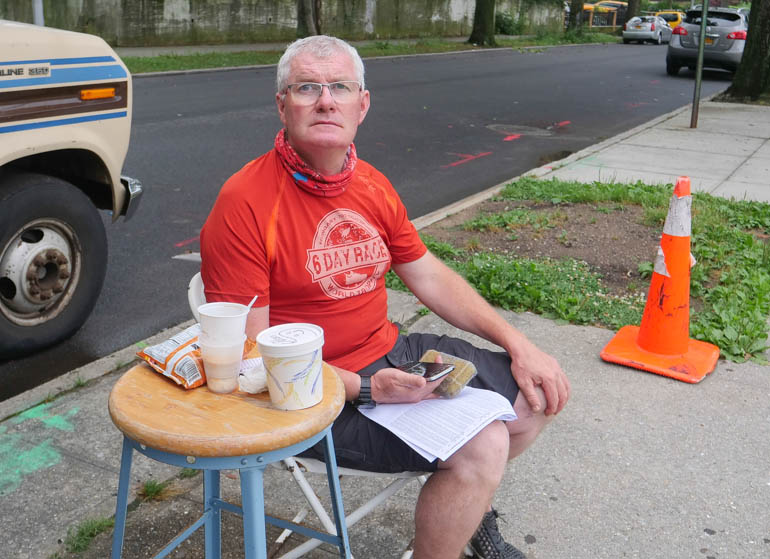 Advertisements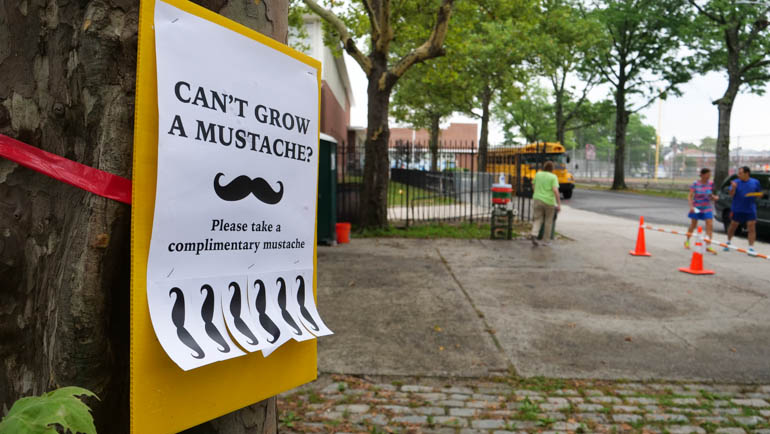 Happy rock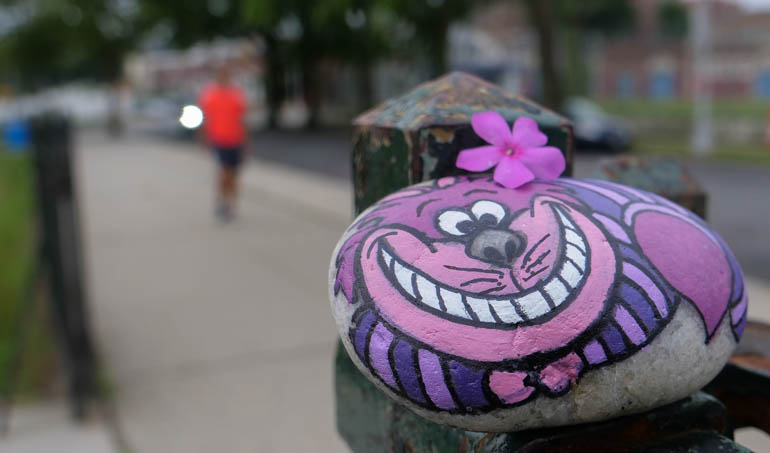 Sahishnu with his week 5 report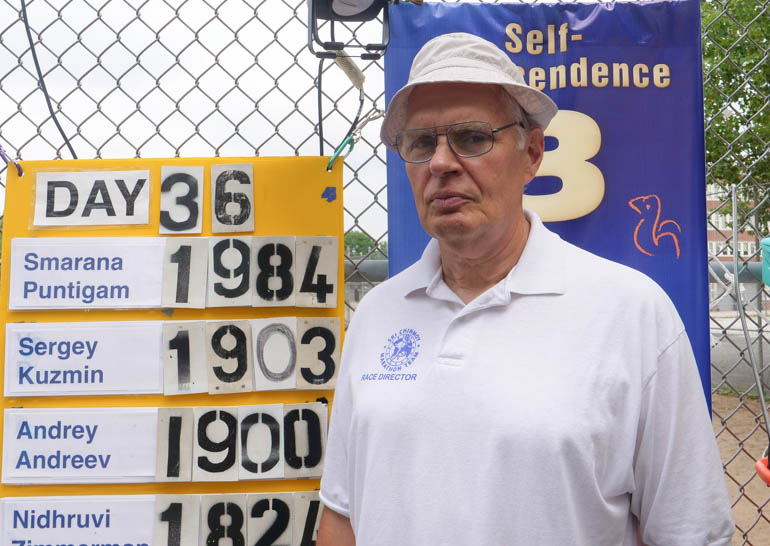 Click to Play:
Prayer of the Day read by Shatapatri
Click to Play:
Enthusiasm Awakeners
Click to Play:
Question: When you speak of outer silence, do you mean inaction?
Sri Chinmoy: No, by outer silence I mean the outer expression of one's inner silence. One silence is dynamic; another silence is static. Static silence is found in deep meditation, which is preparation. Dynamic silence is found in action, which is manifestation. The inner silence guides and illumines us. The outer silence reveals and manifests us.
-12 January 1973
Sri Chinmoy, My Meditation-Service at the United Nations for 25 Years, Agni Press, 1995