Most of the time it is possible to think of the 3100 mile course as a kind of a sacred path.  That all those who assemble there each day are on a very long pilgrimage to a higher goal.  As a metaphor it sounds great and for the most part is absolutely true, in its very own quirky urban way.
But the relentless intrusions of big city life are omnipresent.  The nearby highway gets loud and busy.  Kids fill the sidewalk on their way to and from summer school, and of course the playground and the sport fields become awash with vigorous play by kids of all shapes and sizes.
The yearly handball tournament is an event that city wide handball players no doubt look forward to.  The crowd and the cacophony that spills out onto the sidewalk are of course another matter for 10 weary runners trying to get their laps in the 18 precious hours allotted to them.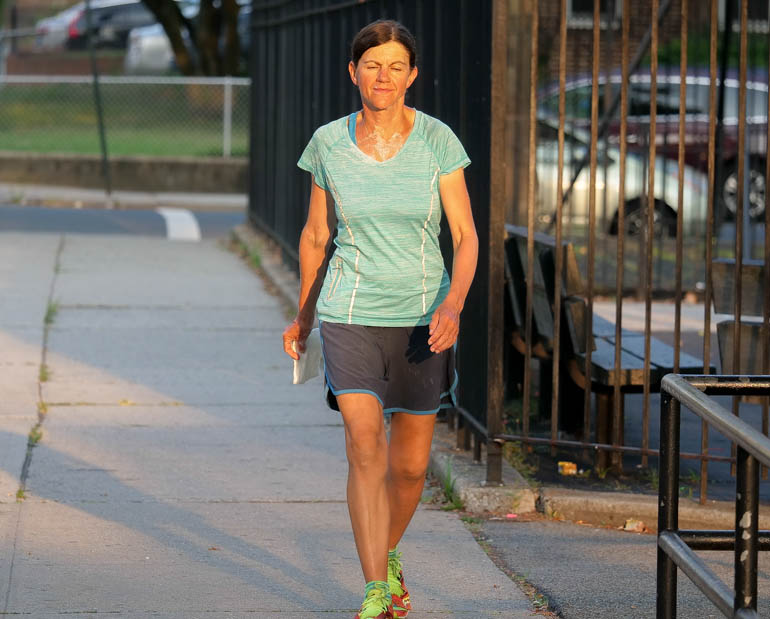 Early this morning as I waited to speak to Kaneenika I got a first hand taste of it, as a man with leaf blower was pushing a great grey cloud of indeterminate debris out through the fence of the hand ball court and onto the sidewalk where I stood.
When asked if she gets concerned about such distraction she says emphatically, "I do.  It is hard to ignore it, because I know what is coming.  Even Vasu said, O NO, the big game is coming."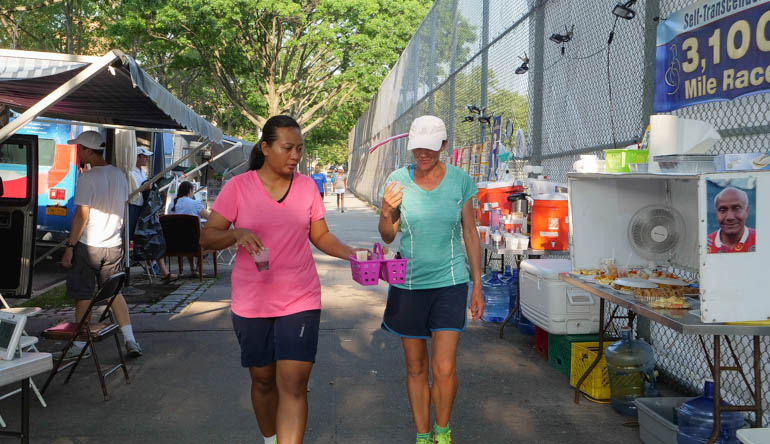 She says that in previous years she was more concerned about it.  "Now I am trying to get ready for it mentally.  Physically, I don't know how to do that.  I hope there is something that will help me."
I ask her what she does in order to cope with an imminent hard day like today.  "Somehow there is something, or someone, who helps us to pull through.  On the hot days and when we had the really rainy day.  You feel like, this is going to be hard.  But you get through it."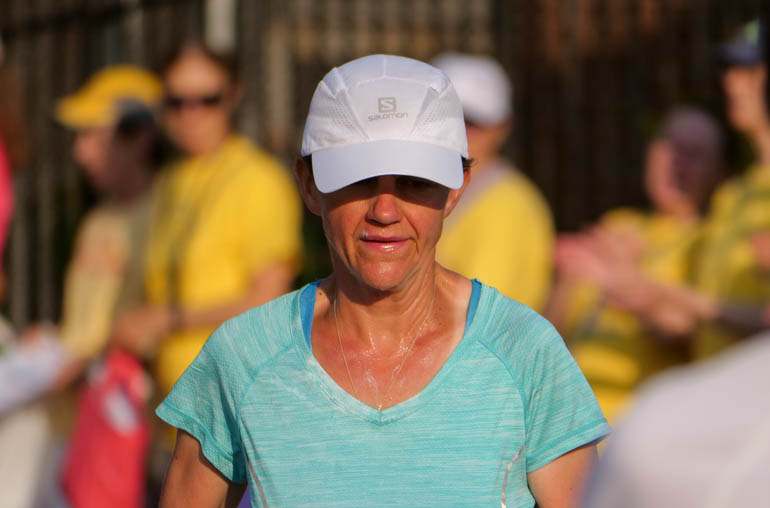 "You don't really know how it happens.  But there is definitely a force that is helping us to overcome these obstacles."
I mention that she often wears a shirt that says, 'Never Give Up.' Kaneenika says that the opposite of that, one can sometimes easily give in to.
She says that she gets real strength and inspiration from the other runners who also overcome powerful obstacles.
"Definitely, last week when so many runners got sick I was just amazed how fast they all got through it.  The next day everybody looked as if nothing had happened.  It did give me a lot of inspiration and a lot of strength to continue.  Just as everybody did as if nothing had happened."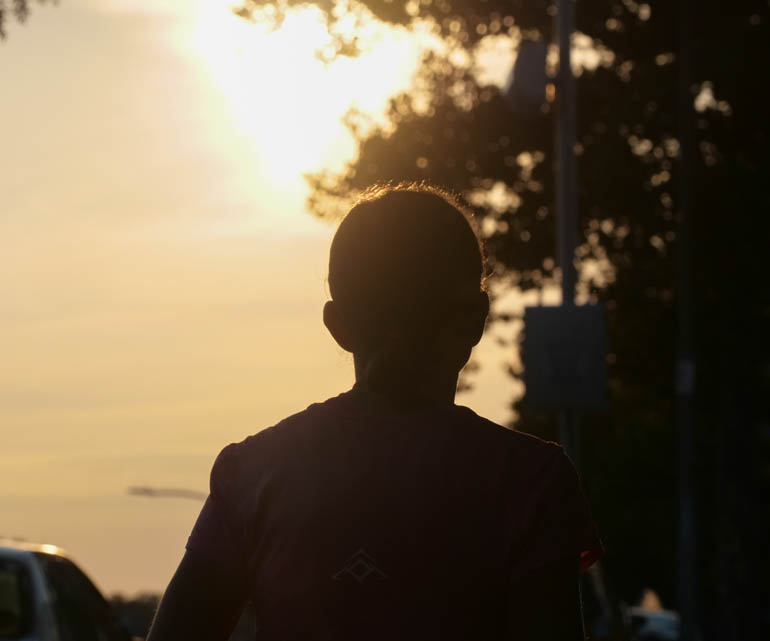 Yesterday Kannenika tied Vasu for running the most miles of the day, 65.3 (119 laps).  Her current total of 2148 is 15 miles ahead of last year.
I ask her if at this point she feel more strongly the pull of the finish line.  "It is still far away.  But it is definitely closer.  It is closer than it was on day one.  I can feel the finish line much more.  That there is an end."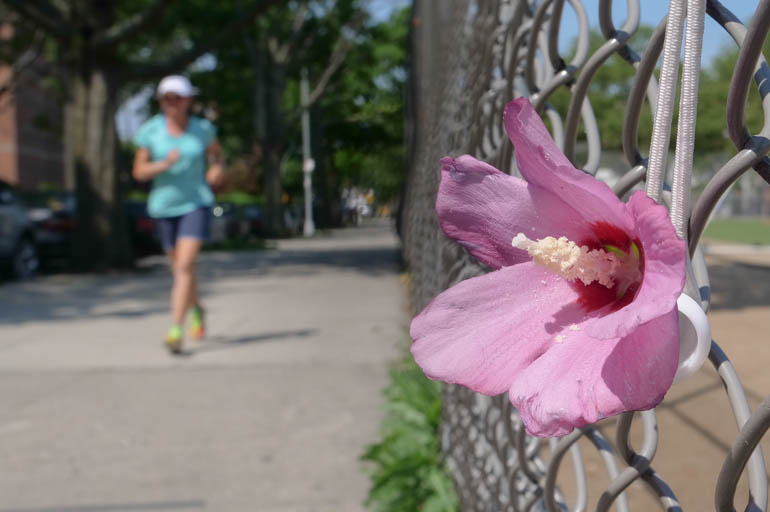 Obstacles there are.
Again, eagerness and enthusiasm
Also are there
To overcome all obstacles —
Present and future.
The board at the start of Day 35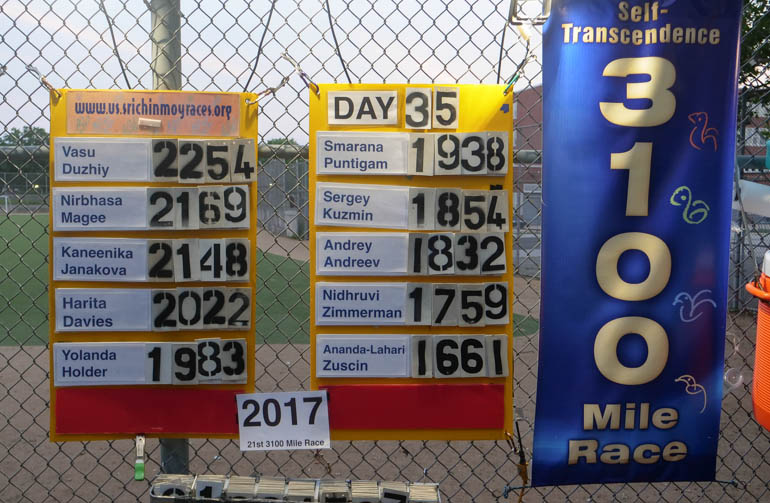 Clock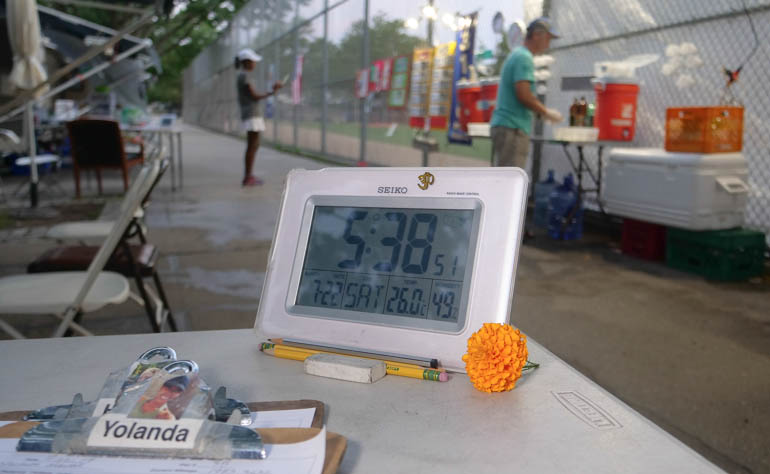 Yolanda had a good day yesterday with 62 miles
There was recently a nice article on her in the New York Times
Hat
Suhasini and Yuri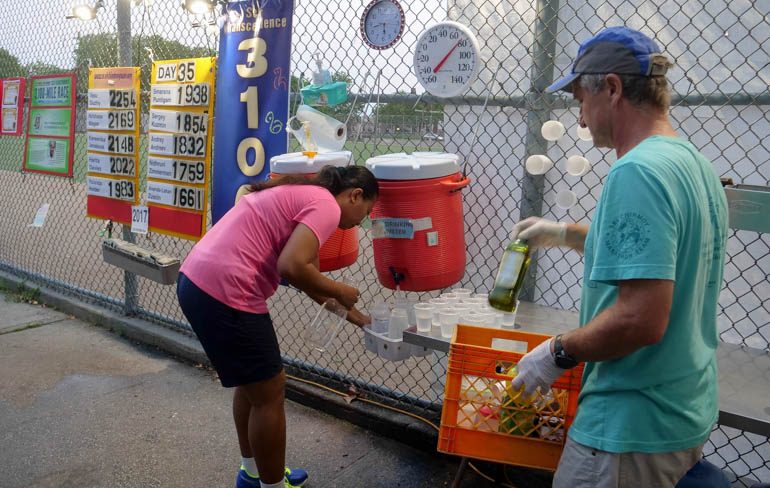 Sergey arrives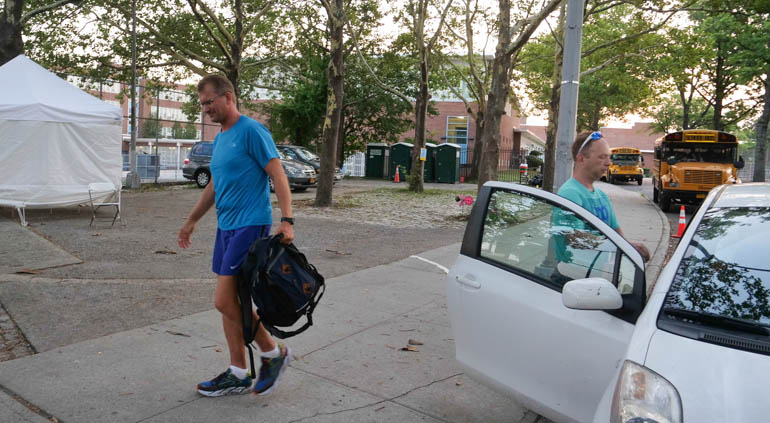 Box of shoes
Alan
Kaneenika and Harita arrive
Vajra ready to go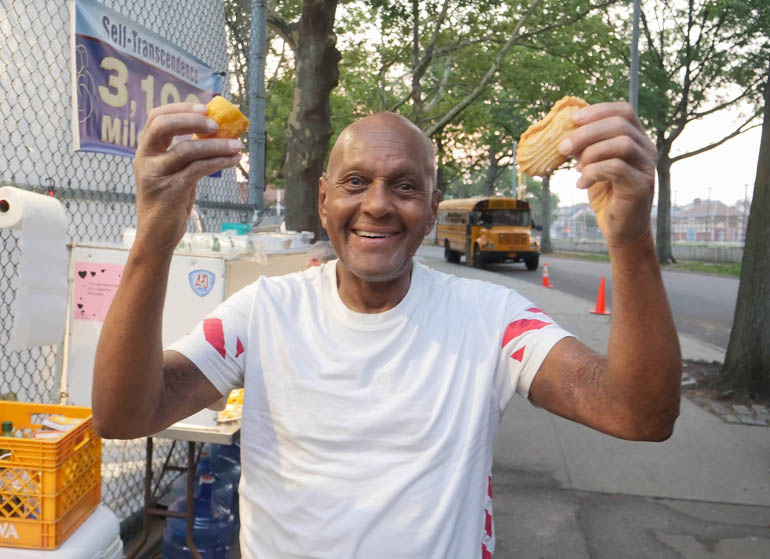 Girls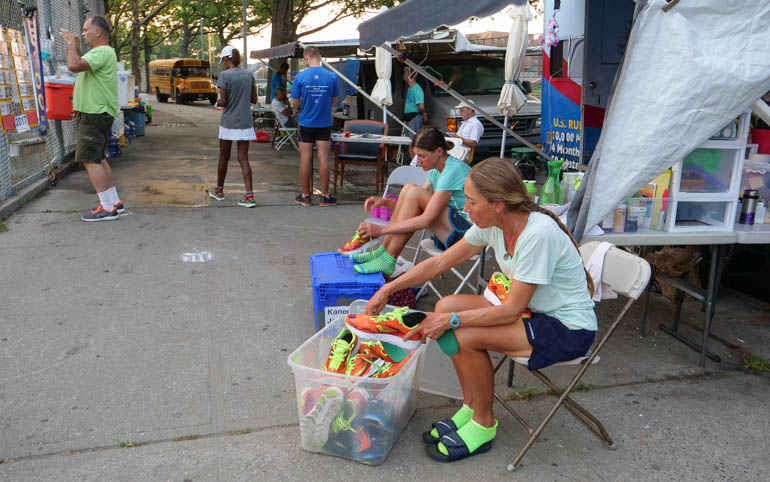 Ananda-Lahari
boys
Harita
Alan shares a laugh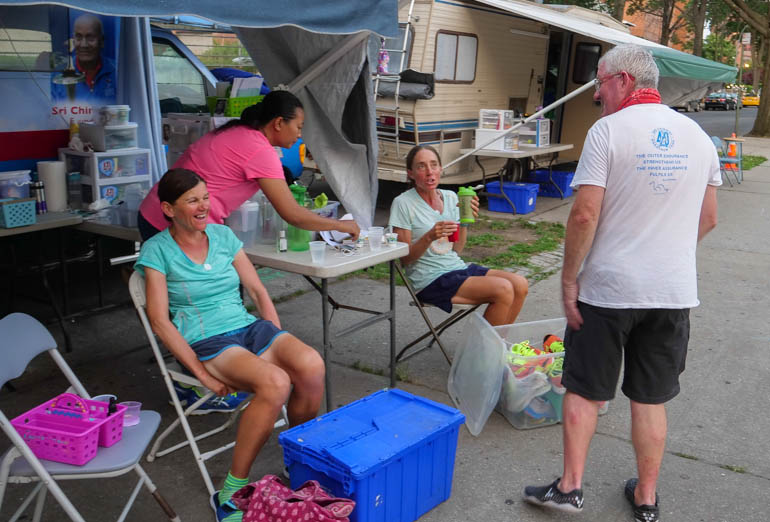 Shoes next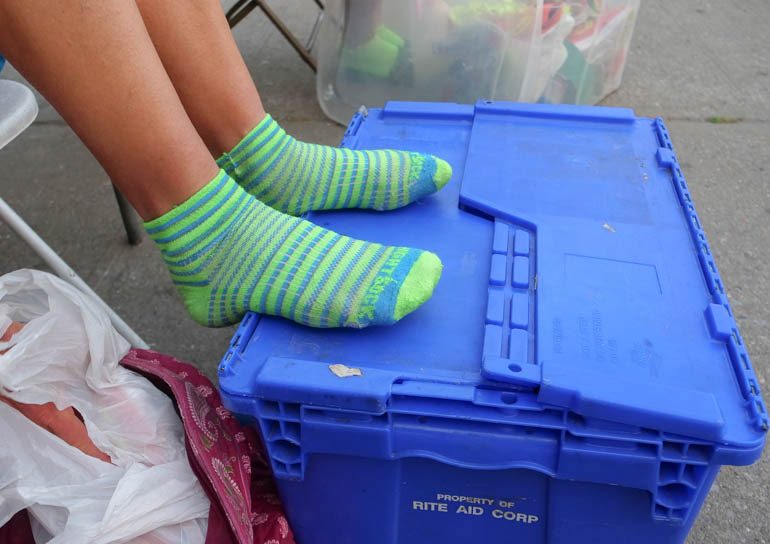 Start Day 35
Bright and humid day ahead
Showers tonight
Vasu did 65 miles 119 laps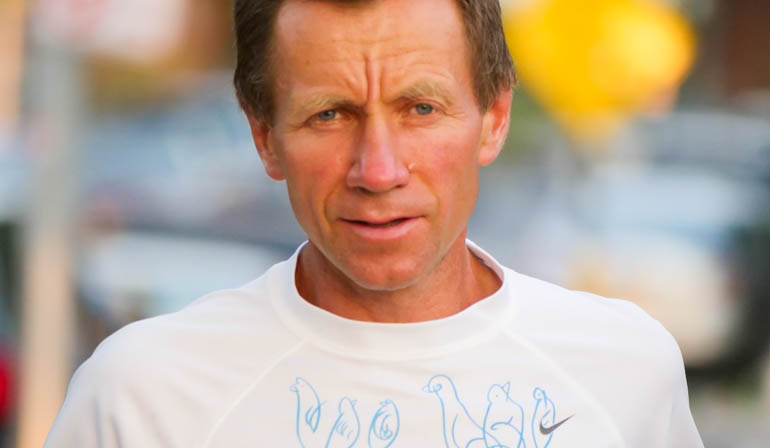 He now has 2254 miles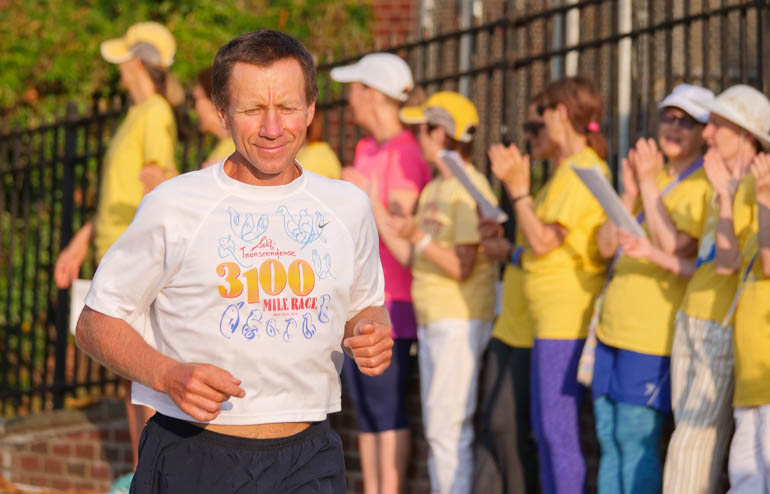 Feet
Getting help from Sasha
Those feet go through so much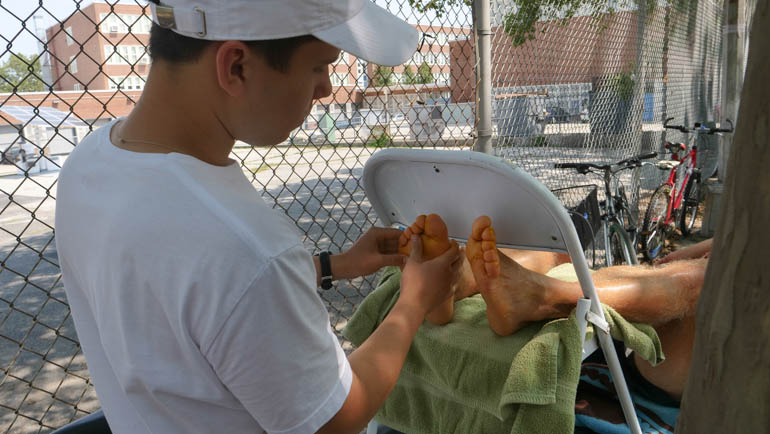 A remarkable person
A bit of green
Nirbhasa also had a great day with 64 miles 117 laps
He now has 2169 miles, which is 131 miles more than 2015
Telling jokes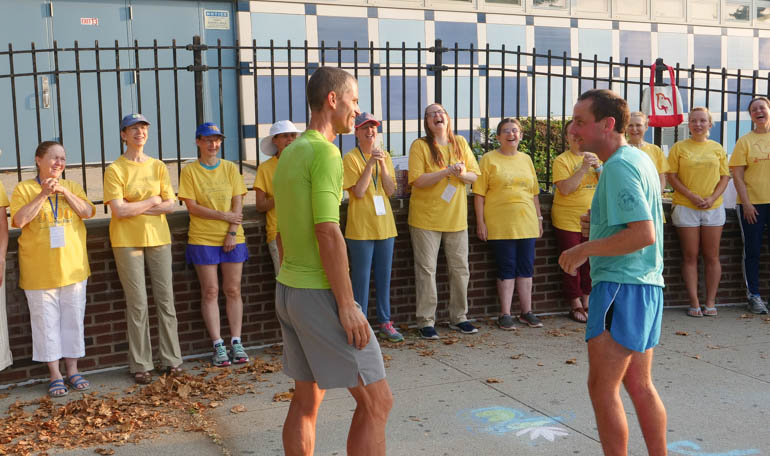 Taking a break
Running so well
flower
Kaneenika did 65 miles 119 laps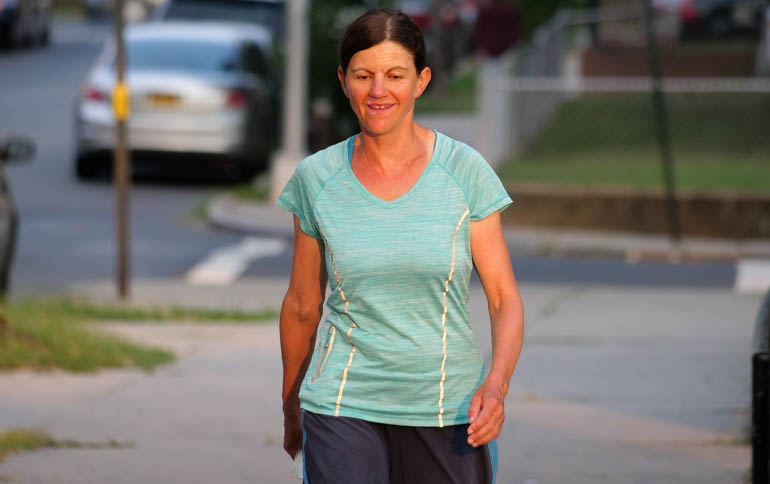 She now has 2148 miles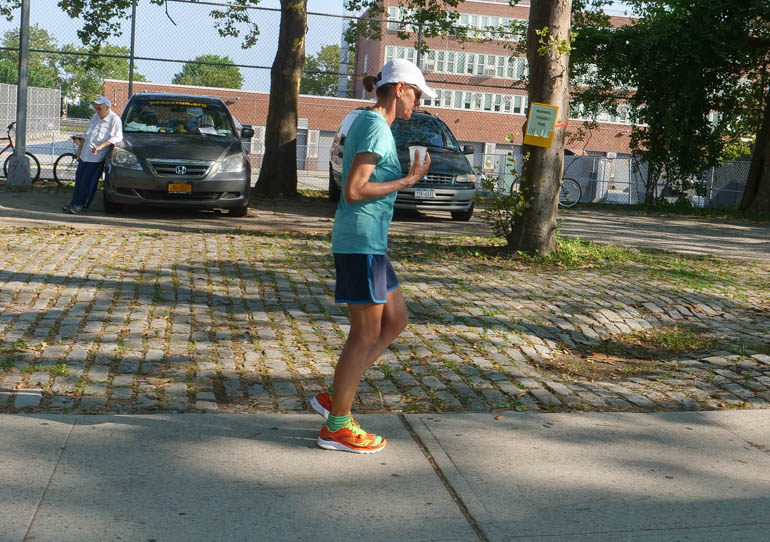 Great runner and a great team
Flower
Harita had a good day with 60 miles 111 laps
She now has 2022 miles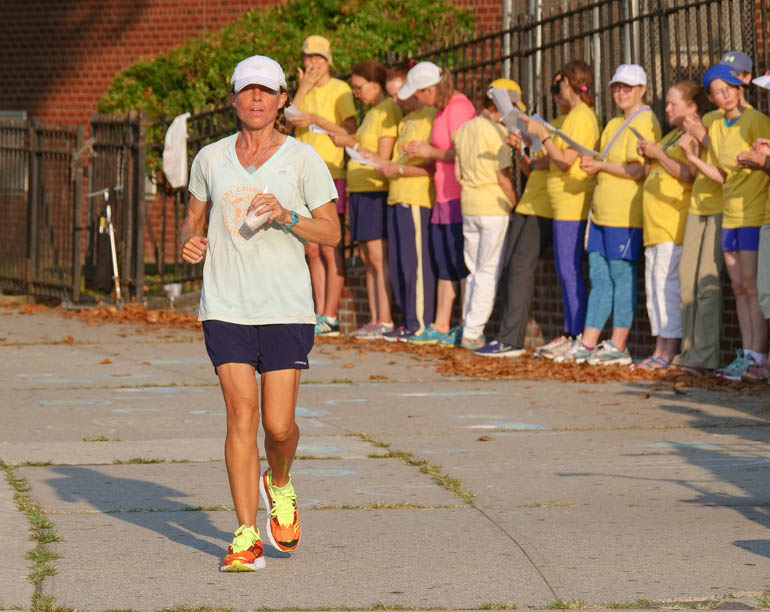 Alakananda captured her completing 2000 miles yesterday
She needs to average 59.8 miles a day to finish
Telling jokes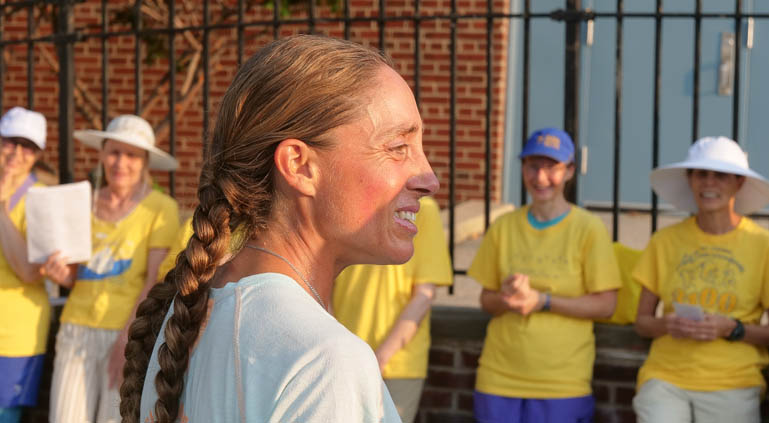 An eager audience
Flower
Yolanda did 62 miles 113 laps
Her friend Martha came in from Vegas
Bells are rung when she makes 2000 miles
She needs to average 62 miles a day now until the end
Flower
Smarana did 60 miles 110 laps
Telling jokes
He now has 1938 miles
Flower
Sergey did 38 miles 70 laps
He now has 1854 miles
Getting help from Alexy
Happiness rock
Andrey did 45 miles 82 laps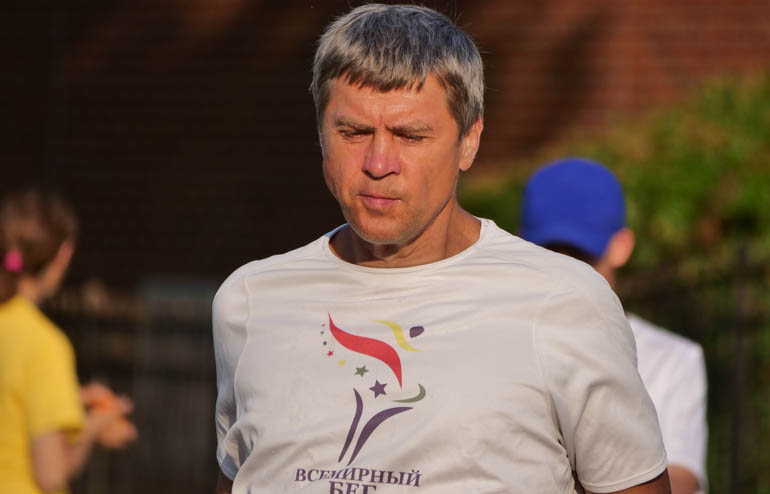 He now has 1832 miles
Photo taken by Alakananda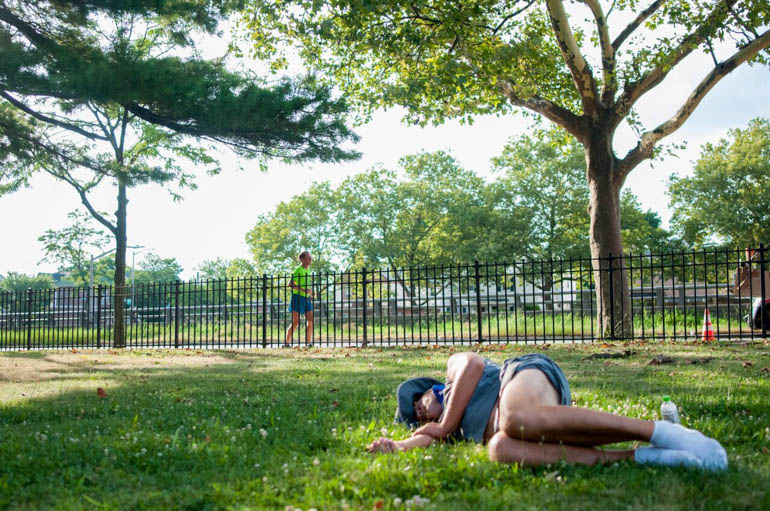 Flower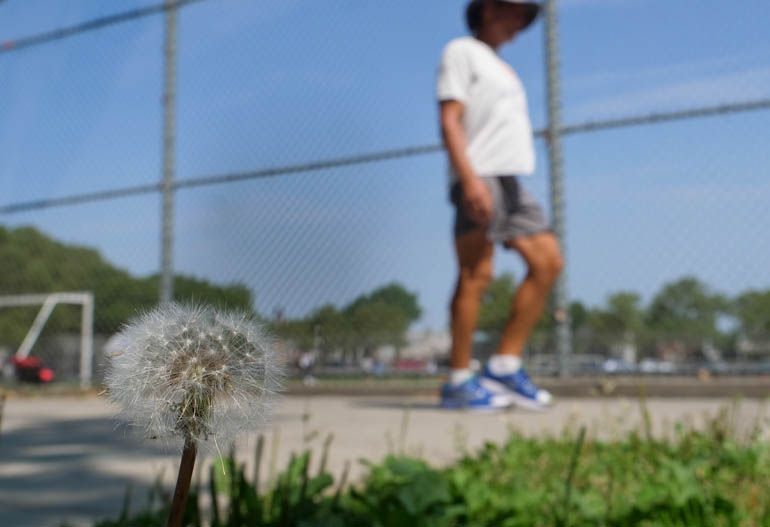 Nidhruvi did 52 miles 96 laps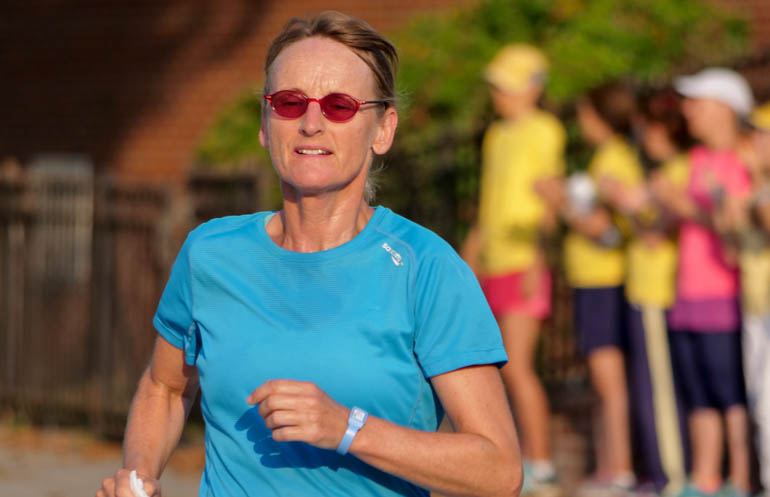 She now has 1759 miles
Telling jokes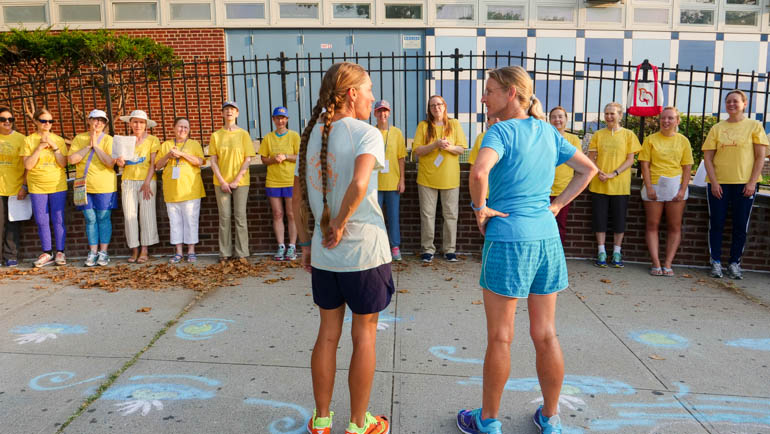 With Mareike
Flower
Ananda-Lahari did 35 miles 64 laps
He now has 1661 miles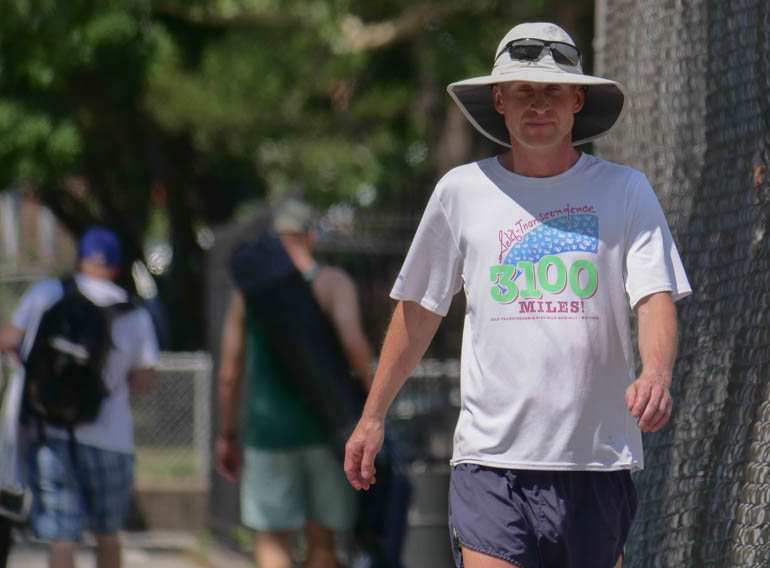 Flower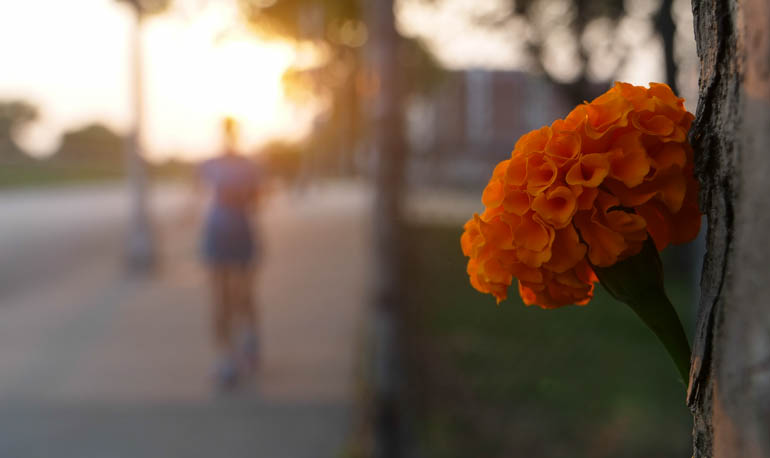 Swamiji
Flower
Databir's deadly secret Ninja attack on Alan
The 2 mile race has just finished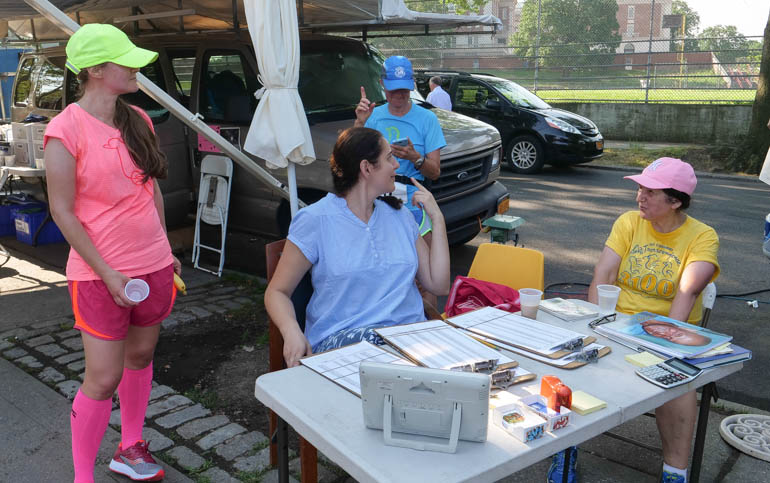 92 year old Snehashila working the water table.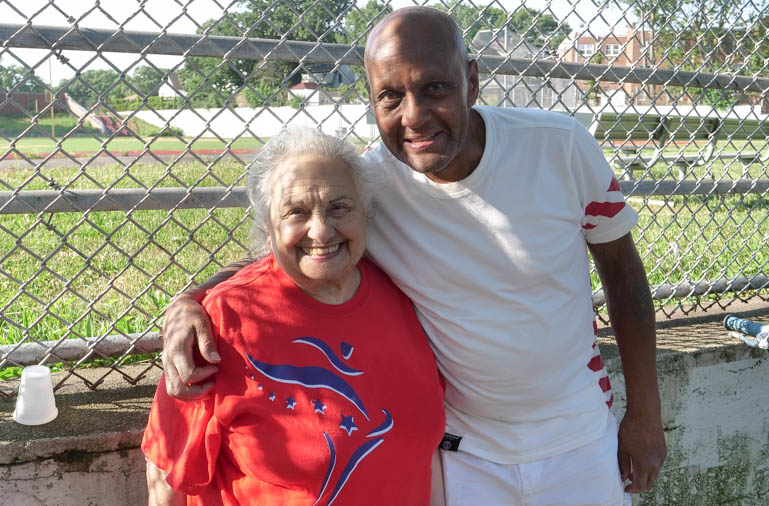 Picture fun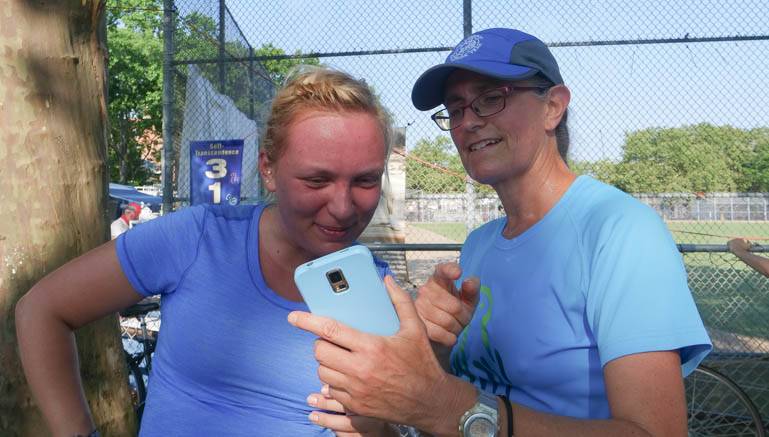 Karteek who is handling Nirbhasa discusses food issues with Nirjharini
"Okay enough pictures of squirrels.  Turn around quick here comes Kaneenika."
Alexy recording the Daily Prayer
Daily prayer read by Jumagul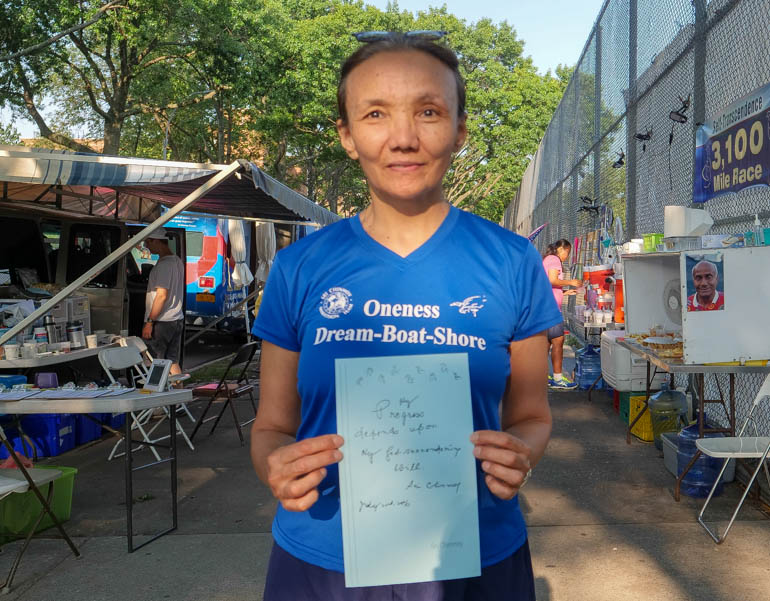 Click to Play:
Enthusiasm Awakeners
Click to Play:
Question: How can we remain happy in the face of obstacles?
Sri Chinmoy: Make progress. Just because there are hurdles, will you give up the race? Between you and the goal there are a few obstacles, but you have to overcome them. If you say, "I don't want to overcome the obstacles, but I want to reach the goal," how can you expect to do it? If you are just at the starting point, you have to be prepared to encounter difficulties. There will be some obstacles, to see whether you sincerely want to reach the goal. When you have to cross over a difficult hurdle, you will see whether you really want to reach the goal or not.
This is not actually a test, but if you do not encounter any obstacles, you will not value the goal. If God comes and stands in front of you at this moment, you will not value Him; nobody will value Him. In order to value Him, you have to work and strive and struggle for Him. God can come and give you God-realisation immediately, but you will not know how to value it properly. One great spiritual Master had a nephew who used to serve him in every way. When he gave this nephew just an iota of his own realisation, the nephew immediately said, "You and I have become one now in spiritual height." He felt that there was no need for him to serve his Guru in any way. In your case also, if you are not prepared, you will not value God. The goal is God. You have to make full inner preparation. What I call preparation in the real spiritual sense, your ordinary mind will call an obstacle.