"Its been a roller coaster of emotions and feelings.  I feel great some times and then in the next lap I can feel that I am down in the gutter."
48 year old Todd McAuley is running in his first 6 day race.  He has participated in many endurance events over his many years of being an active sport participant but this is something brand new for him.  "This is completely something new for me.  The longest race I have ever done is 100 miles.  This is going to be a little bit longer than that."
As we are talking there is still a little time before the end of the first 24 hours.  Todd has 66 miles but his goal is to make 70.  When asked why he picked that number he says, "I pulled it out of a hat."
Last year at this time Todd had done a marathon in Deleware.  He had being hearing stories about the race for years and so decided to stop by on his way home.  "I stopped here with my wife and we checked it out."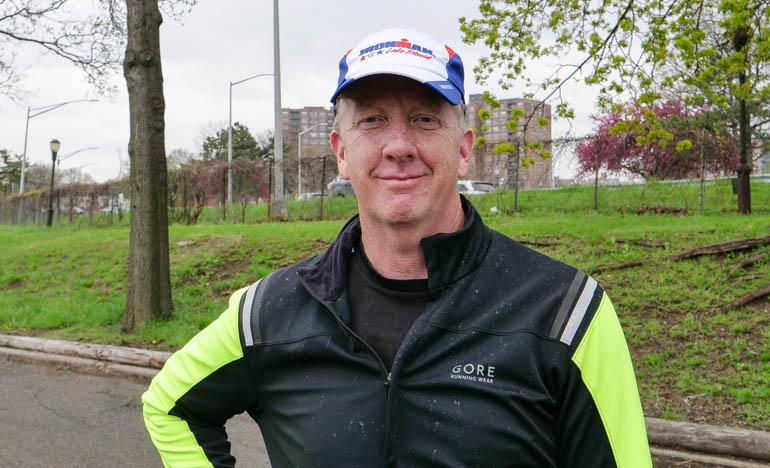 Todd confesses that he thought he would be inspired by seeing the race in person but instead walked back to his car and said, "there is no way I am ever going to do that.  This is a whole different level."
"I think the seed was planted and about a month later I couldn't get it out of my head. It was the challenge of the unknown.  I didn't want to accept defeat before I had even tried it."  Eventually he realized he had to simply had to accept the challenge.
"I think if I hadn't tried it I would always have had the question."
Now his goal is to stay healthy and keep moving.  He hopes to average 70 miles a day, "Pretty or ugly I want to get them in." (Todd made 70 miles for Day One)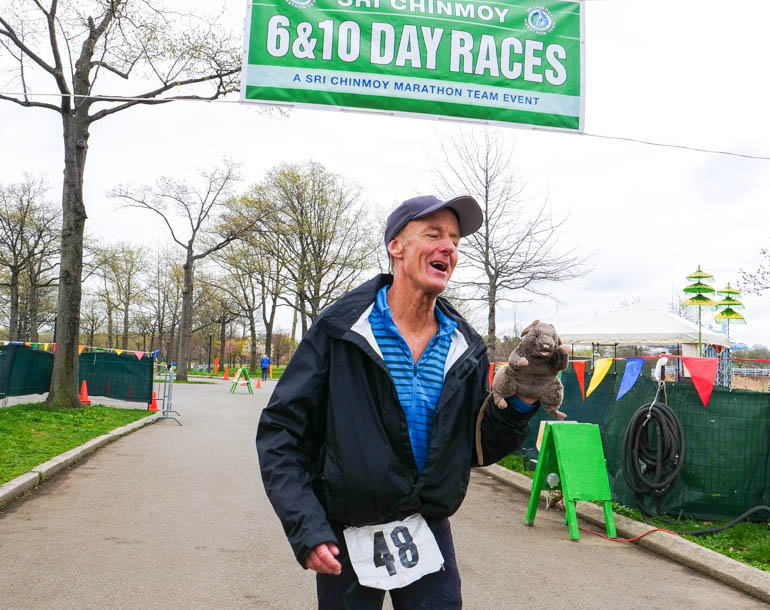 "I have a wonderful crew," says Mark Dorion.  (Health and Safety have not been notified about the rodent currently attached to his left hand)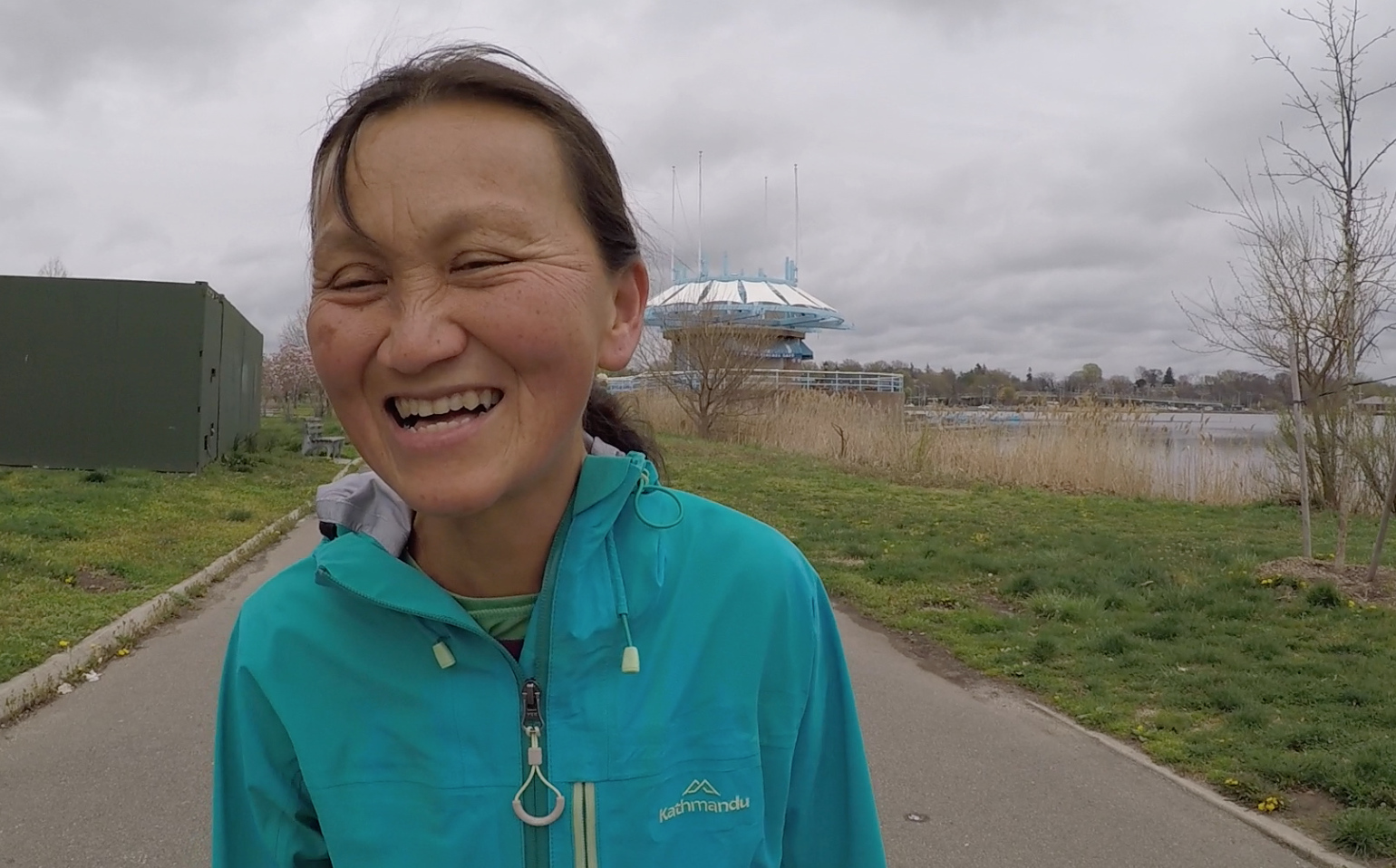 Durba at age 58 is running her first 6 day race.  She lives in Auckland and when I suggest that the Kiwi's are taking over the race she says, "it is a oneness world.  It doesn't really mater whether we are Kiwi, or Aussie, or whatever."
When I ask her the eternal question….why 6 days?  She says, "I wanted to have the experience once in my life, what is it like."
"So far it has been really really nice.  People are really kind and the race is so well organized it is unbelievable."
It just happens that many years ago she was a helper for Suprabha had her first 1300 mile race.  "She is an inspiration for many many people.  So I wanted to try and ultra at least once and see what it is like."
As for goals, "I don't know.  I have never done anything like this before.  I will be happy if I can stay on my feet for the next 6 days.  I am really happy."  (Durba has 52 miles for 24 hours)
*Click on the Read More Button below to see rest of the report*
Budjargal and Kim are still leading in the 10 day
In the 6 day it is John Geesler and Kim Allan
Budjargal has 385 miles 5 days
Spectator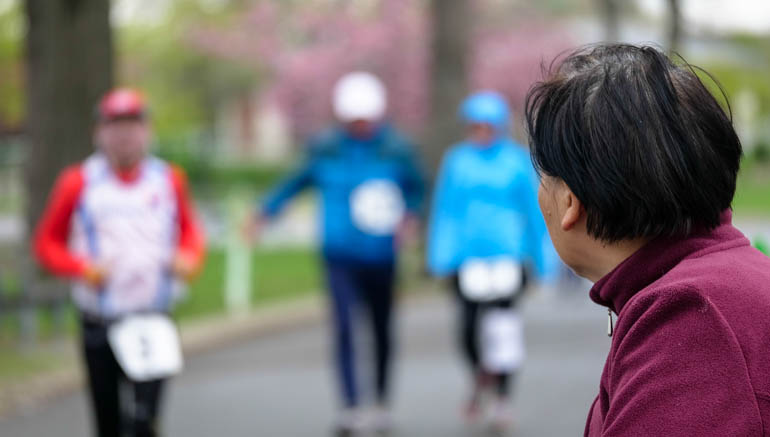 During a break he presents Sahishnu with a Mongolian carved horse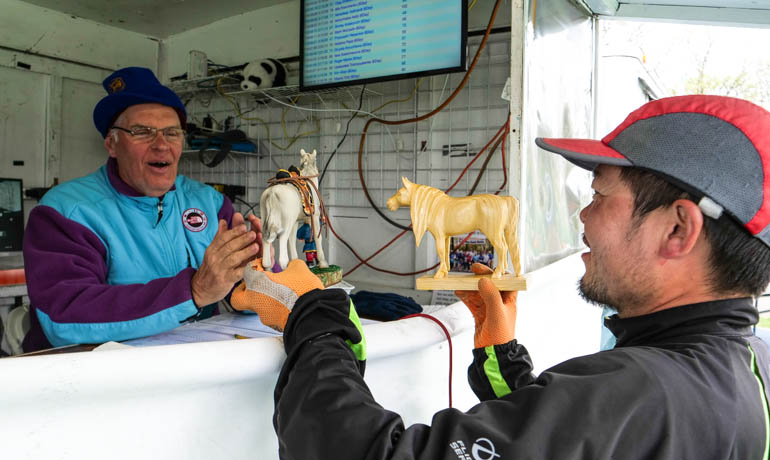 Igor has 354 miles for 2nd place
Jesper has 350 miles for 3rd
Mark Dorion's rodent friend, now independent of his left hand, was spotted scavenging for snacks near the dugouts
Nataliya is 2nd in the 10 day with 285 miles
John Geesler gets his first 100 miles
For 24 hours he has 104 miles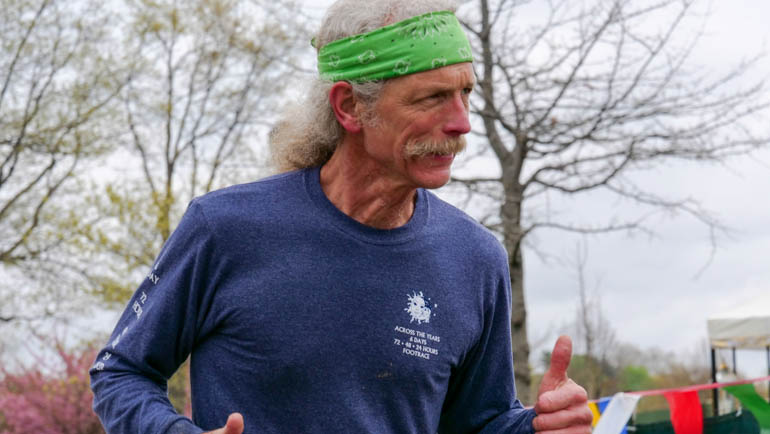 Rain comes and goes throughout the day.  Ashprihanal has 102 miles
Flower
Mark Dorion is 3rd with 81 miles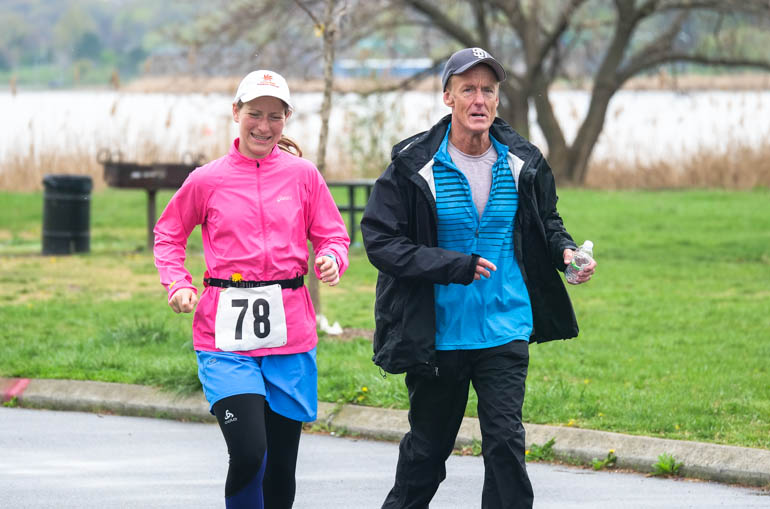 He carries no Identification but said to one helper that his name was Rody.  He then moved his way over to the food tent where fresh carob balls seemed like a good menu choice.
Kim Allan leads the women 6 day with 98 miles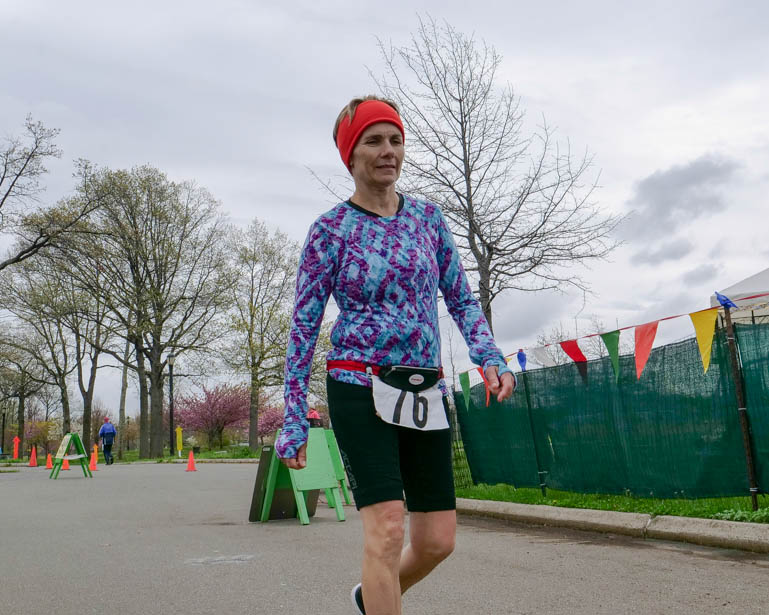 Vikena is 2nd with 80 miles
*Click below to see Dipali's Race tips*
"Is it cheating if I fly instead of run."
Allan, Wendy, and an unnamed fox are helpers of Mark Dorion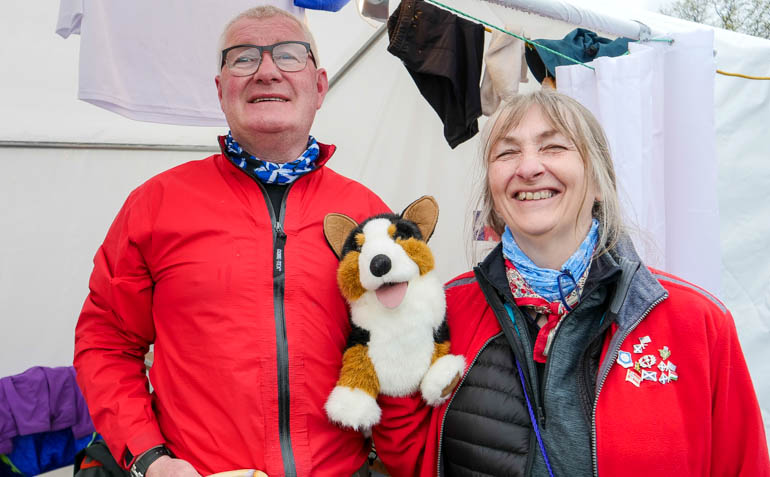 Vinati has 276 miles and Joe has 59 miles
Vera has 72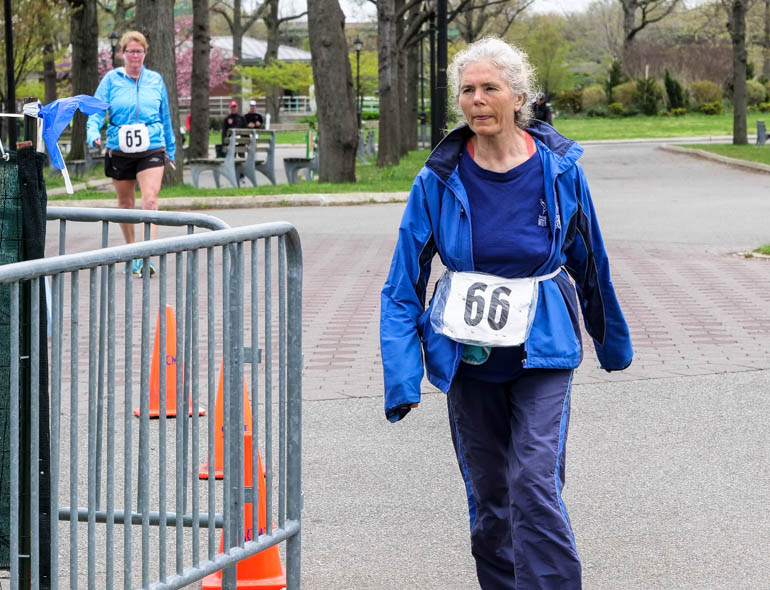 Crew Uddipan with a very big cup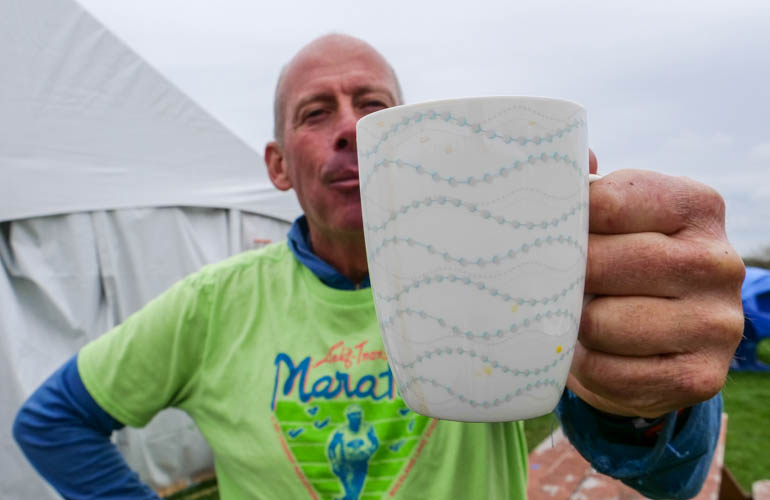 At last Rodney paused to check out the race more closely, with particular interest in Mark's mileage
Susan has 71 miles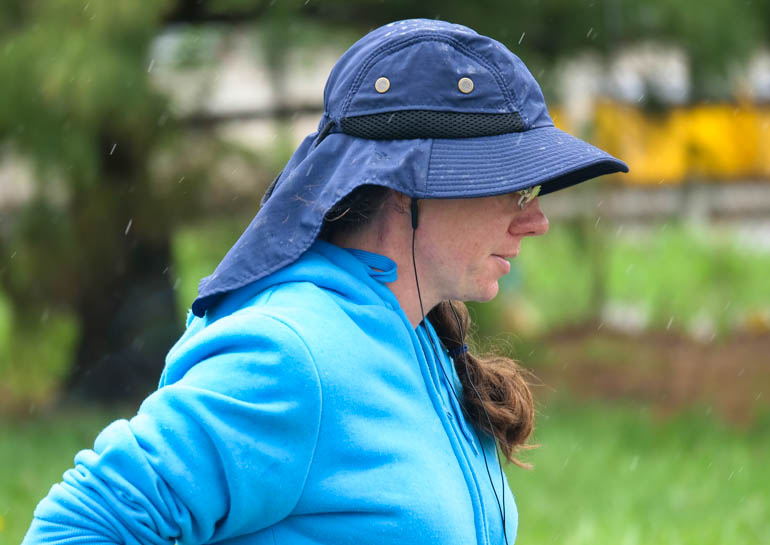 flower
Sergey has 256
Andy Cable and Bob Oberkirk, both past participants drop by to cheer the runners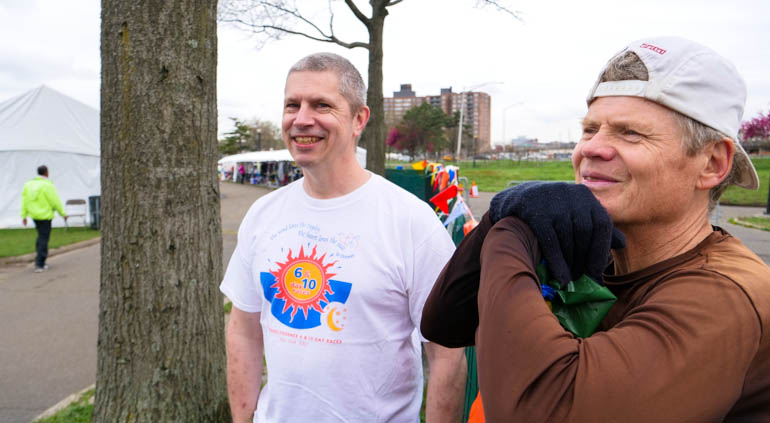 Bayarsaikhan with 232 miles
Flower
Arun has 247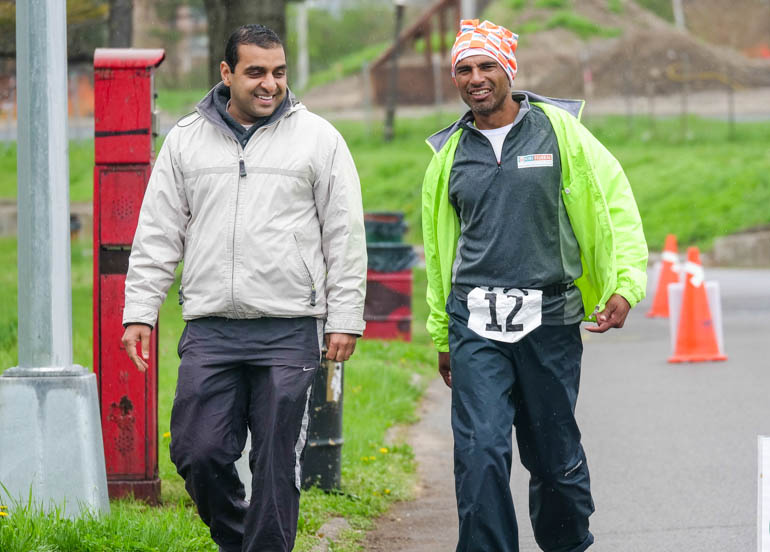 Every number counts
Just as every dog has his day.  Roxy may have spotted the rodent intruder to the camp.
Sergei with 296
Staying dry
Late entrant looking for a number
Everybody else has numbers and smiles as well
Roger has 69 miles
Priyavadin has 71
Petra has 64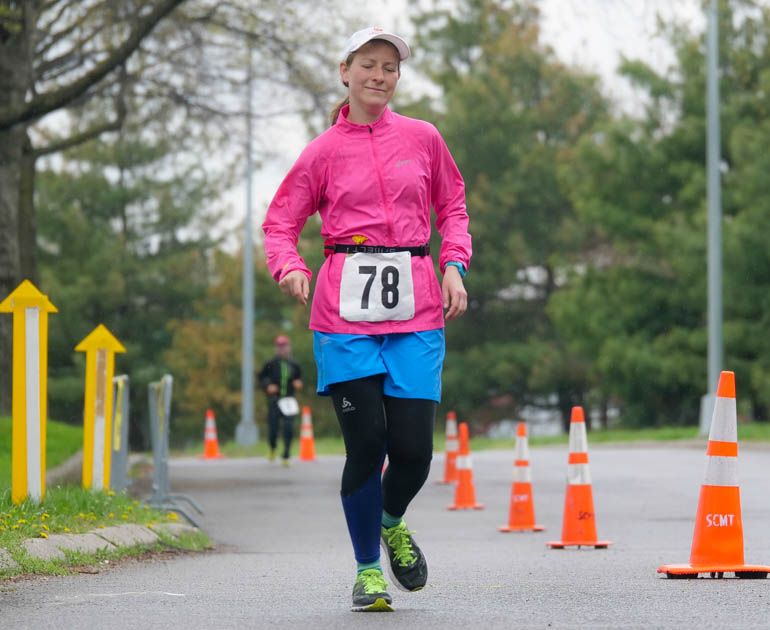 "Do you think they could at least put in traffic lights"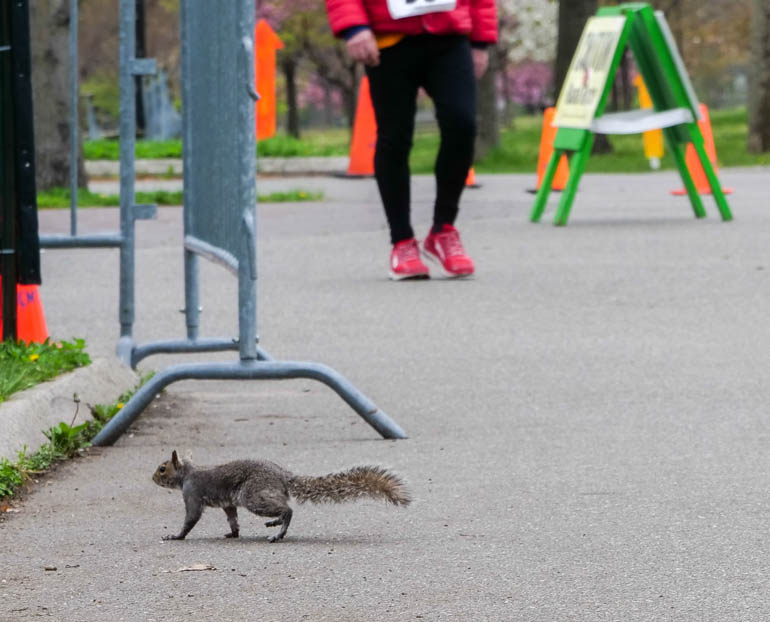 Pratishruti has 57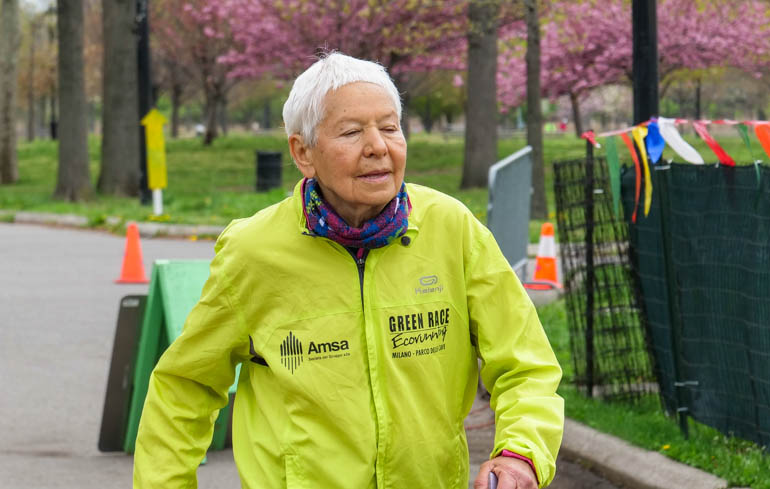 Who knows when inspiration will strike.  Rodney decides to enter the race one day late.   Sahishnu has set up a special counting board. He is ecstatic.
Pedja is still ahead of pace with 274 and Albena has 235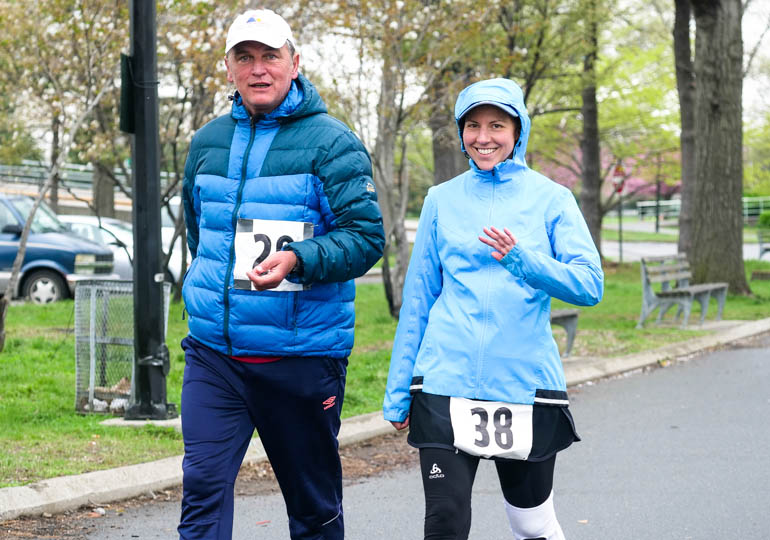 Oleksandr with 301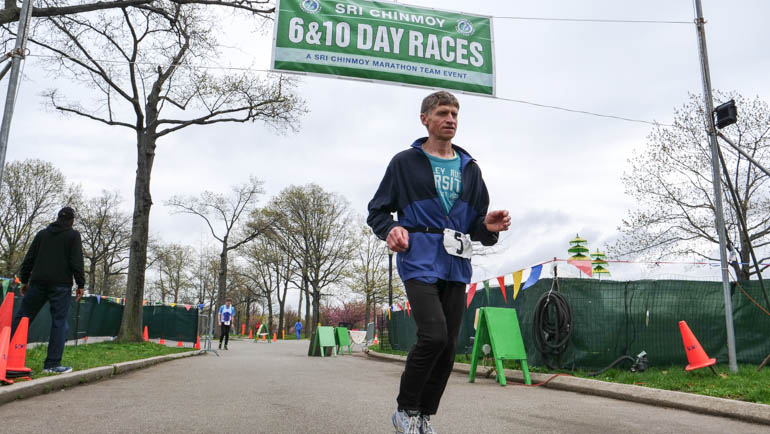 Flower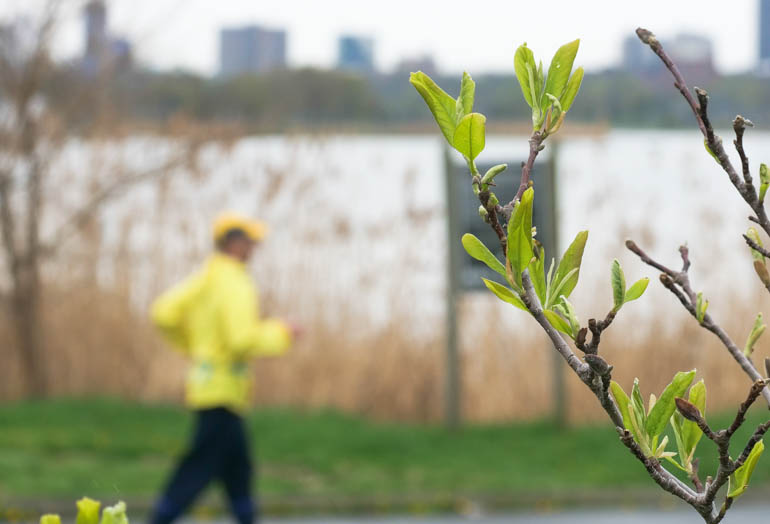 Patanga with 207 and Ashirvad with 61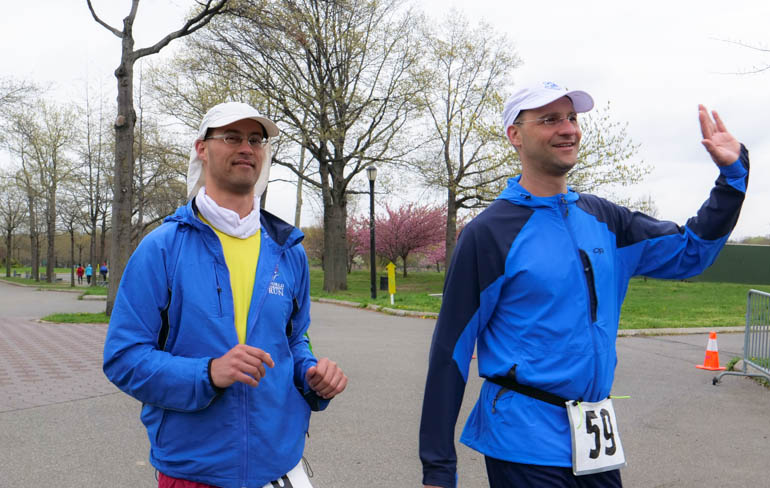 Nataliya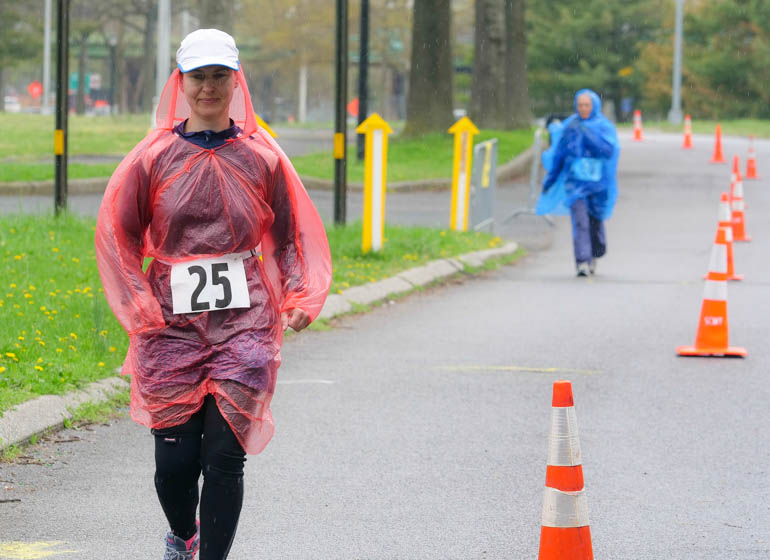 Joe with 59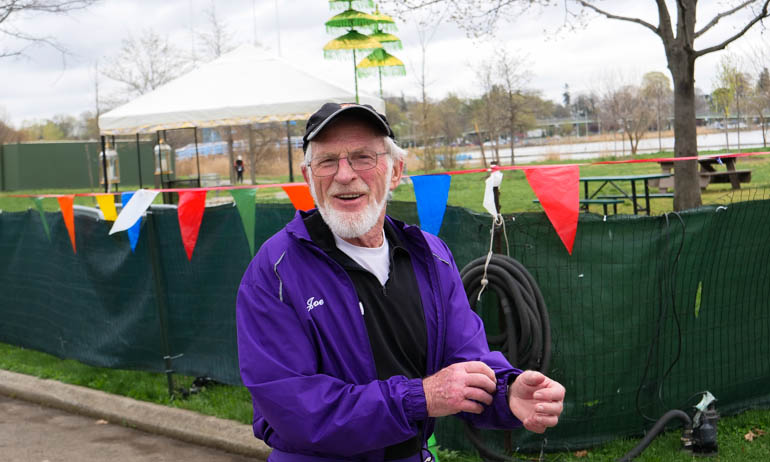 Flower
Oleg with 57
Mattali with 55
Karteek with 247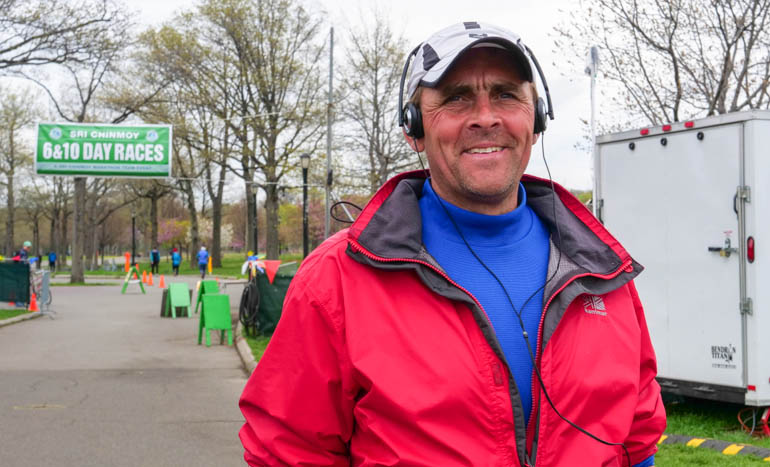 Flower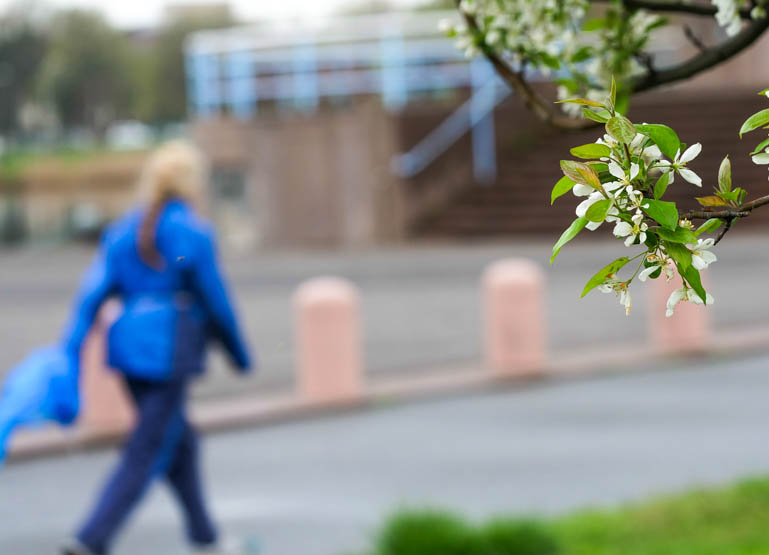 Start counting folks
Mark McCaslin has 58
Marius with 48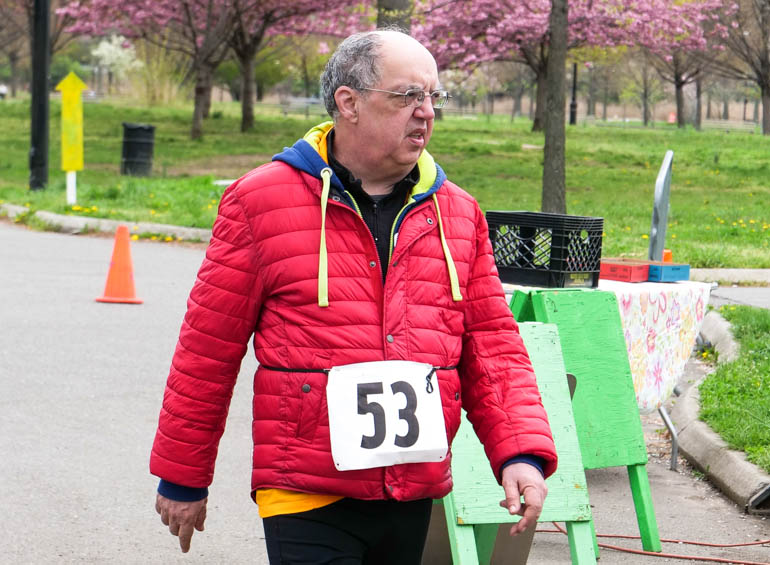 Gudrun has 109 and Karnayati has 228
The vision of a oneness-family
Will one day cover
The length and breadth
Of the world.