Be good and remain
good; if you want
to be a supremely
chosen child of God.
When I go to meet Vasu out on the course he is reciting the daily prayer with Stutisheel.  Saying the daily prayer is something that he has done throughout this race, and as far as I know it is something so important to him that he has done this same thing every day in all the 5 years he has run here.
*Click Below to Hear Sound of Finish*
Finish Songs:
When he repeats the prayer it is not just done once, or twice.  He will say it many many times and for many of the prayers he has memorized them.  Letting the sacred words enter so deeply into his heart that they can never be extracted. Using them as guidance for not just each day but his entire life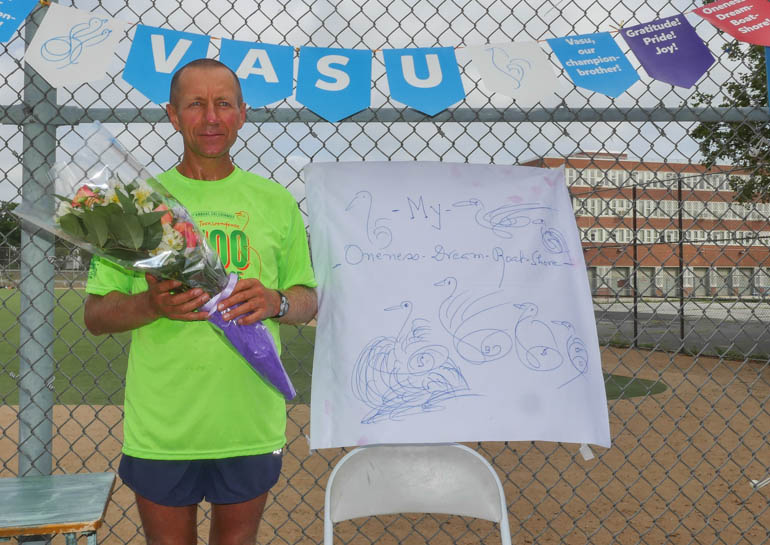 It is day 49.  Yesterday Vasu ran 66 miles, this morning he has just 18 miles to go.  He will finish a little after 10 this morning.  I joke with Vasu.  Since you have the whole day in front of you.  Have you made any plans
"No."
"I have no plan.  God has a plan."
Vasu says he will be happy when he finishes.  "The race has been very very nice.  Many disciples have worked on this race.  I want to say that this is team work."  He adds that he has been singing the song Sri Chinmoy once wrote about team work.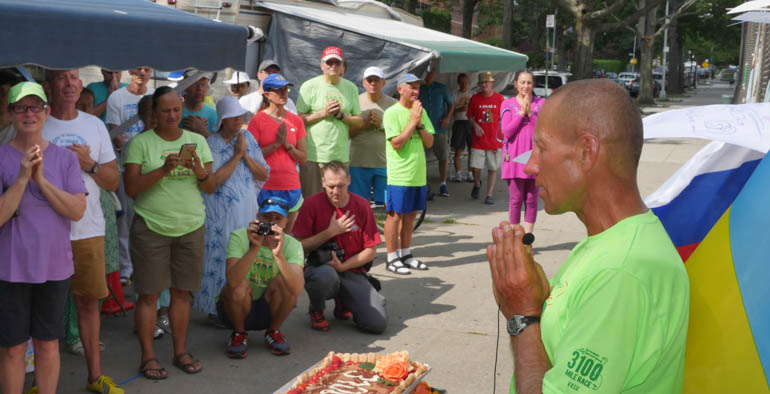 God-manifestation-teamwork
Is infinitely better and happier
Than any other teamwork.
The board
A quiet Saturday morning
Yuri once again arrives at the same time even though he has finished the race.
Van arrives
It is Misha's last morning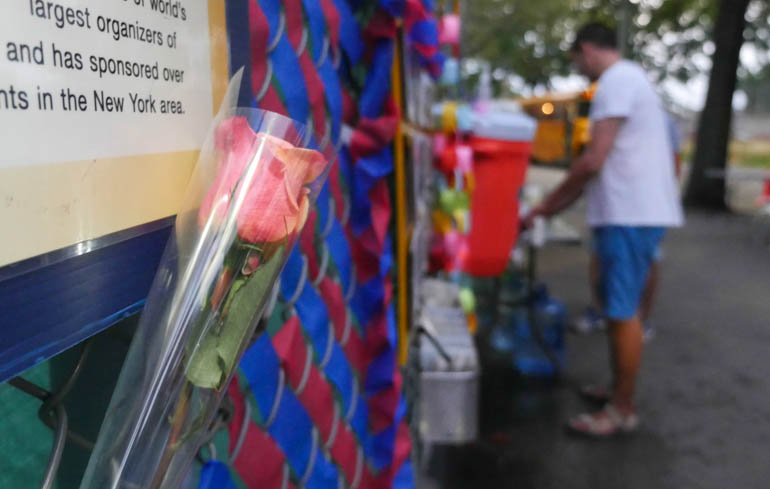 It will not be hot but it will be humid
Volody will take over for Misha
Vasu arrives for his last day of running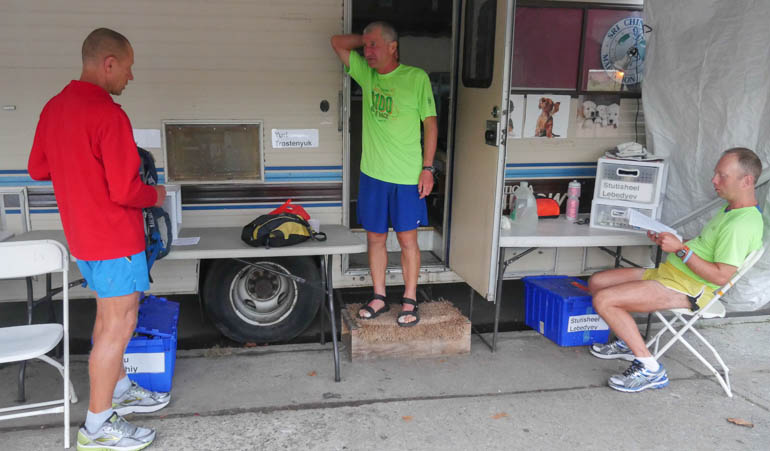 The girls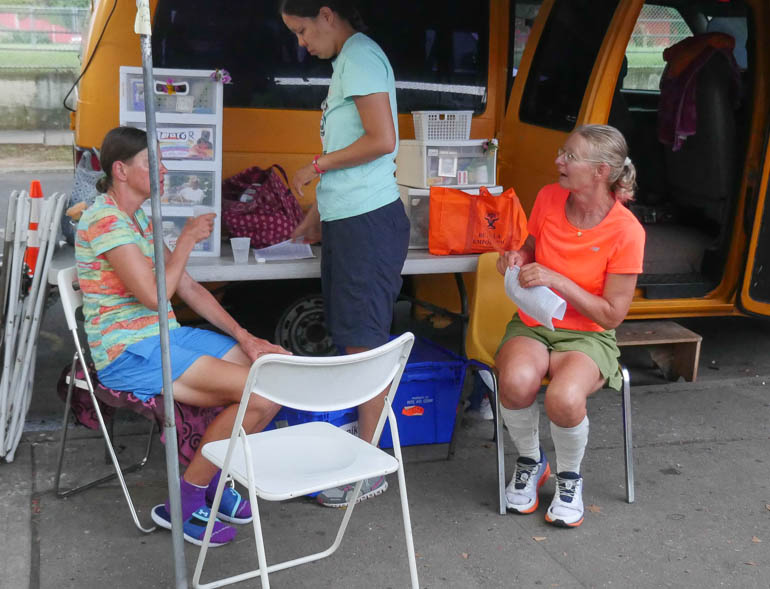 Start Day 49
The morning sun fat and heavy in the sky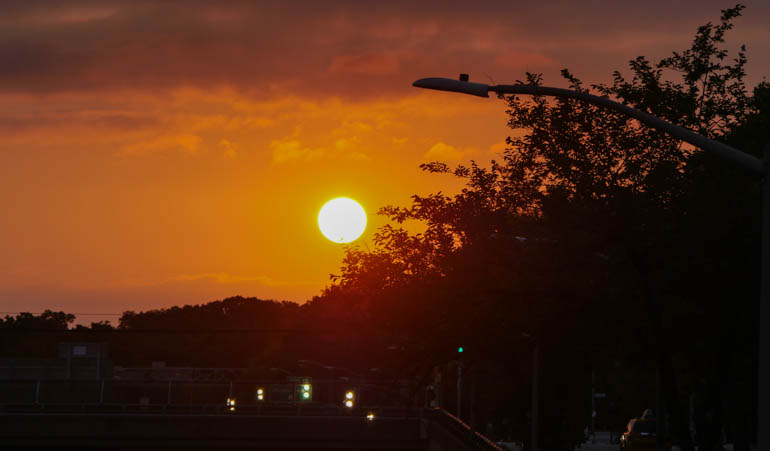 All quiet on the service road
His last day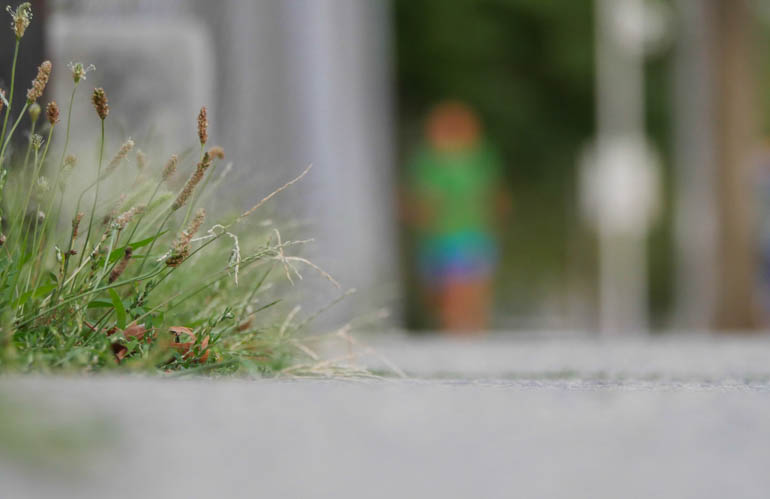 Vasu savors his last 18 miles
He has run well.  He has run with courage and with heart
He is a gentle and kind soul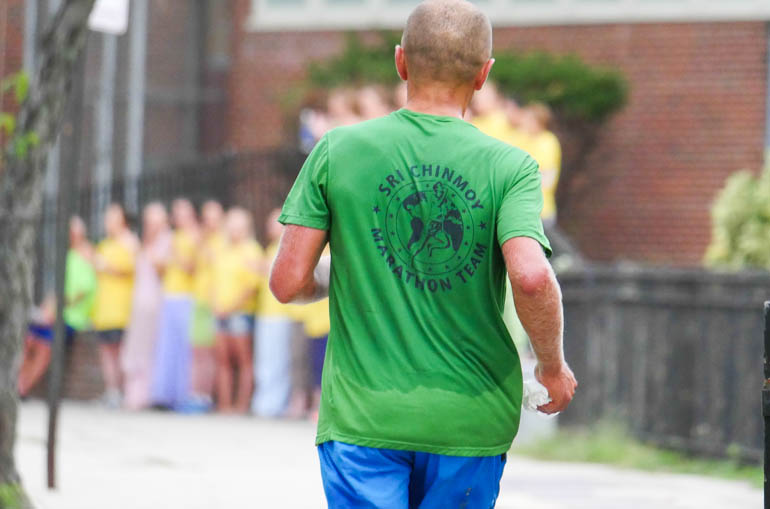 The Enthusiasm Awakeners honor him one last time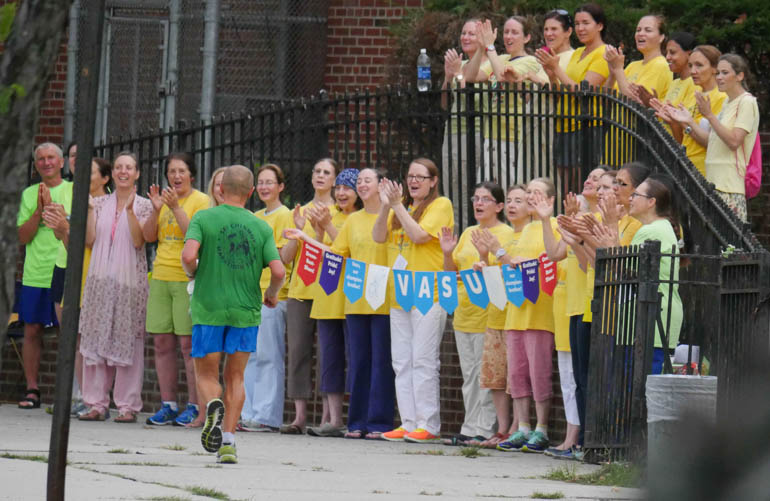 From above
"Look, Just enjoy your breakfast.  I will let you know if anybody comes."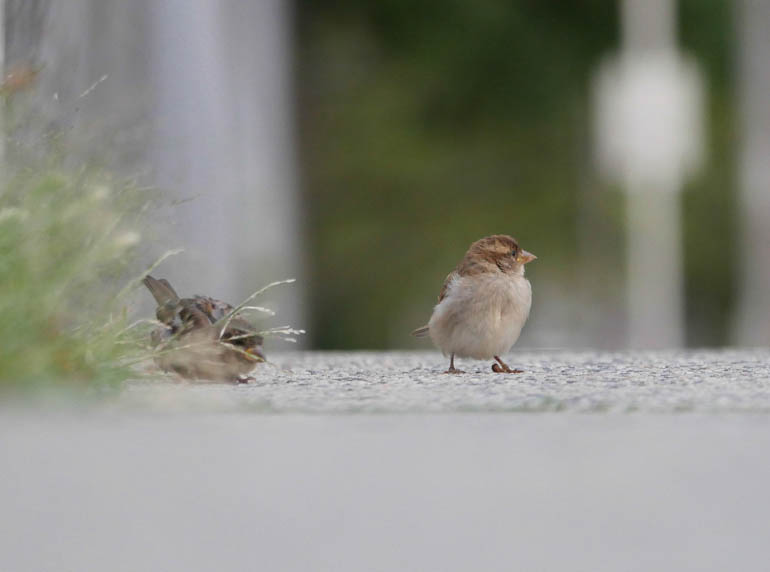 Yuri has joined the singers since he completed the race
Lena counting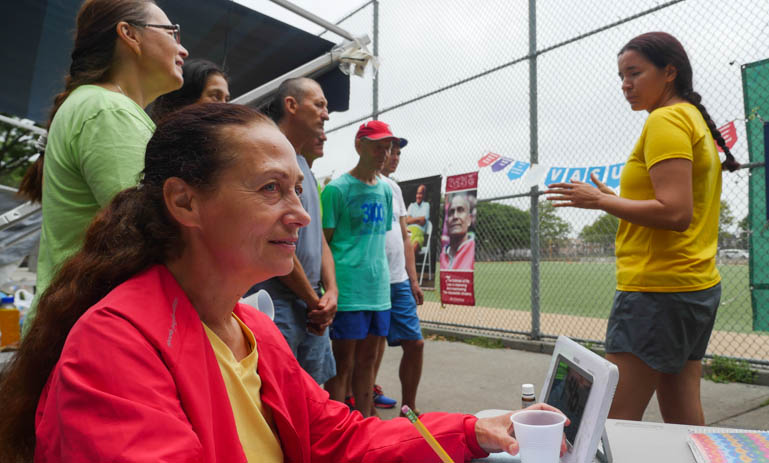 A rose
Kaneenika ran 55 miles
She now has completed 2904 miles
She has just 196 more miles left to do and 4 days in which to do it.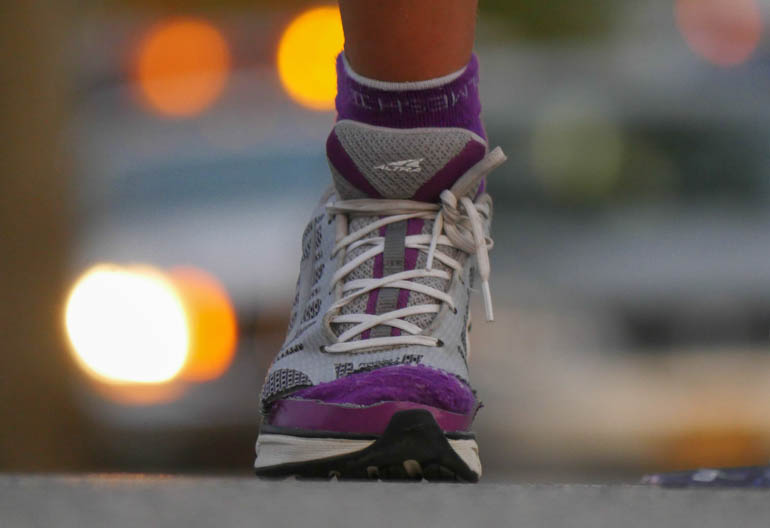 Tall and short
Surasa ran 52 miles
She now has 2816 miles
She never stops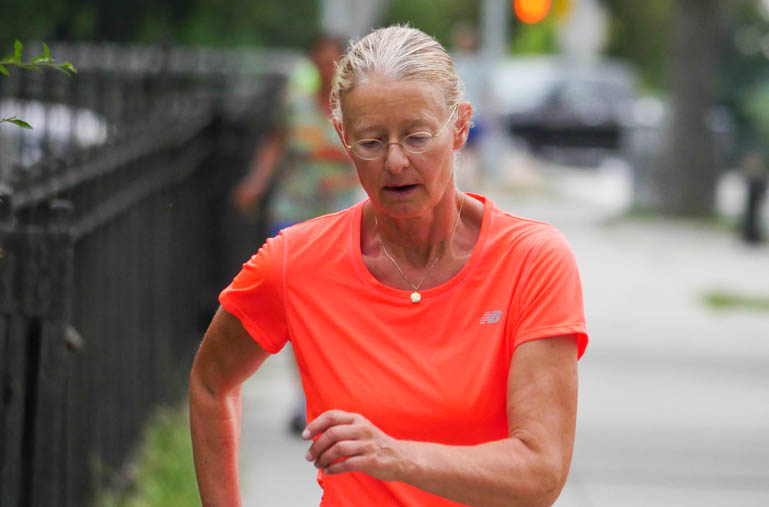 A true champion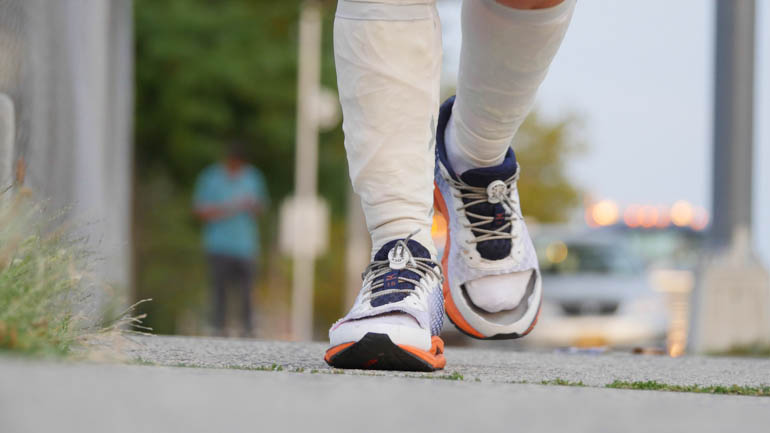 Camp flower
"Funny, you are not the first photographer to tell me that this is my good side."
Baladev did 45 miles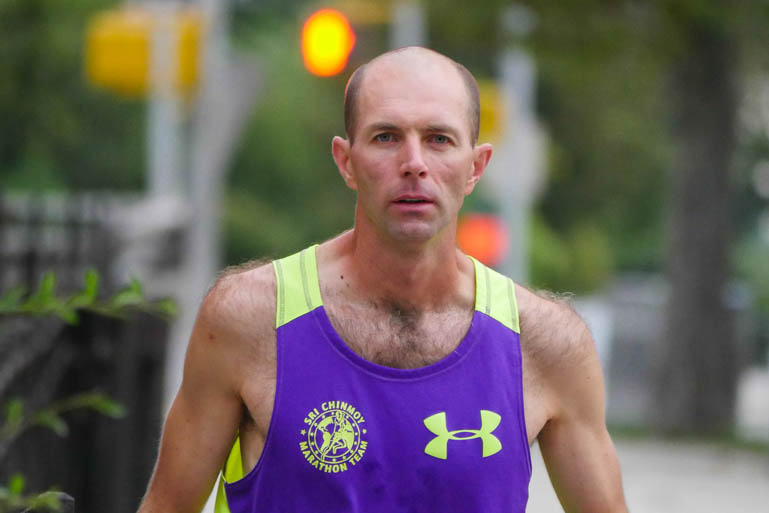 He now has 2616 miles
168 st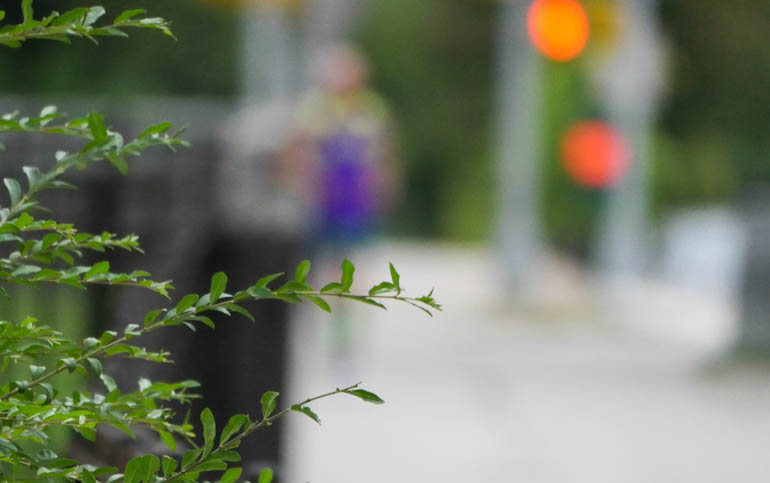 Lyalya rehearsing the Oneness Dream Boat shore song
A friend
Sopan did 44 miles
He now has 2529 miles
The school
Stutisheel did 38 miles
He now has 2441 miles
There are 4 days left
Ananda-Lahari had 42 miles
He now has 2433 miles
He loves the race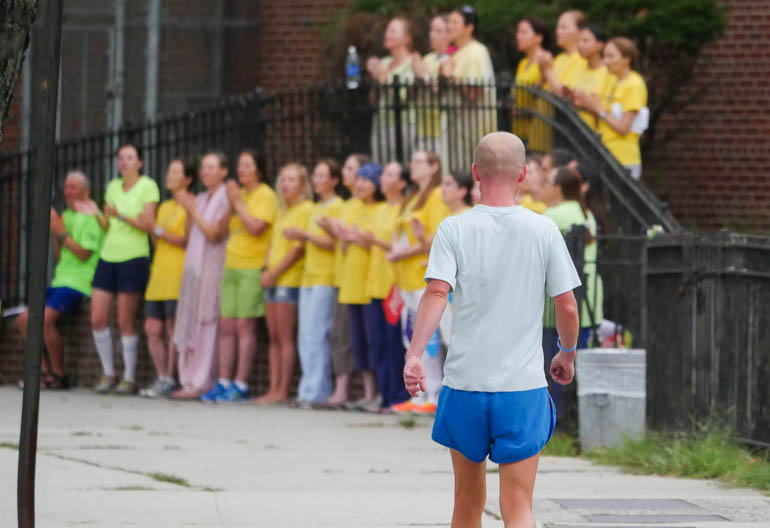 By the fence
Atmavir at the 2 mile race with a time of 12:41
Across the street the runners are at a different pace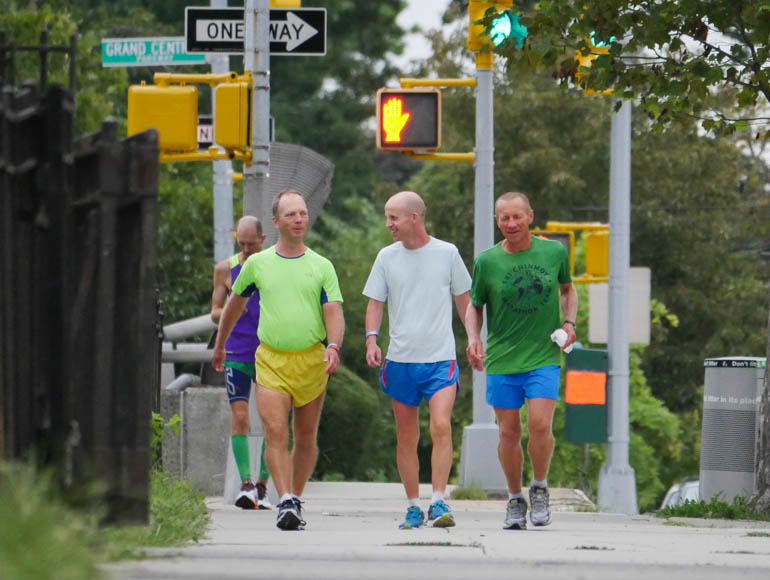 Ashprihanal with a time of 13:56
Abakash and Databir
"It is super inspiring that is for sure."  Kanala has been one of the fortunate ones who has been here at the race serving in different capacities nearly every day.
"I try and come in the mornings and it is not always easy to come out at 6:40 a.m.. But then the runners are already here.  What ever we do in our lives is nothing in comparison to what they are doing."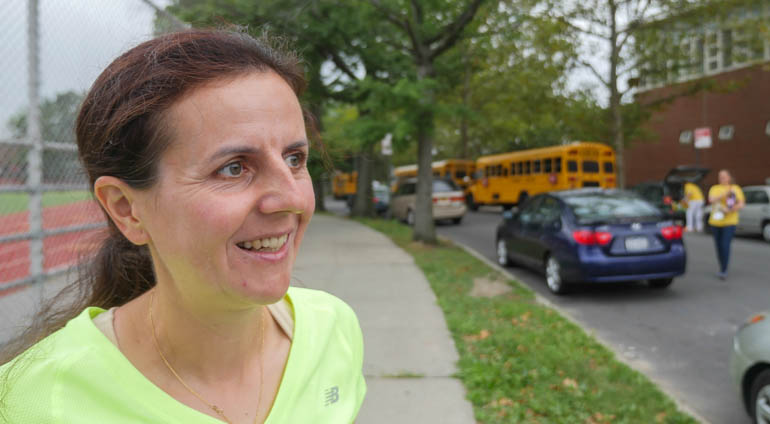 "Also at work you can be tired and then coming back in the evening.  You may not be in the best mood and then you come here and Guru takes everything away."
"There is just this beautiful flow.  I know everybody says this but it is actually true.  It is a divine flow of energy.  Guru's presence is here.  So palpable."
"Everybody is giving their best to support the runners.  Sometimes they don't acknowledge you but they feel it and they really really appreciate it."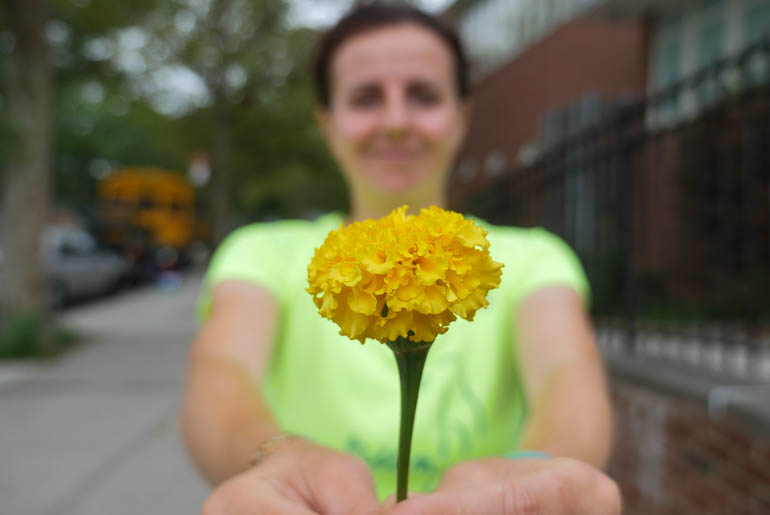 "Now it is less and less runners.  I think they are becoming a little bit more lonely.  So I think they have to go within even deeper.  To their inner energy resources.  So I think it is even more important to come out and cheer the runners on and support them."
Click to Play:
Sahishnu's Speech and Vasu's Speech
Click to Play:
My Own Gratitude Heart Song
Click to Play:
Later in the morning he makes plans with Yuri and Ashprihanal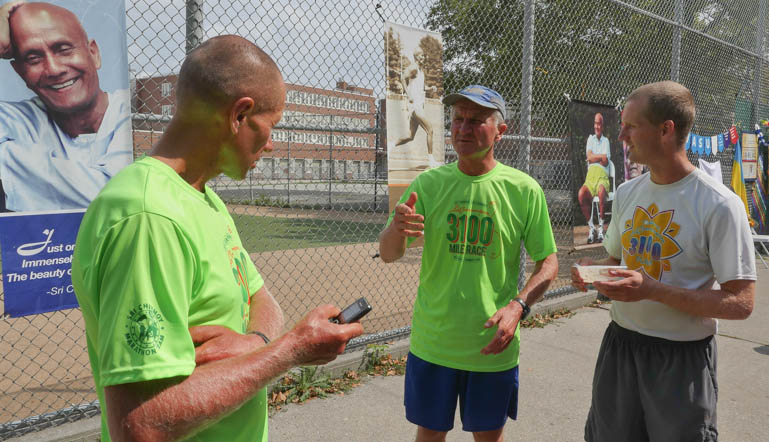 Kanala reads the Daily Poem
Click to Play:
Enthusiasm Awakeners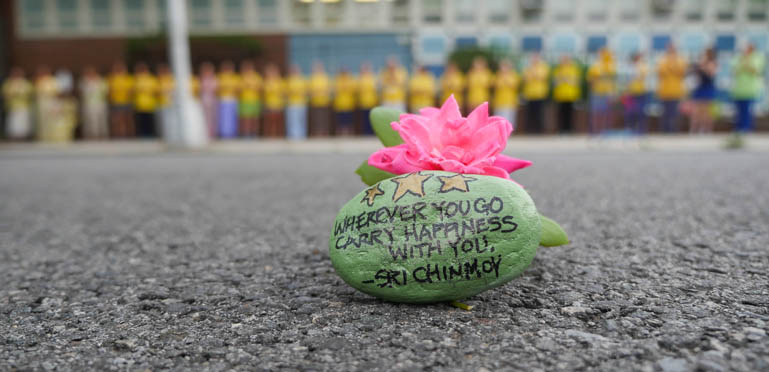 Click to Play:
This is my plan:
I shall serve God
Unconditionally.
This is my plan:
I shall love man
Untiringly.
This is my plan:
I shall perfect my life
Unimaginably.