When I meet with Baladev this morning he has just been reading a page full of poems that Sri Chinmoy wrote on the topic of never giving up.
I ask him what that means to him and he says, "right now I am not in a talking mood."
Instead he uses the time to read them all to me.  In a thoughtful and compelling way. Sharing with me, that when he read them moments earlier they had made him cry.
Each one a powerful message.  Each one adding another insight into humanity's deep need, if not obligation to always continually attempt to move forward, even in the face of relentless resistance on all levels.
Baladev is an incredible example of never giving up.  This is his 8th summer here and as of last night he had completed 2664 miles.  A distance that would take him from his home town of Komjatice Slovakia all the way to Tajikistan.  With still 3 days left Baladev will accumulate well over 2700 miles.
He has worn a special shirt this morning.  One that was custom made for him a few years ago.
"On my back is 'Never Give Up,' and on the front is, 'Go Forward.'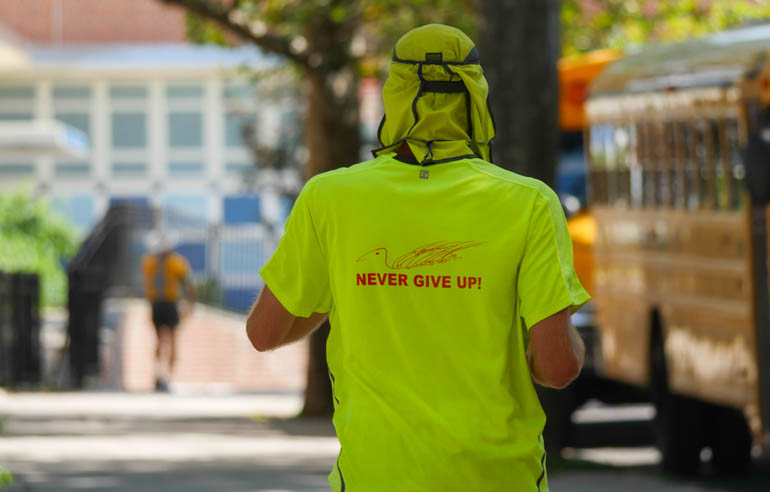 "When I have never give up on my back I feel as though it is pushing me to go forward, and I am between these 2 secrets. So I am moving.  How can I stop?"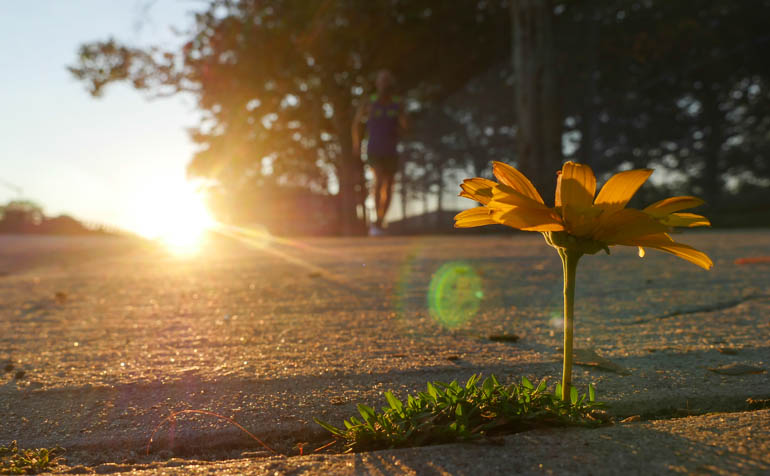 Never give up, never give up!
Even if you lose your way
A great many times,
You must realise that your destination
Is sleeplessly expecting your arrival.
The board
The family is growing smaller as is the remaining time
Voldymyr has replace Misha who had to go home
Street lights are still on……Endless flight
Vajra leaves
3 days left
The van arrives
Baladev arrives
The back of Janos's shirt
Ananda-Lahri locks his bike
Yuri continues to come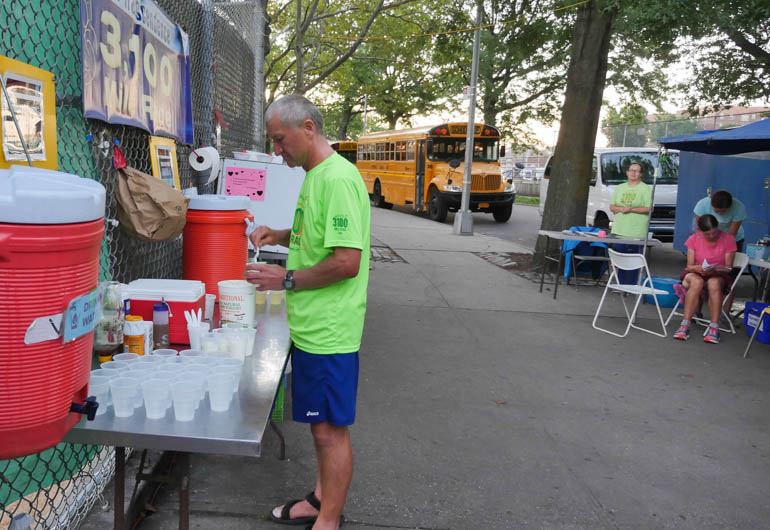 The girls
Rupantar does his video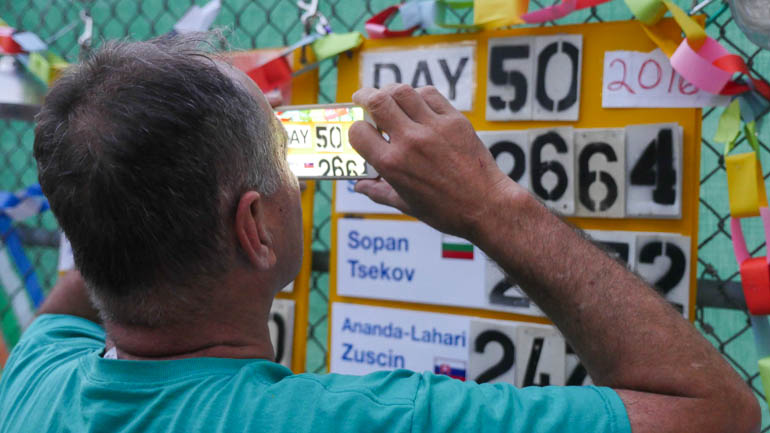 Start Day 50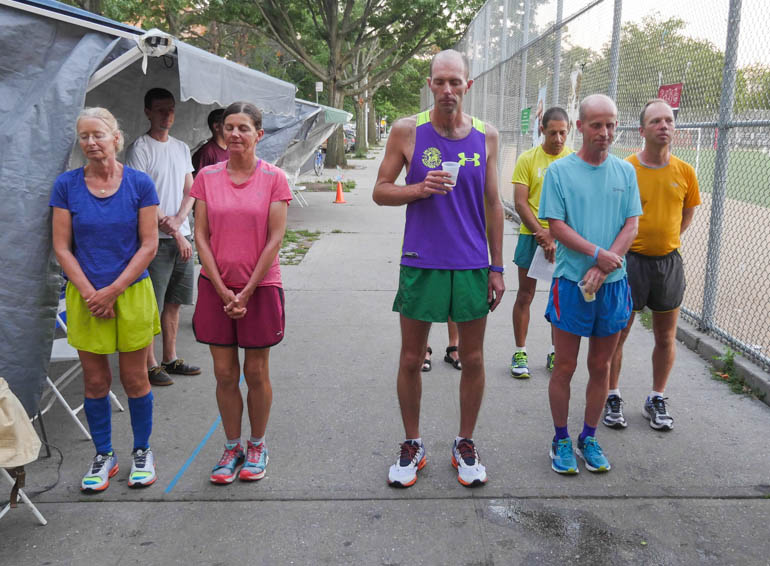 Baladev leads off this morning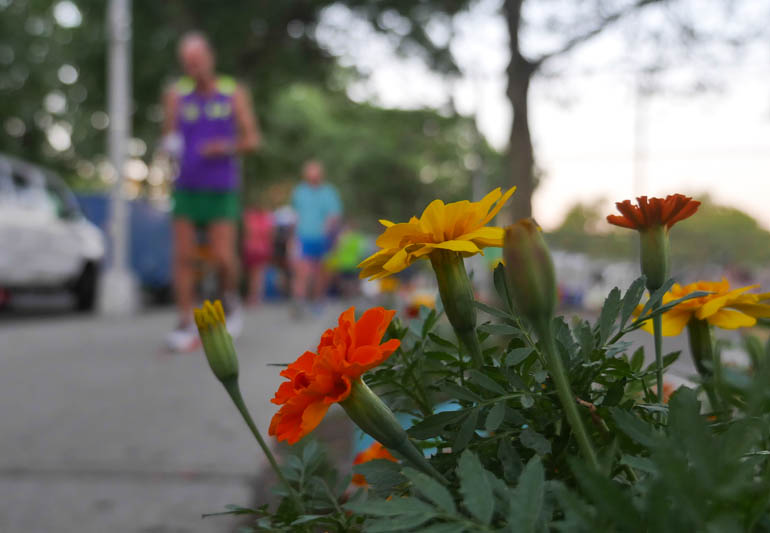 Yuri accompanies Stutisheel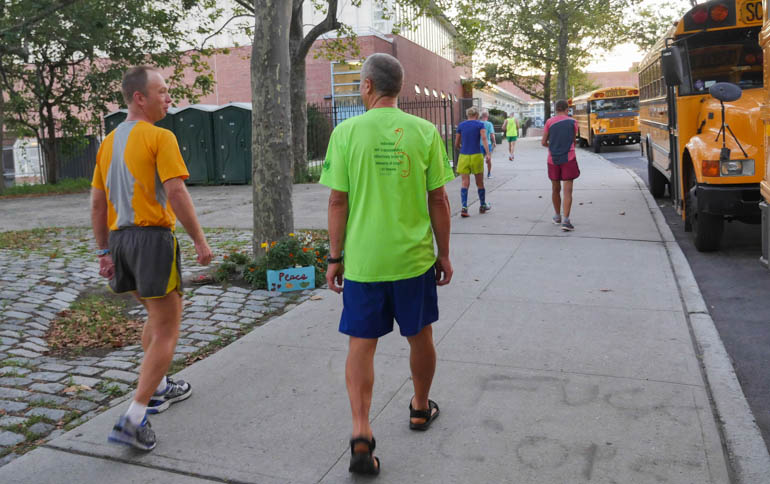 It will be another beautiful day with low humidity
Far end
Kaneenika did the most miles yesterday, 56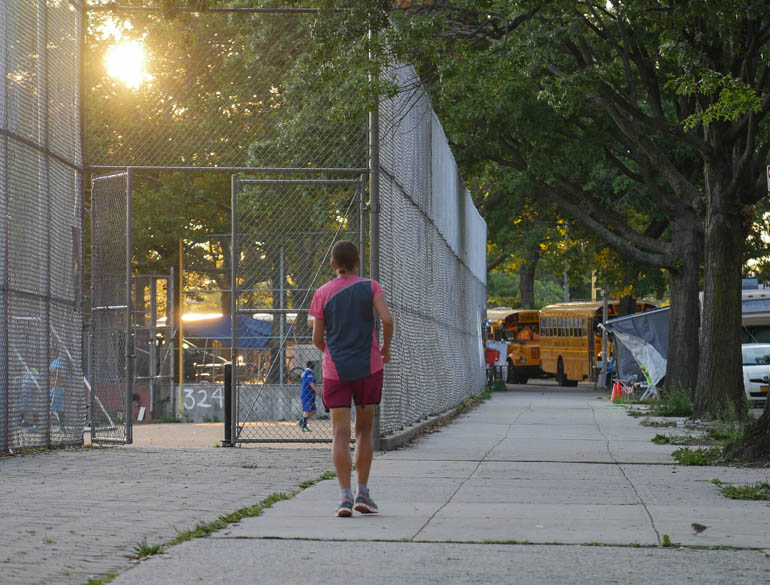 She now has 2960 miles
Just 140 more miles to go
She looks relaxed and happy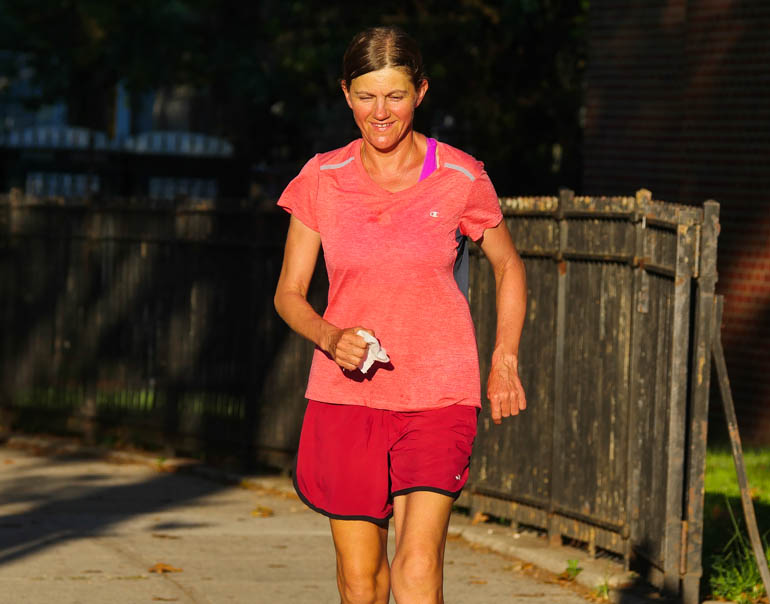 She will finish on Tuesday afternoon
Bunny buddy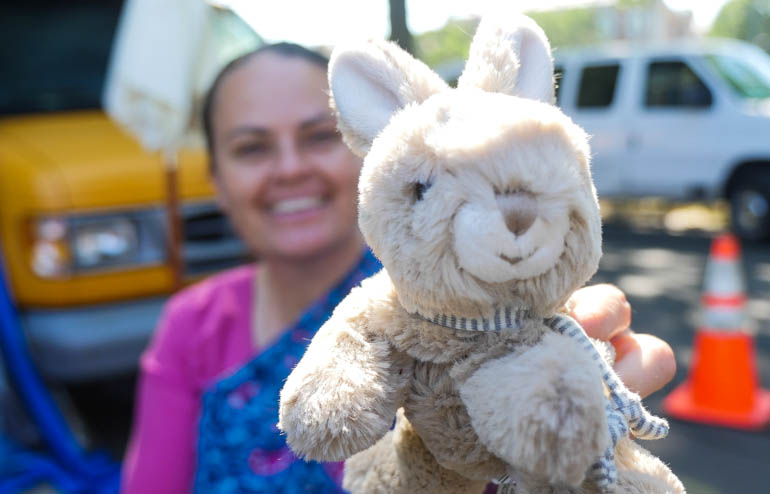 "This is the most cramped hotel room I have ever spent the night in.  No wonder there are so many vacancies."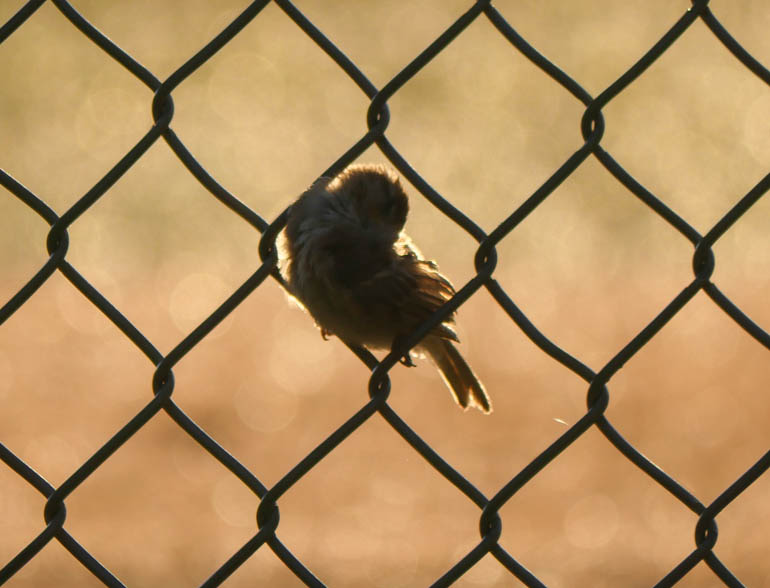 Surasa did 53 miles
She now has 2870 miles
She is relentless
A true champion
Atmavir with Zulma and Mario
"Should I work on my tan or go back to my hammock in the shade? Decisions."
Baladev did 48 miles
His new gps sport watch has recently been tracking his progress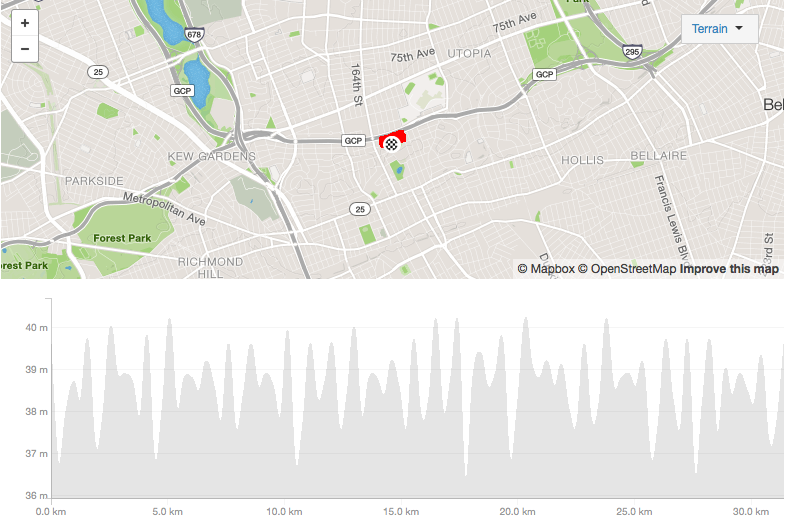 Information that shows the outer part of the story here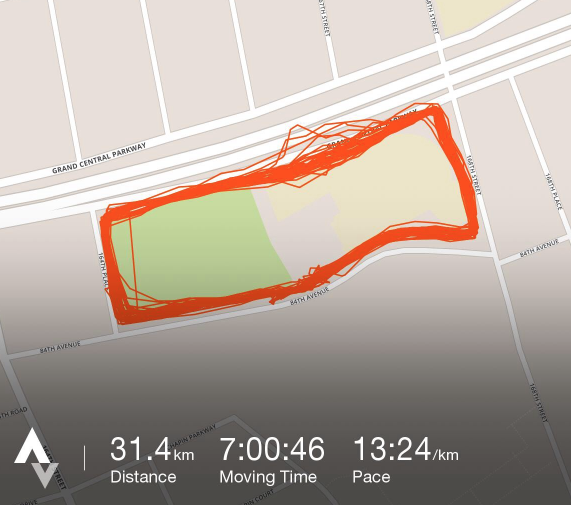 The most important results cannot be measured
Service road
Sopan did 43 miles
He now has 2572 miles
The fence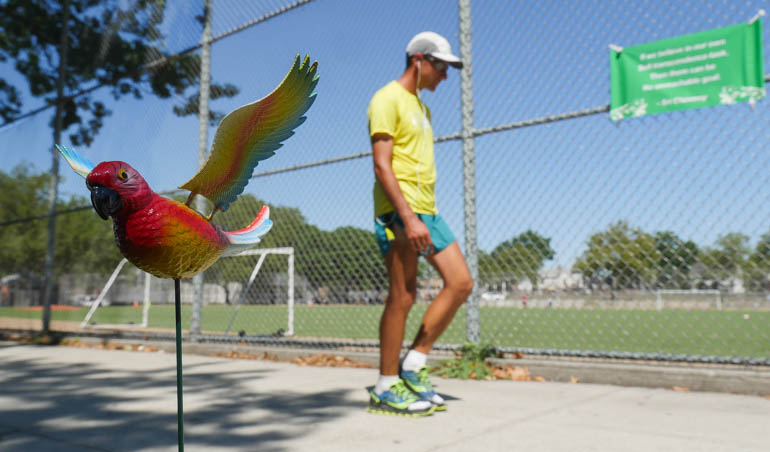 Kodanda playing flute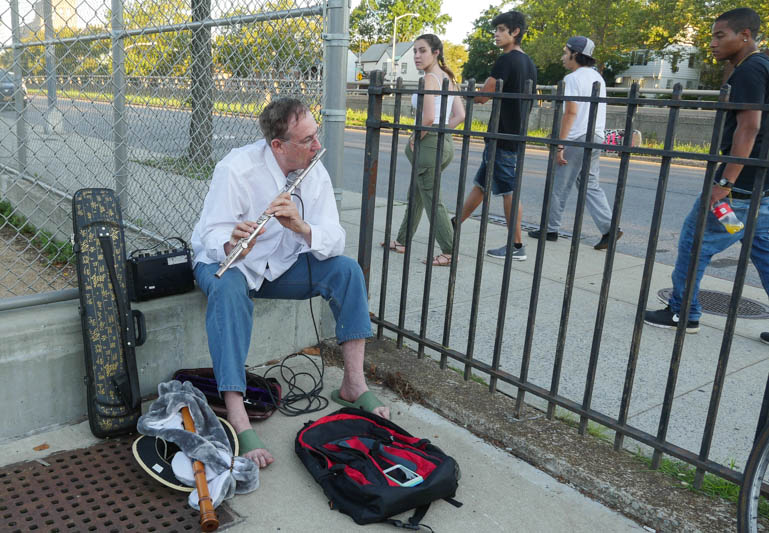 Shadri and bear.  Just one counter now or is that two?
Stutisheel did 36 miles
He now has 2477 miles
He will go until the end
Tiny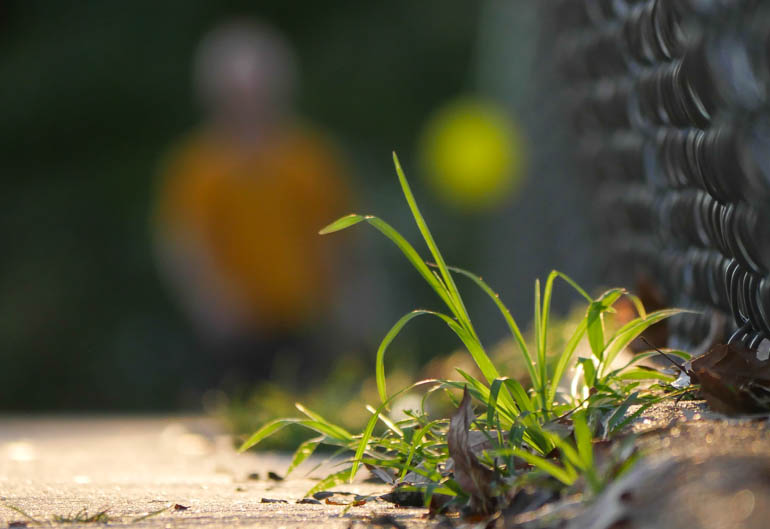 Its his daughter Alakananda's birthday
Balloon
Ananda-Lahari did 45 miles
He now has 2478 miles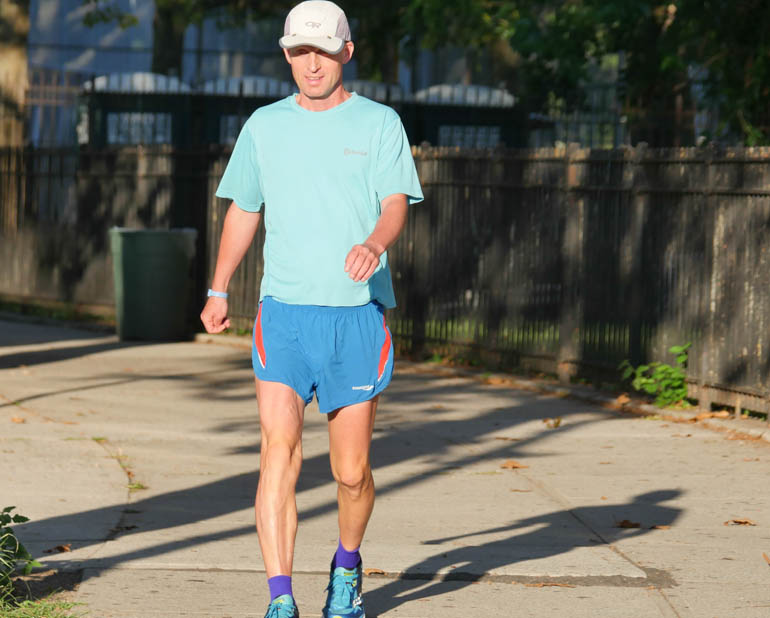 Getting ice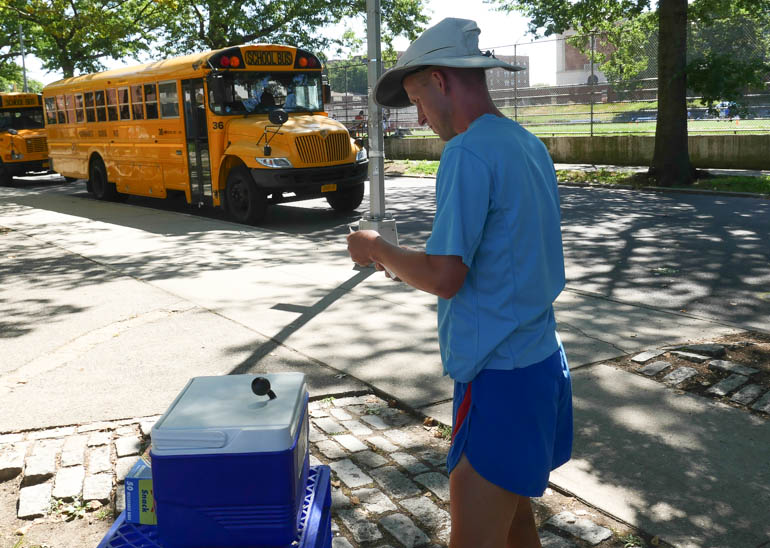 Trees
Alakananda is celebrating her birthday once again at the race.  She says she remembers vividly the song that Sri Chinmoy had written for the Enthusiasm Awakeners on that day in 2007.  "It is the silver wings one."
Last year the race was already over when her birthday came around.  "It is really nice to have it at the race."
"You are surrounded by spiritual people.  That is always nice company to keep.  It is also the first time that my Dad is still a part of the race on my birthday."
"Over the last 12 years he was either done by this time or the race was over.  It is just really nice to be here."
Click to Play:
The Enthusiasm Awakeners have expanded in number
It now includes Yuri
Sahishnu's weekly race wrap up
"It was Guru's birthday in 1987.  I was running the 47 mile race and it was raining.  About 5 o'clock in the morning Guru came by in his car.  He was wondering, where are all the runners?"
"So many people had given up, but I was still running."
"Guru then told the organizers, tell them to never give up, never give up, this is my philosophy.  I want you always to feel, never give up."
"Of course if you are injured or sick then you should stop.  But if it is just a mental problem…..no, no, no.  Never give up.  That was the message."
Click to Play:
Nirjharini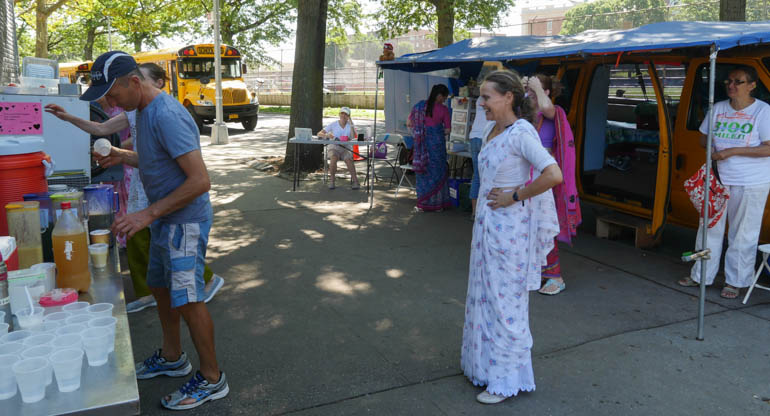 Alakananda reads the Daily Poem
Click to Play:
Enthusiasm Awakeners
Click to Play:
God's philosophy
Is simpler than the simplest:
"Never give up, never give up!"