I greet Yuri this morning with, "we won't be doing this again."
It is his last full day of running and by early tomorrow his 3100 mile race will be over for this year.  He starts the day with just 84 more miles left to run.
*Translation by Lyalya*
In each of our previous talks he has mentioned that he feels as though he is approaching God's home.  I joke that with the tiny distance left remaining he must now be brushing his shoes off on the carpet in front of God's door.
"That is correct but there are no shoes.  I just feel the happiness of God.  I just feel the presence of God.  I feel his embrace  He is stretching out his arms to me and I am stretching out my arms towards  him."
"God's embrace I will feel tomorrow."
I then ask Yuri a practical question about why his speed over the past 4 days has increased so dramatically.  I am curious.  Is it because of the looming presence of Ashprihanal drawing closer or something else?
He says no.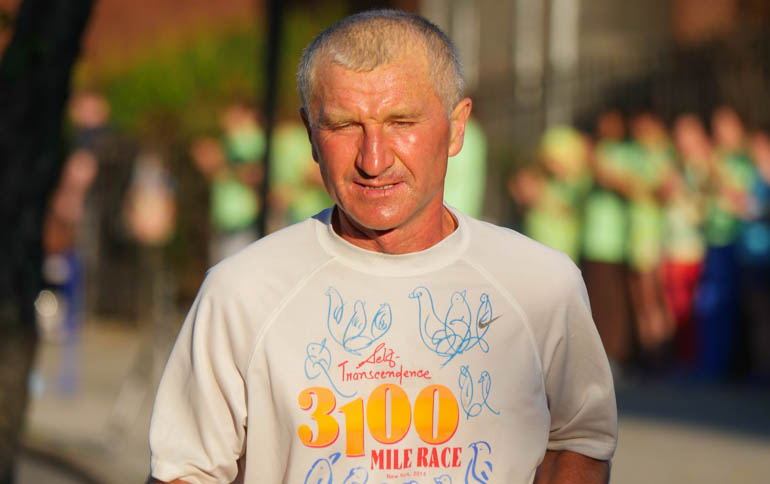 "The world has let me go.  Everything that was binding me has left.  Right now I am just a soul bird.  For a bird there are no limitations, no boundaries.  But I have a body and I do all I can and this turns out to be 70 miles a day."
"I am not doing this for the records.  I am doing this to bring happiness to my soul.  To bring happiness to God and to be able to approach him faster.  This is why my speed has increased."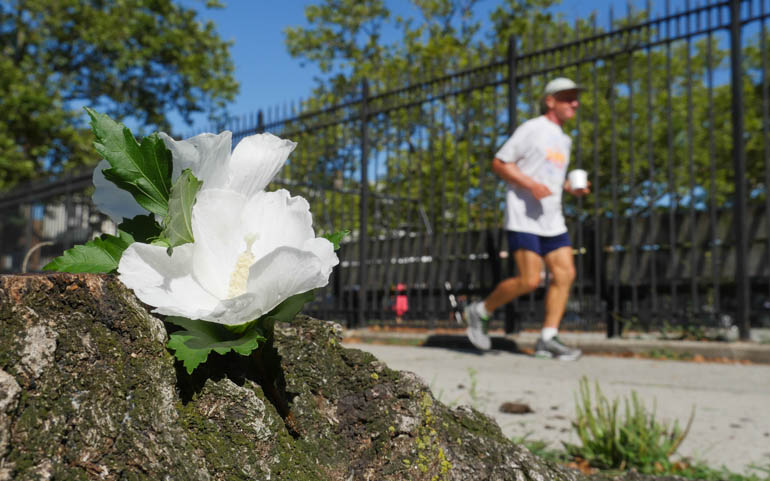 The body is the patient.
The heart is the sufferer.
The soul is the sympathizer.
God is the ultimate Curer.
Guru Sri Chinmoy
August 2, 2007
Sri Chinmoy, My blessingful and pride-flooded dedication to the indomitable runners of the 3100-mile Self-Transcendence Race, 2007, Agni Press, 2007
*Click below to read rest of Report*
*Click below to see Dipali's Race Tips*
The board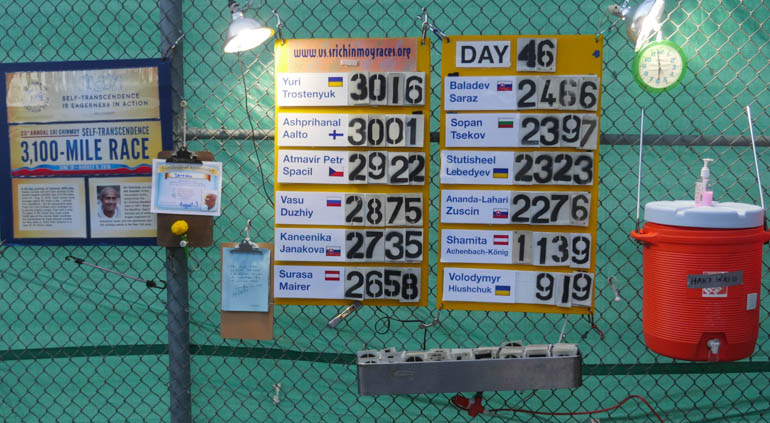 Vajra's job is nearly over
Misha getting ready.  The jury is not out on whether the new bee discouragement protocols are working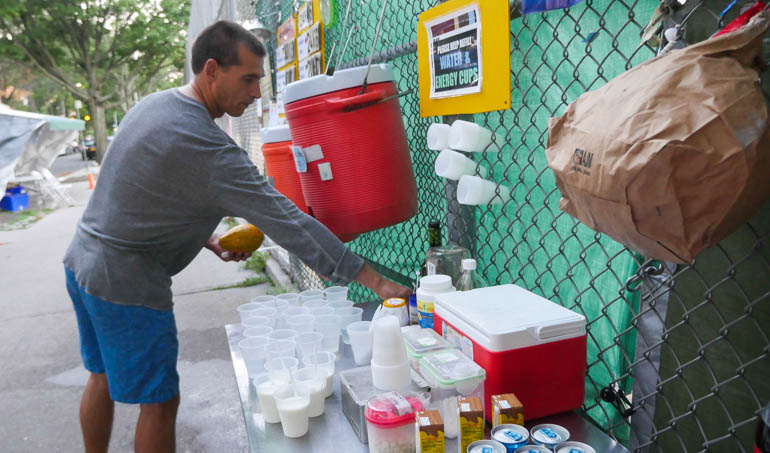 Kaneenika arrives
Still early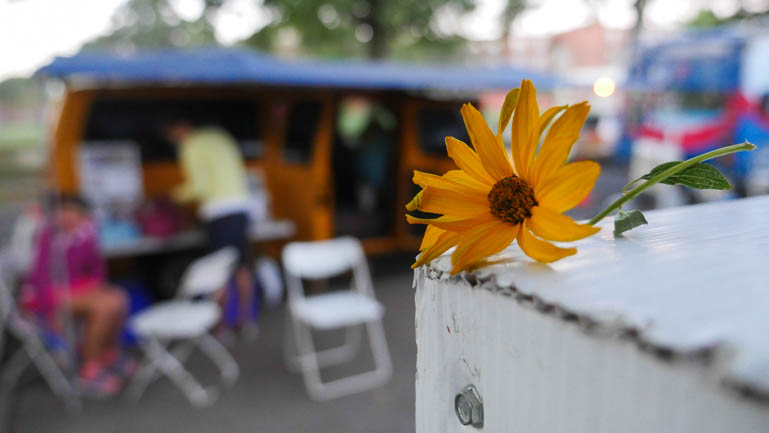 The van arrives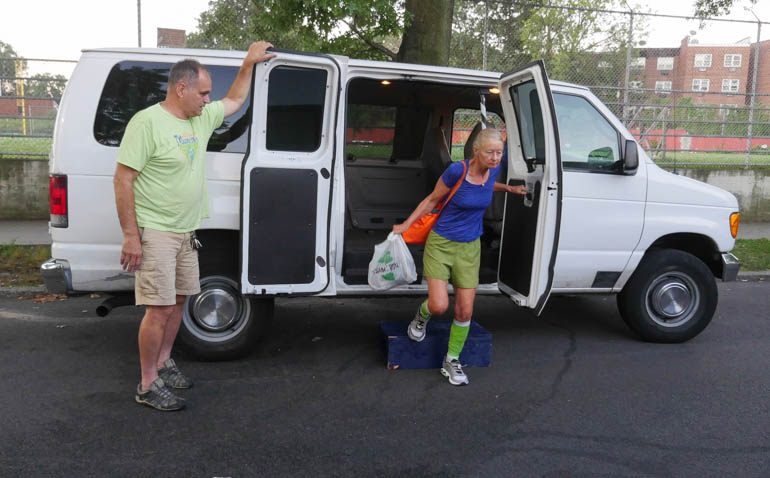 Vasu arrives
It is not hot or humid
Ashprihanal sitting down
Vasu had a good day with 69 miles
Yuri locking his bike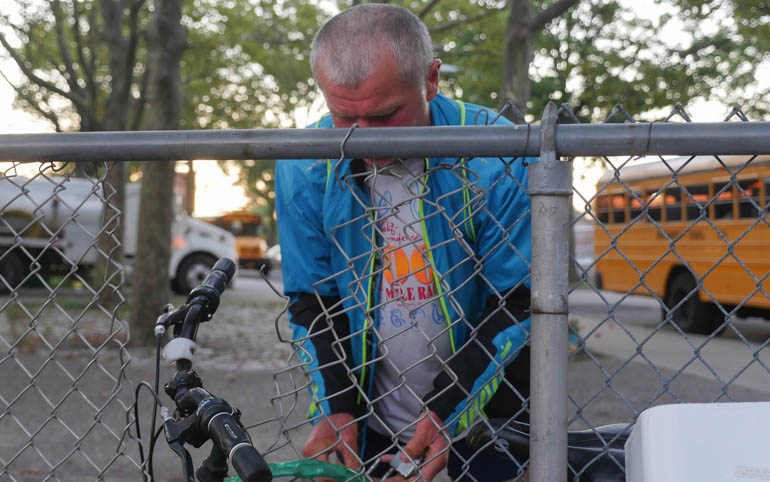 The boys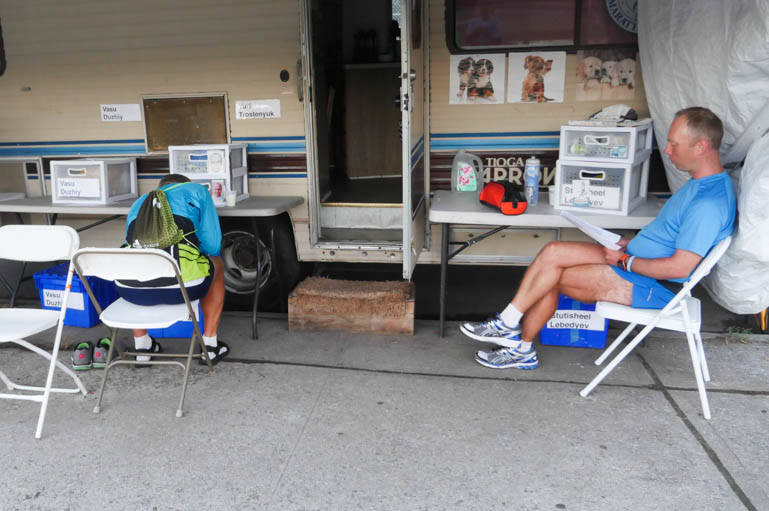 Start Day 46
Ashprihanal starts very fast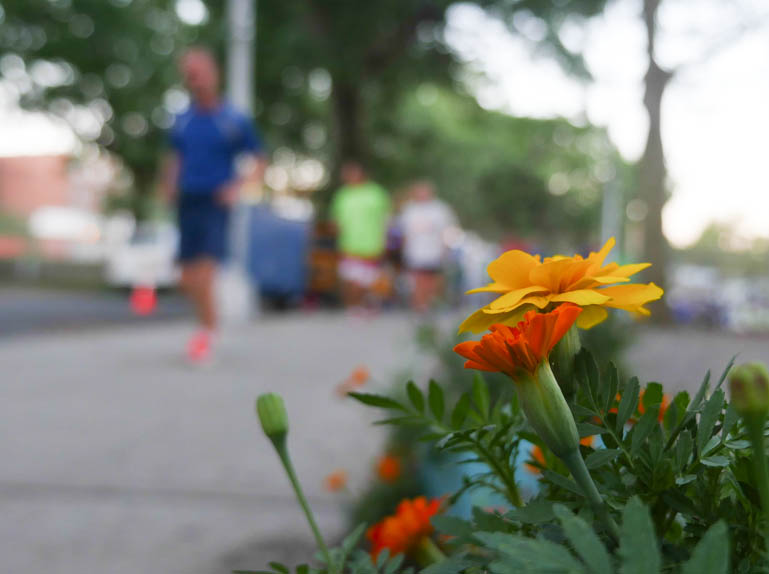 A perfect morning
Yuri ran 70 miles
He now has 3016 which is just 15 miles ahead of Ashprihanal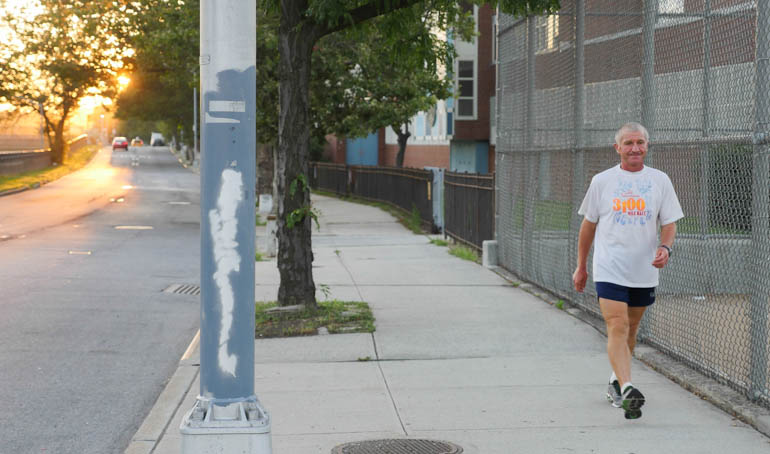 It is predicted that he will finish about 8:30 tomorrow morning
Green grass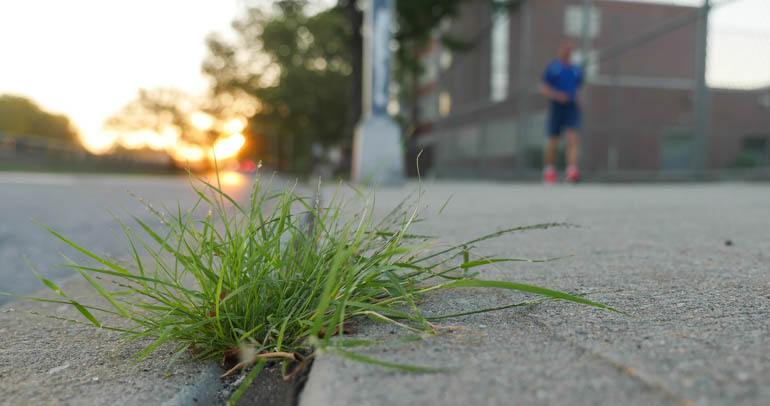 Ashprihanal ran 75 miles
He now has 3001 miles
He is pushing hard to finish the race
By the fence
Misha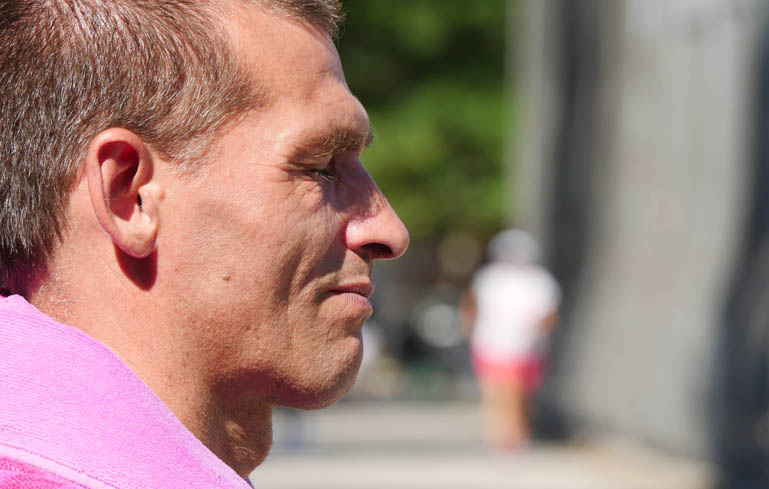 Atmavir also ran 71 miles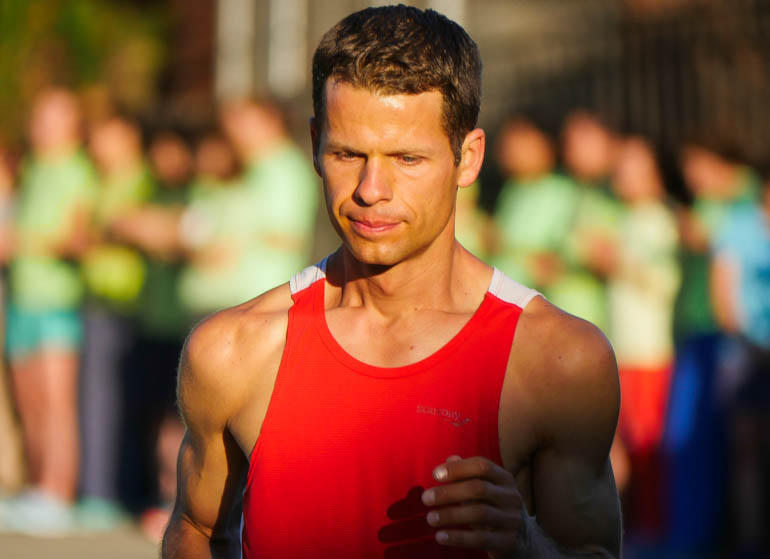 He now has 2922 miles.  He should finish mid day on Saturday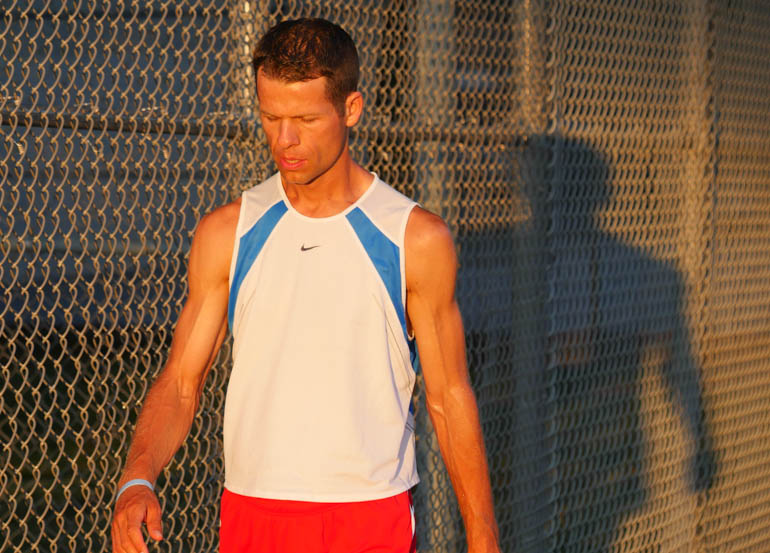 Atmavir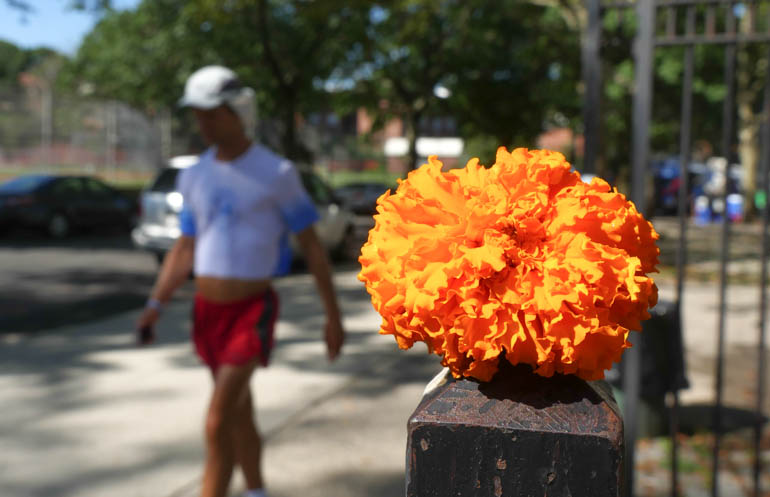 Vasu did 69 miles
He now has 2875 miles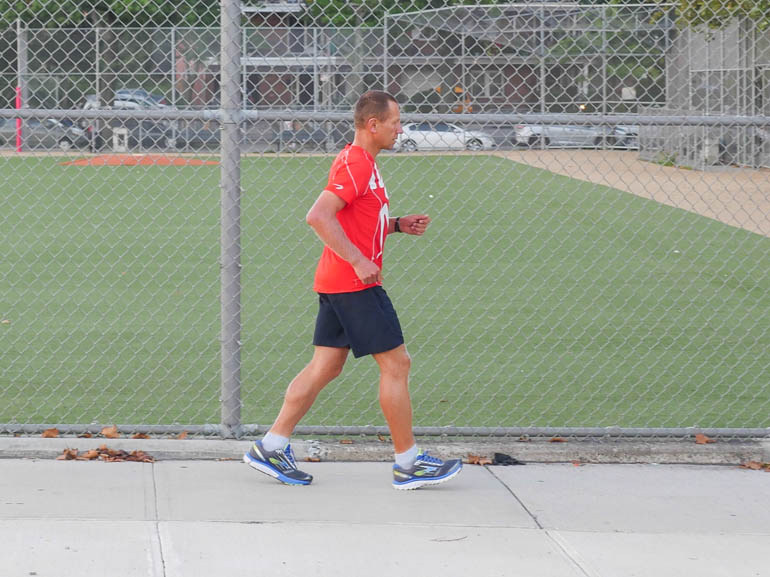 His blister is not bothering him so much
"Stupid weather forecast.  Cloudy skies….No way.  Now I have to go home and get my sun screen and glasses."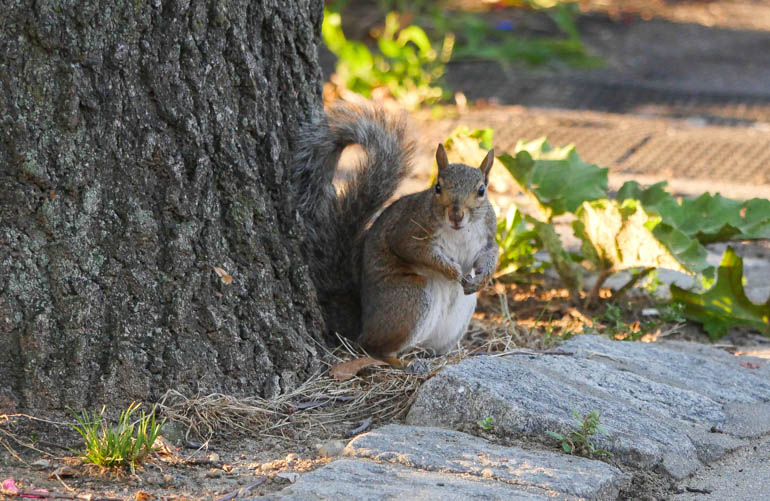 Just there
Kaneenika ran 56 miles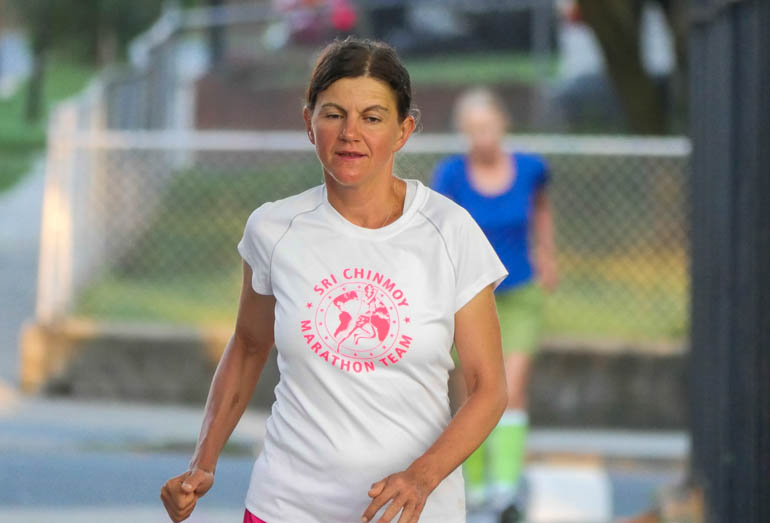 She now has 2735 miles
With 365 miles left and 7 days in which to do it she needs to complete 52 miles per day.
The chair
Nada counting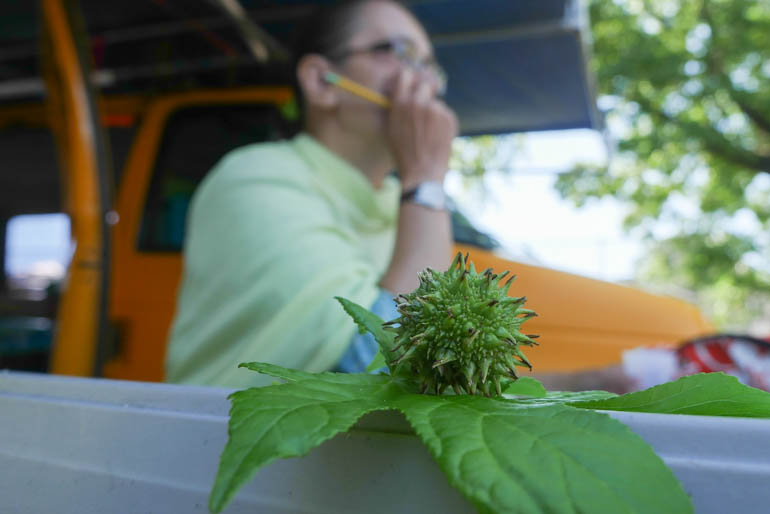 Surasa did 53 miles
She now has 2658 miles
She poses for a picture with Vishvarupanai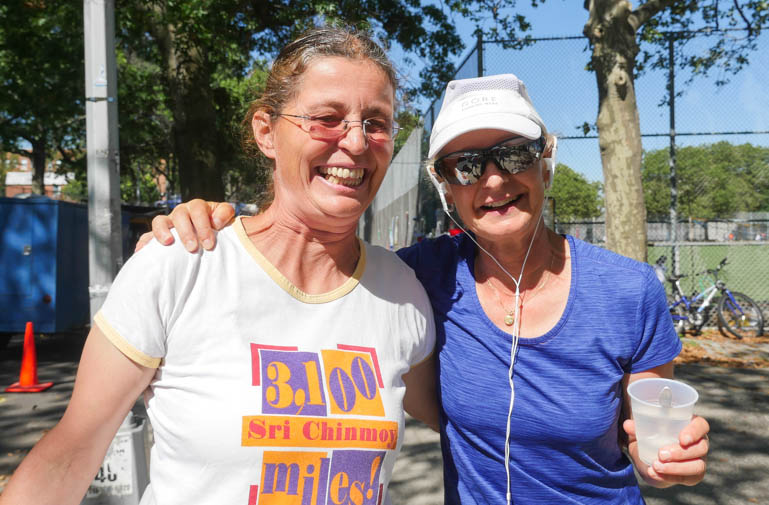 She is a remarkable person
Surasa and Baladev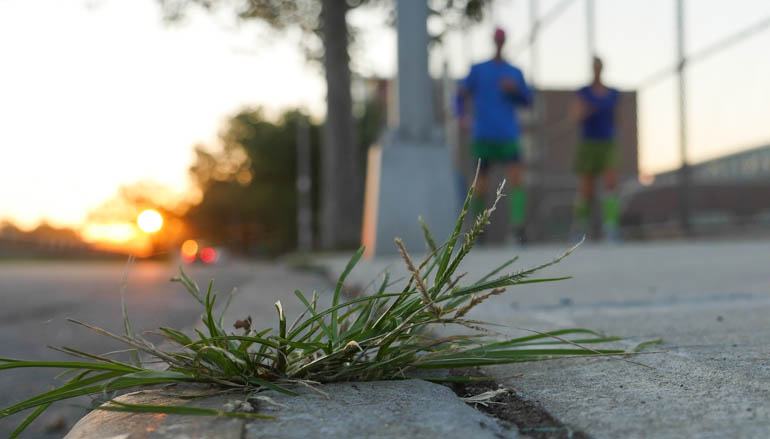 Baladev did 43 miles
He now has 2466 miles
A special treat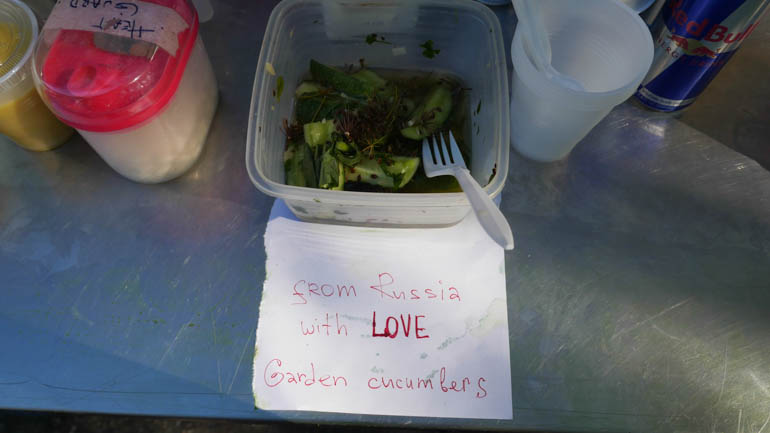 Sopan did 43 miles
He now has 2397 miles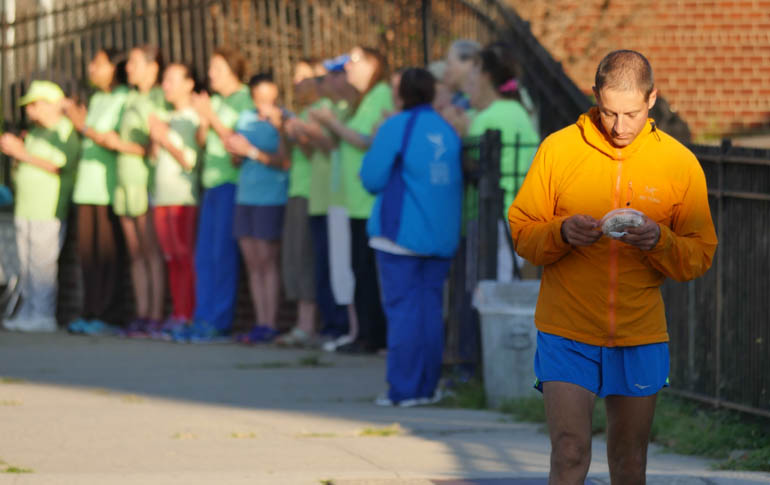 From a distance
Stutisheel did 40 miles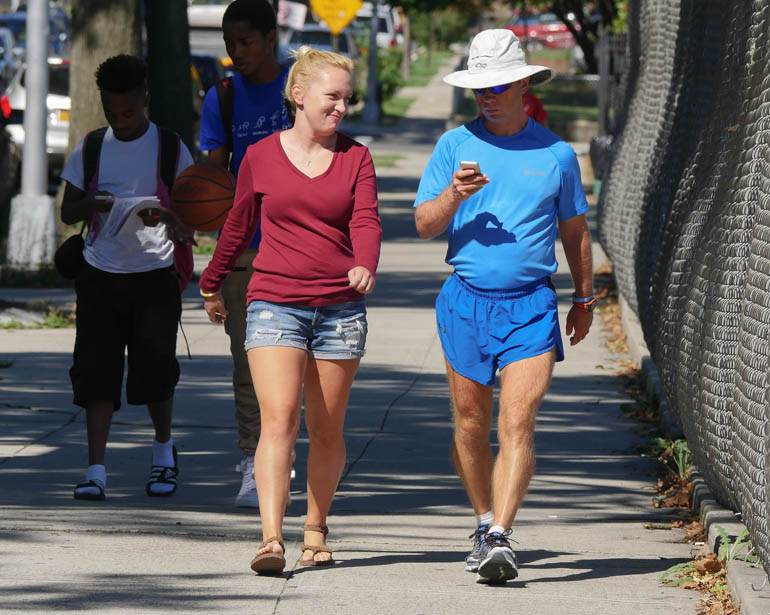 He now has 2323 miles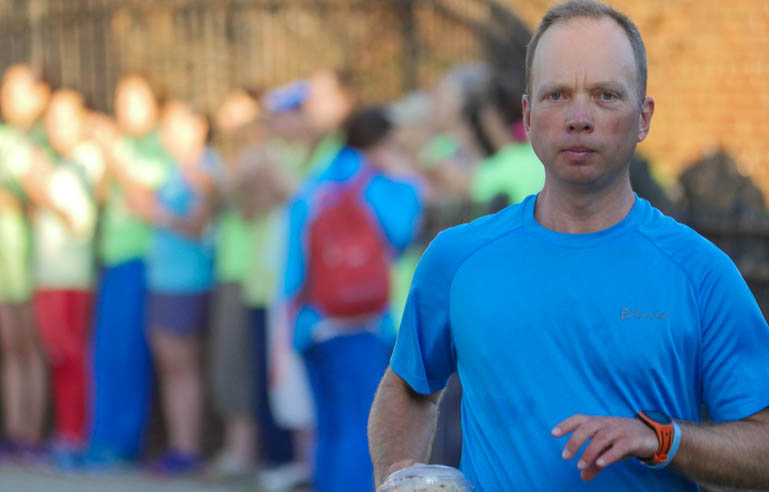 First light
Ananda-Lahari did 45 miles
He now has 2276 miles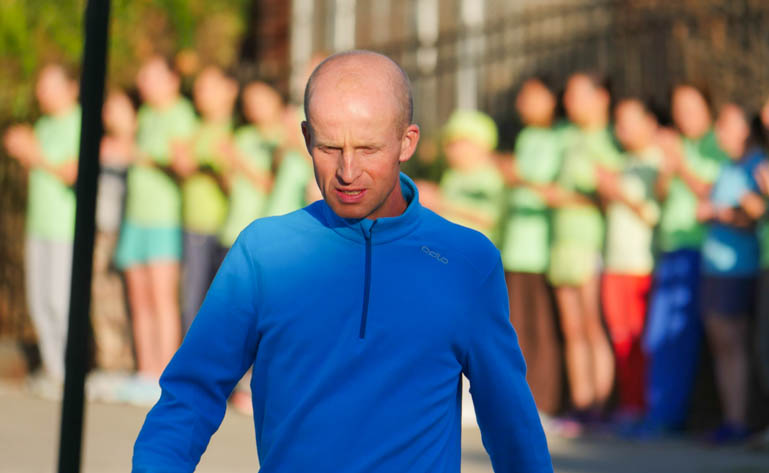 Uddipan updating the boards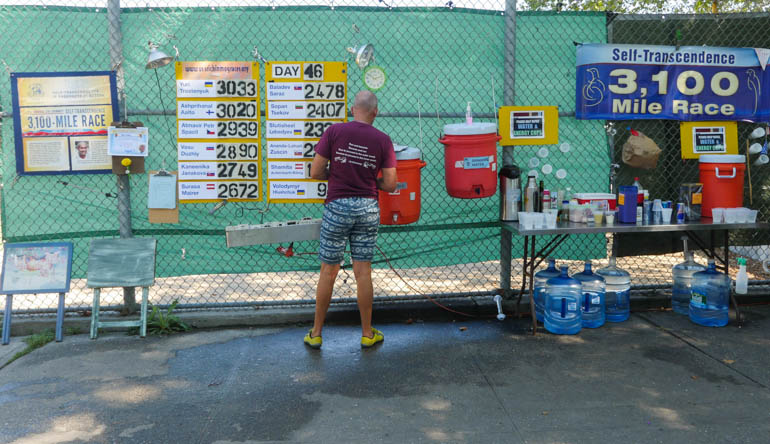 Nirjharini and cooks bring the morning snack
Shortly after 8pm Yuri had 3074 miles and Ashprihanal had 3067 miles.  It will be the closest finish in the race history
"I have been a student of Sri Chinmoy for more than 20 years."  Lena from Vinnitsa in the Ukraine was at the race this morning singing with the Enthusiasm Awakeners
"I felt when I first heard about the race that it was both impossible and realistic."
"On one hand it is impossible.  How can people be able to achieve it and on the other hand you actually see people achieving it.  You then realize that with the grace of God it is possible."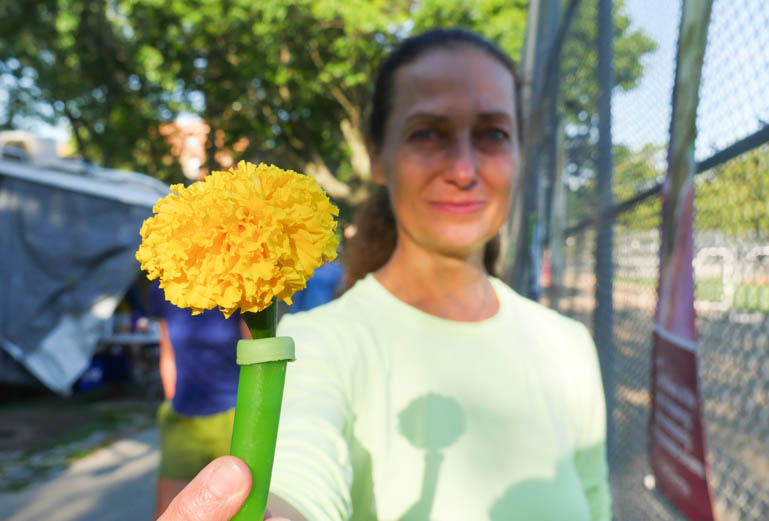 As for being here she is, "gratitude, gratitude, gratitude."
"I have such happiness and pride.   That are such souls here that are willing to put so much into this and do it all for God."
Since both Vasu and Yuri come from Vinnitsa I ask her if she has a special interest in them.  "No, all runners are the same."
"Of course the runners that I know, they touch me to the depth of my heart instantly. But all the runners are amazing."
Click to Play:
Lena reads the Daily Poem in English and Russian
Click to Play:
Enthusiasm Awakeners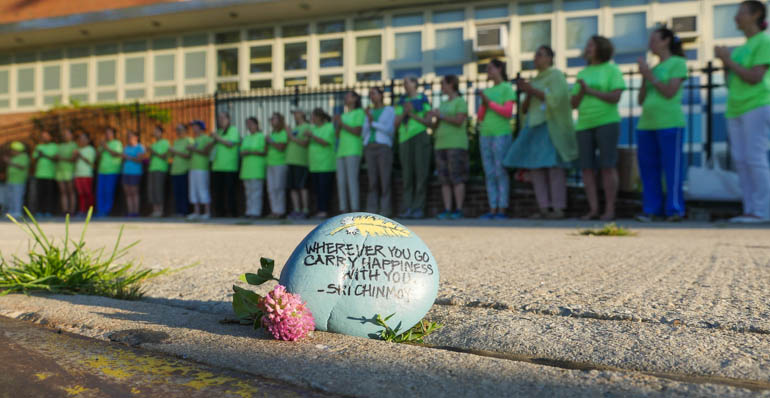 Click to Play:
Those who believe, embrace.
What do they believe?
They believe that they are
Of God.
Those who embrace, believe.
What do they embrace?
They embrace
God's immanence,
God's permanence
And
God's transcendence.