"Amazing.  It is a happy day.  There is happiness everywhere."
"Sometimes there is more happiness and sometimes there is less.  But now there is happiness practically every day with me."
Yuri has a unique way of being able to describe something that is really hard as being beautiful.  At the same time he made the psychological turn for home last night when he finished the day with 1551 miles.
"The second half is easier."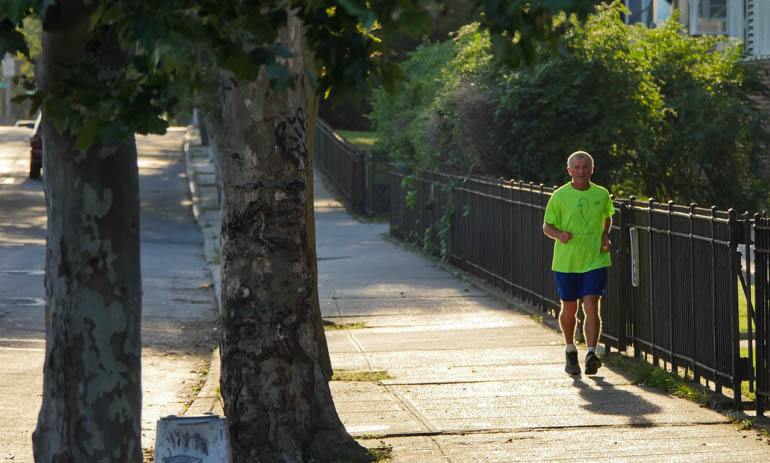 "When you are running in the first half it is like running in a forest.  Everything is unclear.  There is rain.  There are obstacles.  The branches from the trees are in your face and are scratching you.  You fall down and then you are rising up again."
"Half way through it feels as though you have come out of the forest unto a sunlit path."
"In the far distance you can see that there is a castle.  You know that this is the castle of God.  This is the goal to which we are all aiming to reach."
"From that castle comes a very special light, and it penetrates into your heart.  Even if I closed my eyes I can still feel that light and it will always show me the right direction."
"There will still be some turns and falls but the light continually guides me in the right direction.  It is always there."
"Right now is an amazing time for all the runners.  For our inner progress and our inner oneness with the Supreme.  That is why I am happy."
I ask Yuri if he will be even happier when he reaches 3100 miles?
"When I approach the house and knock on the door.  God will tell me, come on in my child.  It will be amazing happiness.  It is the meeting of oneness.  It is light that cannot be put into words."
"It is because of this that we are here, and overcoming these obstacles.  But that which is waiting for us just up ahead justifies everything that we are doing here in order to reach that goal."
To help others go
In the right direction,
We must go in that direction
First.
An empty camp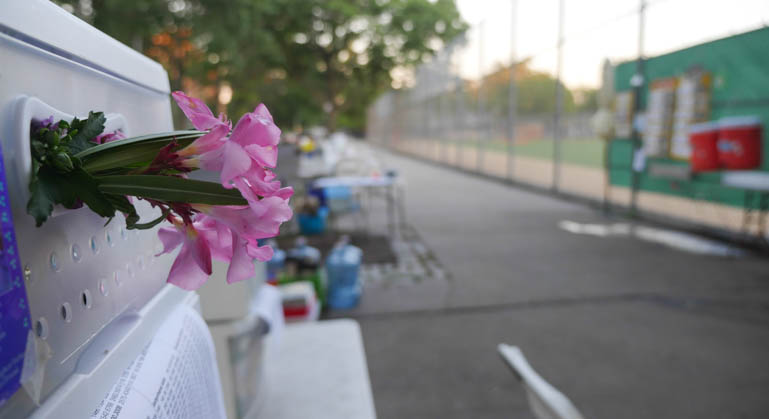 Misha setting up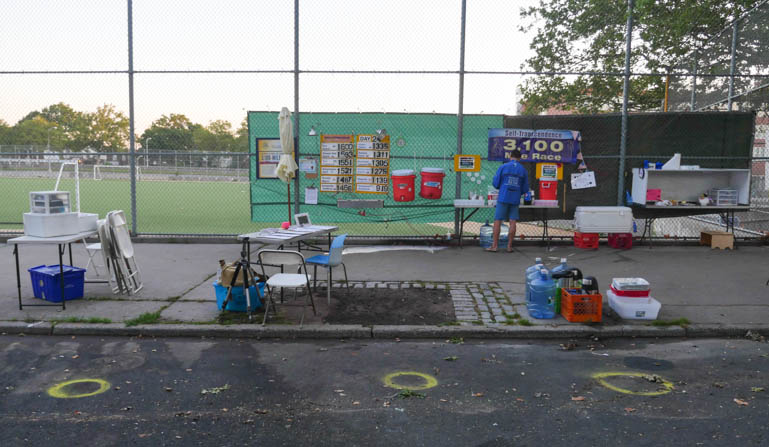 Vajra picking up at the crack of dawn
The van arrives
Yuri arrives with a laundry bag
Rupantar preparing his daily video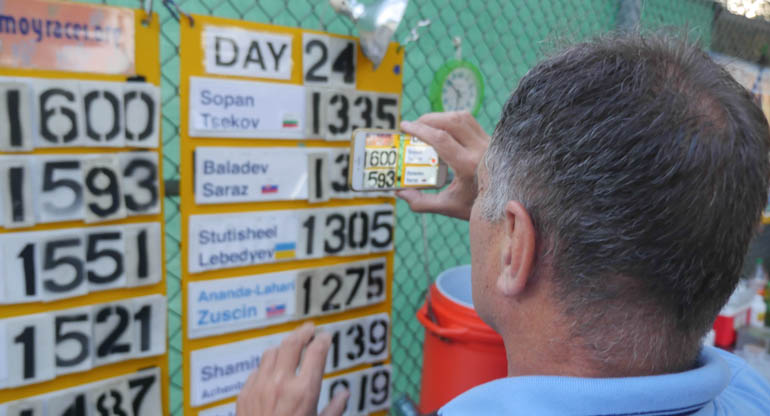 Yuri gets a yogurt.
A discussion about something
Ashprihanal getting ready
Vasu arrives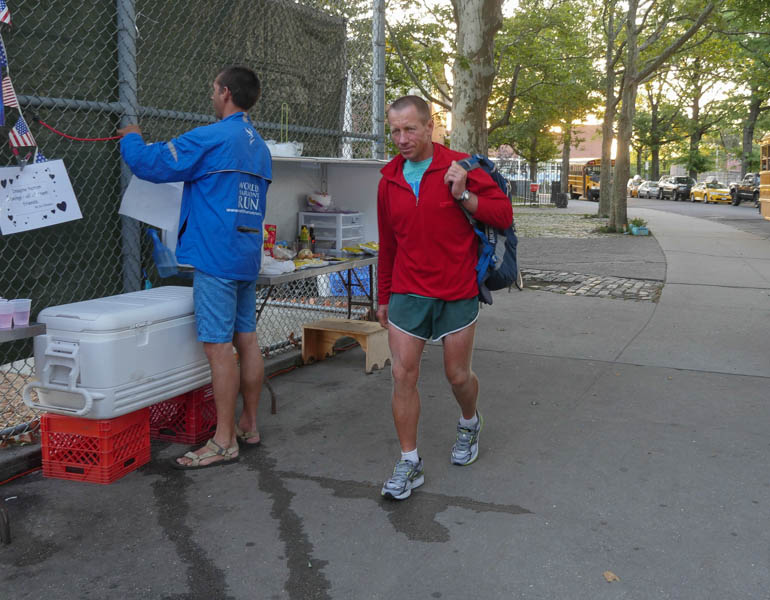 A big yawn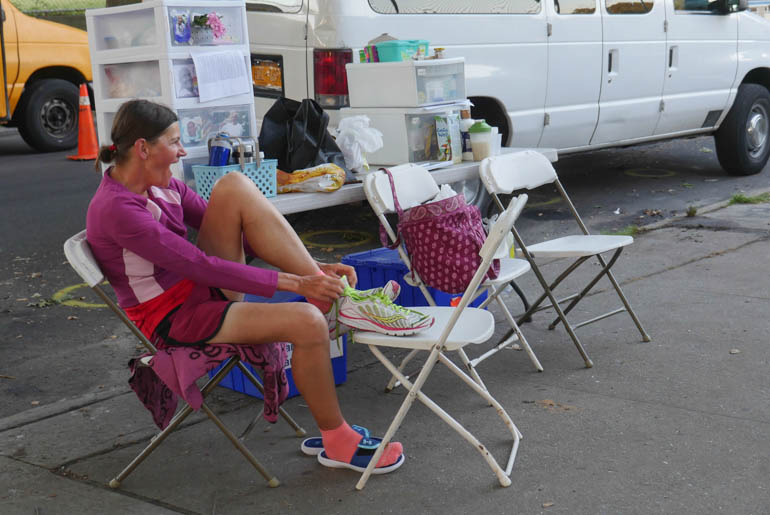 Time passing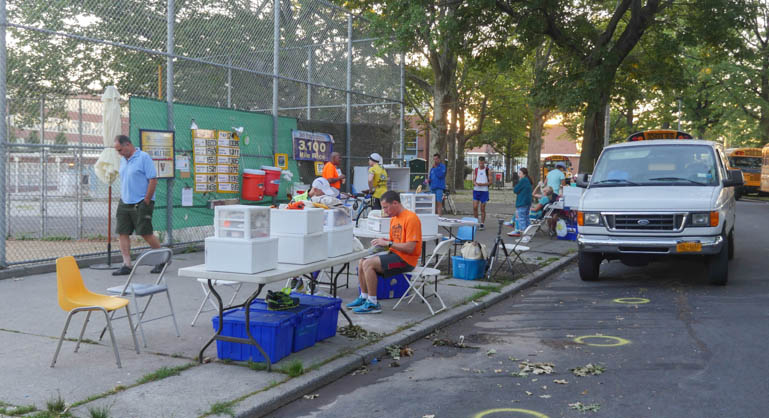 Cutting a shoe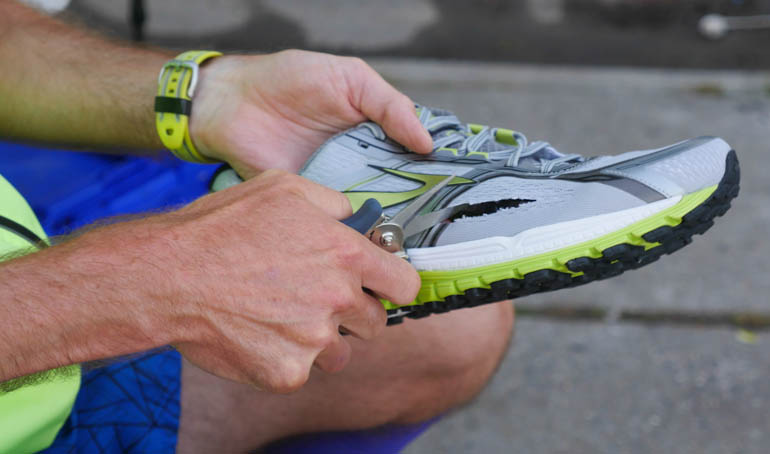 Girls are ready
Start Day 24
First steps
Vasu is the race leader as of this morning
He remains incredibly positive but he is having a severe blister problem
He did 57 miles yesterday but today he is mostly walking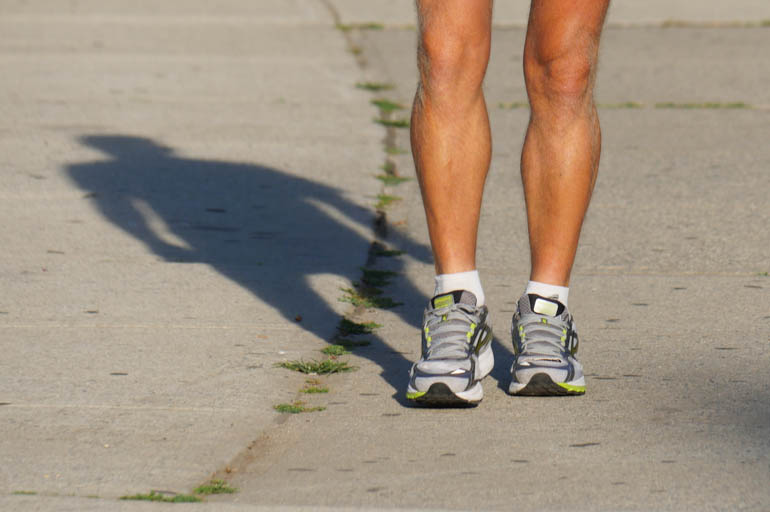 He gets some help from Vajra this morning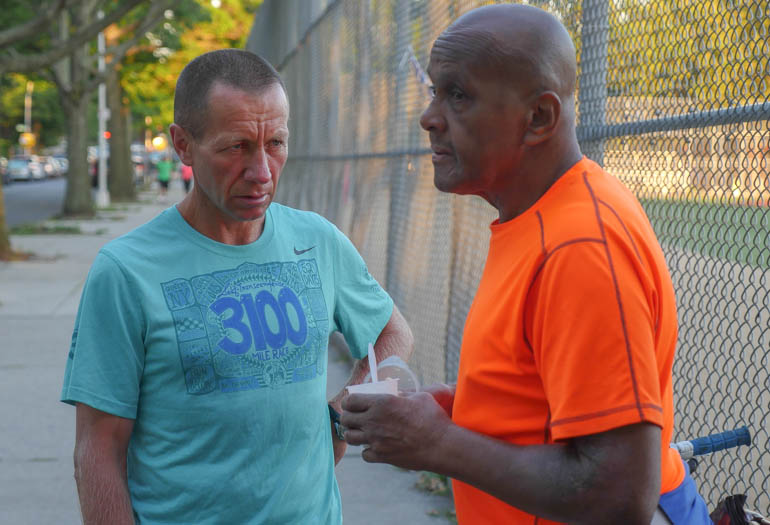 He has completed 1600 miles, which puts him 11 miles ahead of last years total.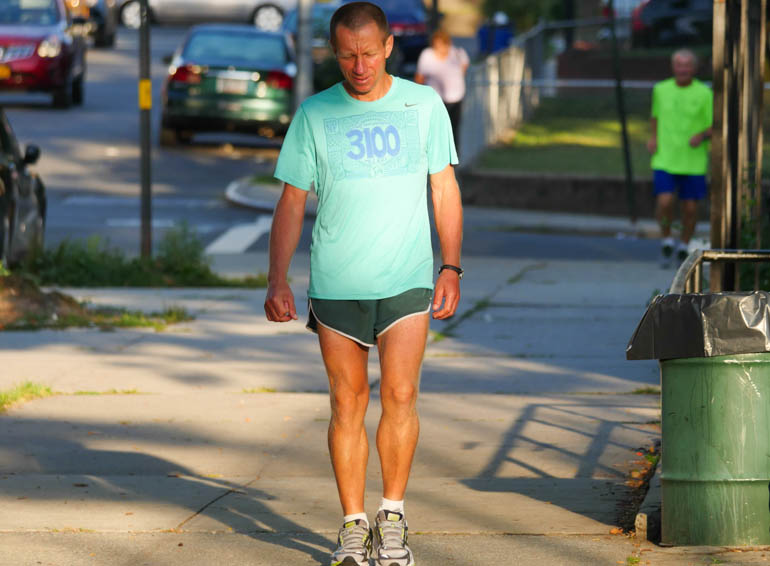 The fence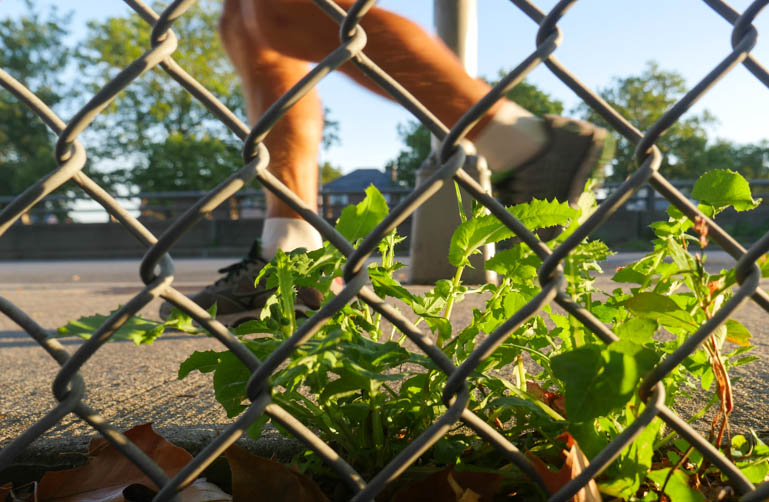 Atmavir again did the most miles for the day with 66.
He has 1593 miles.
Atmavir is 114 miles ahead of last year
A little bird
Yuri did 65 miles.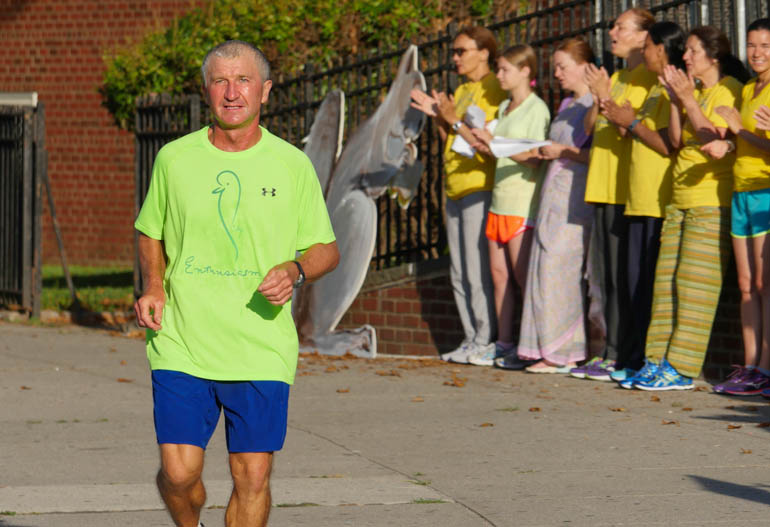 He has 1551 miles, which puts him 29 miles ahead of last year.
Later in the morning Dr. Mitch Proffman works on Yuri's hip.  He took a fall a couple of days ago and needed an adjustment.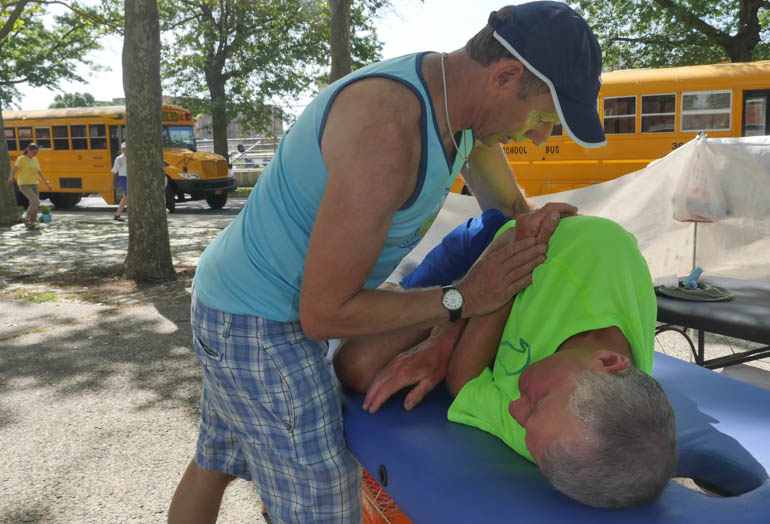 Healing hands.  He feels a lot better.
Daffodils
Ashprihanal did 64 miles
He has 1521 miles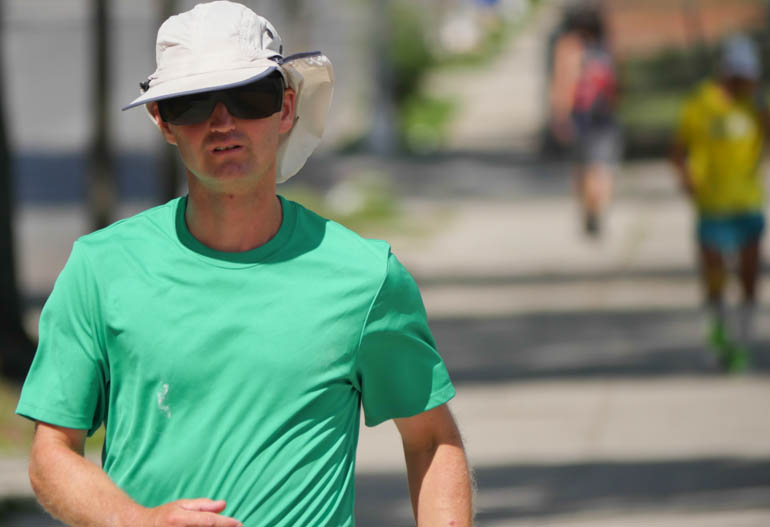 Getting ready to fly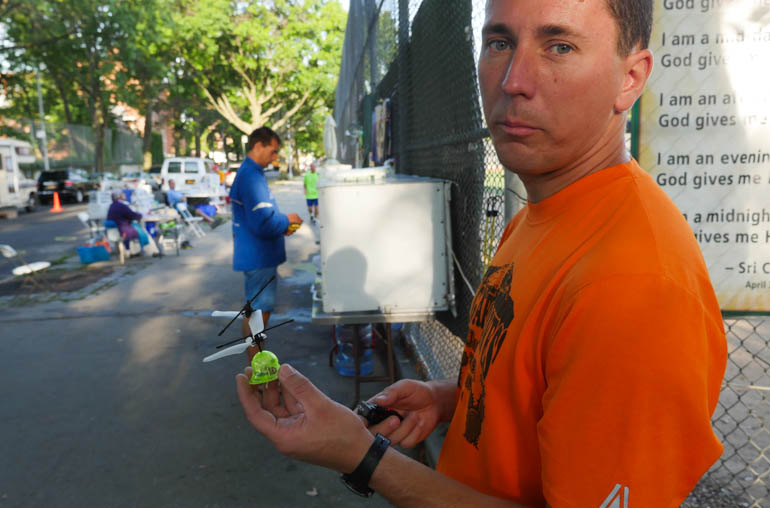 "Alright already.  So you had a bad night.  Don't take it out on me."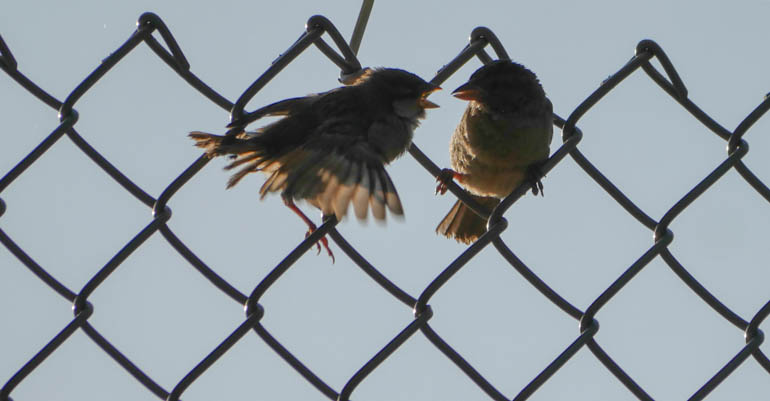 Surasa coming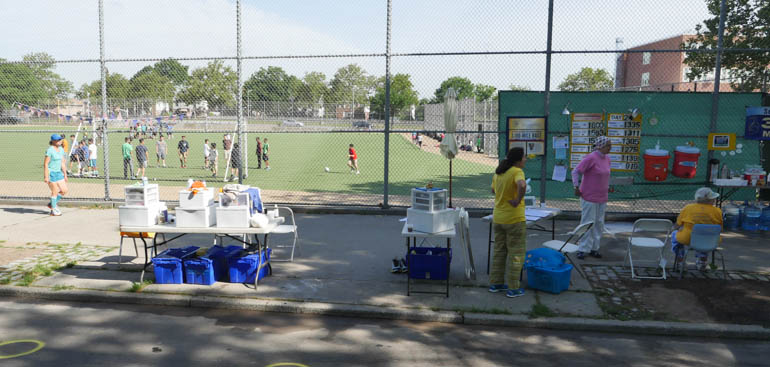 Surasa did 63 miles
She has 1487 miles
She is 74 miles ahead of last year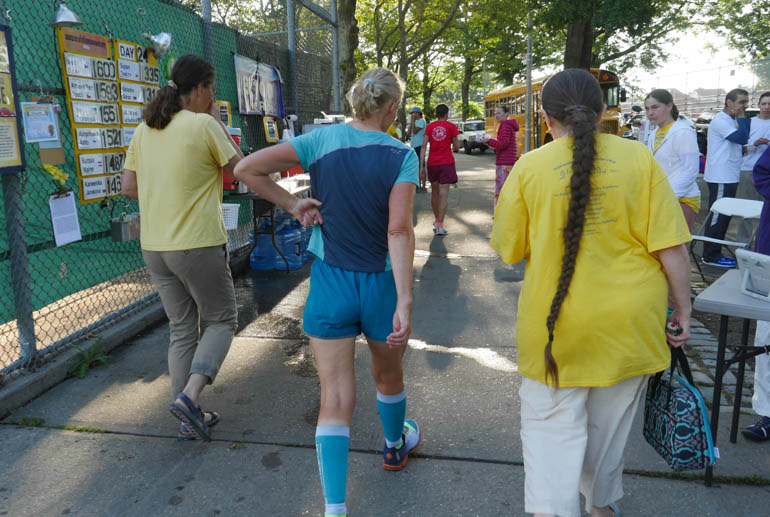 Trumpet vine
Kaneenika did 64 miles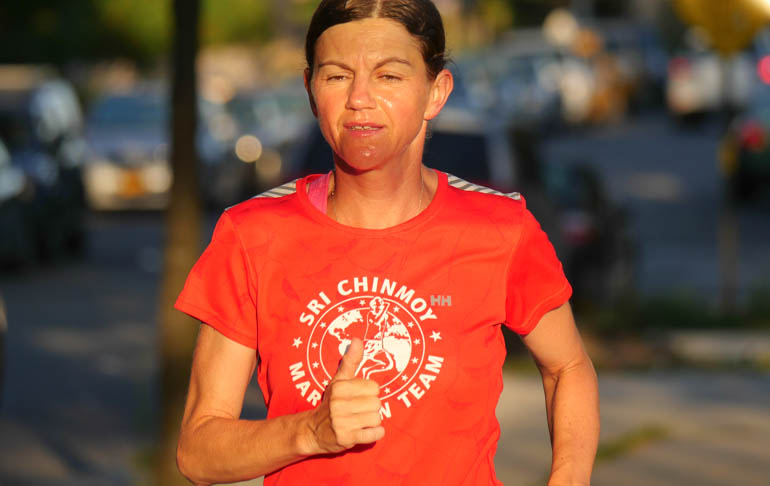 She has 1466 miles
Preparing a list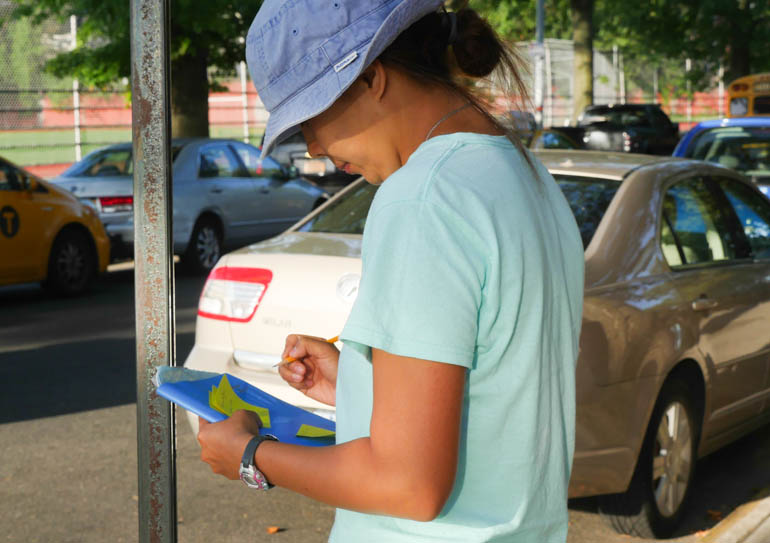 She is 95 miles ahead of last year
Big shadow
Sopan did 63 miles yesterday.
He has 1335 miles
Morning glory
Baladev did 54 miles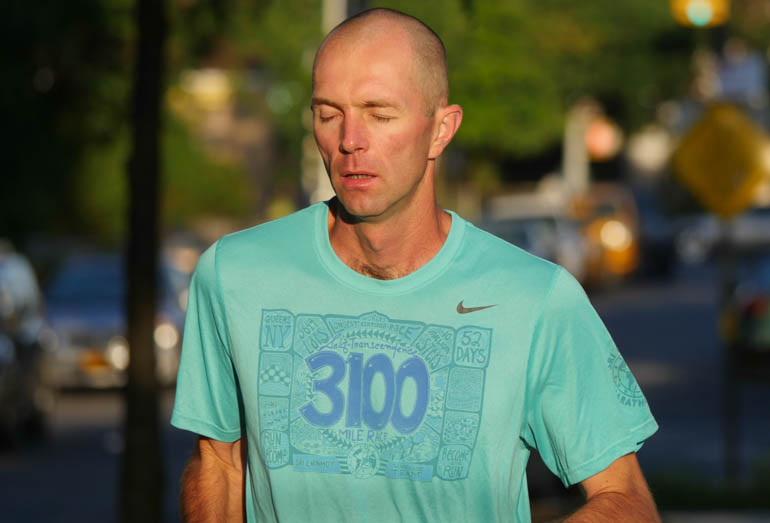 He has 1311 miles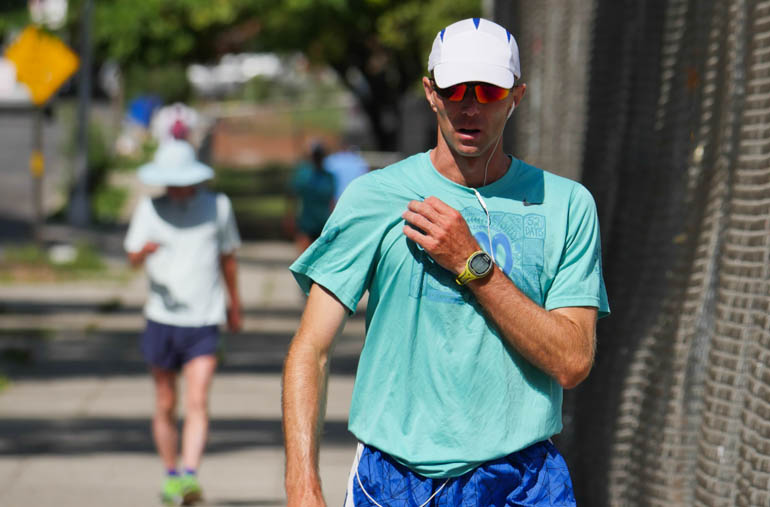 Stutisheel did 35 miles
He has 1305 miles
He and Ashprihanal do a play about a squirrel stealing his sandwich
The size of the squirrel has been enhanced for dramatic purposes…..courtesy of Vrishaketu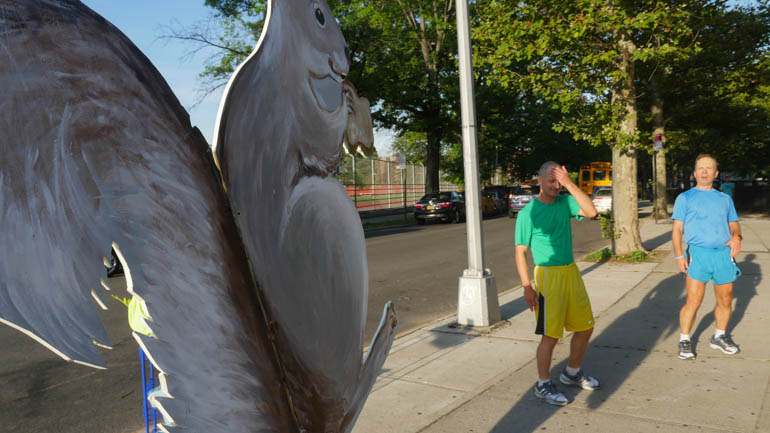 The size of the dog he is playing with is life size.
Misha supplies some free food to discourage further theft.
"Sure it is a good lock.  Give me 2 minutes and a pin and I will be riding down Parsons Blvd."
Ananda-Lahari did 43 miles
He has 1275 miles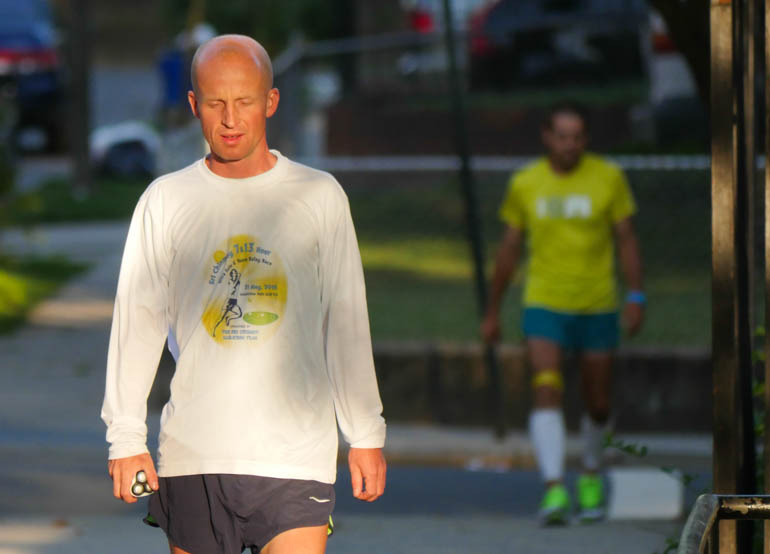 A bright day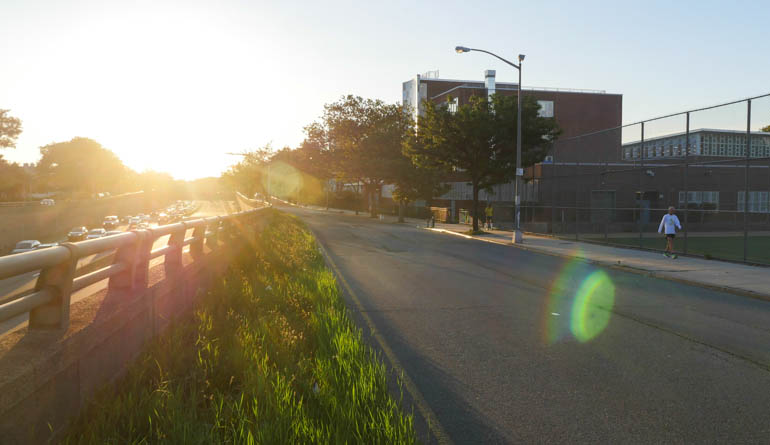 Uddipan checking the totals
Updating the board mid morning
"As you can see it is the midpoint.  The race is supposed to go 52 days.  Starting about now the runners are feeling more aches and pains and more of the stress of doing 60 miles a day."
Mitch is always much appreciated for his chiropractic services which he has offered for years at not just the 3100 mile race but also the 6 and 10 day race in Flushing Meadow in the Spring.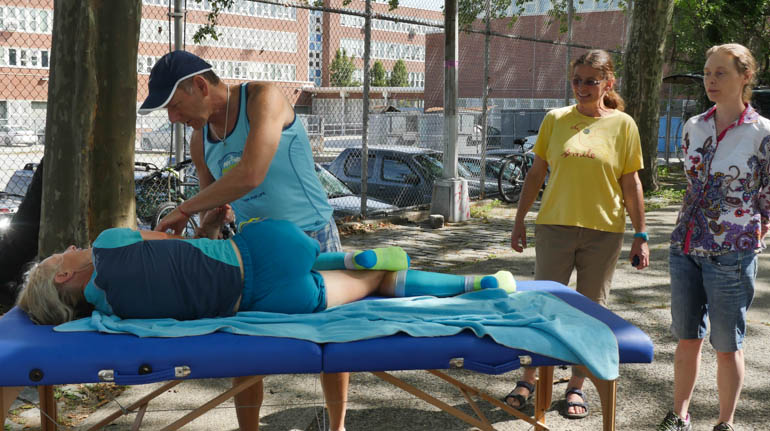 "This morning I looked at 5 or 6 of the runners and they are starting to have more chronic issues.  Like shin splints and hip pain.  Some calf pulls and even some back discomfort.  That happens from over use."
"But as usual they don't complain much.  I adjust them.  I work their muscles.  I give some advice on sleeping and eating, and things like that and they go on their way."
"They are pretty much out of the body and into the mind and heart.  There is no conceivable way that anyone could run 60 miles a day for 52 days.   The body will just rebel.  So they transcend that.  That is why this is a self transcendent race."
"I enjoy being here and taking care of the runners because it is such a motivating and enlightening experience.  Being a chiropractor for 30 years I have seen hundreds and hundreds of runners and issues.  But these runners are the quintessential super human super hero runners and to see it in action here is truly amazing."
Click to Play:
Getting the web cam back on line after parking the vehicles
"I just love coming to this race."  Snehashila turned 91 today and one of the top things on her list of things to do was come and be here this morning.
"These runners are real warriors.  They are so dedicated to this project.  I would have done anything to have done this race."
"But I joined this path when I was 50 years of age."
"I don't feel any different.  I feel very happy.  I laugh a lot and it is easy to smile.  It is just natural for me."
"I feel it is all Guru's grace.  I am so lucky."
Click to Play:
Chataki reads the Daily Poem
Click to Play:
Enthusiasm Awakeners
Click to Play:
My mind does not care for directions
To Heaven.
My heart needs directions,
And my soul gives directions
Immediately, lovingly and proudly
To my heart.