Atmavir is running the 3100 mile race for the 9th time.  At the start of day 25 he has now completed 1659 miles and is now officially the race leader.  Which is not something he is all that much interested in.
What we observers should appreciate however is that the circumference of the earth is 24,900 miles.  A distance that Atmavir passed many days and miles ago.  He continues to move forward with a kind of grace, determination, and poise that is exceptional.  Particularly when you factor in that his reward for completing the race, if not in fact winning this year, will be something as intangible and yet still personally all consuming as inner satisfaction.
When asked how he feels today he smiles and says the same as every day.  Which of course is crucially important for those who are commanding as much stress and rigor as he and all the other runners are feeling as they try and take the race home to that impossibly distant finish line.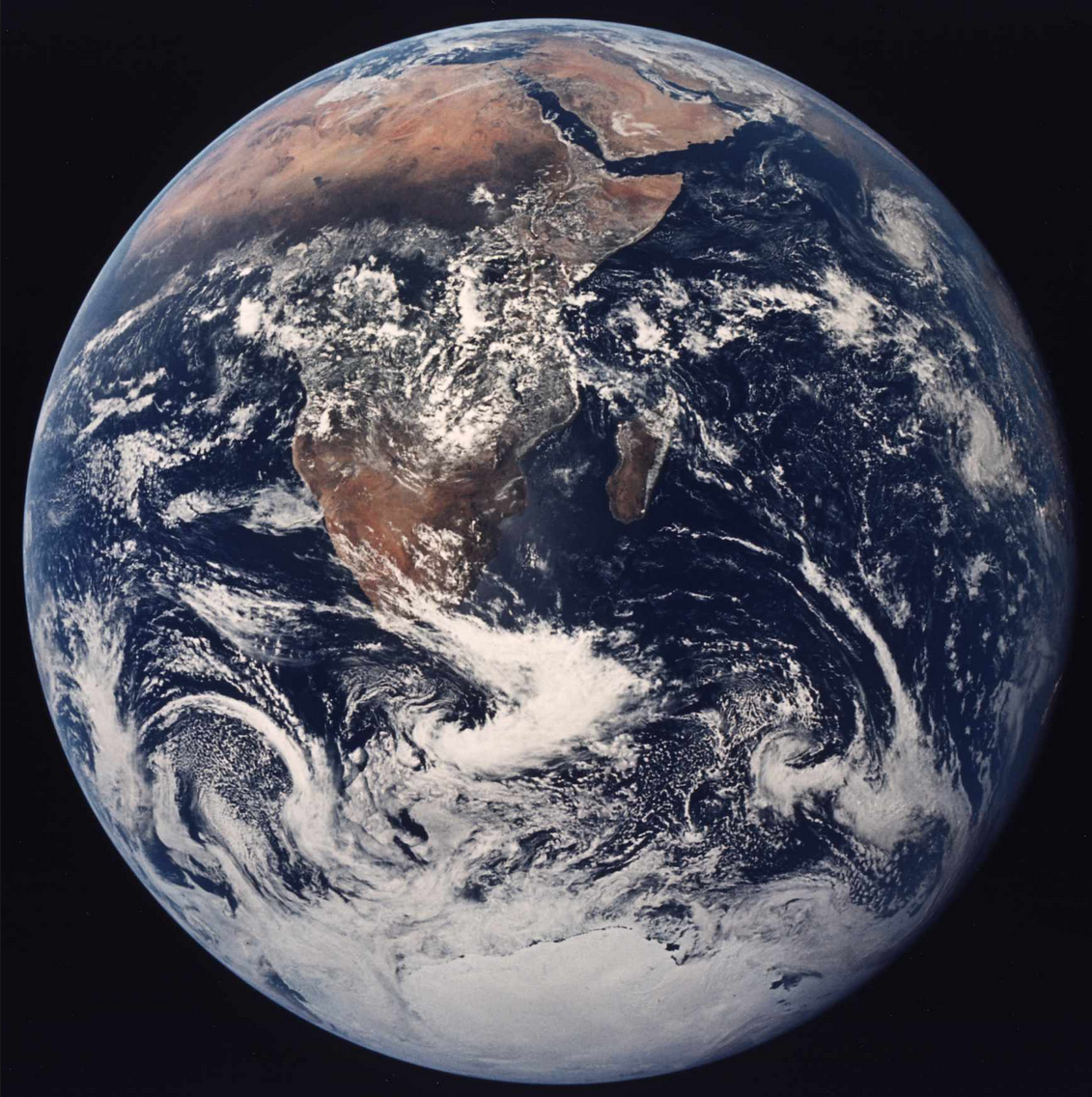 There was a telling moment this morning as he was running freely along and came up behind the previous race leader Vasu.
Who now, because of bad blisters, is moving with the awkward gate of a man trying to drive at top speed when he unfortunately knows he has a flat tire.  As Atmavir came up behind Vasu, he ever so gently shifted into a lower gear.  A quick look of respect passed between them and then ever so kindly he shifted back into his normal speed and moved on.
"Each single year that I am here I feel that I am moving forwards.  I am more comfortable and relaxed."
"It is my secret.  I don't want to push.  If I am forcing myself, or trying to compete with someone, then I don't feel comfortable.  I want to stay happy."
"Yesterday I saw one of the kids from the school he was wearing a bright colored t shirt and it said, Do Your Own Thing."
Atmavir was inspired by this and feels it was a reminder of just how he should focus on his own running here.  "If you are open and receptive, you will pick these things up."
The first year he ran it was a much different story.  Then he was able to finish a few hours after the official cut off.  "I didn't make the official limit and I also had a lot of injuries.  I got shinsplints in the first week."
"I have set a goal but I am not attached to it.  I would like to beat my personal best which I set in 2009 (45 days, 3 hours).  I couldn't succeed in doing this in all the years since.  But I think the problem may have been that in the past I started too fast."
Atmavir says that the world record pace set by Ashprihanal last year moved everyone very quickly along with him.  This year he says that he has been given some really good advice.  "Don't push too hard.  Take it easy the first part of the race.  I feel comfortable even though I have hard times sometimes during the day.  Of course the heat can still be a problem."
"I am not going over my capacity right now.  It is a miracle that I am so consistent.  If I don't fall under 60 miles on any day that is success for me.  That is real progress for me."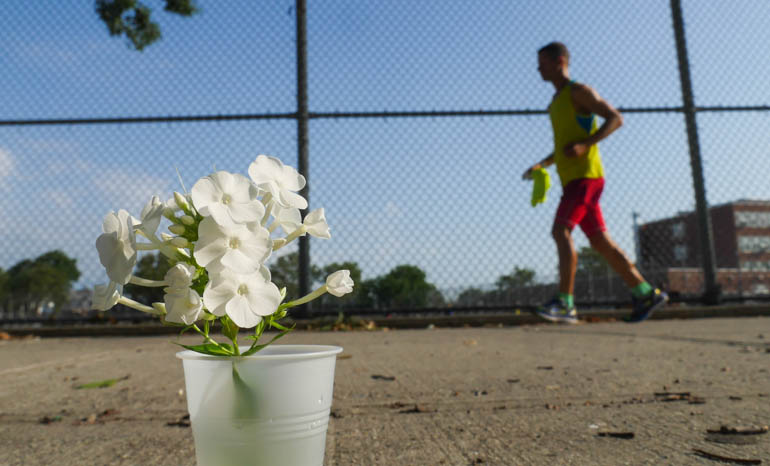 We may not see the Beyond,
But we do have the capacity
To feel the Beyond
Deep within us.
Click to Play Dipali's race tips:
The board
No runners yet
The van
Baladev and his bike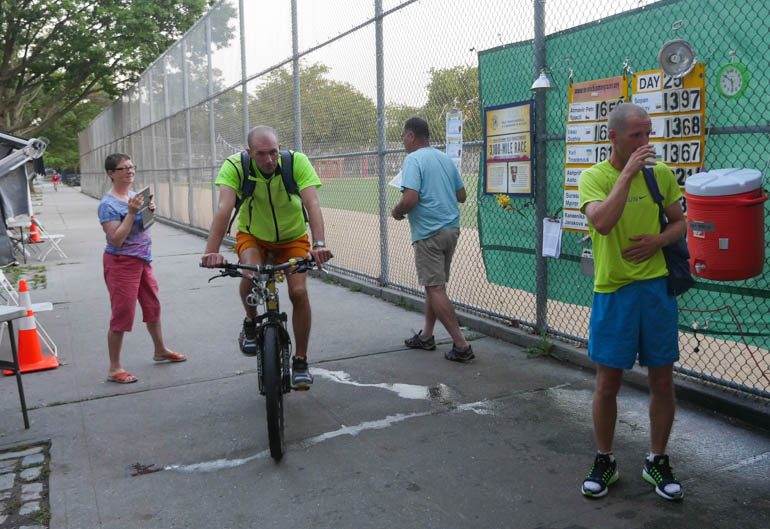 8 minutes to go
Vasu getting some encouragement from Rupantar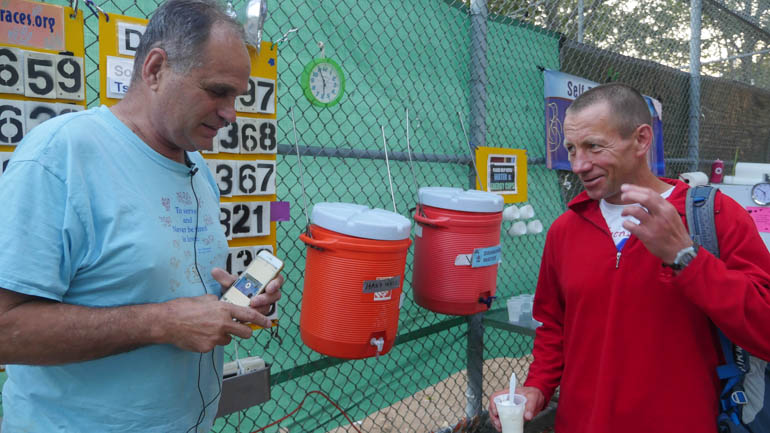 The girls
Aryavan and Yuri without bicycles.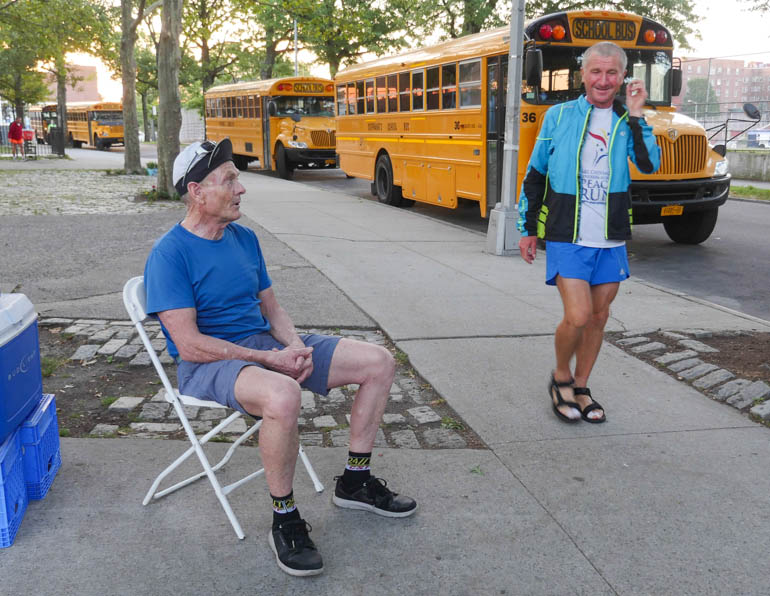 Baladev with shoes
Surasa appreciating today's sponsors of the race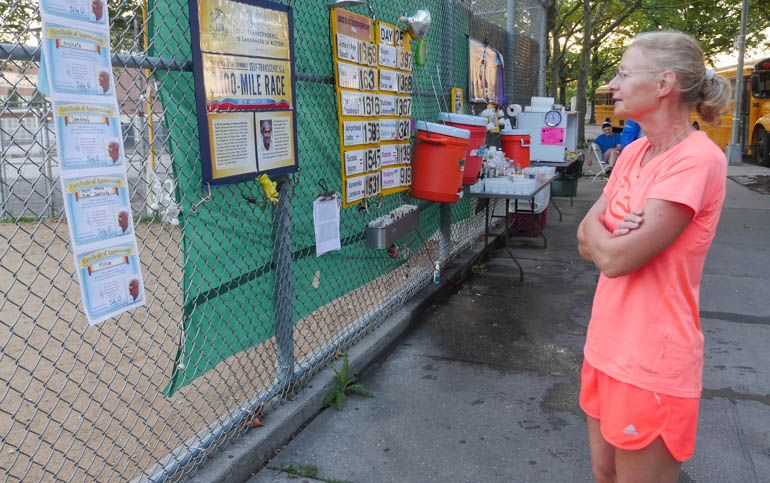 Start Day 25
First steps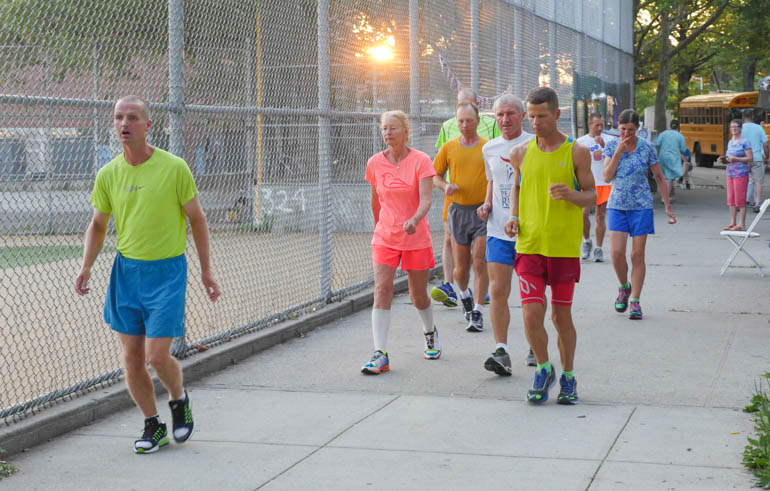 Atmavir once again had the most mileage for the day, 66
He has 1659 miles and is 117 miles ahead of last years pace
A little beauty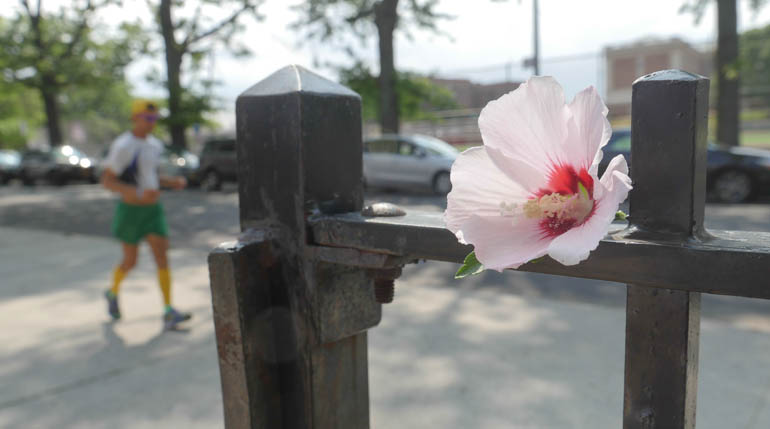 Vasu is having one of those achingly hard times.  He did only 37 miles yesterday on very sore blistered feet.  Getting a remedy from Higmanshu.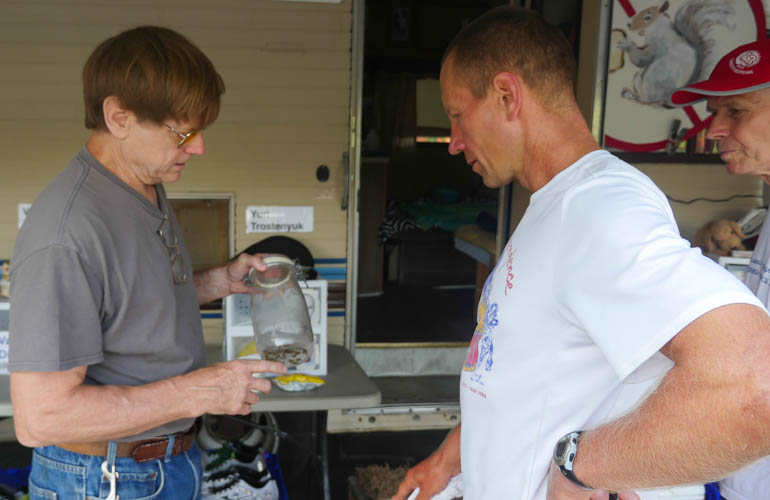 It is a complicated situation because of course his own experience in the race and also with dealing with bad blisters previously.  In short he knew how to treat the problem but with the combination of rainy weather and arriving at the race late one morning the situation escalated rapidly.
He finished yesterday with 1638 miles.  Which is 22 miles under the mark from the year before.  He is however positive that he will overcome this and be running again soon.
A long hard journey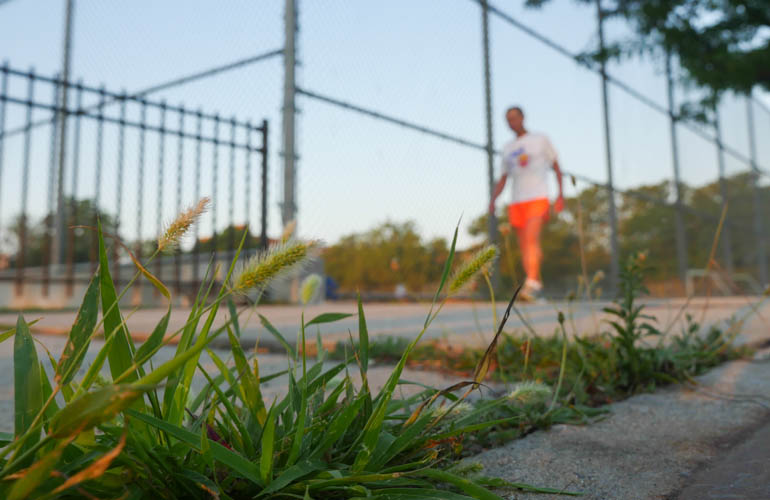 Yuri ran 65 miles yesterday
He has 1616 miles
He is having a very good race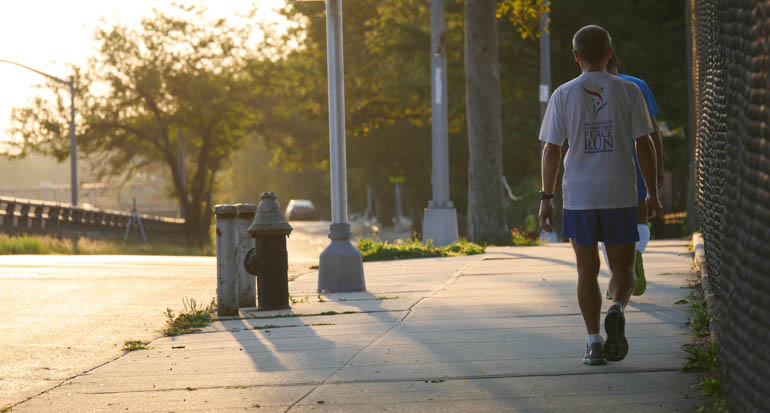 Wild flowers
Ashprihanal ran 65 miles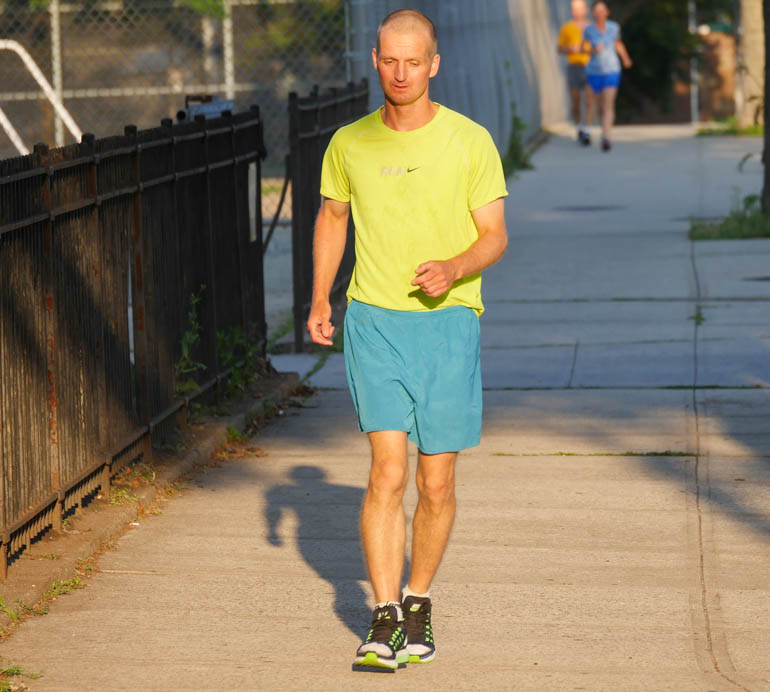 He has 1586 miles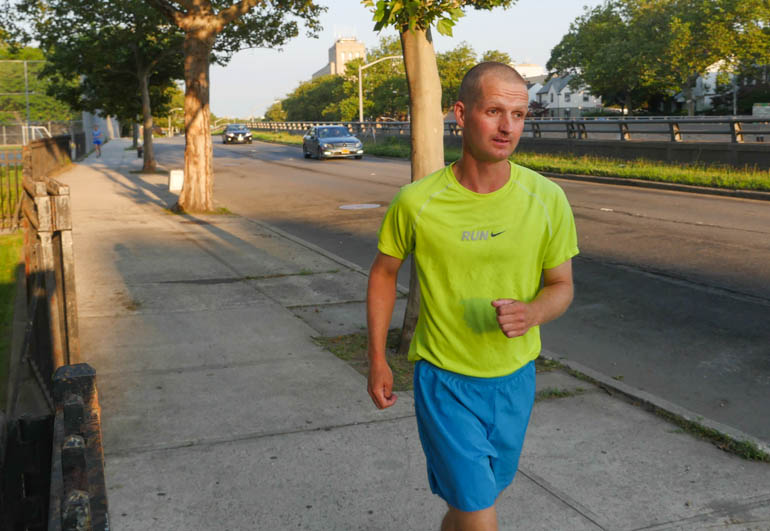 On the sunny side
Surasa ran 58 miles yesterday.  She is dealing with a hip problem that Mitch worked on yesterday
She started the day with 1545.  5 miles short of the half way mark
Too much bell ringing and applause early this morning she crossed the line of the half way mark.
Stopping only briefly
Click to Hear Audio:
colors
Kaneenika ran 64 miles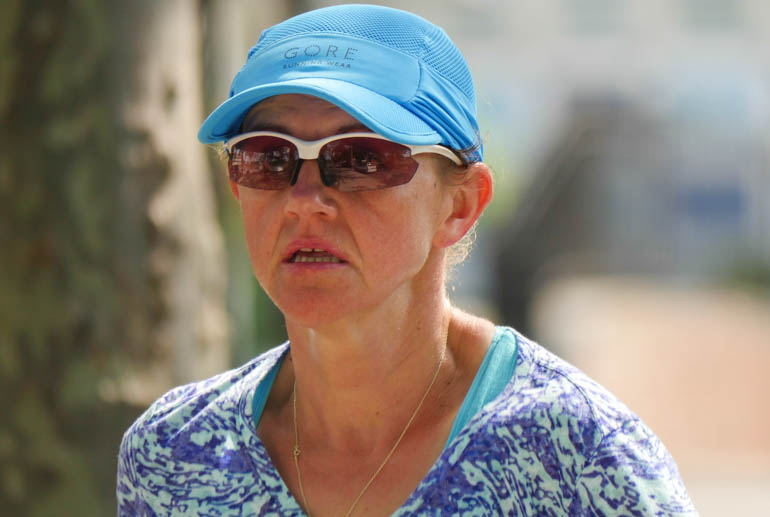 She started the day with 1531 miles
A little past 10 this morning she as well crossed the half way mark
Click to Hear Audio: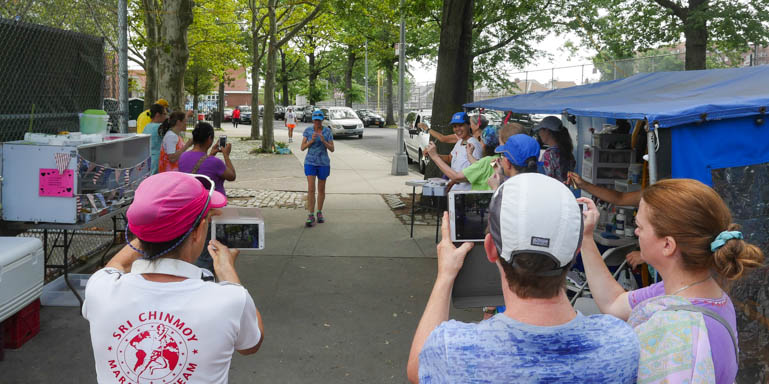 A quick pose.  She is 101 miles ahead of last year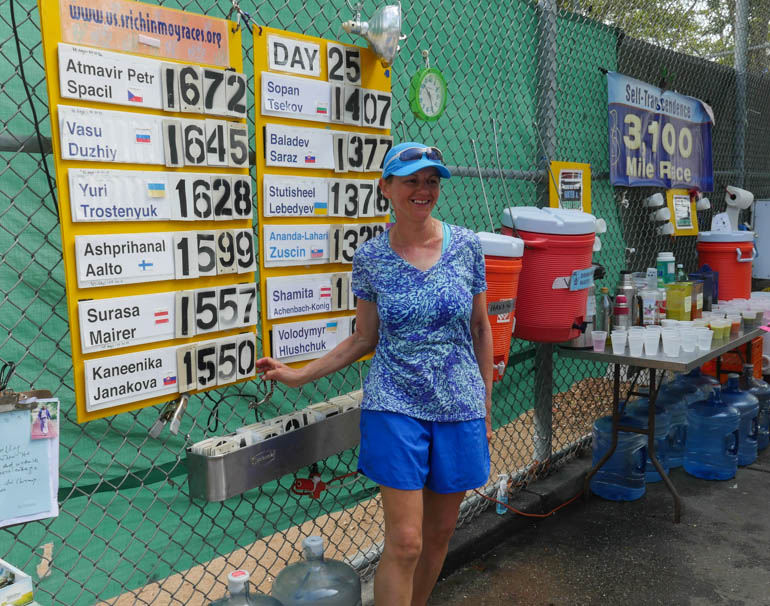 The little ones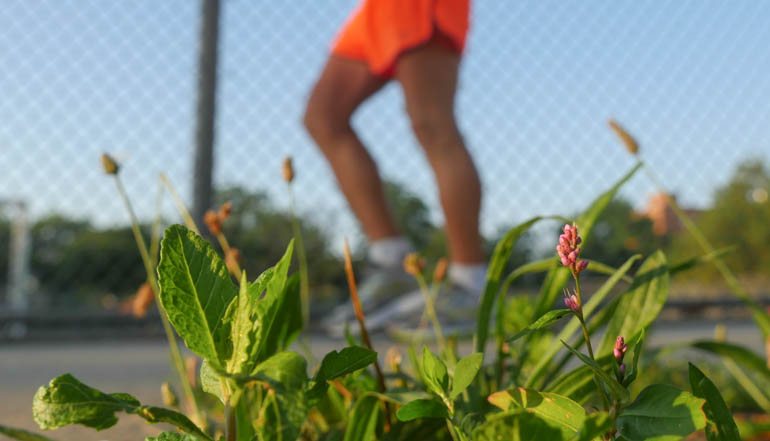 Sopan did 62 miles
He has 1397 miles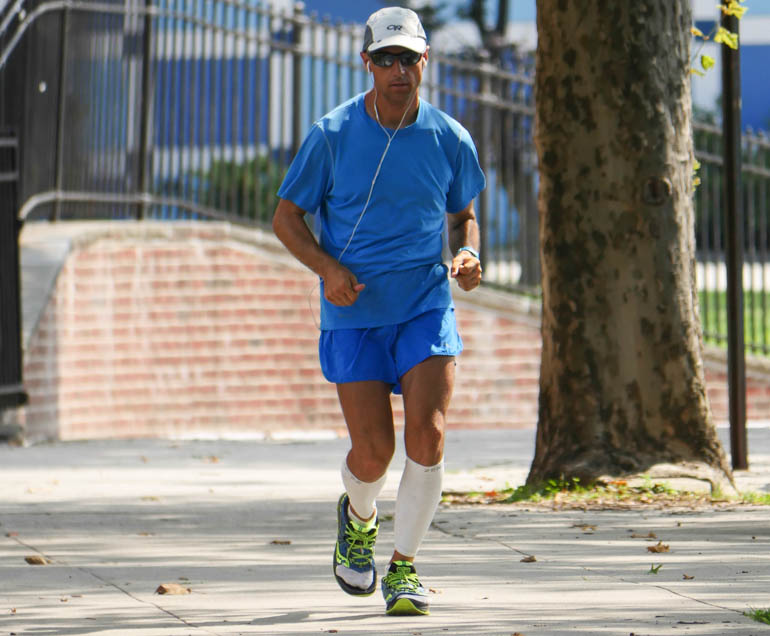 "So throw the ball already."
Hard and soft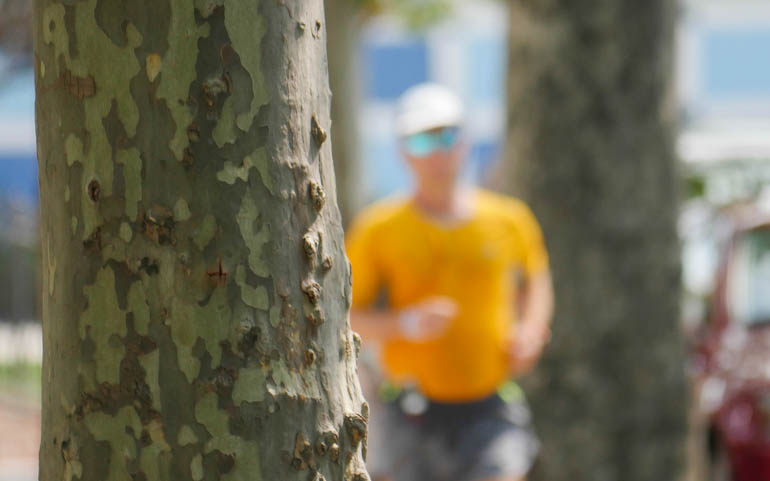 Stutisheel had a good day with 63 miles.  He now has 1368 miles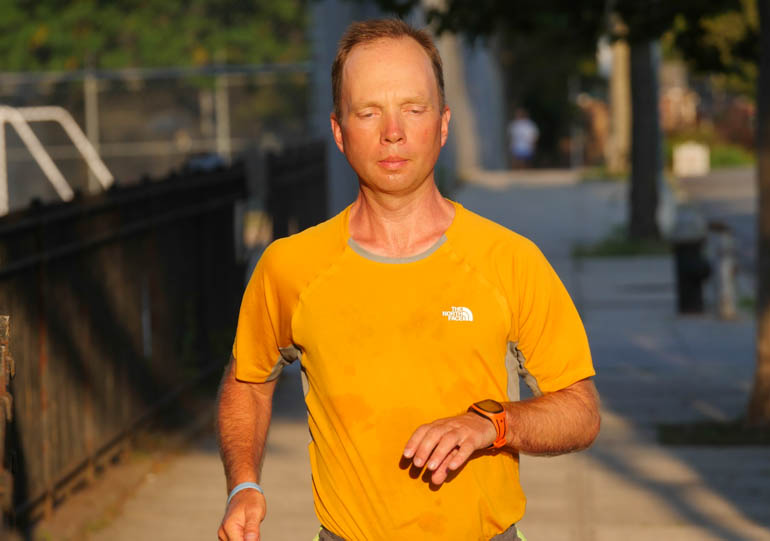 In a first he has Rupantar act in his skit…….art courtesy Vrishaketu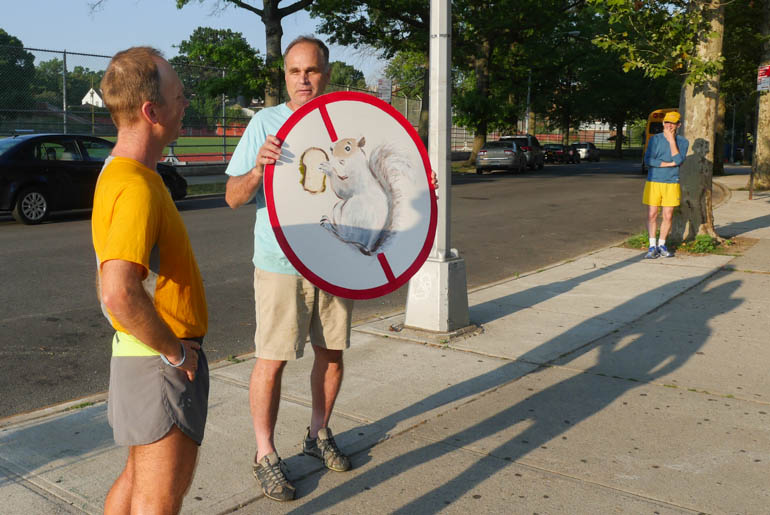 Another success
Click to Play Audio:
The other side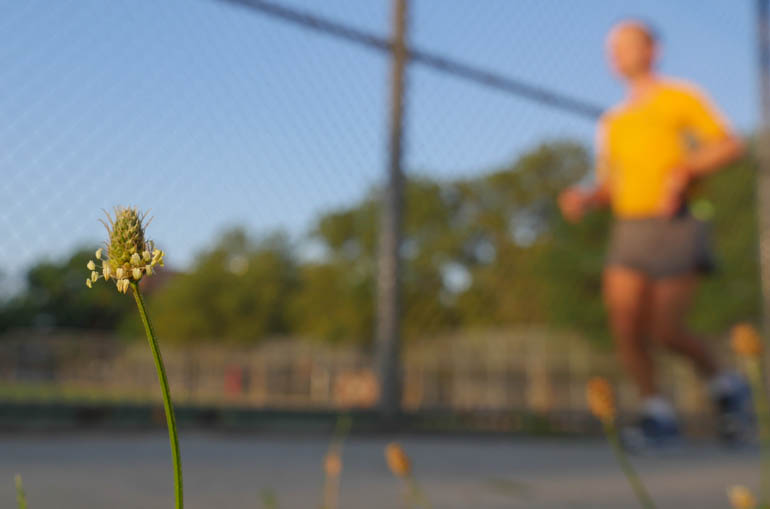 Baladev did 56 miles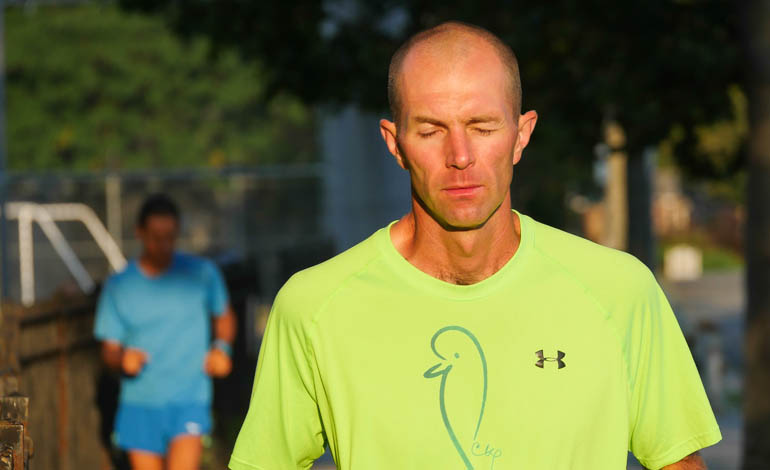 He has 1367 miles
Down low
Ananda-Lahari did 46 miles
He has 1321 miles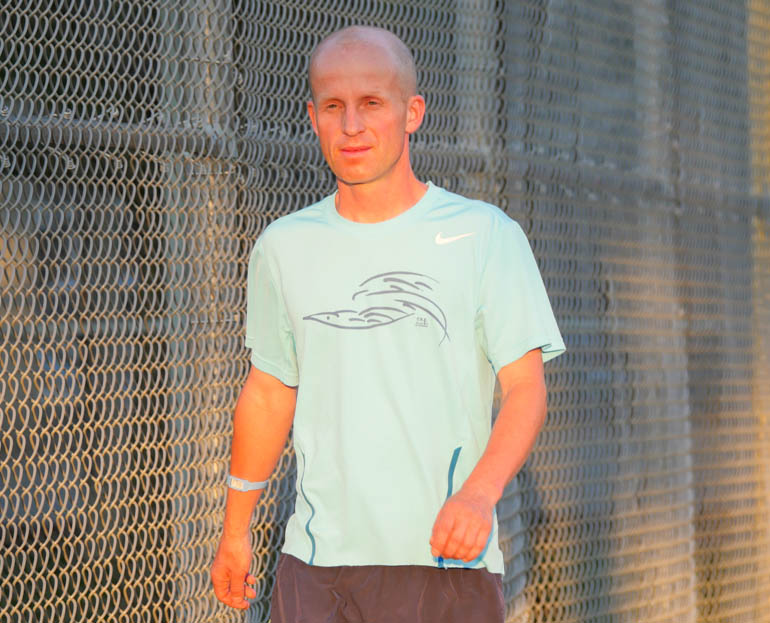 Ananada-Lahari coming through camp with Mario
Feathers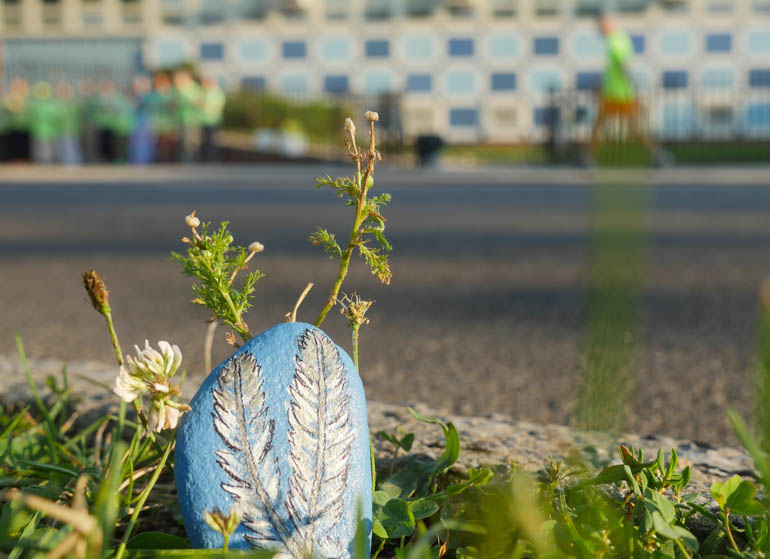 Aleksei says that being here helping Vasu in the race was very unexpected.
"Last year and the year before that Nicolai was helping Vasu, but this time he could not get a visa."
When asked if he is an expert helper.  "Absolutely not."
Still he is learning well on the job and says the toughest part is how quickly he must anticipate what the runner wants and needs.  "In half of a sentence."  Aleksei realizes the job means he must be completely in tune with Vasu.
"So far it is taking me time to understand what he wants."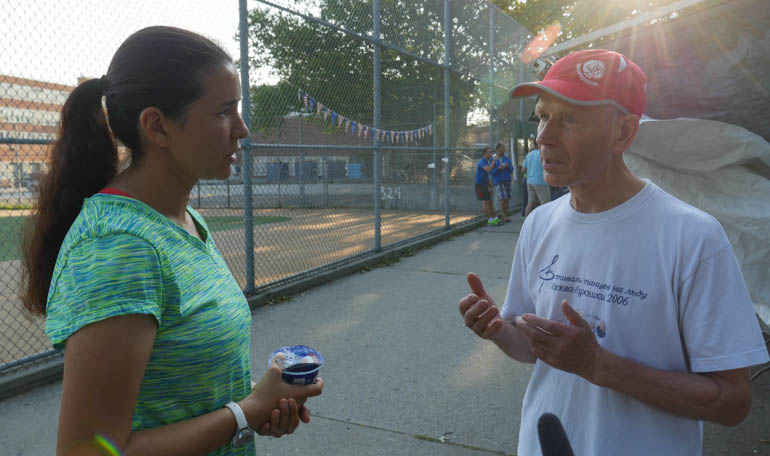 "I was very excited when I found out that I could come here. It is such happiness to be here."
"Yesterday I was at the Aspiration ground and I felt as though Sri Chinmoy was welcoming me.  It is my first time in New York and also the first time having these experiences."
Click to Play:  *translated by Lyalya*

Sakshama reads the Daily Prayer
Click to Play:
Enthusiasm Awakeners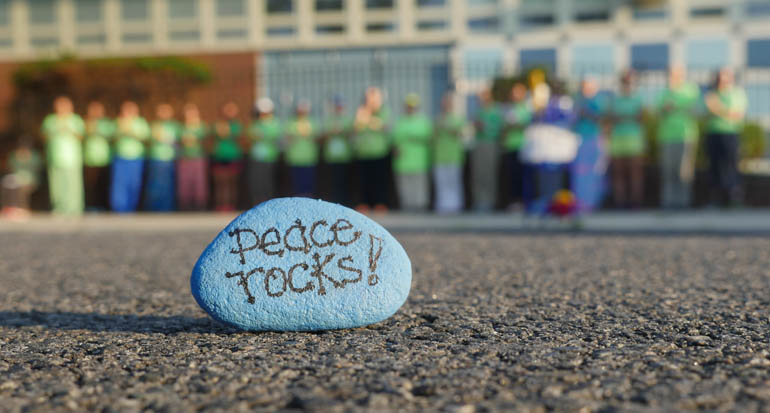 Click to Play:
God never plans anything for me
That is even an inch beyond
My heart-capacities.