In all the many years I have chased after Ashprihanal Aalto while he has been running a multi day race I have never ever gotten even close.  Whether it be dashing around a one mile loop in Flushing Meadow or even now while he runs the short easily accessible half mile block in Jamaica Queens.
It is not that he is unapproachable, or that he runs too fast (which is still plenty fast for me).  It is just that there is something particularly elusive if not incomprehensible about this 45 year old running phenom from Helsinki. Who will without question set a new record this summer when he completes the Self Transcendence 3100 mile race for the 14th time.
Day 10 June 28 from Sri Chinmoy Marathon Team on Vimeo.
Last summer he did something so great that it was almost unbelievable if not for the fact that every single lap been meticulously recorded when he set the new record for the 3100.
His time of 40 days and 9 hours is literally off the charts in terms of performance.  Yet lo and behold he comes back and decides to run again this year.  Though it is fair to say that he for the moment appears to be moving at a slightly more leisurely pace, at least in the Ashprihanal scheme of things.
Click to go to Ashprihanal's Wikipedia page:
https://en.wikipedia.org/wiki/Ashprihanal_Pekka_Aalto
"It is a very good morning."
Ashprihanal has consented this morning for me to tag along and video him while he runs a loop.  It is his 10th day here and as of this morning he has completed a distance of 616 miles.
Now keep in mind this appears, at least at this point not to be a year when he will set a new record for time.  He is 50 miles out of first place and is currently in 4th.  Yet one thing about Ashprihanal that should be obvious, is that should he turn on the jets anything is possible.
Today though is a particularly good day for running.  It is overcast and cool.  He smiles as he points out that there is no need for sunblock.
When I ask if he had a rough start he says, "I was a little out of shape."  He still managed 80 miles.  "I think every time is kind of a rough start.  In that way it is no big difference."
Ashprihanal describes how just by running he and all the runners ultimately get stronger.  A kind of counter intuitive understanding of endurance sport in a way.  But clearly an observation that has proven true time and time again.
He says it happens, "slowly and steadily.  It takes some time for the body to adapt."
Coming this year was also something he had not clearly planed for.  He describes that in recent years he has taken a year off to recover physically and mentally but was inspired to come this year because of Sanjay's documentary he is doing on this years race.
"But here I am for the 14th time.  I will soon be the veteran.  It is nice."
When he was still just a teenager Ashprihanal came as an exchange student from Finland and lived in Georgia.  It was then that he first got interested in hiking the long trails of the Appalachians and also the Pacific coast trail.  I ask him if he misses nature when he comes to run here.
"There is nature here and trees." He points to the towering plane tree at that moment sheltering us from some morning sprinkles.
"It is pretty good, it could be better.  Still there are enough trees to have some shade."
It is also the last day of school and hyper teenagers are darting up and down the sidewalks.  He said it doesn't bother him.  "It is not too bad.  Also it is nothing new."
Ashprihanal says that there are times when he still feels the presence of his late spiritual teacher.  "Sometimes I do and sometimes not.  But he is here always."
"Sometimes you have good days and sometimes you have bad days.  Sometimes you are more in the heart and sometimes you are more in the mind."
When asked why he decided ultimately to run this year.  "I don't have to do it, but it is nice to do it."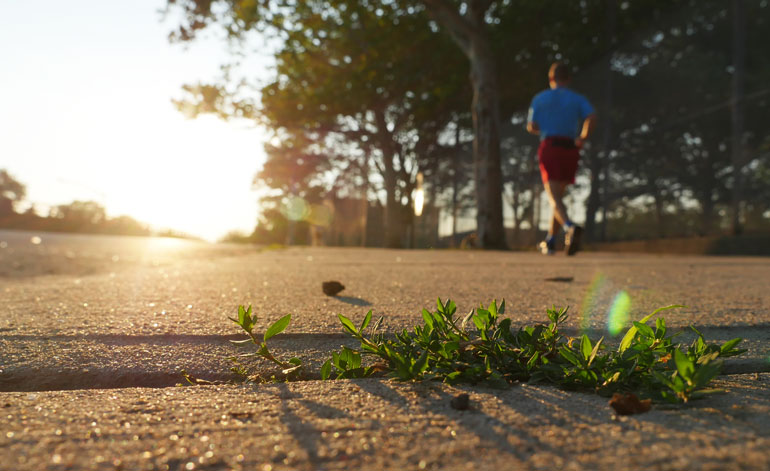 When
I live in the mind
I think I know
More than I really know.
When
I live in the heart
I know I am loved
More than I really love.
The board
Janos waits for the runners to arrive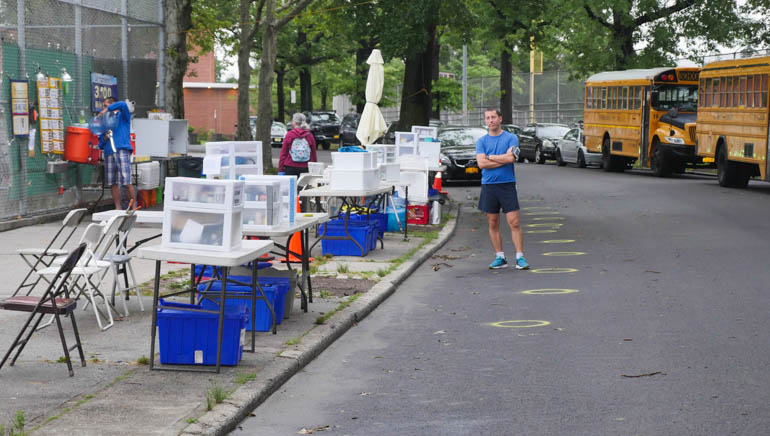 Yuri arrives
Baladev the day after his root canal.
Bhadra is one of the early counters this morning
Checking the counting schedule for the rest of the morning.
It won't be long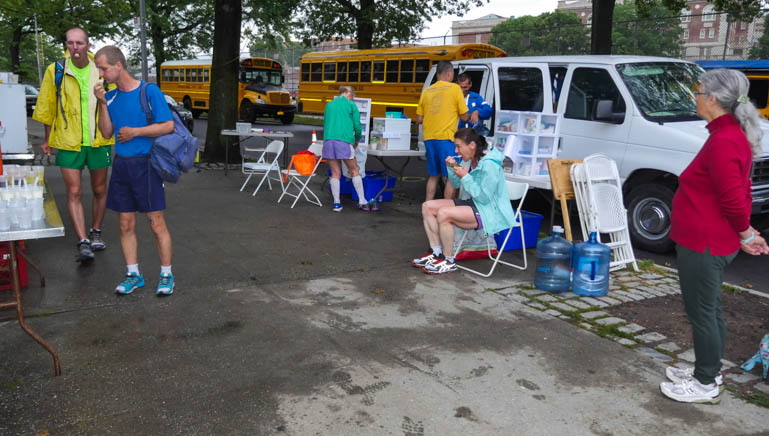 Start Day 10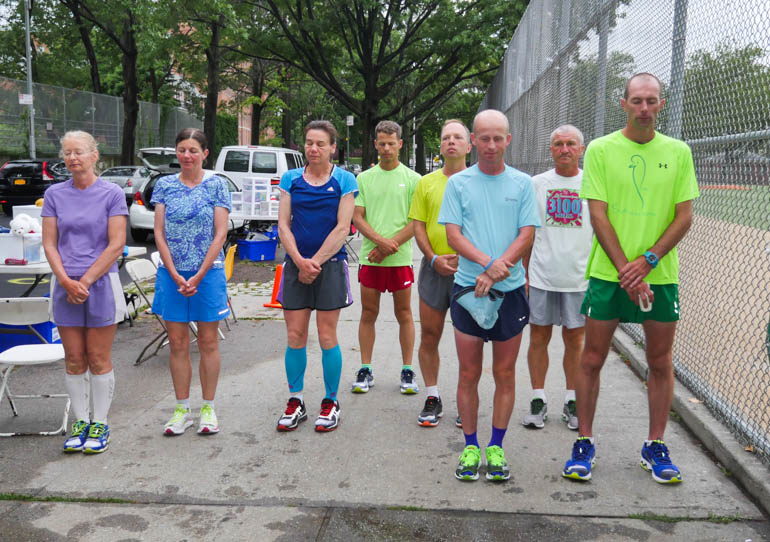 Voldymyr is a little late for start
Rain drops
Vasu ran the most miles again yesterday, 71.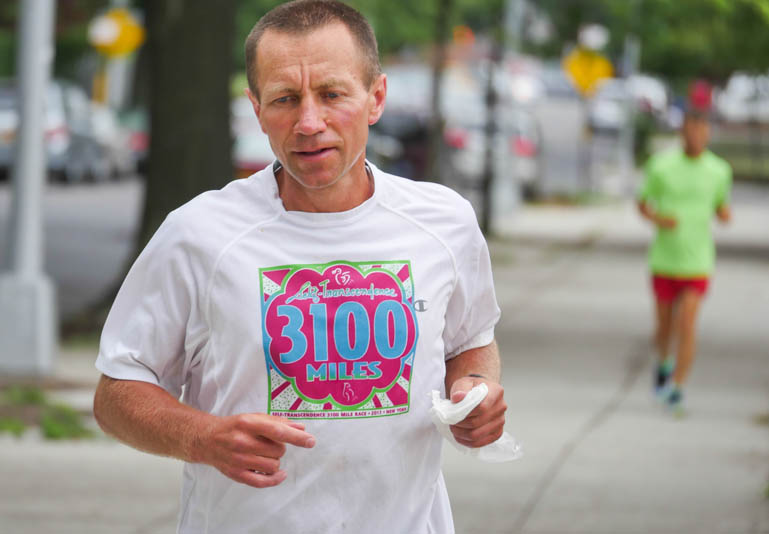 He has 667 miles
Talking with Ashprihanal
And what he so quite often does, stops and picks up garbage along the course.
By the Grand Central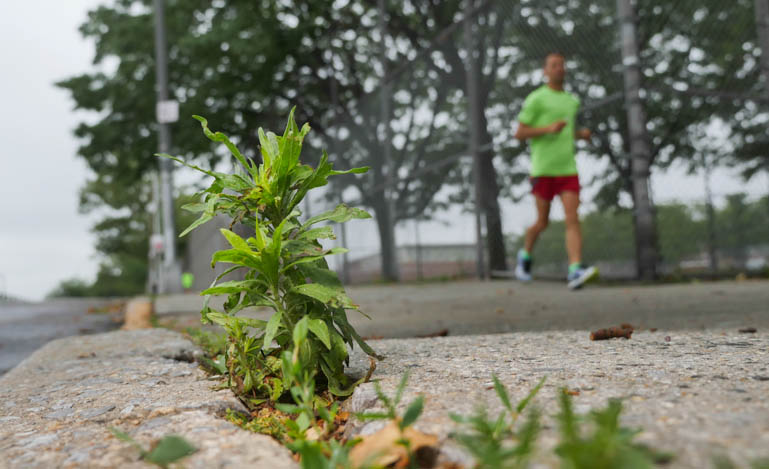 Atmavir ran 68 miles
He has 647 miles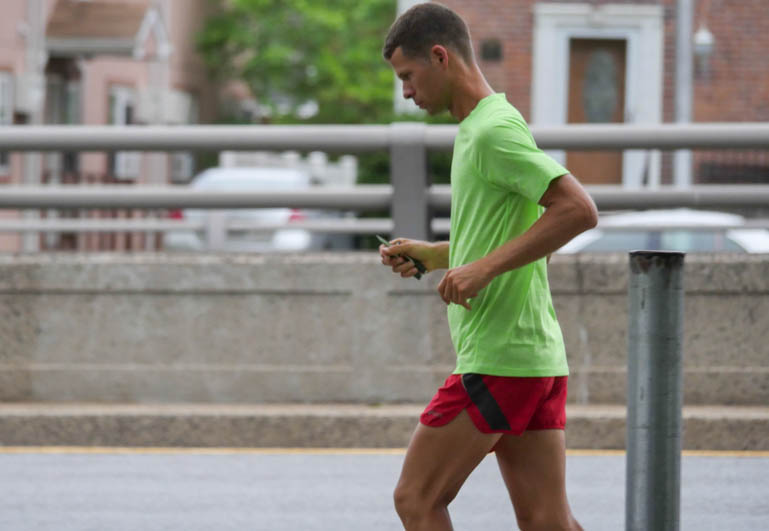 The weather is good for Atmavir in particular.
Feet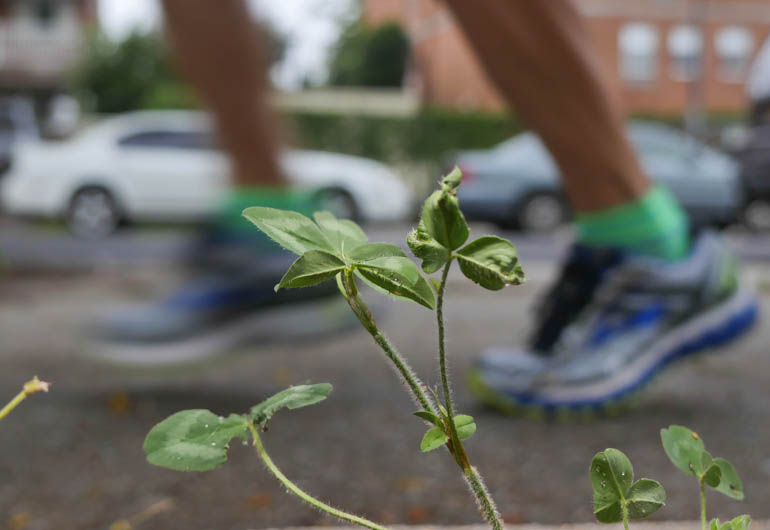 Yuri did 66 miles
He has 633 miles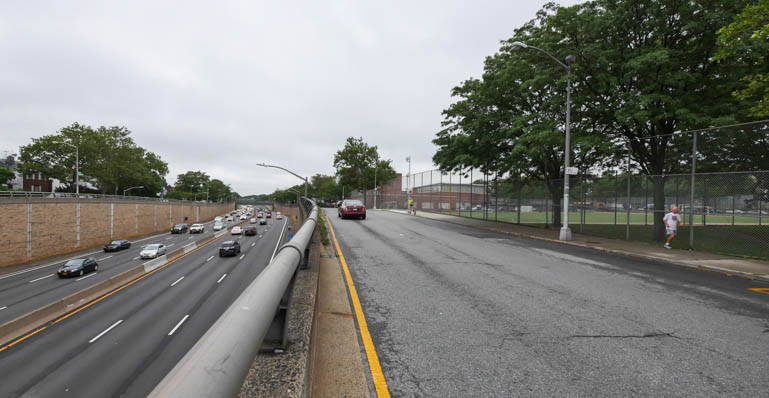 Ashprihanal did 65 miles and has 616 miles
The long view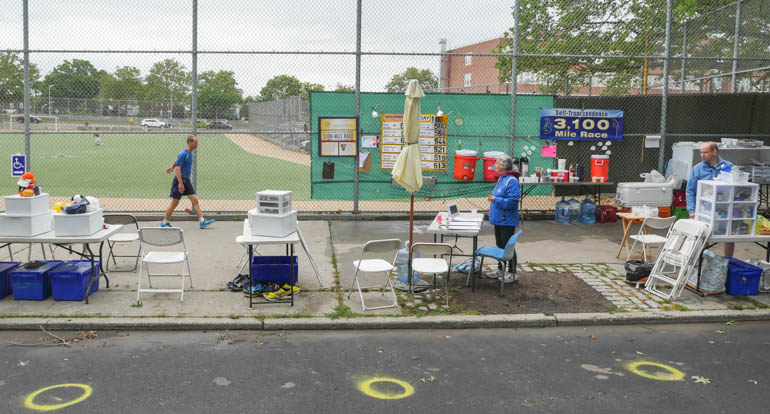 Surasa did 62 miles and has 592 miles
A tree limb fell on the course just a few minutes earlier.  Vasu stopped to clear most of it off to the side.   Volodymyr described to me how he had just passed when it came down.
Coming into camp
Kaneenika did 63 miles yesterday
She has 567 miles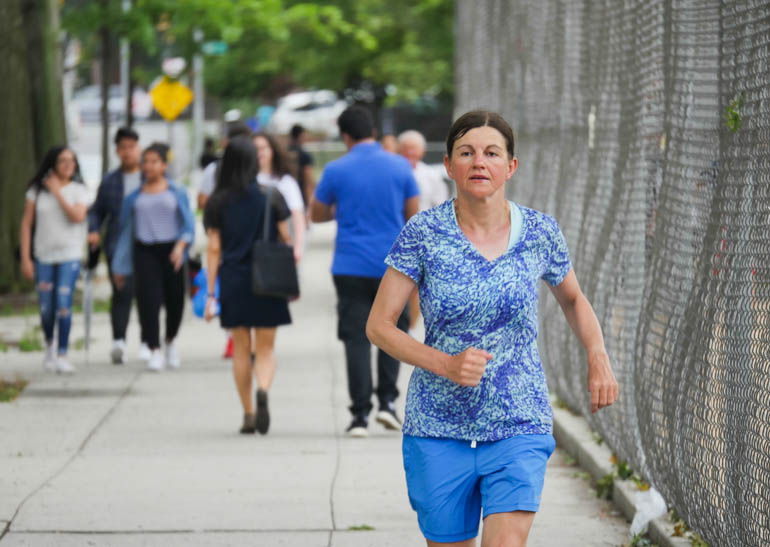 Nada one of the counters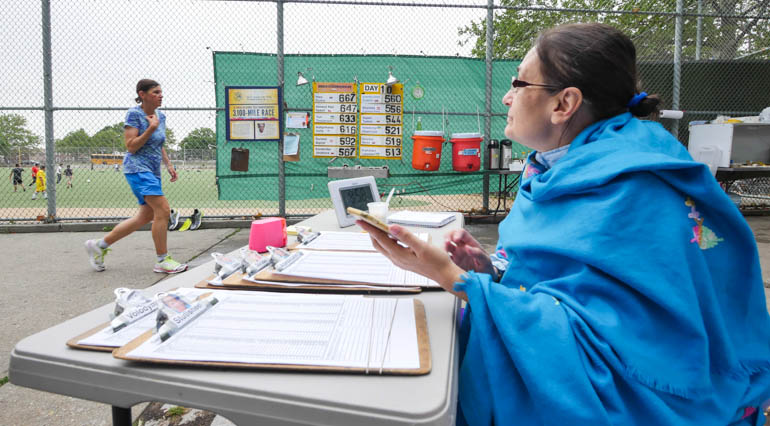 Drying shoes
"Yes Super Squirrel is able to not just climb trees but also able to scale sheer brick walls.  What is next?  The first squirrel to climb Everest?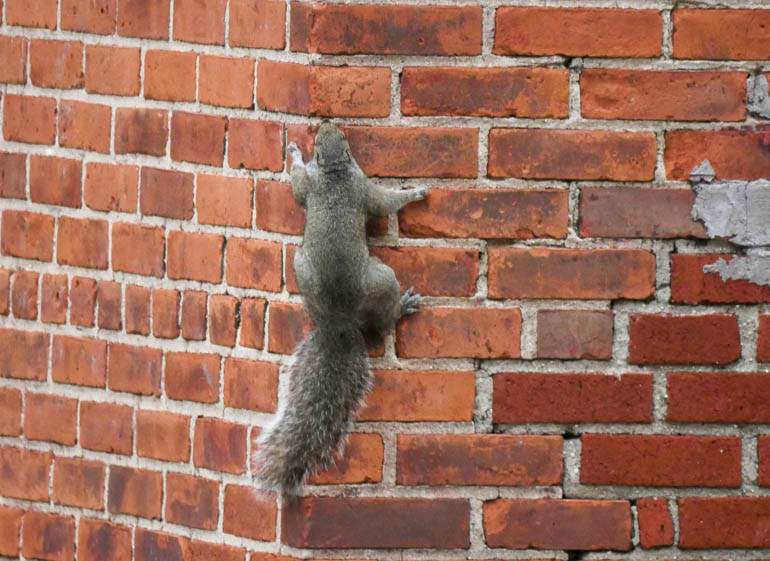 Ananda-Lahari did 45 miles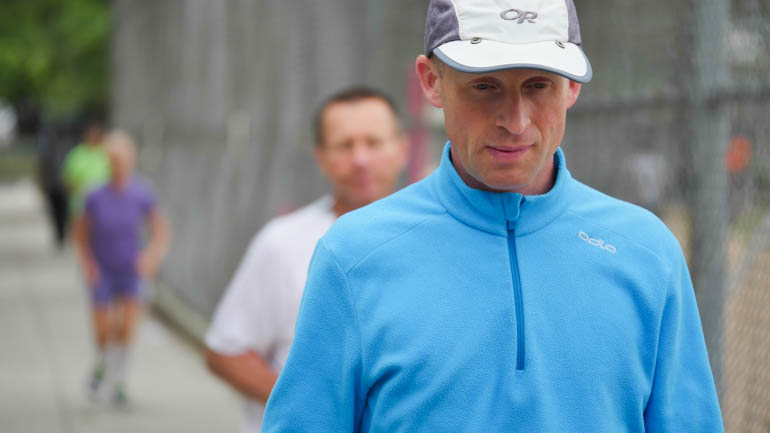 He has 560 miles
Dandelion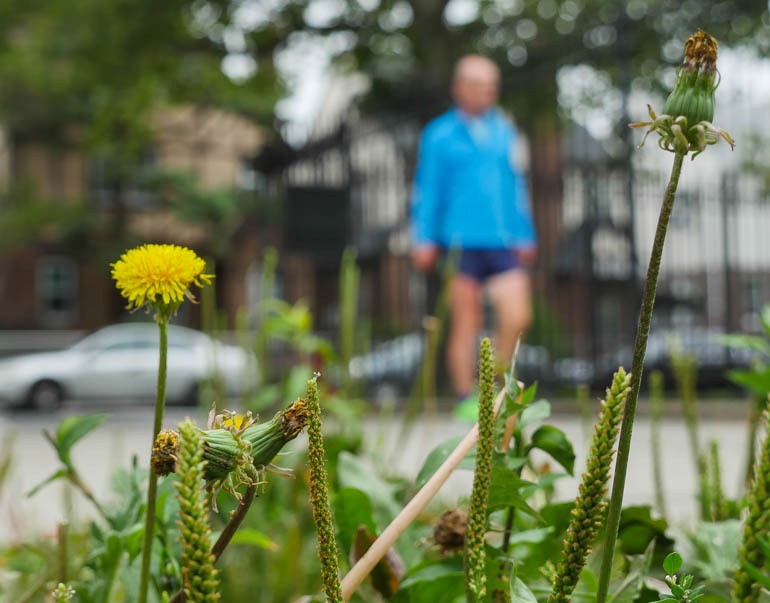 Shamita did 62 miles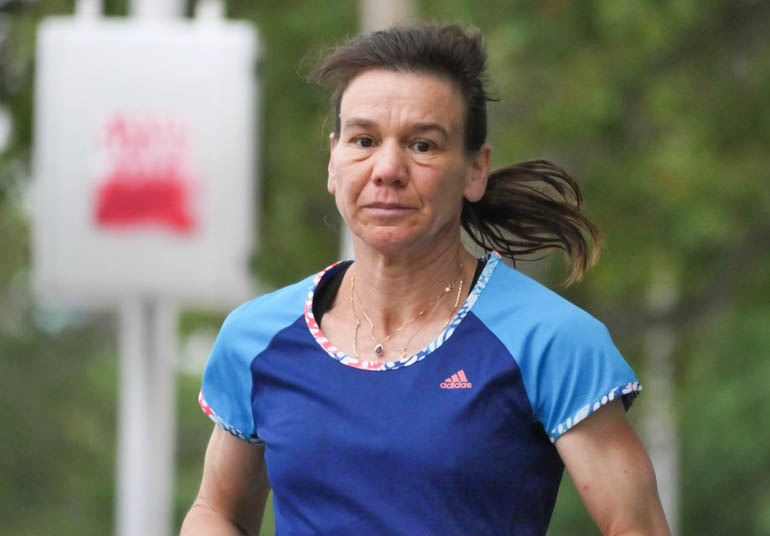 She has 556 miles
The other direction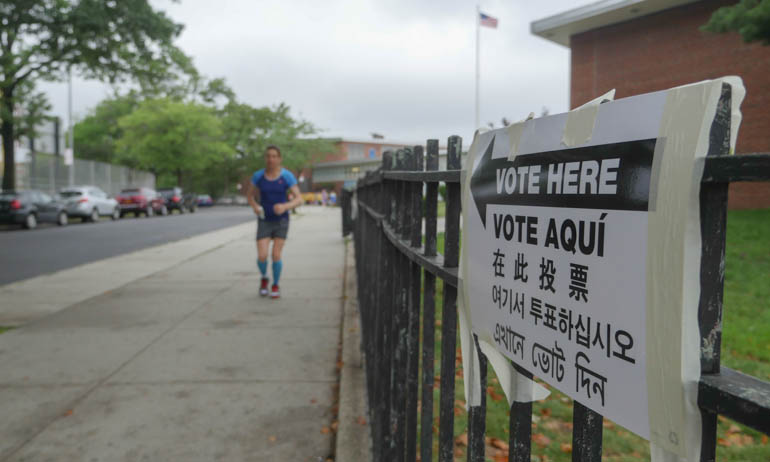 A little gift of beauty
Sopan did 60 miles, he has 544 miles.
The hills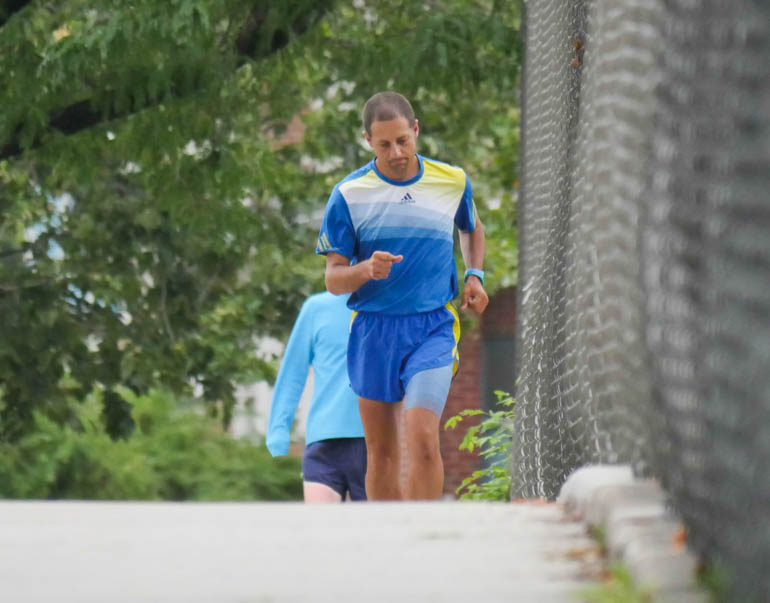 Angels in the trees
Volodymyr did 48 miles.  He has 521 miles.
Baladev even with his dental surgery did 57 miles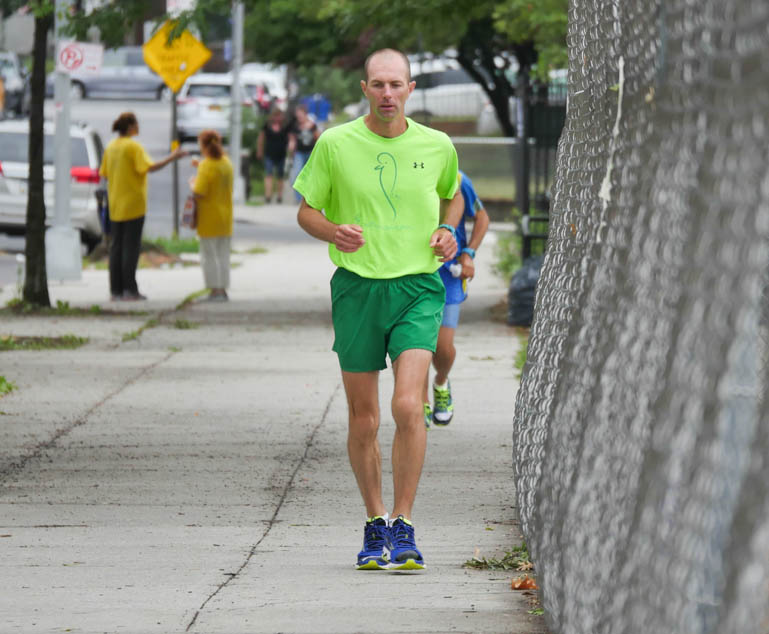 A special friend
Stutisheel did 65 miles
He has 513 miles
Kodanda playing flute
Click to Play: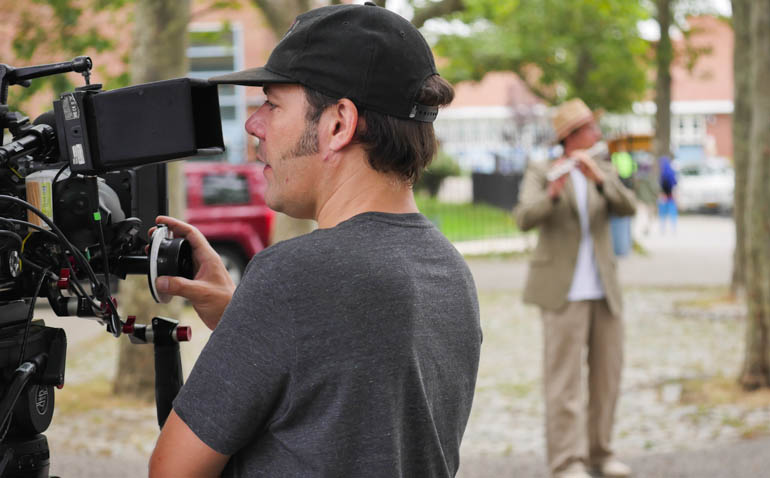 Nirjarini and the cooks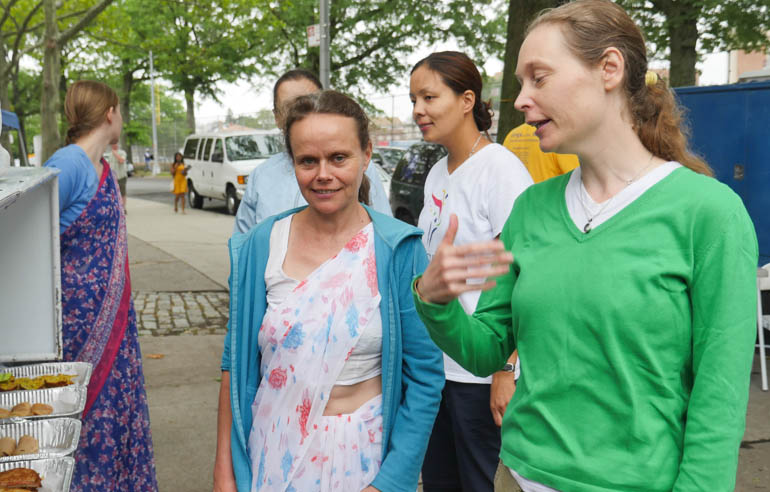 The fence
"I was here when the race started for the first time.  Now I have come back after 20 years."
Sadajyoti says that when she was here for the very first 3100 mile race she felt it might be some kind of experiment.  She, just like about all of us never imagined it would have not only continued but in fact expanded.
"I was counting, and every day I was surprised at how the runners could keep going forward. Now I am amazed that it continues and even more people are coming."
"I am from the Czech Republic and I am really proud of our country."  She says so many of the runners over the years have come from the Czech republic and even more so from Slovakia.
"I always feel big gratitude, and oneness with the runners.  They offer their time and their effort and their life for all of us.  I feel that we all are somehow connected and they are doing this for all of us.  It goes deep within my heart."
Sadajyoti says she has been here only 2 days but it feels to her more like a month has passed.  "Time here is very special."
"I feel that all of us can get a benefit from this race.  Somehow inwardly it is very inspiring.  She describes at how amazed she is with all those who come throughout the day to help, to watch, and to cheer.  Some from great distances, at all times of the day.
"For me it is a very good experience."
Click to Play:
Click to Play the Poem of the Day:
Enthusiasm Awakeners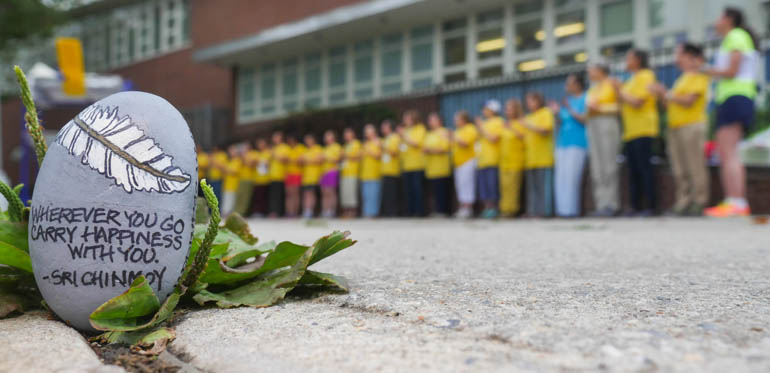 Click to Play:
 When I
Live in the mind,
I know less but say more.  When I
Live in the heart,
I know more but say less.   When I
Live in the soul,
I know most but say least.   When I
Live in God,
I know most and say most.