5 years ago when Galya Balatsky last ran here it took him 46 days to complete the 3100 mile race.  In the long 5 year period that lay between then and now he continued to run, train, and obviously improve.  Last night, in the dwindling minutes before midnight he ran across the finish line once more.  This time nearly 4 days faster than his previous attempt.
He carried his nation's flag, his face lit bright by a smile, and his self transcendence offering was completed at last.
https://vimeo.com/134670938
This morning as he completes the few laps that will give him an additional Ukrainian record I ask if his waiting 5 years to come was worth it.  "Yes of course."
The additional record that he now holds as well is one of almost shocking consistency.  For all of his 43 days on the course he never ran l day less than 70 miles per day.  It has never been done before and many people suggest strongly that it is a record that may  never be broken.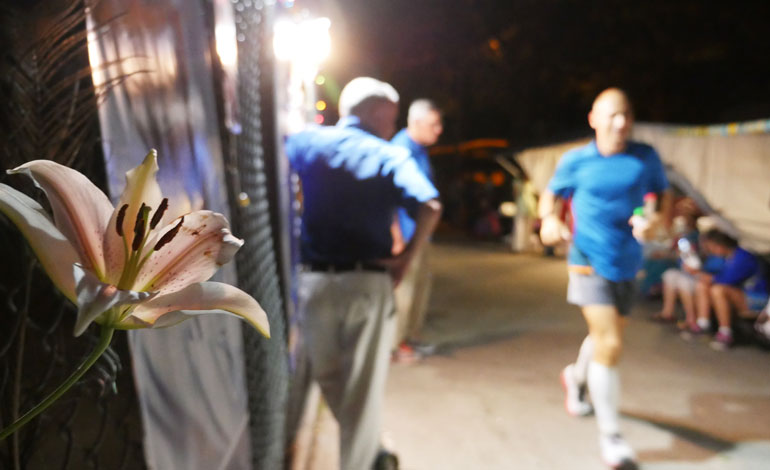 "I am surprised because it is actually difficult to plan." It is almost as if even he himself is surprised at his accomplishment.  He even ran 72 miles on his last day.  "You can never be sure.  You can be injured with each step.  Anything can happen."
Stutisheel who is running with us says, "I just feel that this record will stay, if not for ever, than for a very very long time.  When grace descends, and personal effort and personal determination come together, than that is when this kind of miracle can happen."
"But it is very very rare, and very powerful miracle that happened."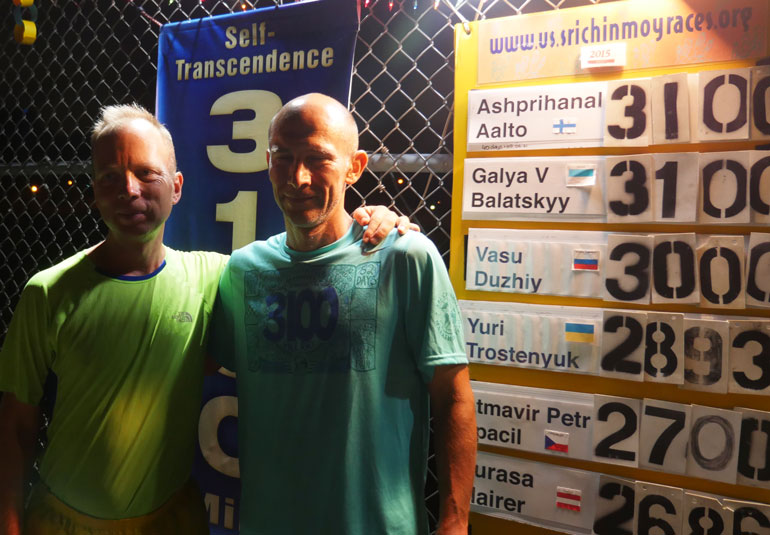 "To be sure there was lots of pressure particularly in the last few days."  His only answer was to simply do what he had done every other day, reach the goal that he had set. "I have just got to go to the end."
Galya tells me a story of how he once ran a 24 hour race and finished with 199km.  His goal had been to complete 200km.  From then on his goal was always to run till the very end.
"I have a feeling that there is some kind of magic here.  Not just some magic but real magic.  I was hoping that I would be a good instrument this time.  Earth and heaven came together here."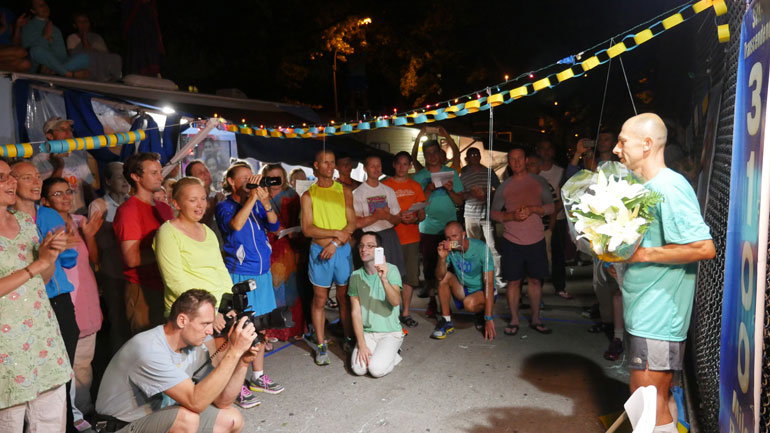 Galya now has just a few more laps.  He says he will be both happy and sad when he no longer has to run."
Click to Play Interview:
Last night on the lap before Galya finished Vasu completed 3000 miles.
Stutisheel out on the course.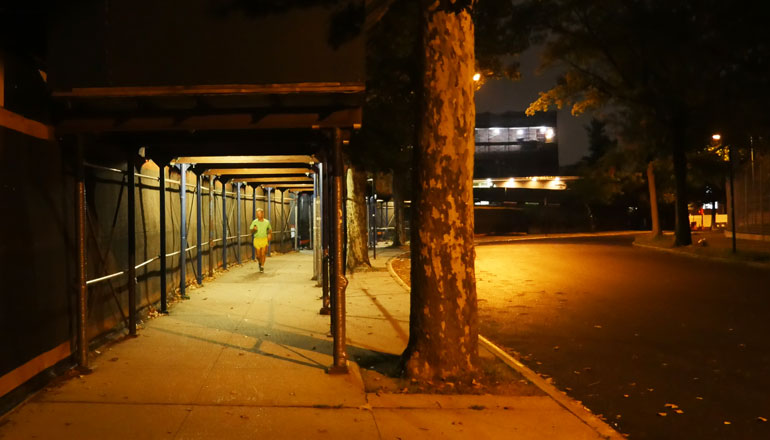 Sadanand playing his instrument.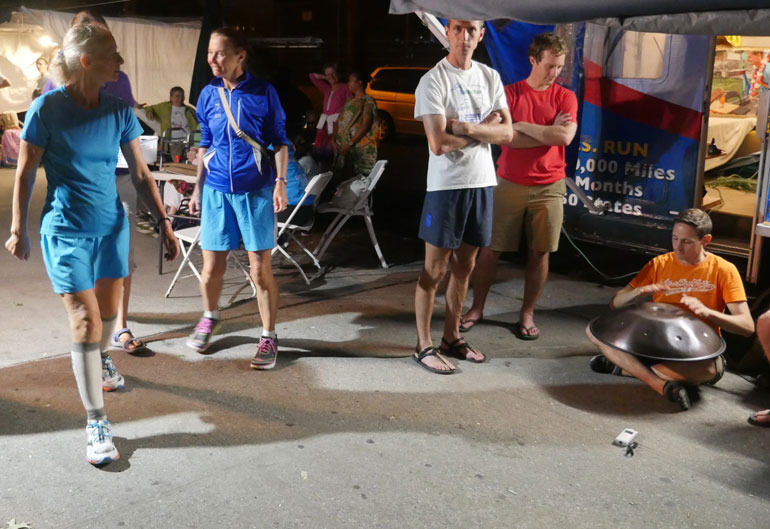 Click to Play:
Vasu completes 3000 and goes on for nearly 2 more miles before midnight.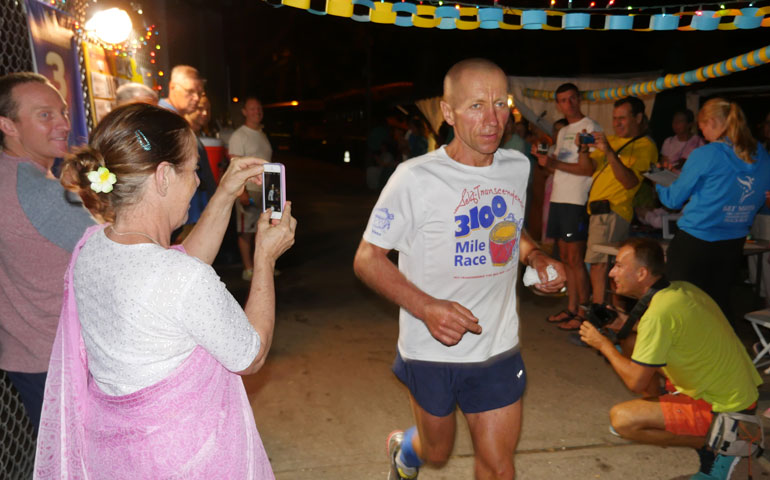 The sound of Galya's finish: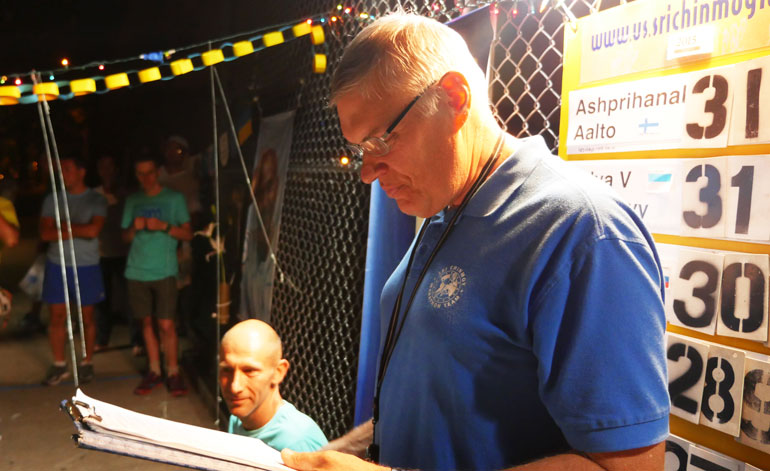 "This is a most extraordinary night.  That is because Galya did something unique in the history of the 3100 mile race.  He has finished the race in 42 days, 17 hours, and 39 minutes.  Which is the 4th fastest performance in the history of the race."
"He moves from 10th to 3rd on the all time list.  Galya has averaged 72.52 miles per day (116.74 km) This is extraordinary.  This would won all the races of the 3100 except for 3."
"He has set a record that will probably never be broken for consistency.  Galya ran all 43 days at more than 70 miles each day.  It has never been done before.  I cannot conceive of the recovery powers that he has.  He is following that eternal road."
Sahishnu asks him how it is possible.  Galya says, "it is all grace.  I am not just happy, I am in heaven."
Click to Play Speech:
The weather is going to start to heat up over the next few days.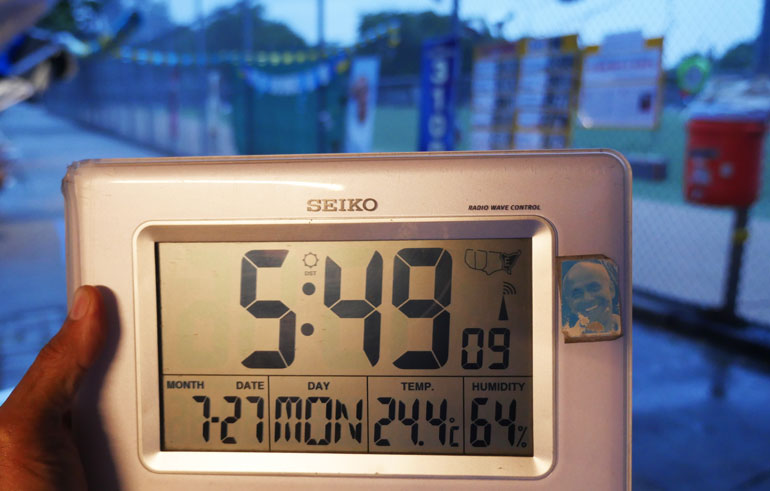 Janos takes down the decorations from last night.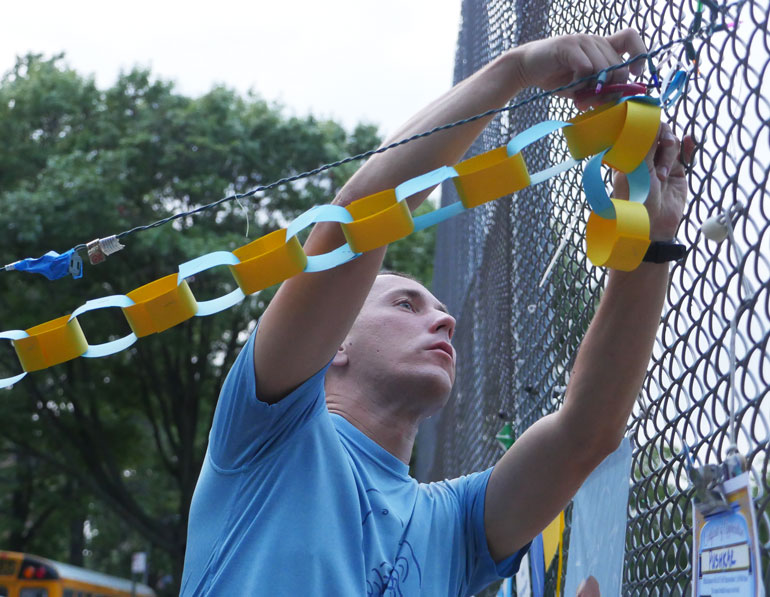 There are now 2 less runners.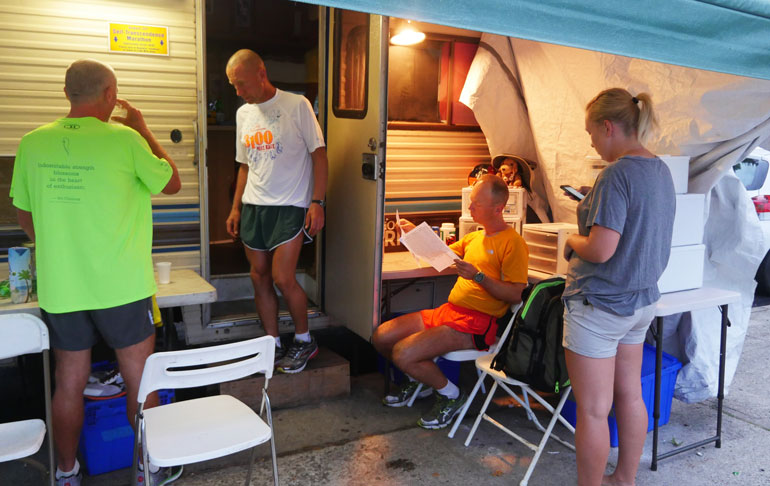 Nirbhasa getting organized.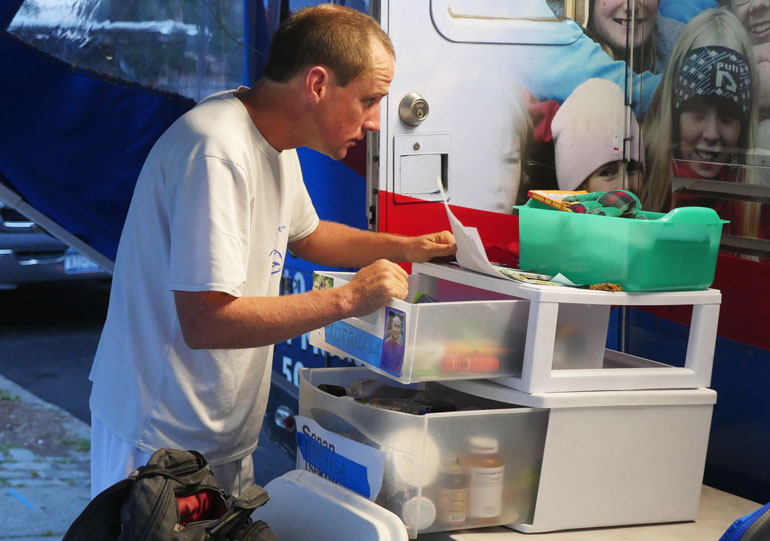 Start Day 44
Vasu is hurrying as fast as possible to the finish line.
He completed 71 miles yesterday.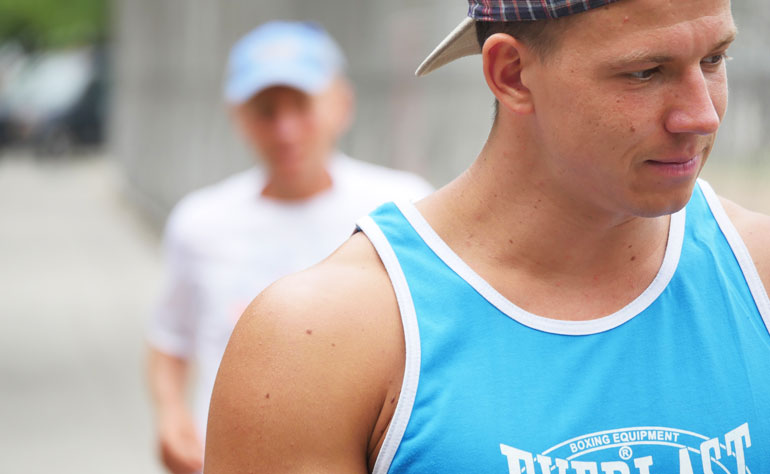 Vasu starts the day with 3001 miles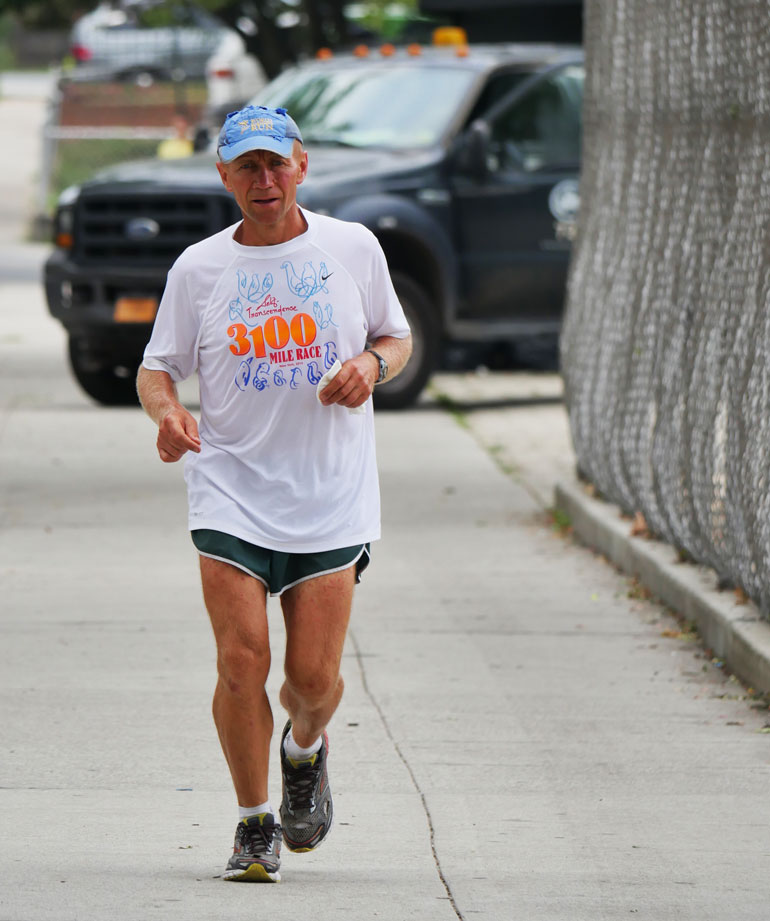 Not much time to enjoy the sights and sounds of the Enthusiasm Awakeners celebration.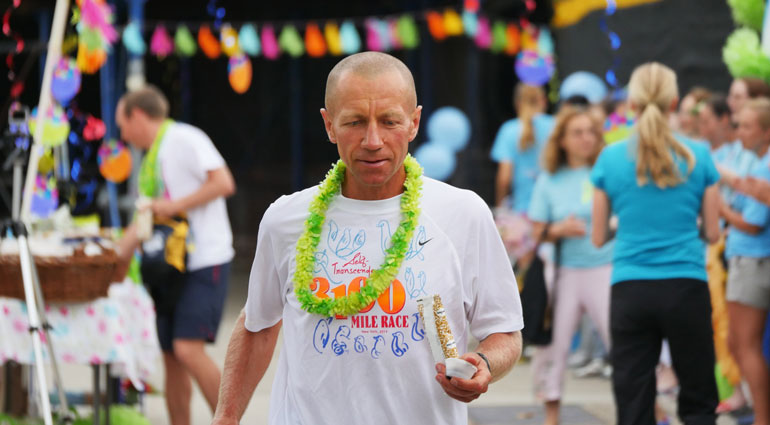 Yuri had 66 miles yesterday.
He has 2898 miles.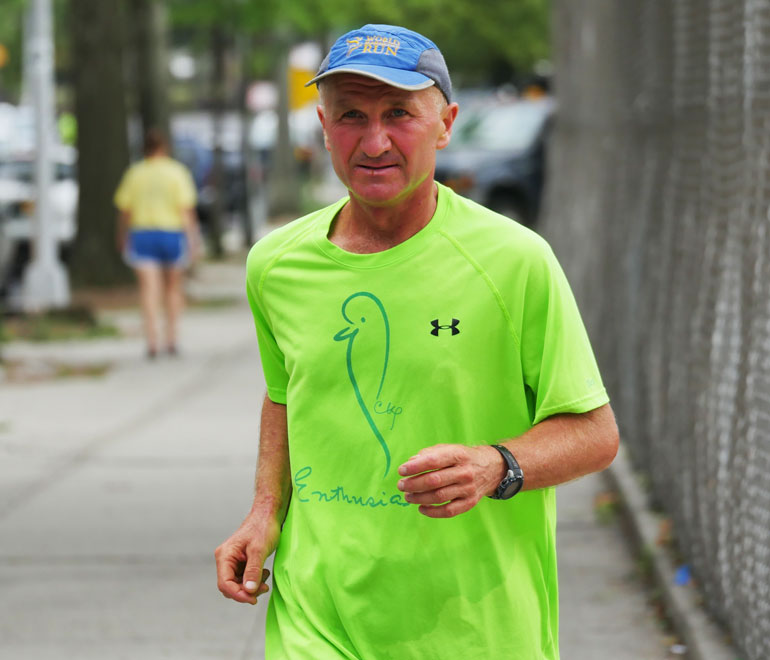 Atmavir had 70 miles yesterday.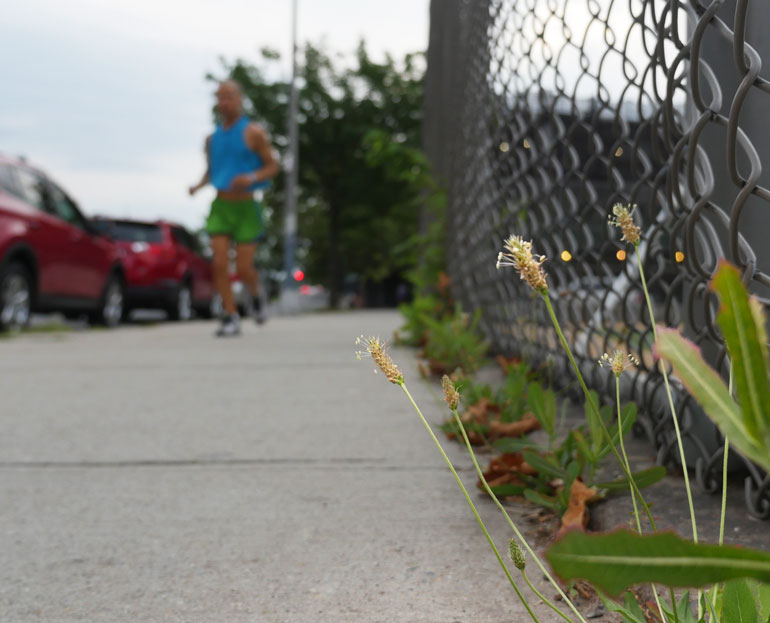 He now has 2700 miles.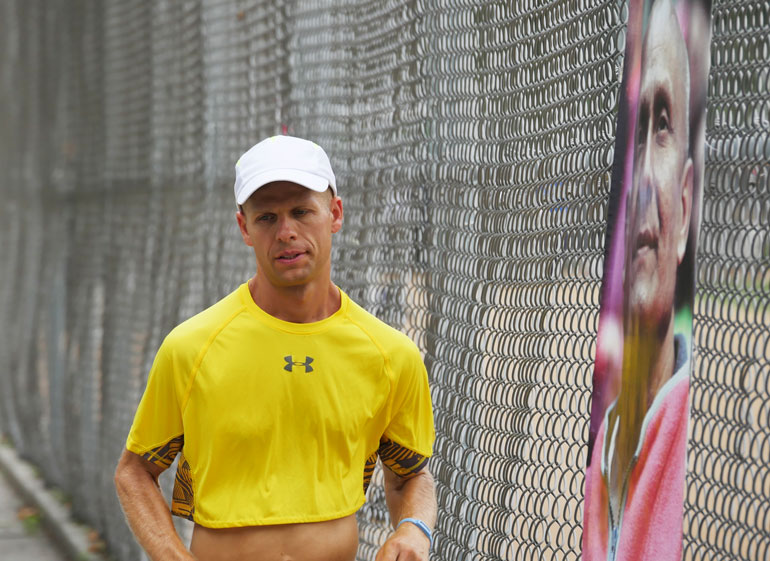 Needing some rain.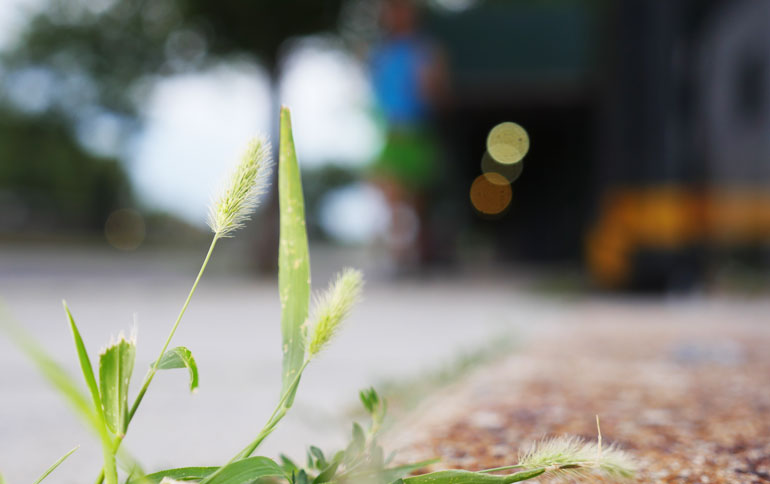 "Boy do I wish I had brought my glove now."
The celebration is near.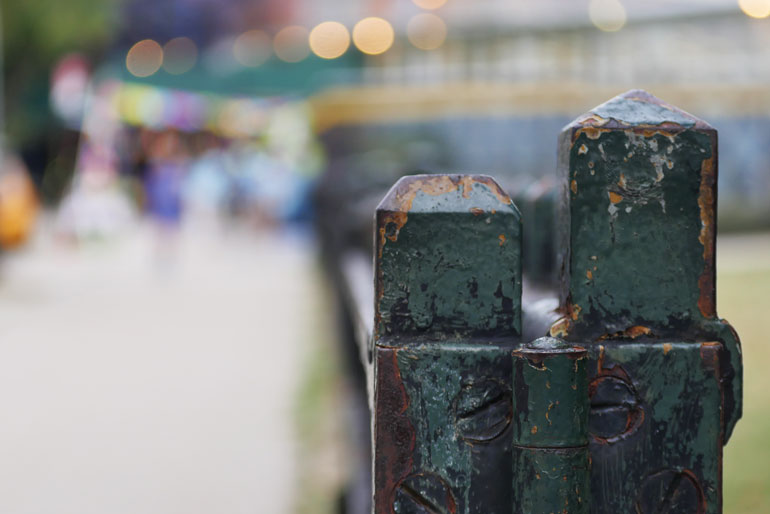 Surasa ran another great total.  She did 64.7 miles…..her average is 62.56….she needs to break 62.49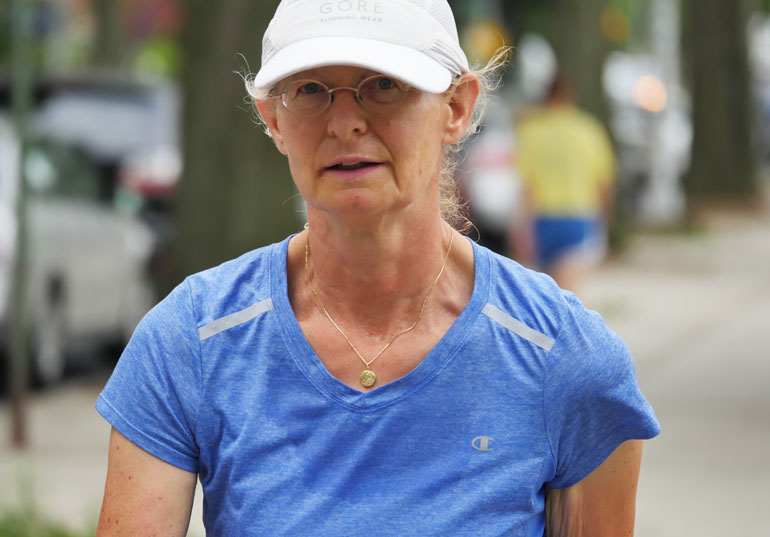 She now has 2690 miles.
Stutisheel runs most of the last few laps that Galya needs to make 5000 km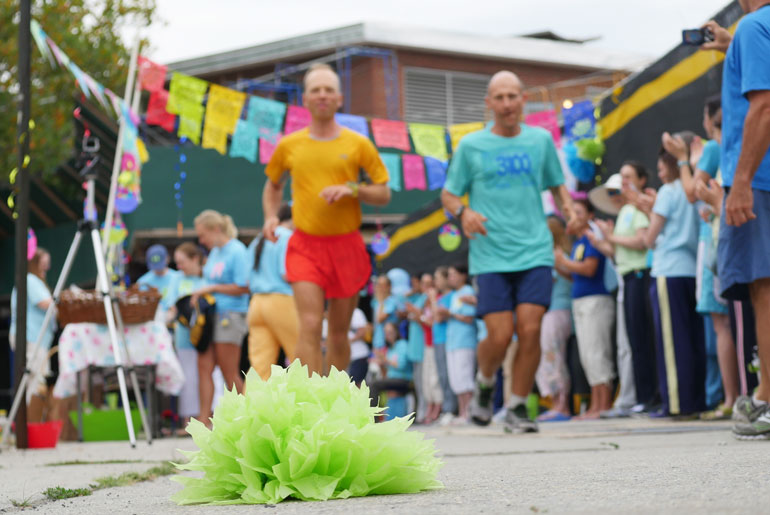 He ran 65 miles yesterday and now has 2609 miles.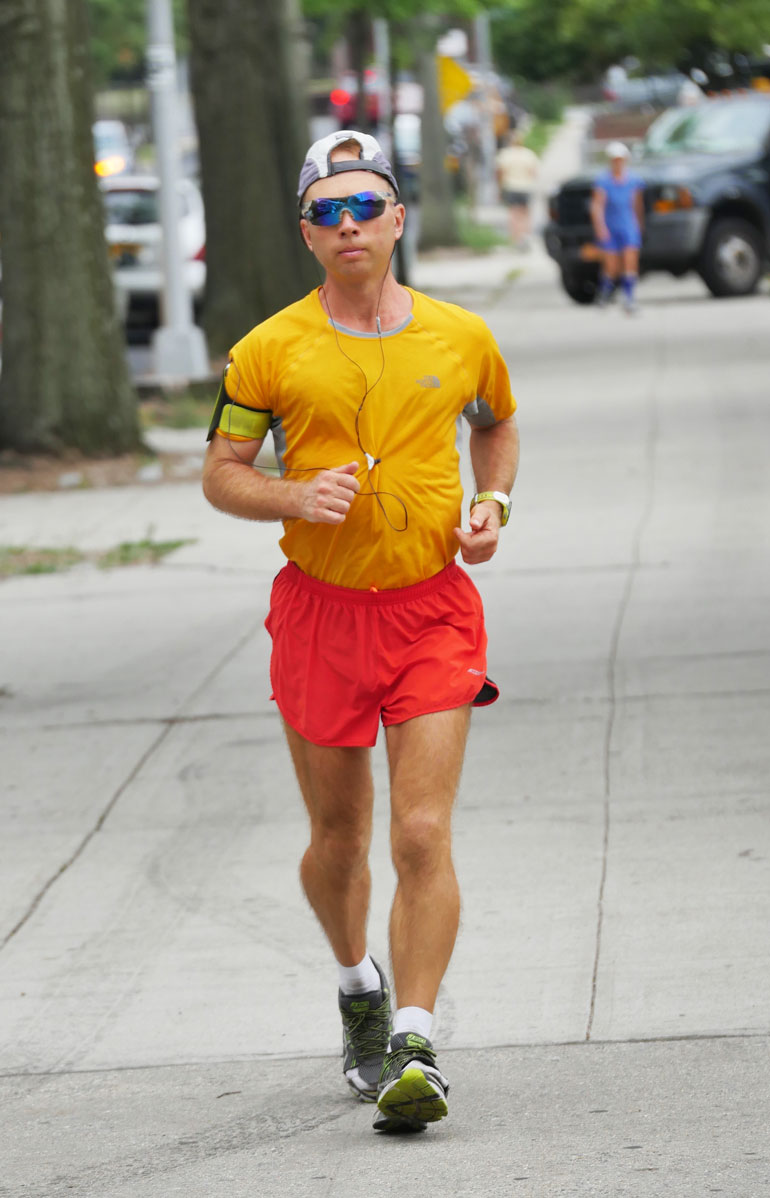 Stutisheel will not have his friend for the next 500 miles.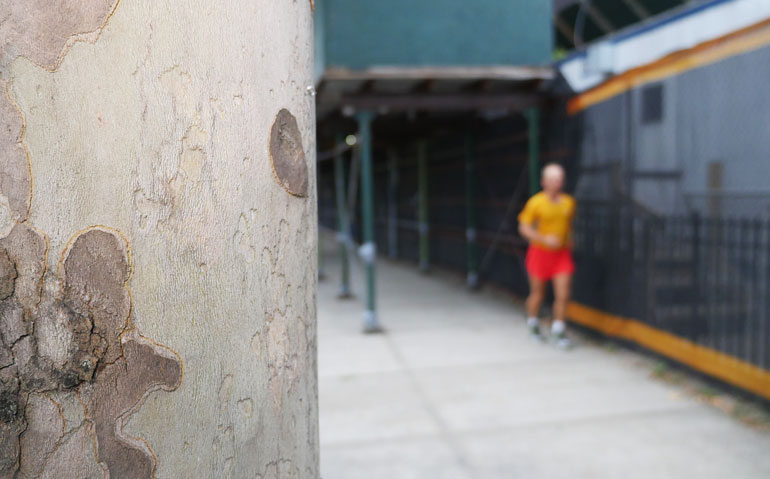 Nirbhasa did 61 miles yesterday.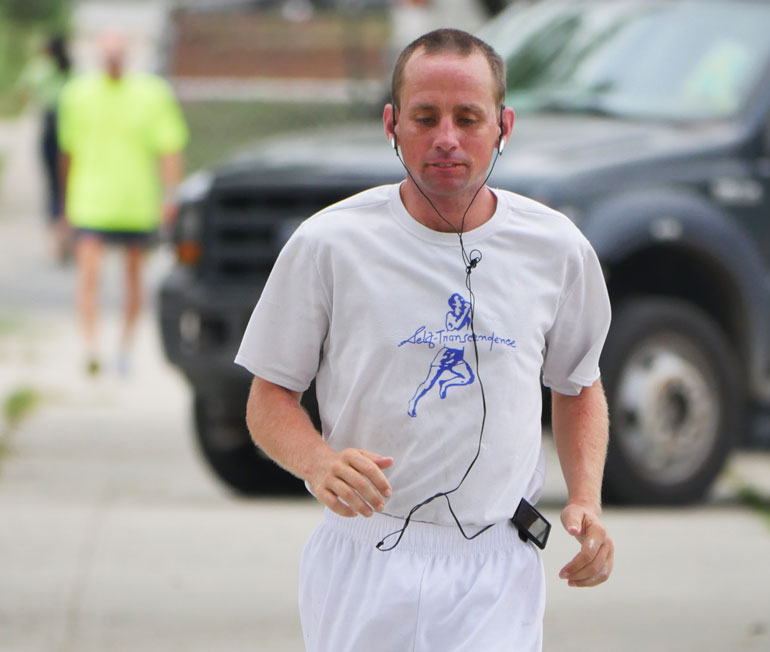 He now has 2589 miles.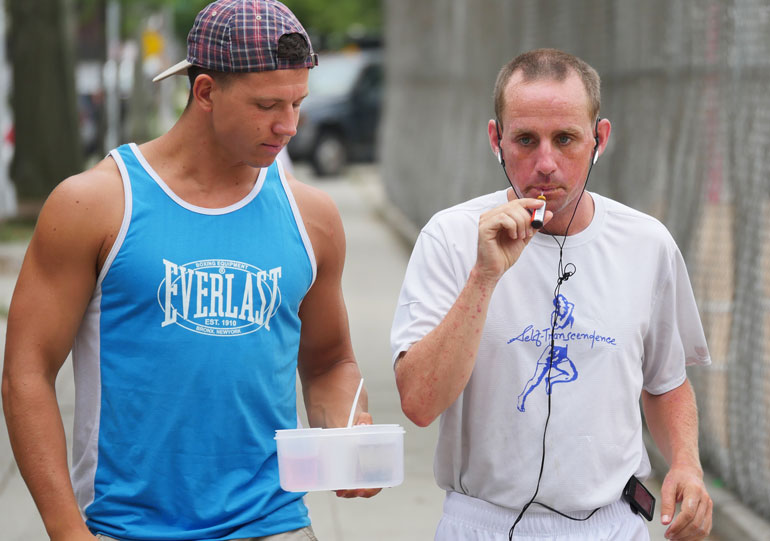 rose of sharon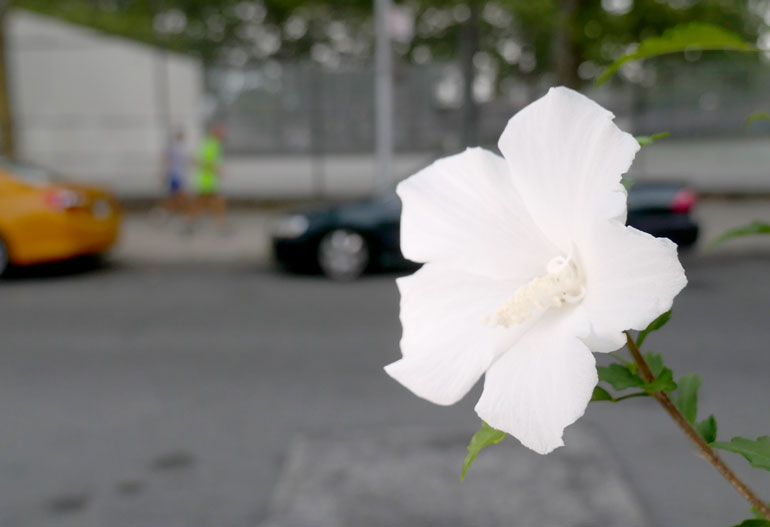 Kaneenika had a tough day yesterday.  She did 44 miles and now has 2577.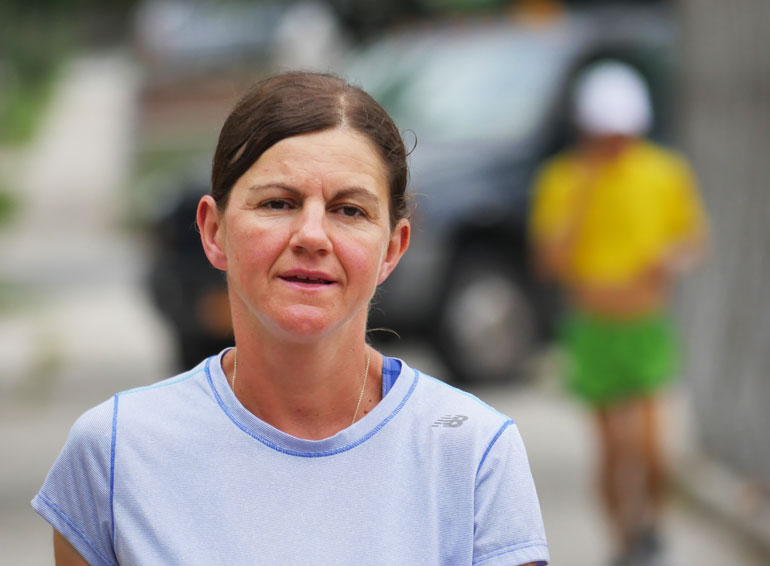 Ananda-Lahari did something historic yesterday.  He ran 86 miles.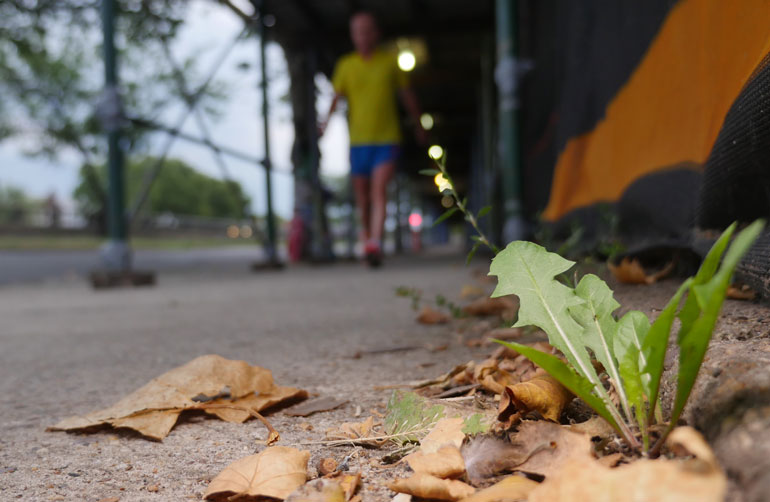 Sahishnu believes that no one has run such a high total so late in the race.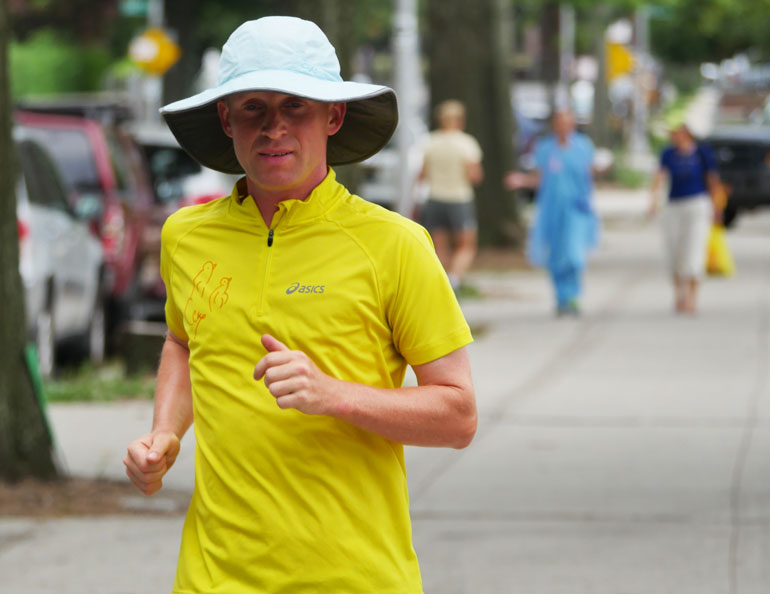 Across the road.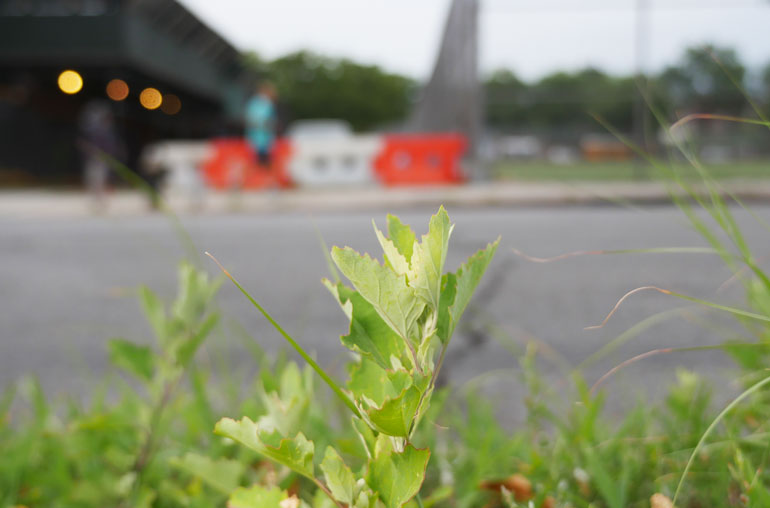 Baladev did 50 miles yesterday and now has 2275 miles.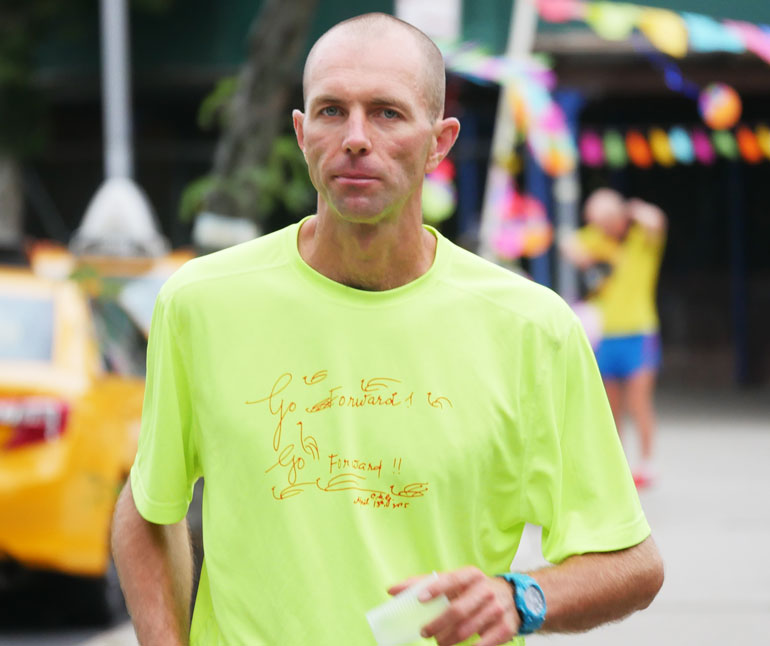 Pati counting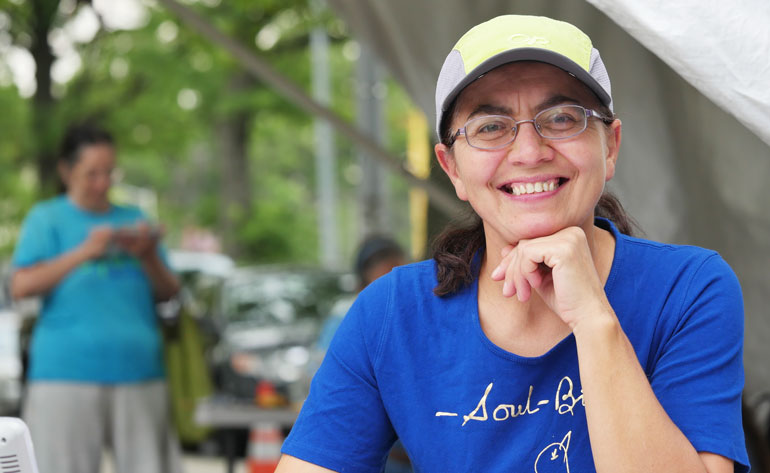 Galya finishing his last laps.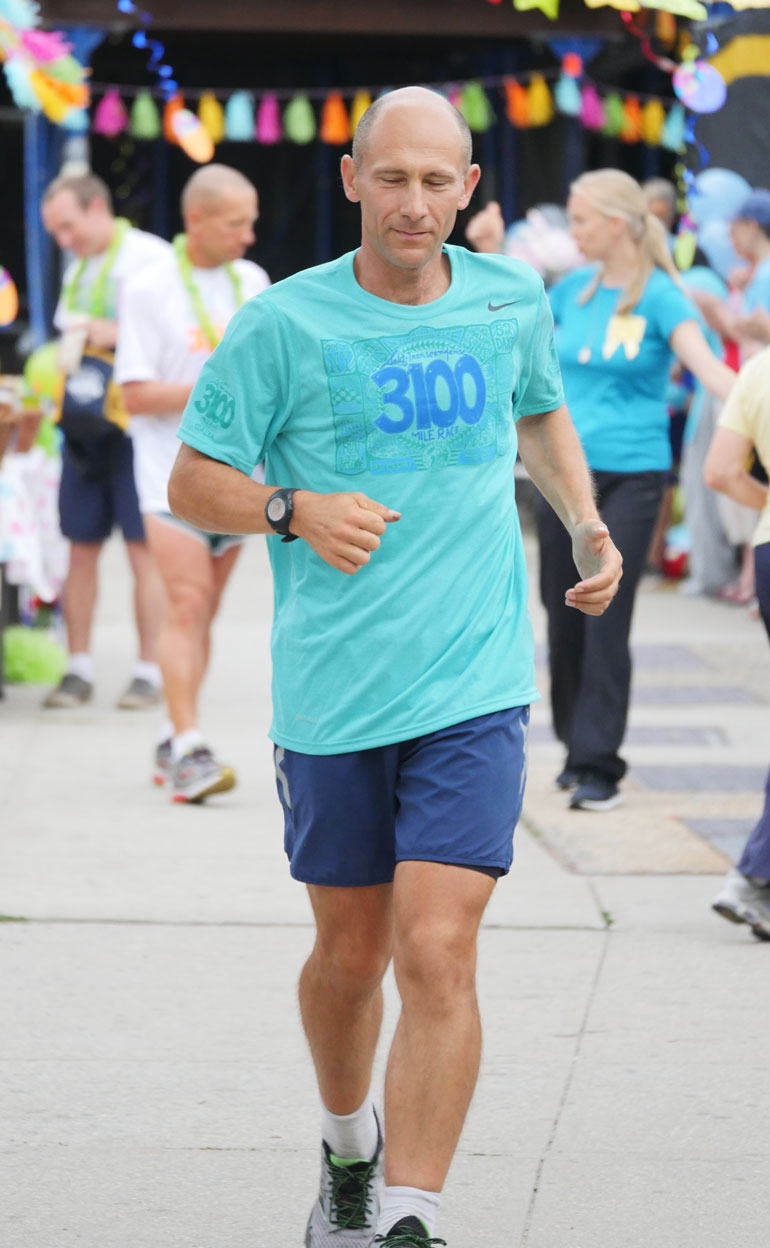 Nearly there.
Than it is really over.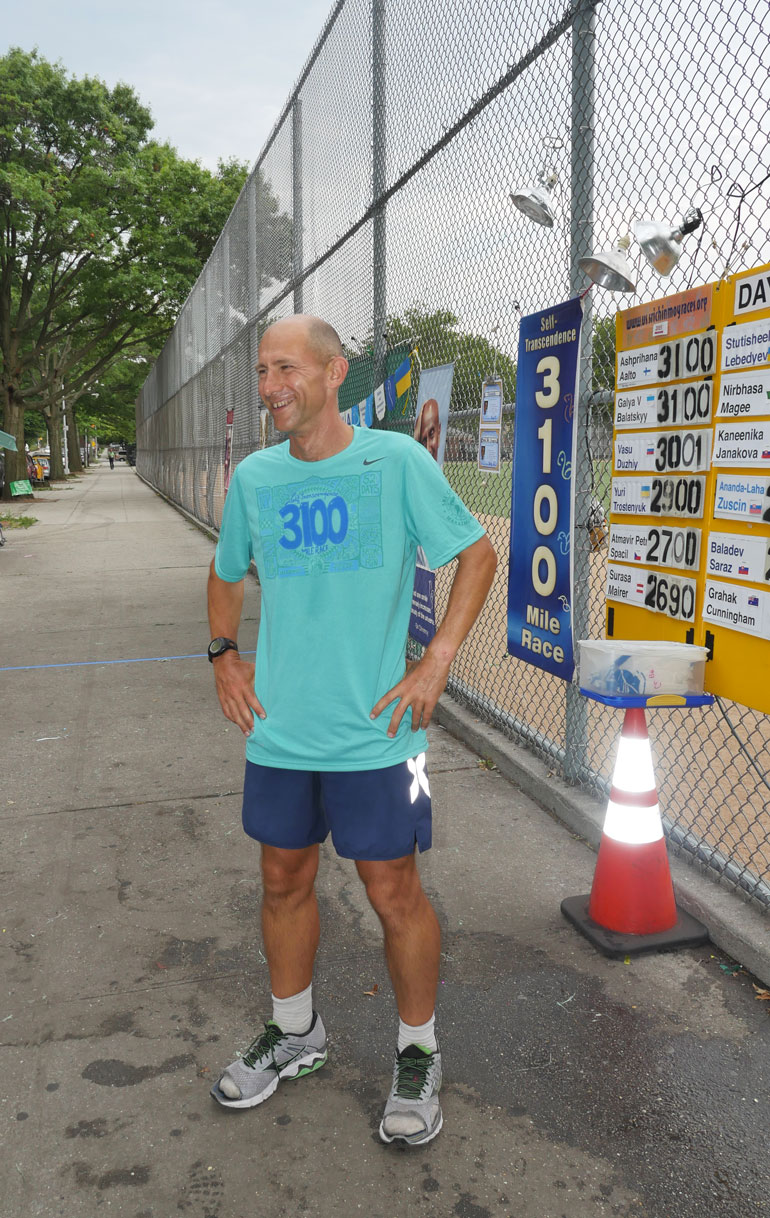 Arpan recites the Daily Prayer
Click to Play:
The Enthusiasm Awakeners celebrate an anniversary.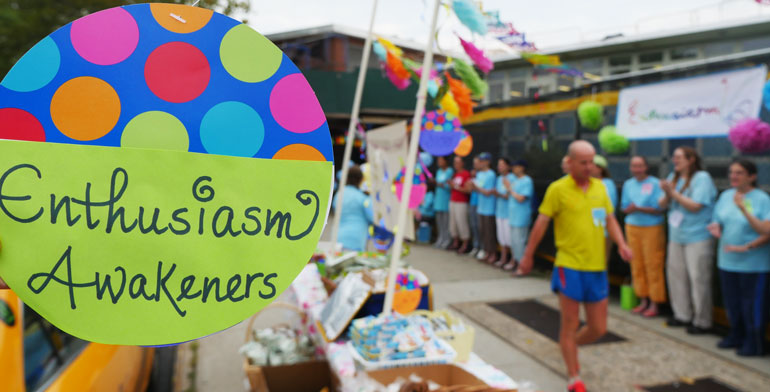 Lots and lots of energy and enthusiasm
Chetana tells a story. "When Guru wrote the song, I am chosen out of…..it turned to be billions.  But in the beginning Guru had millions.  Than he was asking us for different numbers. So than somebody said billion.  So than he changed the song to out of billions. Because at first it was out of millions."
Click to Play: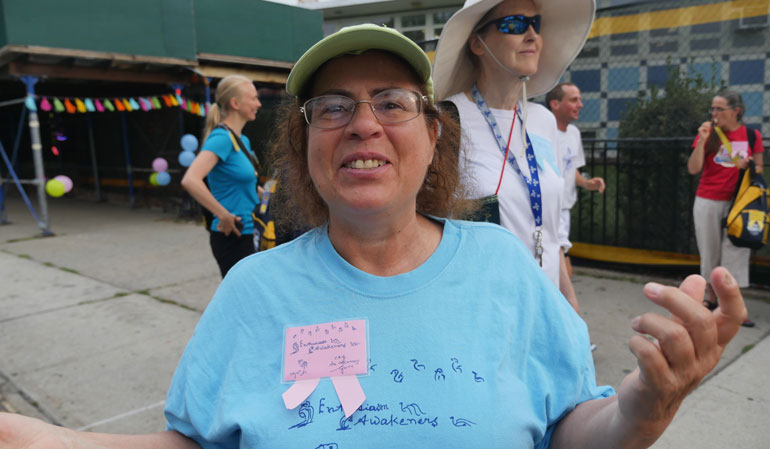 Lots of treats.
"I have to say how enthusiastic Parvati is.  She is the embodiment of enthusiasm.  The funny thing is that Guru created the group because Parvati asked a question.  How can she enthusiasm as an attractive quality?  So Guru created this singing group."
"The main criteria for being in the group and contributing to the group is having and embodying enthusiasm.  She is actually, whether she likes it or not, the embodiment of enthusiasm.  Her warmth and openness and organization and oneness with the event is really magnificent."
Click to Play: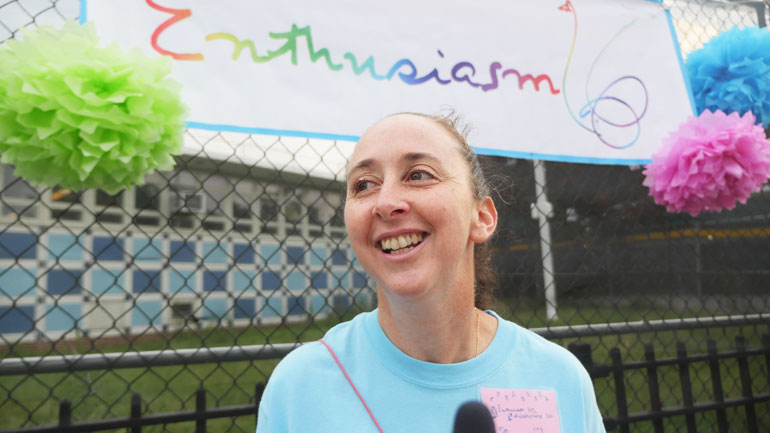 Enthusiasm Awakeners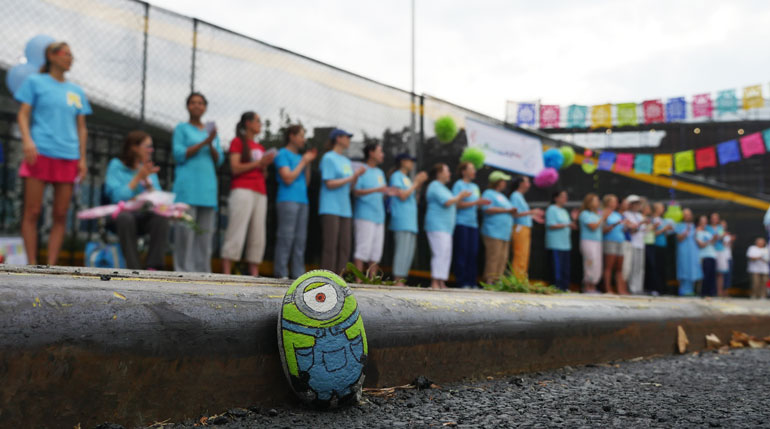 Click to Play:
Earth's ascending hope
And Heaven's descending Promise
Can surely establish
God's Heaven on earth.