From the very first day Yuri Trostenyuk started running the 3100 mile race 3 years ago he has been a passionate devotee of all its terrors, all its beauty, and of course how it transforms every part of his being.
By using the best calculations that we have, it is possible to examine Yuri's data as he starts day 29.  From the lap sheets we can see that he had a good day yesterday, with 65 miles.  His total at the end of day was 1913 miles.   With his current pace he is set to make a new personal best.  Last year this same time he had 1873 miles.  So now he is 40 miles ahead of that.
https://vimeo.com/133293920
But to listen as Yuri describes an experience that happened to him a few days ago and it is easy to see how unimportant crunching the  numbers really are to him.
"Not long before I completed 1000 miles.  From daily pressure I started to have pain in my body.  Unpleasant and worrisome thoughts were occupying my mind.  I was tired of getting rid of them already.  It was just simply hard.  It was only getting harder and harder."
"I began to pray to God.  I said, God, please help me.  It is so hard for me right now and I won't survive this.  Please support me, guide me, and show me the way.  Then, a few minutes after my prayer an inner world started to open up in front of me.  It was as though I was seeing a corridor to the inner world opened."
"50 meters away I saw all the other runners of the 3100.  There were 12 of them and they were standing in a row, shoulder to shoulder.  The first thing that struck me was their clothing.  It was as if as though the clothing was made of light.  It was illuminating and it was if it was alive."
"Then I paid attention to their faces.  Light was coming out of their faces.  There was strength, energy, calmness, peace, and joy.  I thought to myself, wow.  In the whole universe there is probably no power that can stand up against that.  But what I felt was the peace, the calm, the bliss that was entering into my heart."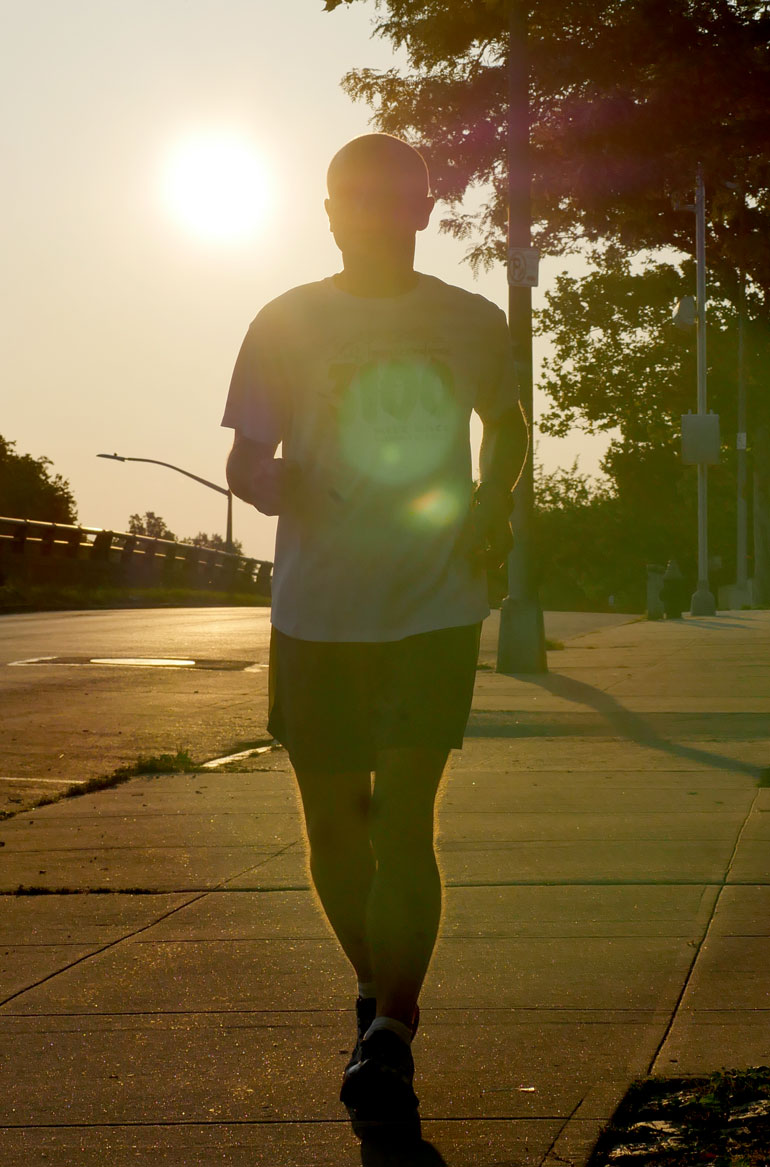 "I identified with how great they felt.  I wanted to be there with them.  I even tried to jump across and be with them.  But I felt as though something was holding me back.  Then I became embarrassed.  I thought to myself, my work here is not done yet. If I leave from here than who will remain and do the work."
"With this sense of gratitude and in this state of being, this corridor slowly dissolved.  But everything was not finished then.  When I went for my break I felt how inside of me lives some kind of energy.  I couldn't fall asleep because this energy was circulating inside of me.  At night I woke up because I felt this energy."
"This experience, this energy is now giving me the strength to move and guides me.  It continues to give me strength and inspiration.  Whenever I remember this experience I begin to feel good again."
Click to Play Interview: (much thanks to Lyalya for translating)

Ashprihanal arrives and looks good.  It is going to be a warm day but not high humidity.
The humidity will rise a little throughout the day.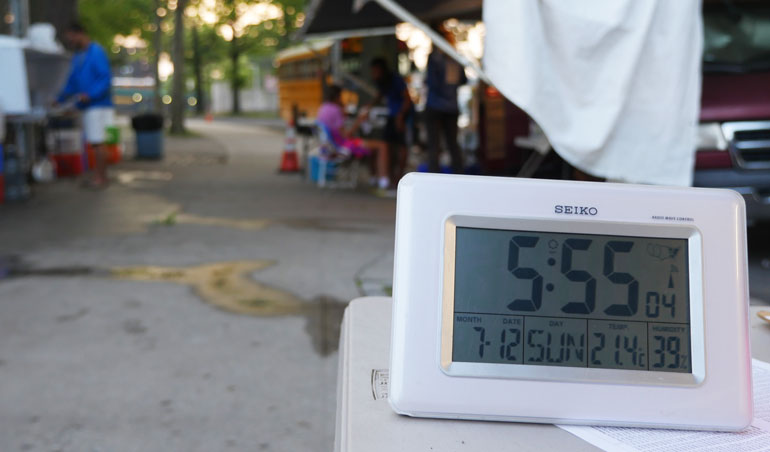 So little time to play.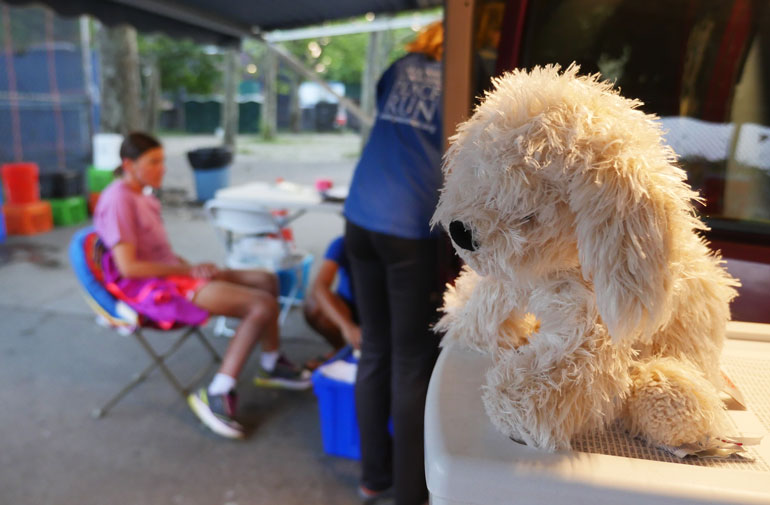 Start Day 29
It starts off a quiet Sunday morning.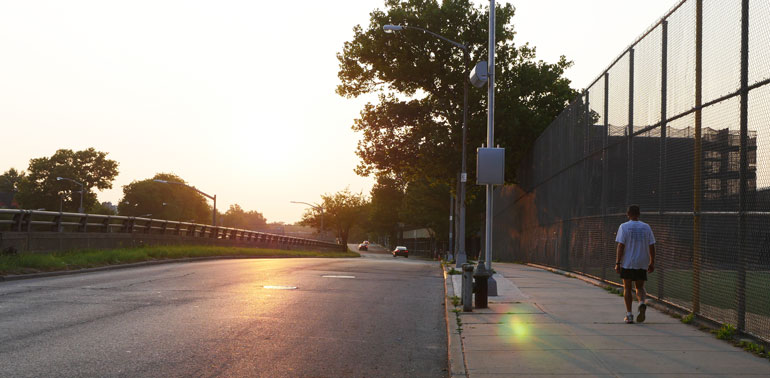 Ashprihanal ran 77 miles yesterday.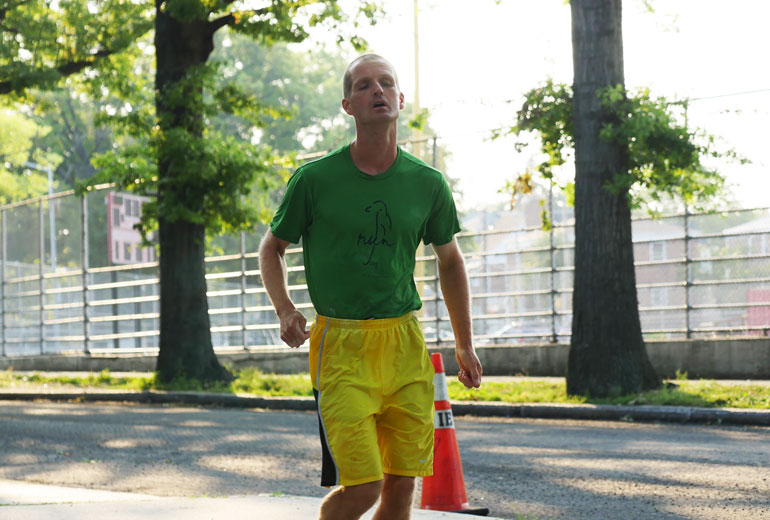 He is 31 miles ahead of the record.
A gorgeous day at the course of the 3100 mile race.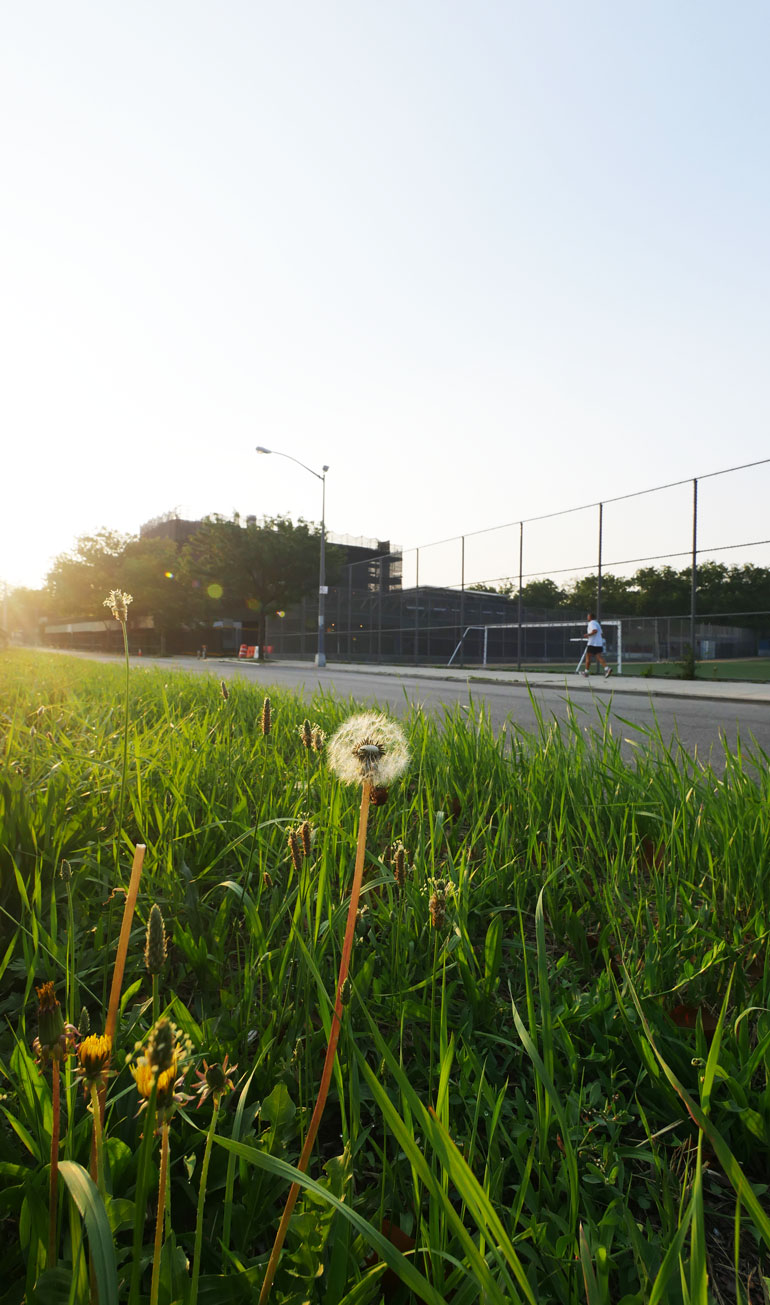 Galya's streak is still alive at 28 days.  He ran 70 yesterday and has 2024 miles.
Marks made by man and nature.
Reflections of Vasu
Vasu had a 72 mile day yesterday and now has 1937 miles.  He is 147 miles ahead of last year.
The fans sometimes get a little sleepy.
Atmavir once again put in a 72 mile day.  He has 1825 miles.
Surasa did 64 miles yesterday.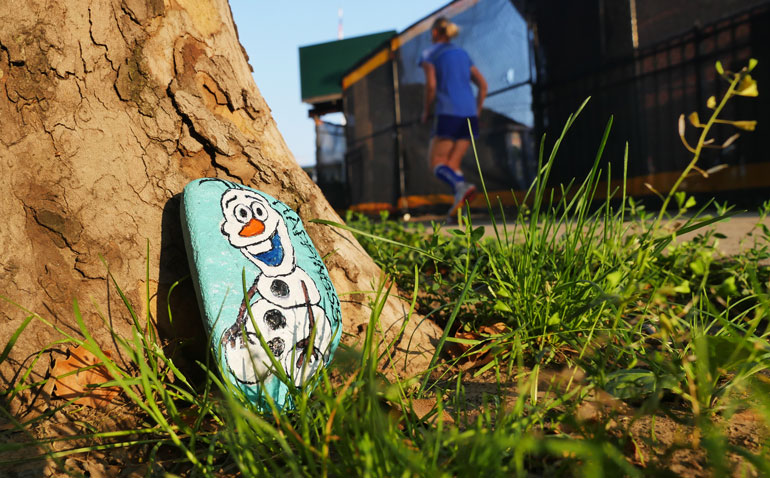 She now has 1733 miles.
Taking a little stretch.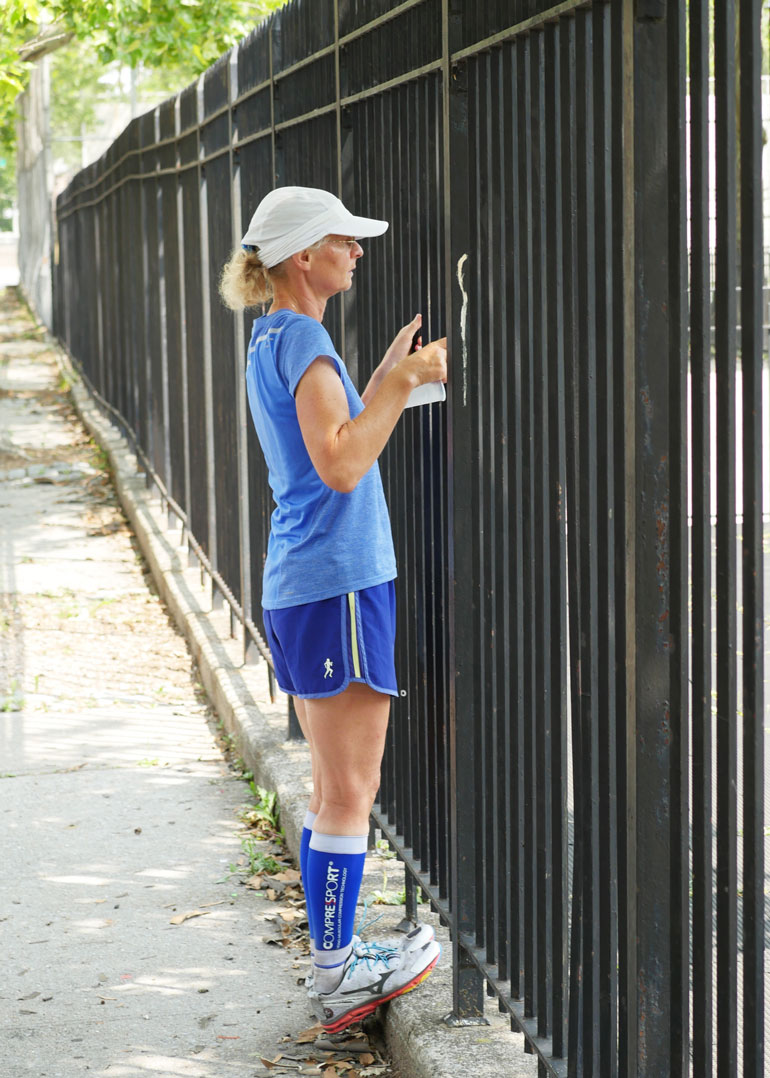 "That's it.  One foot in front of the other will get the job done."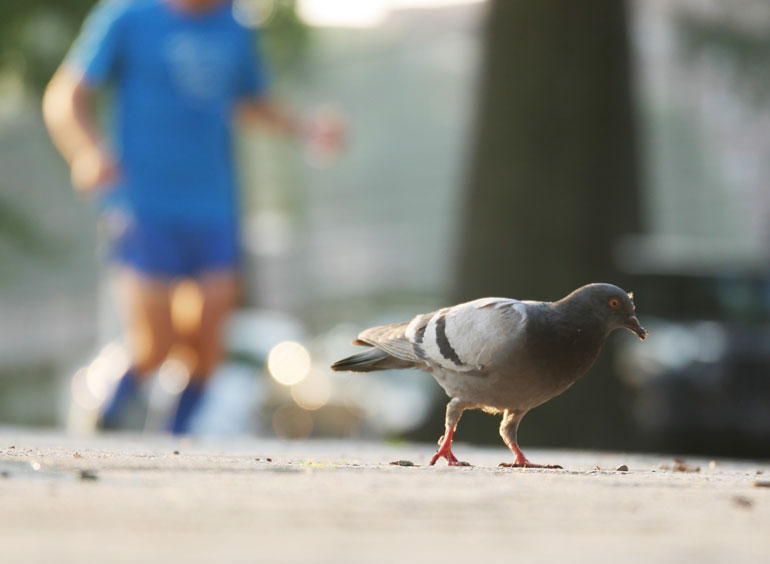 Stutisheel had a really good day with 70 miles.
He now has 1705 miles.
Having a conversation with a dog.  He is a barkologist.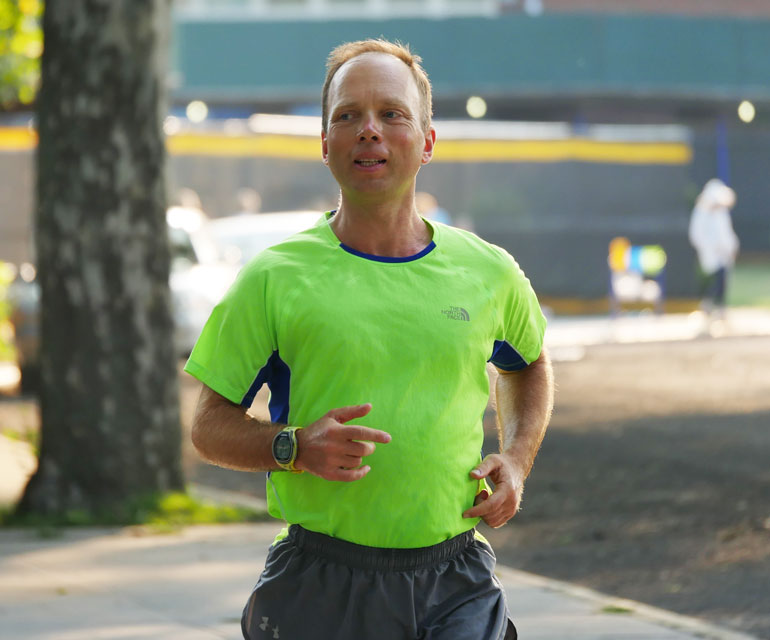 Kaneenika had 59 miles yesterday.
She now has 1678 miles.
She is doing very well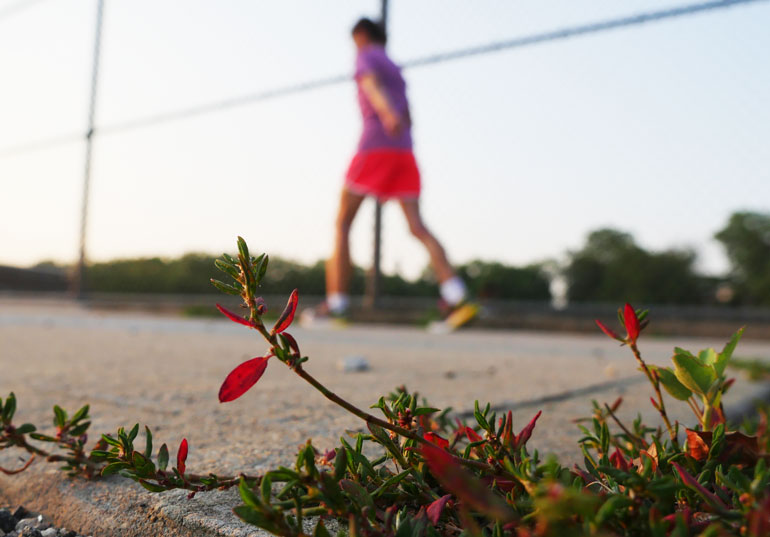 Towards the light
Nirbhasa will receive a call from friends in Dublin this morning.  He enjoys it very much.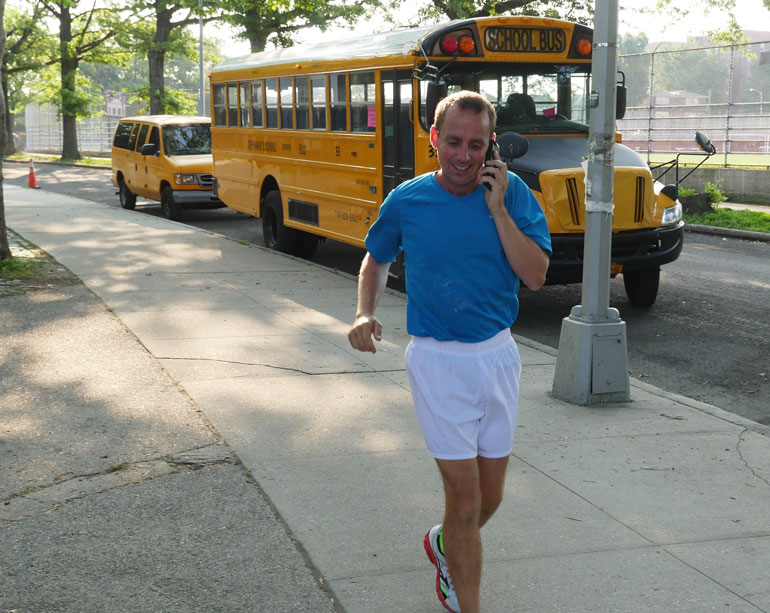 He ran 61 miles yesterday.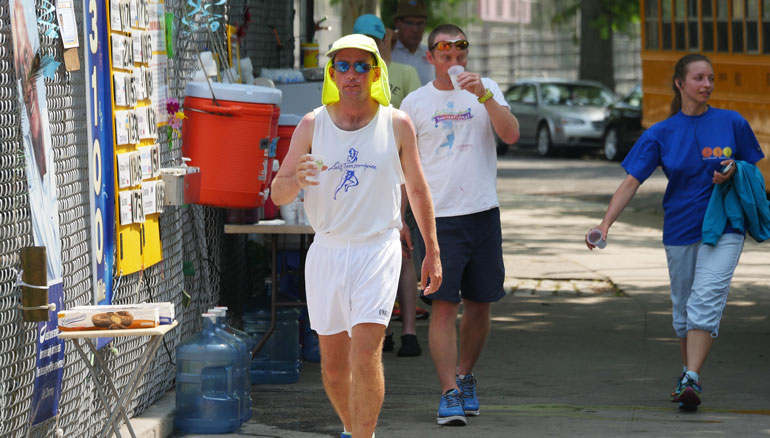 He has 1667 miles.
Baladev had 58 miles yesterday.
He now has 1524 miles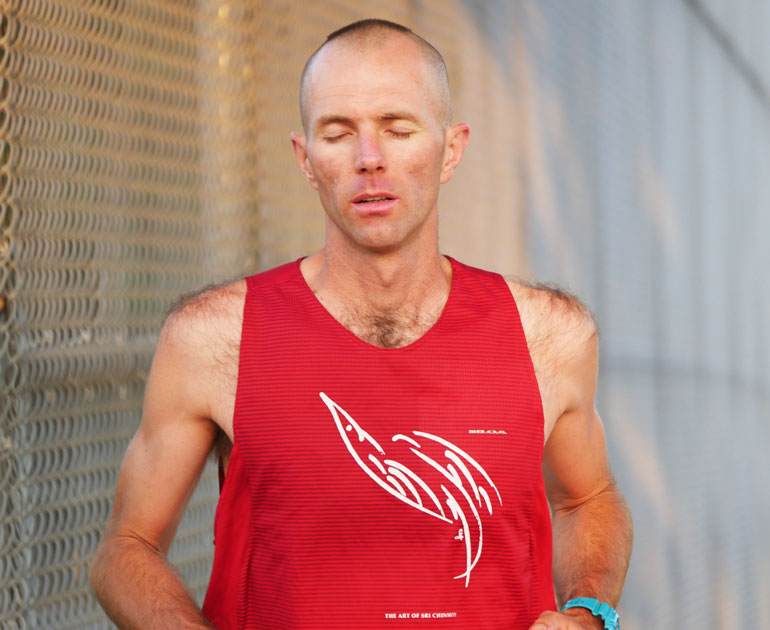 A poem on a tree.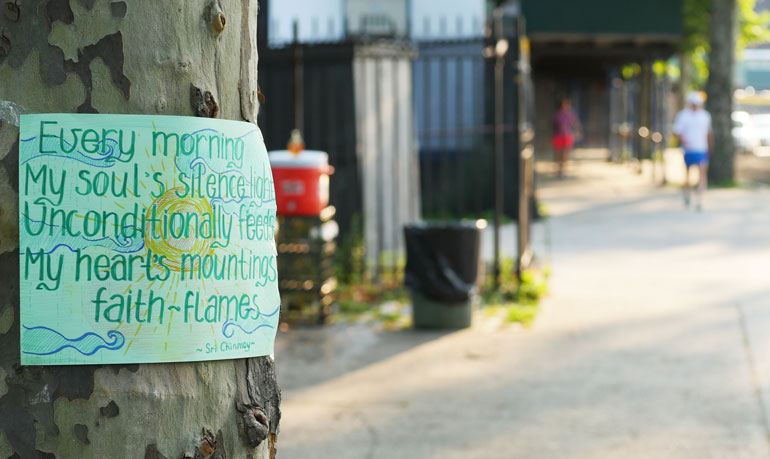 Trees
By Joyce Kilmer
I think that I shall never see
A poem lovely as a tree.
A tree whose hungry mouth is prest
Against the earth's sweet flowing breast;
A tree that looks at God all day,
And lifts her leafy arms to pray;
A tree that may in Summer wear
A nest of robins in her hair;
Upon whose bosom snow has lain;
Who intimately lives with rain.
Poems are made by fools like me,
But only God can make a tree.
 .
Ananda-Lahari ran 46 miles yesterday and has 1518 miles
One more tree and many more laps for Ananda-Lahari
Mario is one of the races most enthusiastic and generous supporters.  This morning he brings a large tray of squares that he made the night before.  In a few minutes he will go off and run for 2 hours.  He is training for the 47 mile race in August.
.
He feels that through selfless service he hopes to attain the highest level of spirituality. "Every day there is a higher step."
.
"I have good skills in the kitchen, so I always try and do something different.  I always try and make something that the runners will like and enjoy while running.  I try and make something that will help with the challenge."
.
"Since the race started I have been here every single day massaging whoever needs a massage.  To relax their muscles or remove any tension."
Mario has a family and a full time job as a registered nurse, in an intensive care unit.  Instead of feeling overloaded, "I want to be busier.  To be more involved with this.  I spend hours over here waiting to give massages.  I love it.  For me this is very relaxing."
.
"The only way to grow spiritually is when we give, and we don't expect anything in return.  So as much as you give you get joy.  You can feel that.  I think everybody helping here feels the same.  It is fantastic for me.  I am so happy for that."
.
Click to Play Interview:
.
Nilpushpi reads the Daily Prayer
Click to Play:
.
Enthusiasm Awakeners
Click to Play:
O seeker, do not take
Anything for granted.
You must work hard
If you want to achieve
Something momentous
  In your life.