Stutisheel completed the 3100 mile race for the 8th time today.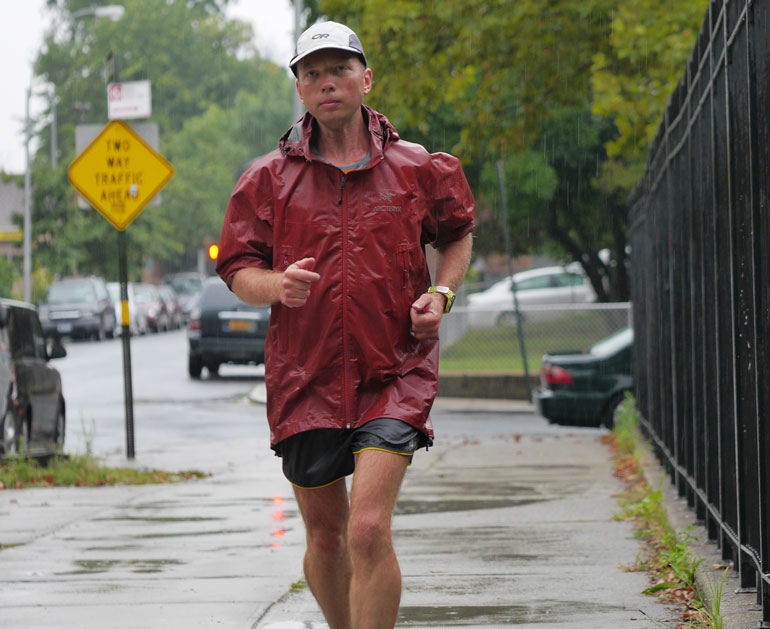 It is a statement that by itself tells quite a remarkable story about this extremely talented and dignified man from the Ukraine.  For so few have even come close to accomplishing what he has just done.  Stutisheel as a runner is as gifted, composed and patient as any who have spent their long summers running around a school in Queens.
But there is more, much more to this great runner who has had his daughter Alakananda as his helper nearly every time he has run here.  And she of course has found her own victory in being the one to help and aid and console.  Or do whatever it is that a 44 year old multi day runner needs in order to go on through those impossible 3100 miles.
This world that they share and inhabit so intimately together is as difficult and as challenging as just about any person has ever attempted to do.  Yet they have found a way to conquer it, as they did again today.  Because it is not just another race, it has been their joint home now for 10 long summers.
Click to Play Finish:
Stutisheel finsih
If we turn the clock back just a few years the story for Stutisheel here was a much different one than now.  Now with its victory of completing the race in a new personal best of 48 days and 3 hours.  A time nearly 9 hours faster than he has ever run this race before.
For in both 2011, and again in 2012 he could not find the right mix, or motivation, or magic, or whatever formula a runner needs to find their way to the finish line.  It had to be heartbreaking to come up short those 2 years in a row.  But Stutisheel did not show any sign of frustration or failure to the world.  For it was a burden that he alone had to carry and find the solution to succeed.
So last year was an off year.  He became an ironman triathlete, and maybe this as well was the cure for whatever it was that kept him from reaching the finish line.  He says of those 2 years when the goal was not reached that he eventually learned a lesson.  Something he believed was deep inside himself that he needed to do, and of course need not share with prying eyes.   For we all have hard lessons to be learned in our own hearts.  So today he and his daughter have reached out and climbed to a new glorious plateau, on this his 10th year, at the place they both call home.
If there is another secret that made it all turn out so well, he says, "I am surrounded by people who believe in me.  This is so important in life.  Starting from childhood, Alakananda supported me like anything.  In all my crazy projects."
He says there are many others and in particular points to one of the race directors Sahishnu.  "Somewhere during the middle of the race he was on the phone with Alakananda and said, your Dad will do a personal best.   You will see.  The finish was so far but he believed in me."
"I am really lucky to have friends who believe in me.  It is very very important to me."
"And of course finally I dedicate my personal best to the 50th anniversary of Sri Chinmoy arriving in the west.  Who is the driving force and the source of everything."
The winner of the race in 2006 who set the still record time of 41 days and 8 hours.
You will recover
Full confidence in yourself–Just feel once
That God will do everything for you.
You will discover
Full God-realisation in yourself–Just believe only once
That your source
And
God's source
Are always the same.
Sri Chinmoy, The Goal Is Won, Agni Press, 1974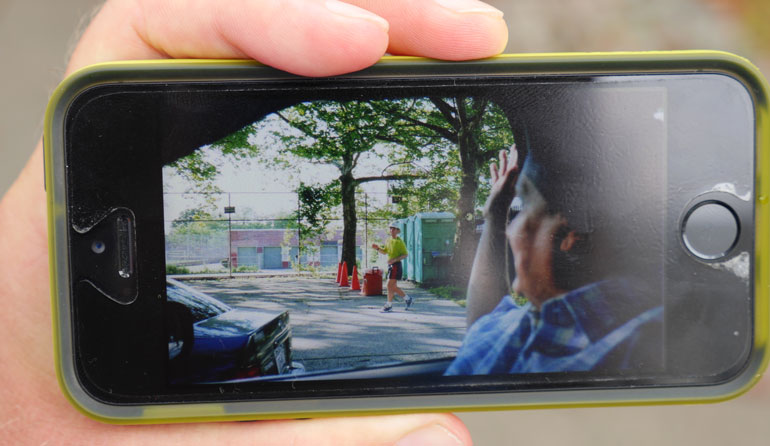 It is going to be a cool and very wet morning. The rain is not heavy but it is consistent for much of the early part of the day.
Stutisheel gets out of the car one last time.  He had a remarkable day yesterday with 130 laps.  He has now only 20 miles more to go.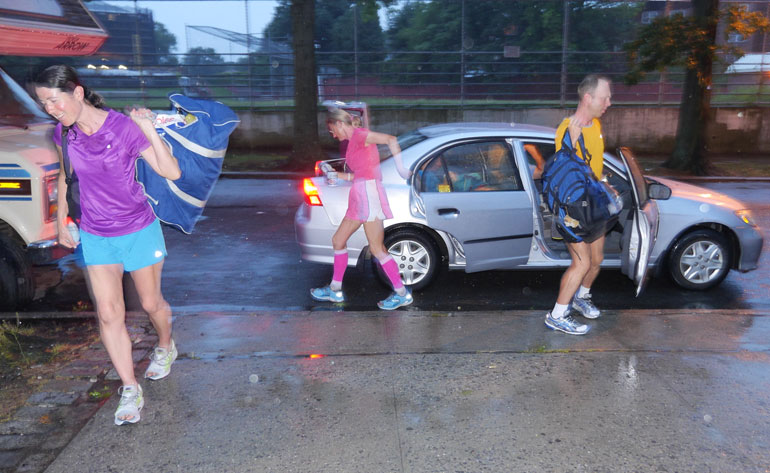 William arrives to weather that he is quite familiar with.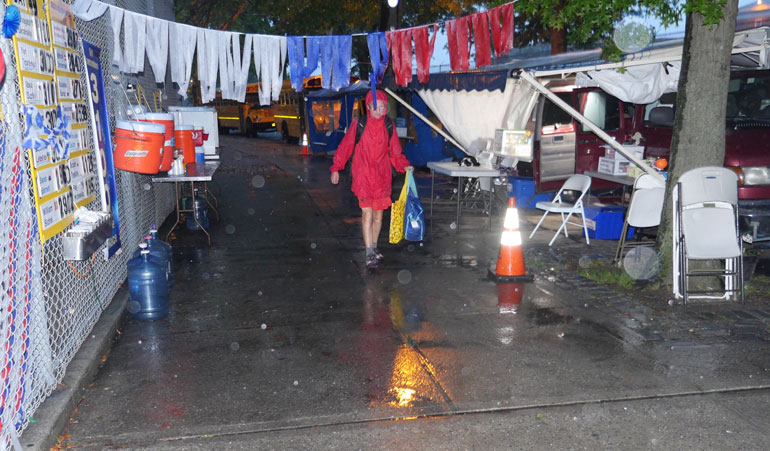 Baladev arrives.
Starting tomorrow William will share this spot with only Sopan and Ray.  The rest here will have finished.
Start Day 49
In truth this is only the first wet day the race has seen all summer.
Stutisheel runs incredibly fast all morning.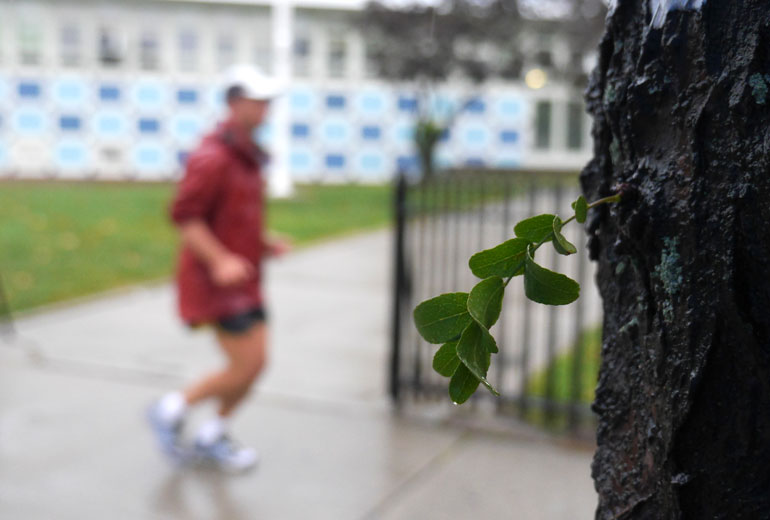 I ask Alakananda how she thinks it was possible for her Dad to do a personal best.  She says this is a question that her dad can best answer but suggests, "I think from my perspective it was because he took a year off last year.  He did an ironman which was a different kind of physical endurance sport.  It was different but I think it makes you stronger."
"I think the swimming and biking has improved his general ability by a little bit.  And also because he hasn't been here for a year.  I think he was more excited to come back.  That is also what is was for me.  I was more excited to come back more than in previous years just because I missed last year.  It is nice to come back to everything."
"This is home.  It is the place I know most about and the place I feel most comfortable."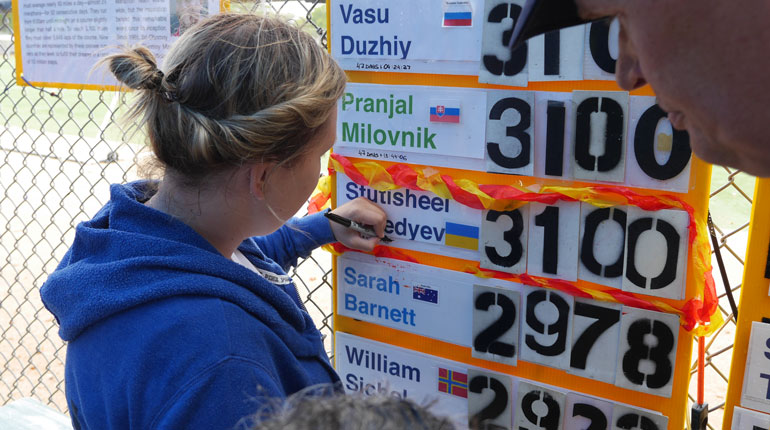 I ask her about what her Dad said about her believing in him.  "I think it goes back to when he wanted to do the race for the very first time."  She says that when he announced his intentions of coming he did not receive unanimous support for the project.  "I said you are awesome.  Let's do it.  It has always been like that."
Click to Play Interview:
I finally speak with Stutisheel as he goes out for the final laps to make 5,000 km.  I ask him why now he is going so slow.
"Well I reached my goal of running 3100 in a personal best.  My goal was to do the maximum that I can and I did it."
"Right from the beginning of the race I was running quite good.  After 1000 miles I realized that I am on a very good pace.  I had a few bad days."  But as the race progressed all the indicators were pointing to a performance that was better than what he had done in 2009.  "So I knew I was doing good."
"10 days before my finish I started looking at the numbers of 2009.  The last 10 days then I ran 685 miles.  It is a lot."
"Here I was a little bit nervous, because in my credit I had something like 47 miles with 12 days to go.  Day by day I deducted from myself, 3 miles, 5 miles, something like that.  Finally the energy came.  For the last 3 days I ran 70 miles a day, and I was safe."
"It happened.  I did not push.  I am a good student of Ashprihanal.  He likes to flow like a river.  So I am very much in this school."  So when things get really hard, "I just wait for the energy to come.  The last 3 days was just a flow of very good energy.  It was not like that I was exhausted by the end."  He cannot really understand why things like this happen other than they do.  "All I know is that it is happening and it is inspiring me."
"I see that whatever you are inspired with comes into your life.  I was inspired by Ashprihanal's performance so many times.  When he had a very strong finish at the end.  Somehow I absorbed this capacity and I also enjoyed it."
I ask him about the 2 years he didn't finish the race.  "It was quite difficult."
"I believe every runner is aware of why they are going through hard times.  All my so called bad races.  I absolutely knew the reason why.  So I took a year off to work out all these things."
We talk about the fact that he has in every way transcended himself this year, by something like 9 hours.  He says, "one year I improved my time by a half an hour and Sri Chinmoy was laughing.  But still self transcendence.  I remember that.  You are running for 51 days and transcend yourself by a couple of minutes."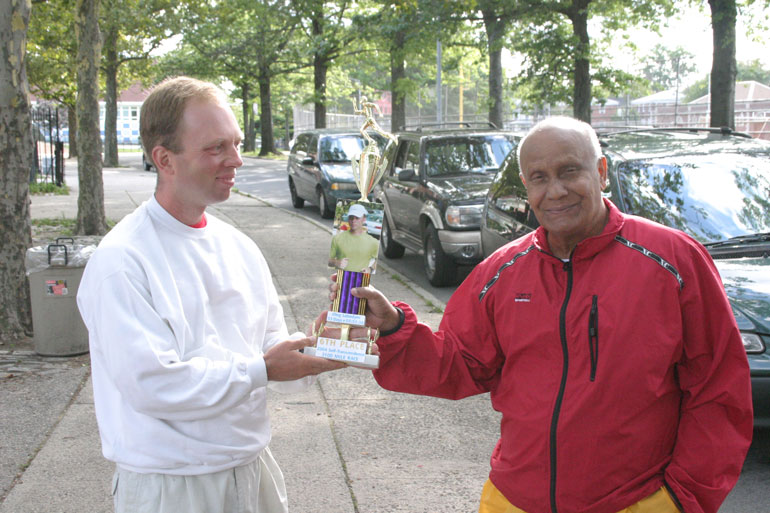 I ask him if he still feels the presence of Sri Chinmoy.  "Definitely…..definitely."
Click to Play Interview:
"Finishing in 5th place in the 3100 mile race this year in a personal best of 48 days, 3 hours, and 57 minutes which is an average of 64.366 miles per day.  He moves from 20th to 16th on the all time list."
"This is his 8th finish in 10 tries.  And a personal best by 8 hours and 45 minutes.  A few of the runners, particularly Grahak from Australia calls him the King.  He is very regal in his running and he is also very quick.  He is one of the fastest runners this year.  And I believe he has the 2nd most days over 70 miles.  Very remarkable consistency.  He came really fit.  Mentally and physically and spiritually he has always been strong.  Then the weather did him a favor and touched his feet.  Now we are touching his feet."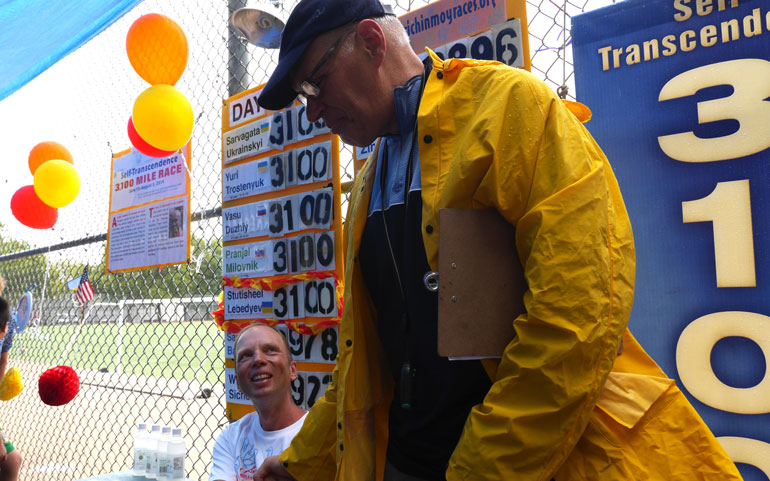 "Tremendous performance.  Stutisheel one of the all time greats.  The marathon team congratulates you and so does everybody else."
Click to Play Speech:
It is Sarah who will be the next to cross the finish line.
She did 108 laps yesterday
She has 131 more miles to go.  Most like she will finish on Monday morning.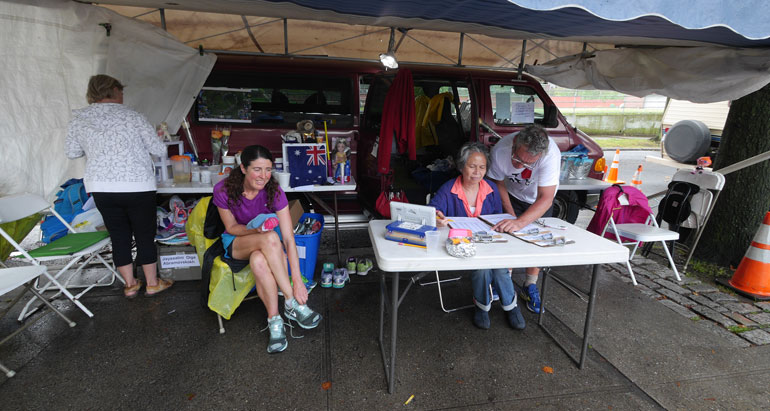 She has found her own unique pace and rhythm
After her will come William who is running hard.
William is charging hard for the finish line.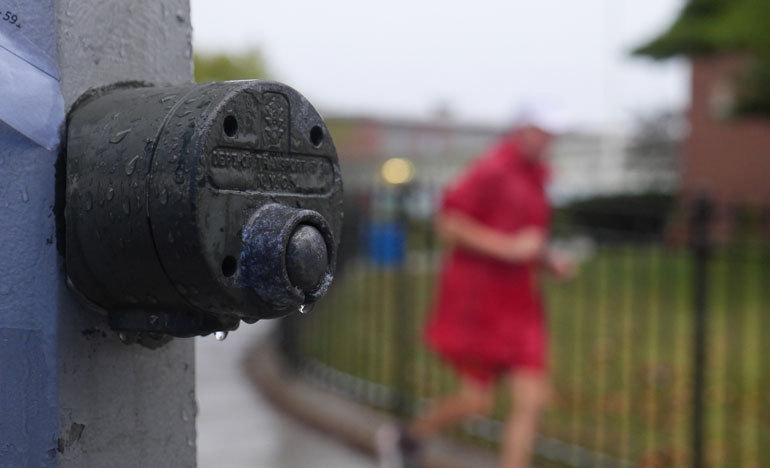 He ran 123 laps yesterday.
He has been running so well for so many days.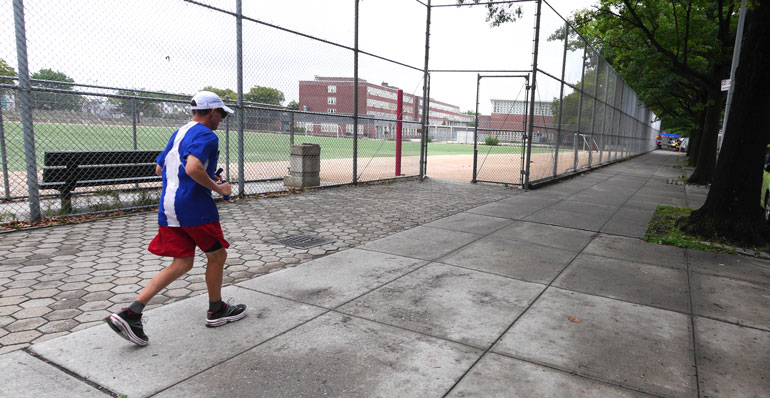 Alan playing such an important role in what he has accomplished here.
Alan Young…Mr. Magic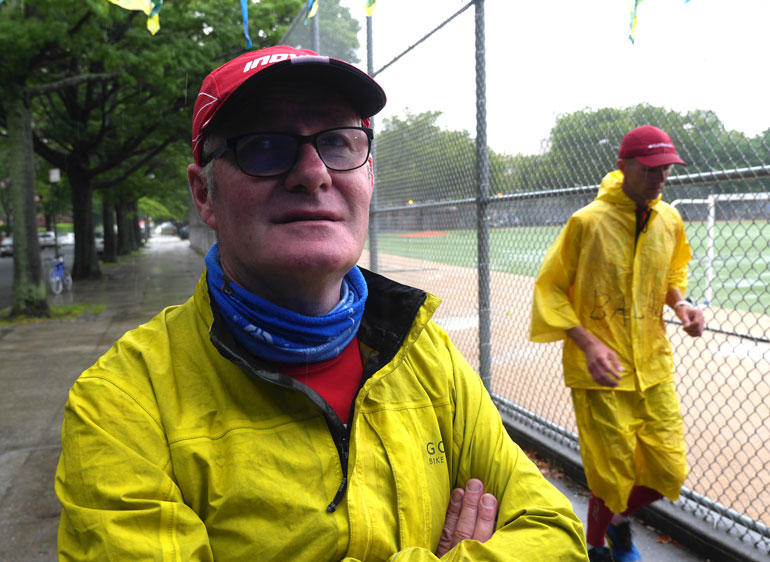 Each runner is so different.  You can see such focus in his eyes.
Each day brings him so much closer.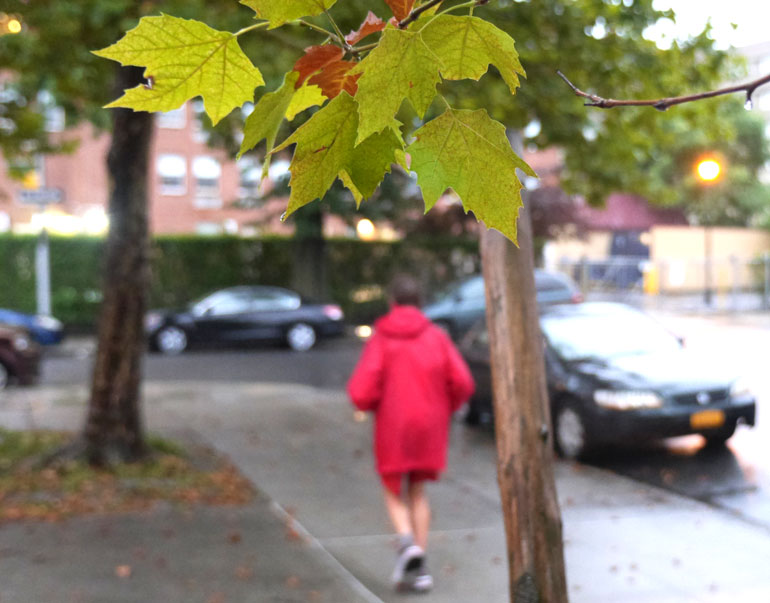 The course is just a little complicated.  Just follow me and remember to take the first left up ahead.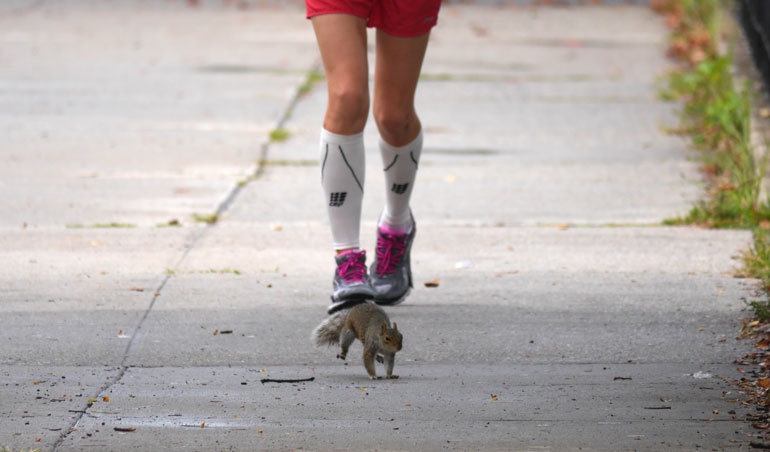 You are not the first person to tell us we looked like twins.  We are just good friends.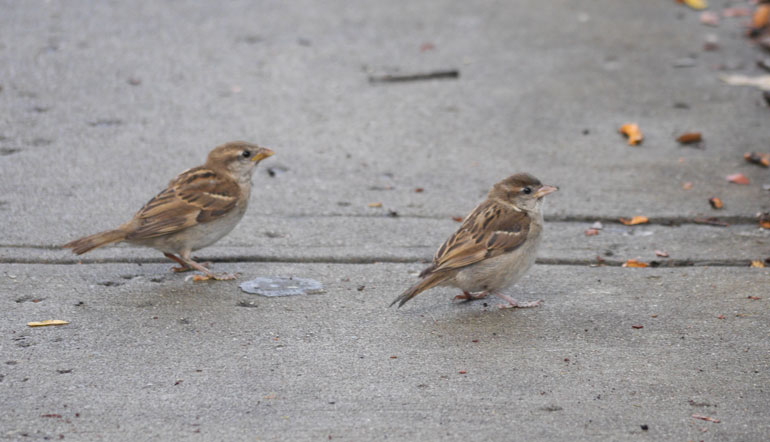 Playing tug a jug is just the best game in the world.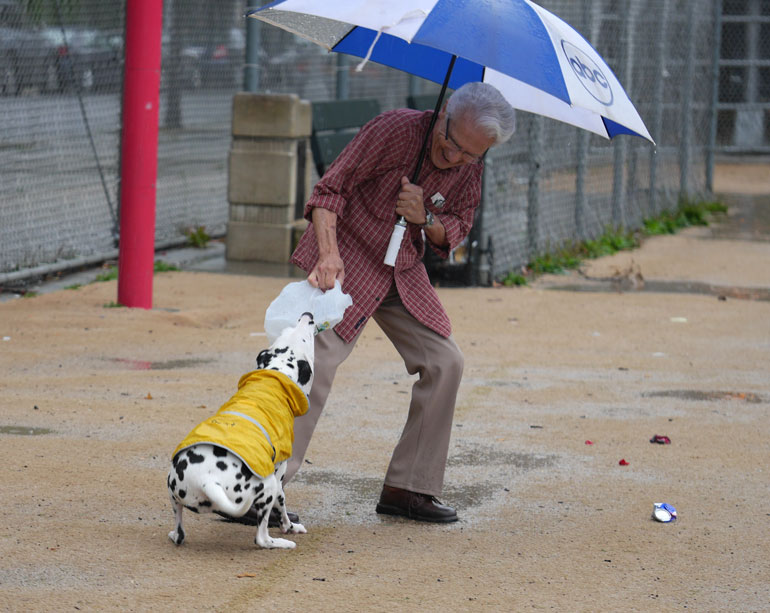 How many ways to say I love you.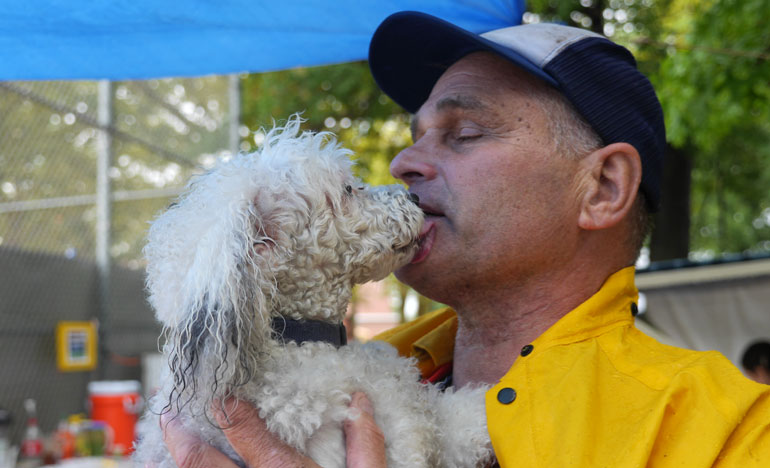 It is a wet dark morning.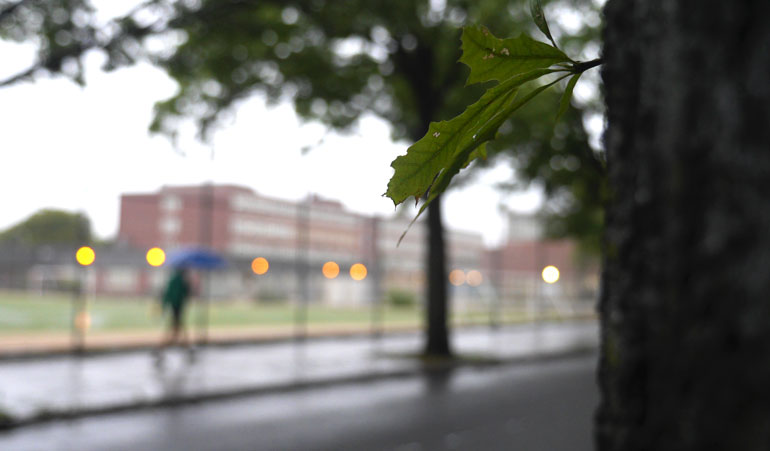 Familiar faces make an appearance.
Savagata and Sarvahara were invited to meet with some kids.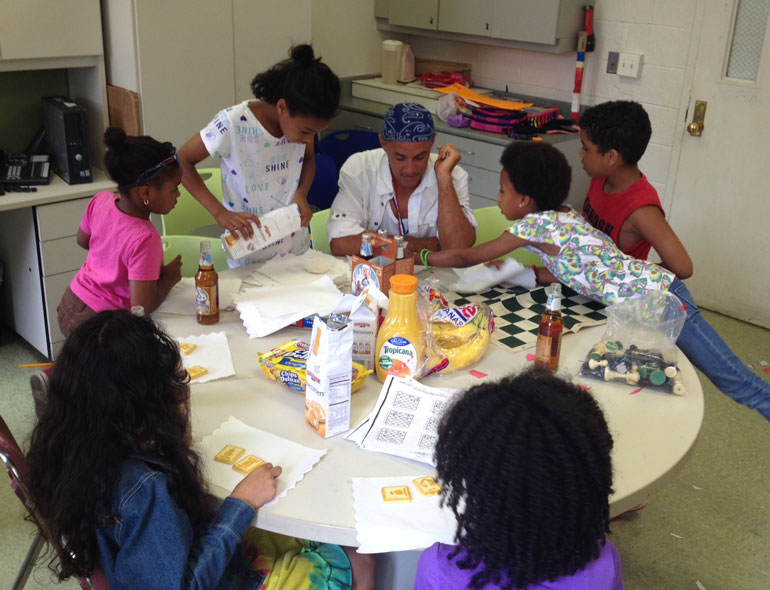 Thinks got a little rocky with Vasu and Yuri this morning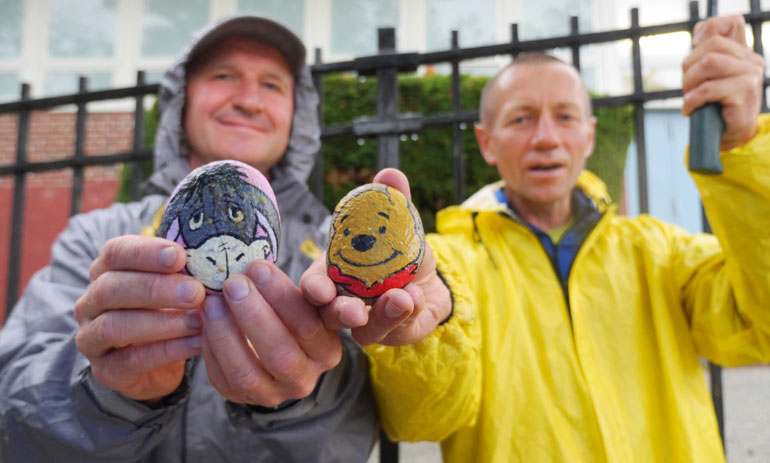 The Enthusiasm Awakeners honored them with song.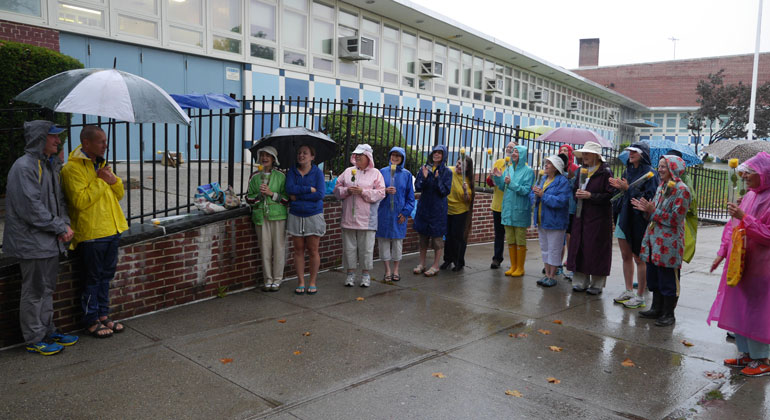 Jayasalini had 107 laps yesterday.
At times the rain is heavy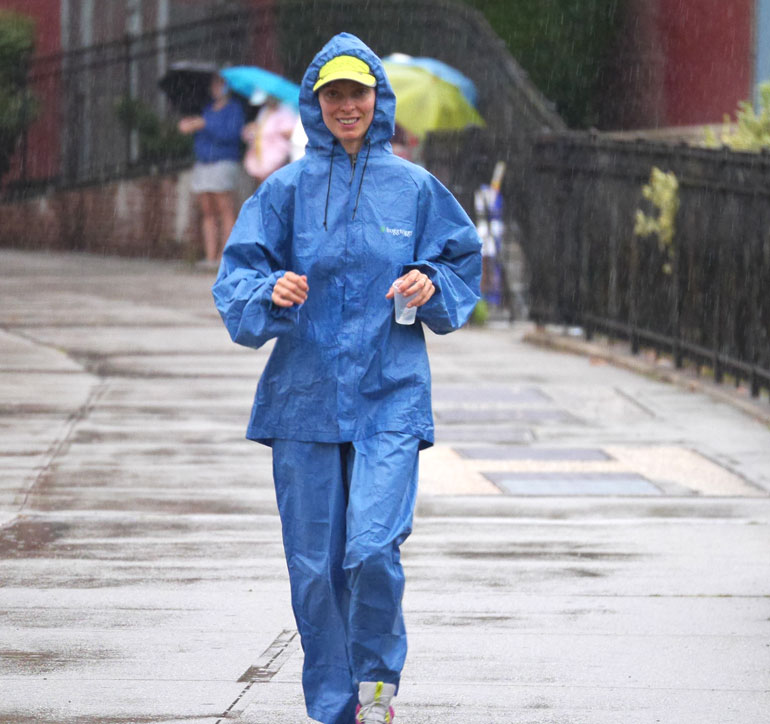 She has as of this morning 213 miles.  Her team is very good.
There are many who want to help support her on her laps.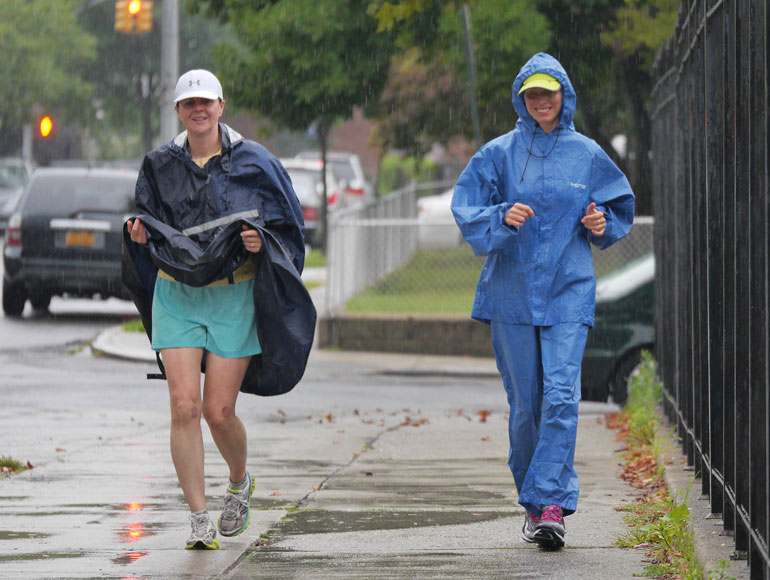 Pranjal enjoying watching the others now from a comfortable chair
By late morning the rain had stopped.  She only has to run an average of 53 miles for the next 4 days in order to finish on Tuesday.
The heavy rain.
The ball is going deep to left field.  Can she catch it.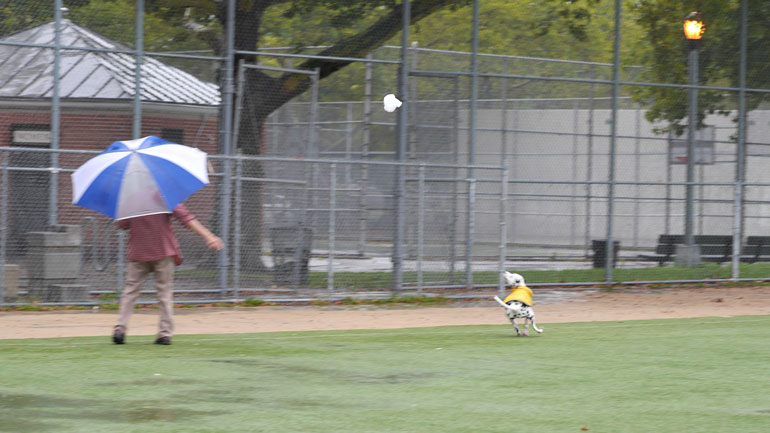 The table service at this place is just terrible.   I can't ever see a waiter.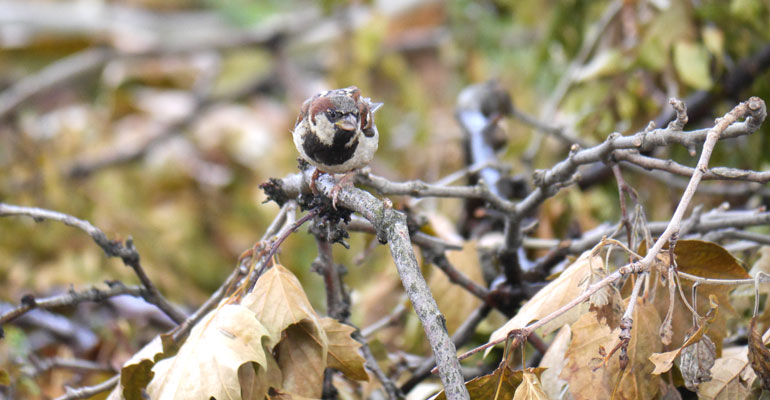 You try being a dog.  It isn't easy as it looks.
Nidhruvi once again did 105 laps.  A number she has done the past 3 days.
She starts the day with 2841 miles.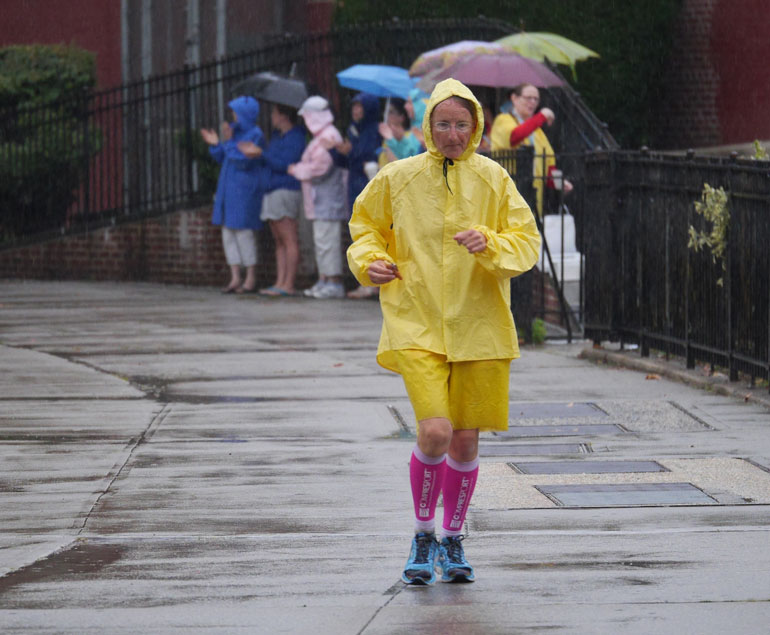 This means she has 4 days more to complete 259 miles.
There is nothing else she can do but continue on doing her best.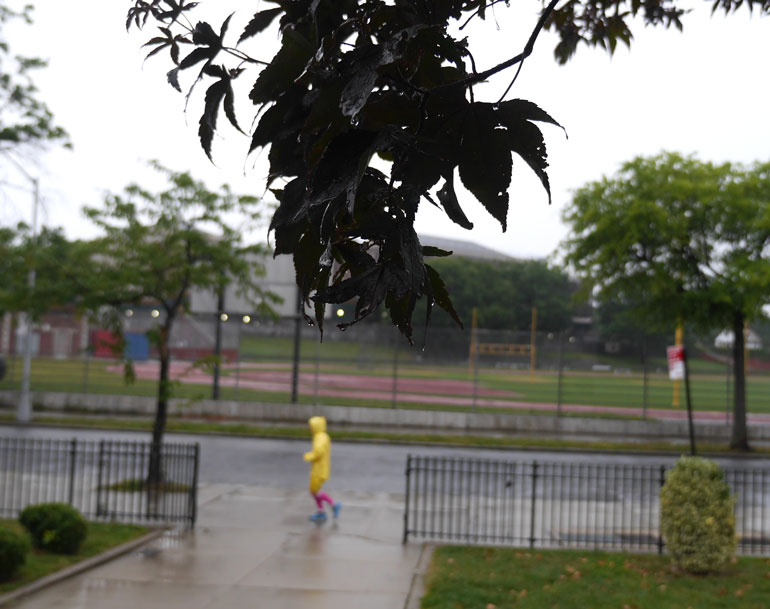 Kausal helps her this morning.
Runners like Dipali and Kaneenika are also trying to support her.
Messages of encouragement are everywhere.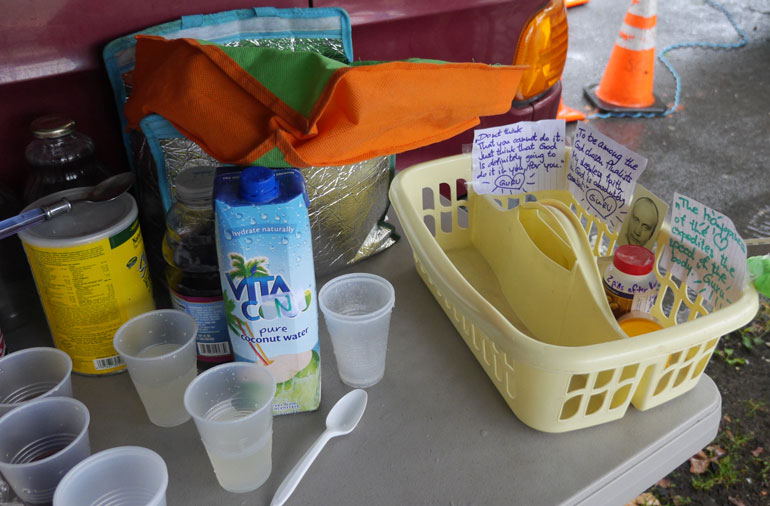 Soon the outcome will arrive.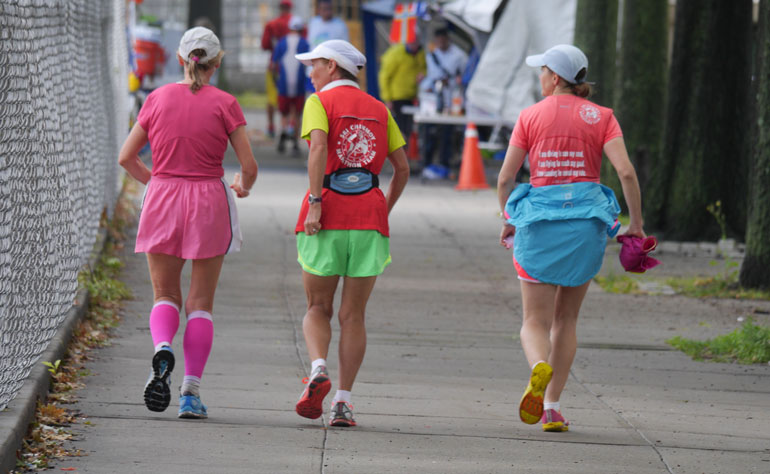 Baladev did 104 laps yesterday.
He tries the very best he can.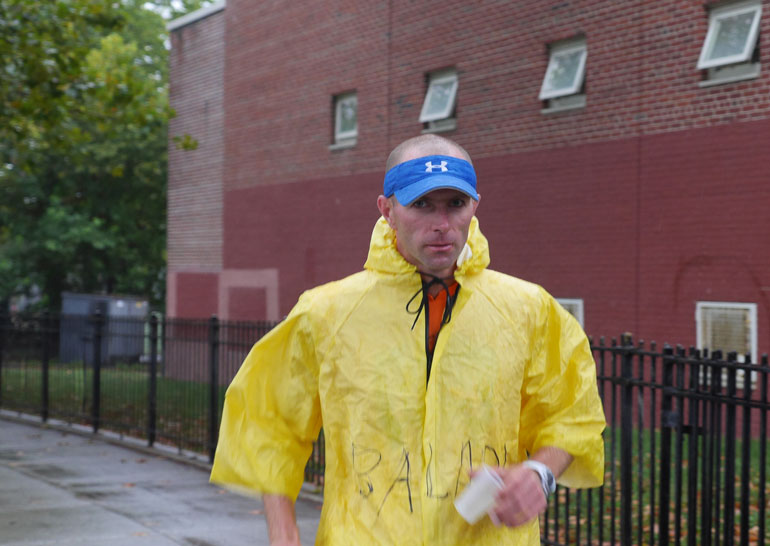 He is 135 miles ahead of last year.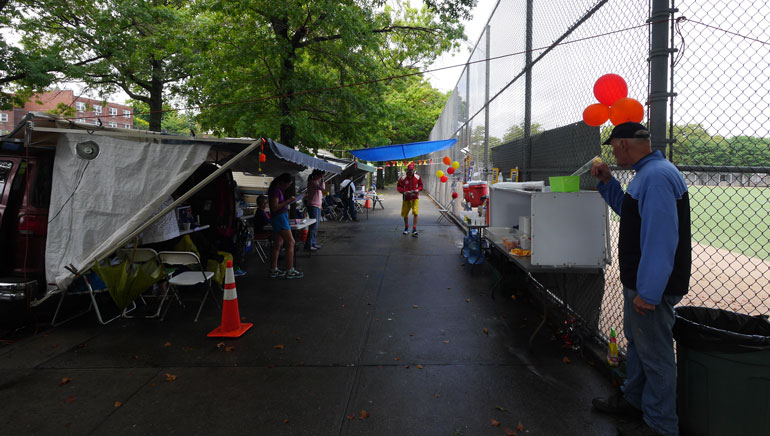 He will go for as long as he can.
The flowers do not mind the rain.
The 2 mile race happens every Saturday.
It is surprising just how much flavor this has, but I buy it for the texture.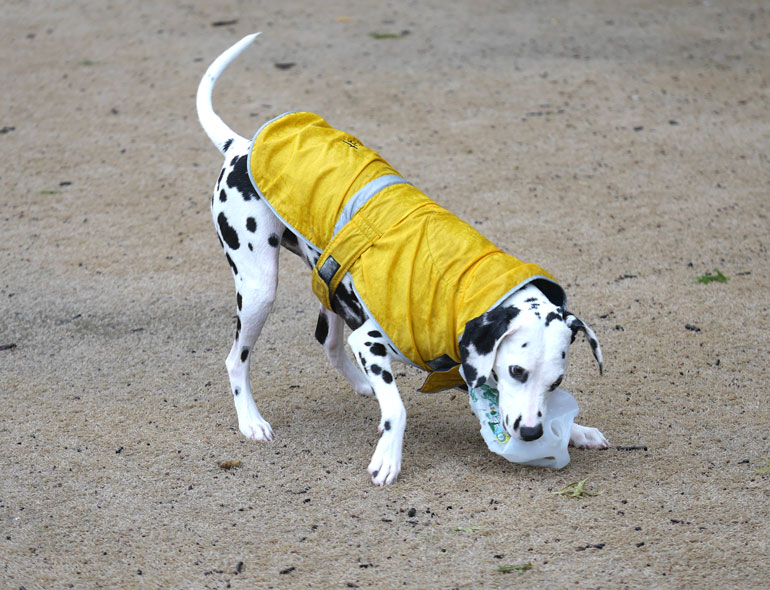 I have good news and bad news.  The tires are still good but we are going to have change the brakes.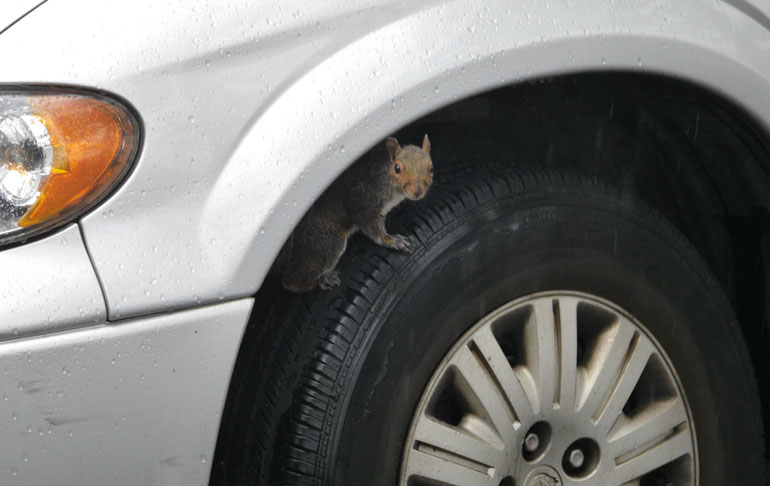 Teekshanam had 104 laps yesterday.
He has 2545 miles so far.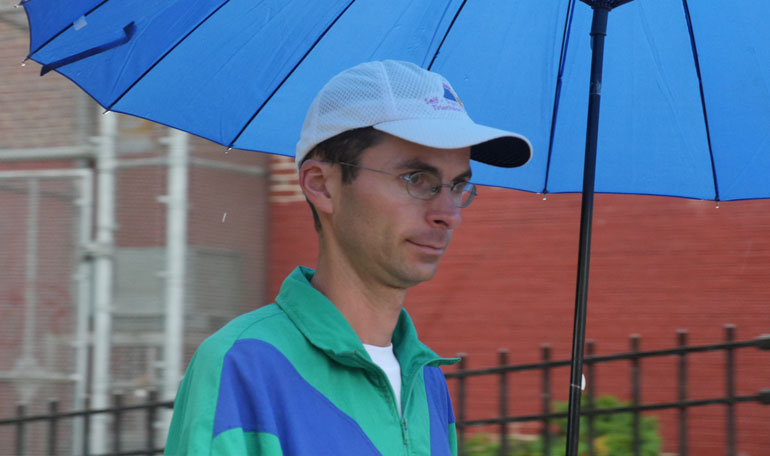 He has gone so much farther than he has ever gone before, in this the longest race in the world.
Sometimes it is nice to stop and appreciate just the single flower in the bunch.
Ananda-Lahari had 107 laps yesterday.
He has 2226 miles.
Each runner has such diverse and significant experiences.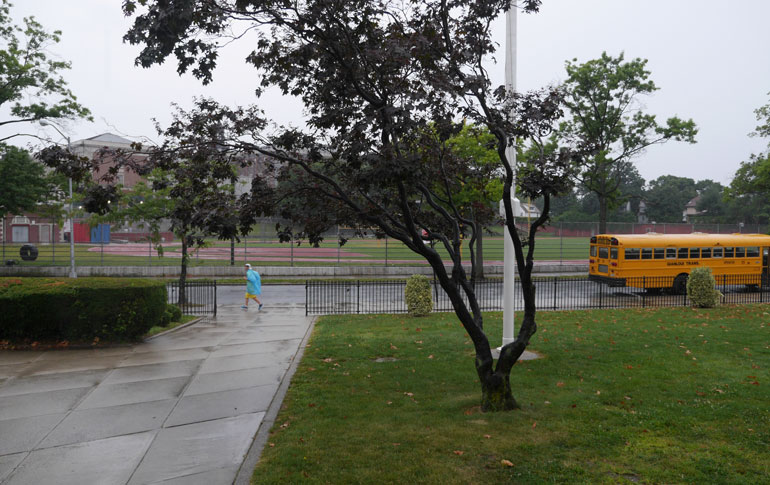 If you want to know the best place to watch the race it is right here.
Of course Ray has he best vantage point of all, being in the race.
At one point he asks me if I have a phone.  I say no, but Sarvagata does.  Ray is scheduled to call into a local radio station in his home town.  So he borrows the phone and does his interview and then very generously includes Sarvagata in the interview.
Click to listen to One Side: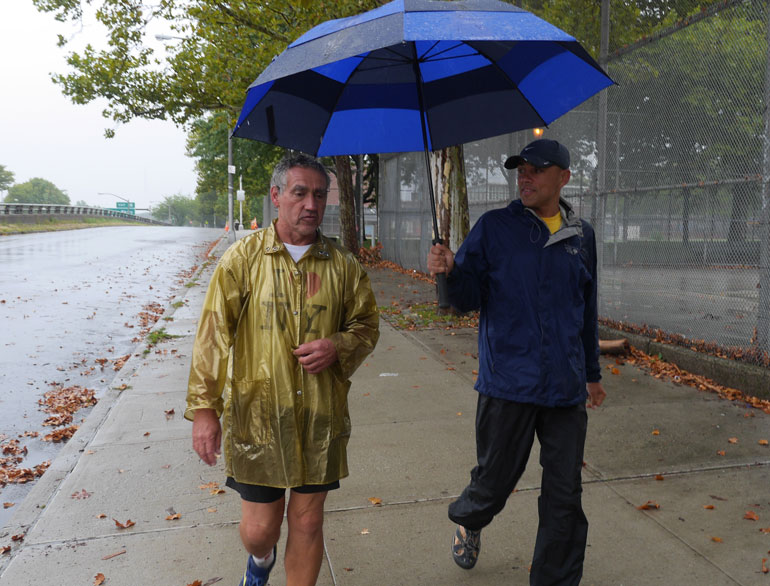 We will do a wrap up interview with Ray soon.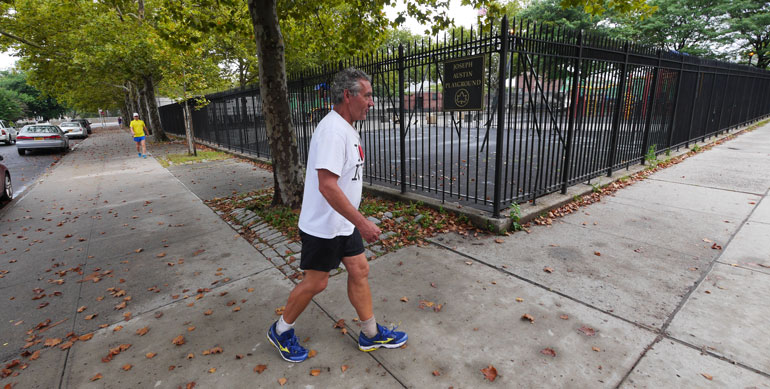 Ray also did 80 laps yesterday. He has 1859 miles.  To get to 2014 he just needs to do 38 miles a day.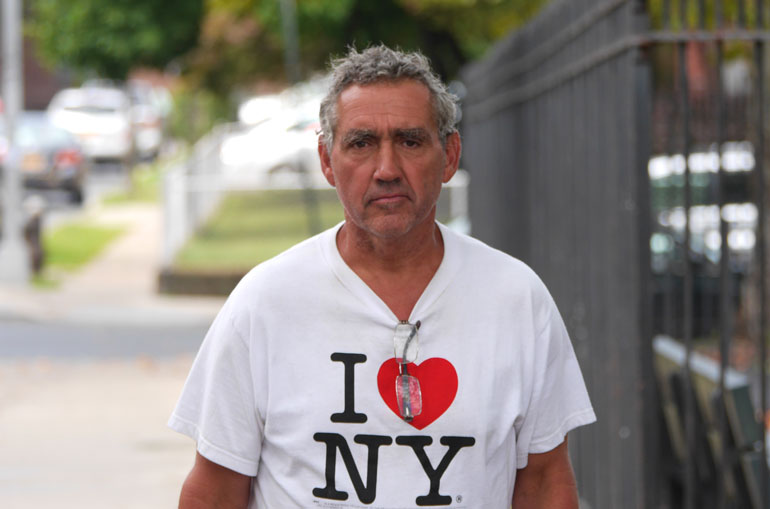 After this there are just 3 more stories.
Prayer of the Day read by Sanaz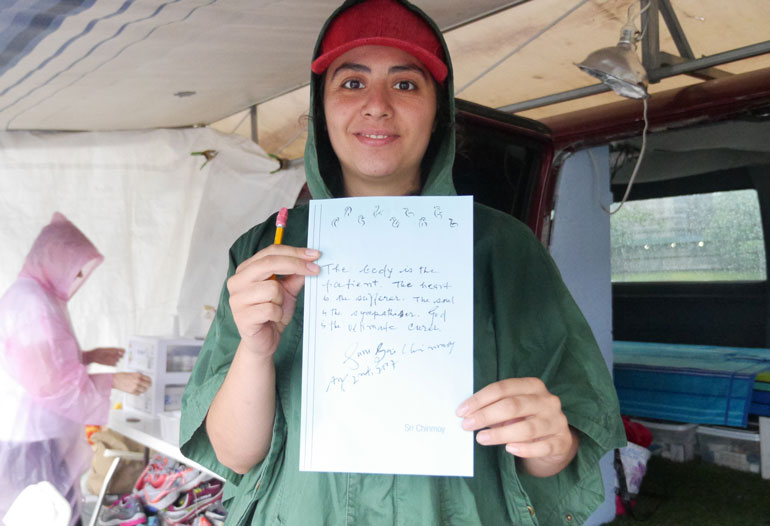 Click to Play:
Enthusiasm Awakeners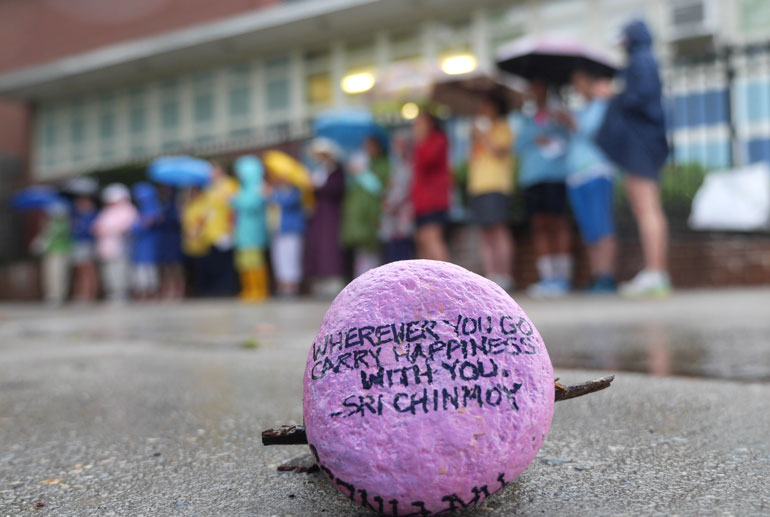 Song performed: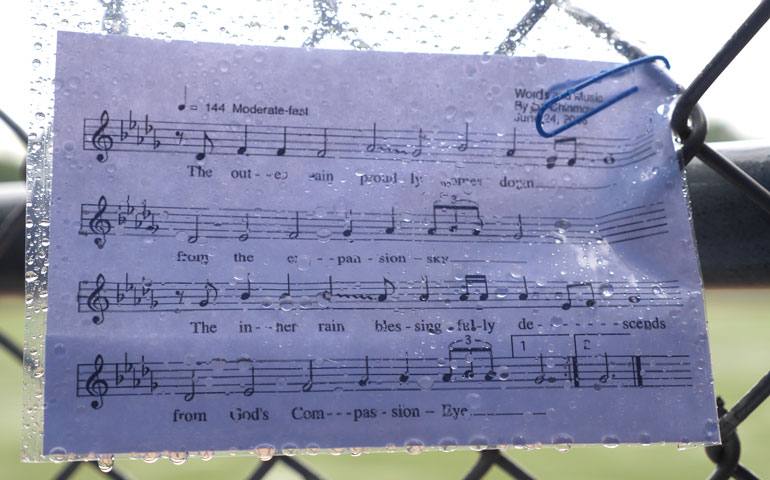 Click to Play:
Whatever God gives us
Is undoubtedly
A source of
God-Heaven-climbing inspiration.
Sri Chinmoy, Seventy-Seven Thousand Service-Trees, Part 40, Agni Press, 2004