Are you ahead of last year's pace?
"Not yet."
"I want to transcend myself, so I have to run a little bit faster." He has just 23 miles to run on this his last day of the race.  Vasu says he is doing this, because that is the name of the race, Self-Transcendence.
"If the Supreme wants he can do it through me, and if not, I will be happy."
"I must run 10 laps to go and 4 hours to do it.  It is not too easy."
What Vasu has done over the past few days has been to run incredible mileage.  Yesterday he ran 136 laps or 74 miles.   Which is very similar to what he had done just 2 days earlier.  What he has been demonstrating since day one is a complete dedication to the task of running 3100 miles.
One which is  based not just on his incredible physical strength and will power but also on his heart's devotion.  A combination of qualities that when set in motion would appear unstoppable.  Yet from the start this morning that very thing of bettering his time from last year is far from certain.
There are many inconceivable and imponderable mysteries of what this race creates in those who come and run in it and also who those who observe.  As someone on the sidelines who has watched Vasu's steady progress through the days and miles how could you not but want for him to succeed.
To shave at worst even a small fragment of time off his performance from last year. Most of us would love to see him and all the others smash their performance bests each year.
But the subtle and intangible rewards of running here are not so easily discerned.   For there is a victory not just to Sarvagata who came in first and those like Vasu who will claim the 3rd chair behind him this morning.  But to each and all there is a victory.  Even if the finish line is never crossed and remains elusive and distant still hundreds of miles away, when the lights grow dim.
At a little before 1030 this morning Vasu crosses the finish line for the 3rd time.  It took him 47 days, 4 hours, and 24 minutes.  His time is 1 hour and 15 minutes better than last year.
Click to Hear Finish:
A short Film from the race 2006
The fullness of life lies in dreaming and manifesting the impossible dreams.
Sri Chinmoy, Arise! Awake! Thoughts Of A Yogi, Agni Press, 1972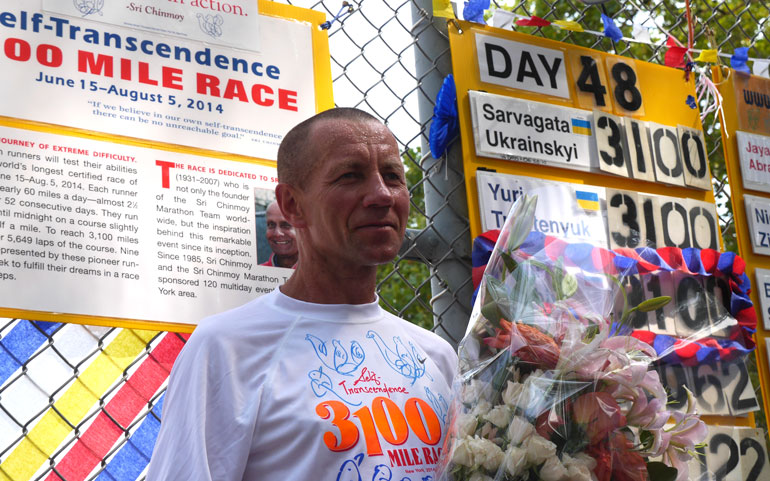 "Vasu in his 3rd attempt has finished the 3100 mile race in 3rd place in a personal best.
It is 65.07 miles per day.  He is still ranked 13th all time.  He came within 6 minutes of Pranjal's best time.  You carry yourself like a true champion.
You have been on the podium 2 times now.  It is a privilege to watch you run, and represent not only Oneness Dream Boat shore but also the Sri Chinmoy marathon team and aspiring runners all over the world."
Click to Play Speech:
Shifting the clock backwards just a few hours, it is a typical morning.
Pranjal will finish tonight around 8pm.  He has 50 miles more to go.
The girls arrive.
Ray shows me the piece that Fox News put up yesterday.
Click Below on 2 links:

http://www.cbsnews.com/news/self-transendence-3100-mile-race-worlds-longest-marathon/
William looks at the board.  He has now 255 miles and will finish on Monday night.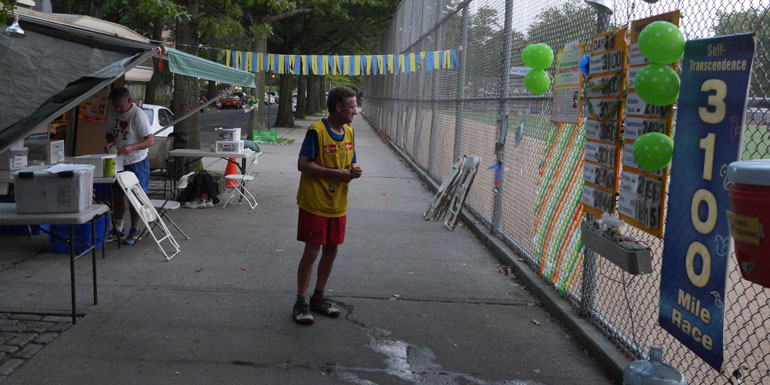 Yuri has come back again today to finish the distance he needs to make 5,000km.
Start Day 48
It will be another beautiful day.  Some small showers will come late in the day.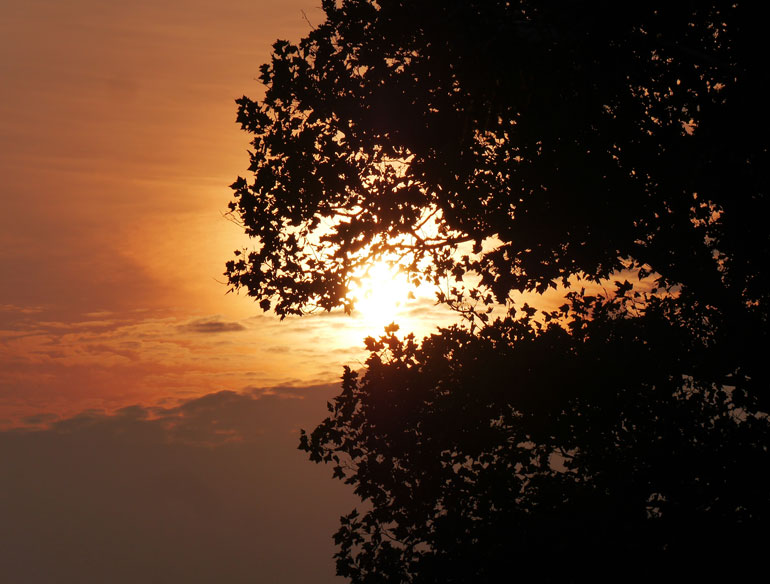 Stutisheel is also working on his personal best.
It seems odd but yes Yuri is back and running to complete the short distance to 5,000 km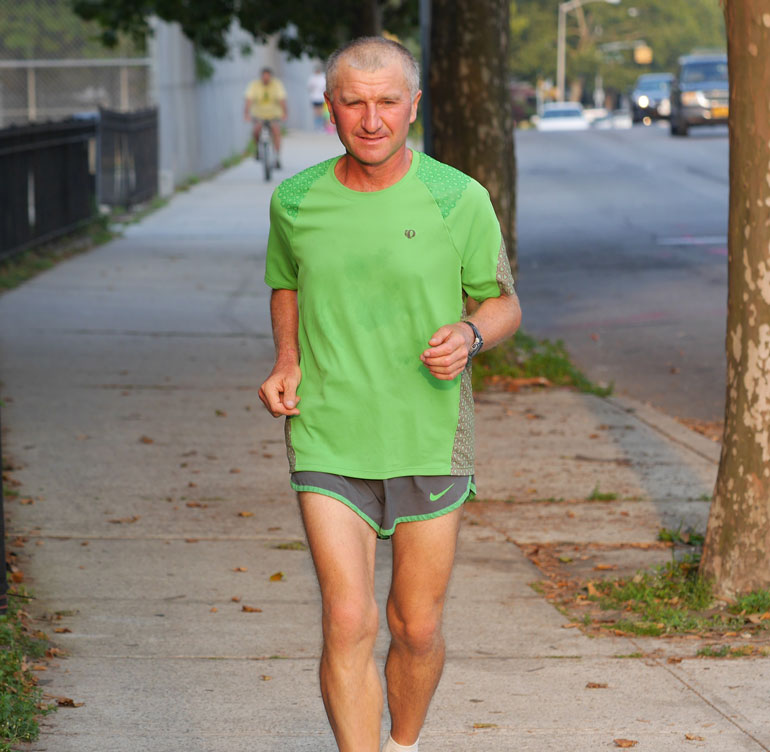 He enjoys listening once more to the Enthusiasm Awakeners.
Then, it is almost over before it even began, he gets on his bicycle and leaves.
I ask Pranjal what he will say in his blog tonight.  "That I finished."
At some point Pranjal had mentioned that before the race he had a problem even walking.  I ask why he never mentioned it in his own blog.  "I didn't think it was interesting."
Since October he says there was something wrong with his knee.  "I could run.  There was no problem with running.  But after the run I could not bend my knee.  It was hurting all the time.  I couldn't sit with my legs crossed.  Driving was a pain.  For 8 months it was like this."
"So this was the first time that I thought that I might not be able to finish the race.  I went to a chiropractor 2 weeks before the race.  He fixed it.  He told me that the knee was out.  There was something on the side of the knee.  He put it back, and it was okay."
"This has been the best weather so far.  We had 5 days, maybe not even that of over 30 degrees C. Usually it rained during the night when we were sleeping.  The humidity wasn't so bad.  It was perfect."
"When it is hotter there is more suffering."
"You know what struck me.  It was not that I had done 31,000 miles here.  But that I have been around this loop around the school 56,490 times."  He jokes and calls it insane.
Which I remind him that unless he can't move he will still continue to come back here each summer.  "Yes, I guess so."
"I have the capacity to do it, So I have to use that capacity.  When the Supreme decides than he will just take this capacity, and I will not be able to do it.  Since I have this capacity then I have to use it."
"When you have some capacity.  You should use it.  Otherwise you are just wasting the capacity."
"Everybody has a different capacity in different fields.  They should use it in that field.  Not everybody is meant for this."
"First you have to find what you are good in.  Or what really inspires them.  Sometimes you try something and it feels just right.  When I came for the first time here I just loved it.  Right from the beginning. I was suffering like anything but I loved it."
Click to Play Interview: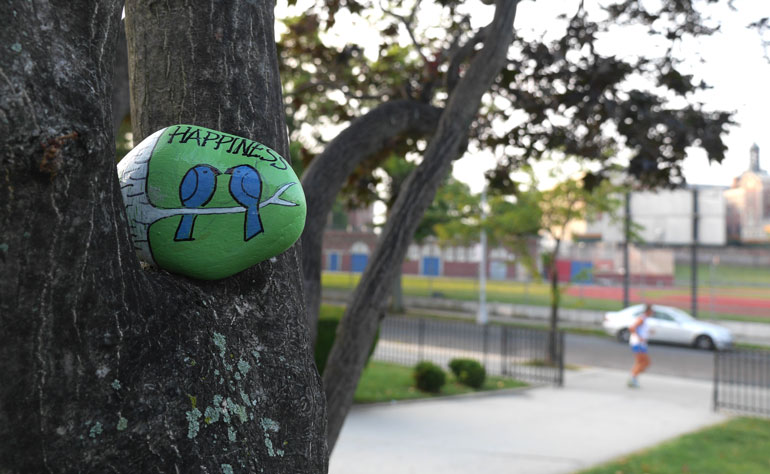 At a little after this time on the clock, Vasu finishes.
He hardly stopped it all in the little more than 4 hours he had left.
Stutisheel is running big laps every day in order to break his record.
He did 128 laps yesterday. He has just 91 more miles to go.
It is still hard and yet he keeps patient and focused for less than 100 more miles to go.
Tomorrow it will be over and he will have a personal best.
The morning getting brighter.
Sarah had 110 laps yesterday.  She has 2910 miles, 190 more to go.
She could finish late Sunday.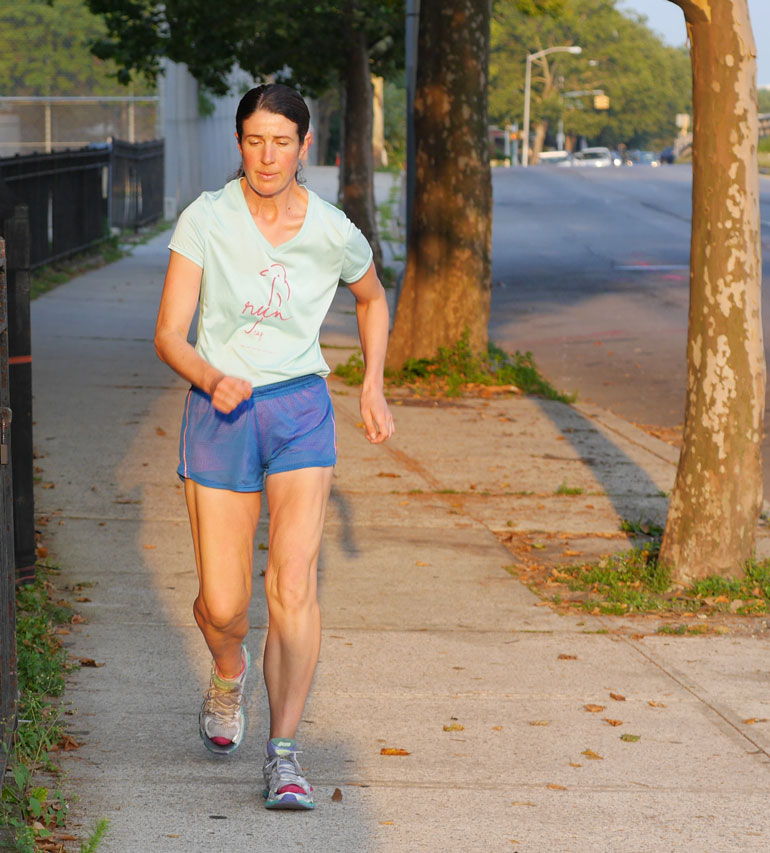 William has 255 more miles.
He is putting in an incredible effort every day.
He is receiving lots of support from those who are following his historic journey.  The first 60 year old person to run 3100 miles.
His eyes as much as anything else show just why this is possible.
Jayasalini is enduring in the hardest race of her life.
Her strategy of building in extra miles early is working superbly.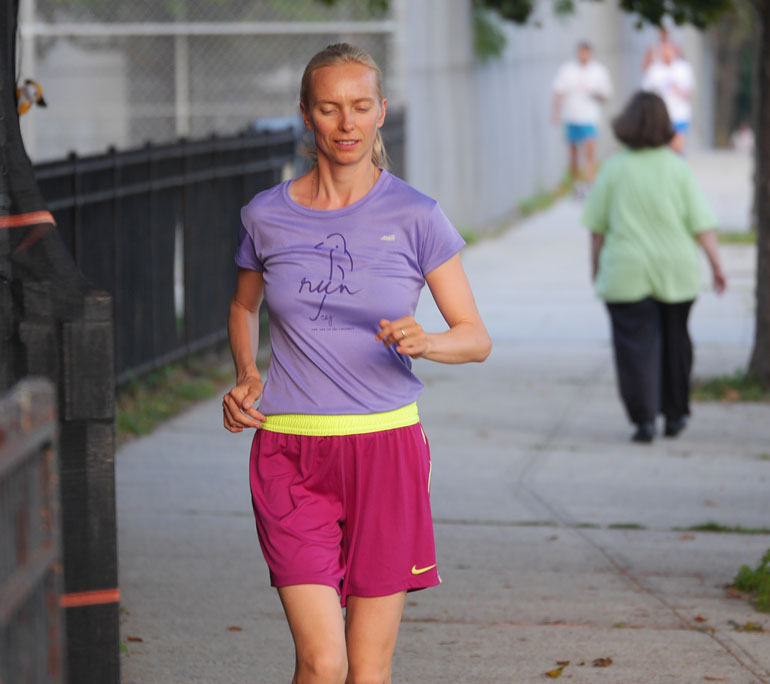 She did 105 laps yesterday and now has 2829 miles.
This means all she needs to do in order to finish is run 54 miles a day.
Nidhruvi also ran 105 laps but she has 317 miles more to do in 5 days.
She needs to do 62 miles a day to get this.
She has her friends everywhere supporting her in any which way they can.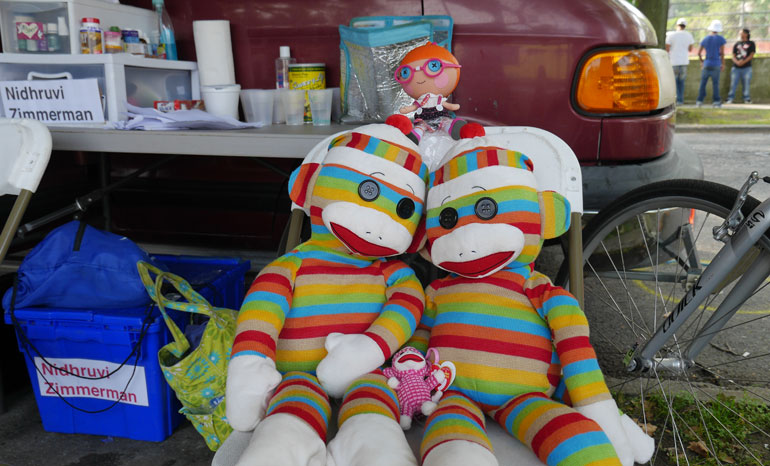 Something miraculous needs to happen.
Time for some animals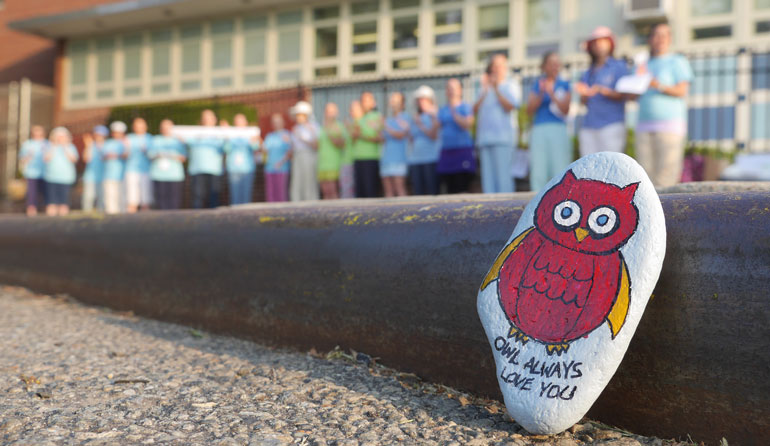 This delivery job is murder especially when You have to carry it up to the 2nd floor.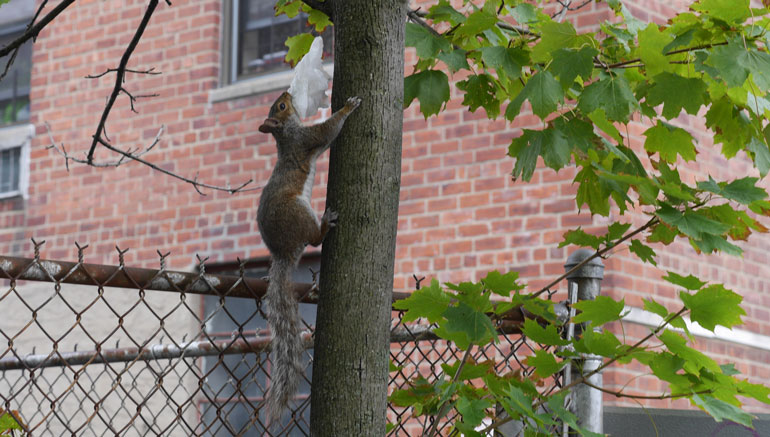 Pass the remote to the tv please.  It is beside you on the table…..I think.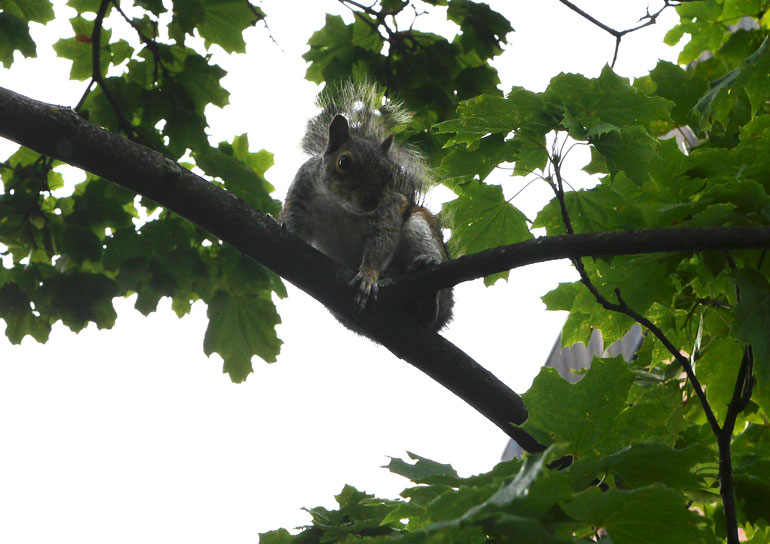 Baladev had 100 laps yesterday.
He starts the day with 2700 miles.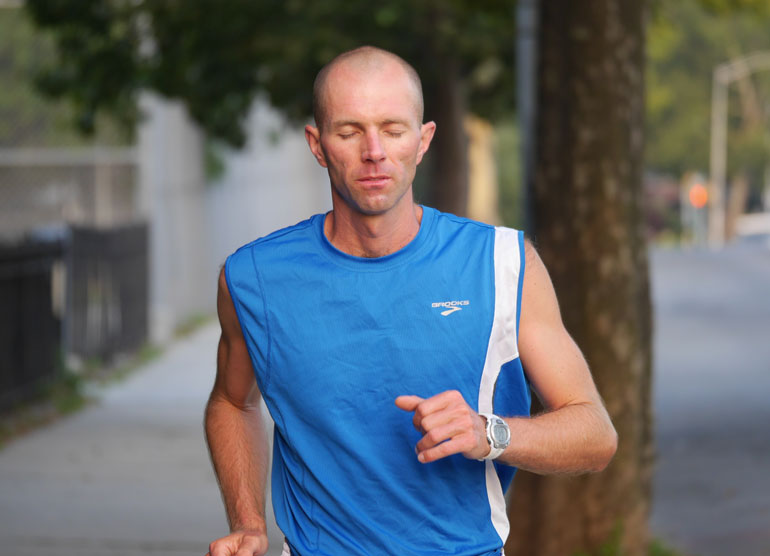 This is where he wants to be.
Teekshanam had 90 laps yesterday.  He has 2493 miles.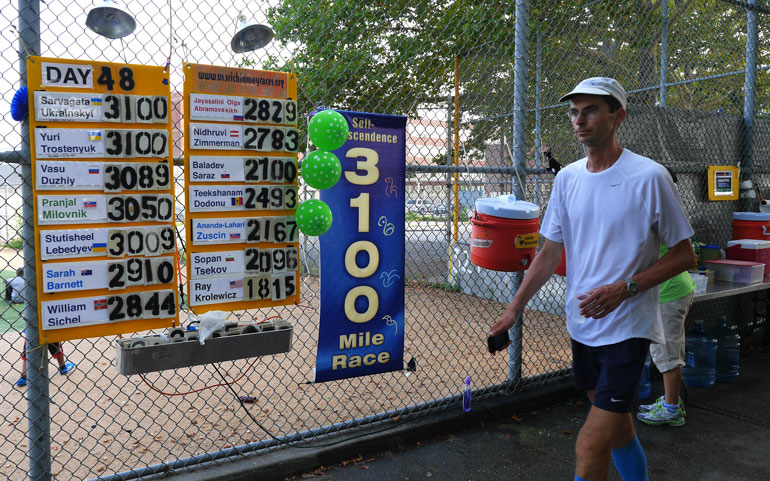 He should be able to make it to 2700 miles by the finish.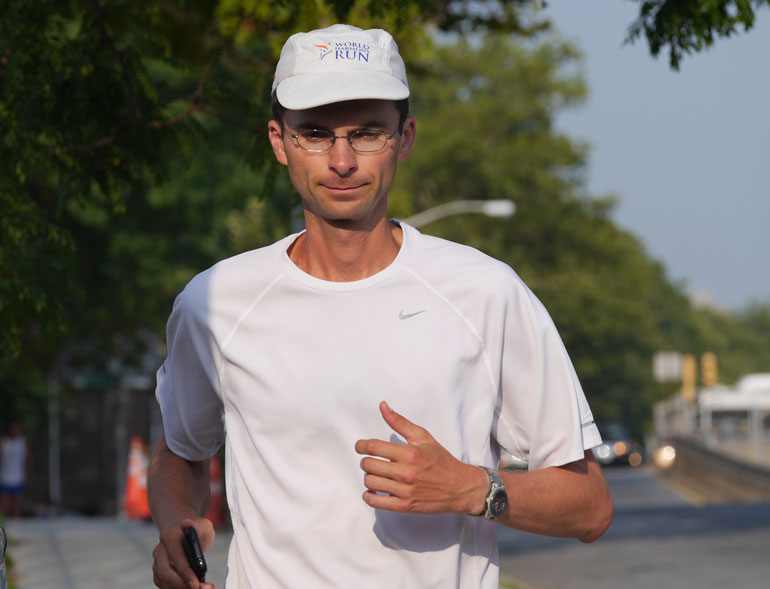 So many flowers have been cut the last 2 days.  But a couple, here and there manage to show their blooms.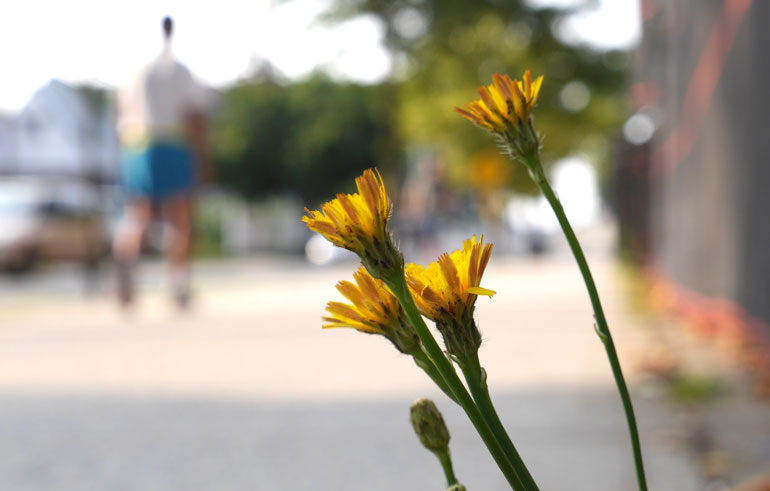 Ananda-lahari did 81 laps yesterday.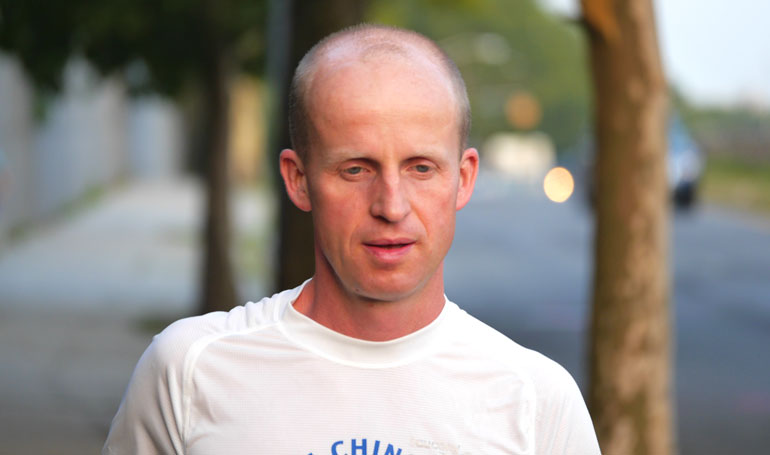 This is his home.
Ray has now found a new goal for himself.
It is one that is far from easy.  His friend Sherry has bicycled from Brooklyn to be with him for a short while.
He wants to finish with 2014 miles.
He has right now 1815 miles.  Which means something like 40 miles per day for the next 5.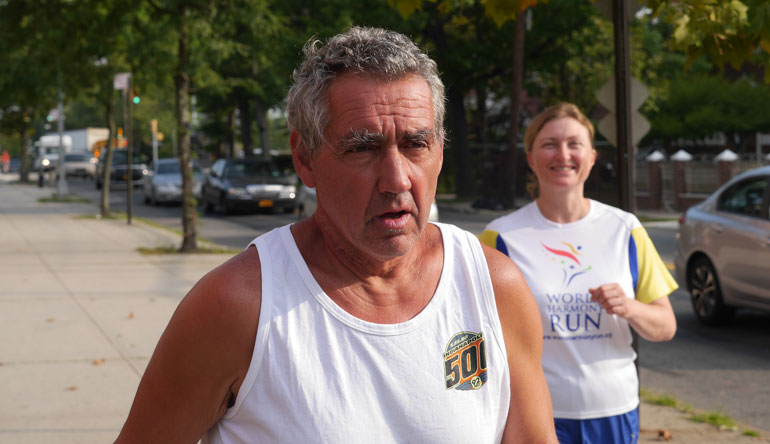 Prayer of the Day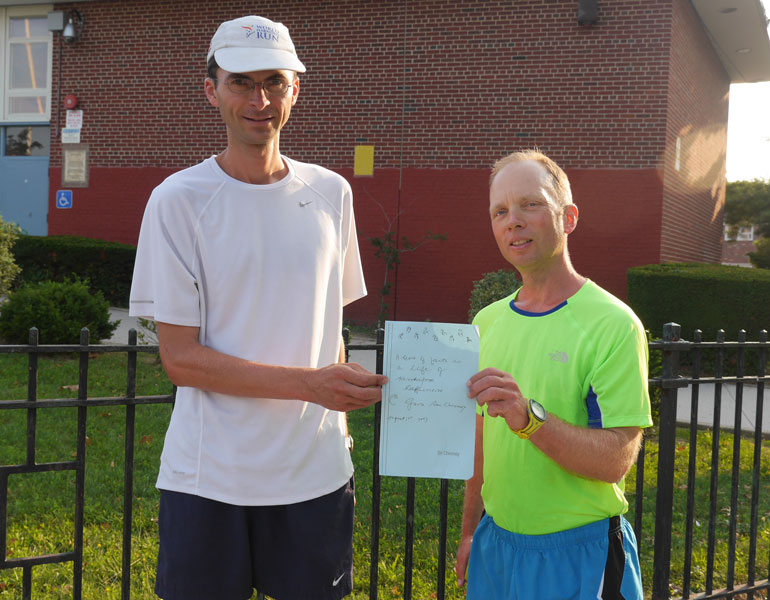 Click to Play:
The board gets changed to the sweetest number he will ever know.
Then the last long stretch of the road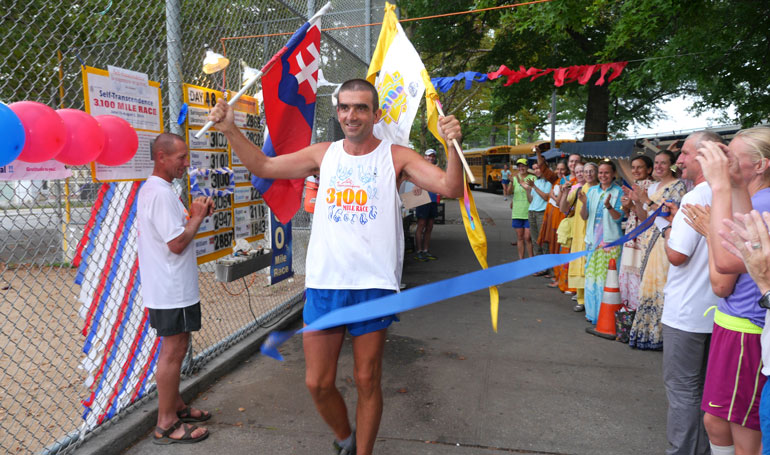 Click to Hear Finish:
He does what he has wanted to do for weeks.  Sit down.
"This is another historic moment in the history of the race.  Because this man has finished 10 straight finishes.  This year he ran his 3rd fastest race in 47 days, 13 hours, 44 minutes.  Which is an average of 65.168 miles per day.
He is still ranked 13th all time.  And he joins the exclusive 31,000 club.

"Pranjal is referred to by the boys as the monster.  It is not because he is intimidating, but if he set a task in front of him, he will do it.  He has done it 10 straight times.  He has remarkable poise.  He is the first one here in the morning and the last one to leave.  Now people are following in his footsteps.  They are all staying to the end because they know, you have to get every ounce of whatever is out there."
"Very few breaks.  If you look at his statistics.  He is constantly going, going.  He trains all year for this.  It is remarkable, for coming for so many years, I hope you make it to 20."
Click to Play Speech and Song:
Enthusiasm Awakeners
Song of the Day
Click to Play:
Minimize your wants,
You will be happy.
Fulfill your needs,
You will be happy.
Divinise your thoughts,
You will be happy.
Immortalize your faith,
You will be happy.
Rectify your mistakes,
You will be happy.
Intensify your cry,
You will be happy.
Sri Chinmoy, The Wings Of Light, Part 11, Agni Press, 1974