"Maybe I have hidden from some of my spirituality.  I think this race has allowed me the time to really focus on that and what it means.  Maybe recognize that I am not the greatest force in the universe."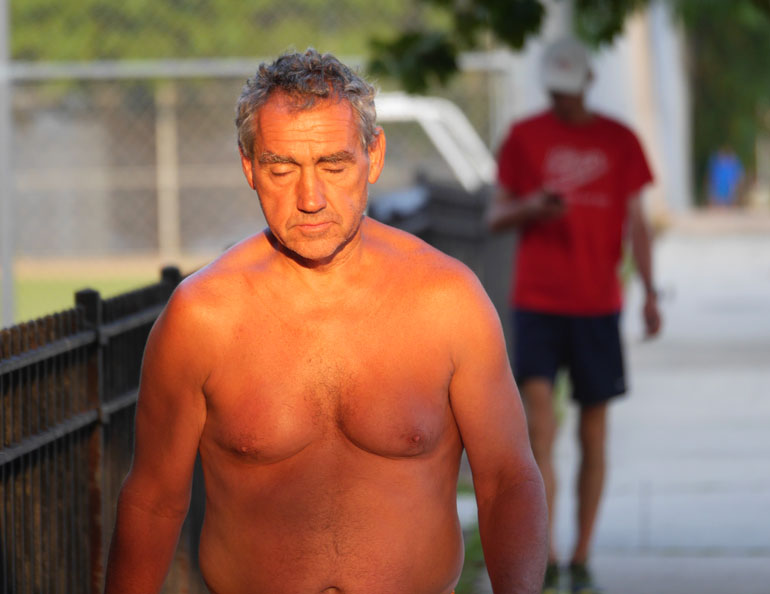 Ray Krolewicz is unique in so many ways.  He is a perfect example of how one should never judge a book by its cover.  His somewhat grizzly exterior would on first appearance not give you much of a clue as to the kind, intelligent, charismatic, and generous individual who lurks beneath his now sun browned torso.  One that has rarely seen a shirt in 50 days and certainly not come close to any sunblock either.
All of us have beautiful and positive qualities within us.  Though sometimes the world and more regrettably we ourselves tend to forget this great truth.  But it is these bright aspects of ourselves that we are trying to expand and develop.  And it is the darker portions of ourselves, the not so user friendly qualities, that we either wish to cast off, or more likely, to radically transform.
What sets Ray apart from the others here is that he is the only one who was personally encouraged by Sri Chinmoy to come here and run this race one day.  When the invitation was given, he immediately asked, should I come this year.  Sri Chinmoy's timeless reply was, you will know when the time is right.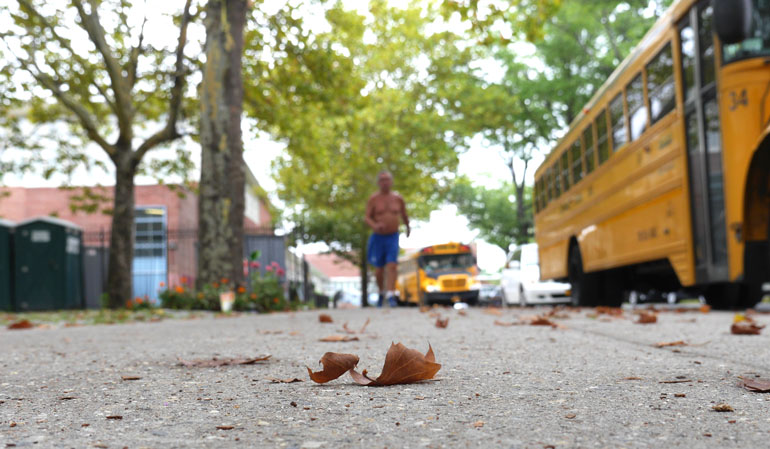 We can never control any aspect of time but for Ray something deep and significant was set into his heart that day those words were spoken.  A 59 year old school teacher from South Carolina, whose lifelong passion has been distance running this race of course would be the logical culmination of his achievements in the sport.  But with his best days perhaps slipping ever so subtly into the past.  Maybe it was just too big and impossible a thing to attempt.  It could easily have been an invitation to be ignored, if not forgotten.  But there again is the Ray Krolewicz who does not take words and promises and dedication to unachievable goals lightly.
He had fashioned his own unique relationship over 30 years with this Indian Spiritual Master living in Queens.  Now, even though he had passed almost 7 years ago, something inside of him at last called out.  Something he could not ignore, despite all logic that might dictate the complete folly of his quest to run 3100 miles.  Because of the man Ray is he knew but one option.  He had to come to run this impossible race because the time was most definitely at last perfect.
"I had 30 years when the message should have been perfectly clear.  From the day he picked up that shirt ( at a race in 1984 when Sri Chinmoy picked up a shirt that Ray had thrown at a chair), till somewhere midpoint in this race.  Dang, I had access to so much more.  I have had opportunities.  I have hidden from my own spirituality.  That would be the culmination of that story that started 30 years ago.  With this leader, this great man.  This connection with the Supreme or God."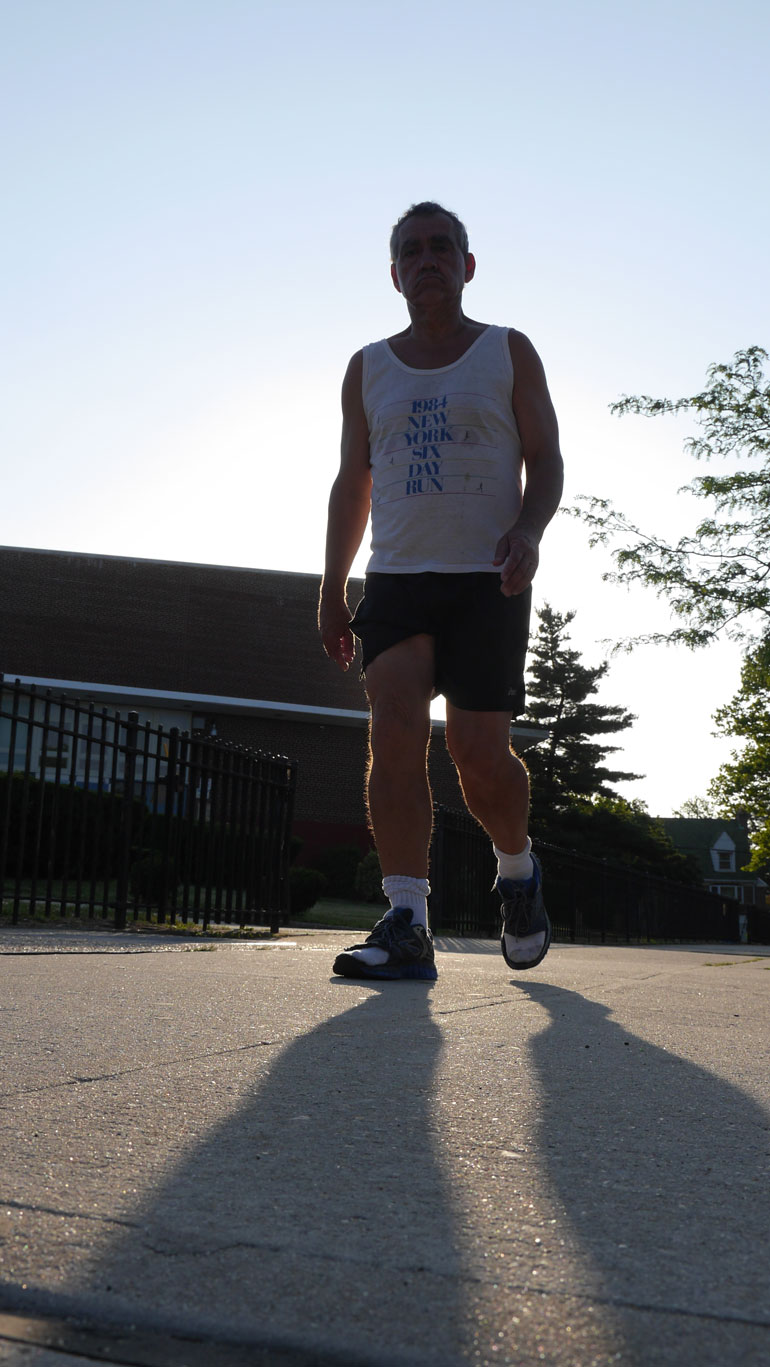 "It finally all made sense somewhere when I was running around this block, and listening to people and sharing with people."
"One of the most telling things about Yuri was after he had finished.  He was running the opposite way around the block.  He simply touched his heart as he went by.  In one of my poems I comment about that.  The poem ends.  As you touch your heart it strengthens mine.  That for me is the culmination of what I have learned.  That as each person touches their own heart, it strengthens mine and strengthens all of us."
A short film from 2006
My Beloved Supreme,
Is there any right time for me
To do the right thing?
"My child,
Not tomorrow,
Not even today!
"The right time for you
To do the right thing
Is now,
At this very moment,
Plus
Here and nowhere else."
Sri Chinmoy, My Lord, Make Me Your Happiness-Child, Agni Press, 1992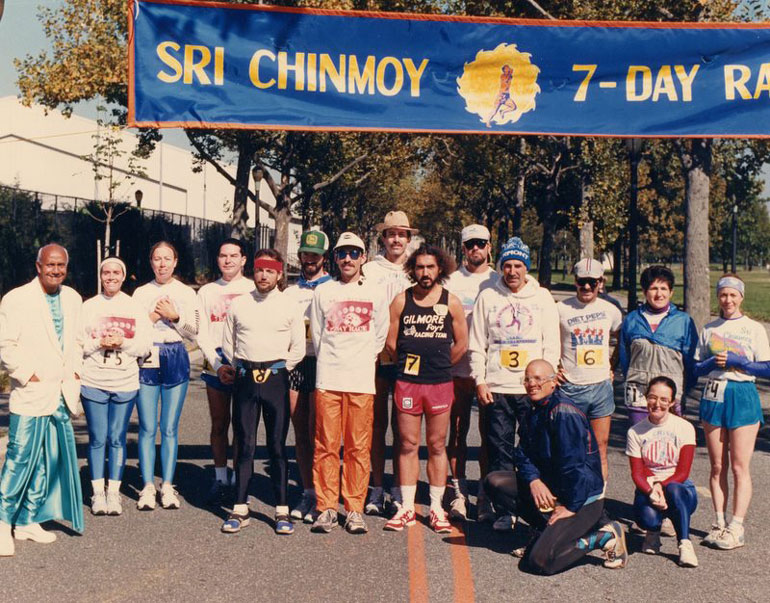 It is William who is in his own way leading the charge to the finish line.  He had 118 laps yesterday.  Sarah will finish before him tomorrow morning.
There is a light rain falling as the runners get out of the car.  Stutisheel no longer has to come and instead will enjoy a rest.
The boys, Ray and William enjoying reading the morning paper.
Baladev arrives
Start Day 50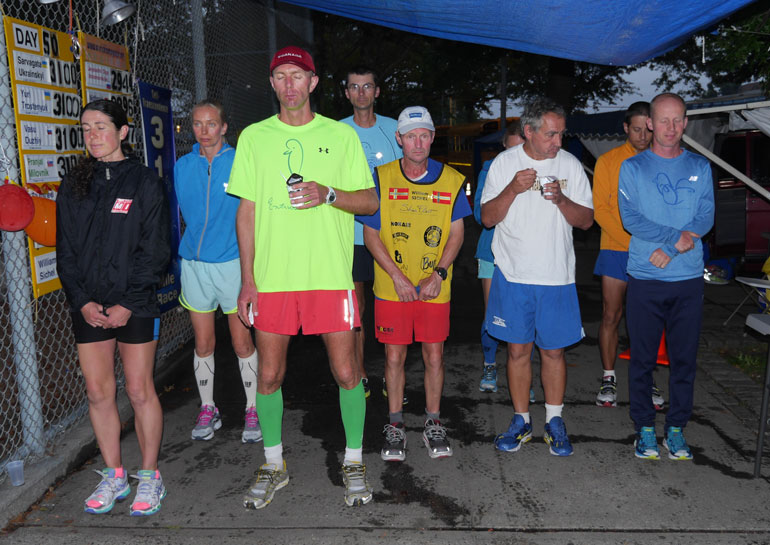 Until the end of the race light rain showers will come and go.
Sarah had her lowest day ever yesterday.  She did 98 laps.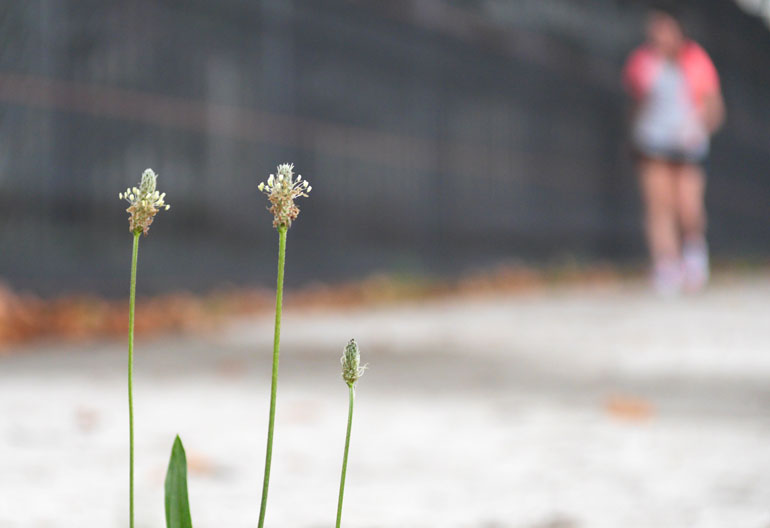 For a large portion of the day it was pretty damp and miserable.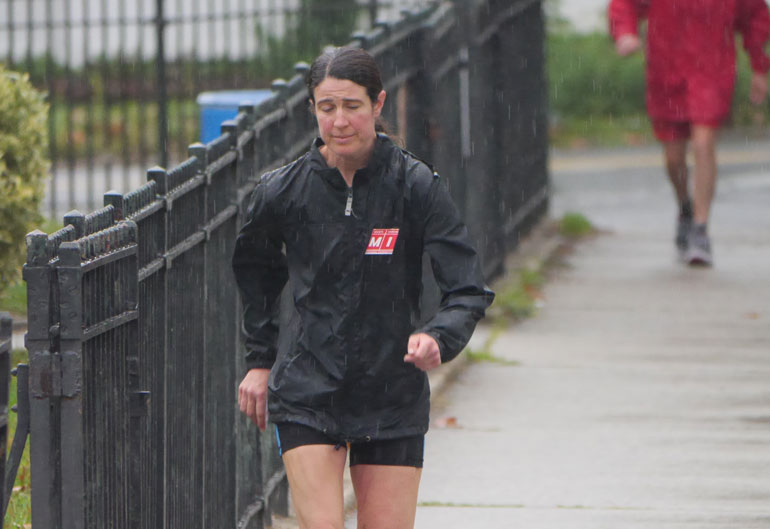 I didn't ask her what happened and she is moving well today.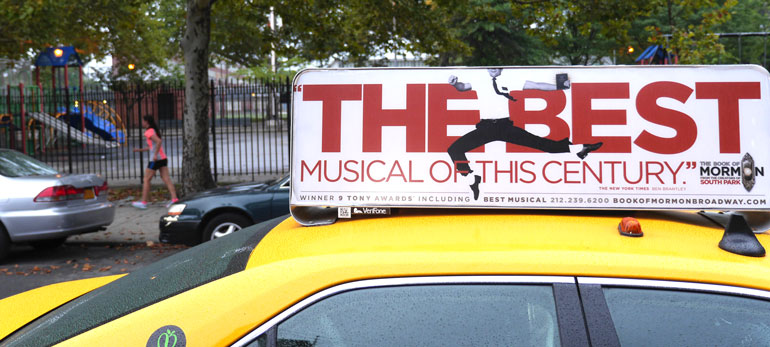 She will most definitely finish tomorrow morning
She finished last year with 2573, but this year she will be the women's champion.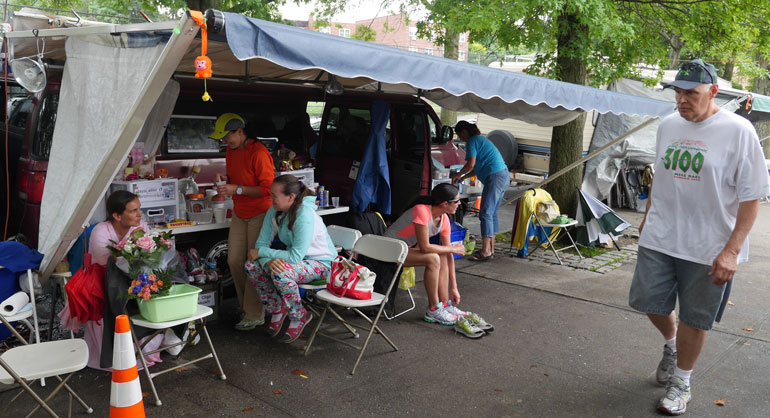 Her's has been a superb performance here.
I hope to speak with her tomorrow.
I believe I just may be the prettiest bird here….. That is unless one of those, 'I am so great Robins', shows up.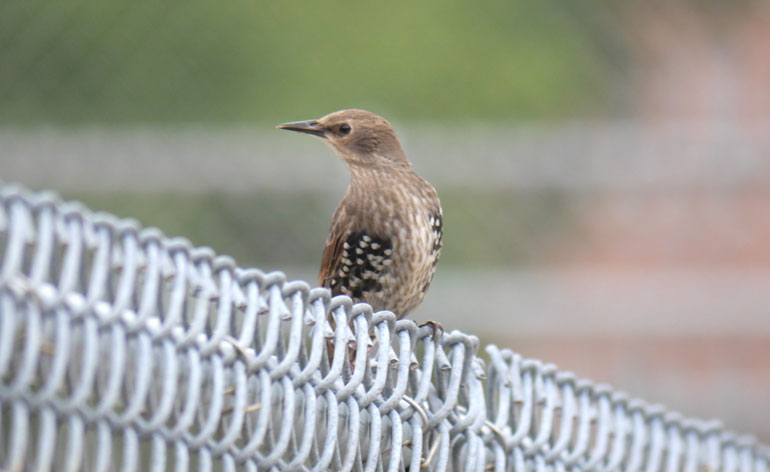 Do we really have to go now.  I think I see William coming. I want to show him my great raincoat.
I am going to crouch down right here.  Let me know when the dog is gone.
William has simply been phenomenal.
His 118 laps yesterday is incredibly good.  This leaves him just 123 miles from his world record.
He never wastes time and other than the short period when he did not have a helper he has been superbly focused.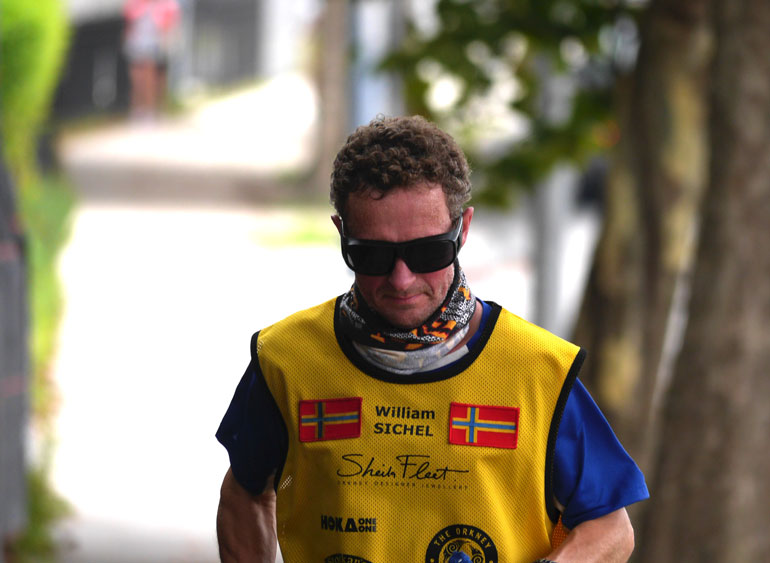 Tomorrow evening he will achieve an incredible victory.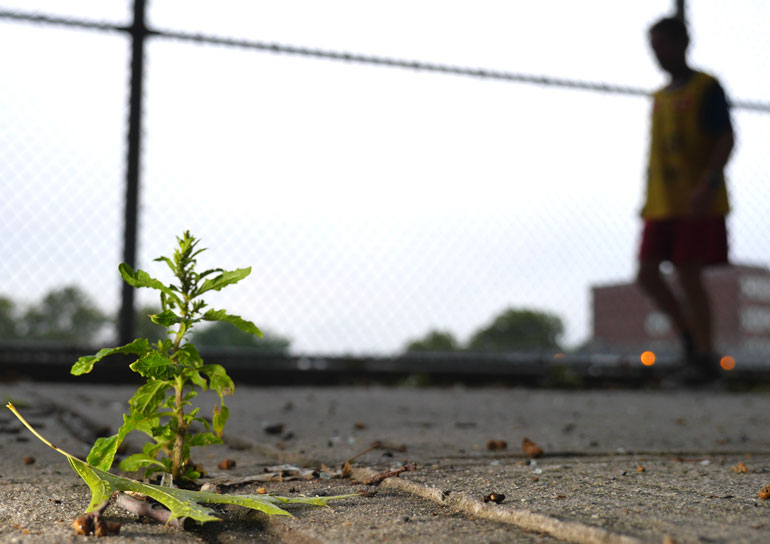 Had the opportunity to get a picture of Bipin, one of the race directors.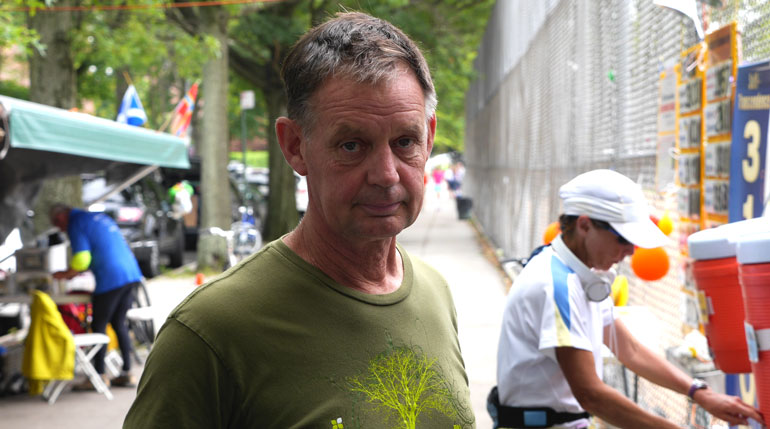 Lyalya, who is one of Nidhruvi's evening helpers is here for a while this morning.
Listen, I love the job really.  But it is working on the weekends that I hate.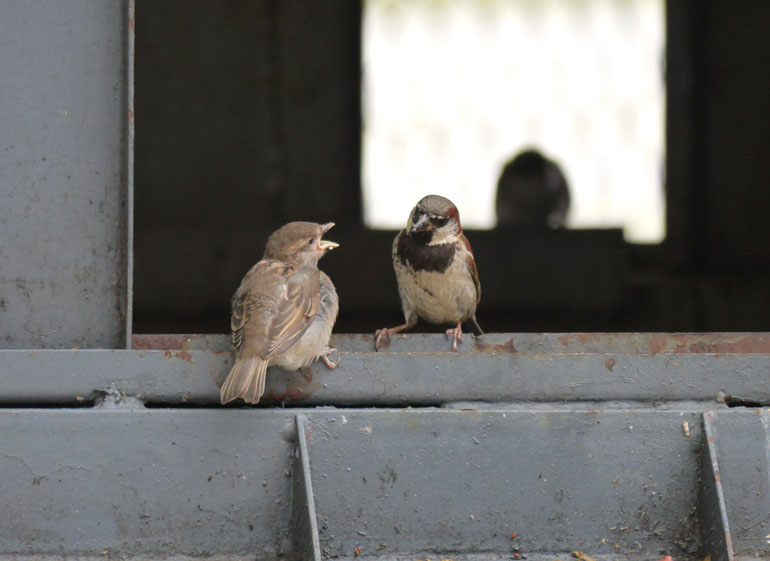 Jayasalini did 103 laps yesterday.
She starts the final 3 days with just 156 more miles to go.
It is one of her helpers Manjaree's birthday.  She stops for a short while to congratulate her and to thank her.
For a while during the rain she runs with Lotika
She also spends time running with Nidhruvi
Then with Dipali speaking to Moscow on skype she has a magic foursome of great champions running together.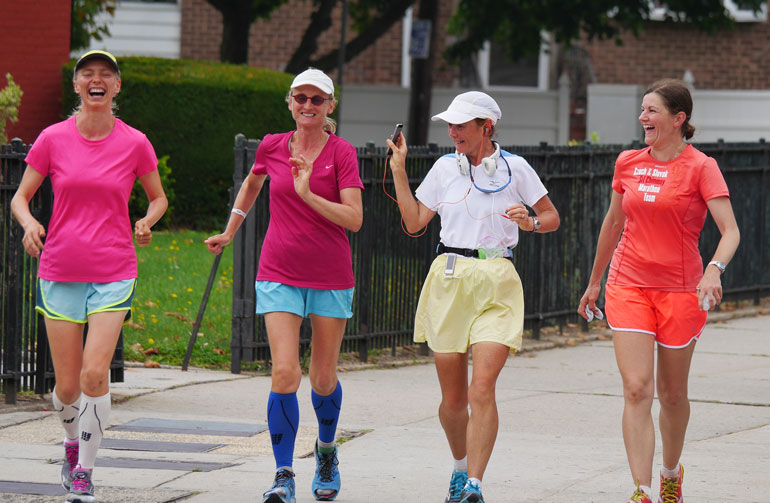 Nidhruvi also did not have a good day yesterday.  She had 100 laps but there was also 2 finishes yesterday that stole away precious time.
On paper she has 3 days to run 204 miles.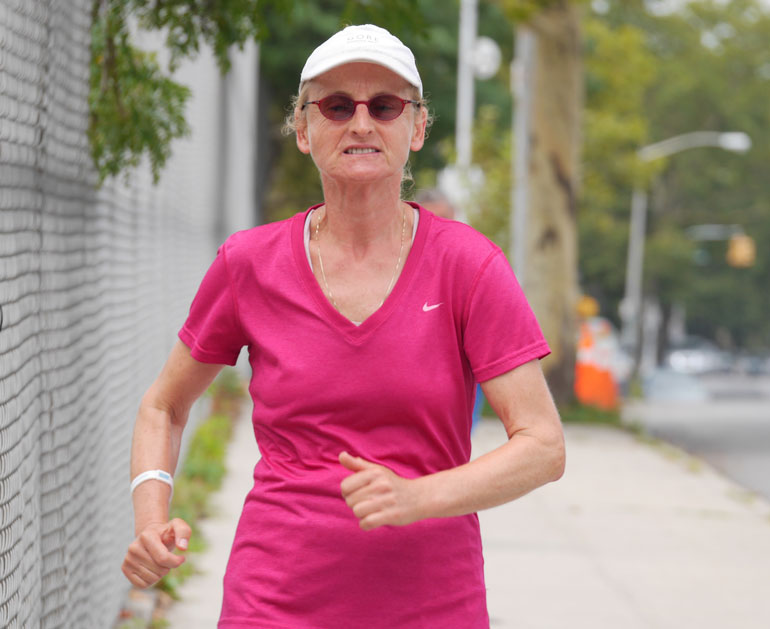 She is remaining incredibly cheerful.
Her crew are so supportive of her.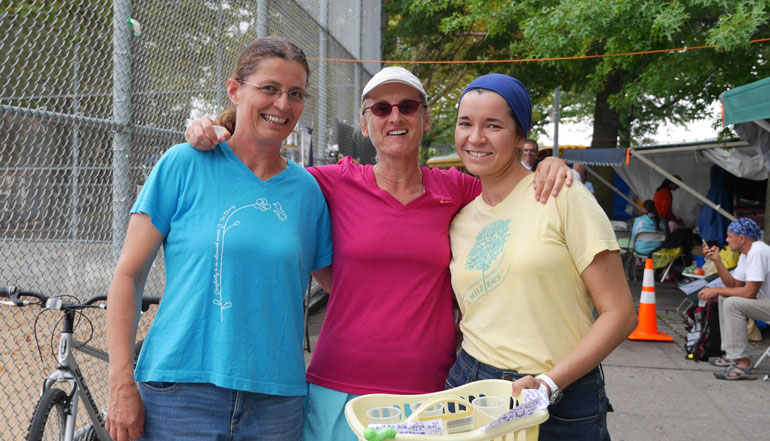 "I am here pretty much all day for Nidhruvi.  I think today she is mounting Everest," Says Dipali who is one of those who have come to support her.
"She almost has the last stake in up there.  But it is so tight for her, and she has known it for 3 weeks.  Because an injury came forward.  It was an old injury that came to say hello to her.  3 weeks ago she had a little tear in her eye as I went by.  I stopped and said, is everything okay, and she said.  It has come back that old injury.  It started to slowly take away her laps."
"So each day she has been trying to keep on target.  It has been slipping away, mainly this past week.  Now, as of this morning Nidhruvi is about 26 miles off the pace.  But the race directors are allowing her to run to 6 am.  Which is again quite grueling.  For someone running 3100 miles and won't get a break at midnight."
"I am all admiration for my dear friend."  She has of course keenly watched the race here, even back when it was 2700 miles it's first year.  "I have never run over 1000 miles so I was quite taken by these people." She describes the magnificent glory of what the runners accomplish when they at last reach the finish line.
"Nidhruvi, when did you do your first multi day at Wards Island?"
"I did the 700 in 1986." says Nidhruvi.  Dipali adds, "that's when we became good friends."
"Dipali is just my type.  She is a little bit like me.  Very cheerful and very bright. Like a little girl.  We don't see each other very much, and we don't talk all year long.  But when we are running together.  I realized that we have many things in common.  I learned so much from her.  She is such an experienced runner.  When I came in I was a baby and she was quite experienced.  It is so much fun to be with her.  It is very inspiring."
Dipali: "I find her full of heroic determination.  If I have ever seen a race in 18 years out here.  I have never seen one like this.  Nidhruvi is just on the mark at 3100 and she is not giving up.  She has had chronic pain.  She has quite a serious problem going on but you wouldn't know it.  She expresses it in her determination and her spirit.  She doesn't stop.  That says it all.  I admire her friendship and her courageous effort."
Nidhruvi: "You have to have fun and to laugh and to brighten it up."
They tell a story of how one time many years ago on Wards Island when they both spontaneously started to have fun and to do a little dancing.  It was just a momentary break from a really hard race.  Dipali asked her after it was over, "how is the pain level?  It was gone.  So we proved Sri Chinmoy's philosophy that cheerfulness and being happy, it took it away.  That's why we like to laugh out here."
Click to Play Interview:
2 days more
I learned this from watching the runners.  You really have to lift up your foot as much as possible to get a good stride.
They said the course here was flat.  What a joke.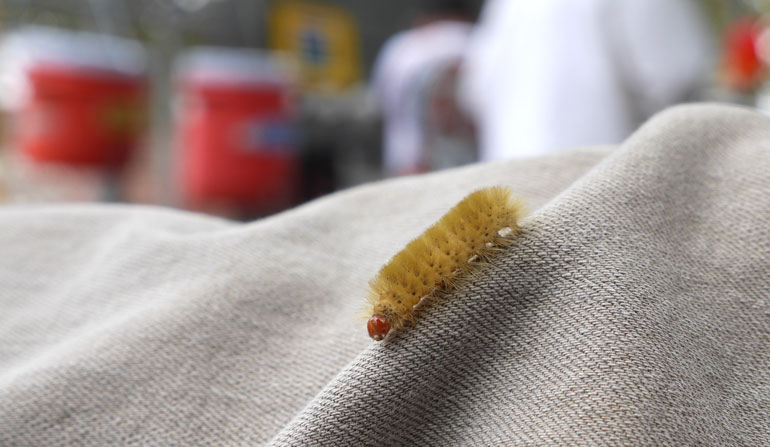 Would somebody please tell the caterpillar not to complain.  He is just a few days from being a butterfly, when he can fly first class.  He has got to keep going.
Just 2 more mornings of this.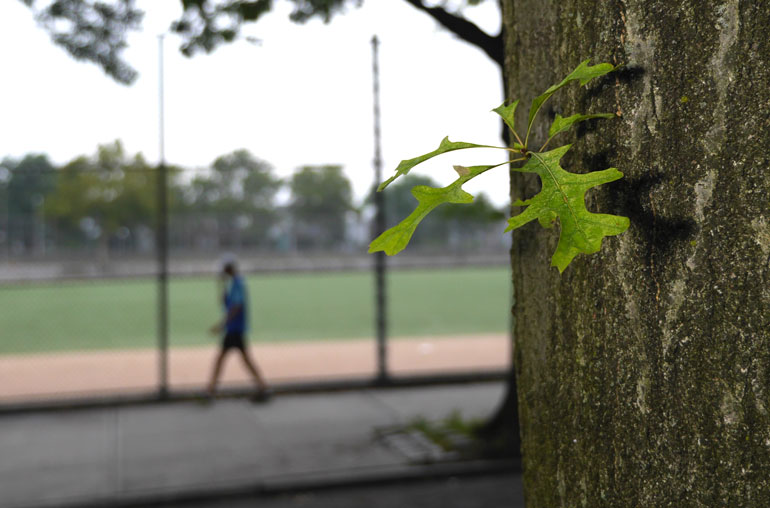 Baladev had his best day in the past week.  He did 110 laps.
He starts the day with 2817 miles.  He is getting support from those who have completed the race like Sarvagata, who still want to contribute and help their fellow runners.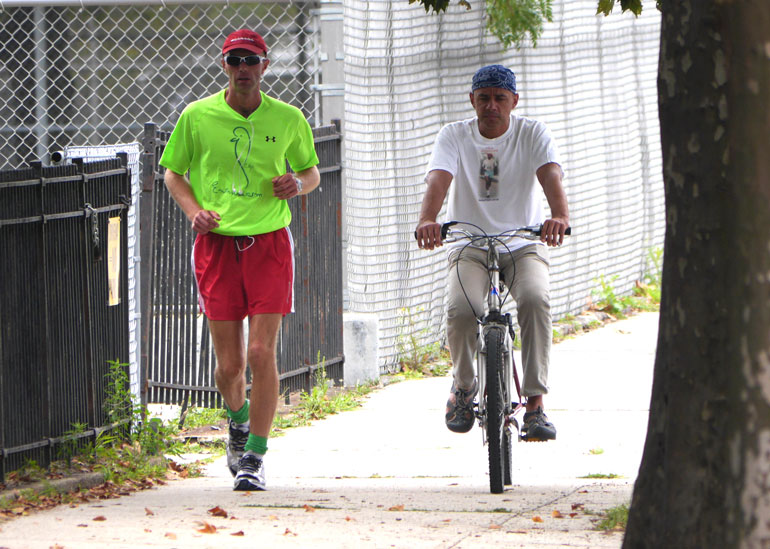 The day remains grey but the runner's hopes never dim.
Teekshanam had 90 laps yesterday. The runners are always trying to inspire one another.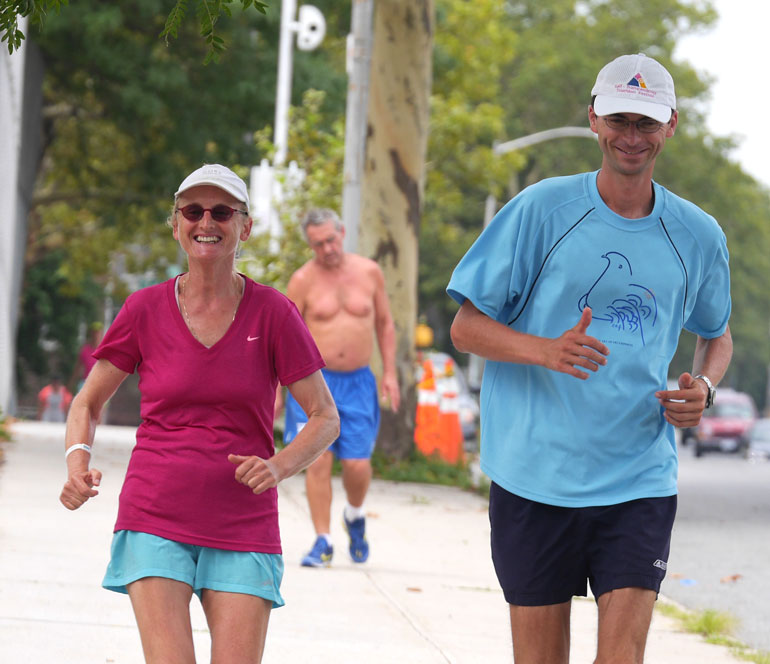 Stutisheel spends some time with him today.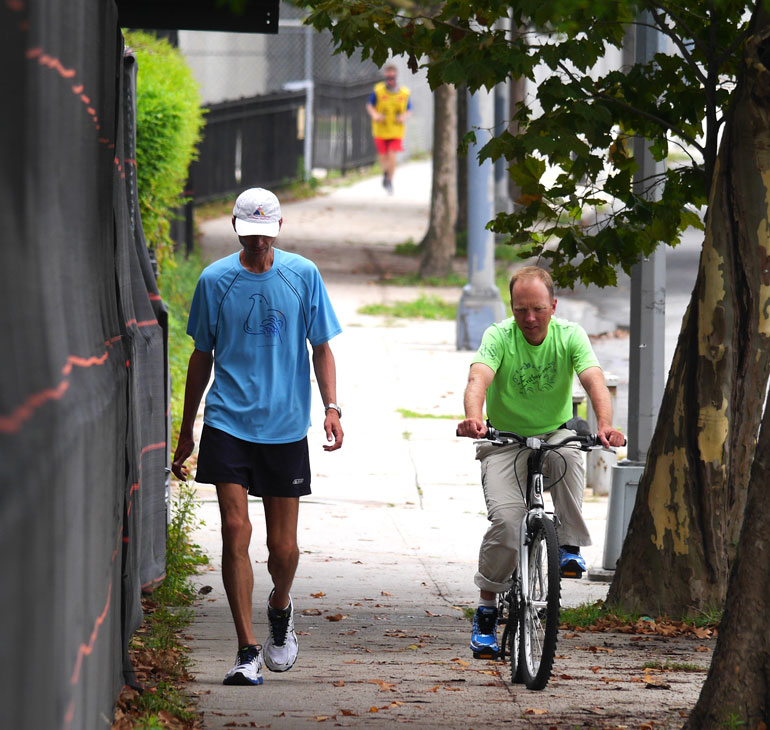 He starts the day with 2594 miles.
The day is wet and grey and beautiful
I am not saying I am having a problem, but could you please text my Mom to come right away with the rope from the back of the garage.
That's funny.  I would be happy to trade places with you right now.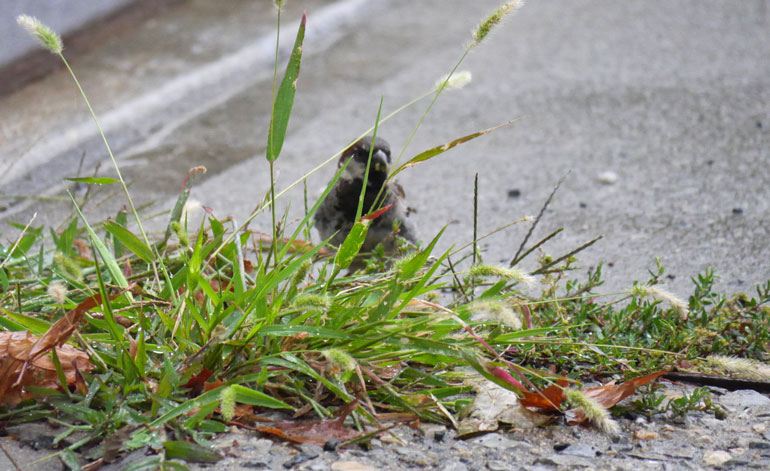 Time for some to catch up on their own texting.
Tarak plays some music.
Click to Play:
Ananda-Lahari had 94 laps.
He has 2278 miles.
The rain doesn't seem to slow anyone down.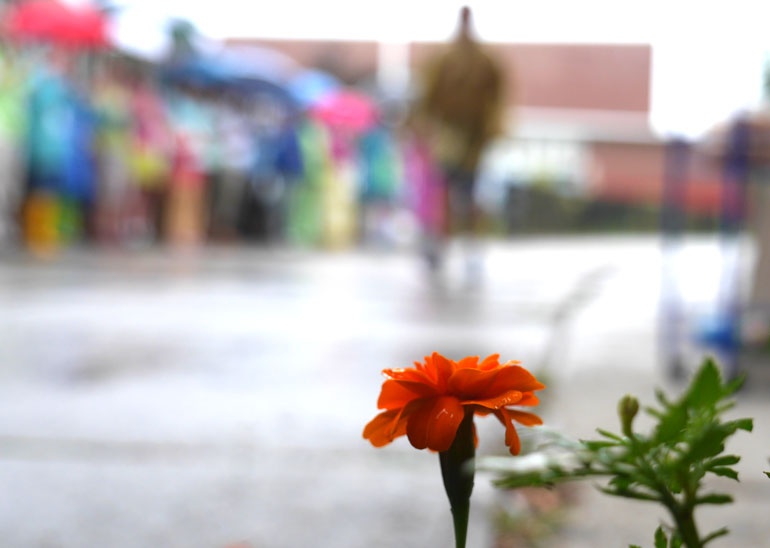 You get an incredible view from right here.
Yes.  Yes I like the view.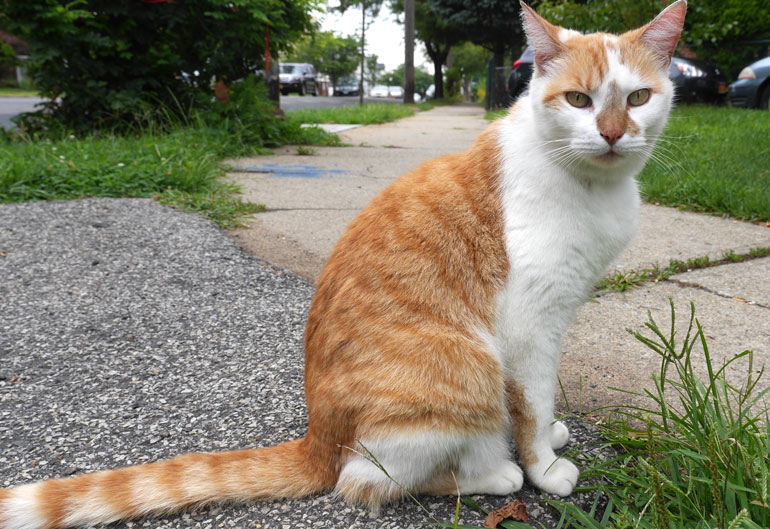 Ray did 63 laps yesterday.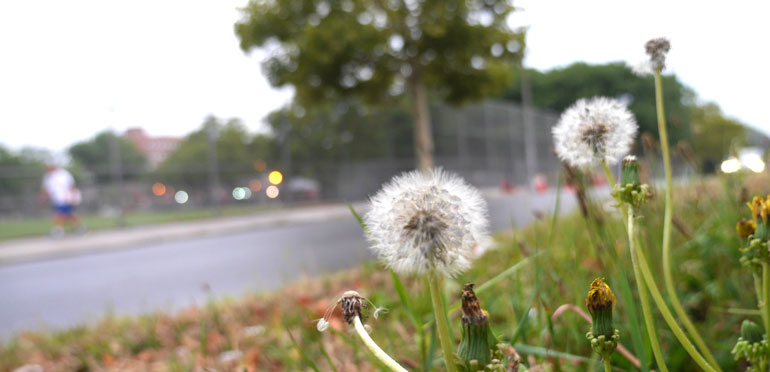 "I remember Yuri from other races and I love his heart.  he communicates so much without language.  From a loquacious man like me I try to learn from him.  Observation, feeling the heart.  Observing him interact with others.  Listening to him speak, with people who do speak his language."
"I realize he has a lot to say, and what good ideas he has.  He is well respected and loved as a competitor and a friend.  You can observe this even if you don't understand the actual words that people are saying."
I ask how is it possible to see these subtle aspects when everything around him is so incredibly hard.  "Me sensitive.  Let's dispense with this myth right away."  He jokes.
"2 different plains.  When I ran 111 laps one day, I pointed out that it was physical, emotional, and spiritual.  I may be in a lot of physical pain but I am not going to lose my empathy."
I ask him if he thought when he came whether or not he actually believed he could complete the distance.  "I came to find out.  I stated before I started, that I didn't know if I could do this.  There are very few things that I ever attempted that I simply didn't know."
" I can go do 100 miles.  That is easy.  But to come here and do 60 a day, 3100 in 52 days. I had no idea if I could do it.  But I wanted to find out."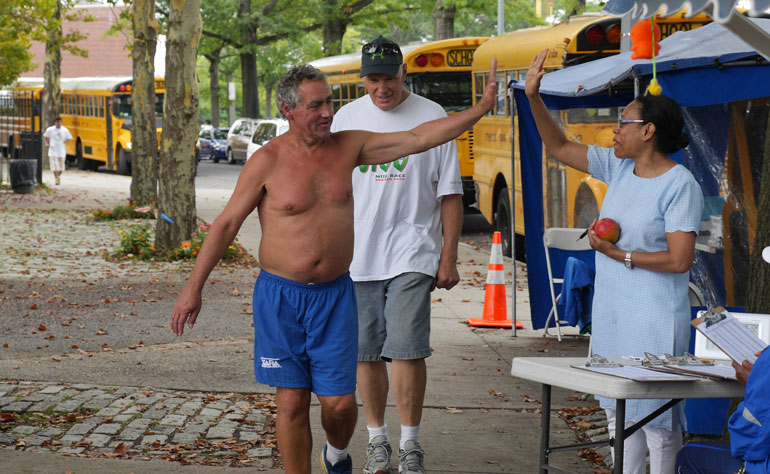 "I thought about quitting.  I thought about quitting, going home and coming back for the finishes.  Seeing what I could do to help.  My friend Casey said, you don't quit. Even if I have to come up there and drag you around the course, I will.  And by golly she did."
"She proved something to me and she proved something to her.  She had never done 100 miles.  She came out here and did well over 100 miles in the time that she was here.  She suffered as much as any of the runners.  This was her longest run."
"I have so many supporters.  I go home and put a little thing on face book.  The message over and over was.  Doesn't matter how much you do, you are amazing.  You're doing a great thing."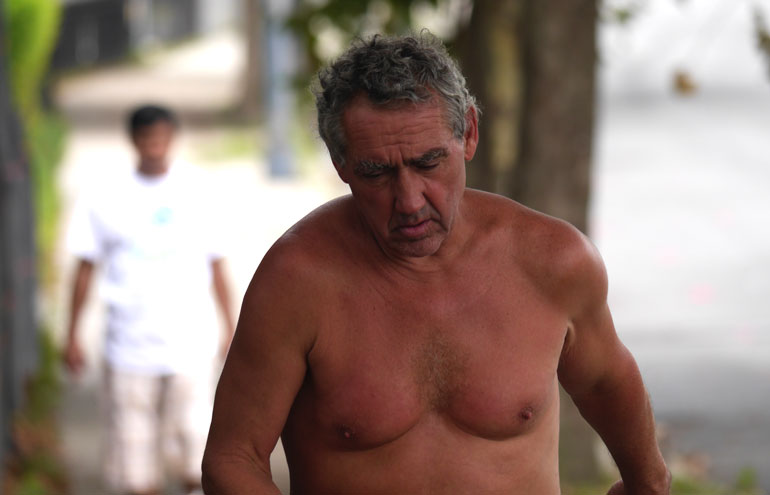 "Somebody pointed out, you are only doing 40 miles a day.  A 40 mile a week runner is a fairly serious runner.  You are doing 52 days like a 40 mile a week runner  would do in a year.  I just realized at one point, that it wasn't about any suffering that I may or may not be doing."
"I have taken care of myself enough that I could learn.  So that I could be here and help others.  Doing a little writing and being Ray Krolewicz."
Click to Play Interview:
Prayer of the Day recited by Hridayinee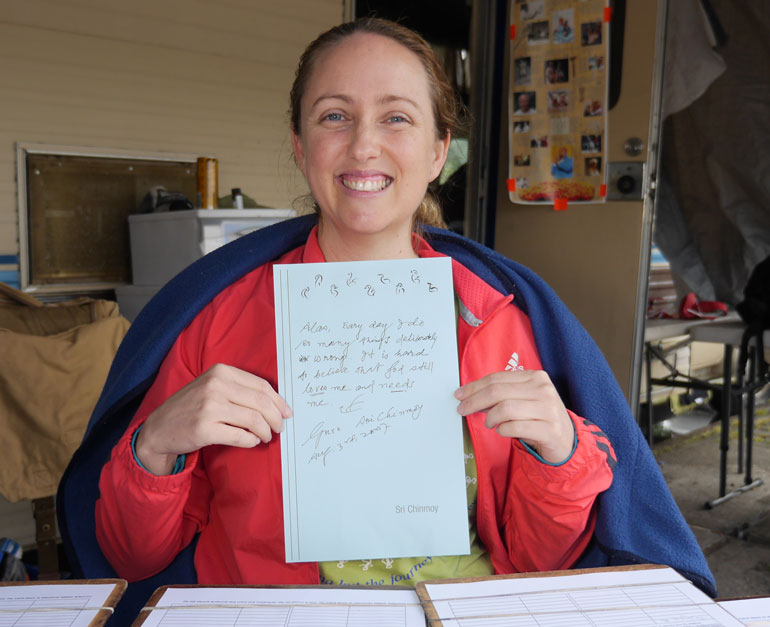 Click to Play:
Enthusiasm Awakeners
Song of the Day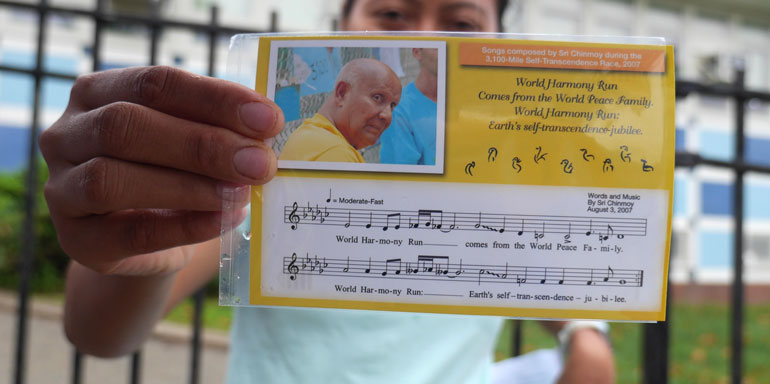 Click to Play:
My Lord's
Only favorite time
Is right now.
Sri Chinmoy, Seventy-Seven Thousand Service-Trees, Part 24, Agni Press, 2002