One morning, a little more than 35 years ago, Luis Rios set off from his apartment in Coney island and went for a run in Prospect Park.  It was in February so it must have been pretty cold that day and yet on his very first run he completed more than 6 miles.  All of us have eureka moments in our lives.  Try something for the very first time and think, 'wow, this is the greatest.'  A few weeks or maybe even months go by and we get a little bored and tired of this once great thing and then move onto something else.  Luis is not like that.  When he started running 35 years ago he discovered something he really liked to do and then simply never stopped.
Since he retired he is no longer constrained by the limitations or nuisance of a regular work schedule.  Now every day he goes out his door and runs.  Alternating religiously between the Coney Island boardwalk or for the hilly loop in Prospect Park.   If you asked him, he could show you the proof of all this in the many many spiral bound notebooks he has carefully recorded each and every one of those now thousands of miles over more than 3 decades.  It wasn't too long after he first began running that he got a taste for long distance competition.  Around 1980 he showed up at his first Sri Chinmoy Marathon team event, and just like his runs in Prospect Park and Coney Island he simply never stopped coming back.
On this very nice warm spring day in Flushing Meadow he is now into his 5th day of running here.  When he finishes the race on Saturday he will go home to his apartment in Brooklyn, have a bowl of soup and the very next morning he will be out the door again and off running to either Coney Island or Prospect park.  Running is what Luis does and there doesn't seem to be any good reason to stop. When you run around 150 miles a week there isn't much time for anything else any way.
For most people on the course and in the camp today is pretty special.  For on this brilliant Spring morning Luis turned 65.  People here and there are continually calling out to him and singing snippets of the Happy Birthday song as he shuffles round the course.  You can easily sense just how much affection everyone here has for Luis.  Some friends from Brooklyn came by and many more will drop by throughout the evening, and yes there was a cake as well for him.  This pleased Luis in his very quiet and undemonstrative way.  But as nice as it was to be celebrated, in the unconventional manner of this little plywood and plastic community, he isn't the partying kind of guy.  It isn't that he doesn't appreciate all the attention but he has his priorities after all.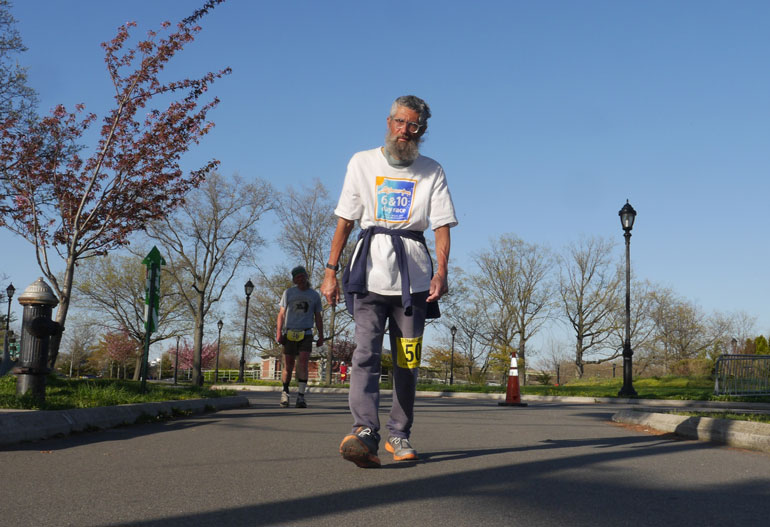 The most important thing for Luis, not just today but every day is to just  keep on going.  For this little world he is inhabiting right now for 6 days each year has a one mile asphalt road ripping right through the middle of it.  All he really wants to do is cover as many miles as his bent sinewy body can complete.  When asked what he is doing differently today he laughs, "I am walking around all damn day, what do you mean.  I am happy to be anywhere.  I am 65 years old."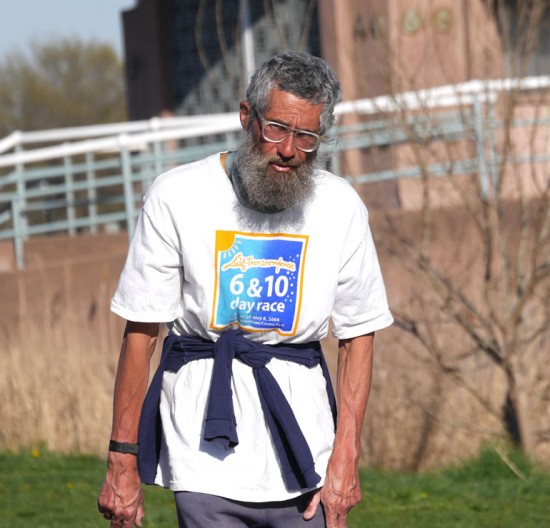 "I am having a ball.  My back aches, I have blisters.  What more could I want.  At least it is not going to rain.   That is one good thing.  I am happy to be here."  As he walks his body is slightly twisted at an odd angle.  He is in pain clearly but he says it is not horrible.  If it were horrible he says that he would stop.  "It only happens in this race.  In normal life I am alright."
"I always said I would do these (multi day races) when I retired.  In the old days I didn't want to spend my vacation doing these races.  The weather is the key factor in doing these long runs."
"I always say this is my last one, but I am already plotting what I am going to do next year.  I am already thinking of next year, what can I tell you."
Martin is continuing to impress with his mileage in the 10 day.  2nd place overall is held by kaneenika.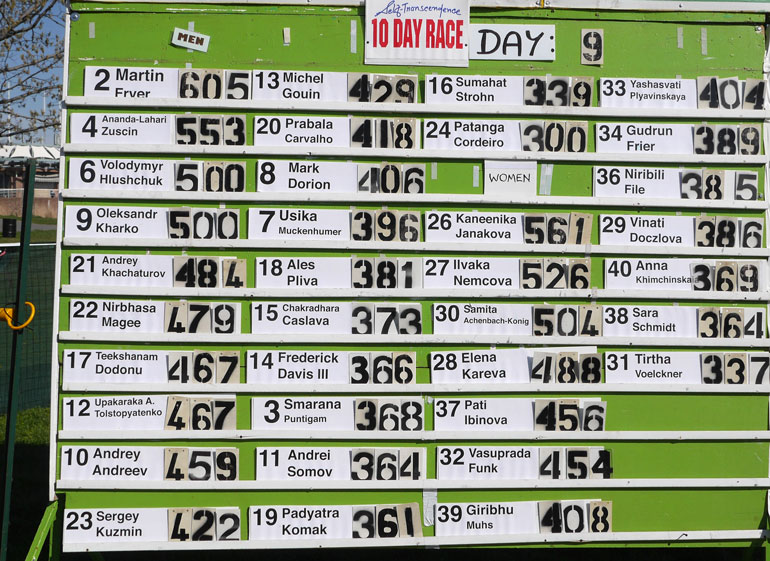 Philip McCarthy had a rough day yesterday but seems to be moving better today.   Alex Swenson had the most miles yesterday but Dipali is in 2nd place overall.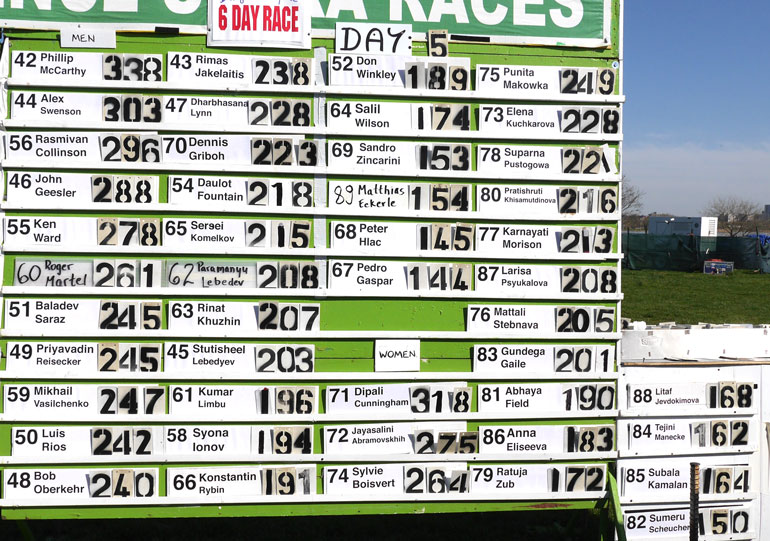 The nice weather will continue through until Saturday.  Nights will get cold.
The American Pacific North West is well represented. Team Daulot is back for the 2nd time.
Dipali has 309 miles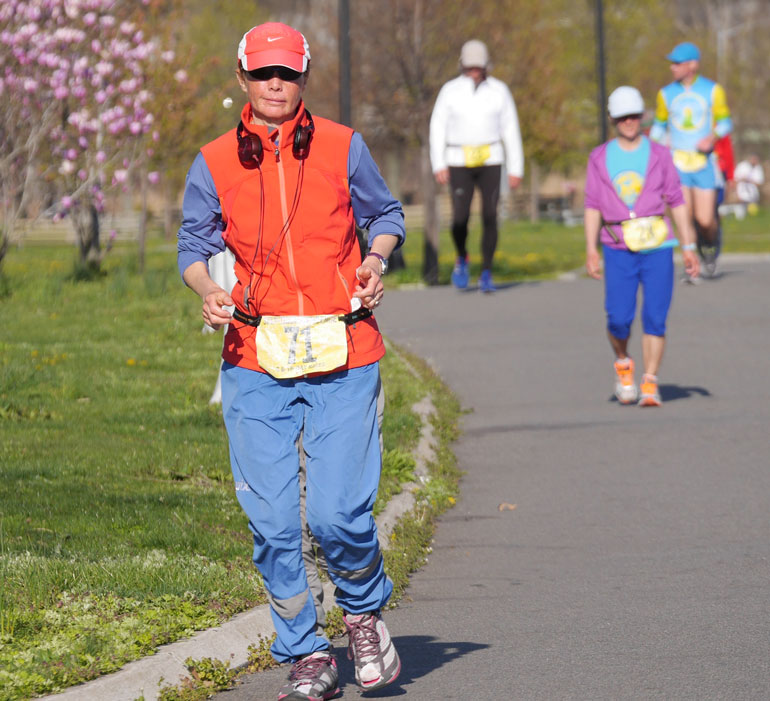 Elena has 216 miles and is currently in 5th behind Dipali.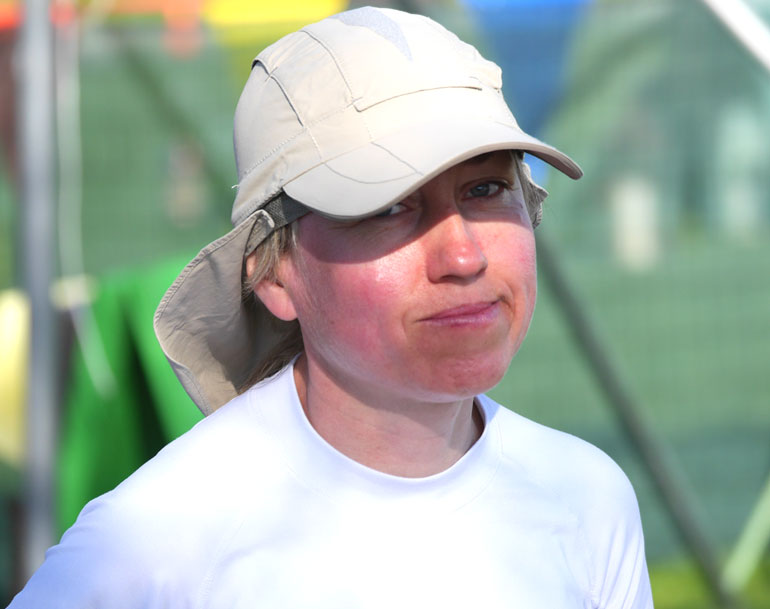 Jayasalini is in 2nd place in the 6 day women.
"I realized this a moment ago and it is always a mixture of feelings.  (the race will end in 2 days) Looking forward to it to be over and not wanting it to be over.  It is always like this towards the end."
Practically every runner here gets messages of support from friends and family but I am told that Jayaslini is one who generally gets the most nearly every day.  "I am so grateful to all my friends.  It is amazing."  Many she says tell her how much her race here inspires them.  "One boy told me that he is walking every day for 10 days.  Since the 10 day started he walks every day 10 km in Moscow.  And people from all over Russia send messages. Some got to know me through that video." (Last year a Russian television crew followed Jayasalini throughout her race here and did a detailed examination of how it affected her physiologically.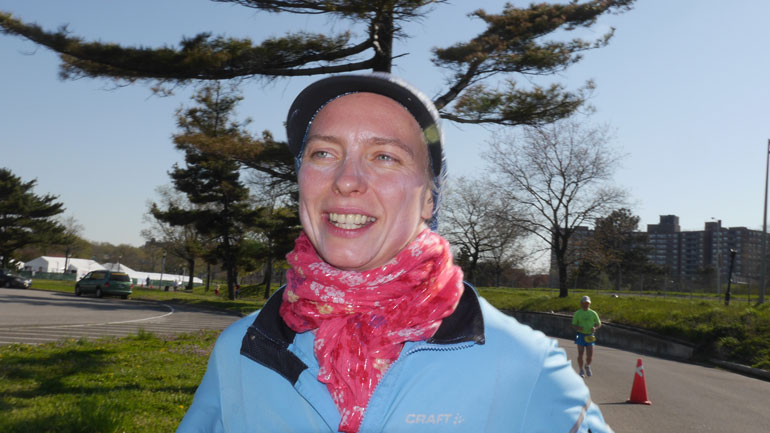 "The message of this race.  The meaning of this race spreads far far beyond this park.  So many people send messages and they talk about oneness, about self transcendence.  I really feel that our world is like a net.  And what is happening here, the vibrations than go through the whole world.  It is not only what is happening here with you, with me, it spreads far beyond.  We cannot imagine how many people get inspiration and it changes their life."
"This race means so much to me.  It changed me and my relations with others."  She describes how her Mother once thought that jayasalini's interest in distance running was crazy and now she helps her daughter each race and has come here for the 4th time.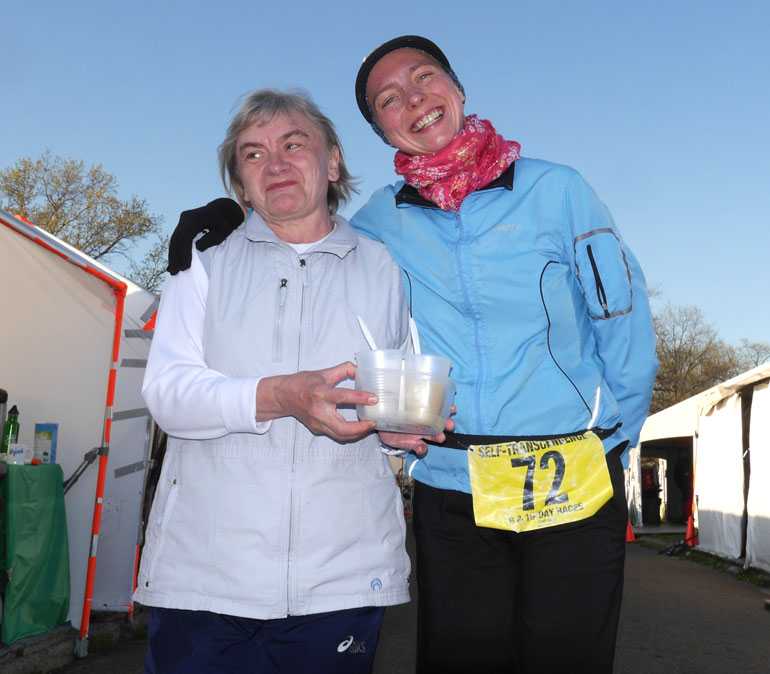 "Sometimes you think things are beyond your imagination and when you are here you see that they are possible.  It is possible for a person to run 1,000 km.  To do this distance in a plane takes more than 2 hours.  But you can cover this distance by foot which is really beyond your mind.  And seeing that this is possible.  This then gives the message that there is no such word as impossibility.  Everything is possible. This I think is the main message for me."
Fred Davis bounced back with 60 miles yesterday.
Gudrun has 378 miles after 8 days.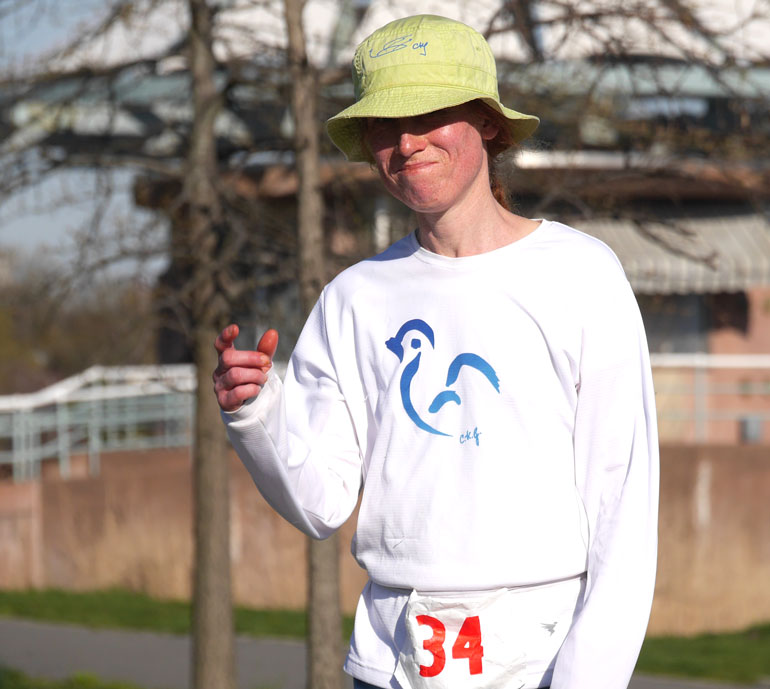 Ilvaka is in 2nd with 514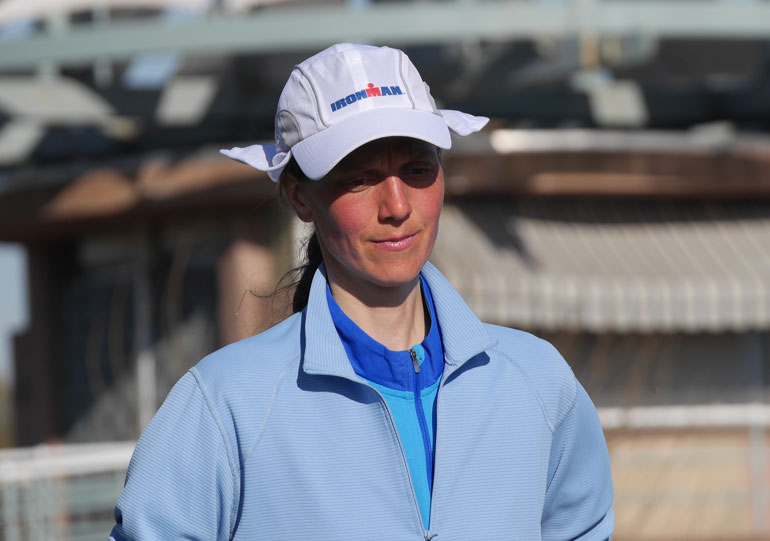 Kaneenika with 551 is in first place in the 10 day women.
Maria still using her special ingredient of love in cooking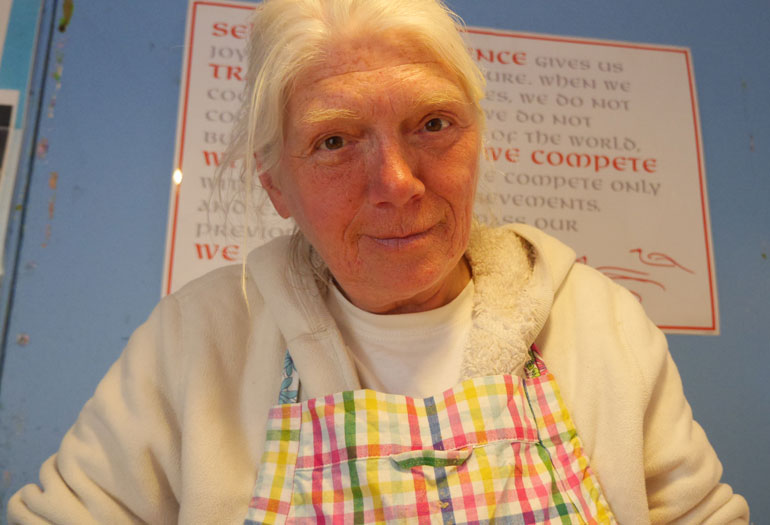 Nipura takes a brief break.  She still has 2 more days of cooking.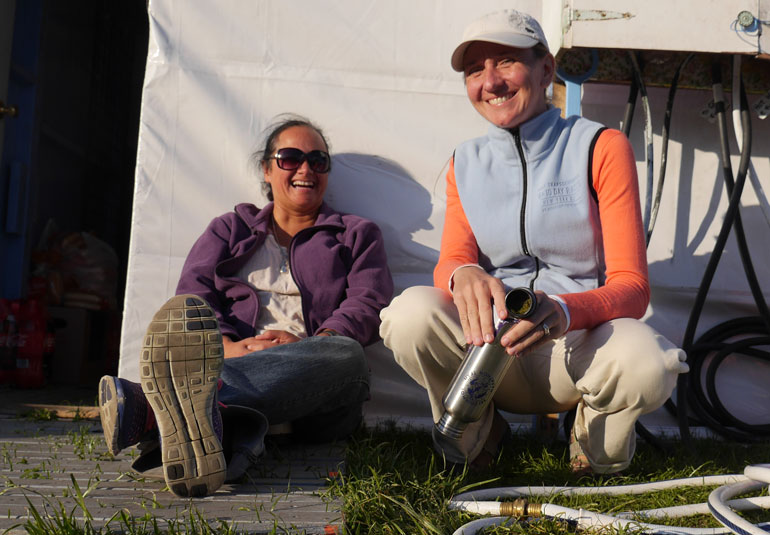 And yes there is still lots of counting to be done.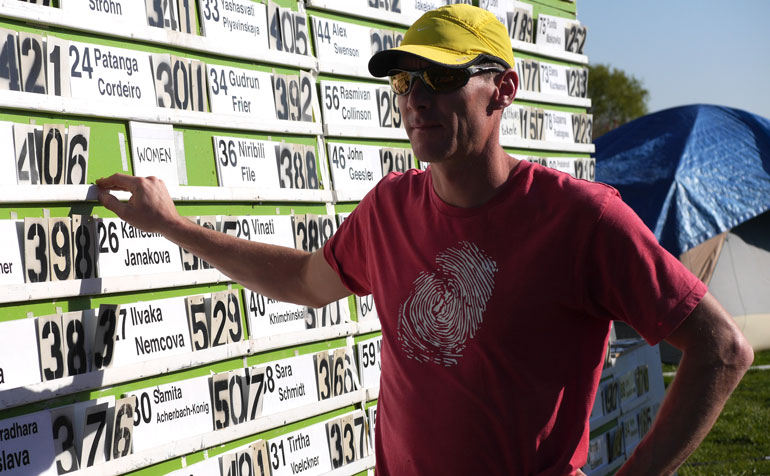 "It has been a challenge."  Ramisvan's debut in multi day running has been nothing short of spectacular.  Eventually of course some problems did arise.  "After yesterday, mid day I had so many issues and problems arose.  They sort of all came at once.  I got a really bad chest infection.  I started to get blisters.  I started to have problems with my legs.  Then last night I got some treatment.  My Achilles tendon started to go.  I was able to get some mile in during the night.  Then this morning it was all right and I was able to run, walk, and get the miles.  I did about 55 miles for day 4."
"Then after mid day i couldn't walk, my Achilles just clamped up.  I have had some strapping put on it and I have been able to walk for the past 5 or 6 hours.  It has been only in the last 30 minutes that I have been able to run with some sort of flow."  He is happy to be able to run again and says that he found himself simply surrendering to the experience.  "What will be will be.  If I have to walk for the next 2 days then fine."
"Then something sort of twigged in me.  I need to be more determined.  I can't just resign myself to the fact.  I might as well be patient as well as have determination at the same time, and hope it turns around."  After about 6 hours of experimentation it all turned around.  "I hope that it can sustain me until the end of the race."
The medical tent has been busy the past few days.
Problems big and small arise are fixed and the runners keep going.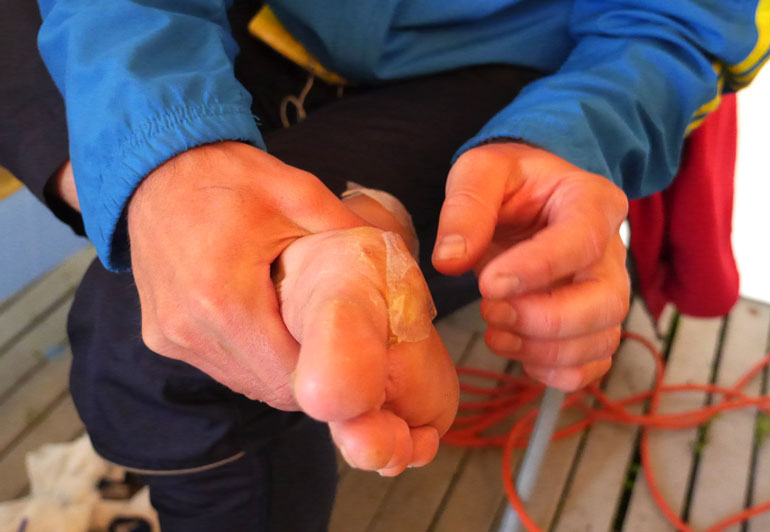 Martin with 591 miles
Phil McCarthy with 324 for 4 days.
"I am doing good.  This year it is a little bit harder."  Ratuja ran 286 miles when she first ran the 6 day race here in 2011.  This time she has shinsplints in both legs.  With her for a while on the course is her helper Prapti who mentions that she has had them since almost the beginning of the race.  Despite the obvious pain and discomfort Ratuja says, "but still I accept everything."
2 years ago she had problems but this time she feels that she is more able to accept the experiences of the race and is happy.  "I try not to think about it.  I just do what I can do.  I enjoy it more even consciously.  Some times I cannot run.  I can walk only but still I can stay happy."  She describes how she is able to just appreciate the world around her, "and such joy comes into you."
She says that it is ironic to have so much pain and yet be joyful.  "It is true.  It is difficult to explain, and also it is about Self Transcendence."  She describes that not many people can even come and just be here and be part of something so difficult.  "The decision Just to do the race is even self transcendence."
Prapti confesses, "for all the years these races have been going on I have never come to see them.  I have never come to help.  I never wanted to be around them because I think I was terrified, because if I thought about them they were overwhelming.  I couldn't relate."
"Somehow I got inspired to come this year and help and I have to say that I am hooked.  It is awesome.  The thing that moves me to tears.  Is you see at every moment what they are going through.  Sometimes they will be running.  They will be running so fast.  It is effortless, it is so beautiful to watch."  Then she describes how the fates of the runners can then change to the opposite, "they are practically paralyzed.   And they are dragging themselves around the track hardly able to walk.  They will do this for 5 or 6 hours and then the next thing you know, they are running again.  This cycle goes on day after day and it is so moving."
"It is the whole idea of self transcendence, never giving up."
Prapti has as close a view of the race as anybody.  Yet as the helper of a runner her job isn't an easy one.   She says, "to tell you the truth by midnight the first night I had a couple of blisters, and I am just a helper.  So I had to get my mind set that this was going to be a big workout.  The helper almost needs a helper.  It is really full time work. You just try and be there all the time to offer some support."
Ratuja says that Prapti is a great helper.  "Everybody asks me, all my Russian friends, where did you find such a great helper."
As for the end which is coming soon.  Ratuja says, "it is a pity that it is over."
Volodymyr has 500 miles after 8 days and is in 3rd.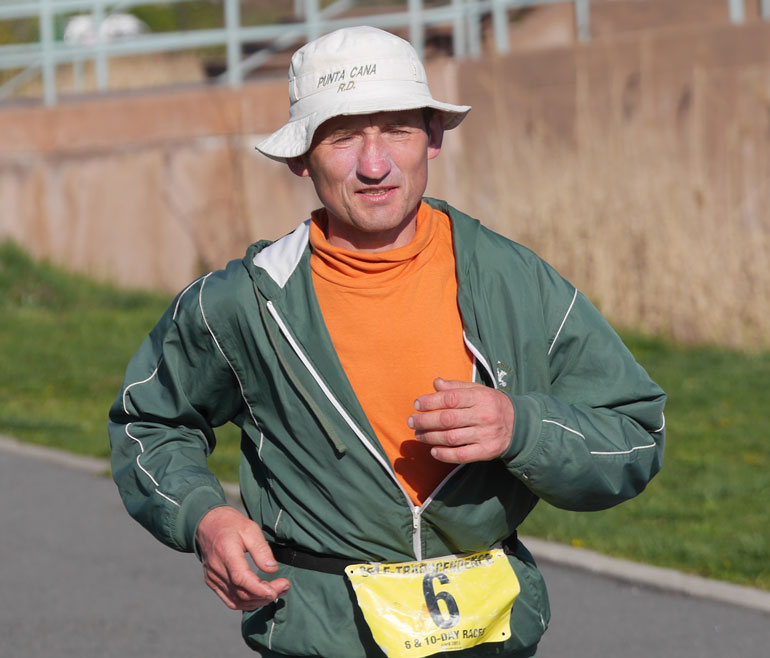 Many messages of support come in every day.  They all help and inspire.
There is always much to do and much more to be done
Larissa.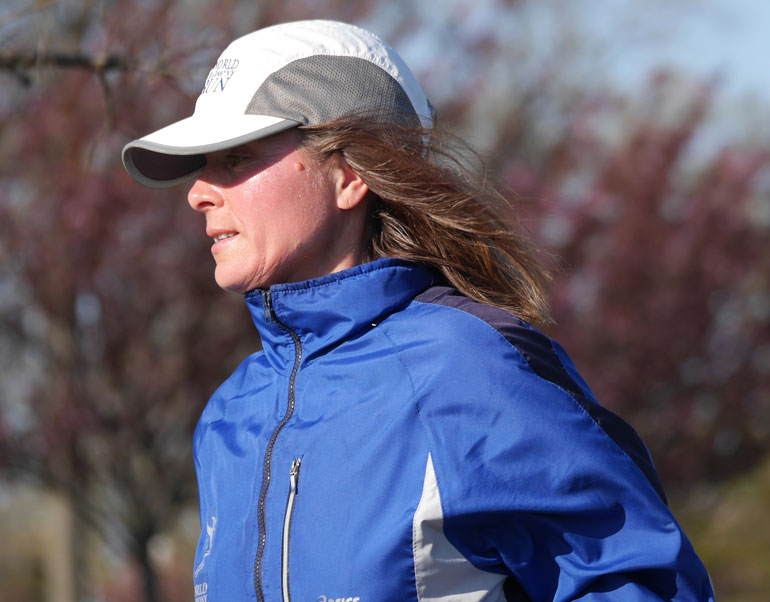 Nirbhasa doing well in some very un Irish weather.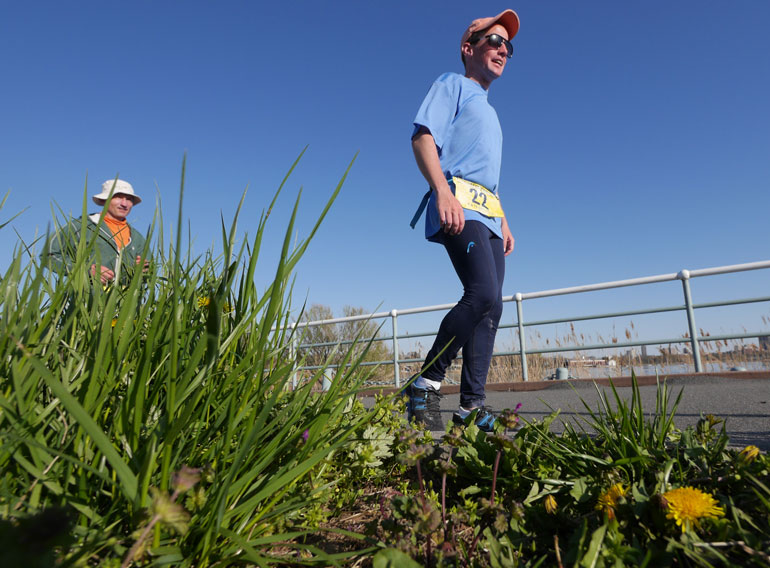 Impossibility is a mere word.
Such being the case,
Impossibility must surrender,
And it does surrender,
To the seeker's completely
devoted oneness
With the Will of his Beloved Supreme.
-By Sri Chinmoy-