When I arrive today at the Self Transcendence race Phil McCarthy is heading to his tent to take a break.  Handling him, and seeing to his needs this afternoon  is veteran runner Al Prawda.  Who besides keeping a close eye on Phil is also keeping a tight track of his watch.   Then in what appears to be as though no time has passed whatsoever Phil is almost instantly, and groggily back on his feet and once again moving out onto the course.  When I ask him how long it was he says, "15 minutes."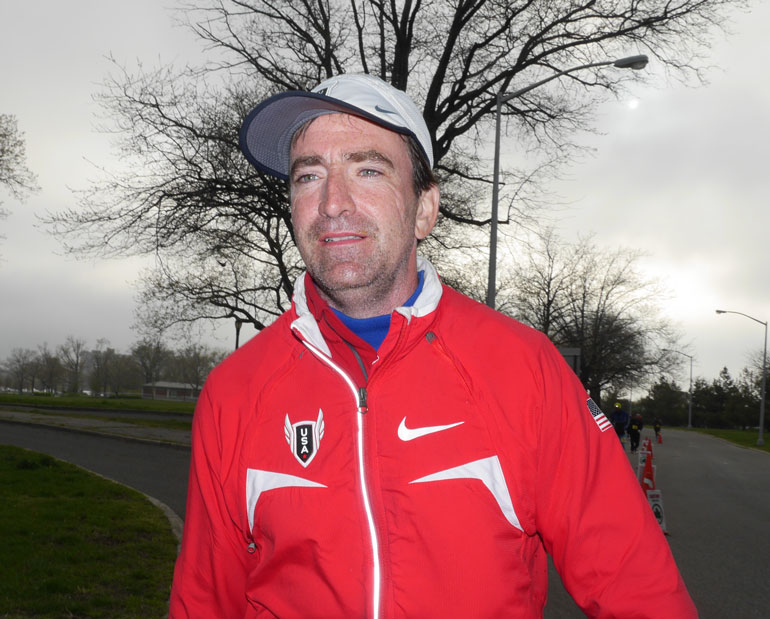 "I was just laying down flat in the tent getting out of the wind, out of the sun." He is clearly fatigued as he stiffly walks forward, gradually warming up aching tight muscles and brings his mind back from the warm comforting darkness that he allowed it to stray for just a precious sweet moment.
He is now a little more than half way through the longest race of his career.  In the first 3 days he ran a tremendous 264 miles and in the last 24 hours, which was brushed by wind and cold clear nights, with an anxious moon above him dangling brightly in the sky, he ran 67 miles.
He is focused, and he is determined, and he is teaching his body or perhaps adapting himself to something very new in his life.  He may not have it exactly right just yet but gradually the road is instructing him with what it wants and all the bits that make up Phil McCarthy are showing him just how much they are prepared to both willingly and grudgingly offer up over the final 3 days here.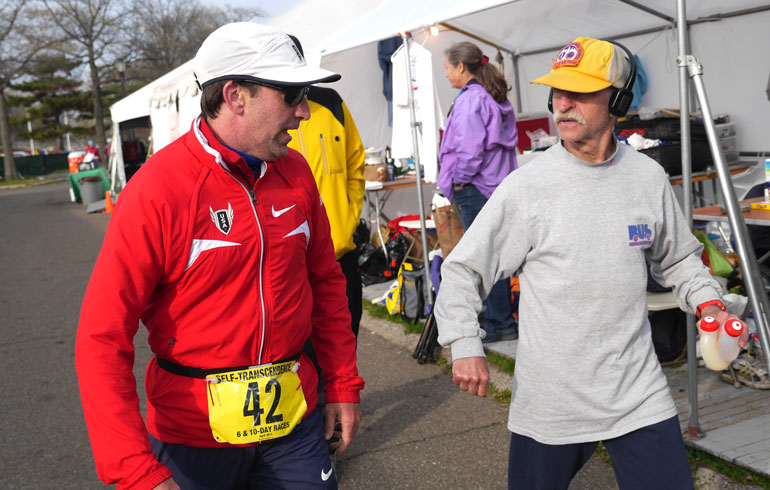 He looks superbly determined and says, "I am in it for the full 6 days.  I figured a little break would give me more energy because I was feeling a little drained.  I had to shut everything down for 15 minutes.  Hopefully I will have a little bit more energy.  I may not be moving real fast just yet.  In the long run hopefully it will pay off."
"In my American 48 hour record I never lay down for more than 5 or 10 minute at a time.  Part of it is getting off your feet.  Giving your feet a break, your hips, and the whole skeletal function.  Part of it is physical and part of it is mental.  Your brain shuts down and your heart rests for a little bit, and your organs rest."
"It is uncharted territory, and I am only half way through.  I have had advice from everybody and they just say keep moving.  But I also know the value of a good short break. "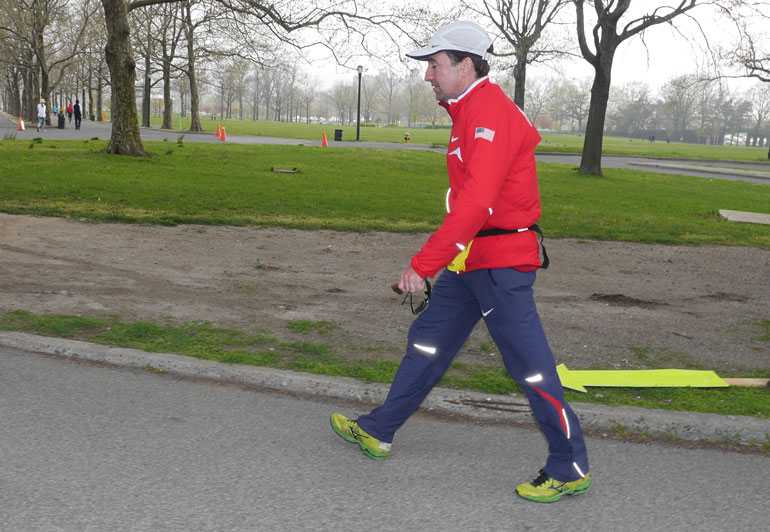 He seems to have lots of different folks coming out to the race to help him.  "I think I am gaining a reputation of having a huge entourage.  I think by the time this is over I will have had 14 people helping me at some point."  Al who is with him now but will be soon heading back to Brooklyn.  "Al is a veteran," he says, "he knows the deal.  So it is real good to have him there. "
"I have had some people who surprised me at how good they were at crewing.  Because it is not easy.  You have to anticipate what the runner wants."
At the half way point he says that his mileage is not what he had hoped for, "but that is okay."
"So many people have been coming out to help me and giving me a lot of encouragement.  That is a big number too, and that far exceeded my expectation.  Not to mention the staff, the directors, and the other runners and everybody here.   It is really great to see that."
Martin Fryer Continues to pile up good mileage in the 10 day race. Kaneenika has however moved into 2nd place overall
Phil has a good cushion going into the second half of his race but Rasmivan is beginning to press Phil if even ever so slightly.  Dipali is even closer, just 21 miles away.
"it got up into the 60's today," says Al Prada, but with this wind it just feels cooler.  I am not even in the race and I have been cold and putting extra layers on."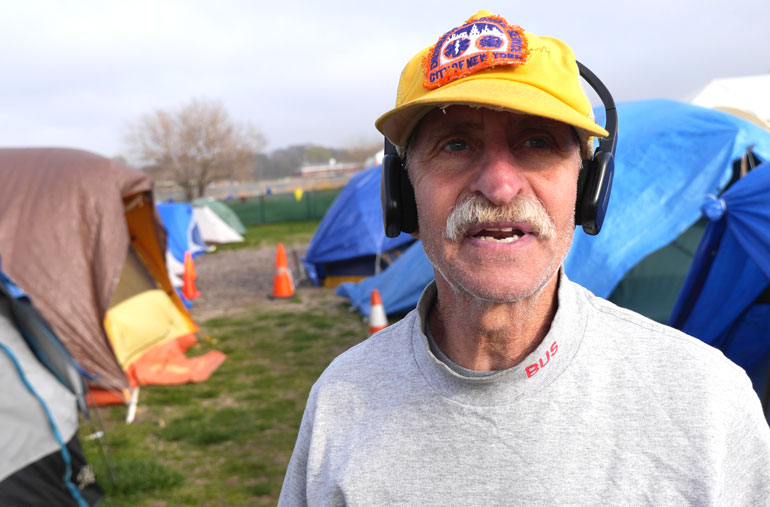 "At this point he is doing very very good.  I am proud of him.  What can I tell you.  This guy is the 48 hour American champion.  He is going to have a great race.  You know, when you are out doors and you have to deal with the weather.  No matter how elite or well you trained, mother nature always wins.  It is hard to compete.  You just have to do what you can with the conditions and be happy about it.  Stand up at the end and go on to your next race."
On day 3 newcomer Rasmivan ran 73 miles.  A daily total which was 6 more miles than Phil.
"Today it has been windy, and sunny and an okay day." Going into his 4th day Alex Swenson has put some room between himself and 4th place runner John Gessler.
"I got up about 1 o'clock.  I went to bed early and I got up early.  And I have been running, walking, and jogging since then.  I had a bad spell for about 36 hours earlier in the week but I am over it.  Stomach thing, but I am over it.  It was a bottle of juice that I bought down the street before the race.  My fault, not the races fault."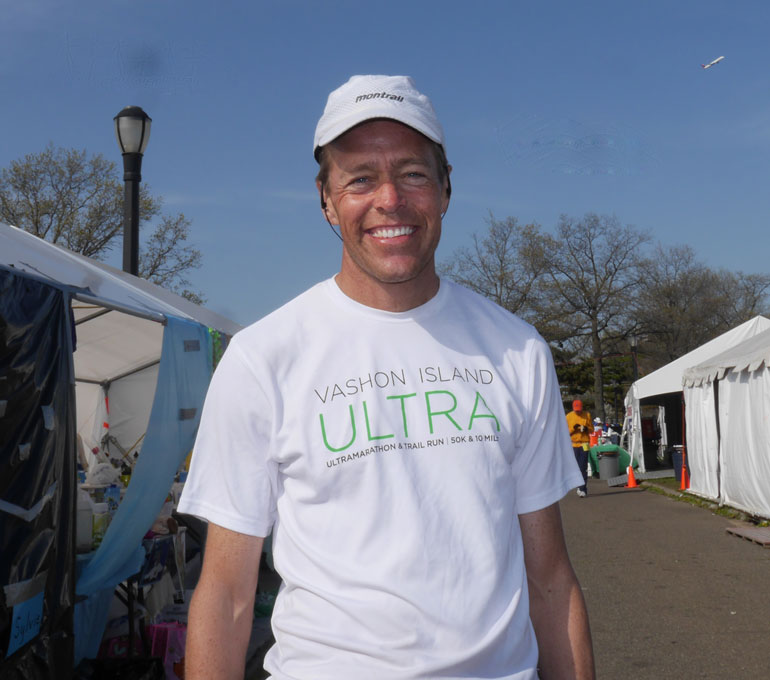 What that translates into, "You don't eat and eventually you can't run.  You are just running on empty.  It works for a while but not for the long term.  Day 2 day 3 there were some mileages that were not that great.  I am fine.  It is fun to run again.  I am not feeling sick.  I feel good and everything is working.  Taking it hour by hour."
He describes the weather as being very much like back home on the west coast but says the wind, which is causing white caps on the lake is another thing altogether.  'I can see myself getting through it.  I don't know what that number is, but I am getting through it yeah."
I ask him if the presence of Phil McCarthy help pull him along.  "Phil is way out there.  If we were a little closer that would probably come into play.  He is way out there.  What he is doing doesn't have any bearing on what I am doing."
"I have raced with Phil in quite a few 24 hour races.  I know what he is capable of.  Not for a second do I think he is going to burn out, or suddenly shut down.  He is going to keep cruising along and doing great."
Ananda Lahari in 2nd place in the 10 day race.
First time runner Dennis getting some coaching and encouragement from Galya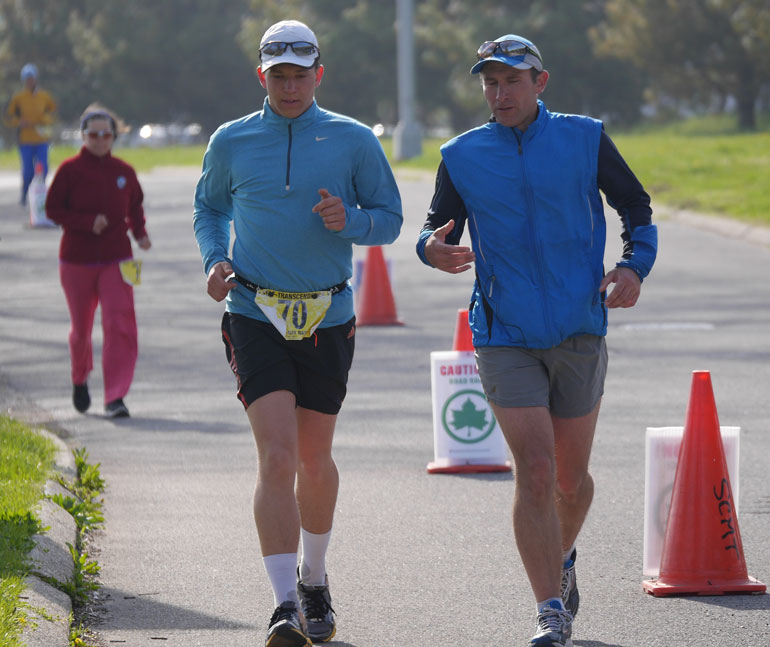 Devashishu and the counters try and stay warm as a cold fog drifts in late in the afternoon.
Dipali has gotten stronger on her 3rd day.
Fred Davis had a tough day yesterday but seems to be flying now
Giribhu Muhs a first time multi day runner from Berlin is doing very well.  "I am fine now.  I had an injury for 2 days.  It was on the side of my foot.  It was just pain when I walked.  Now I can run again.  It is a miracle.  I didn't expect that."
She tells me that she couldn't put in the training for this race that she would have liked.  "So my training was just running in the evening, for a half or one hour, but quite fast.  But a few long runs I did."   Her previous longest distance was 150km in a 24 hour race.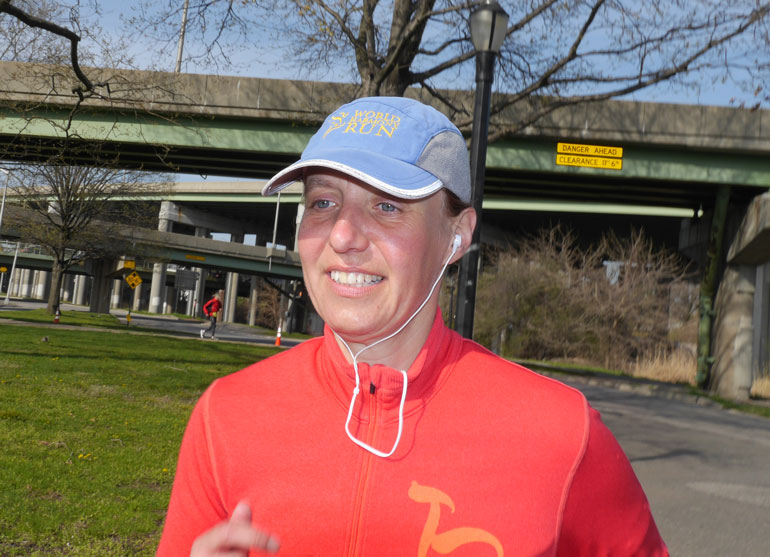 I ask her why she went from 24 hours to 10 days.  "It is quite a celebration.  It is my anniversary on Sri Chinmoy's path, and so I decided to do the 10 day.  It is a game with numbers.  But it was the first thing in my mind to do the 10 days."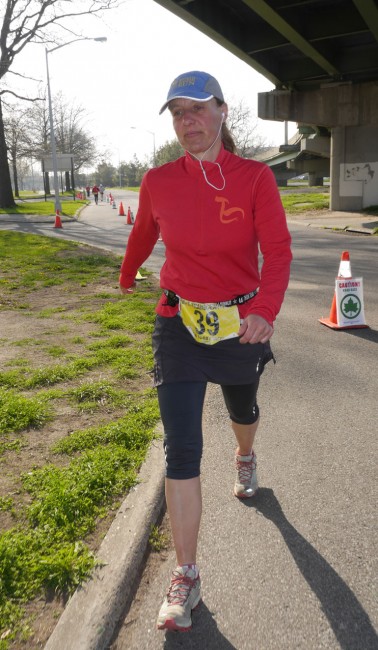 I ask here how she feels now at this point in the race.  "It feels longer than 7 days.  Because you are running daytime and nighttime.  The day is longer than general.  But you are really focused and concentrated on the important things.  This is running of course as well as sleeping, eating, and meditating.  The days are going very quickly."
When the end on Saturday comes, she says," On one point I will be happy and on the other I will be sad."
"I would like to reach 500 miles.  Yeah, it will be tough.  But now I can run again so I hope with much grace that I can do it."
I ask her about her motivation.  "I don't know exactly but it comes from inside.  I go to bed and I decided to sleep for 3 hours, and I could sleep for 5 or 6 hours of course but I said no.  I want to go out.  It is dark its cold and it is raining, it is windy but there is some inner strength.   I don't know.  It said no, go out.  Go out and try.  It is not a decision in the mind.  It comes from inside."
"It is surprising and it makes me really happy, because I feel as though I can do many things if I feel it is from inside and it comes out.  It makes me strong and I can do whatever I want.  I hope in the future."
I suggest that she is becoming a different person than the one who started the race.   "I don't know how or how it looks like.  Probably other people will tell me but I don't know what will happen.  But I think I will be another person."
Ken Ward finishes Day 3 with 210 miles and may be listening right now to the Grateful Dead.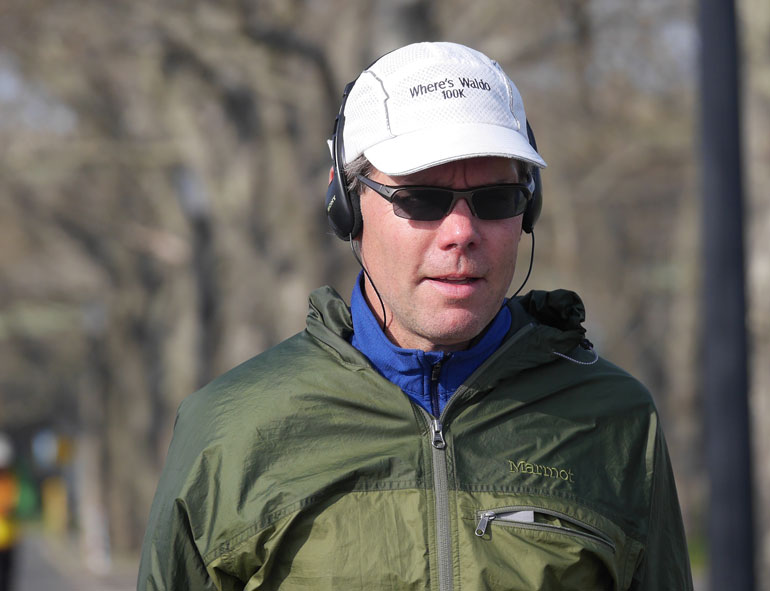 Kaneenika ran 65 miles and has a 7 day total of 485.
Kumar on his way to setting a Nepalese  record.
Litaff from Finland has 131 miles in the 6 day.
Mark Dorion taking a break in medical.
They just may be the best team in multi day running.  Alan and Martin. Martin has 526 miles after 7 days.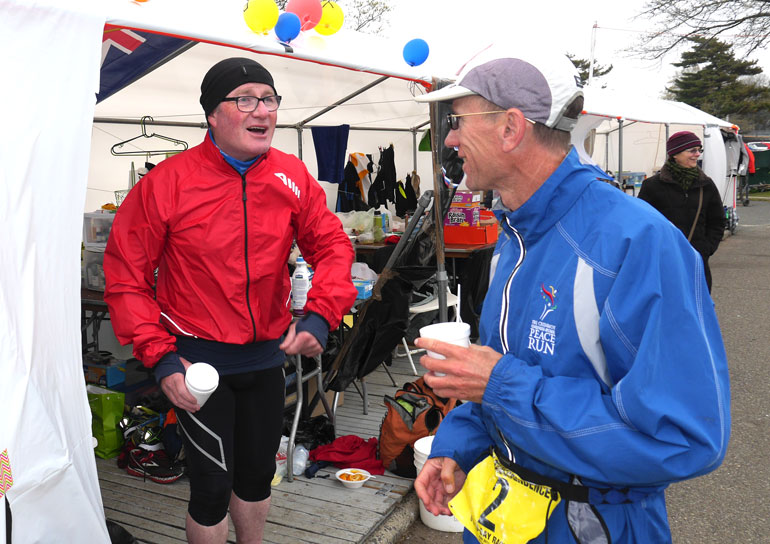 Shamita with 444 after 7 days is in 3rd.
Sahishnu keeping watch.
Sara Schmidt from Den Haag with 311 in her very first multi day race.
"I reckon I have had my fair share of blow outs too."  Dharbhasana for the first 2 days of the race was in the mix, which is a position we have come to expect from this 3100 mile runner but the multi day races can always deal out the unexpected and be not generous to those who have not put in the miles.
"For me this is cold.  I just have spent a half hour in medical getting a bit of a rub down.  When I came out it is way more freezing than it was."
"I started off strong, well and truly ambitious as well.  I haven't done any training really.  I am always a risk taker.  One extreme to the next.  Patience is a continual quality that I have to try and learn.  And when it comes to these races if I feel good I play on it.  So on day one i was feeling good and on day two I wasn't.  So I kind of pushed a little hard.  By nightime I felt brilliant.  I did 88 miles the first day and on the 2nd I was reduced to walking which is kind of natural.  After 6 hours of walking I felt really good so I put the speed on and blew out 20 miles quite quickly.  By the time I got to bed that night everything was a little disturbed, and shin splints developed pretty quickly the next day."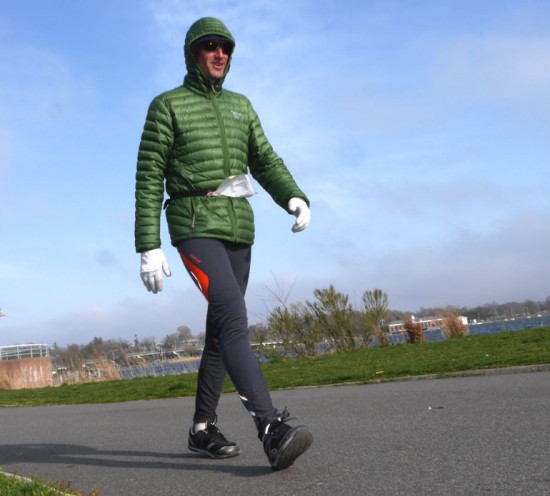 "Obviously it feels like the right place to be."  He tells me that today is his birthday and so he is even more motivated to stay out on the course.  As for mileage, "My mind let go of the miles pretty quickly."
He has helped here at the race for many years but it was in 2010 that he last participated in the race.  "All my running is done on trails.   I don't actually pound the pavement much at all any more.  I think I better get back into it."
"My helper is the best little helper ever.  My daughter Shakti.  She is there every moment."
He doesn't have many wishes over the next 3 days.  But says that having a hot shower whenever he wanted it would be golden.  "I put my order in already for a nice meal from Annam Brahma.  These are really achievable.  I am a simple guy.  Your needs become really simple out here.  I think if I could run again that would be great.  And I am kind of hopeful now."
First time runner and strongman Sergei
2 runners with lots of multi day experience, Galya and Stutisheel.
Usika
Volodymyr in 3rd in the 10 day with 446 miles.
The sun slips slowly away.
If you want to remain happy,
Always follow the starlit footsteps
Of your soul. 
-by Sri Chinmoy-