In a little less than 24 hours from now 82 superb endurance athletes will be able to sit or lie down and no longer feel a mean hard stretch of asphalt constantly calling out to them.  They will have taken long warm showers, changed into clean fresh clothes, and had a hot meal from  a plate that is not made of plastic.  Their bodies will have aches and pains and groaning fatigue like most have probably never felt before in their lives.  Their faces will have been burned by the sun and their lips cracked from the steady sting of wind blowing from what felt like every direction in which they turned.
Tomorrow night they will tumble into irresistible slumber which they will offer themselves up unchallenged. During the night they might suddenly awaken and wonder in what strange warm comfortable place they have strangely and mistakenly entered, and then simply drift back into the embrace of sleep and emerge only many delightful hours later.
Their mirrors and their friends will remind them just how much different they look now.  But this will be no surprise as they attempt to climb steps, open doors, and sit alone in a soft comfortable chair and contemplate just what an incredible thing has taken place so significantly in their lives over the course of the past 6 and 10 days.
As the days pass what just happened will ever so gradually seem as though it was all just a little unreal.  Jobs and family, and friends and life itself will intrude with all the demands these things usually have a hold over us.  But somewhere and somehow all this will appear and be just a little bit different to them now.  The clammer and clasp of the world hopefully will no longer feel so loud and so strong as it was before.
Within them the sweet sacred whispers of peace that they so often heard in their hearts as they ran day and night for hundreds of miles will be once again cherished and remembered.  For how they look at  themselves and the world they live in will forever feel and be altered.  For the very fabric of their beings has been strengthened  and brought ever so much clearer into focus.  And what is real and eternally bright within has risen up that much closer towards their own perfection.
Martin finishes his 9th day with 660 and Kaneenika with 620
Philip finishes 5 days with 391 and Dipali with 378.
"We are heading into the last day and everyone is suitable tired and exhausted," says a suitably tired and exhausted Martin Fryer.  "And the fastest runner is probably not going much faster than a walker.  But I can feel the anticipation in the air."  I am curious if there is also a sense for some of simply not wanting it all to end.  "This is our world.  This is where we belong, but the other side of you likes the creature comforts.  (laughs) It has really had enough of getting up out of freezing cold tents.  Completely stiffened up and walking like a corpse."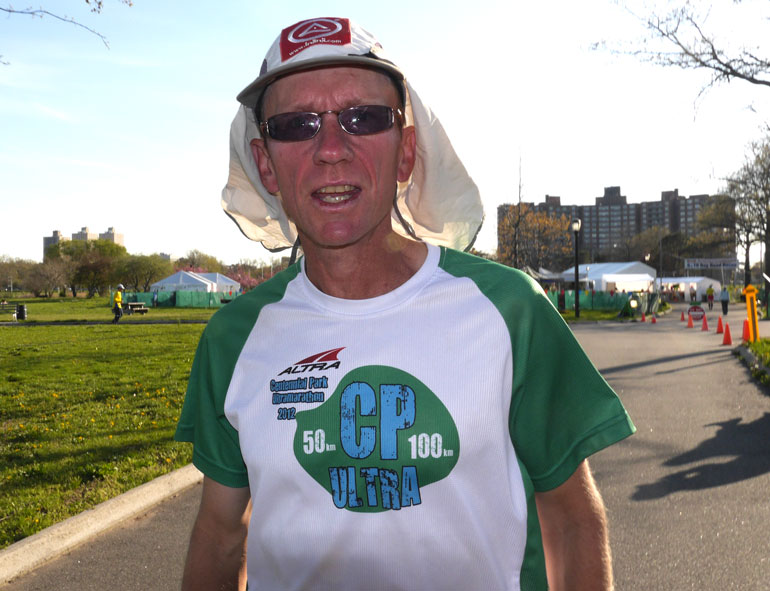 "But we are really all here for the same reason.  To be part of this experience, to transcend, and to see what capacities we have.  It is very exciting and it is a real pleasure to do that with people from all around the world.  It is just a great experience."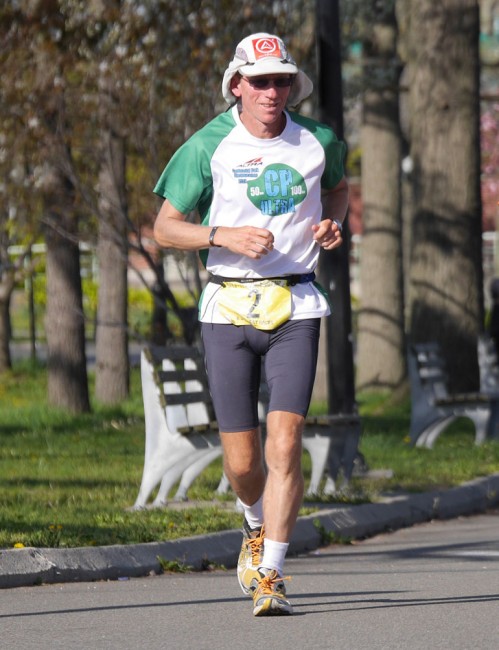 He says for him that he got a more subtle appreciation of what is here.  He laughs when reminded of his last race, "unfortunately no lightning bolts this time.  No it has been about subtlety and I am coming in with a deeper appreciation of everything that is here.  I am really immersing myself more deeply in the moment and the environment.  I think this has helped me get along better than I would be. I am still tired.  In the equivalent 6 day race I was a complete wreck by now.  So I think it has actually strengthened me.  Having had those experiences."
He tells me that he can see the finish line now.  "I am aware that we have all this extra time, but in the scale of things it is minimal.  It is almost like, here is your last chance to take in the changes in light in the last afternoon, and the last sunrise.  So I think it makes that easier."  He is also glad that he doesn't have any runner too close behind him.  "That would be my worse nightmare.   Being so tired and having someone to go head to head with. To a competitive ultra runner that is your worst nightmare."
"I guess I have always set low, medium, and high goals."  He says he should finish with about 700 miles which is for him somewhere in the middle.  As for the hours remaining, 'I don't really want to push hard, in this next session.  I want to finish the race and embrace the joy of it.  Rather than push myself to a total collapse."
I suggest to Martin that the presence of Allan Young as his helper really means that he ran as a team.  "He makes a huge difference.  Two years ago I didn't have any crew."  He says that the extra miles he was able to make having Allan always ready to help was incalculable.  "It is that support, and him being a good friend.  There is a mutual respect.  We are an excellent team.  We keep a sense of humor when things are looking a bit grim.  He is a great great joy to be with.  Just his accent alone is enough to keep me alert."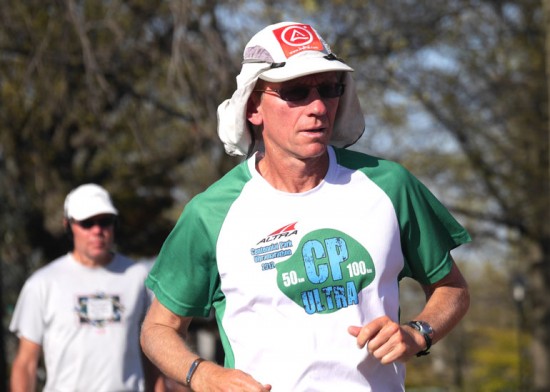 He has received a lot of support from friends and family back home.  "I have been thinking of all of them the whole race.  Wondering what they were speculating as they looked at the website.  Actually the whole race I have felt that support from Australia.  I know there is a lot of people willing me on. "
"Seriously for me the goal was more inner than outer.  But as we know if you can align those two systems properly.  That if you get the inner right the outer will take care of itself.  I think I have kept fairly good poise most of the race and that was one of my aims.  Keep my poise try my best to smile."
Alex Swenson finishes day 5 with 352 miles.  A short break and a massage of tired legs will get him many more miles yet.
Abhaya, quiet and strong finishing her 5th multi day.
Andrey Khachaturov finishes 9 days with 536 miles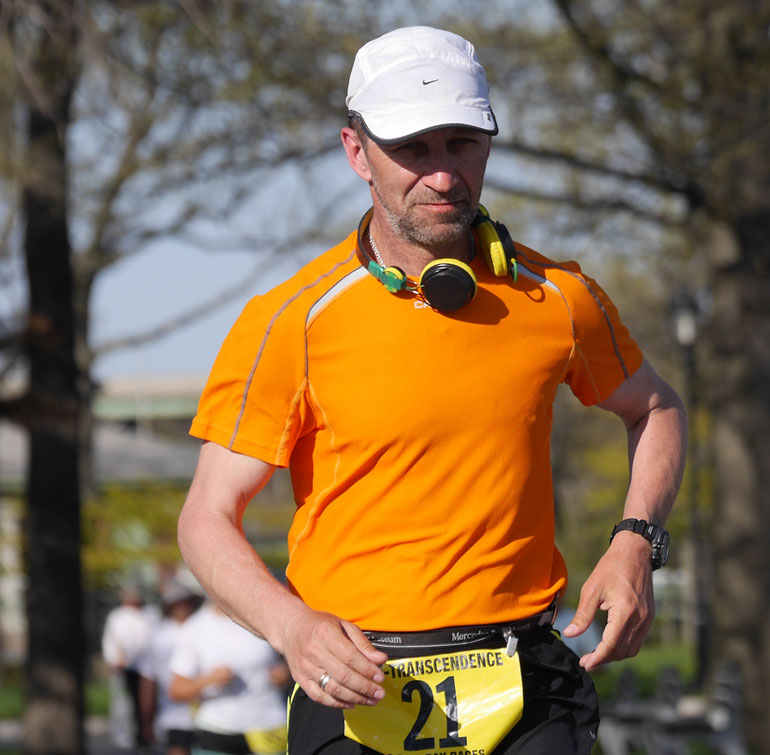 Anna Eliseeva has 211 miles after 5 days.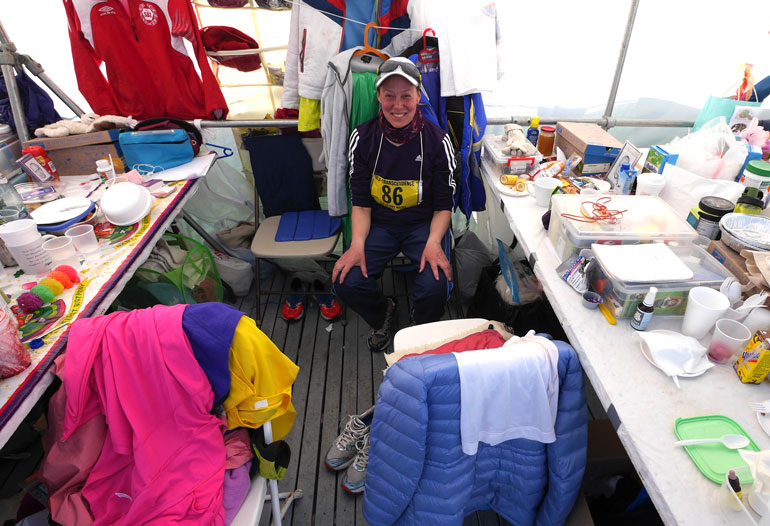 So many still quiet faces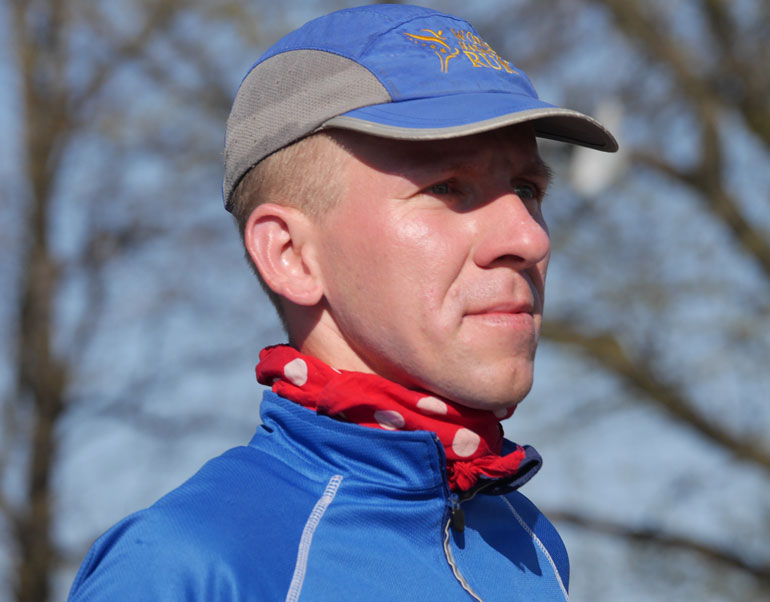 Trying all so hard.
The goal always lying just beyond.
Shamita seems to always on her feet and moving forward.  Painfully for sure but her inner strength and sweetness are still very much to the fore.  As she moves out of the dugout her helper is beside he with a box of treats.  Coincidentally Kaneenika is also leaving her chair and her helper is holding out a similar offering and this makes everyone laugh.  Shamita takes a piece of cake sitting on top, "sweet as life."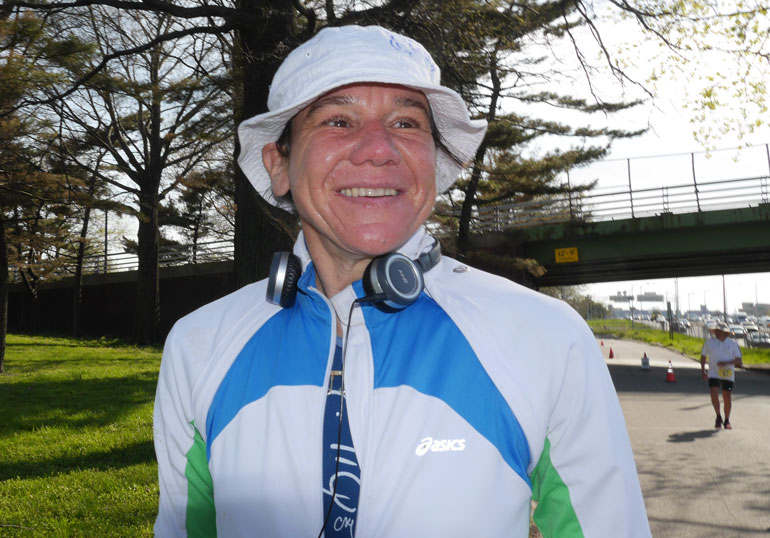 We haven't talked for a few days and when I suggest things went differently then she thought they might, she laughs, "definitely."
"I think this is not very difficult to know in my case." (more laughter)  "We never know what is going to happen.   It is an experience.  Everything is an experience."
For the past 5 days she has had debilitating shin splints.  "A totally new experience." When asked what she thinks about them she tactfully and rightly declines to answer suggesting it would just force her to be in the mind.  "I just want to try and accept it, and make the best out of it."
"You develop so many other divine qualities.  Determination, going forward, no matter what happens, and find new ways to move, and you actually get a good kind of humor.  You enjoy nature more. You just go on another road."
"There is no failure or success in God's eye, everything is the same, it is just an experience.   But we all know that."
The experience of coming back to multi day running over such a long period she says is a positive one.  "I am very happy that I did it."
You can count on Devasishu
Czech and Slovak girls checking some translation.
And somehow Dharbhasana ran more miles than anyone else in the 6 day.  The birthday boy ran 28 on the actual day and 73 on the next.
Tejini has just completed 200 miles while beside here Dipali completed 378 miles over 5 days.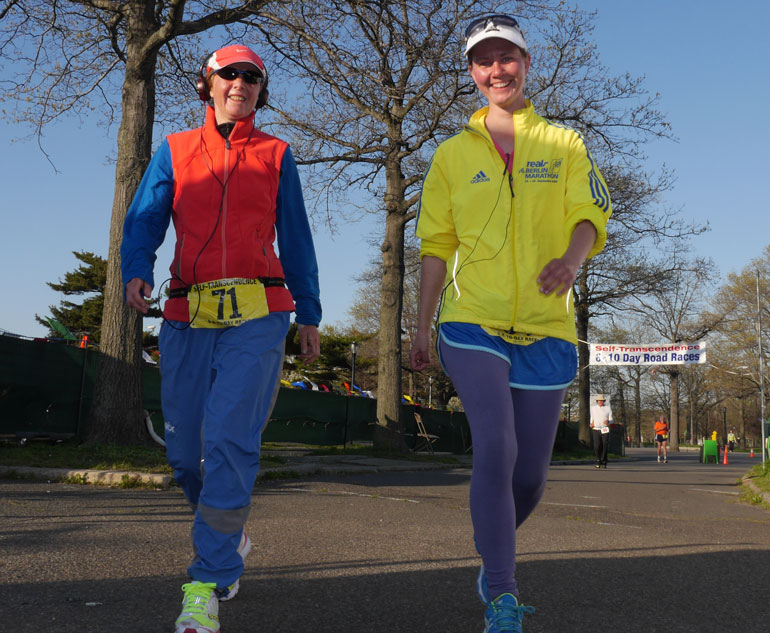 Philip McCarthy has 391 miles for 5 days.
Rimas says he is not pushing hard in this race.  "I am not trying to beat any record. I am trying to do only 50 miles a day.  If I have any problem with my feet I go and sleep."
Because of a bad injury he was not able to race or train hard for between 3 and 4 years.  He feels well now though and says that he needs, "training, training, training."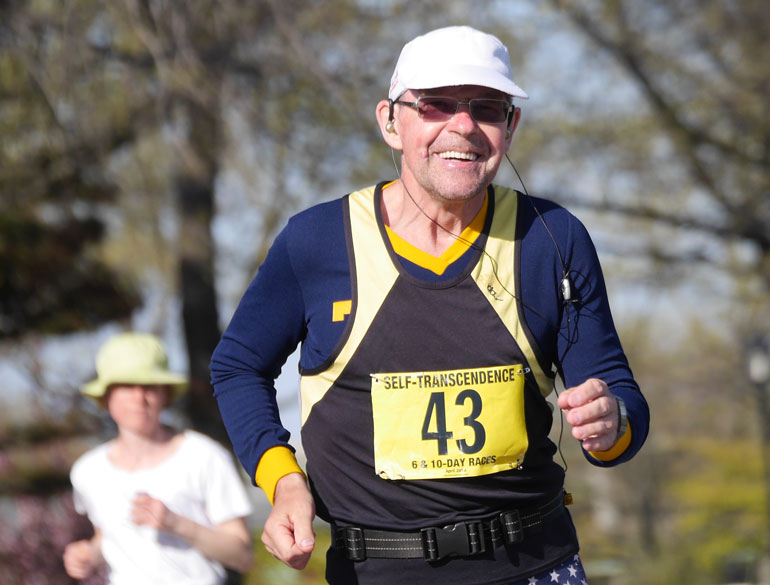 "Now I feel much stronger and I can run, but I don't push.  I listen to my body.  Maybe I come back next year and try and break David Luljak's record."  He tells me that David was here yesterday and that he told Rimas that his record was 541 miles for 6 days.  Rimas of course had run 600 miles for 6 days but it was during the 10 days so in not a record.
He is clearly very content with his growing fitness and feels that it is not a problem to compete 50 miles every day here.  He says that he first ran the 6 day race here in 1999.
David Luljack promised that he would come back next year but that he was now an old man.  Rimas told David, "but I am an old man too.  58 years old is not young but in the 6 day and 10 day it doesn't matter.  But I need really good runners who can push me, like Phil McCarthy."
Ilvaka is safely in 2nd place with 576 miles and seems to be getting stronger.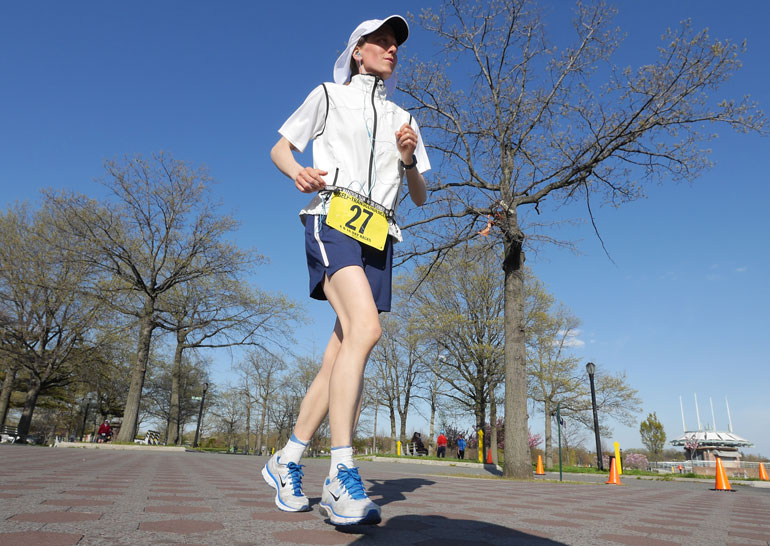 Jayasalini very solid and full of fun with 320
Kaneenika also strong and in first of the 10 day women with 620
Some of the boys.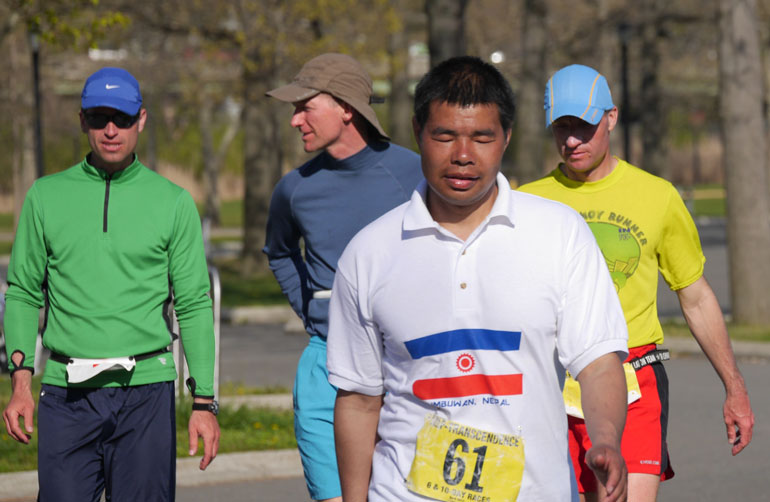 "I am breaking it down now." Fred had a great 60 miles on day 7 he is anticipating the end of the race just a little early but the light of the day is quickly fading.  "I am going to get this out of the way and then walk latter."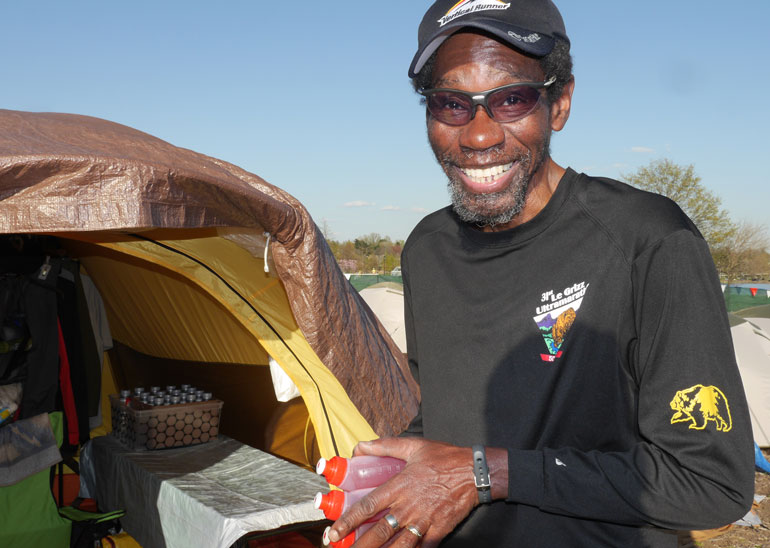 When asked how he could go from a one mile distance on day 6 to a 60 the following, he jokes.  "That is why I did 60 because I didn't do anything the day before." (laughs)
"It was a normal race but not a good one.  I still haven't done my potential."
Ken Ward with a very respectable 325 miles after 5 days.  He would like his wife to know that it is possible that the math shows that he just might have the potential to run the 3100 mile race.  (Which takes an entire summer to do) But if he says anything like, that he is one day going to do it……..he is only joking.
Kumar has 228 miles after 5 days and is doing well.
Mark Dorion with 448.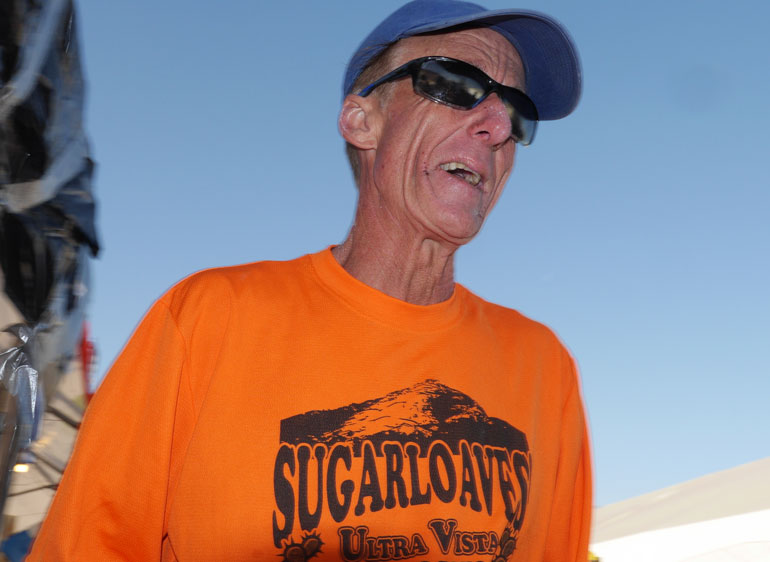 Michel is having some ankle problems so will likely not break his record from last year.
The Celtic folk having a wee chat. The Irishman on the right ran more miles yesterday than any other day of his race and seems to have gotten even stronger since he started.  He ran 67.
Pati completed 500 miles over 9 days.
Niribili has 416 and a good hold on her hat.
The Father and daughter team of Peter and Livka
Roger may break his record from last year.
Sergei.
Subala with 190 miles in 5 days.  Much longer than she has ever run before.
Sylvie who has lots to celebrate.
"I am so happy to be running.  This is the 9th day almost the 10th.  Like other runners also we don't want to stop.  I feel like I would like to go on though I don't think so for everyone."
I suggest that I have never seen her anything but smiling.  "There have been a few tears in the medical but it is so great to be out here. "
Her longest race prior to the the 10 day was a 100km race.  "I got inspired so I thought I would do it.  Last year I was here for just one day the first day of the race.  I was in the kitchen preparing food for the runners, and I felt the energy here."
She also works with Pradeep in the Madal Bal health food store in Den Haag and says that he has done this race many times and also inspired her, both with his achievements here and also his running of the 3100 mile race.
"The 10 days didn't really frighten me at all more for example than the 24 hour race."  Sara has completed 381 miles over 9 days here.  In the beginning she wasn't paying any attention to her mileage.  "But they keep telling you so after awhile you pay attention."  She feels for her that the numbers are not so important.  Instead she prefers to focus on her running and on her Guru.
"Definitely I will do it again next year."  She feels that it is her spiritual teacher that is actually doing all the work.  All she needs to do is remain receptive.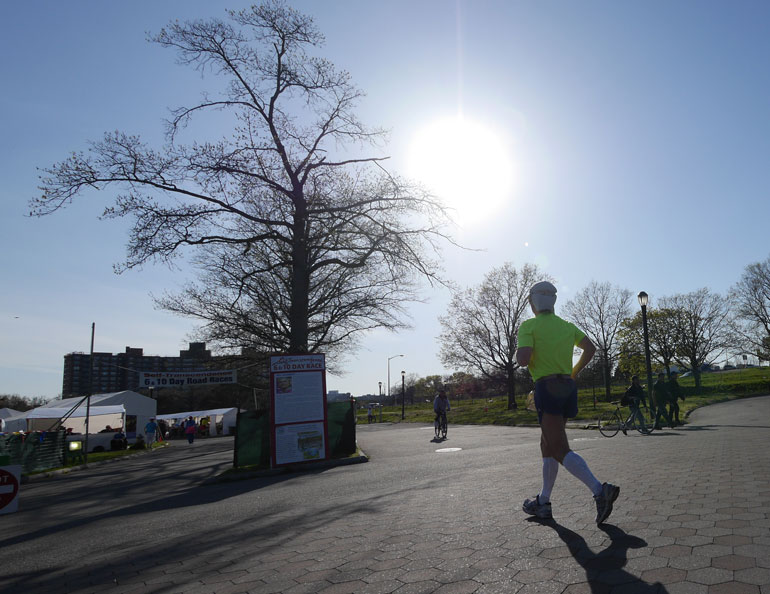 Three wonders we carry within:
A God dream,
A perfection life
And a transformation earth.
-By Sri Chinmoy