In October last year an Austrian sky diver, Felix Baumgartner set a new record for plunging from the very edges of outer space.  Sponsored by a sport drink company the 44 year adventurer jumped from a helium balloon nearly 128,000 feet above the earth.   It was an incredible achievement and thrilled people around the world who saw it take place in real time through both television and the internet.  In his 10 minute fall to earth Baumgartner reached super sonic speeds and eventually landed near Roswell New Mexico.  Asked what it was like to go supersonic, he said, "It's hard to describe, because I didn't feel it. You know, when you're in that pressure suit, you don't feel anything. It's like being in a cast."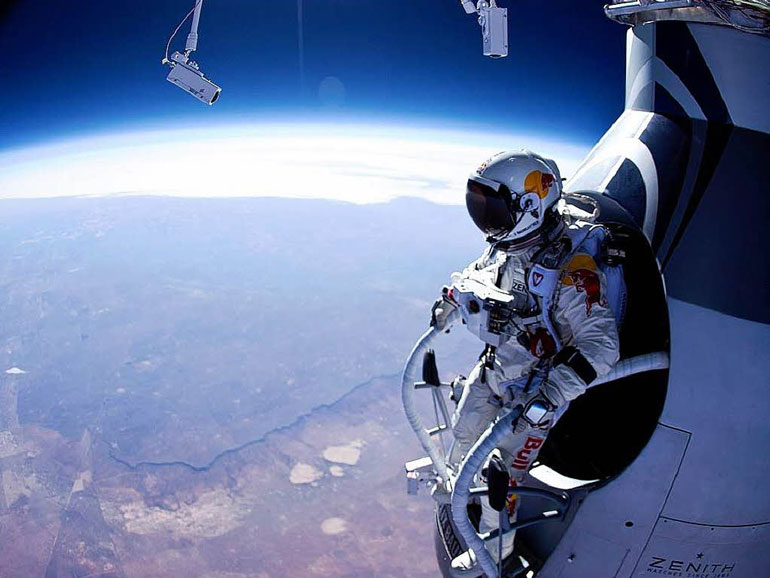 Ken Ward is a 55 year old runner from Oregon.  He describes himself as scientific by nature and works somewhere in the world of Chemistry out where he lives in Corvallis.  He is an immensely experienced trail and distance runner but has come to New York this spring to challenge himself with something he has never done before and that is to run for 6 days.  Well into his 3rd day he is running very well and over the first 2 days he has racked up 152 miles.  Not only that he is also in 3rd place and seems to be smiling nearly all the time.
He tells me,  "this is a great race for looking more at my inner side than my outer side.  Most of my other races I have looked at very technically.  Plans, spreadsheets, and this kind of stuff.  But you throw that out the window after the first day here."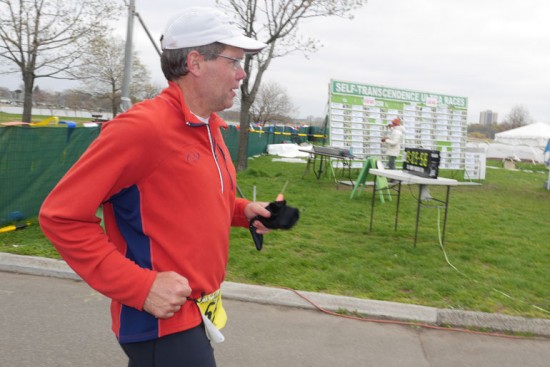 There are probably more than a few running here on this cool windy course pushed up against the Grand Central highway who would like nothing better than to also take a dive from space.  To have a momentary nail biting adrenalin rush.
But all the runners here have obviously chosen quite a different path of adventure.  One that they have to personally train long and hard for in order to even cope with the stress and strain of running so far, and for so many days.
A few are well known in the ultra community but most are not and neither are they interested in any notoriety.  The Self Transcendence race here for the most part is well beyond the scrutiny of the public and media because very few really care what happens to them here, other than their immediate friends, family, and the small group who are interested in multi day running.
But by running all day every day they are each forced to venture into the deepest recesses of themselves.  Confront more pain and fatigue than many have ever encountered in their lives before,and at the end of it all they ironically find themselves at the exact same spot their race began, 10 or 6 days earlier.  What they look like and how they ultimately feel at the end of their journeys no one can predict.  Ken tells me that he really didn't know what was going to happen here during the race.  "I am expecting to be surprised."
When asked how he feels running into his 3rd day Ken admits to me, "I have been better that's for sure.  Had a massage and shower, and am feeling a little better now.  I am really enjoying this race so much,  The support is unbelievably great."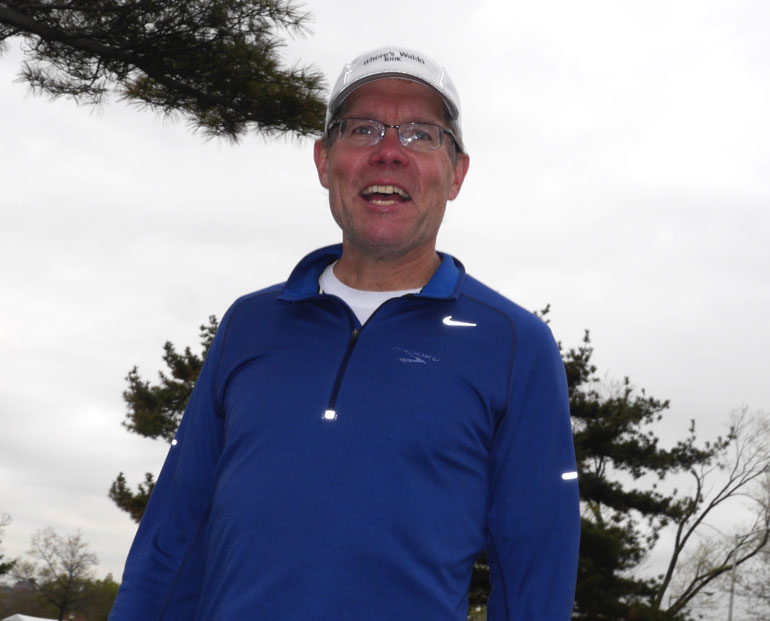 "I have done 70 ultras, almost all trails.  Probably 20 100 mile runs and few 24 hour runs.  This is a big jump for me.  I probably should have done a 48 hour run or 72.  But I decided all the way into the 6 day and see what my capacity could be. "
He has a lot in common he says with 10 day runner Martin Fryer.  "I like his quote.  Being a scientist, a hippie, and a mongrel dog. Because that summarizes my life too.  We are both scientists."  He says in preparation for this race he did a lot more road running.  "I had knee surgery last year.  I was pretty much running all on trails in order to have a softer surface.  But primarily I did road running in order to get my joints and body ready for that."
"I am feeling pretty good for the most part.  Here and there there are obviously a lot of issues. My feet have been a bit of a problem.  Overall I have pretty good energy.  I slept 4 hours the first night and 6 hours last night.  For the first 24 hours my goal was 85 or 86 miles, and I ended up with 88.  Day 2 I backed off and I think I did 64.  In the evening of day 2 I was struggling.  I was too focused on the plan and not focused on how I was feeling.  I pushed more than I should have and it was a good lesson."  He describes how the race has to combine all parts of you.  "It all fits together."
"Now it is a new experience and kind of see what happens.  My main goal is to be happy with wherever I am.  As long as I have a happy experience, I have been tremendously happy so far.  That is what I really want.  I have thrown out any type of plan.  I realize I just want to have fun, and the Sri Chinmoy group just makes it so easy to have fun.  I think it is the deep caring for each person individually."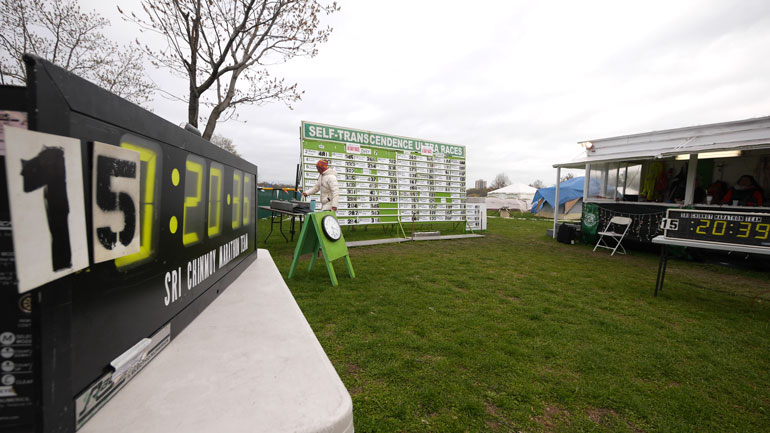 In the 10 day Martin is still running very well.  He finished 6 days with 462 miles.  Kaneenika seems to be getting stronger and is threatening Ananda Lahari for 2nd overall.
Phillip McCarthy has 197 miles after 2 days.
Kaneenika 420 miles after 6 days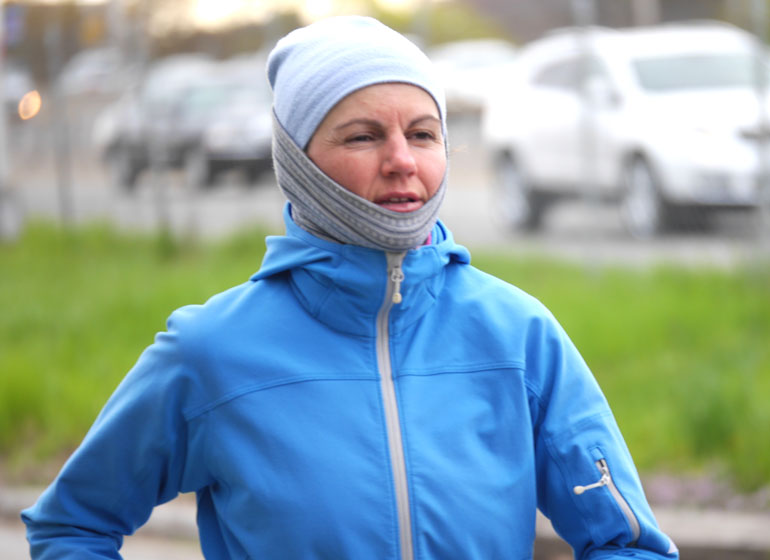 Sylvie Boisvert is doing very well in her first 6 day race.  In her first 48 hours she ran 136 miles, just one more than Jayasalini.  Her goal she says is to run 600km.  She says she has heard about this race from many runners.  "I have wanted to come for many years."  She has competed in many distance races  and says to be here is, "like meeting my old friends here.  Lots of runners I have met in different 24 hour races around the world and they are here."
"It is not always fun but today is a good day."  Of the organizers she says, "they know what they are doing.  They have been doing it for so many years.  They are taking care of us."
"Right now I won't go to bed until I have run 200 miles.  I am on 153 right now."  I tell her that it seems like a long way yet to go to reach it.  "Who cares.  Tonight there will almost be a full moon.  Hopefully my body will take me to the 200 miles before bed time.  Maybe like 2 o'clock in the morning.  Jogging has been my life for 38 years."
Alex Swenson with 161 miles after 48 hours
Rasmivan went through just 2 miles behind.  He is feeling really good right here as he has just had a shower.
Dharbhasana is having a rough patch but did 150 miles
John Geesler just a mile ahead with 151.
For some inexplicable reason this race has 3 father and daughter teams.  Stutisheel is supported by his daughter Alakananda, Dharbhasana getting help form Shakti, and Peter Hlac being aided by his daughter Livka.  I joke that there is a combination between the 3 groups.  Livka says, "Shakti is a good helper."
Peter says of his daughters help, "good."
Livka thinks her Dad, "Is pretty awesome.  He is really strong.  He has a pain in his ankle but he can still run all day."
Why he is doing he says, "the inspiration came from inside.  Something always told me that I should run the 6 day, about 6 months ago.  There is no problem to be here.  Many of my friends know that I am running and they are inspiring me.  They said, wow, it is incredible that you are doing it.  They gave me even more inspiration to run the race."
One of the other teams.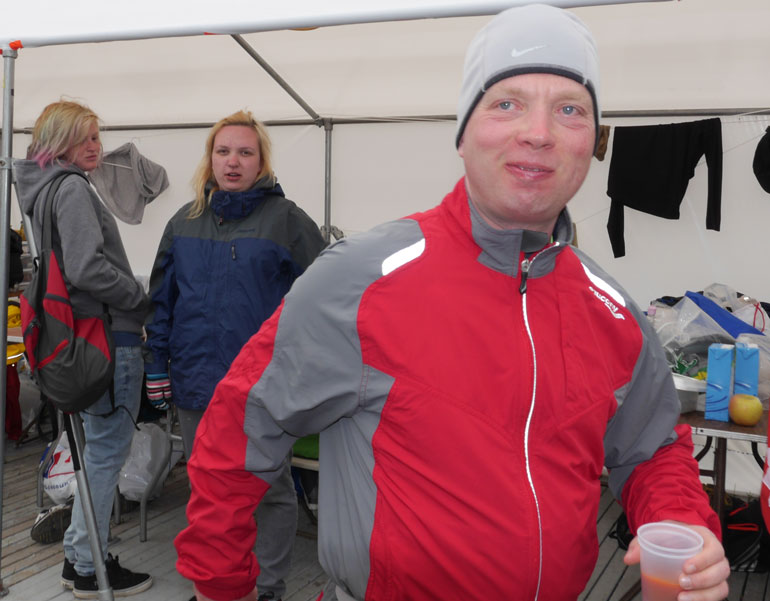 Phil taking a short break
Counters keeping track of lots and lots of laps.
It is not all hard work.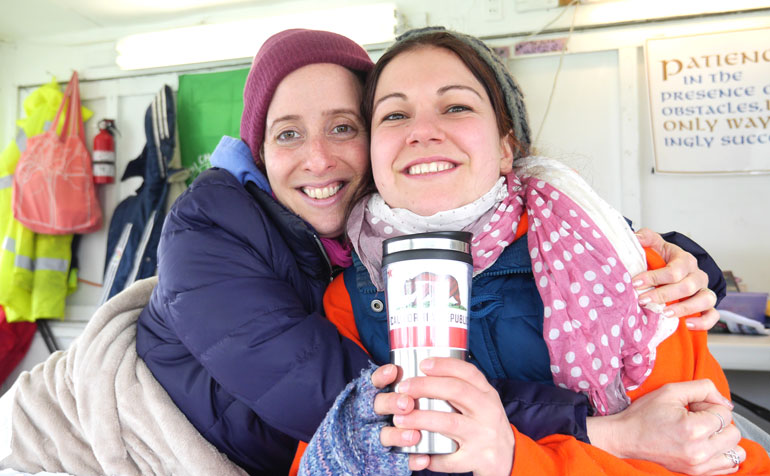 Or hard work for the helpers.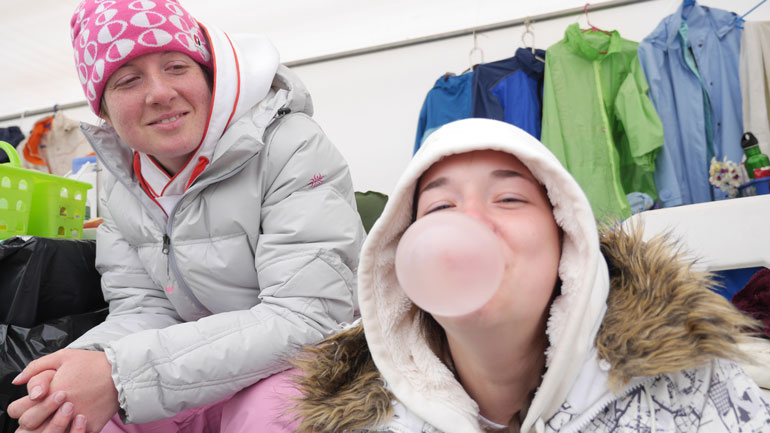 Some in particular are looking forward to warmer weather tomorrow.
For the runners it is never easy.  Just ask Don Winkley.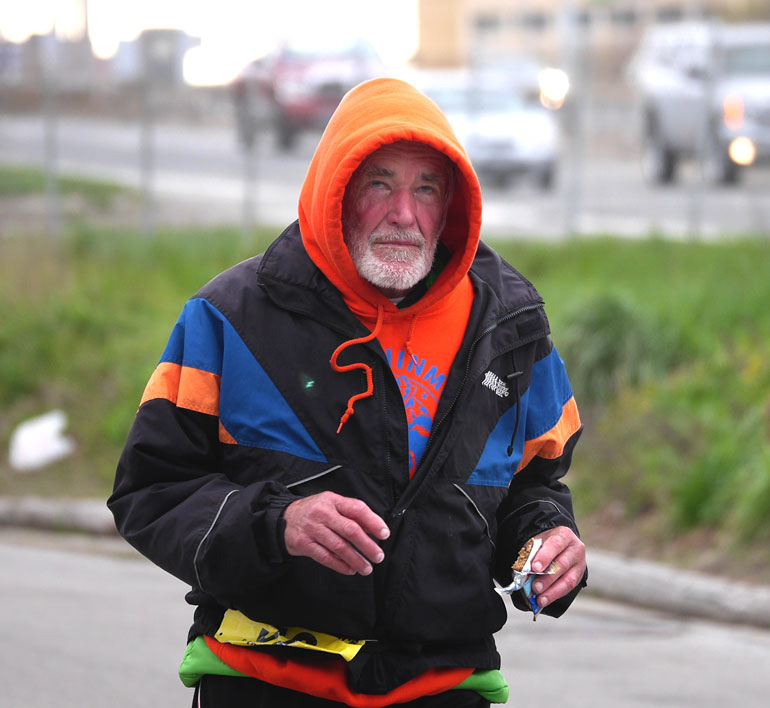 I find Tirtha carrying brand new numbers.  I suggest this might lead to new things, and she jokes.  "Don't expect anything from me."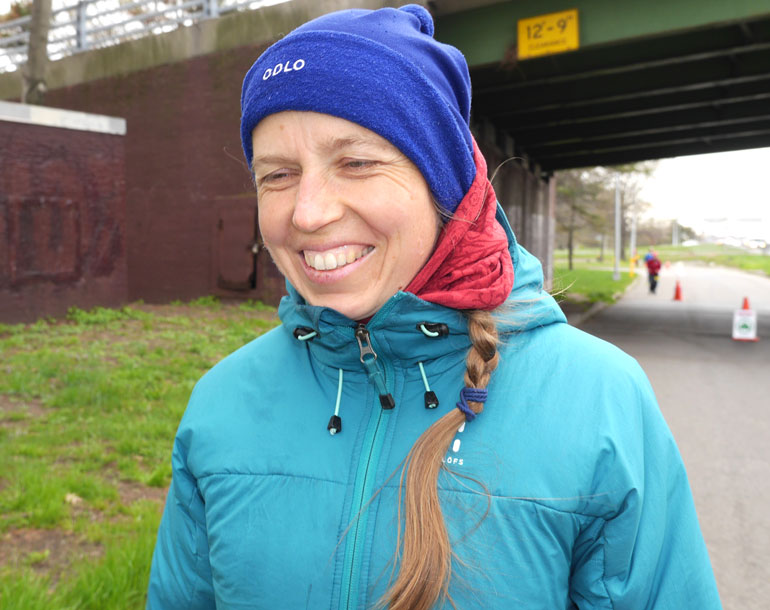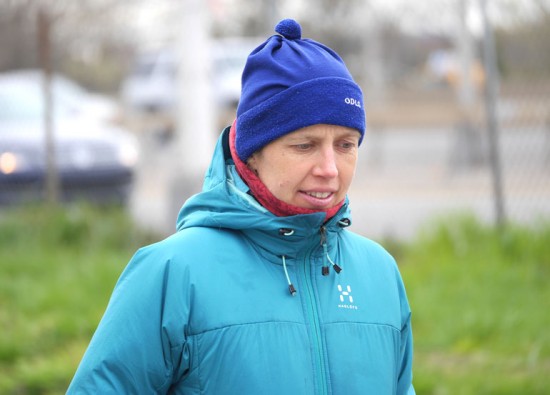 "I don't know how I can still be here but I still am."  Her stomach problems she says have persisted since almost the very beginning.  "The energy level never grew.  So basically I can't even walk fast.  But the Doctors in the medical tent are very kind and are looking after me.  And they are finding out what my problem is."  She says that she believes the problem stems from a visit to Asia that she took 3 years ago.
"Now it is coming out.  And didn't I say that all I wanted was to be healthy after the race.  So, I am getting what I wanted. Because it is so hard sometimes that these things get transformed.  So much more time out here with yourself."  She says because of all the obvious distractions of being home that you never have the unique opportunity and endless time that you do here of dealing with your life.
She says that, "only the cold and the wind here have been more of a struggle, than the physical pain."
Subala has 105 miles after 48 hours and says she feels even better today.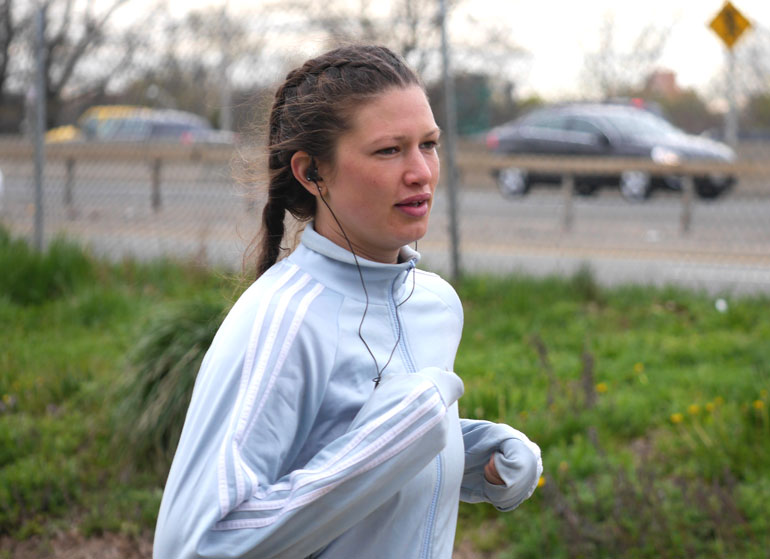 The great Rimas
Ratuja and her helper Prapti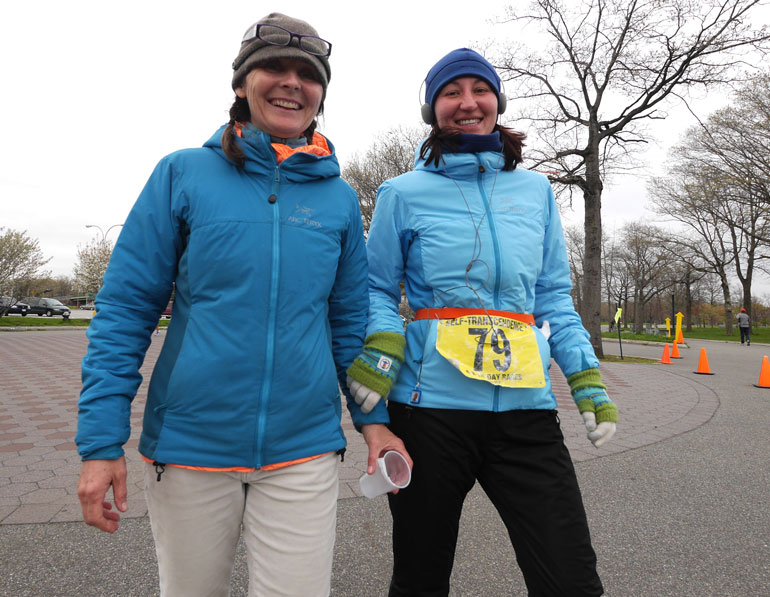 "It is my first time in the 10 day race."  Until starting this race Anna from Moscow had never run further than 48 hours.  "I am very happy to be here and to get this great experience."  She says that it wasn't until 2 years after the 48 hour race that she felt it was time to run something longer.  "I felt I needed more training and more inner conviction that I was ready to do it."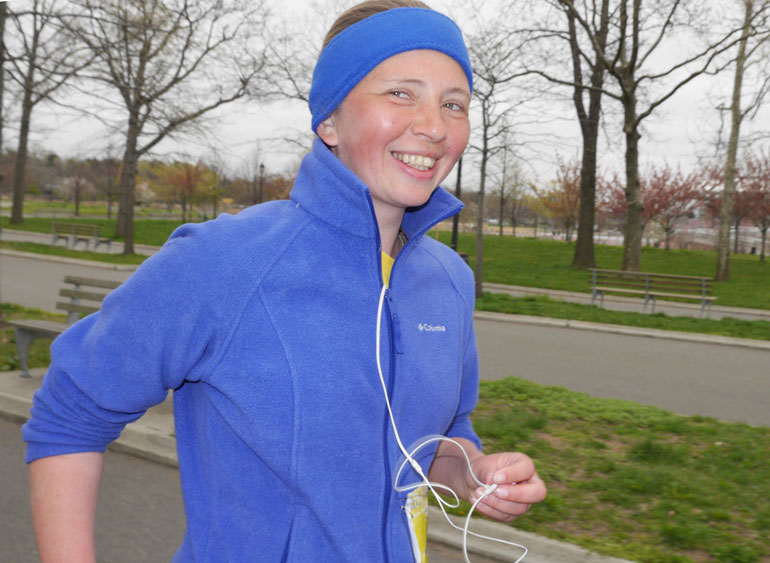 Already she has gone much further than she has ever gone before.  "This self transcendence gives happiness and satisfaction.  I feel very grateful that I am able to be here to do it."
"I think that it was after the first day that the struggle began.  There were pains in my legs and other pains that I have never had before.  I am very grateful to the organization of this race because you can go to Doctors who help your pain and you can continue to run.  There is also a kitchen that can sustain your body.  All you have to do is run and remain happy."  She is hoping to complete 400 miles by the end of the race.  "I can't really guess what the number will be."
"since I began the race I have gotten a lot of letters of support from my Russian friends.  They give me so much inspiration.  I am also very grateful to them. "
Andrey from Dubna Russia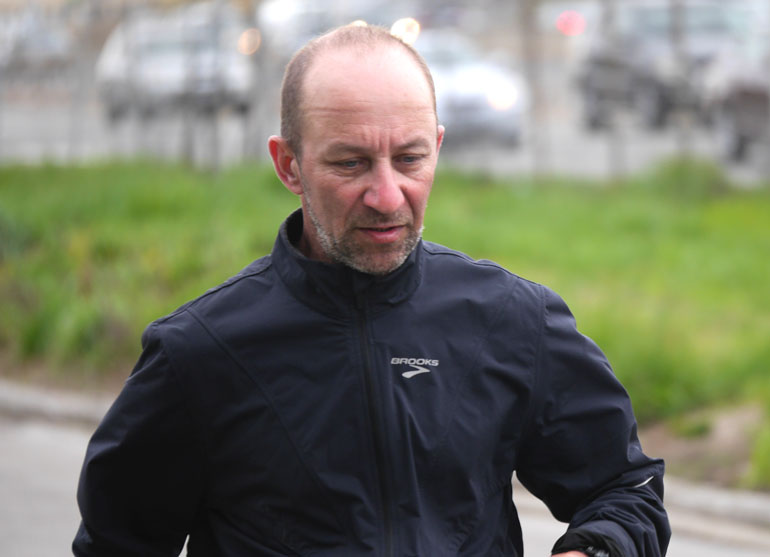 Kodanda and Virendra play
Martin does a quick change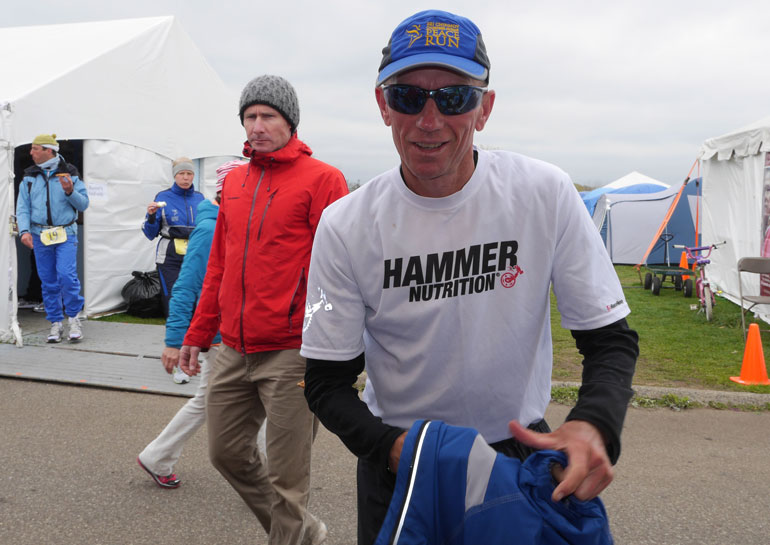 And just keeps going.
Mark doing some house keeping.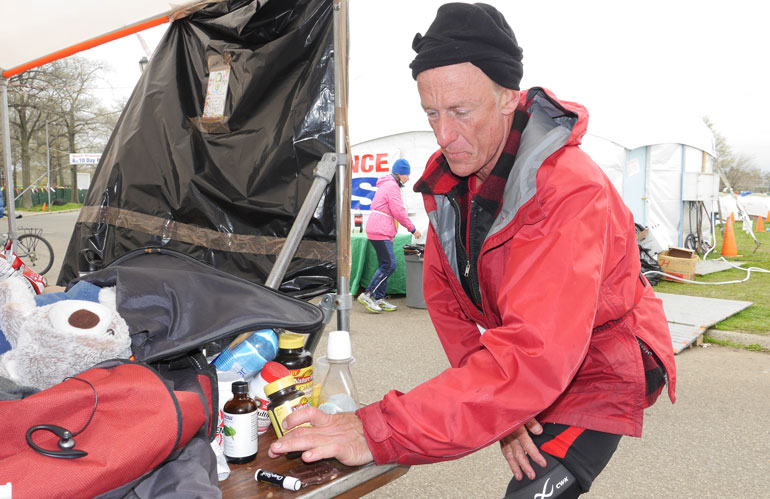 Kumar taking a break.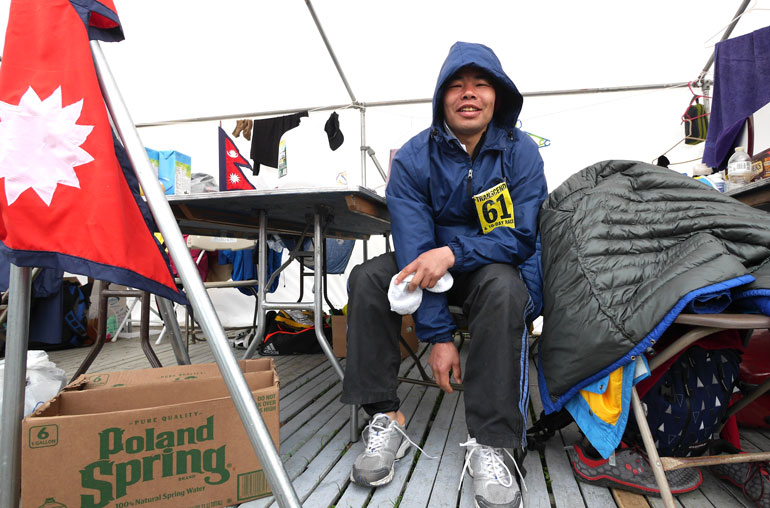 Michel moving into the night.
"It was a long and gradual journey," says Salil who finds himself running the 6 day race for the first time.  He tells me that he has been helping with them since 1985.  "You can look back and see this seed being planted and slowly germinating.  It was a very gradual process."  He says that by seeing others, who he would least suspect doing the race that inspired him.  "It opened up the possibility.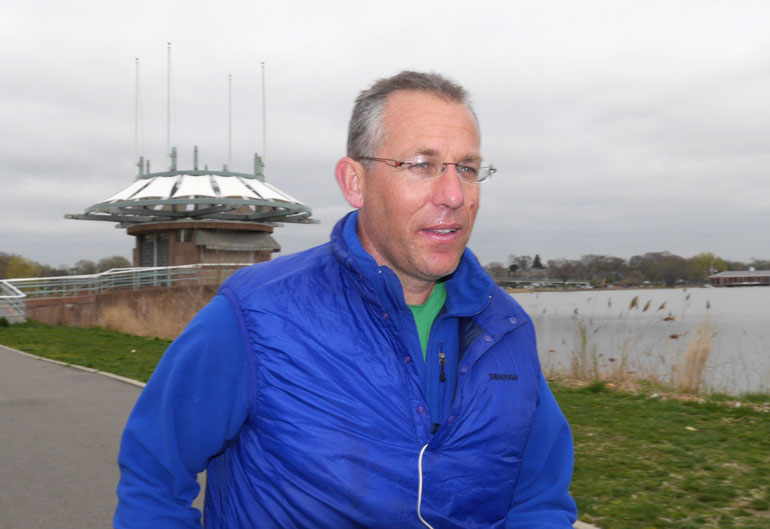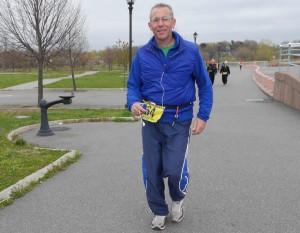 Every other year he organizes the World Harmony run so it is impossible for him to do the race on those years.  He says that it is from the World Harmony run that he understands what a miracle it is for it to happen and how many things have to come together so that it all works.
He also realized, "I said, if I want to do this race I better do it now.  Who knows what is going to happen,"
"The best advice I had was to do 10 mile blocks.  It didn't even occur to me that I needed a plan."
Tommy
The Grand Central
Man, in his outer life or his outer achievements, is very limited. But the same man, when he enters into the inmost recesses of his heart, feels that there is something which is constantly trying to expand itself. This is consciousness. This consciousness links him with the highest Absolute.
-Sri Chinmoy-