The moon has been growing full for some days now.  It is hard for us to resist its pull and attraction when it glows so bright and inviting in the clear Spring night.  But on this past Sunday evening there was another lofty brightness illuminating the darkness that caught the attention of several hundred people in a little corner of Queens NY.  It is a neighborhood not unaccustomed to the large and the extraordinary.  This April 13th however saw the creation and lighting of something that even this, a place where the unexpected often shows up, the World's largest Peace Torch.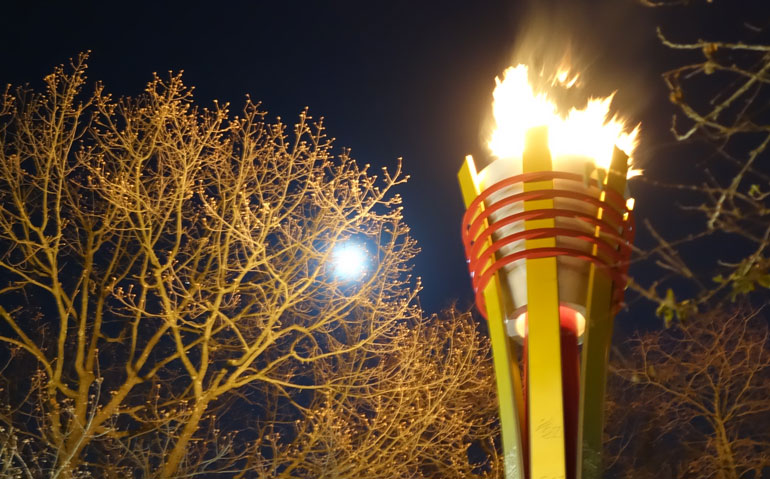 The threads of this particularly story are both very simple and yet also extraordinarily complex and profound.  Ashrita Furman is the first name that comes into the mix as the driving force behind this new Guinness record, for he has more of those records than anyone else.  (Something like 182) But he himself would say the real inspiration for this unique creation is his late Spiritual Teacher, Sri Chinmoy.  Who first came to America 50 years ago, on April 13th 1964.
Ashrita, has always dedicated his achievements to Sri Chinmoy, and so wanted this 50th anniversary to be more than just special, that it also be historic.  He, along with a team of helpers wanted to create a Guinness record that would be original, powerful, and at its heart, symbolically represent some of the deep inner values and aspirations that Sri Chinmoy himself tirelessly championed.  In particular Sri Chinmoy's Oneness-Home Peace run, in which a team of runners carry a peace torch.  This event has been taking place in more than 140 countries around the world for more than 20 years.
May the flames of peace-torch
Kindle and awaken
Each and every world-citizen.
Sri Chinmoy, A Love-Bathed Heart, Agni Press, 1993
The Guinness record people informed Ashrita, when he first proposed building a giant torch that he could not simply create an original designed torch.  Instead it would have to be modeled after a previous Olympic torch and be at least 10 times the size of it.  After examining pictures of all possible torches Ashrita selected the 1998 Nagano winter Olympic torch to be the most beautiful.  Yet now the dilemma arose.  How to find blueprints or even a copy of an almost sacred object that was built 16 years earlier in far off Japan.
Ashirvad just happened to be giving meditation classes in Tokyo when the original idea happened to be formed.  Setting up an appointment with the torch creator, he took a 3 hour train trip to Nagano to speak to people there to see if it would be somehow possible to get technical information on the original torch.
"A gentleman from the company received us and he was very happy to see us."  The man was Akio Haruhara who actually designed and created the torch.  In order to give him some idea of what Ashrita was planning he showed him a video of some of Ashrita's other records.  "He was extremely inspired by the video."
Mr. Haruhara then showed them the real torch.  "It was really beautiful." They were also allowed to take measurements.  He then asked if they needed anything else.  They asked of course for more precise diagrams of the torch and mr. Harahura apologized.   He said that Olympic rules forbade that he do that.  Then after taking a long look at Ashirvad he said, "Just take the torch. So he gave us a real torch."  Upon returning to New York he mentioned to Ashrita only that he had been quite successful in his search.  Not revealing the full extent of his success until he delightfully handed  Ashrita the actual torch last December.
"He was like a kid who receives the nicest toy at Christmas.  The one he was hoping for.  He wasn't expecting to get the torch.  It was a big surprise."
When Ashirvad was originally with him, he told Mr. Haruhara, "of course if you come (when it is constructed) you will be welcomed.  They don't speak much English so I didn't feel that he would do it.  But his wife was very excited about the idea.  She said, yes, you need to go to New York."  Time passes and it was only a few weeks ago that Mr. Haruhara and his wife confirmed that they would come.  "It is really nice."
"There is something about this project, and I have seen many records.  That the level of commitment that was put into it that I don't think I have seen before.  Everyone is so focused on making this torch the best way we could.  Every little detail was given a lot of attention.  From the materials used to the finish, colors, every little thing is an exact copy of that torch.  It is just amazing."
Interview