The footage is less than 2 minutes long.  A mere fragment of much greater event that probably could never be captured adequately by a super 8 film very well anyway.
Yet it shows Sri Chinmoy completing the 47 mile race in 1980 for the 2nd time.  A performance that took him 11:27:24  to complete and which surpassed his previous best by  74 minutes.
*photo by Bhashwar
Now there is a new generation following in those same footsteps as their late spiritual teacher 36 years later.
Many who have never even had the opportunity to see Sri Chinmoy little alone remember how powerfully he once used to run
Pratyaya the race director remembers those early days
Petra gets ready for a long night
There is a profound sense of calm as people register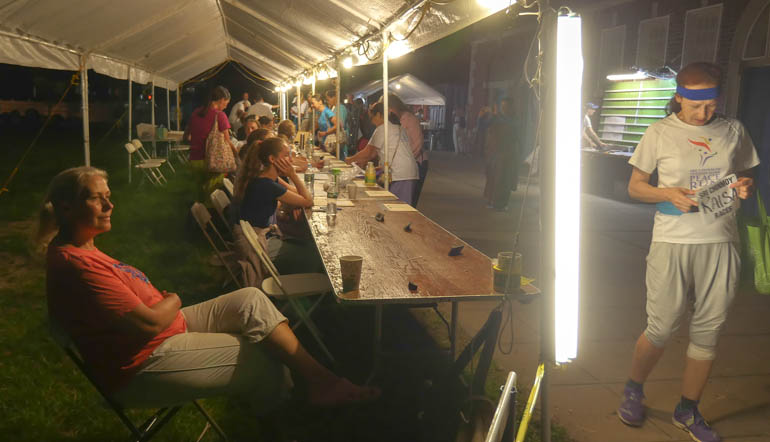 Most have a clear sense of why they do this most difficult thing of running 47 miles starting at midnight on August 27th.
The time of quiet does not last long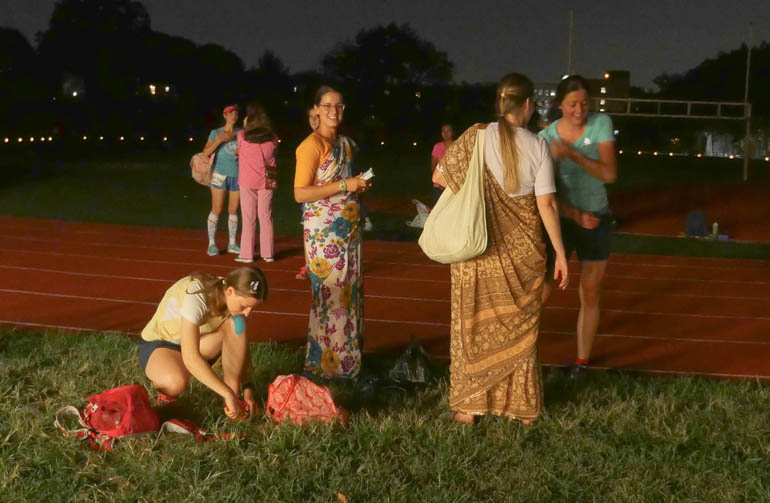 Know that as much as it is gift to their teacher it is also something that will offer much more in return.  A dedication.
Even for those who do not run tonight but who instead help there is a sense of purpose and dedication.
The race is an opportunity for all to feel part of something great and beautiful that lies both within and without.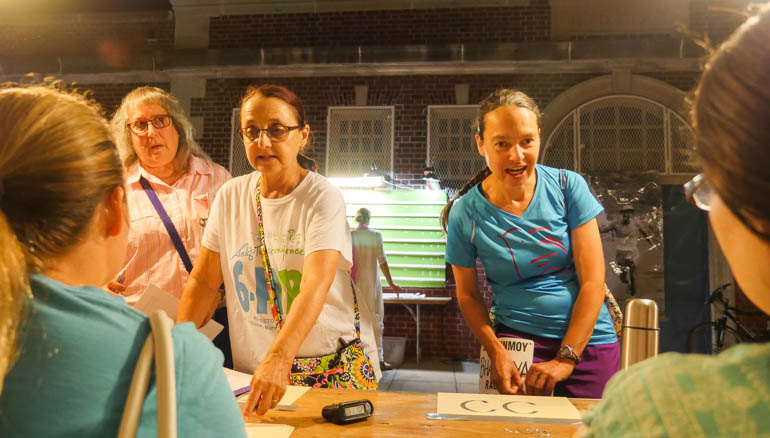 *Please Click below to read the rest of this report*
An opportunity that comes but once a year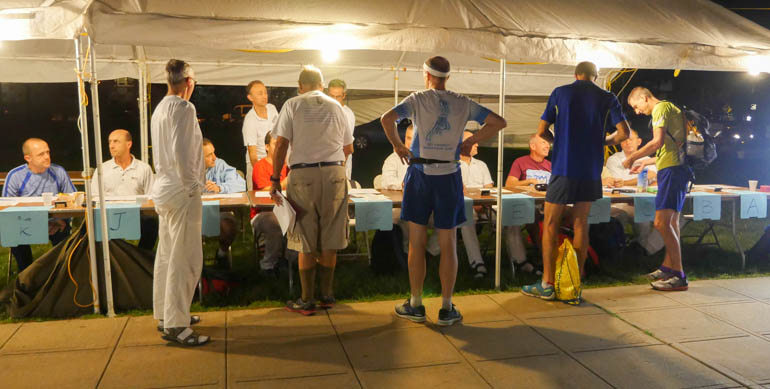 But one whose benefits can last a lifetime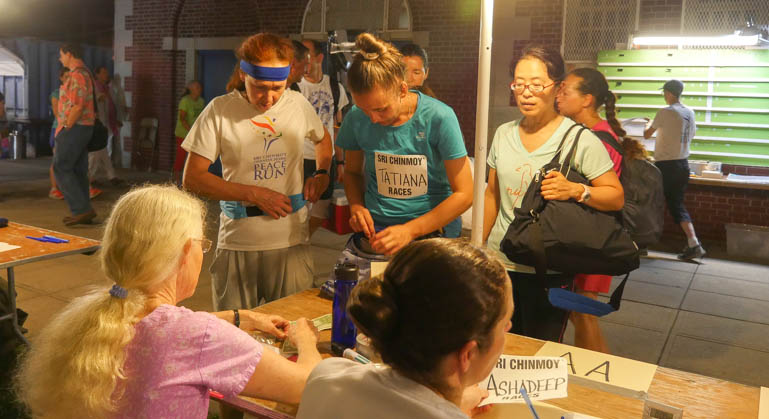 Instructions at the starting line by Nibir
Some encouraging words by Sri Chinmoy read
It begins
The turn out to 168st.
Poems on the fence
Lights illumining the darkness
Always enough light to find your way
Pratyaya, Hladini, and Devaki just before the runs come through for the first time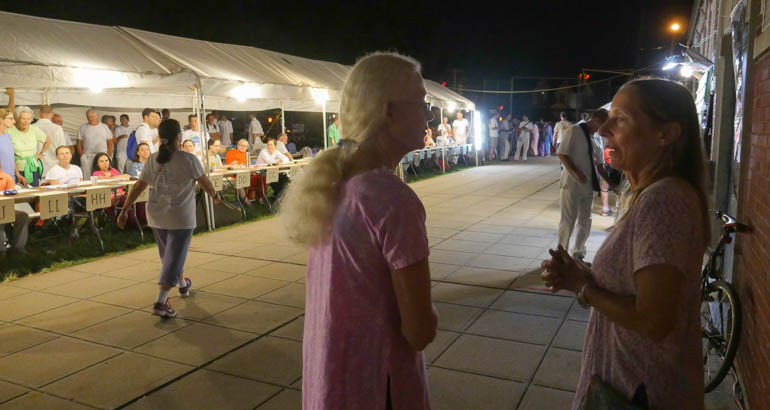 Getting the leader boar ready
The counters watching and recording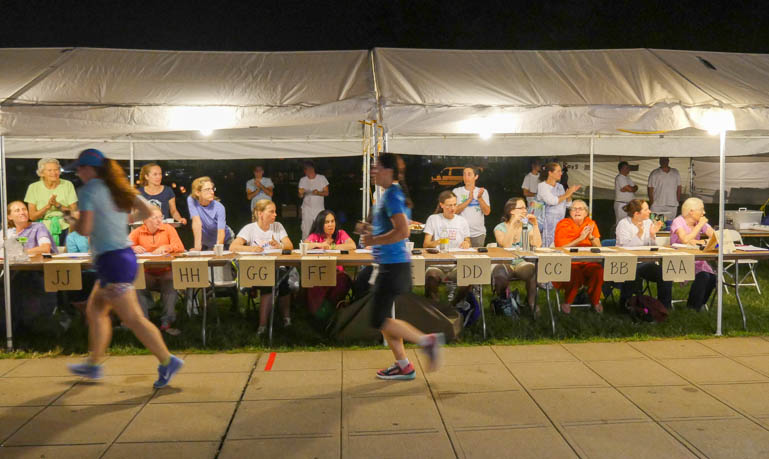 The girls
Runners coming by in both directions
Granatan is the early leader
Things are happening with the board
There are some like Boijayanti ran the marathon just 2 days ago
The clock ticks on relentlessly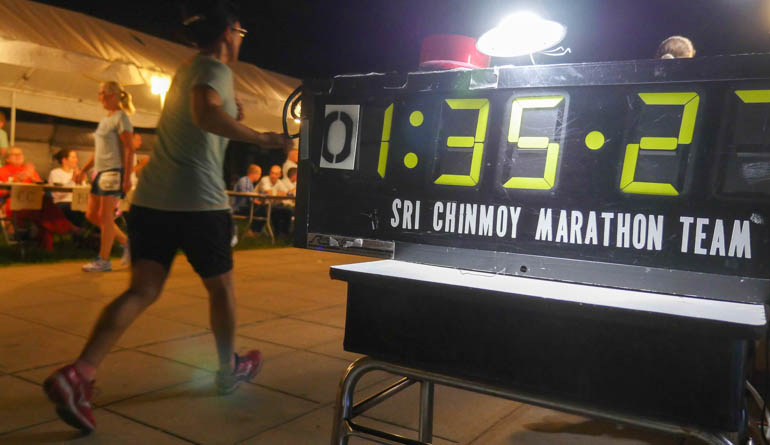 Clifford
Light of all kinds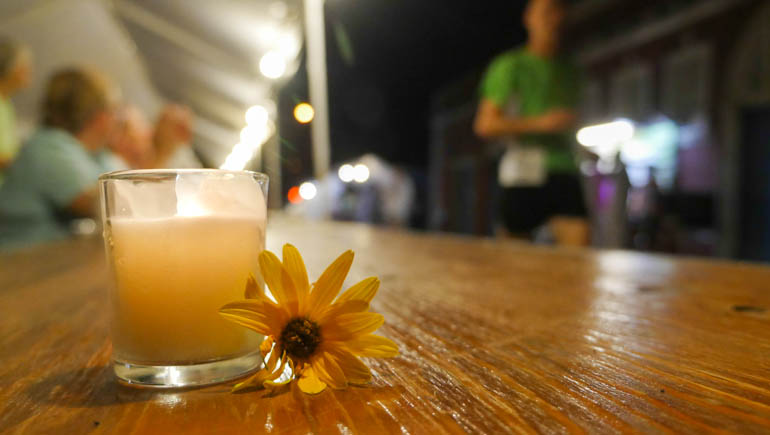 There is not a single problem
That cannot be illumined
With our aspiration-candle.
Garima the great
Tarit and Garga working on the board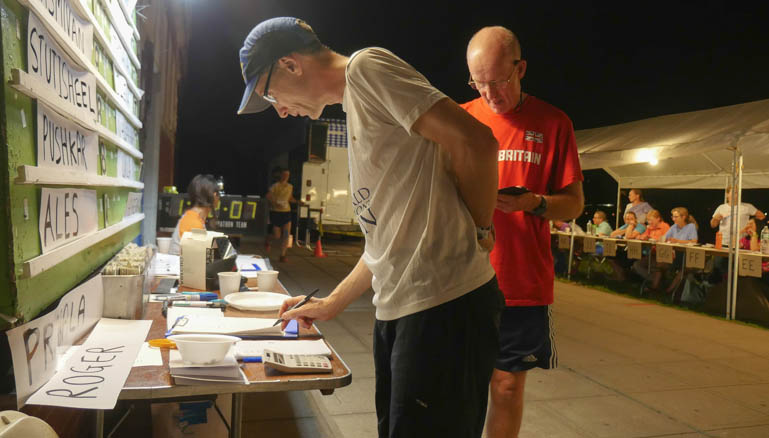 The night is passing…..Palash
The steep hills….Stutisheel
Koojena taking water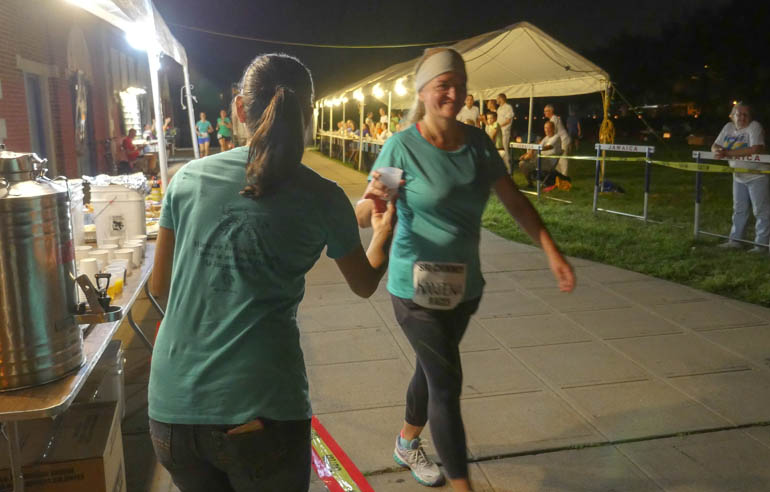 The food table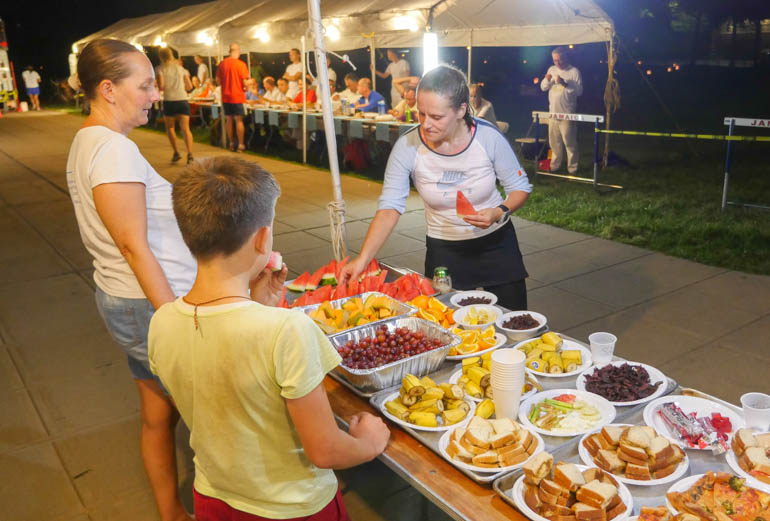 Vinati behind the school
It is a humid night and water is necessary
Soon enough the morning draws near
The awakening sun inspires us all
Steps have slowed but not the inspiration
A new shift of counters
Energized in every way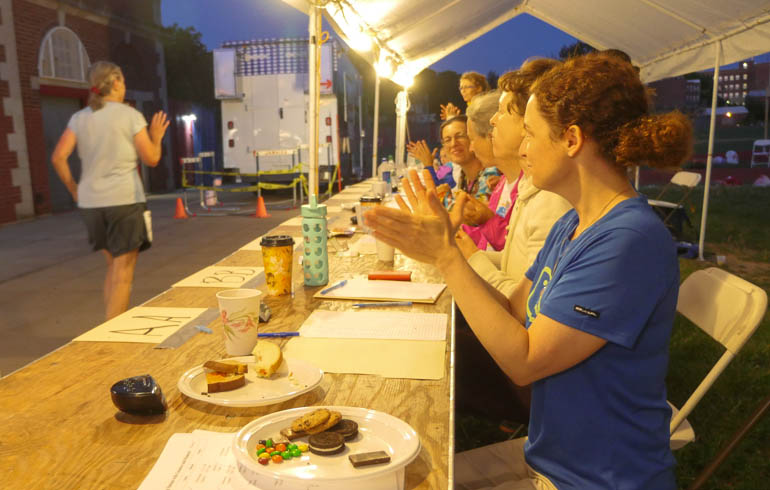 Garima never seems to tire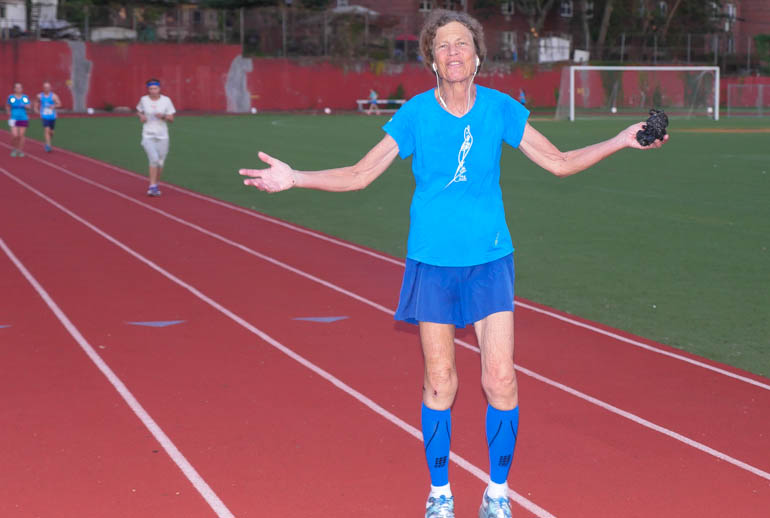 Vasuprada and Tatiana
The finish getting closer
Smarana and Ushika
Suhasini
Getting brighter
The first finisher approaches
"I feel full of gratitude to Guru because I wanted to offer him something in a unique way.  Instead he gave me something more than I could ever expect."
"This is really a unique race.  This is the birthday of our Guru.  I am really really proud and honored and grateful to every time I can race on this night."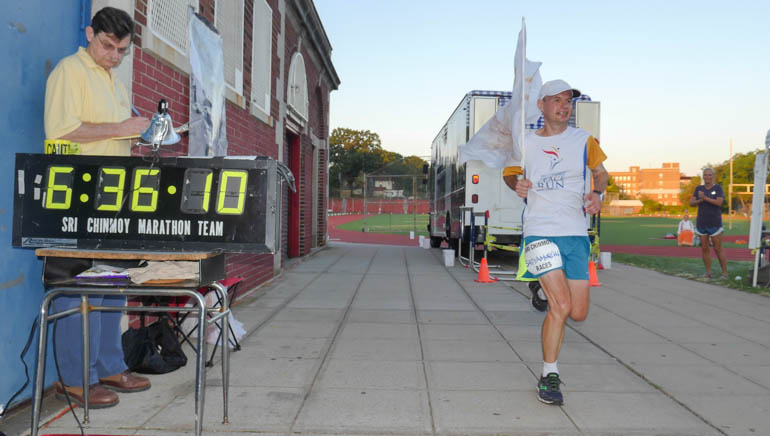 Styamurthi is the men's champion with a time of 6:36:10
Click to Play:
"Here and now is the key to the real victory."
"I just got the nicest present that we can offer Guru for his birthday."
"I kind of felt this the whole race.  Sometimes it was a little bit stronger."
"I am actually a little bit injured.  I am very grateful that I gave everything to Guru and it ended up very well."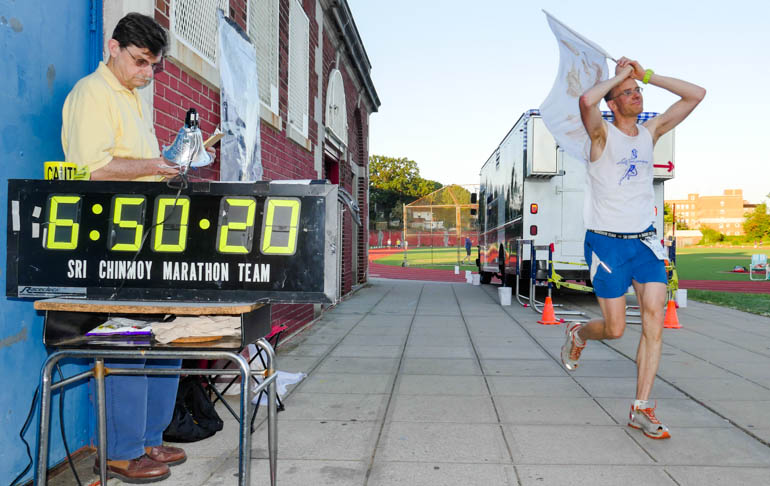 "I had just the feeling that I would finish.  And I did not care about the time at all because in my last race in the Swiss Alpines I had to shorten the distance.  I had pain the whole time.  The last 8 or 10 km were pretty intense."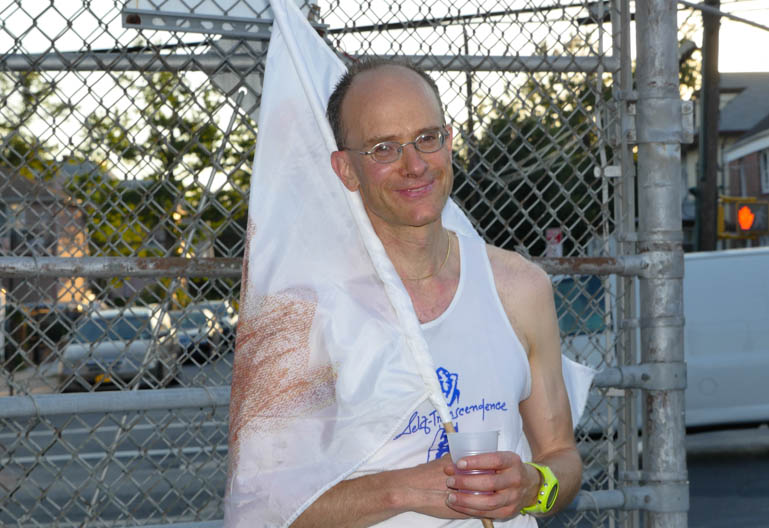 "My belief is that everything is connected to the inner.  So I am trying to become a better disciple and solve these problems."
Click to Play:
Pushkar came in 2nd place in a time of 6:50:20
"The last 400 meters with the flag was delightful."
"Last year I did my best time (7:03 4th place)."  This year he is in 3rd place with a time of 7:04:15
"Until the half way point I felt very well.  But there was no time that I was really struggling.  It went a little bit up and down but at no time was it really tough."
"The whole way I chanted gratitude when I breathed out.  When I breathed in I chanted Supreme."
"I also do this when I am practicing.  It was like a whole mediation for 7 hours.  It was great."
"I feel more and more that we do not 80 or 90 but 100% grace from above.    This I feel more and more when I am on this path.  In everything that we do.
Click to Play:
"It is my 2nd best time after running the 3100 mile race.  In the 12 years that I have taken part in the 3100 this is the 3rd time I have run this my favorite race.  It is a special present for Guru."
"Whenever I can I never miss this race.  This time in spite of a tougher than the toughest 3100 mile race.  I was recovered pretty good.  I was able to perform pretty smooth.  It was amazing even to me."
"My best time after doing the 3100 was 7:10."
Stutisheel was 4th in a time of 7:12:38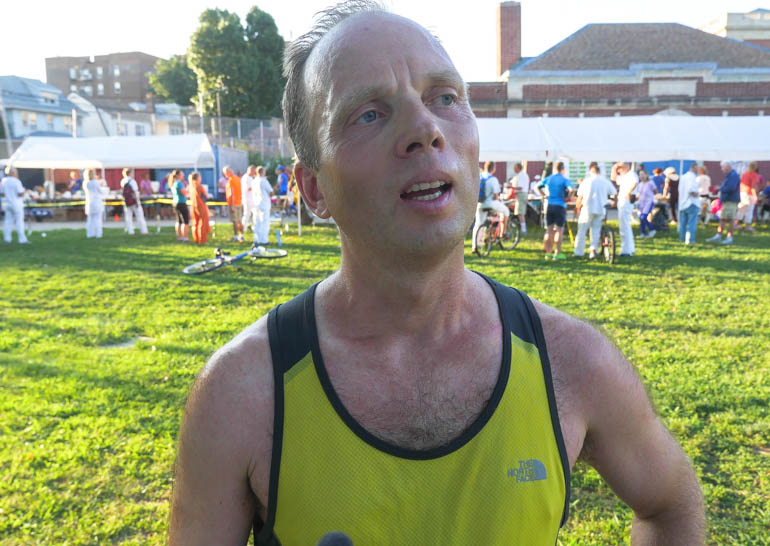 "Wonderful.  Amazing.  Happy Birthday Guru.  It is an amazing present from Guru actually.  He is the one who is giving the richest present on his birthday.  Therefore it is the most important day for me in the entire year, Guru's birthday.
Click to Play:
"It is amazing.  I never dreamed that this would happen."
Vinati is the women's champion in a time of 8:36:57
"In my last few laps I felt as though I had garlanded Guru.  It was something really amazing for me."
"Inside my heart.  It was not just me.  I felt the support of everybody.  It was not just my victory, it was the victory of all."
Vinati's time was slower than her performance last year.
She has done the longer races in Flushing Meadow and says that although this race is different she feels as though ultimate, "we are giving everything to Guru."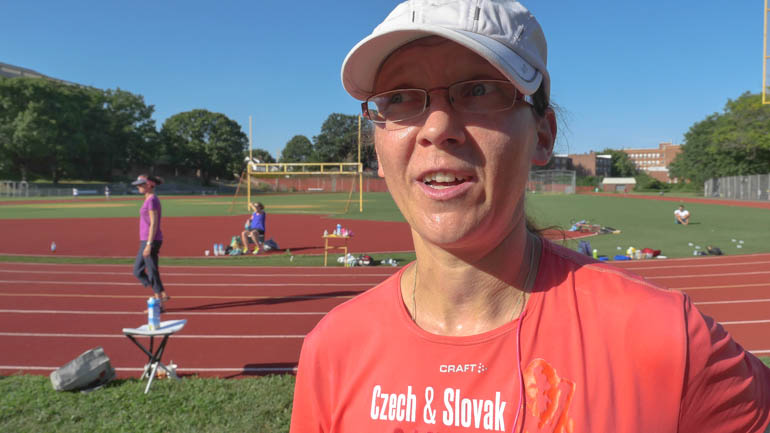 "We can experience this only fully when we can feel gratitude all the way.  It really helps so much.  It pushed me amazingly.  I just wanted to feel gratitude.  It is nice to feel and this state of being is absolutely amazing.
Click to Play:
Harita has spent much of the summer being part of the American Peace Run and running the 47 mile race she feels as part of larger blessing of being part of Guru's love of running.
Harita is the 2nd women finisher in a time of 8:47:46
"I have done this race a few times but this is my personal best by 25 minutes.  I am really happy about that."
Because she spent the summer on the Peace run she says she had few opportunities to do any long training runs.
"I did the marathon yesterday.  I was doing my absolute fastest." (3:54)
"I think it is all just grace."  She then recites
Enthusiasm
Knows
No tiredness.