Start
Sign up
It begins
First lap
Zuzka
Water
Vihan and Ales
Vesi
Unnatisil
Tirtha
Tarit
Suswara
Surasa
Silvia
Shamita
Board
Saranyu
Sarankhuu
Sara and Giribhu
Pushkar
Pataka
Patanga
Counter
Palash
Padyatra
Olena
Martin
Nikolai
Mahiruha
Karteek
Jayasalini
Food table
Ilvaka
Girbhu
Counter
Emanuels
Cliff
Boijayanti
Bharu
Anupama
Andrea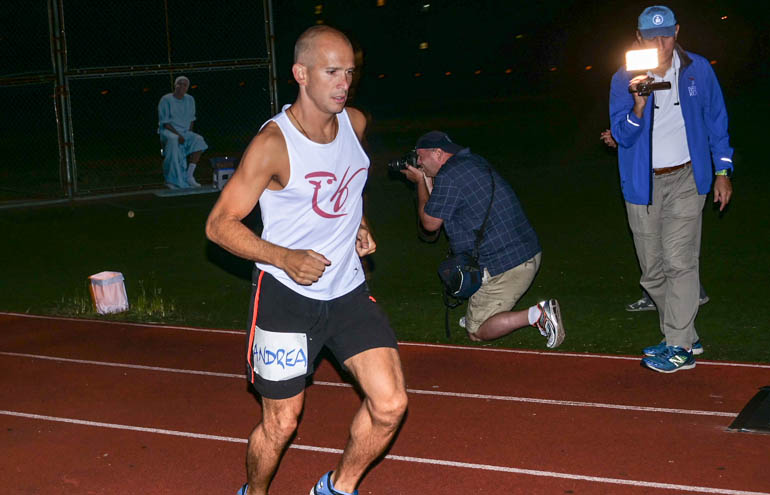 Ananda-Lahari
Morning:
Agnikana
Ananda-Lahari
Ananda-Lahari Finish 7:23:17
Helpers
Arpan
Bharu
Bharu finish: 7:04:59
Kritartha
Christian
Cliff Finish: 7:30:52
Daulot
Ilvaka Finish: 7:26:16
Mascot
Kalpa
Kanala
Karnayati
Mahiruha
Karteek
Max and Pushkar
Music
Nayaja
Padyatra
Counters
Pataka
Pataka Finish: 7:35:52
Palash
Pushkar Finish: 8:11:28
Samviraja
Sara
Sarankhuu
Counters
Saranyu
Surasa
Tibomir
Tirtha
Vasudha
Water
John Hanc: You lifted me, so I know it is true.  Did you ever run ultra-distance
Sri Chinmoy: My longest distance was 47 miles. I did it twice. Now I no longer do it, but every year about three hundred disciples of mine from all over the world come here on my birthday and run 47 miles. Being the spiritual father of the family, it gives me tremendous joy when I see my spiritual children run 47 miles. The number 47 is very important to me because in 1947 India got its independence. With this run we are celebrating our inner freedom.