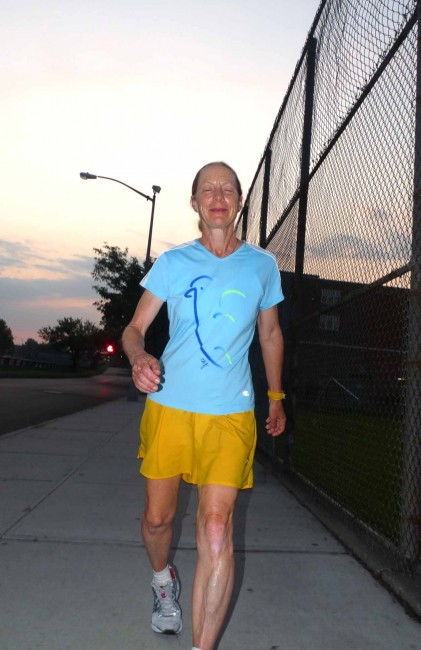 "This time is special," Suprabha says as she talks about her experience here this year in the 3100 mile race.  For anyone who has had the opportunity to observe Suprabha running day in day out, they would have to profoundly agree with her direct and simple assessment of her race this year.  Just 15 days ago it appeared that it would be impossible for her to continue.  One of the doctors who examined her at that time, Dr. Mitch Proffman says, "she was in excruciating pain, she couldn't even step down.  She couldn't even move her hip.  It is truly a miraculous recovery.  She is an inspiration to everybody."
The mantle of heroine doesn't fit too well upon Suprabha's slight frame.  In a supermarket line or even out here at the 3100, as the only woman running with much younger men, after a quick assessment of her, one would probably be hard pressed to easily identify her as an exceptional athlete.  She certainly does not outwardly resemble someone who has the distinction of being, as Sahishnu called her, "the greatest super long distance runner in history."  What defines this petite champion is not her outer strength and speed but her absolute inner dedication to this race created by Sri Chinmoy 13 years ago.  Yet even if the world does not celebrate her astounding list of achievements her incomparable distance records clearly demonstrate by themselves how incredible an athlete she really is.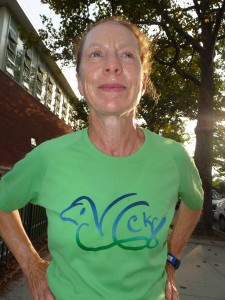 The vocabulary of language is in so many ways inadequate to catalogue or even properly comprehend her accomplishments.  After so many years and miles of constant running competition, descriptive adjectives have long since failed to keep pace with her as she just keeps going and going on.  Suprabha tells me that once a friend came to her earlier in the summer and related to her that she had been listening to some old tapes in which her late spiritual teacher, Sri Chinmoy is speaking about her.  He said several times how miraculous it was that Suprabha ran this race.  Yet now she has done it again for a record setting 13th time.
If one has any belief, or just simply accepts, that heart power is far superior and more significant than the power of the mind or the body then what Suprabha has done, not just this year, but throughout her ultra-distance career becomes abundantly clear.  It would seem that it is in her receptivity and her inner spiritual connection, that she finds her apparently limitless strength and enthusiasm.  What would crumble most people to the ground, she simply accepts, not as adversity but as inspiration to reach higher and dig deeper.  All of course part and parcel of her spiritual teacher's philosophy on life.  She says, "it has taken me until this year to really understand what Sri Chinmoy gave us in this race."