It is a sweet still morning, odd perhaps for a friday, when the world around us usually gathers itself for the final noisy chaotic rush of the week.  The sky is bright and glowing and the day will not get hot.  It is a day that is swelling with beauty and promise.  It is also the day that Pavol has dreamt about and struggled long and hard to achieve.
It is just a perfect morning to be wide awake.  Yet the first words he speaks today are, "It is like a dream."  But this is a real and perfect dream for Pavol.  Today he will at last reach his goal.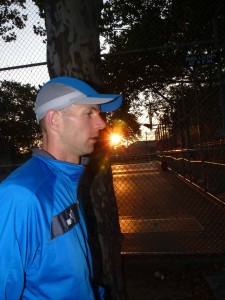 On day 56 of last years race Pavol found a generous portion of solace for his mind but in his heart he felt he had not achieved his true victory.  He managed to complete 2700 miles on the penultimate day of the 3100 mile race.  It was a terrific performance considering how hard he had to work to get it but he had come to complete the full distance, not 2700, so it was a bitter sweet victory after 56 days of struggle.
On this bright morning he steps forward from the line with just 49 miles ahead of him.  There will still be a hint of brightness left in the sky when he crosses the finish line in the early evening.  He is not dreaming or sleeping in any way today. As he run he looks as though he is savoring each step. He does not look like one that he has spent 111 days here over two years going around and around thousands of times.
He is all too awake and alive and grateful to be here.  He is doing what his heart has asked of him. Tomorrow when he rises early and does not come back to the course, perhaps that will be a real dream.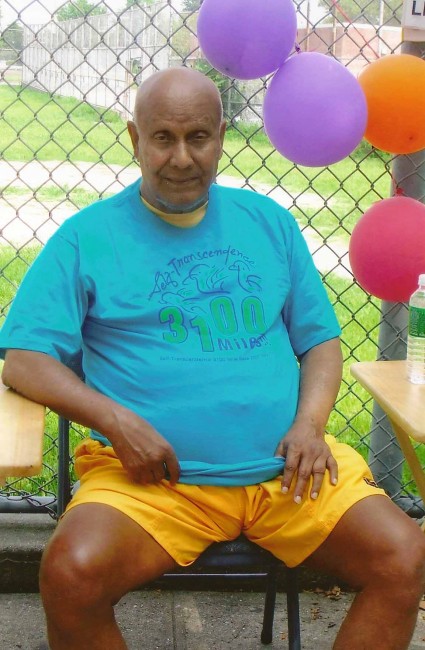 This picture was taken by Alakananda at Asprihanal's finish in 2007. Today is her birthday and she has offered this picture to all who have come to the race this morning.   For both herself and her Dad this picture represents their spiritual teacher's love and affection for this race.  Sutisheel says, that you can see in this picture that he is asking her to take it.  So today she is giving it away.
On May 4th, his birthday, Stutisheel also gave it away and included the following aphorism.
I love the Supreme because I came from Him. I devote myself to the Supreme because I wish to go back to Him. I surrender myself to the Supreme because He lives in me and I in Him.
Excerpt from Service-Boat And Love-Boatman, Part 2 by Sri Chinmoy.
It is the last morning in which there will be 3 starters.  On Saturday there will be two, and from then on Suprabha runs alone.  She is 300 miles away from her goal.
I ask Pavol why he calls this all a dream.  He says, "I feel that this is all not real. I cannot believe that I am almost finished.  I will only believe when I run my last lap."
He says, "Last year was hard and I made some big mistakes.  Last year I came to race and I had a problem with my knee."
Despite his problems at the race last year he feels grateful for the experience he had.  He knows that he learned a lot and that both outwardly and inwardly it prepared him for this year.
He knew when he came this year that he had a much better chance to finish but he says, "who knows.  More and more things could happen."
"I feel that for me this race is the best thing.  I feel I must come and be here.  I must try and finish it every year.  It is a strong feeling."
He says that this for him is the best possible place for him to be.  He says that when Sri Chinmoy created the race he knew that those who came here would have incomparable experiences in all parts of their being.  He also says that not just the runners but also all those who help can receive something from being here and taking part if even in a small way.  He says, "it is here that they can make the fastest progress.  Because this is not easy.  The fastest spiritual progress is hard work."
Those that have already finished still come most mornings. Though later tonight the first start to fly back home.
It is a family like no other.  For 50 plus days the three working as one.  Sharing in both joy and in pain.  They have already tasted Self Transcendence victory but today it is the simple joy of a birthday.
Pavol is the 9th finisher of this years race.  His time is 54 days, 14 hours, 26 minutes, 40 seconds.  Sahishnu says, "he had to pick himself up and invoke the higher spirits within.  He was steadfast and strong. He kept going and now here he is finishing." Pavol finish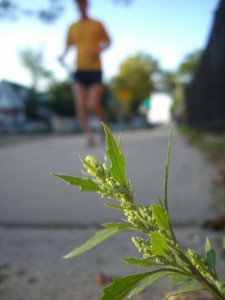 Everything else will fade
Like a dream of youth
Save and except one thing:
Man's sleepless hunger
For satisfaction-smile.
Excerpt from Ten Thousand Flower-Flames, Part 15 by Sri Chinmoy.