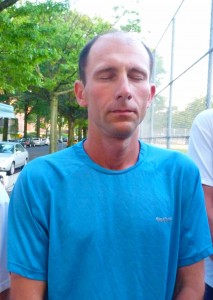 If you do not run or have never run in competition then what takes place in this little corner of Queens will likely be foreign and totally incomprehensible to you.  If mysterious bits of your body hurt during exercise and the very thought of strenuous activity makes you exhausted, than really the notion of running 3100 miles will just not make any sense.  This is understandable.  There are lots of activities going on in this world of ours that nobody wants or needs to take interest in.
Yet if you have run a long race even once in your life something about this event will echo with familiarity.  You will have some innate understanding of what it is like to ask your physical to give more than it appears to have.  To view your fellow competitors as inspiration, so that you might draw upon the fragments of unwillingness and strength dormant within you that you might otherwise be reluctant to draw forth.
Also, you will identify with what it is like in those final fleeting moments, as you surge toward the finish line with every ounce of effort in your being.  That sweet feeling of release as you take one last final stride.  When you just let go of all the strain and all the pushing, and surrender to the certain realization that you have surmounted an inner and outer challenge.  You might even offer some gratitude that you have actually, for a time conquered the lethargy of the body and shown that it can be instead a dynamic and integral vehicle for your life energy.  Then you just might have a secret wish to do it again and try even harder.
3 runners today will finish their long journeys here.  It is astonishing that just a few hours separates each of them after 48 long days.  The distance that separates them is just a grain of dust floating in a breeze compared to the gargantuan distance they have covered here, 3100 miles.  What is notable about them today is also how close they all are to each other.  The word, competitors, sounds so foreign to three comrades who have shared intimately a monumental undertaking that no one can really comprehend but they themselves, and the tiny fraternity of runners who have also done this.
What is clear is that there is a certain joy in crossing the finish line to applause and cheers and being able to say it is over at last.  Yet most of the 3100 mile runners would say that is not the sweetest part at all for them.  That more precious are those moments when they are alone on the course, with maybe weeks sill to go.  It is then that they experience the grateful realization that they are living their lives to the fullest.
Vlady is running this race for the first time.  For a first timer he has done exceptionally well.  When it was announced that he would be on the starting line this year many nodded with approval, agreeing that he was perfect for the race.  The race it seems is also perfect for him, and by all stretches of the imagination, he has far surpassed anyone's expectations of what he could do here.
Early in the morning with less than 10 miles to go he said, "I am happy and a little sad that this is all over." When he left the course last night he felt the pangs of knowing that he would only come back to the starting line one more time.  "I didn't think about this race last year, but this year I told Sahishnu I had the feeling I wanted to run.  I had the feeling inside me that I was at last ready to do it."
He says he has learned so much from the other runners during the past 48 days but in his humble way says he does not feel special, just grateful to be part of it all.  "Everybody has special qualities.  I think I take something from everybody here during the race." He describes that during the 3100 he became more aware of all parts of his being.  He also notices how much more he is in tune with nature.  To be one with the weather no matter if it is hot or cool and raining.  "For the last two days I got the idea that rain is not bad.  That I like rain.  For me this was interesting.  It was really a nice feeling."
He tells me how much Pranjal inspired him.  How he took only one break and would keep running until the last possible moment every night.  Last night, as an example, he sprinted across the line with less than a minute to go before the midnight cut off. Then when he got home he would work on his blog.  I tell him that Pranjal was also the first runner to arrive in the morning, jokingly, something he might not know since he was usually the last to arrive.  He confesses that he has had difficulty in getting up.  "I have 3 clocks."  After the morning he had come quite late he tells me that Tirtha bought him an additional clock out of concern for him.  He also has noticed that no matter if he leaves at 11 pm or closer to midnight that he always goes to sleep at the same time.  This has shown him he said the importance of staying as late as possible.  "Next year I will be better organized."  He hopes to take less and shorter breaks through the day.
He has received many encouraging messages over the weeks and they have inspired him a lot.  "I am not alone, with me, so many people are running."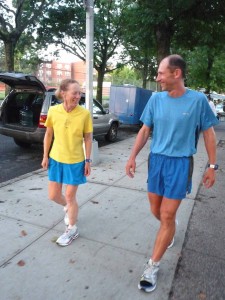 He describes how for 10 days around his birthday he was very sick with a fever.  He says that people may not have noticed that he was sick because his mileage stayed high the whole time.  He says he felt that an inner force was working in and through him.  "This was not Vladimir who runs so long."  He says he feels that it was his late spiritual teacher, Sri Chinmoy, who was running in and through him at that time.  He feels that certain experiences he has had during the race are like seeds within him, that in time they will germinate and bear beautiful blossoms.  He says without question he will return next year.  "For me this is an opportunity to make progress.  I love this race."
Both Vlady and Stutisheel come from the Ukraine.  They are but a year apart in age but Vlady is in awe of Stutisheel who is running this race for the 6th time.  Stutisheel says of Vlady, " He is just amazing.  I have no thoughts only pride, only admiration.  He is a great hero.  How he went through all those difficulties, especially on his birthday.  It was absolutely the worst day in his running the 3100 mile, but he was so stable.  I remember on that day, it was like an option, to go to the Doctor, another runner and him.  To try and figure out what was happening.  He had no power, no energy.  Finally Vladimir refused.  He said, well, everybody has difficulties.  Why should I go?  Otherwise every day every runner should go to the Doctor.  I will stay here and run
and fight. Whatever will come I will just continue moving.  I really really admire his steadiness, willpower, and devotion, and he is actually a nice guy. "
Vlady says of Stutisheel, "he is like my brother.  I feel like I am part of his family.  He helped me.  For many years he inspired, not only me but many people. "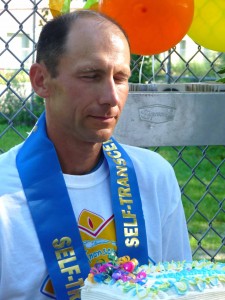 He completes the race in 48 days, 2 hours, 25 minutes, and 50 seconds.  He averaged 64.45 miles a day.  Today he is the 4th finisher and the 10th fastest man in the history of the race.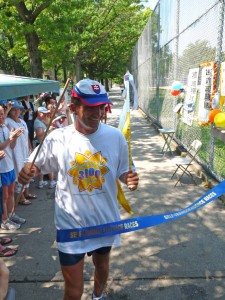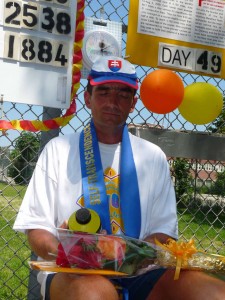 He completes the race in 48 days, 6 hours, 7 minutes, and 50 seconds.  He averaged 64.42 miles a day.  Today in his 5th time here he is the 5th finisher and set a personal best by more than 28 hours.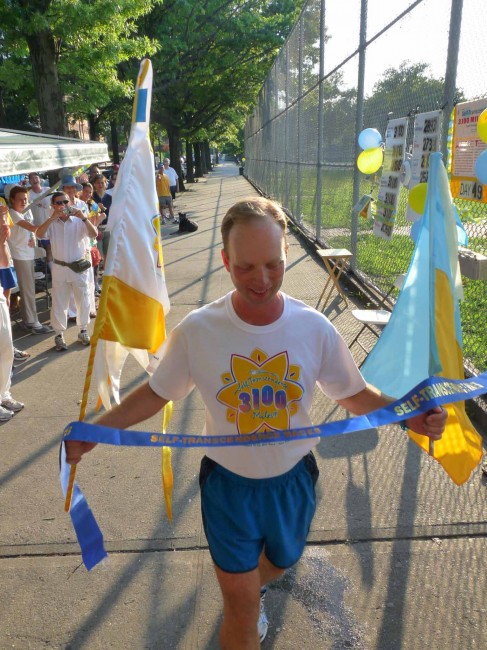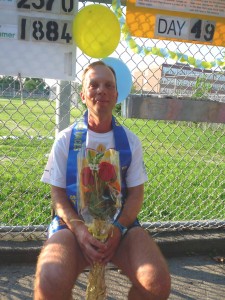 He completes the race in 48 days, 12 hours, 42 minutes, and 44 seconds.  Today marks his 6th time here and he is the 6th finisher.  He averaged 63.88 miles a day.  He has bettered his previous best by 47 hours.