If there ever was a time that was most spectacular and thrilling to watch the 3100 mile race it would have to been 2015 when Ashprihanal set the current record for the race.  He broke the old mark by nearly a day but what I cannot help but remember from that summer is that over the course of 40 days and 9 hours he single handedly demonstrated transcendence, courage, and stamina in a way the race had never seen.
Photo by Sri Chinmoy Ultra Race Photos

Ashprihanal is unlikely to break any speed records this year but still he is doing something record setting and  heroic as he attempts the race for the 15th time.  When asked about this he makes sure that I include Ananda-Lahari as well joining the 15th year club.
For me the sheer quantity of his numbers are all simply too vast to grab hold of or even comprehend.  By the time he completes the race this summer he will have run 46,500 miles around the block.  When asked if he can understand it all, he says simply, "yes I can."
As he approaches me before our interview, he grasps the revolving cap of a fire hydrant and gives it a little spin.  It is a little ritual that he has been doing probably since his first race here.  He told me once he pretended it was like turning a prayer wheel for good luck.
Other objects that often get his attention include patting particular bushes and trees at regular intervals along the course.  He does it so naturally you have to really watch or he will run by so lightly and swift you won't even notice.
Day 8 starts out well for Ashprihanal, "the weather is good, I made a small joke with Smarana. (see video) For him as for all the runners keeping joyful is unquestionably important to having a good race.  "In the first races I had try more to be positive.  To change hardships, and work on the mind.  So far it has worked without really working too hard."
"If I felt negative then I would really start working on it.  Now it has been okay so far."
"I didn't train as much this year, but here I am doing pretty good.  I wanted to train and I started.  Then I started building my garage so I stopped then started again.  But I did something (training ) definitely. But not enough."
Ashprihanal believes that he can get stronger as the race progresses.  "Also I have done it so many years, that it all helps this year."
And if there is any doubt about his motivation for coming here to run the race at age 48 and run for the 15th time, " It is for my inner progress and for Sri Chinmoy, that is why I am here."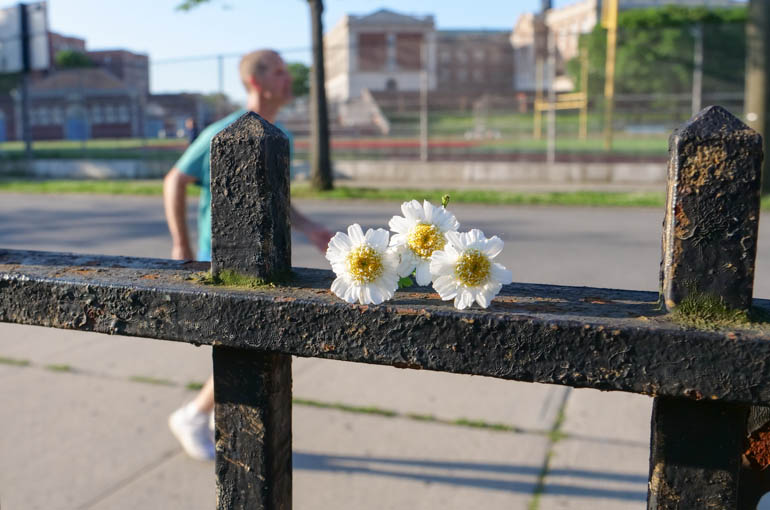 The Board at the start of Day 8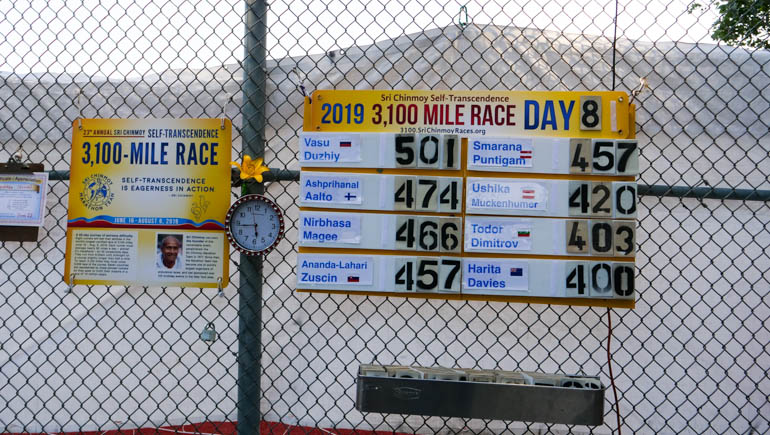 Vajra cleaning the course early
Camp early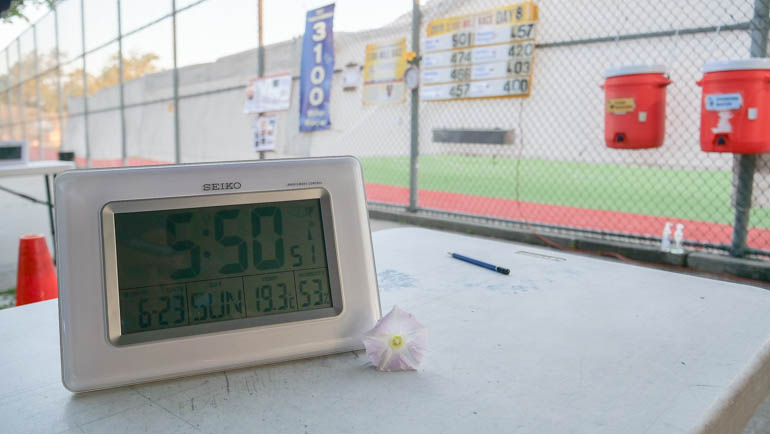 Ashprihanal arrives
Rupantar
Ananda-Lahari
Ushika working on shoes
Harita working on feet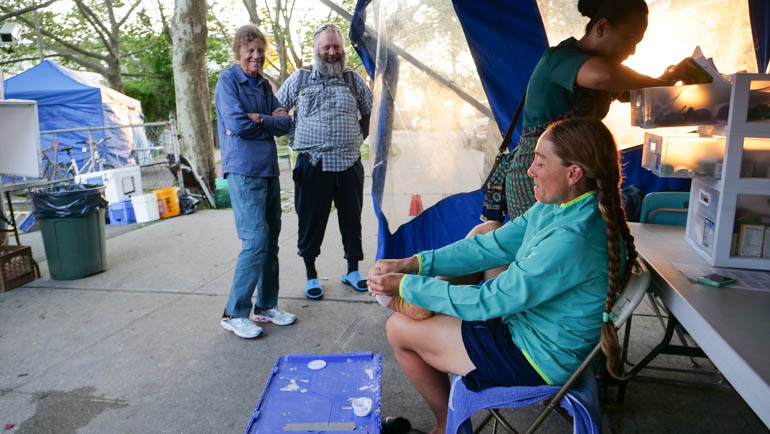 Smarana
Vasu
Garima helping Ananda-Lahari
Start Day 8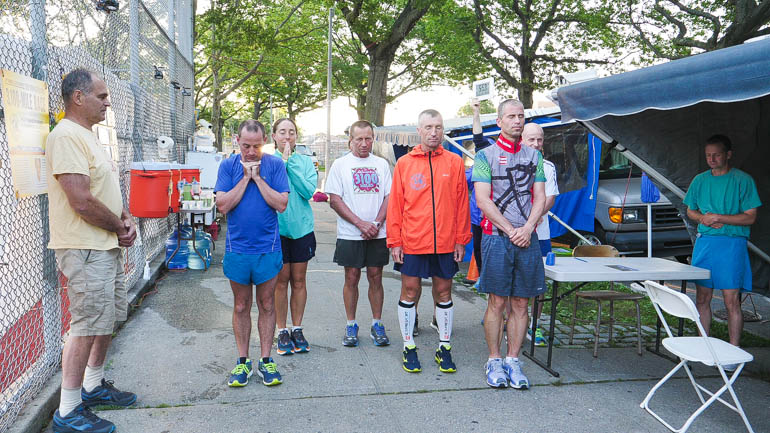 Another beautiful day
Andy Noise visits
Vasu leads with 501 miles
He ran 64 miles yesterday
Getting some help from Vajra
Leads by 27 miles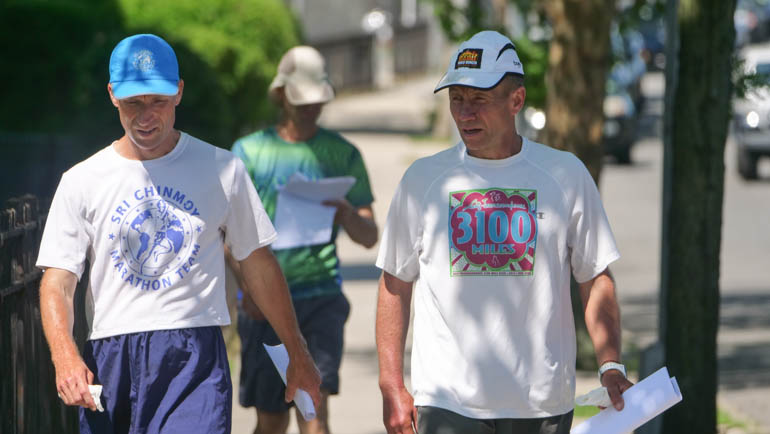 Flower
Jadranka updates the board
Ashprihanal has 474 miles
He ran 69 miles yesterday
He is 8 miles ahead of 3rd
Flower
"Okay, we have all decided.  We don't know what it is but for the time being let's call it breakfast."
Nirbhasa has 466 miles
Getting some advice from Garima
He ran 65 miles yesterday
Helper Yahva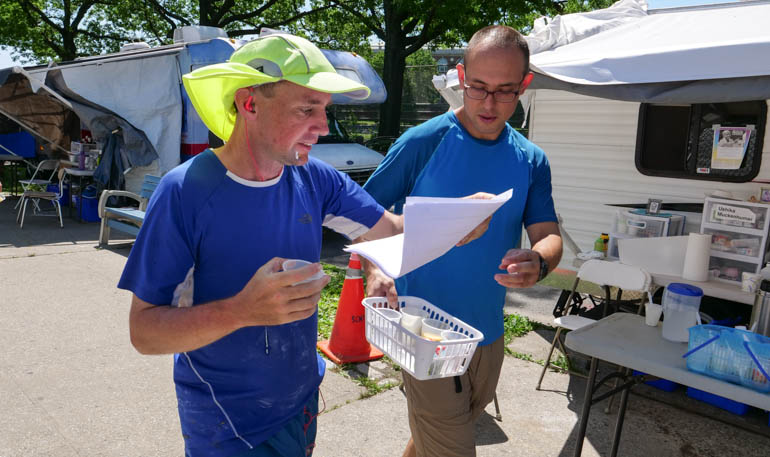 Flower
Andy and Sahishnu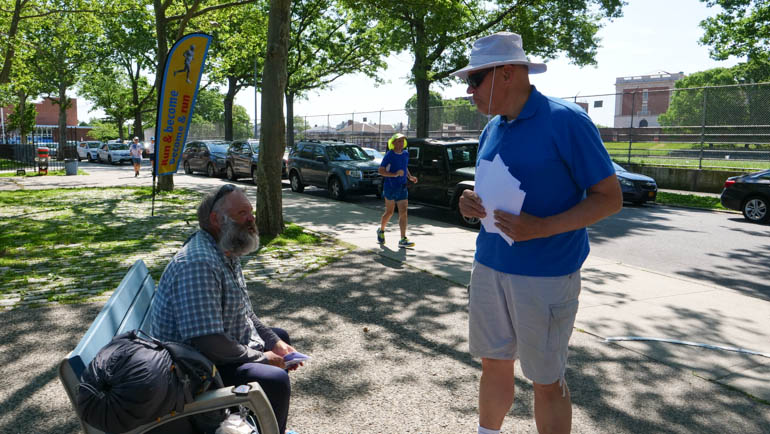 Ananda-Lahari has 457 miles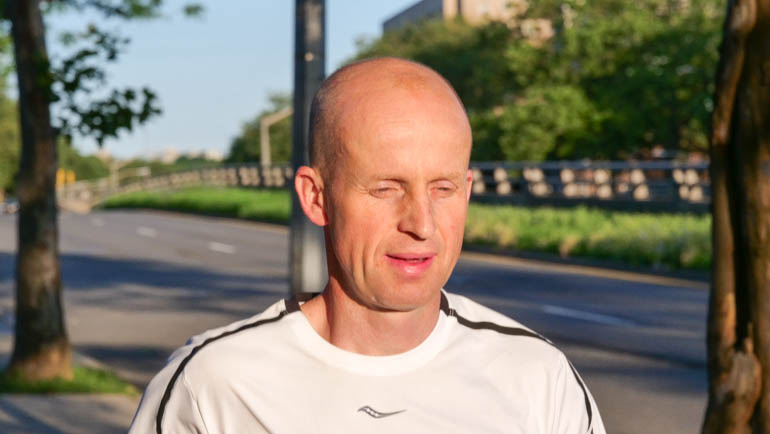 He ran 59 miles yesterday
A perfect running day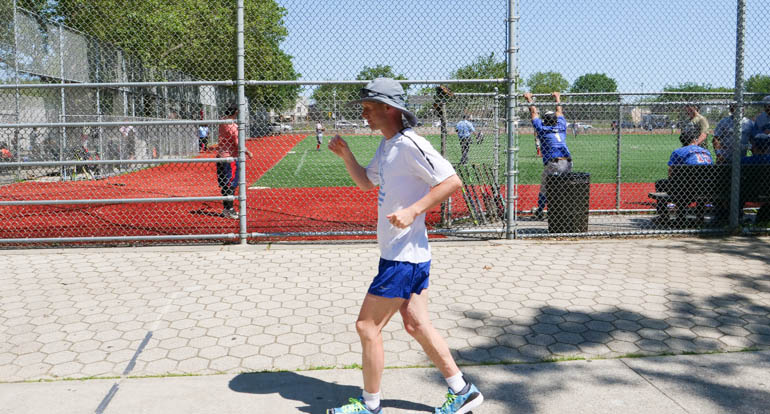 Flower
Did not throw in the towel
Smarana has 457 miles
He ran 60 miles yesterday
Coming through camp
Flower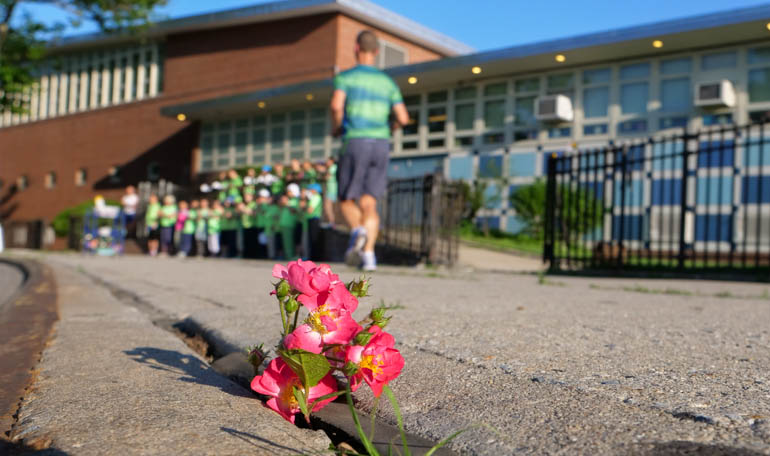 Ushika has 420 miles
He ran 60 miles yesterday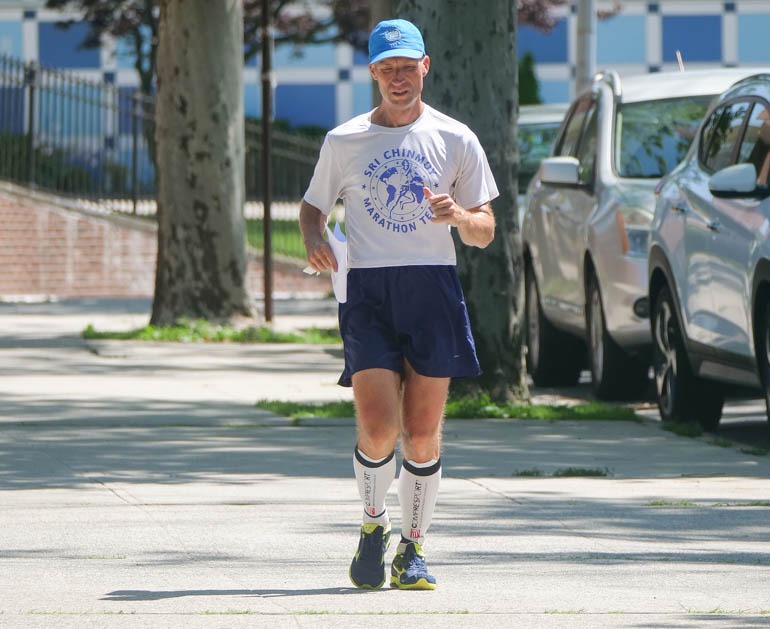 With Max
A beautiful day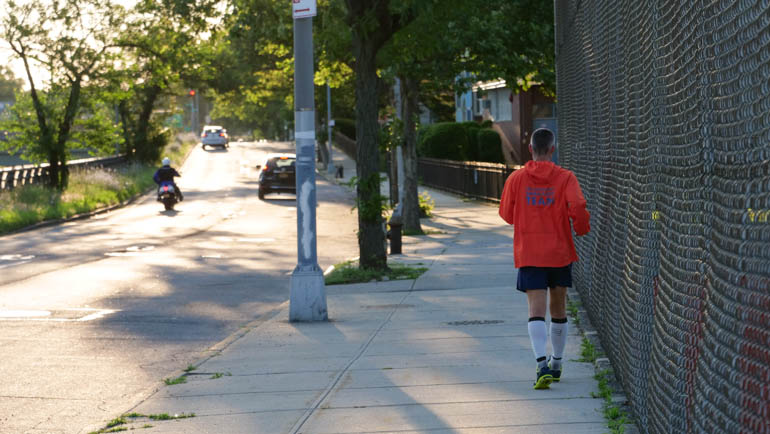 Flower
Sahishu updates the board
Todor has 403 miles
He ran 60 miles yesterday
Running well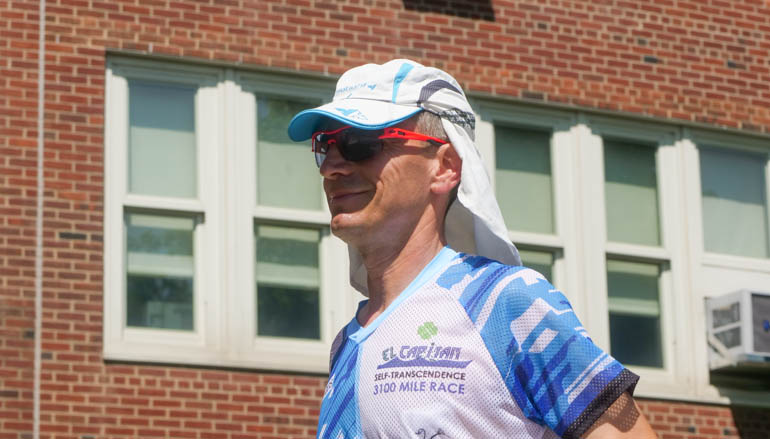 With his helper Todor
Project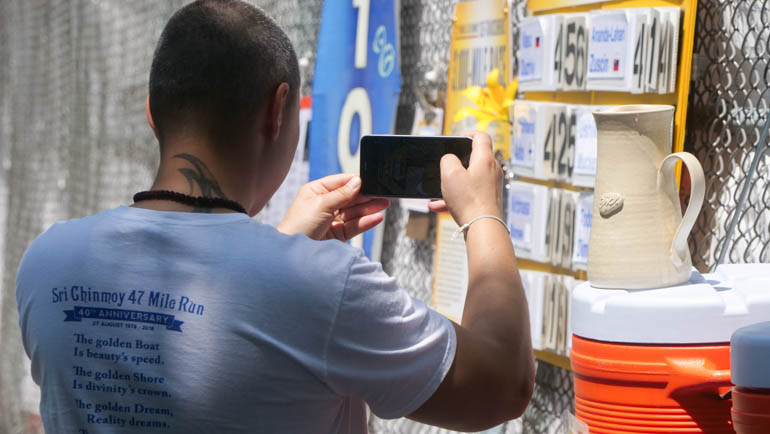 Shadow
Flower
Harita has 400 miles
Harita ran 61 miles yesterday
With Suhasini
Gaining back miles
With Anita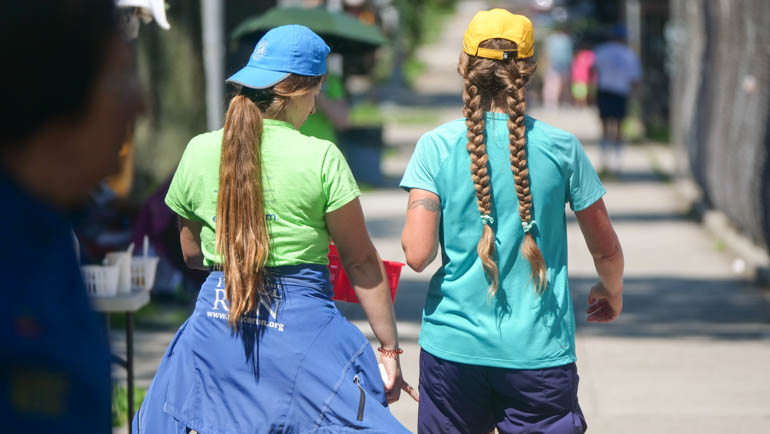 Flower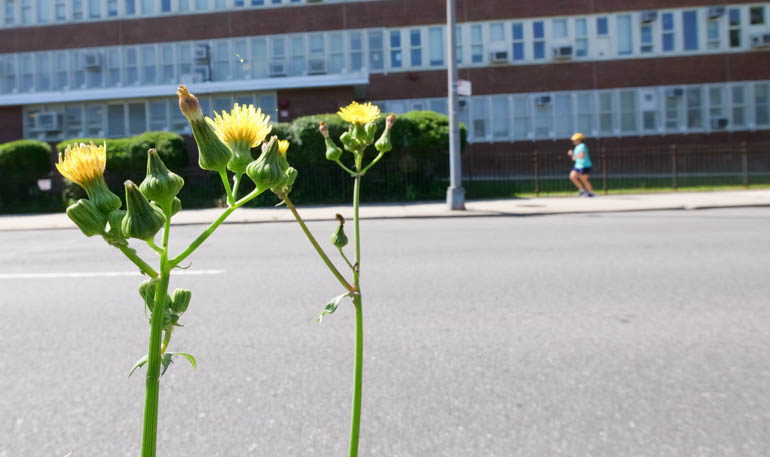 Sahishnu's weekly wrap up
Daily poem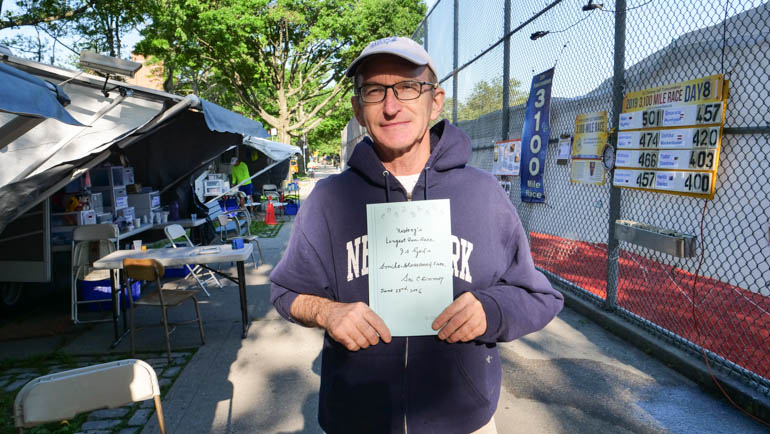 Enthusiasm Awakeners
Greatness is a matter
Of a moment.
Goodness is the work
Of a lifetime.
Oneness is the return-journey home
Of Eternity.