Last night Vasu was into his final laps before completing the Self-Transcendence 3100 race for the 6th time.  He was into the very depths of his 47th day here.  His shirt was covered in sweat and he needed to make 67 miles before midnight.
As he passes by me along the dark sidewalk a student of Sri Chinmoy shouts out, "Jai Guru."  Vasu without hesitation responds, "Jai Guru."
He did not say this loudly but instead with quiet soulful conviction.  It was like music to my ears, just as I suppose his constant dedication to this race his spiritual teacher created has been sustaining him at every moment.  Not just for 47 days but even over the past 6 years he has run this race and beyond.
In his speech of congratulations Sahishnu said, "Ladies and gentlemen this was Vasu's second victory and his 6th straight finish at 3100 miles.  He finished in 46 days, 17 hours, and 38 minutes.  Which is an average of 66.35 miles a day (106.7 km)"
"This was his 2nd best finish.  He is still 5th ranked all time.  Out of 145 performances now this is the 33rd best performance."  Sahishnu then goes on to tell the story of Vasu's serious back injury 8 months earlier.  So severe that he could barely stand little alone train.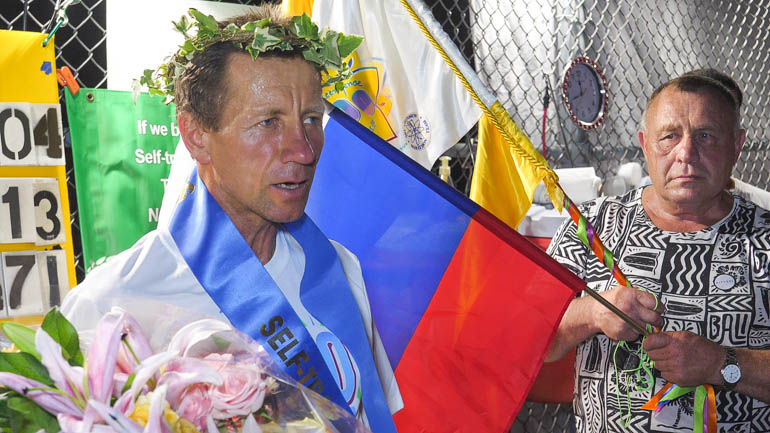 "Miracles do happen, and this man proved that will power and grace from above can really work together.  His athletic talent is undeniable.  He is one of only 5 men in history to have averaged 70 miles a day."
The next day he comes back to start the race one last time and run 13 laps in order to complete 5,000km. I join him on his last lap and the rain is falling heavily about us.
"I love this race.  I don't know why I love it.  I just love it and do it.  I am happy here and I am able to do self transcendence. I hope that I can inspire some people to be better citizens of the world.  They inspire me and I inspire them."
"I do this for my beautiful Guru and for Victory Supreme."
To become better citizens
Of the world,
We must scatter happiness
Here, there and all-where.
Board start of Day 48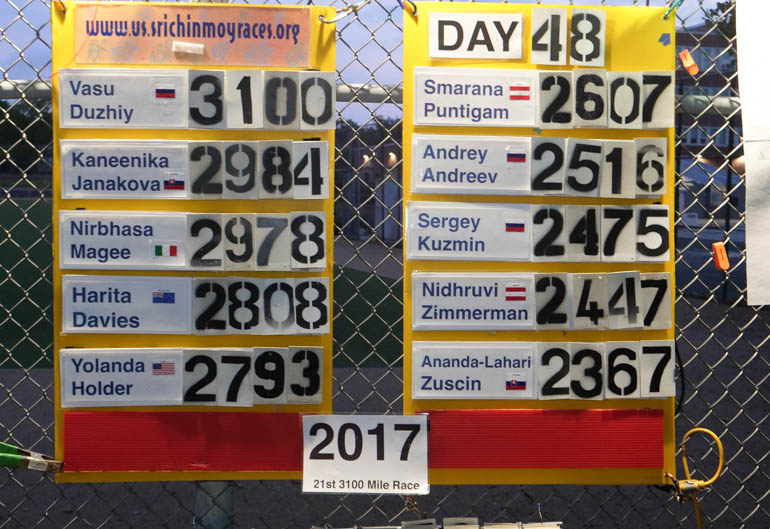 Balloons from last night
Clock
Table
Vajra leaves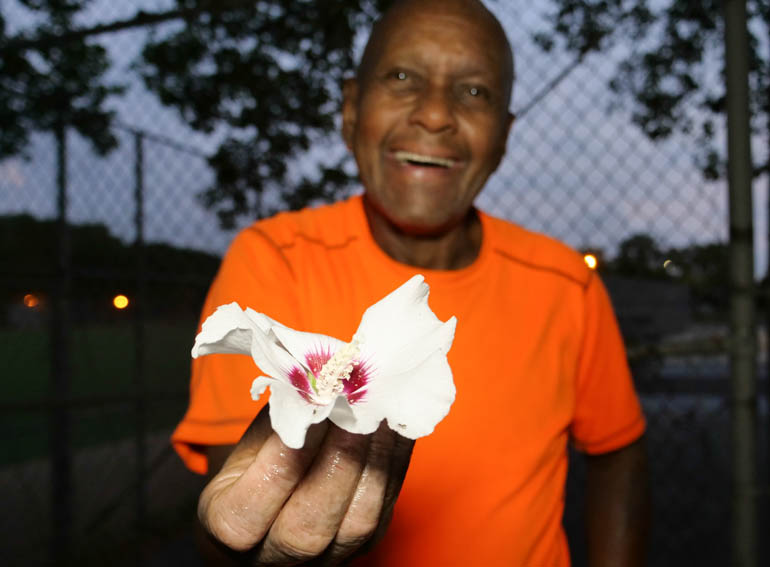 Suhasini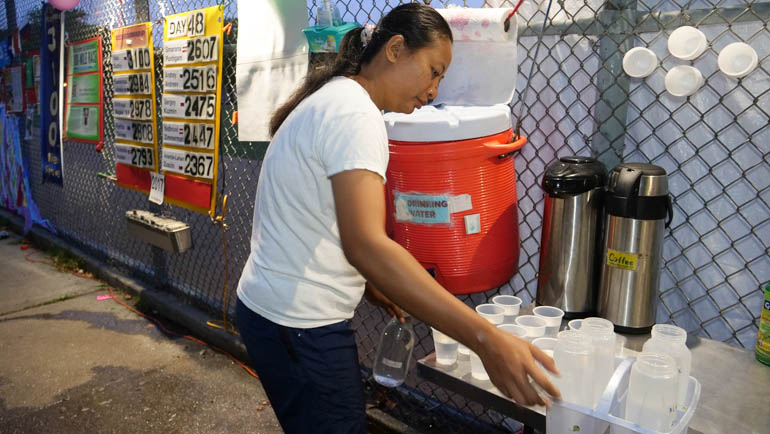 Yolanda and Renae
Smarana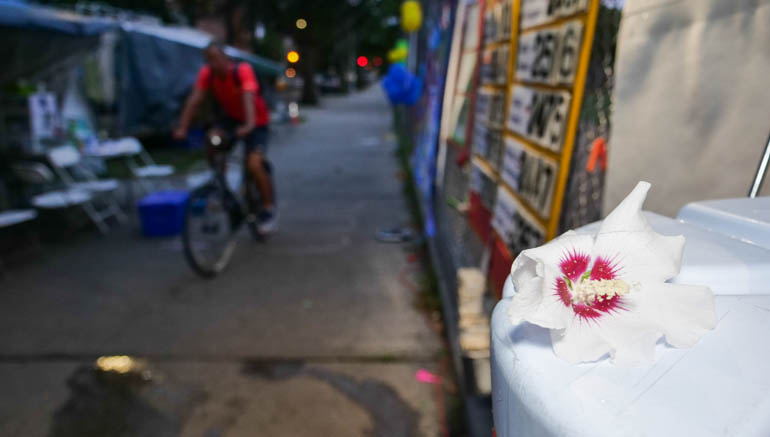 Sergey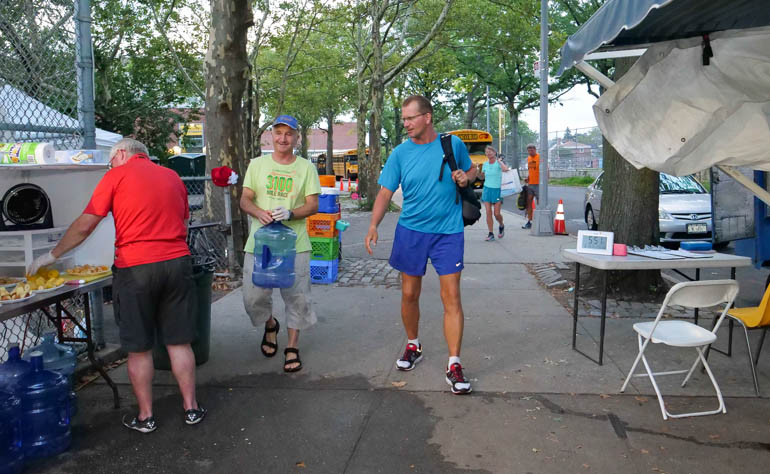 Smarana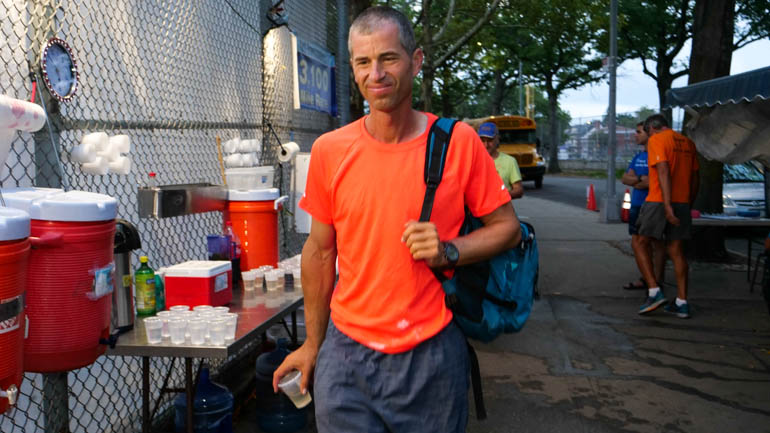 Kaneenika and Harita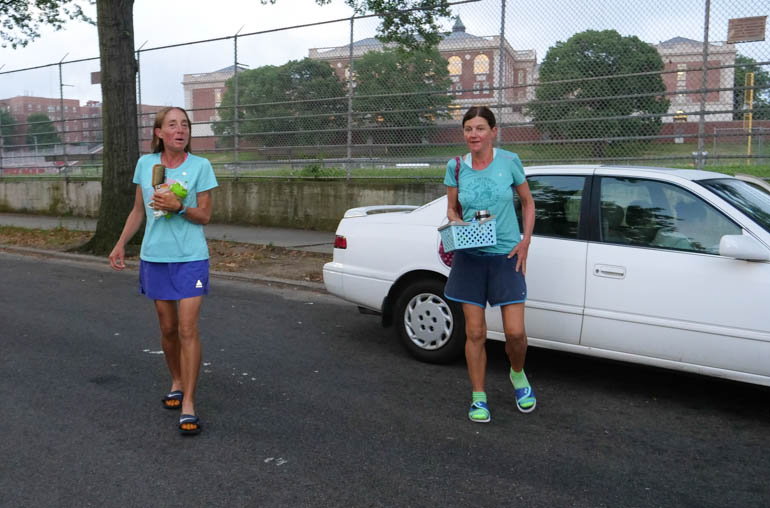 Rupantar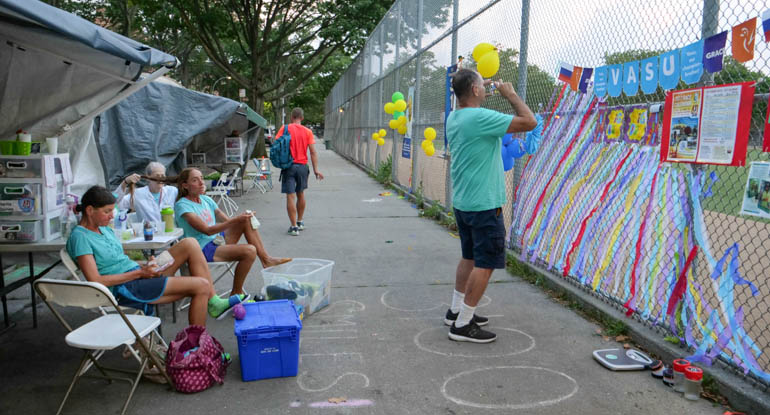 Andrey
Harita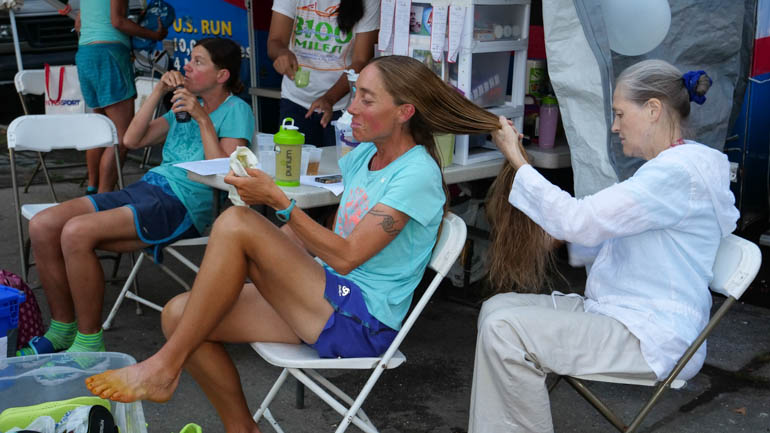 Vasu
Kaneenika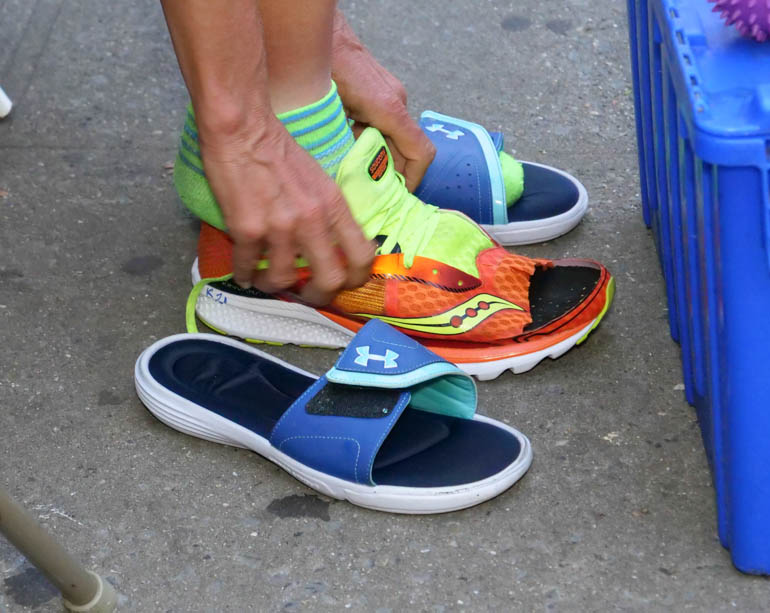 Sergey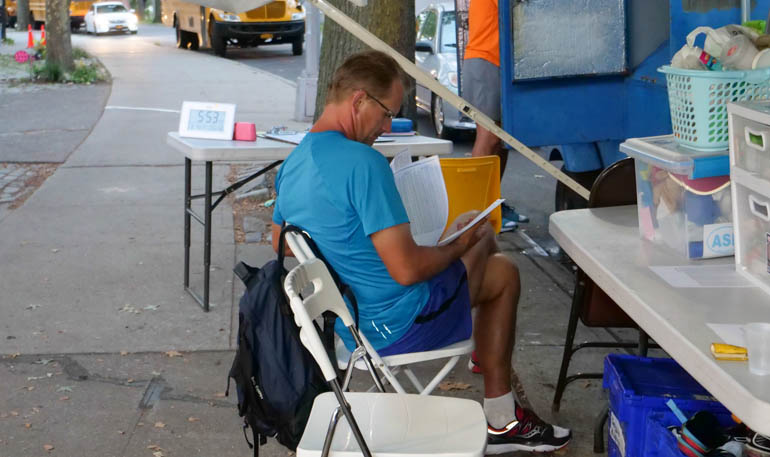 Flowers left from Vasu's finish
Start Day 48
A thunderstorm approaches and the air is charged with energy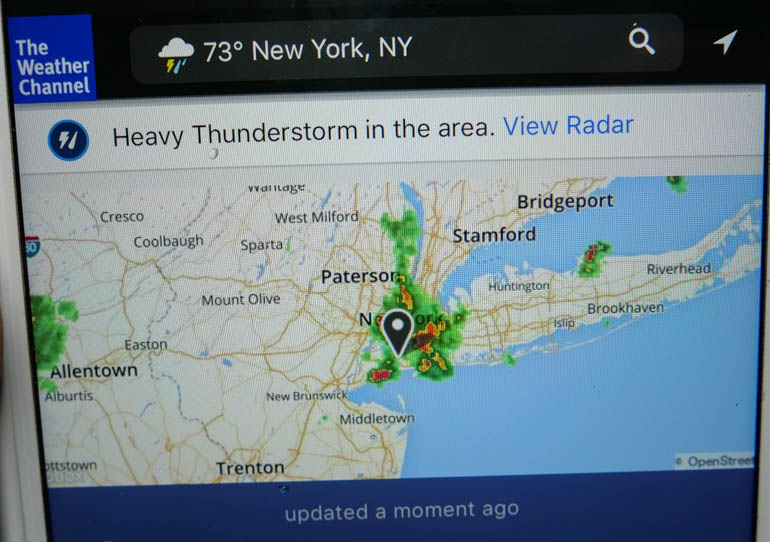 The sky
Vasu did 67.5 miles
He only needs to do 13 laps to complete 5,000km
Running with Sasha
At the finish line
Tidying up
Flower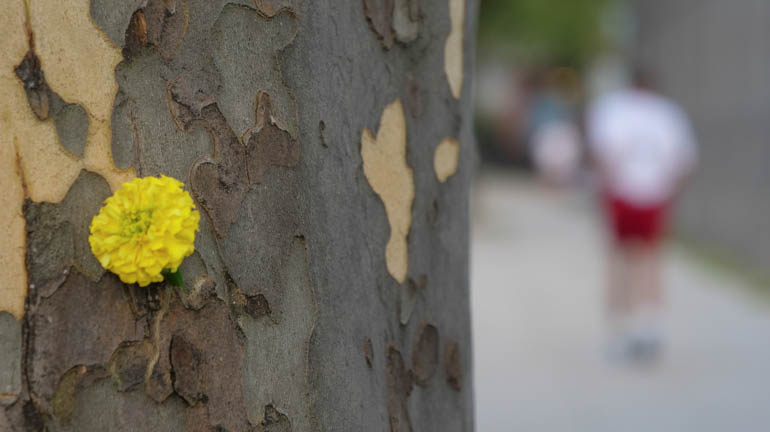 Kaneenika did 64 miles
She now has 2984 miles
The rains come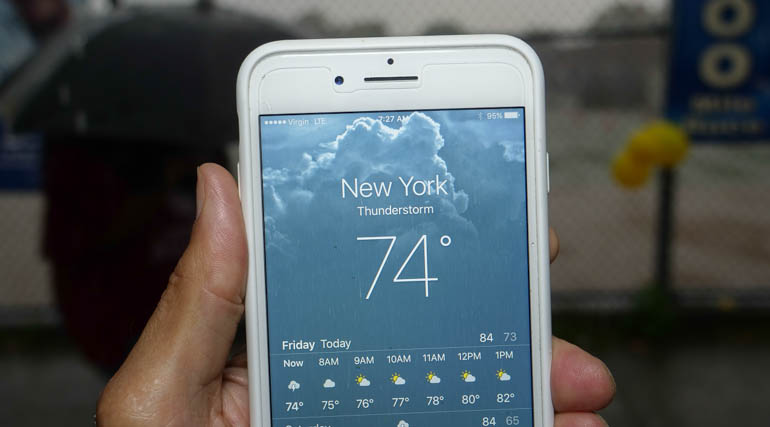 It is heavy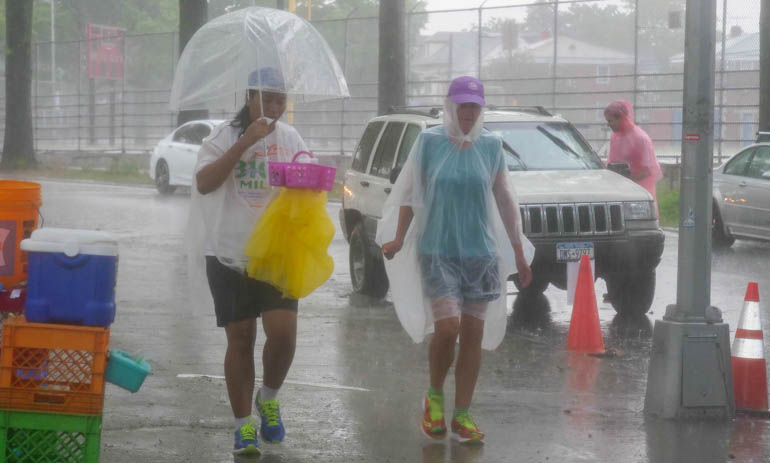 Finally 3000 miles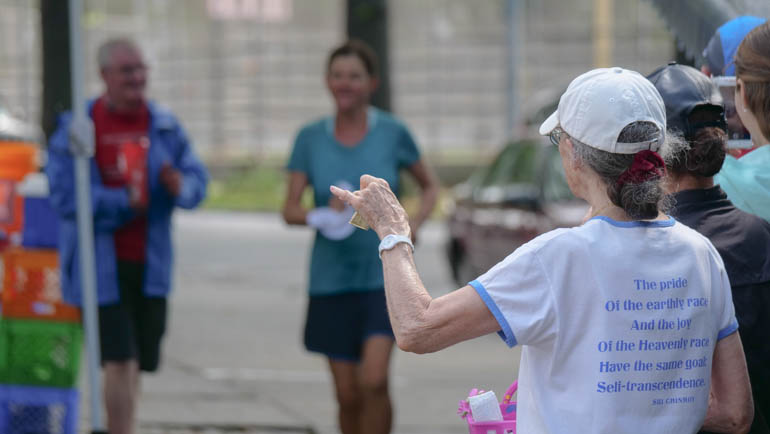 Gratitude
Kaneenika tells Shadri that Suprabha considered the last 100 miles her victory lap
Friday night it will be all over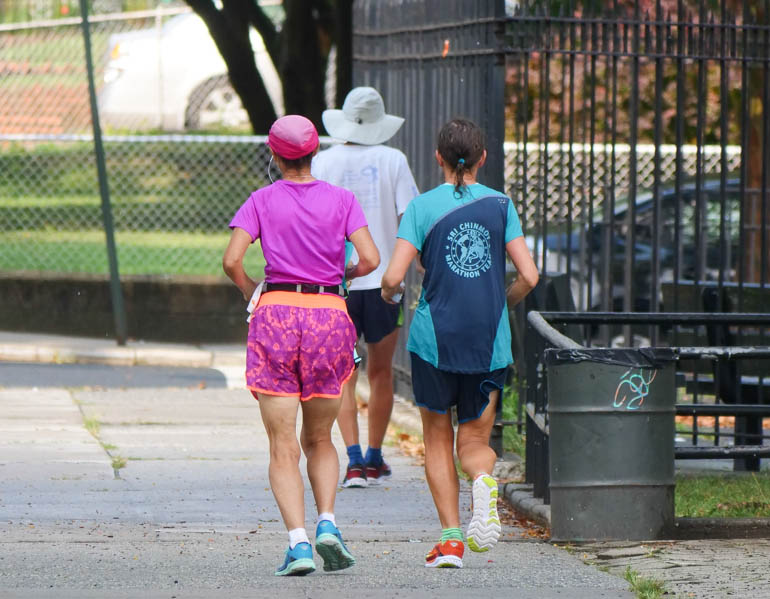 Happy rocks
Nirbhasa did 62 miles
He now has 2978 miles
He is 6 miles behind
He will finish tomorrow night
A bit of green
Harita did 60 miles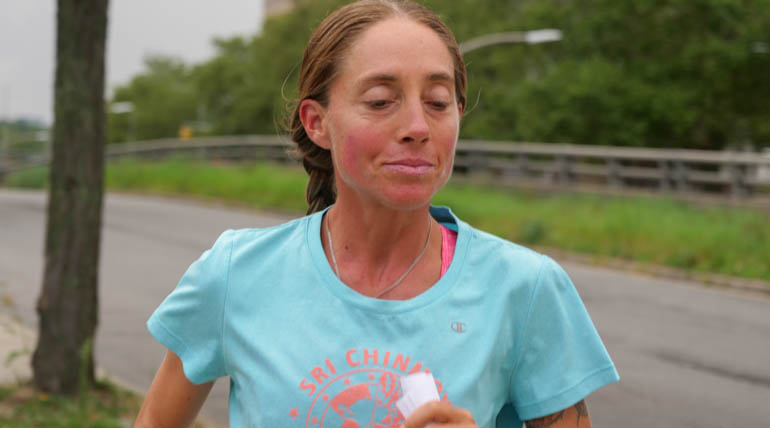 She now has 2808 miles
Break time
Jokes
The goal in sight
With Katya
Flower
Yolanda did 61 miles
She now has 2793 miles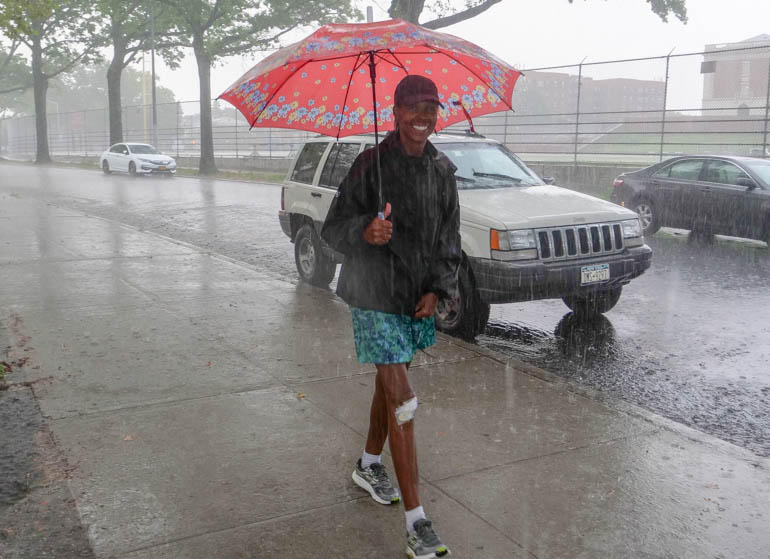 From last night
Mario doing some foot work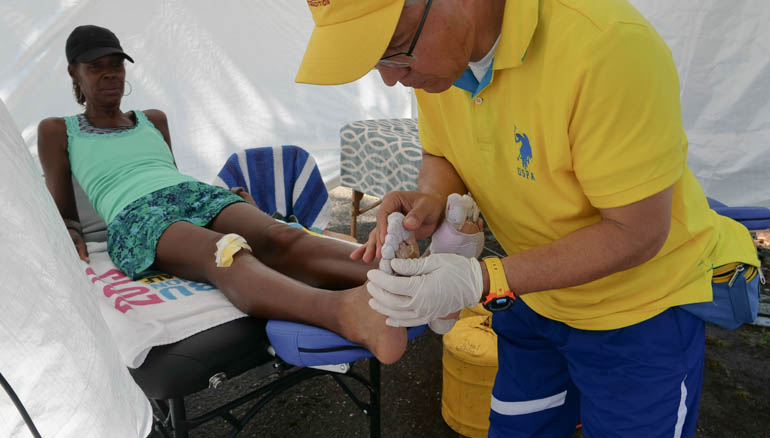 She has 5 days in which to complete 307 miles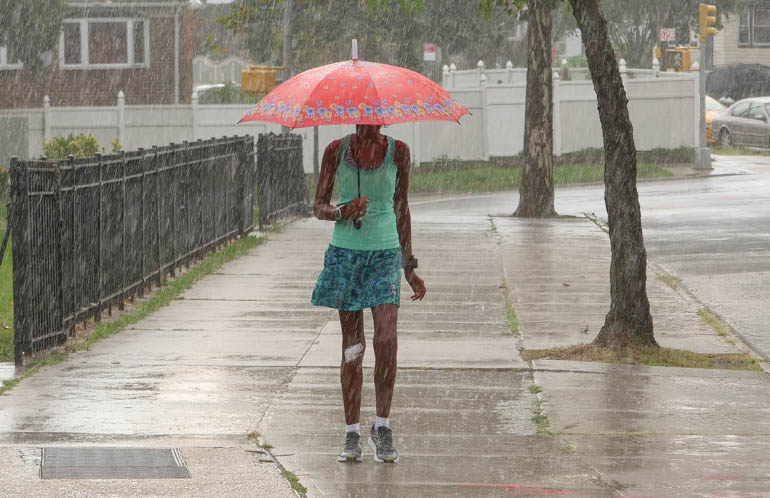 Flower
Smarana did 63 miles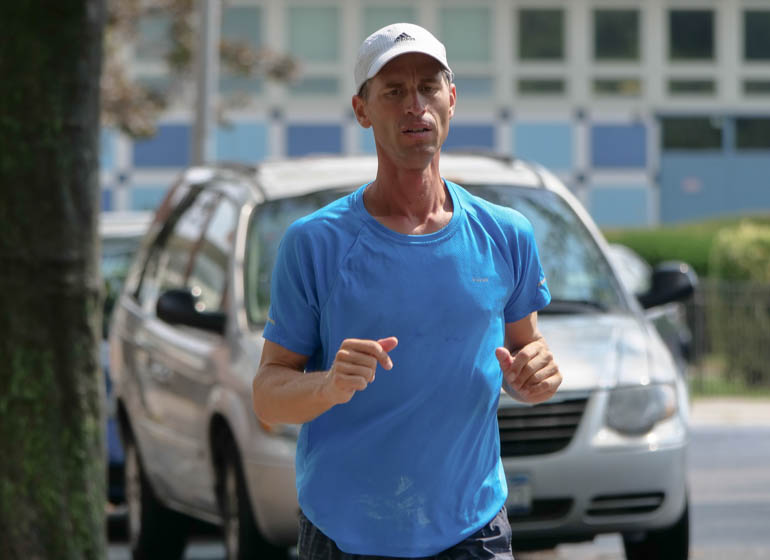 He now has 2793 miles
Flower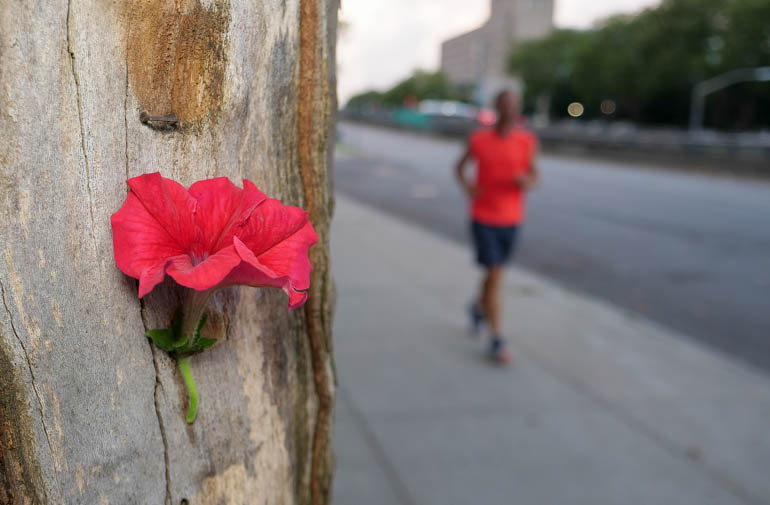 Andrey did 53 miles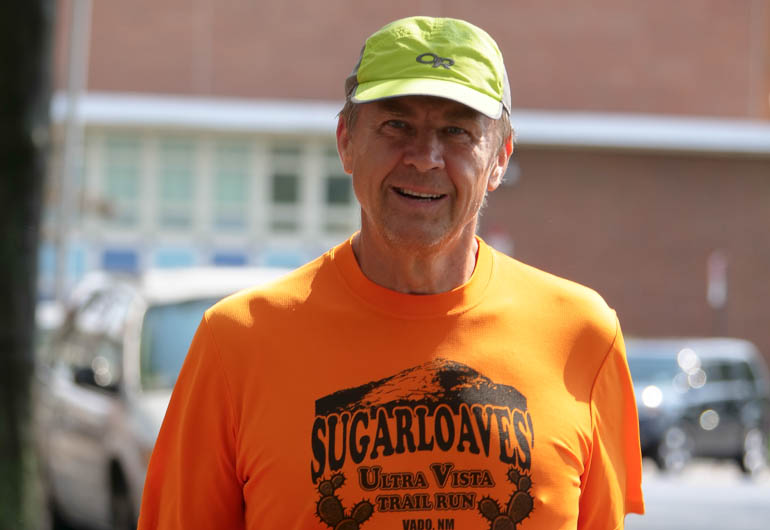 He now has 2516 miles
Flower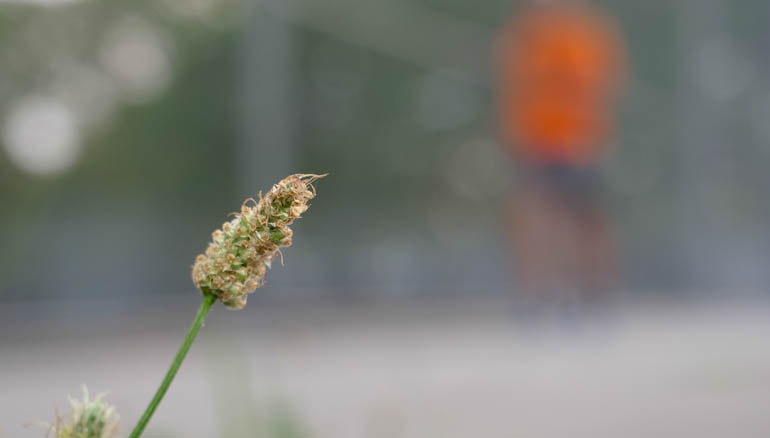 Sergey did 47 miles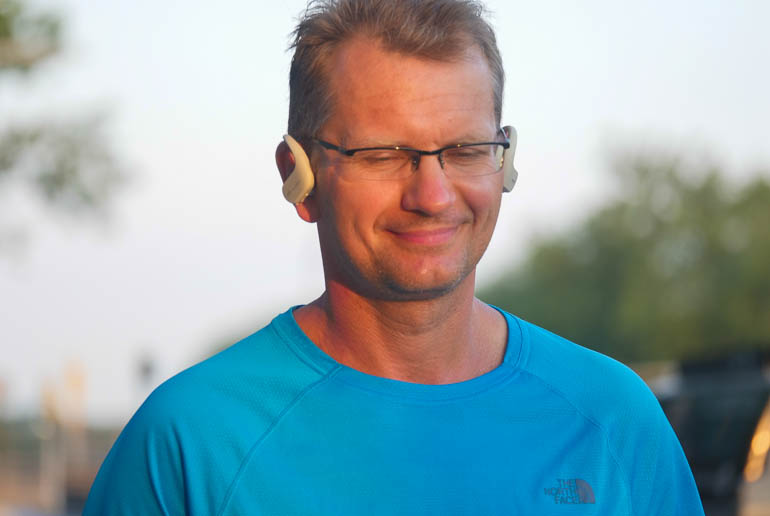 He now has 2475 miles
Flower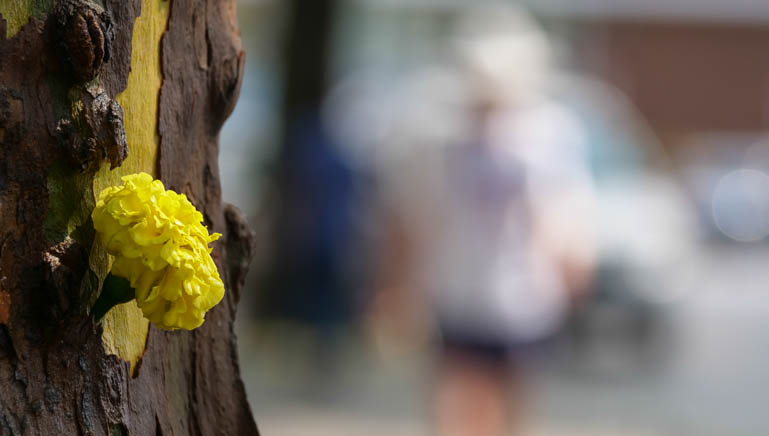 Nidhruvi did 53 miles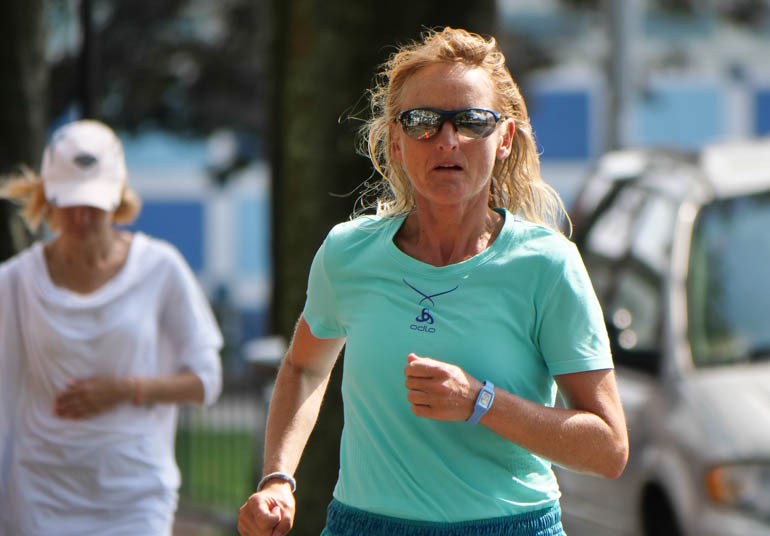 She now has 2447 miles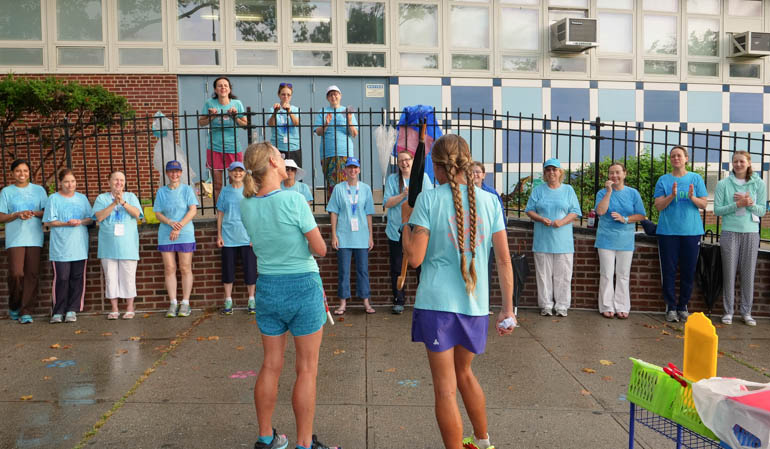 telling jokes
With Mareike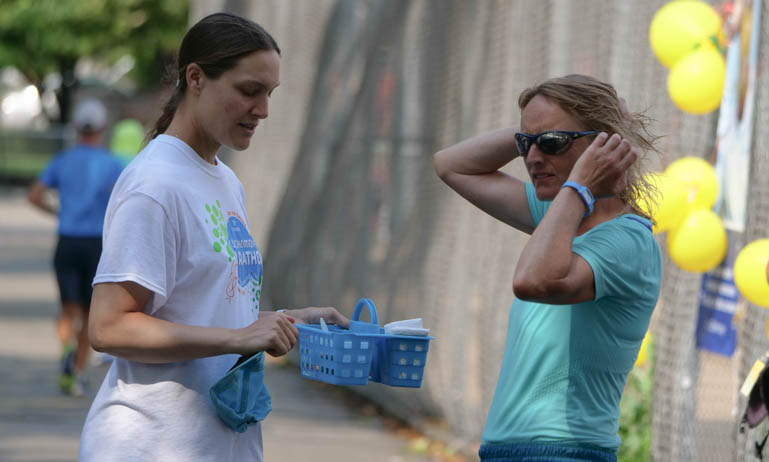 Flower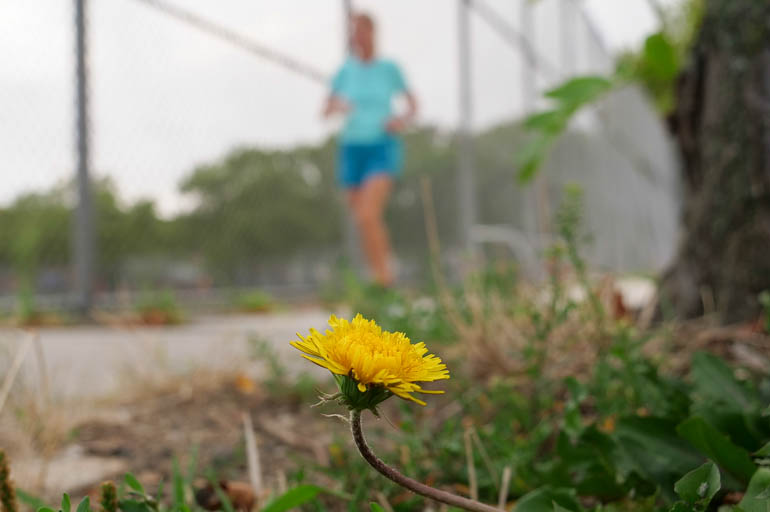 Ananda-Lahari did 36 miles
He now has 2351 miles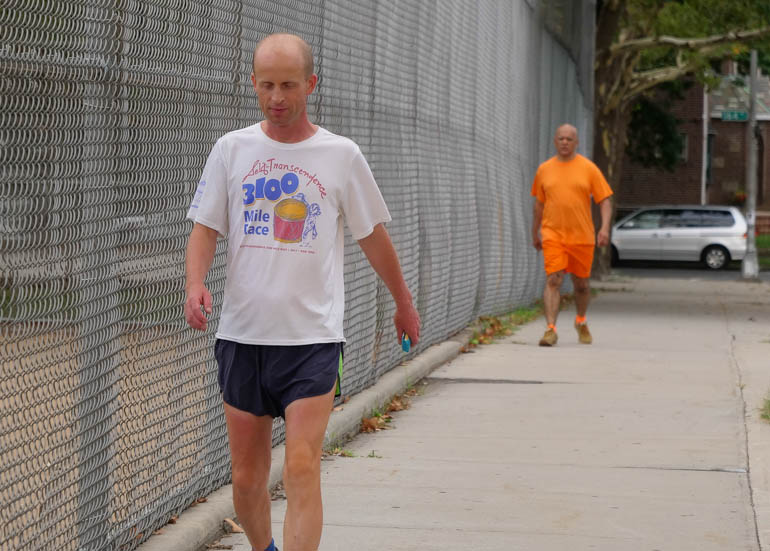 flower
Swamiji
A bit of green
The rain
Rupantar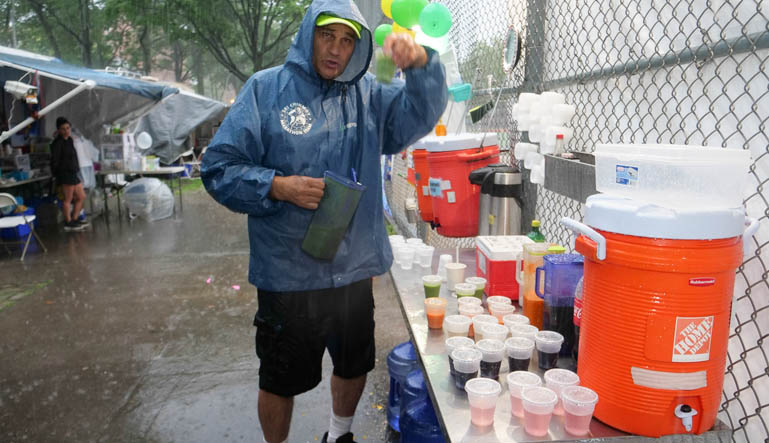 Waterfalls
Alan and Databir
"You would be surprised just how much I know about feet, shoes, and casual footwear."
Shadri reads the Daily Prayer
Click to Play:
Enthusiasm Awakeners
Click to Play:
The answer to the problems
Of this world
Is for every one of us
To go far beyond
Our present capacity-boundary
And become better citizens
Of the world.