In the last 32 days I have never heard him complain or say one negative word.  He has never demonstrated or showed any misgivings.  Neither have I seen him taking a break longer than a few minutes.  In fact Ananda-Lahari is almost perpetual motion itself.  Though his speed may vary in comparison to the other runners.
This morning he completed 1600 miles.
In those 32 days Ananda-Lahari has never been late for a 6 am start and though I haven't seen it in person.  Because I  am already home in bed, he stays until there is just no more time on the clock.
There are many aspects of running 3100 miles in 52 days that are just categorically impossible.  But there are times when I feel that I cannot even match Ananda-Lahari's positive attitude for even 52 minutes.
The weather today has been typically New York intolerable.  I felt myself grumble the moment I picked up my gear to head over to the race this morning.
The moment I talked with Ananda-Lahari I could not help but see what a waste of time it is to be negative.  Even the very best of us I am sure circle their wagons around a 'woe is me attitude' from time to time.  But to the best of my knowledge I have never heard or seen it in Ananda-Lahari.
My first question of him is a perfect example.  I ask if there is anything he would like to change.  "Lets see how the day goes but until now I wouldn't change anything." (It is really hot and humid)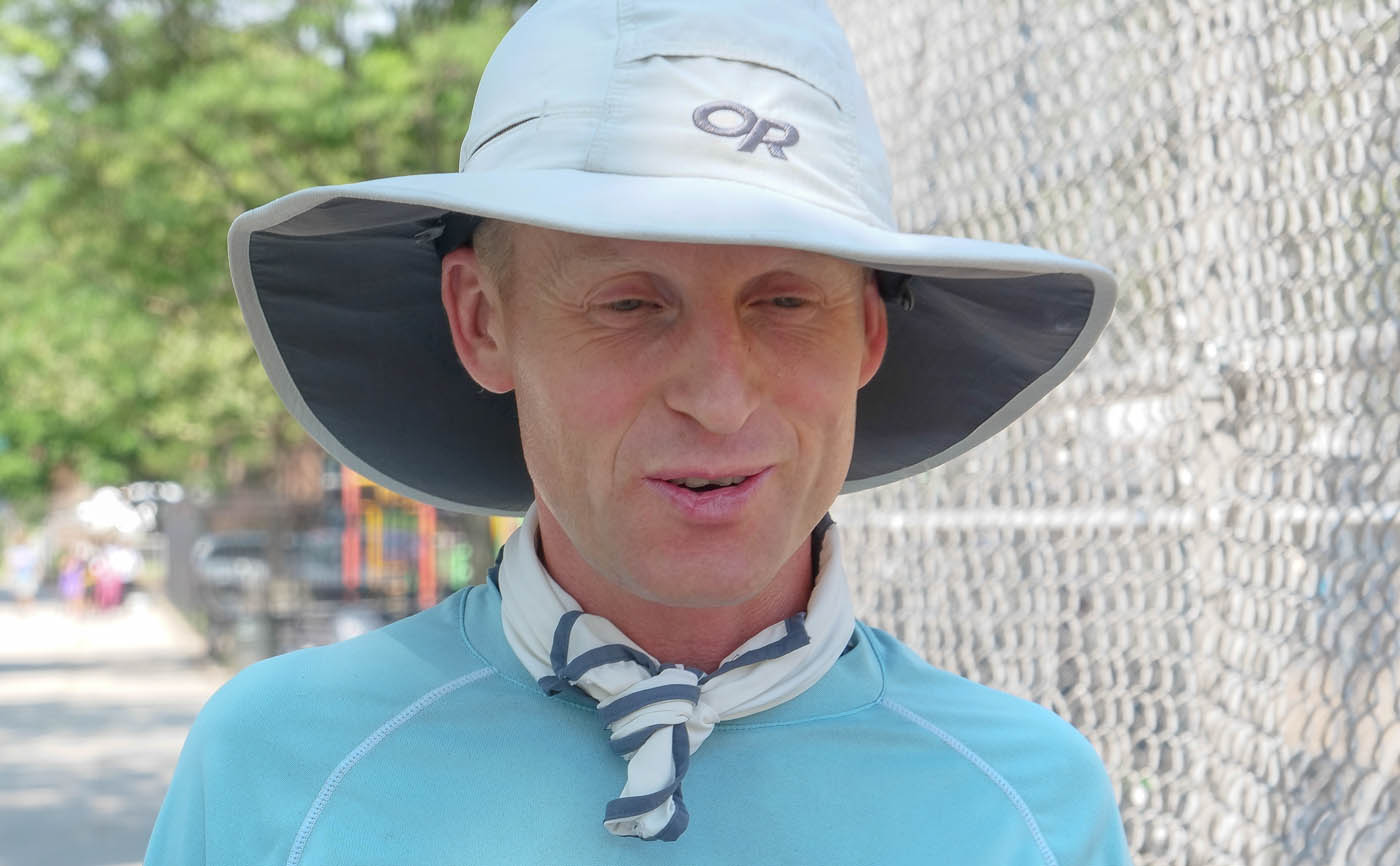 When asked if there were aspects of himself he would like to change.  "Yes, many things."
"Everything has its own time.  So like slowly and steadily.  We are all working on ourselves.  All humanity.  Everybody wants to be happier.  We are working on it."
I am curious if humanity has to be conscious of making progress.  "As far as I understand it is good if you are conscious of it.  But even if you are not conscious it is still taking place, but slowly.  It can be faster if we are conscious."
"I believe in reincarnation.  I believe we live many lives.  So I am talking in long term.  Changing human nature to be come better people."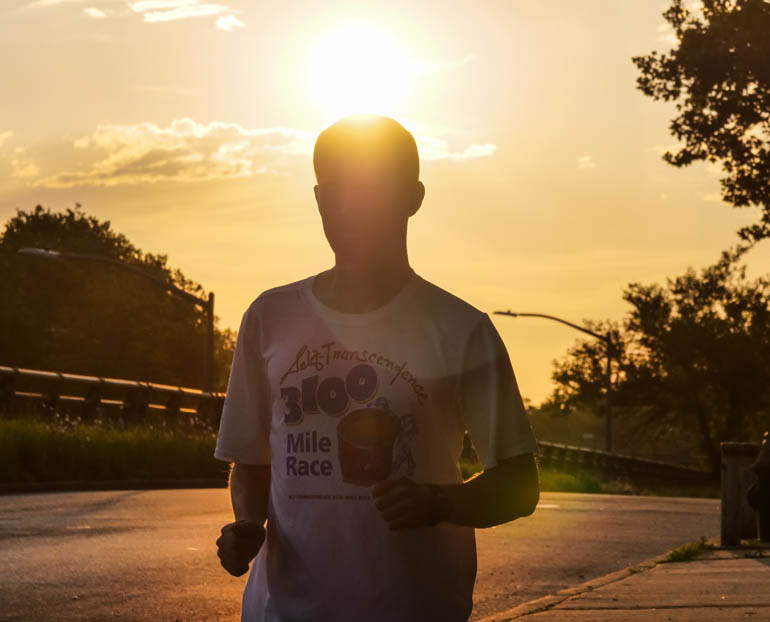 "Even if someone is really good, still he or she can be much nicer still.  We have unlimited possibilities and capacities."
Ananda-Lahari says that he has changed a lot over the past 12 years of coming to the race.  "Yes many.  Definitely I enjoy life more.  I enjoy life much much more."
 The board at the start of Day 33
Clock
Yuri
Yolanda on the scale
Alan
It's hot
Table
Nidhruvi and Alakananda
Suhasini
Kaneenika
Smarana
Medur and Gints
It's Sergey's birthday
A greeting from Vajra
A special canine guest this morning who has not woken up yet, Gopi.
Boys
Photo of Dad
Girls
Ananda-Lahari
Foot roller
Start Day 33
The runners sing the birthday song for Sergey
A clear bright but muggy day
Vasu did 60 miles 111 laps
He now has 2128 miles
Less than a 1,000 more
Flower
Nirbhasa did 63 miles 116 laps
He now has 2043 miles
Telling a joke
Getting help this week from Karteek
The board later in the morning
Flower
Kaneenika did her 3rd straight day of 65 miles 119 laps
She did the most miles yesterday
Doing well
Flower
Harita did 59 miles 109 laps
She now has 1902 miles
Telling jokes with Nidhruvi
Doing well
Into camp
Yolanda did 60 miles 110 laps
She now has 1879 miles
She needs to average 61 miles a day
Flower
Smarana did 52 miles 96 laps
He now has 1825 miles
Getting help from Caspar
Happy
Sergey did 56 miles 103 laps
He now has 1766 miles
Nirjharini makes a cake
Enthusiasm Awakeners sang for him
Flower
Andrey did 47 miles 86 laps
He now has 1753 miles
Flower
Nidhruvi did 49 miles 91 laps
She now has 1655 miles
For a time there is a detour
Working on jokes with Harita
Making them laugh
With Mareike
A bit of green
Ananda-Lahari did 40 miles 74 laps
 He now has 1595 miles
flower
Swamiji
Flower
Ashadeep waiting
Sahishnu
Cooks come
"I'm sorry I must have missed the memo.  But are you sure we are going this way today."
A visitor
Alexey reads the Daily Prayer
Enthusiasm Awakeners