Today is one in which the race math becomes strikingly clear.  At precisely midnight the race will be half over and if a runner does not have 1550 miles on the board when they drag themselves into the back seat of a car or wearily peddle home through the dark Queens streets.   Their chances of making the full distance become almost statistically  impossible.
But of course the race is not all about numbers and equations and math made simple by the happenstance of the calendar.  The stories we have all heard these past 26 days tells of something much vaster and grander taking place on this now muggy sidewalk.  The race is not contained or restrained by concrete and chain link fences.
Instead when we recognize that spirits and dreams cannot be bound by calculation.  Even more miracles have yet to unfold to those who run here and  to those who wish they were here to witness transcendence rising up into the limitless beyond.
Almost 2 days ago Nirbhasa passed the half way point and in just a couple of hours Smarana who he is running with will do so as well.  I joke with them that now they can go on auto pilot for the rest of the race.
"It is nice to reach the halfway point.  It is a great feeling.  But if you break it down it is just a passing number.  You have to take every day as the day you have to deal with."
"The big picture is that you have to deal with every day and with every hour."
Smarana says that he has had to deal with blisters in every race.  "This time I really thought that I might be over it.  But I think it may have something to do with my attitude of no pain no gain.  I think there may still be something lingering in my consciousness.  I am working really hard to override this program."
"I have really already suffered a lot so it would really help to be able to let go.  In this race I have already made some progress.  I am still not quite there but I am making progress."
Earlier Smarana had told me a story about his earliest race here in New York that took place at the 700 mile race on Wards Island in 1994.  He says that it fits perfectly with his battle to somehow change his philosophy of no pain no gain.  Instead he is attempting to experience joy and more joy.
He said that at the time he had a very strict attitude.  "I run 29 miles and then take a break.  No break before that." On one occasion he had run 24 or 25 miles and Sri Chinmoy was visiting the race and offering prasad to the runners.  Instead of feeling energized, "He pulled the plug."
Smarana was so exhausted that he hardly made it around the lap.  "I crawled into my bed.  It really showed me that self transcendence and going beyond your own limits is not about killing yourself.  You can also accomplish it while in a joyous state of mind.  With a little more lightness.  It is not about torture.  It is about going beyond, and how you go beyond is your choice."
We have to believe
In a higher power.
Only by believing
In a higher power
Can we go beyond and beyond
Our limited human capacity.
Heading 1550 miles west of Thomas Edison High school takes you almost to Denver
The board at the start of Day 26
Clock
Yuri
Yolanda will make 1550 along with Smarana and Harita
Joke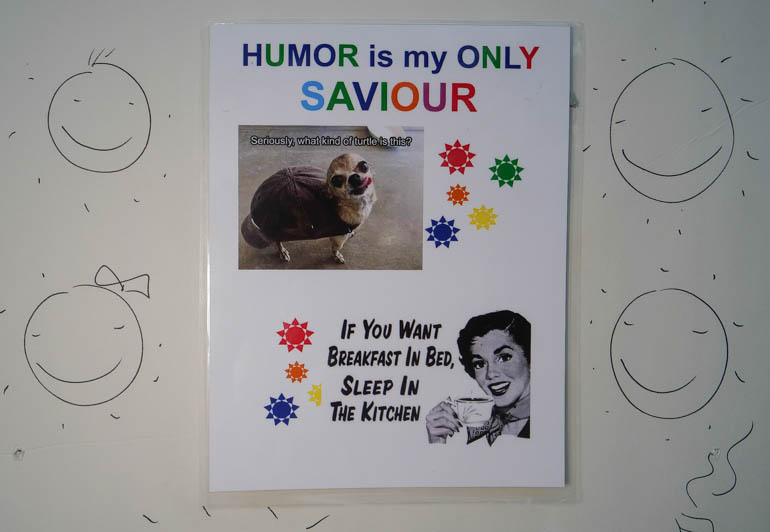 Kaneenika and Harita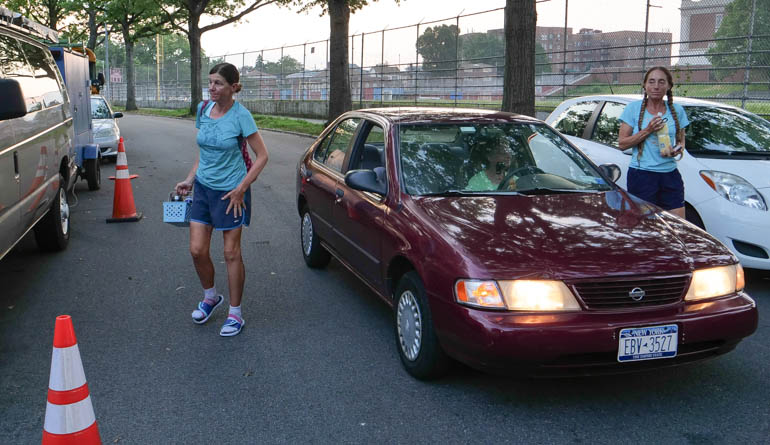 Vasu
Boys
Nidhruvi arrives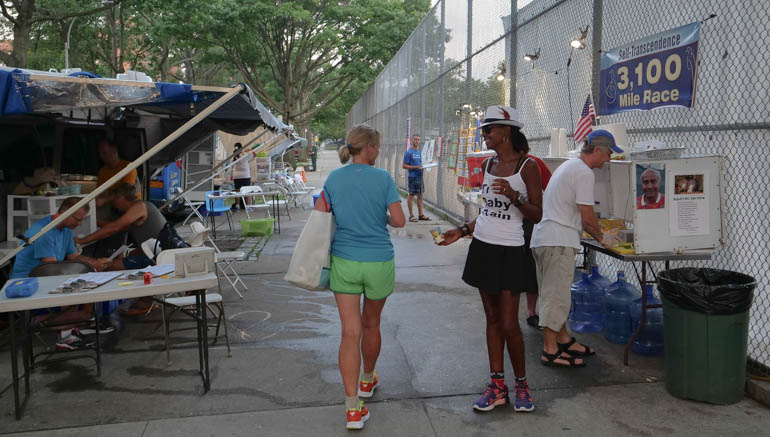 Stutisheel congratulating Yolanda at making half way
Ananda-Lahari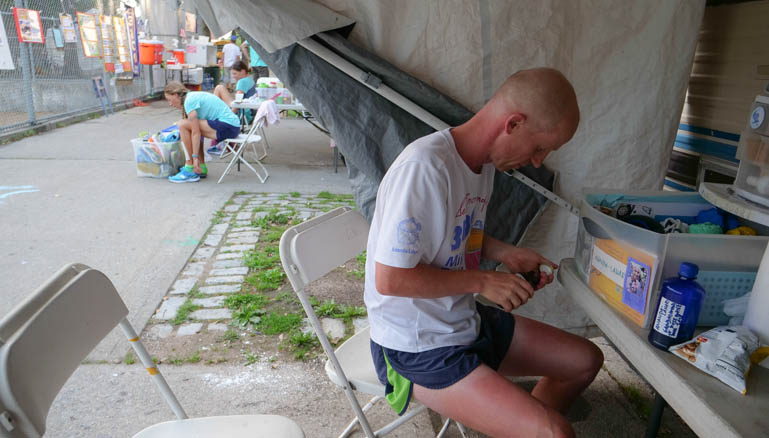 Rupantar congratulates Nirbhasa on a good day yesterday
Smarana arrives
Harita checking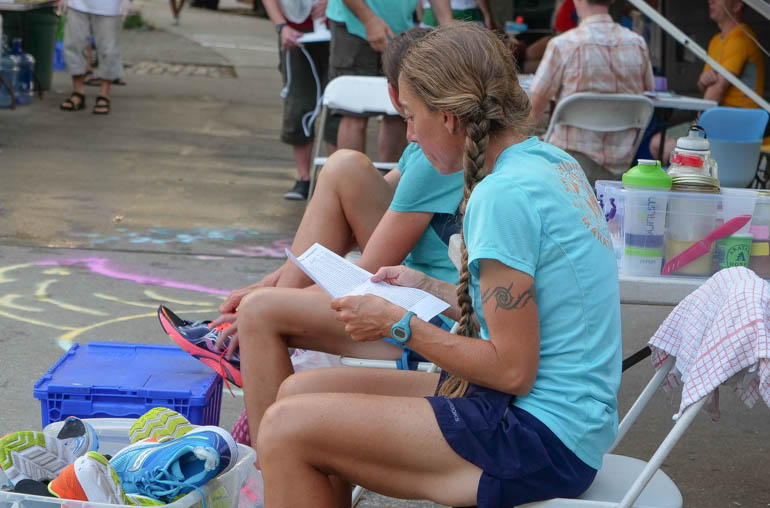 Kaneenika lacing up
Checking the counting book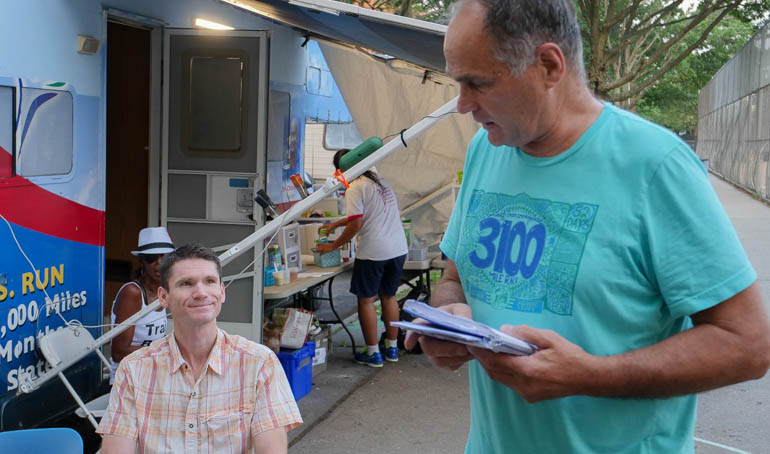 Pencils sharpened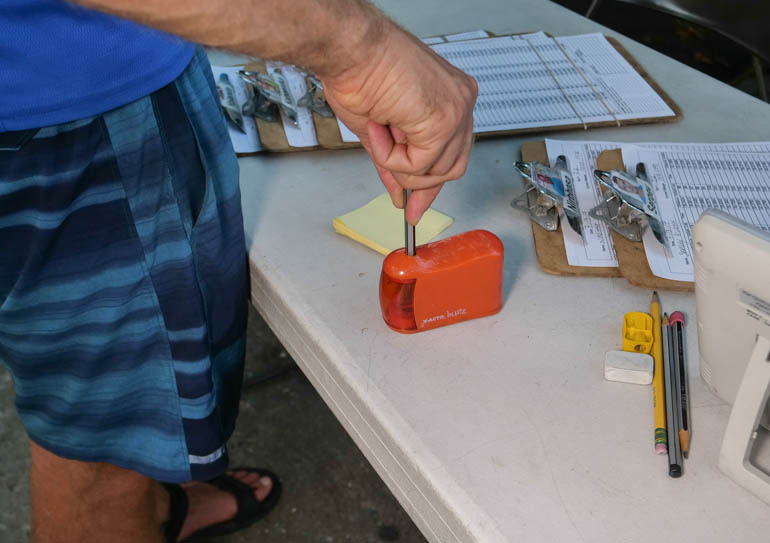 Start Day 26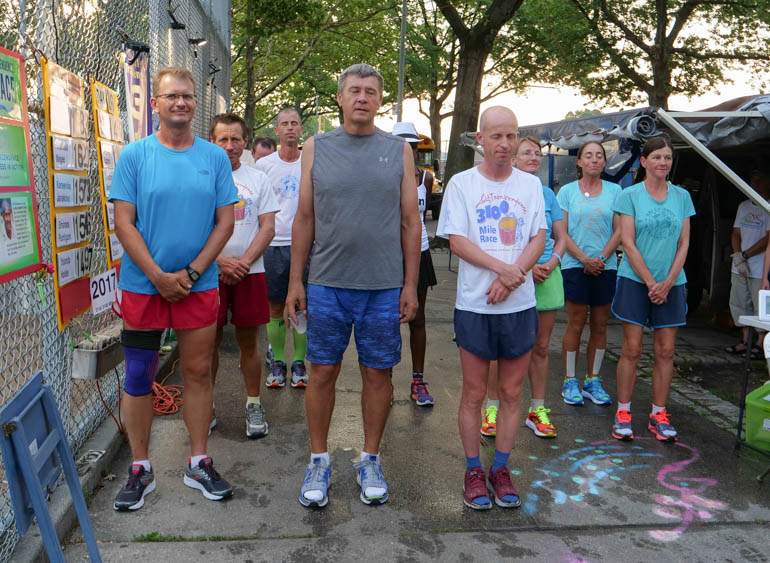 It is a hot and muggy day
Vasu ran 60 miles 111 laps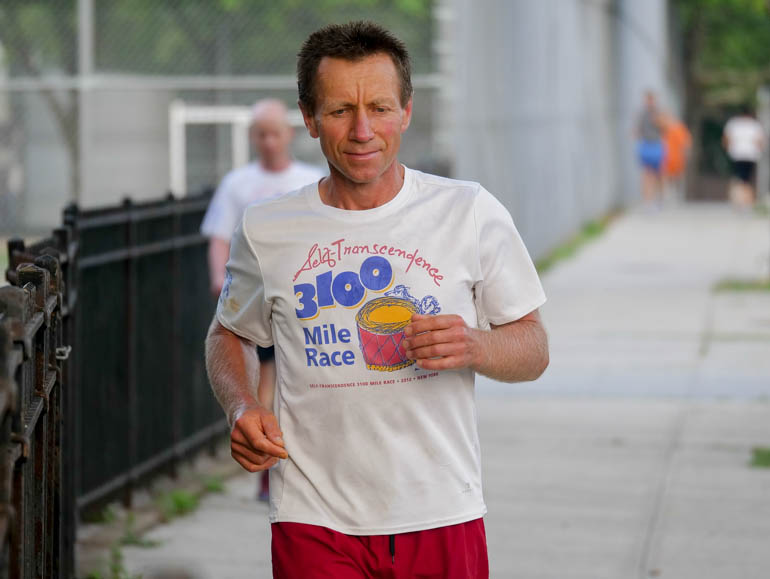 He now has 1683 miles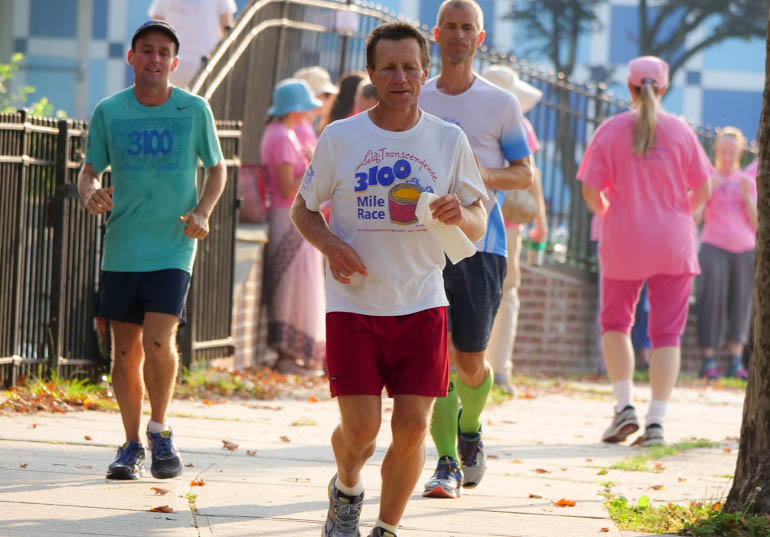 He is 63 miles ahead of Nirbhasa
Stretching
Nirbhasa who started the day not feeling well did the same mileage as Vasu, 60 miles 111 laps
He now has 1620 miles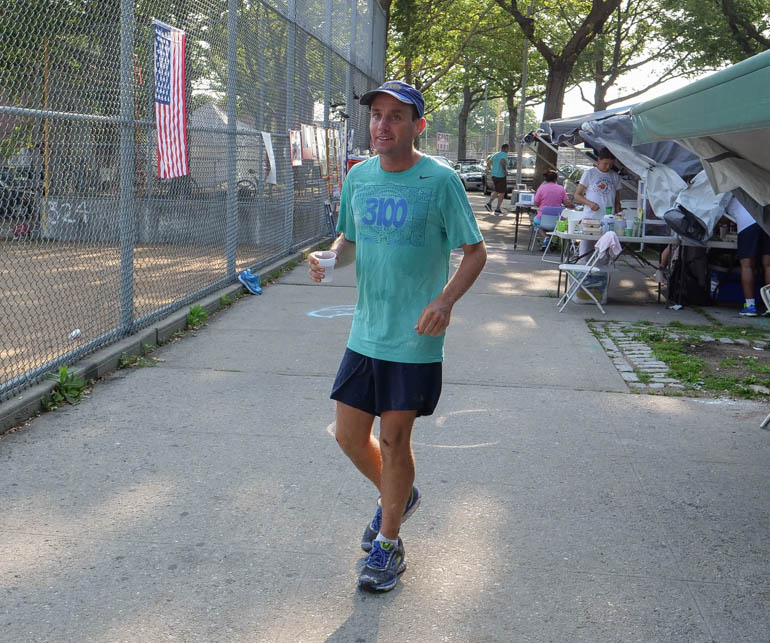 Telling jokes with Smarana
Flower
Kaneenika did the most mileage of all the runners.  61 miles 112 laps
Running well
She now has 1573 miles
Flower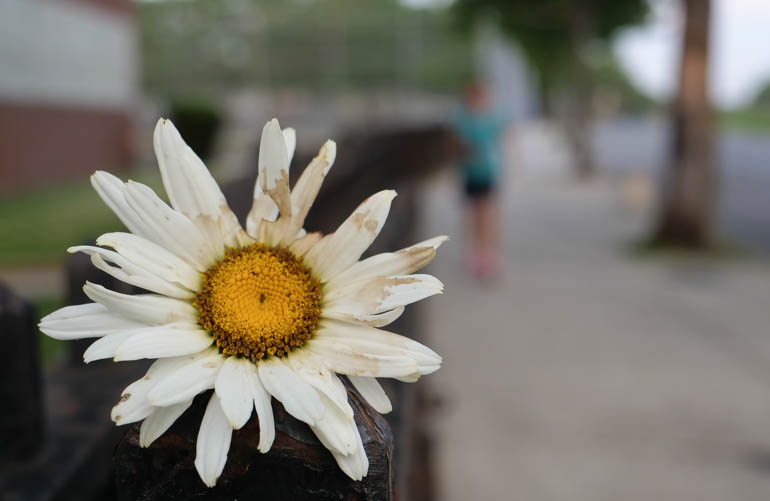 Smarana did 59 miles 111 laps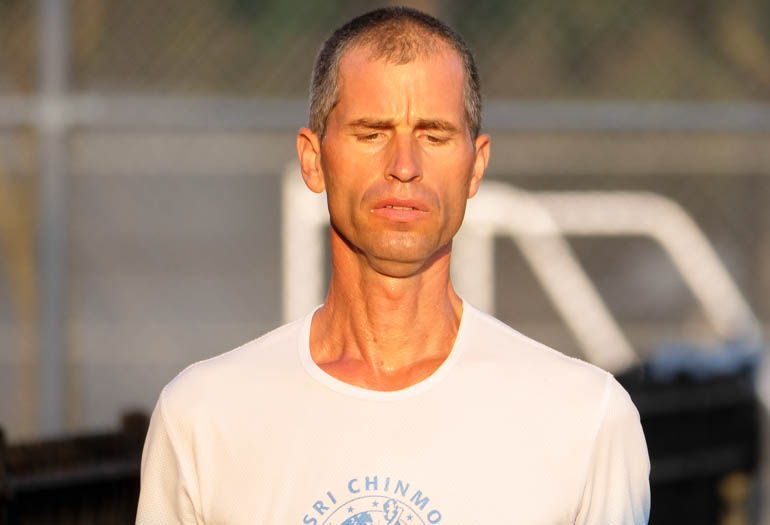 He now has 1546 miles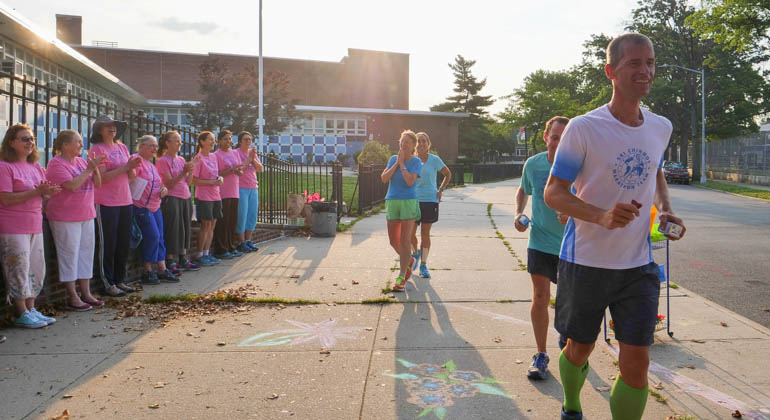 A bit of green
Yolanda had 58 miles 106 laps
She has 1497 miles
Half way today
Up close and personal with Nirjharini
flower
Harita did 59 miles 109 laps
Changing shoes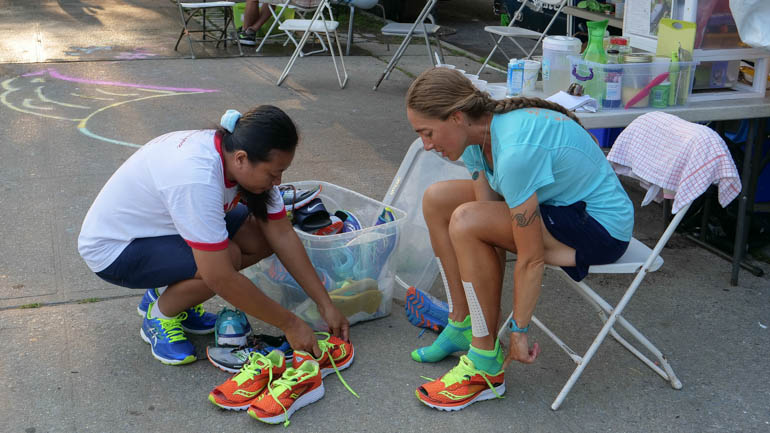 She is tied for 6th place with Yolanda.  They both have 1497 miles
Performing
Into it
With Ashadeep
Into the sun
Flower
Sergey did 45 miles 83 laps.  He has 1418 miles
Flower
Andrey did 42 miles 78 laps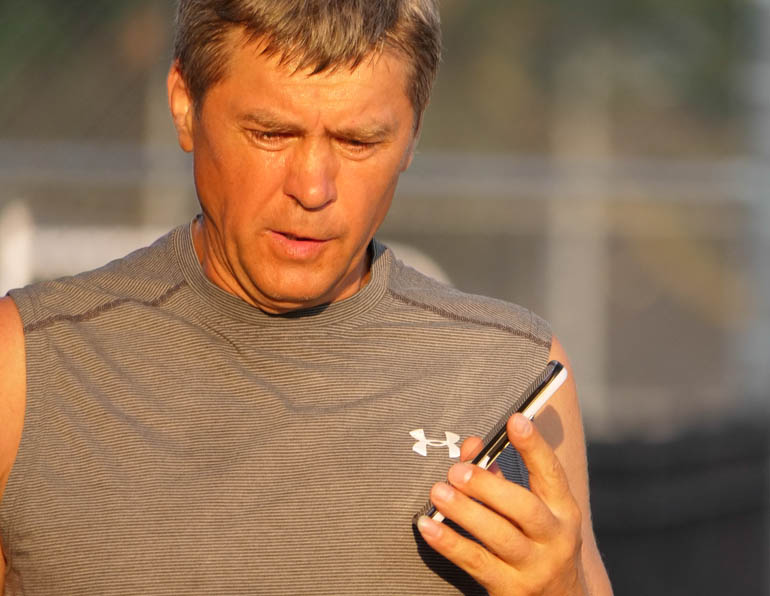 He now has 1394 miles
Mushroom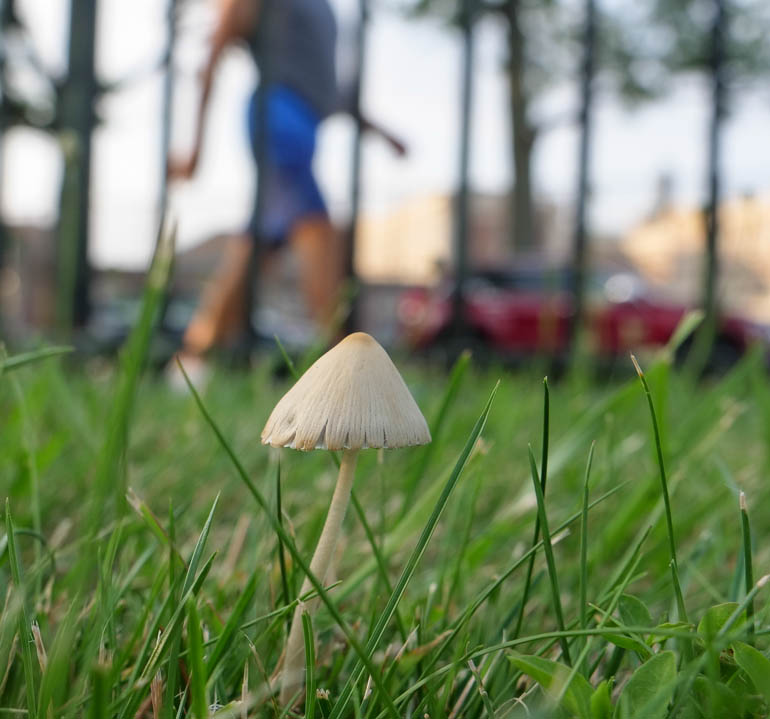 Nidhruvi did 51 miles 93 laps
She now has 1336 miles
Performing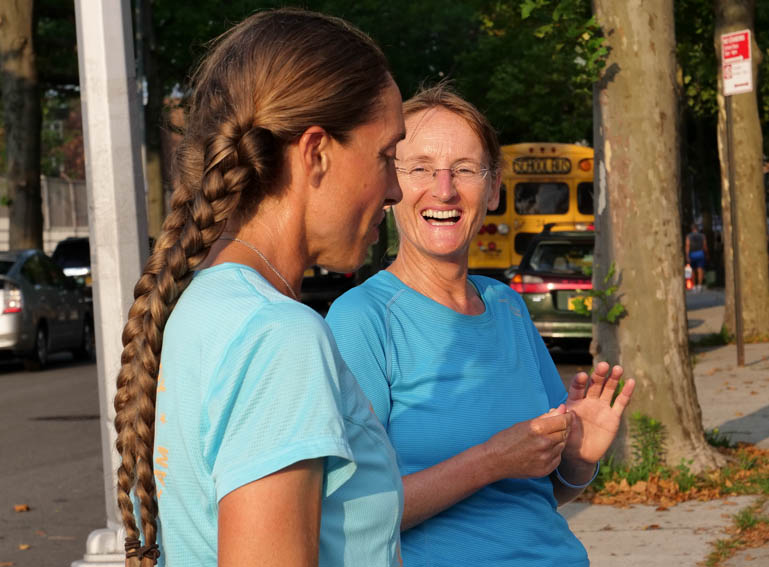 With Devarupi
Pine
Ananda-Lahari had 45 miles 82 laps
He now has 1277 miles
Happiness
Swamiji
Flower
Sahishnu shows Andrey a picture taken yesterday in St. Petersburg by Sadanand
This is it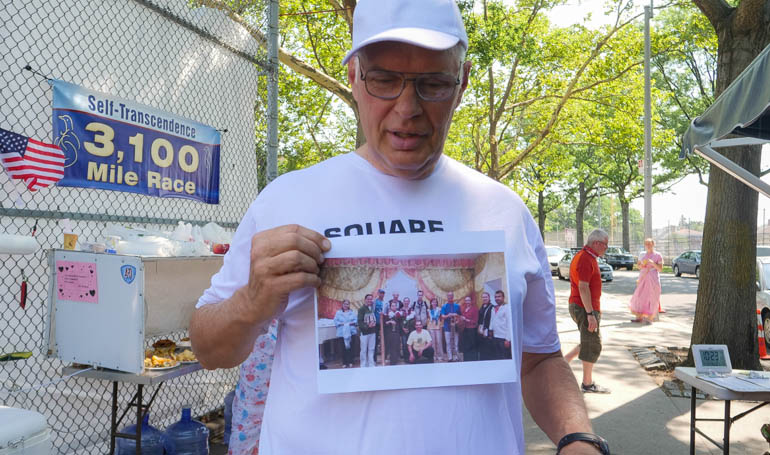 Mirka pouring soup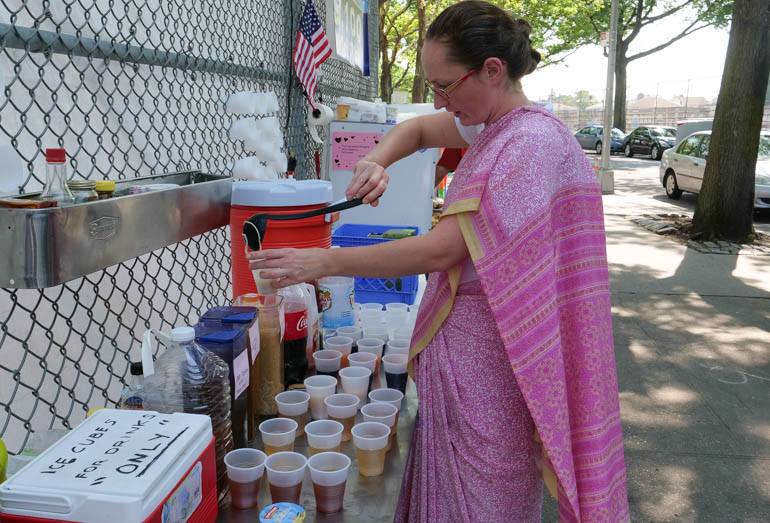 "This is a really great stretch and will fix all your lower back problems."
Jagadhata reads the Daily Prayer
Click to Play:
Jagadhata has been living in the New York area for 5 years and has come by and helped out at the race many times.  "I experience determination and will power in the runners, and a conscious feeling of self transcendence."
"It is unique here because it is the longest race in the world and takes a tremendous amount of determination and dedication to get there.  You can find that in other places but of course. But it is a little bit more tangible here. You can see the mileage racking up daily."
Enthusiasm Awakeners
Click to Play:
We must always try
To go beyond
Our earthly capacities
And
Our Heavenly qualities.