Yolanda is a perfect example of a person you need to spend more time with to understand them just a little better.  From a first impression you cannot help but be impressed with how much effort she puts into her race attire.   Now, in the 17th day of the race there have thus far been no repeats and when asked whether she has 52 outfits for each day of the race she is a little vague.  But I can gather from our talk that at least 30 days will likely pass and none will be repeated.
When you search even just a little beyond her outer appearance you cannot help but be impressed with her inner strength and beauty.  Here the inner person, is for me at least, much more appealing and interesting.  Beauty beyond all the well color coordinated outfits.
Her intensity and steadfast dedication to this impossible event is spectacularly beautiful and inspiring. Not being anywhere near a trained psychologist I suspect that what Yolanda has in amazing quantities is simply grit.
Which defined by Wikipedia says is, ' a positive, non-cognitive trait based on an individual's passion for a particular long-term goal or end state, coupled with a powerful motivation to achieve their respective objective.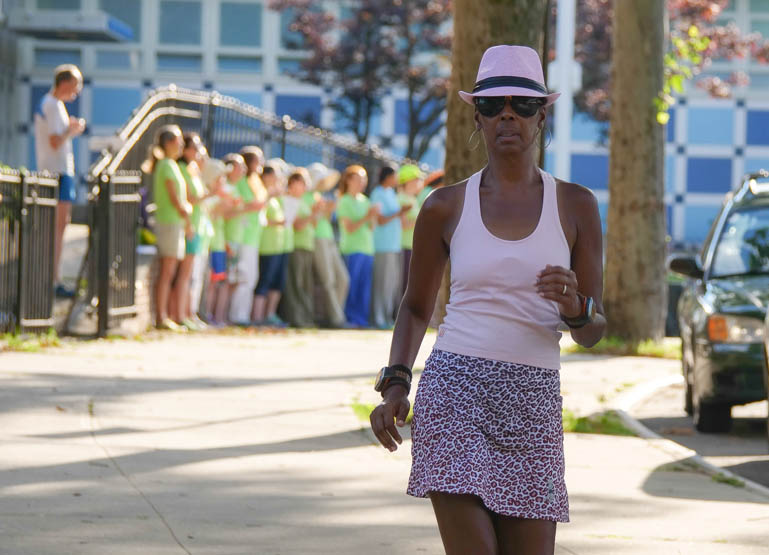 "Day 17, 962 miles."  Yolanda is keeping incredible focus, as really all the runners do, on her progress.  She has a cushion at this point but there is still a long way to go.  Late this afternoon she will make 1,000 miles and I ask her if she paid any attention to her previous personal best in competition.
"No. I did 622 miles at the 10 day race."  She of course has her hands full dealing with each day and each new challenge as they inevitably come along.
"I was feeling tired just now, and Vasu came by and asked me how was I feeling.  I said tired, and he said why?  I laughed so hard.  I am feeling a little better."
"This is a lot harder than I ever imagined.  I never thought in my wildest dreams that I could push my body this far.  It sounds so easy. To walk or run for 18 hours a day, 7 days a week, for over 7 weeks.  We are now approaching the 3rd week.  It is nothing like I had imagined."
Yolanda is looking forward to making 1,000 miles later today.  "It gives me some motivation to get to 1,000 tonight."
"What is really keeping me motivated is that I am meeting so many people.  Yesterday for example I saw a couple on the course, who were a little over weight.  They were ahead and just kept looking back at me.  I didn't know for sure what they were looking at and as I got closer, I realized they were looking at me."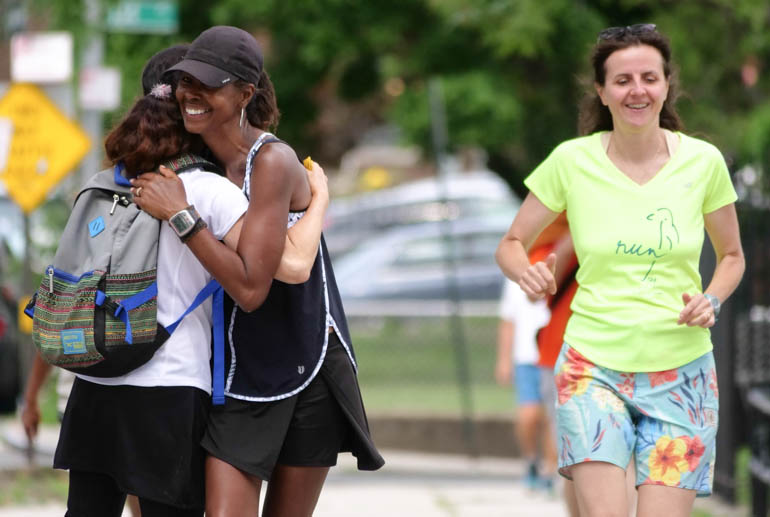 "When I got closer to them I called out, have a good workout.  They said back to me, we want to look like you.  That really touched my heart.  There are a lot of people who come to this park each day and I have never seen them."
Yolanda knows full well just how many laps she has to do each day.  "109 times keeps me in the game.  110 keeps me above the game, and I am still in the game."  Yesterday Yolanda completed 110 laps.
"Being here I really believe is my purpose.  And this is my purpose right at this moment.  It is to inspire people to get healthy and fit by walking.  A lot of people think that the only way you can lose weight and get healthy and fit is to run or to ride a bike.  I for one believe that walking is a start and you can get healthy and fit, just by walking."
Yolanda is the sole American in the race and on this beautiful 4th of July I ask her what the day means for her.  "It means peace.  For me the 4th of July means that you are free.  You are free to be who you are.  You are free to relax and show peace and show love.  Lots of love.  Be nice to everybody."
My whole purpose in life
Is to be of service to mankind.
This I can do only
By offering inspiration
On the strength of my oneness.
The board at the start of Day 17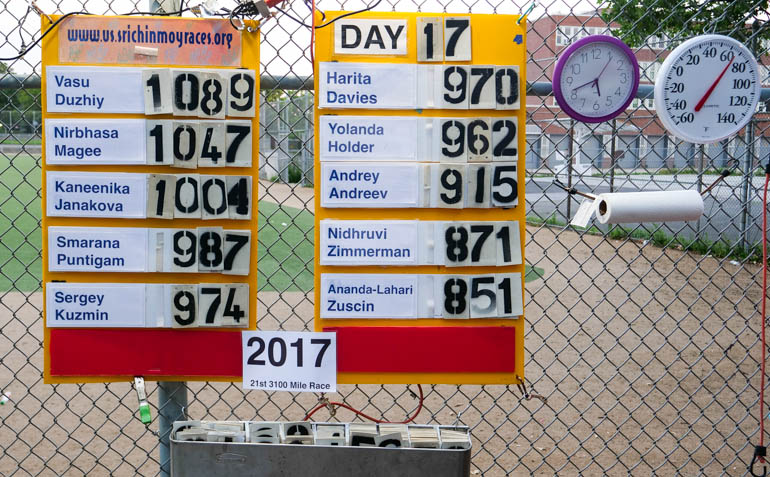 Clock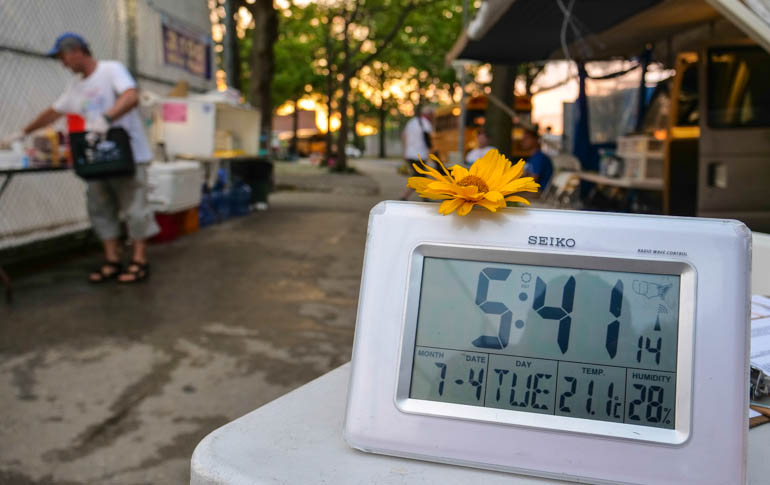 Yuri pouring chocolate milk.
Joke on fence
Yolanda is regularly checking her weight.  She has lost 7 pounds over the past 16 days.  She is trying to eat more.
Sergey and Andre arrive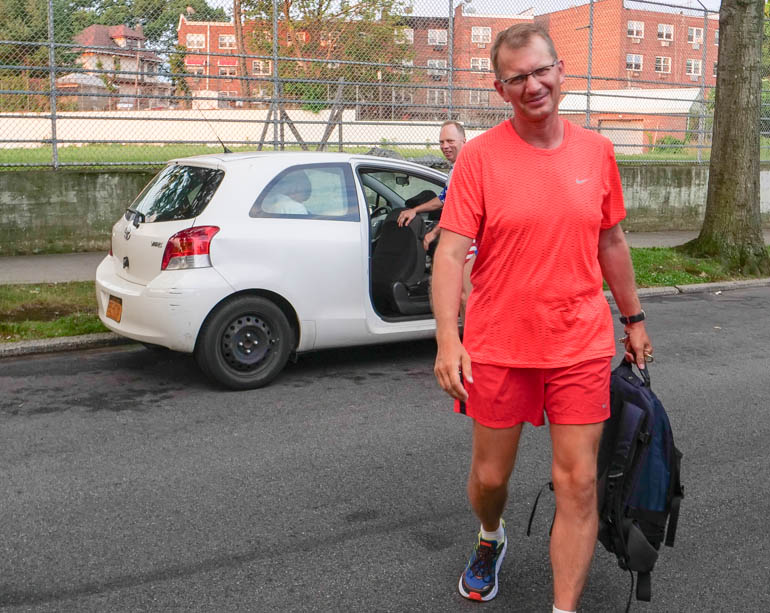 Suhasini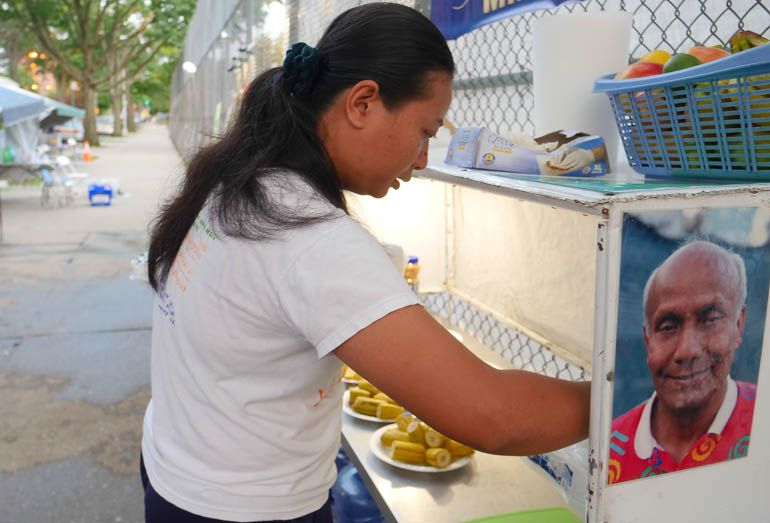 Medur has calculated that Andre has to do 1 mile more a day in order to finish.  From now on he needs to do 111 laps
Harita arrives
Stutisheel and Sergey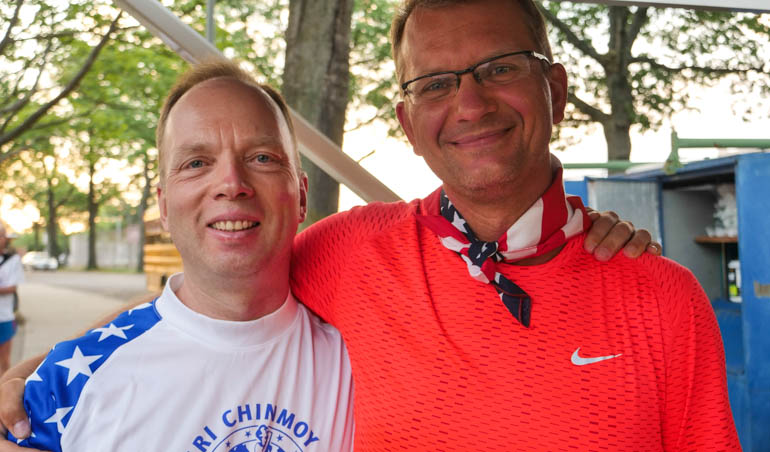 Gints putting up flags for the 4th of July celebration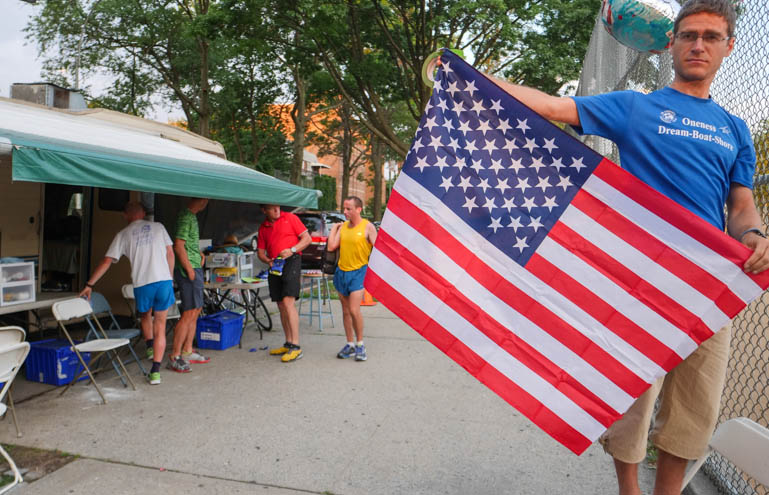 Yolanda eating a yogurt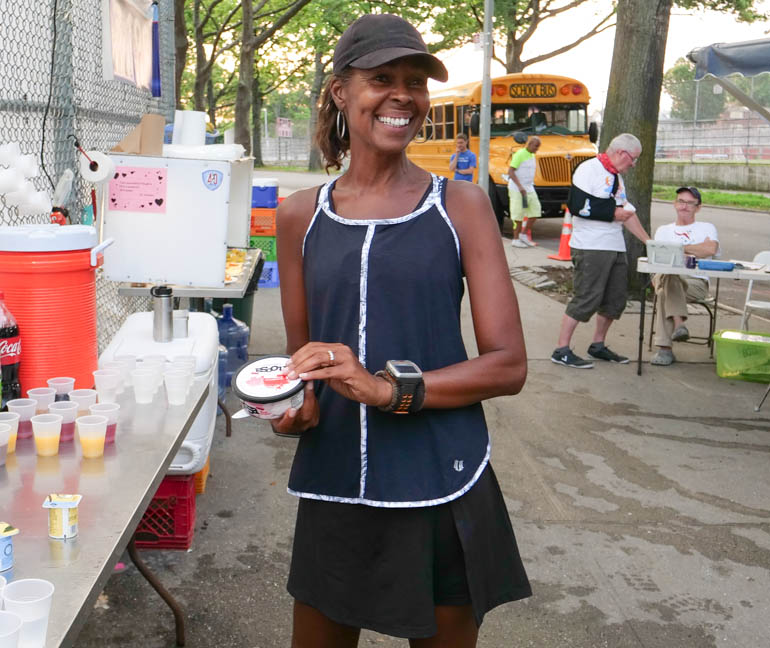 Horst working on Smarana's shoes
The girls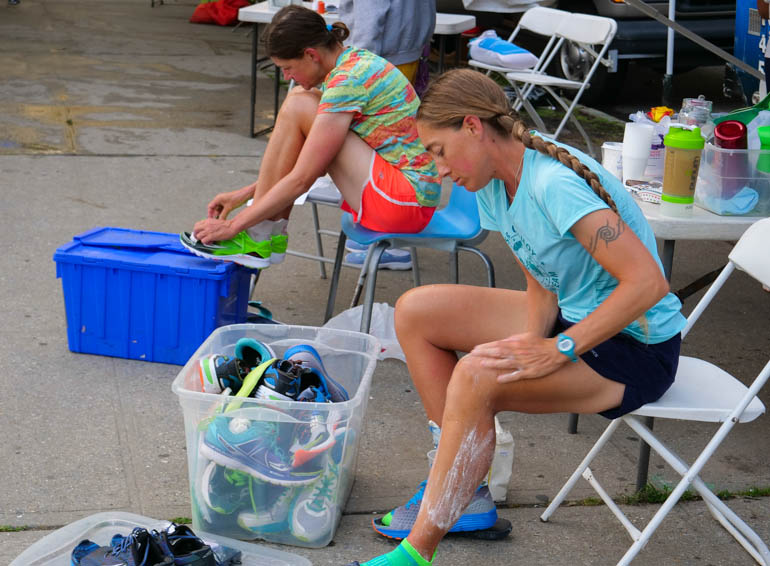 Sergey and Andre sharing a root beer
Start Day 17
A Beautiful day at the 3100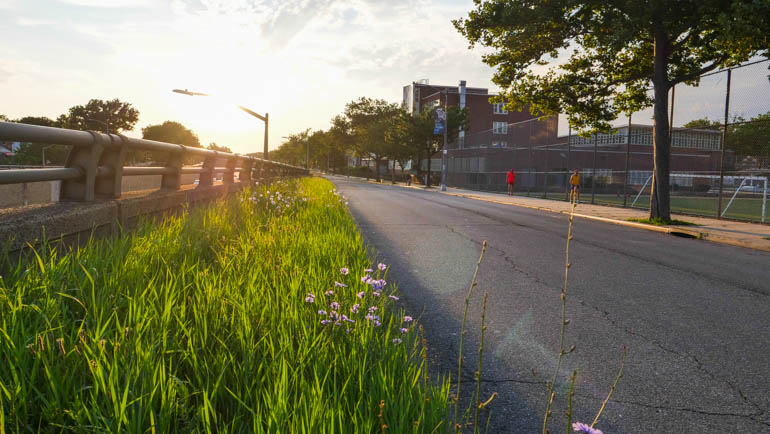 Vasu did 66 miles, 122 laps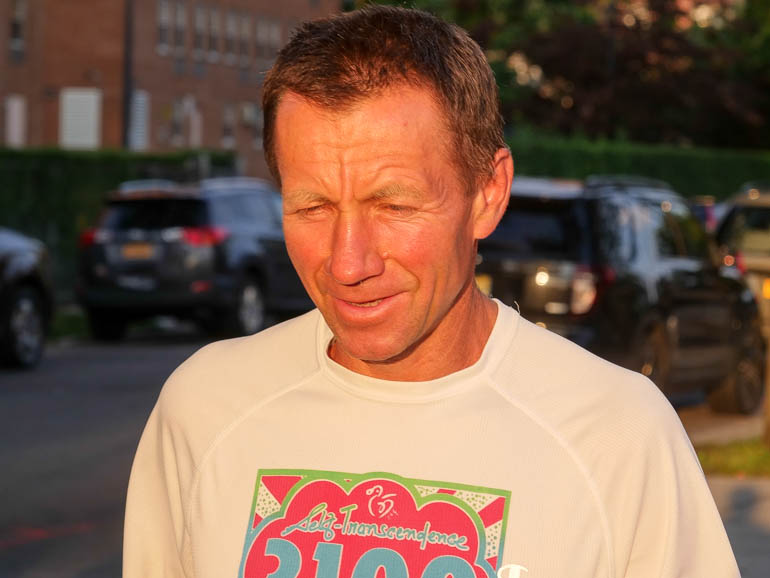 He now has 1089 miles
Counted by Alan
Later in the morning
Flower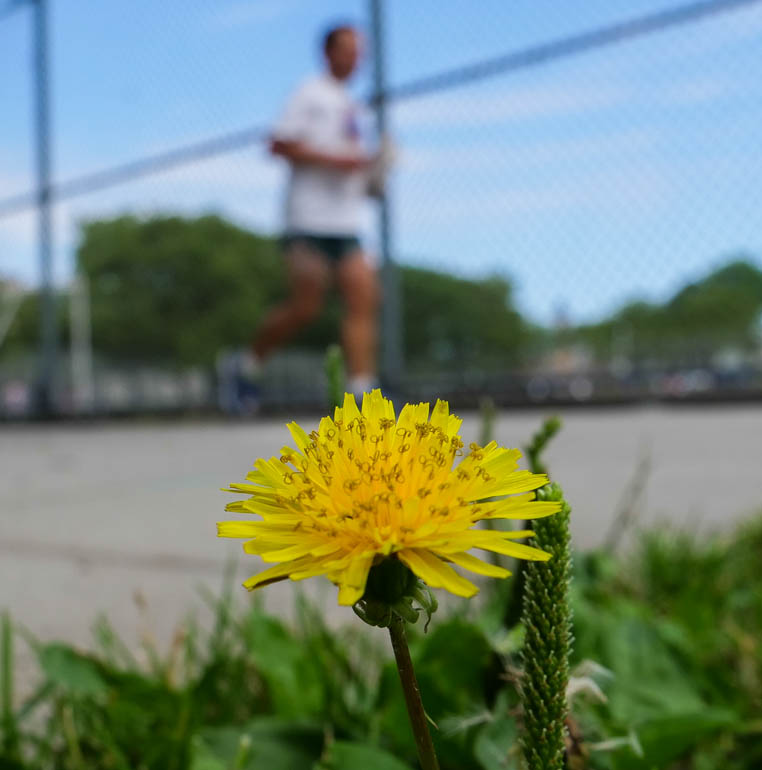 A picture of Stutisheel in his American flag outfit
Nirbhasa did 64 miles 117 laps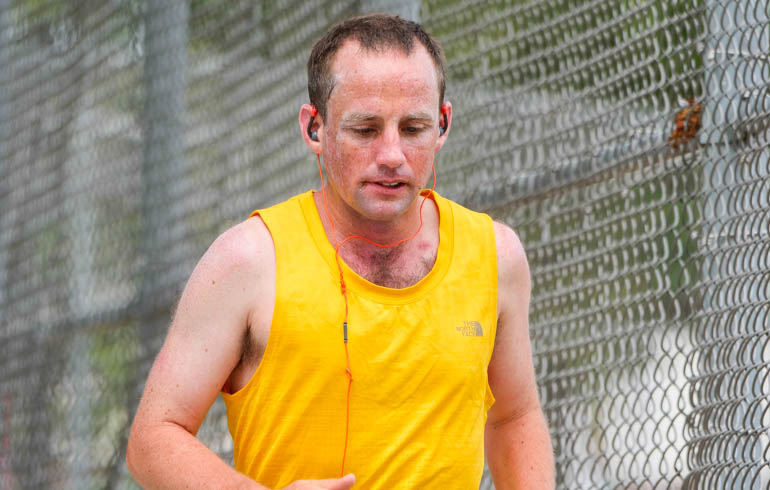 He now has 1047 miles
He is doing very well.
flower
Kaneenika did 65 miles 119 laps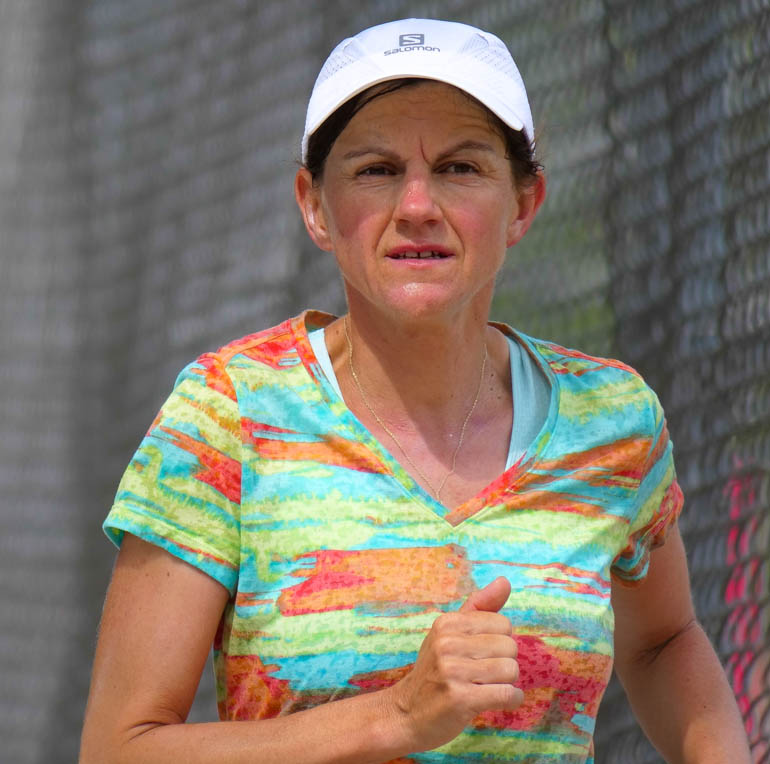 She has 1004 miles
Running with Kanala
With her helper Elena
Flower
Smarana did 62 miles 114 laps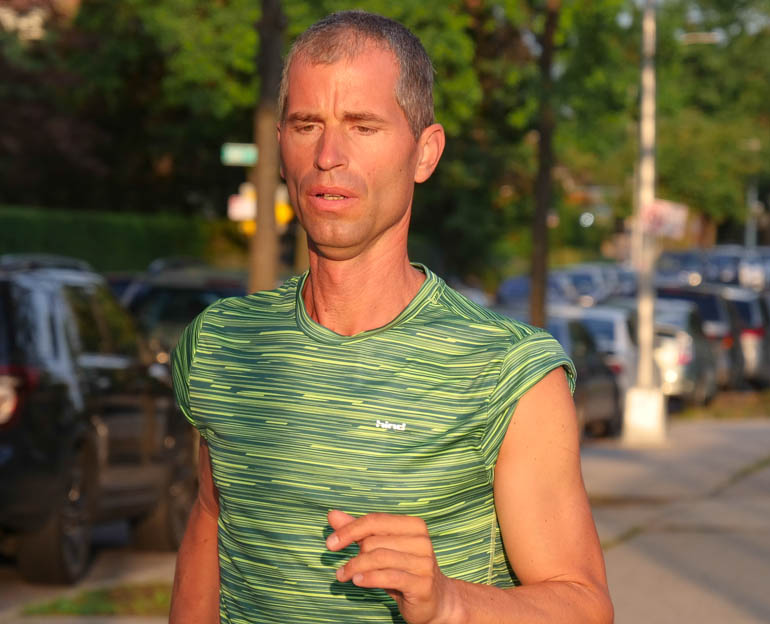 He now has 987 miles
Working on his shoes
A good day to run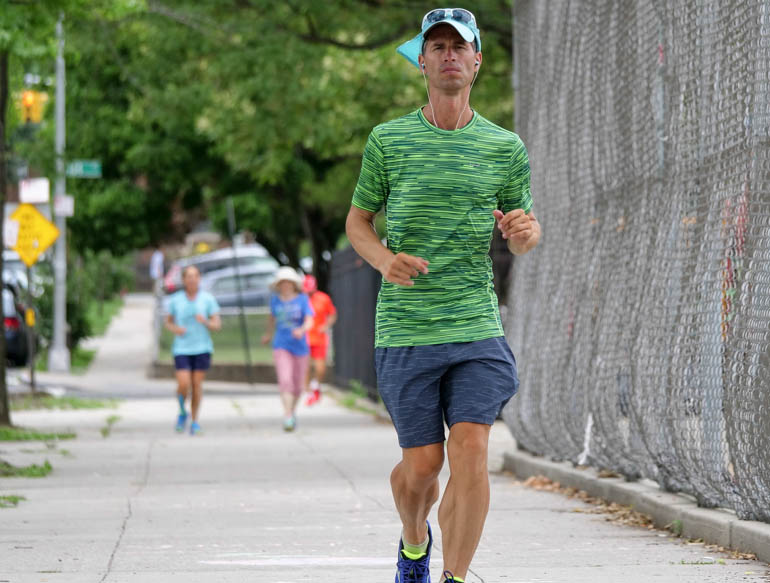 Flower
Sergey did 63 miles 115 laps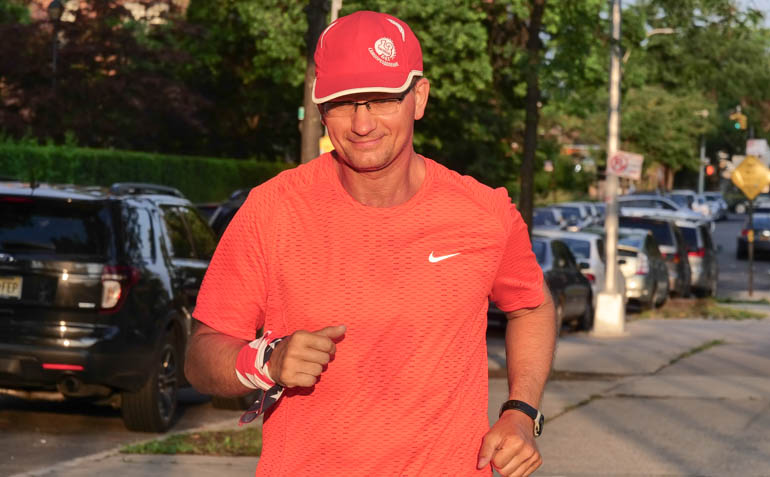 He now has 974 miles
Flower
Harita did 59 miles, 109 laps
She now has 970 miles
Prapti helping with her shoes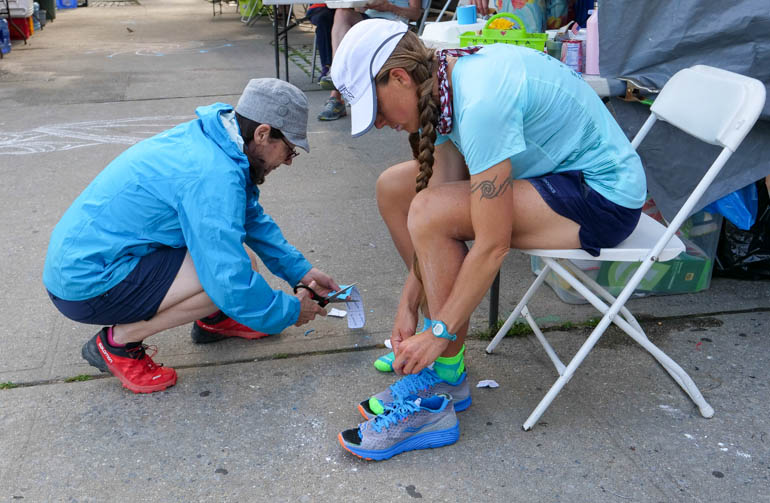 A bit of green
Kids
Yolanda did 50 miles 110 laps
She now has 962 miles
Flower
Andrey did 62 miles 113 laps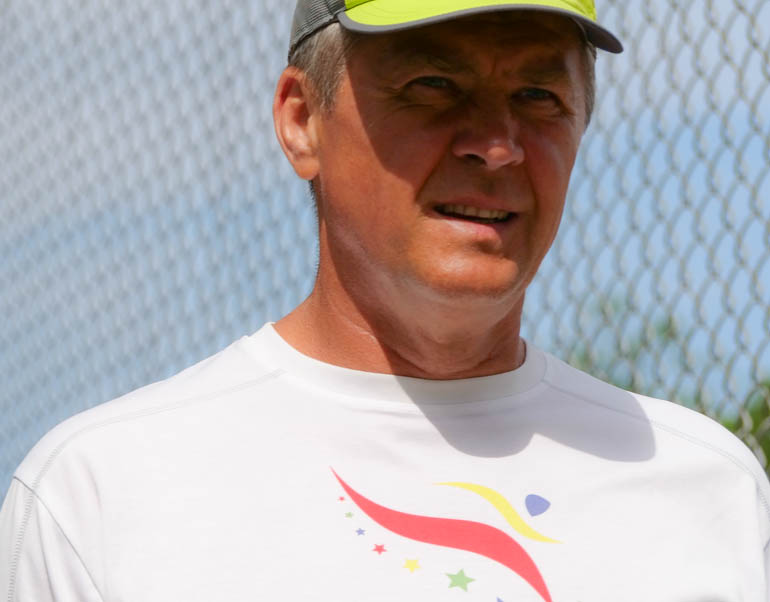 He now has 915 miles
He has to continue getting at least 111 laps each day
Alexey cleaning shoes
Green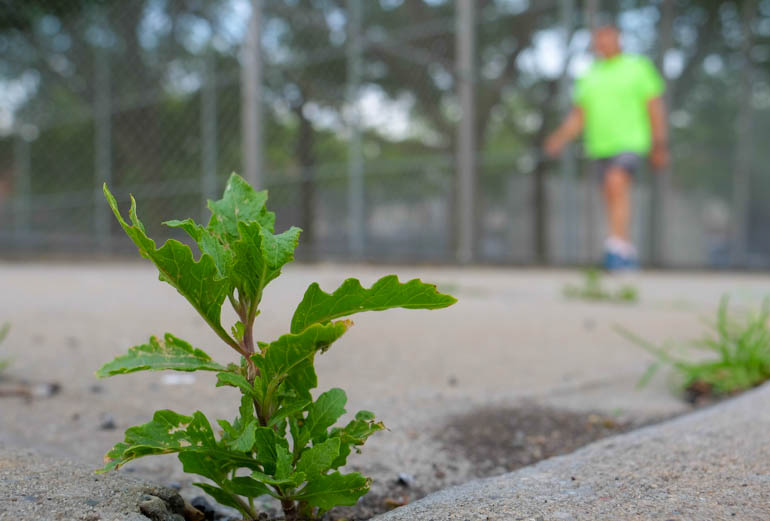 Nidhruvi did 52 miles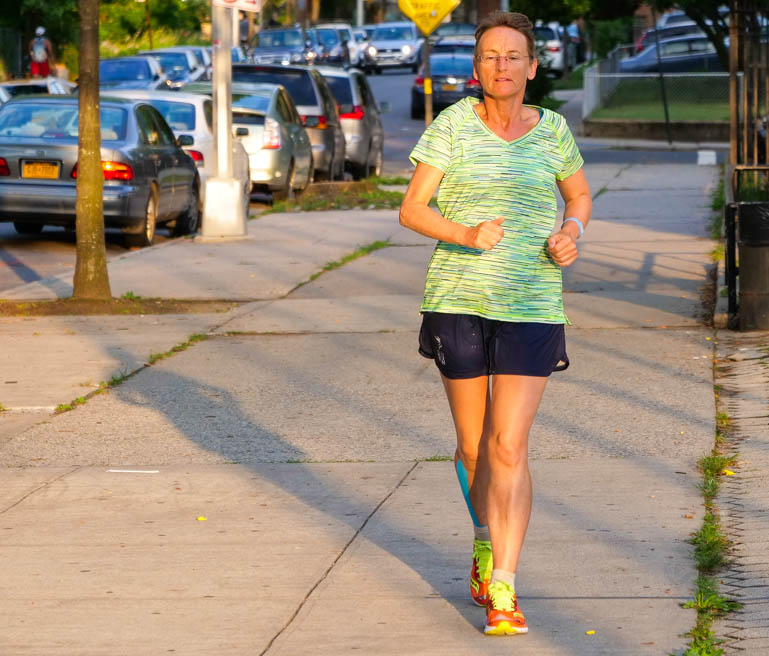 She now has 871 miles
Flower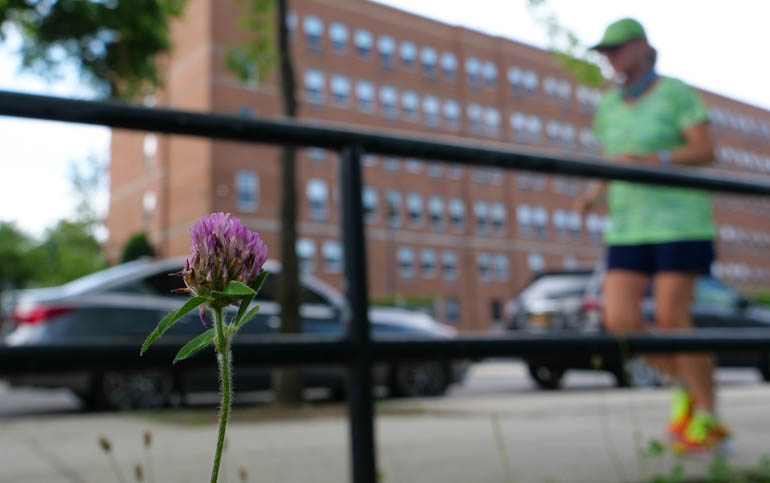 Alan and Jacqueline
Ananda-Lahari did 38 miles
He now has 851 miles
Doing his best
Sahishnu arrives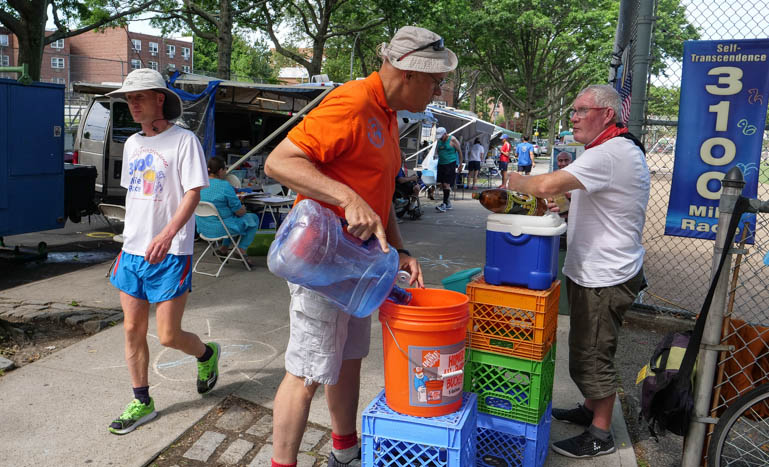 Flower
Swamiji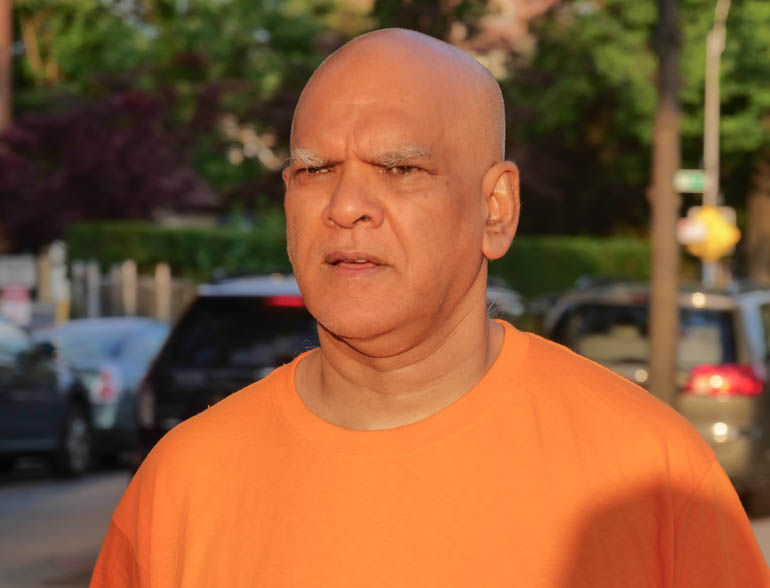 Nirjharini here with the morning snacks
Sidewalk art by Pipasa
Some important individuals are scheduled to appear with the Enthusiasm Awakeners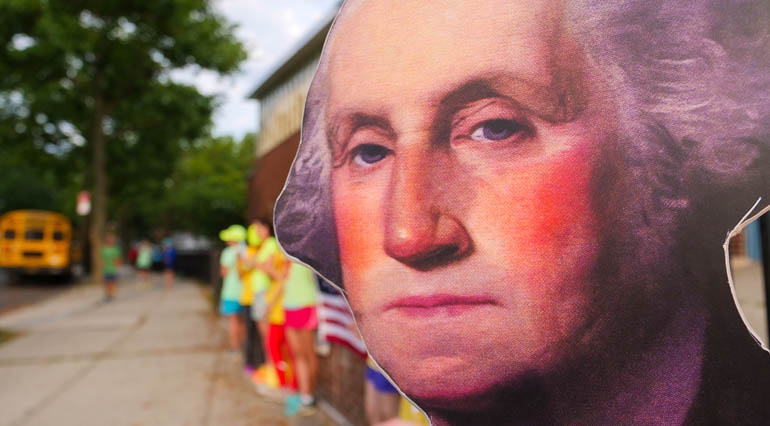 Click to Play America the Beautiful:
It is the 4th of July
Play This Heart is your Heart:
Bahula reads the Daily Prayer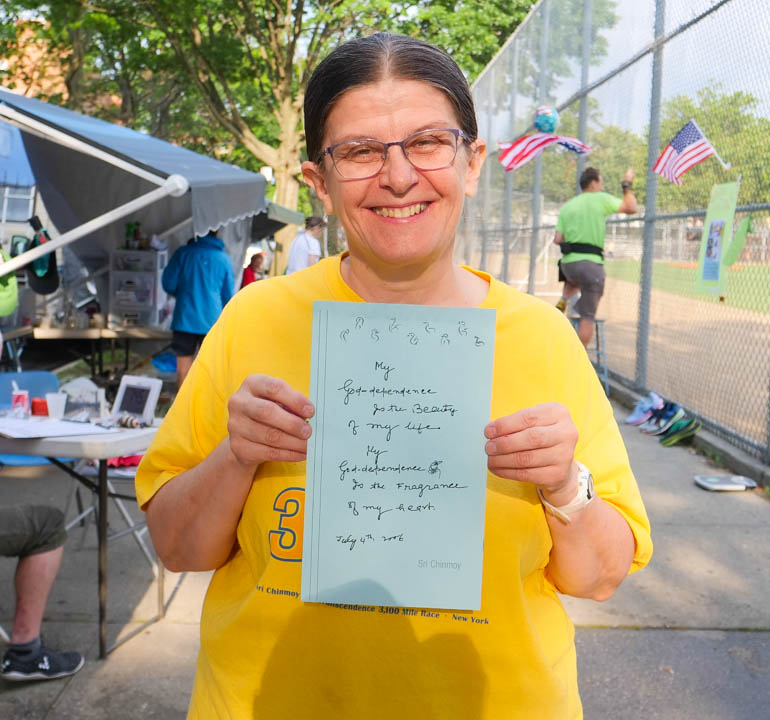 Click to Play:
Enthusiasm Awakeners
Click to Play:
Question: Do you feel that the races you sponsor also help and inspire people ?
Sri Chinmoy: Running is helping and inspiring people considerably, and in our races we have been inspiring thousands of people all over the world.