"You always hope for a little better than what you are doing."  Sarah always has the bar set for herself very high, and for good reason.  She has won the 10 race here 3 times and is one of the best women's multi day runner in the world.
"I wish I had put in a little more training.  But I have no complaints."
At the end of 3 days Sarah has 213 miles, just 2 off the 215 completed by Manoshri.
https://vimeo.com/163882327
"You always come with a lot of enthusiasm but you tend to forget just how hard it is.  You definitely have these really tough moments."
"I just love the friendship out on the course.  I think it is this shared experience.  I keep thinking that every year.  You could never do this on your own.  It is the fact that we are altogether doing it."
"Every day I am setting a new target and every day I am failing."  (laughs) "But what can you do.  That is when the surrender part comes in I guess."
Richard rushes in to make his 3 day total 168
When I share
My happiness,
I multiply it.
The board at the start of day 4.
"I have had to reorganize my goals."  Ed who is currently 2nd overall with 255 admits to starting the race with very high ambitions.
"In order to do what I intended to do I would have had to do 97 miles a day.  I am off that schedule.  My average for the last 3 days is 85 miles.  It is not likely that I can maintain that.  I think I can maintain a 70 to 80 miles average.  I am happy with that."
"I typically have really big goals when I go into a race."  He admits that his chances of breaking the world record were very slim.  "I like to shoot for the stars.  I don't hit them most times but it is still fun."
"It is a really well organized race.  I am really happy with the way that it is set up."
I ask Ed about the presence nearby on the board of Kobi and Achim.  "I have learned from experience that I have to run my own race.  I got caught up a little bit competing with those 2 guys.  I really highly respect both of them.  They are very competitive athletes.  I am honored to be on the course with them.  They are veteran 10 day guys.  This is my first time at a 10 day event so I am learning from them.  But I have to run my race."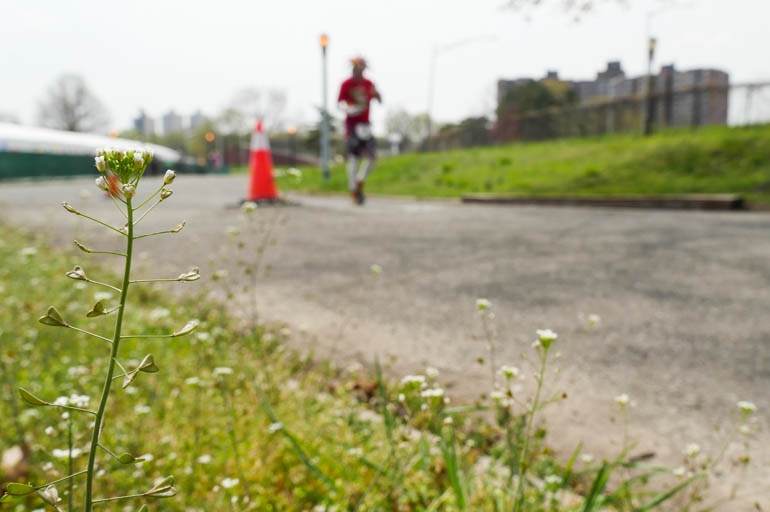 "I love the challenges.  That is why I do these events.  I always love pushing beyond what is perceived to be the limits of my human endurance, mental, and physical.  I am really looking forward to the next 7 days.  I take it one day at a time and many times one hour at  a time and many times one mile at a time."
Click to Play:
Kobi finished day 3 with 273 miles
Achim had 233 miles.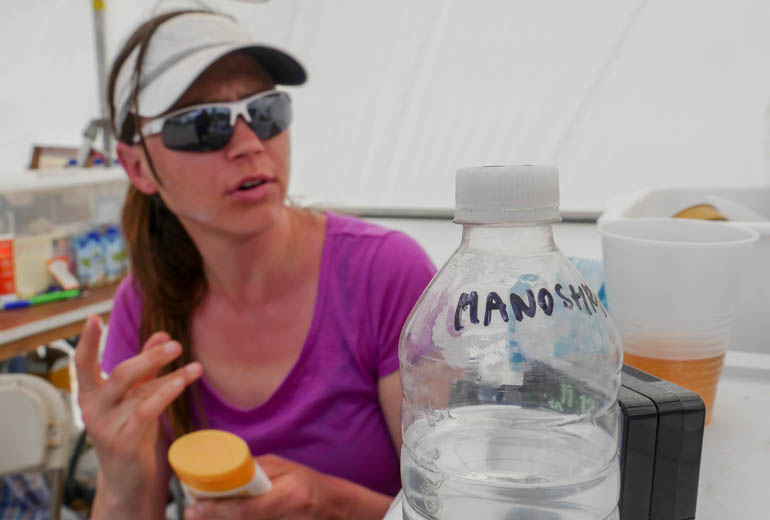 Manoshri leads the women with 215.  She tells me that a stress fracture kept her from running from late fall up into December.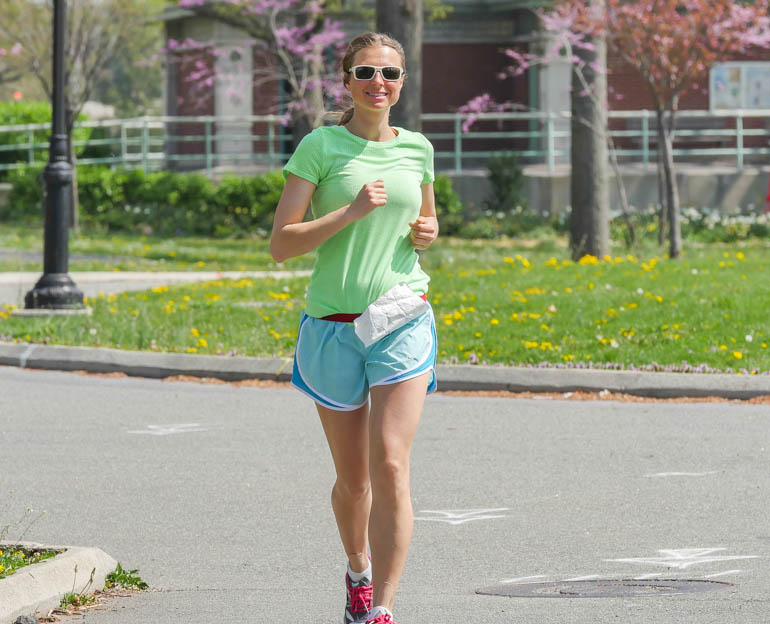 Her sister Gautami is 3rd with 206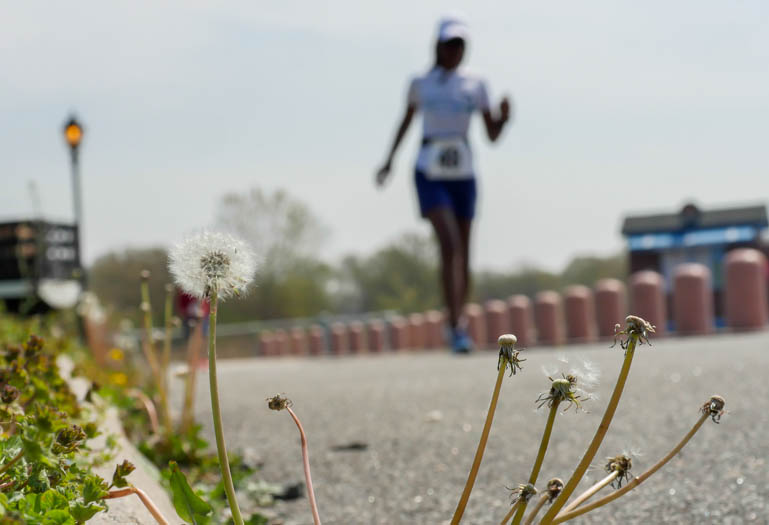 Yolanda is in 4th with 205 miles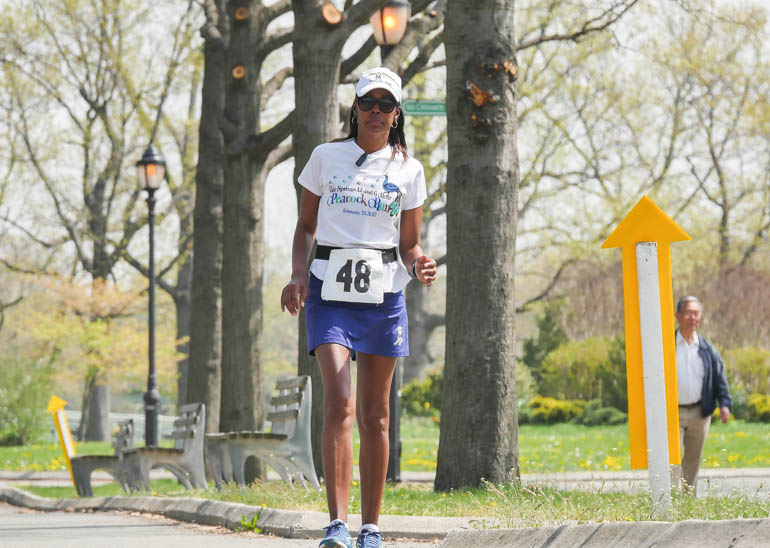 Keeping the board up to date.
Ales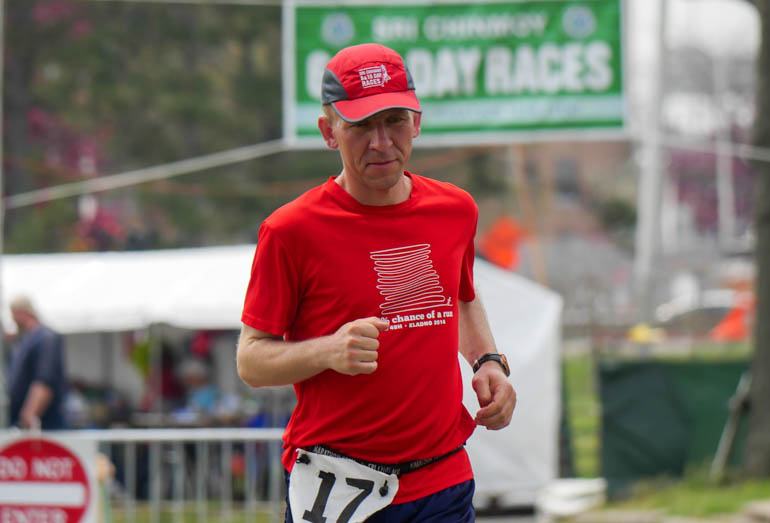 The flowers over for now.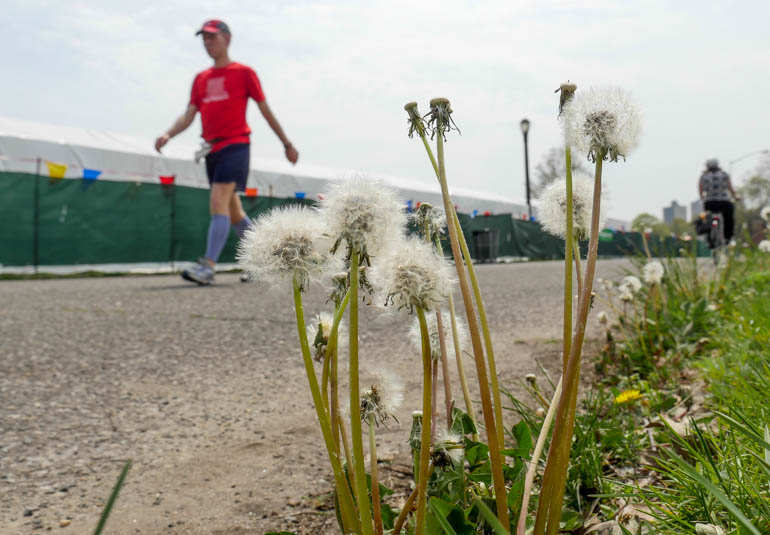 Ananda-Lahari with 204
JB in medical
Volodymyr with 212
Karteek with 151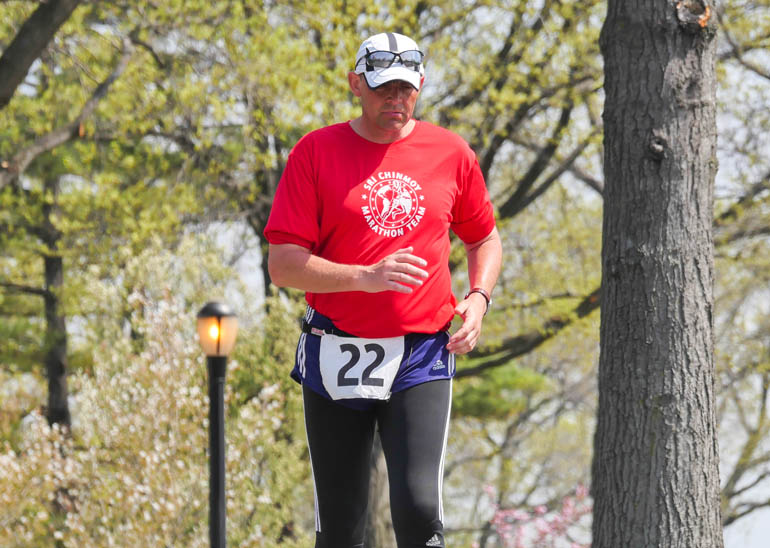 Many of the trees are still blooming.
Andrey with 196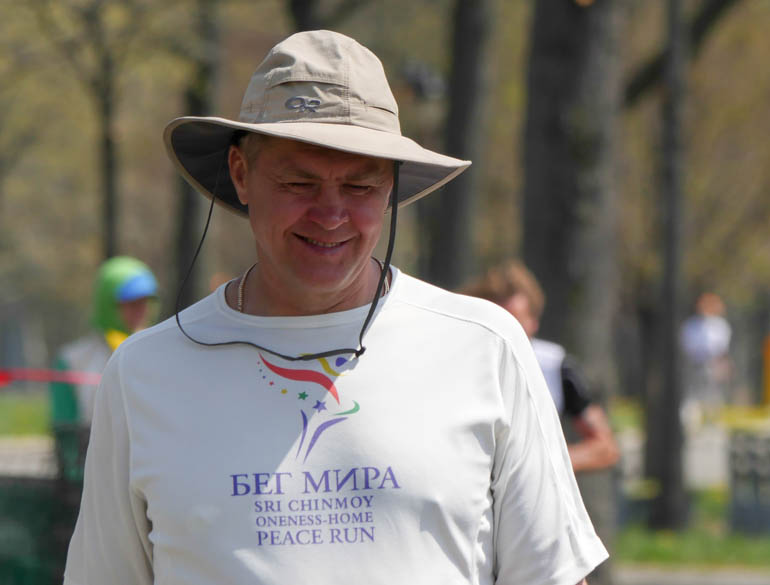 Cooks having lunch and being appreciated by Ed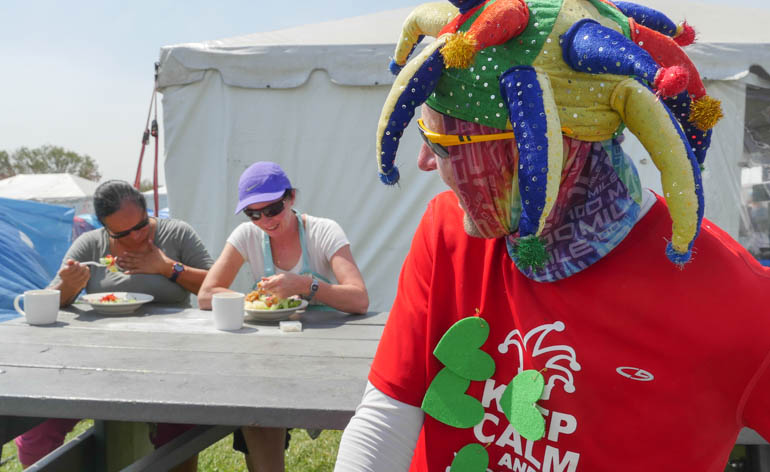 Vasuprada and Karnayati.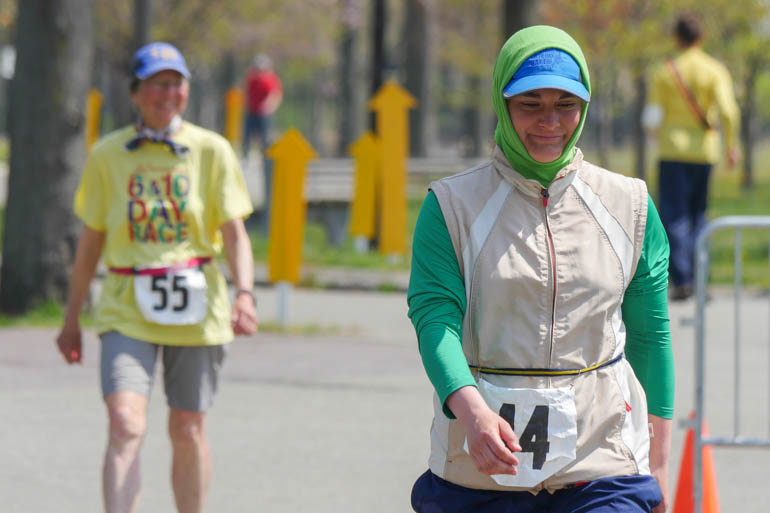 Michel getting encouraged.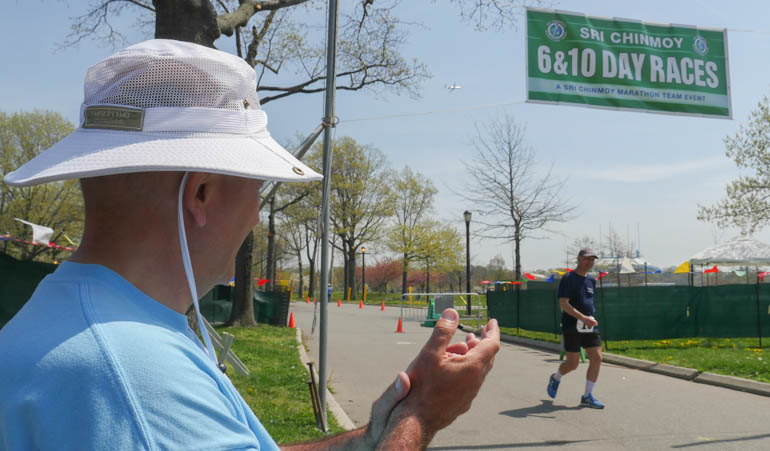 Michel has 164 miles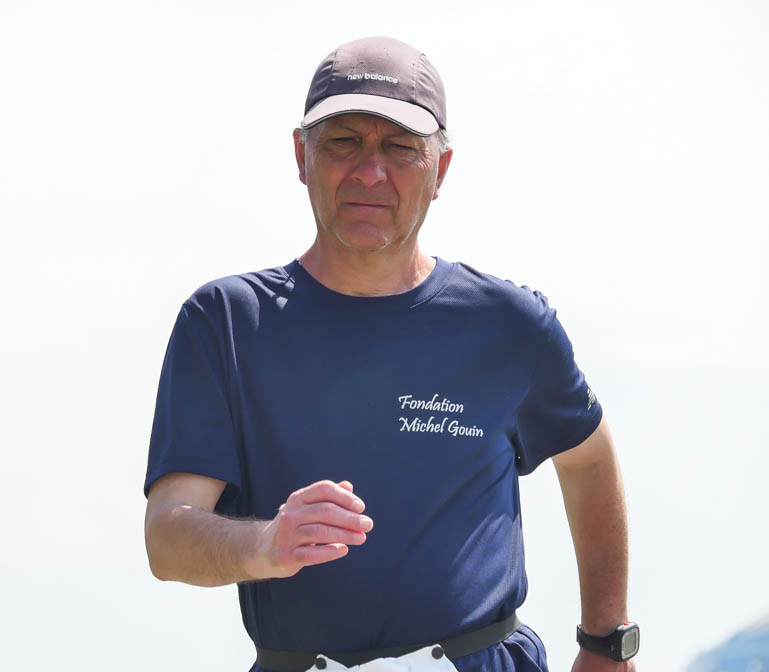 Mahasatya with 182.  Michael Korol who is just behind is on the same lap.
Shivabakta in medical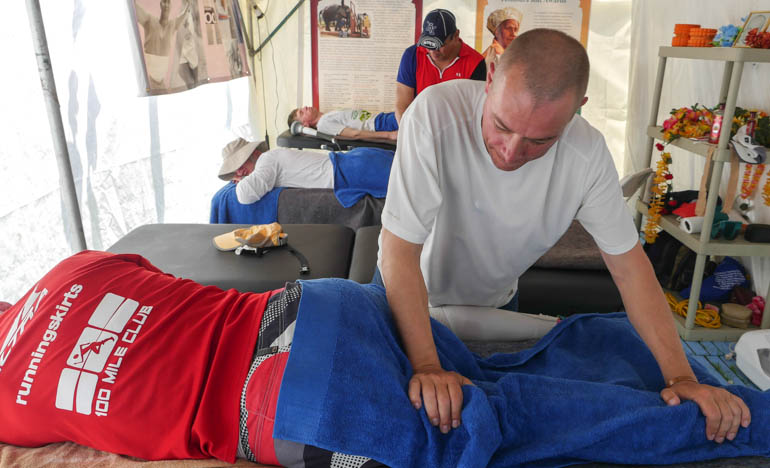 Misha running with a broken arm has 167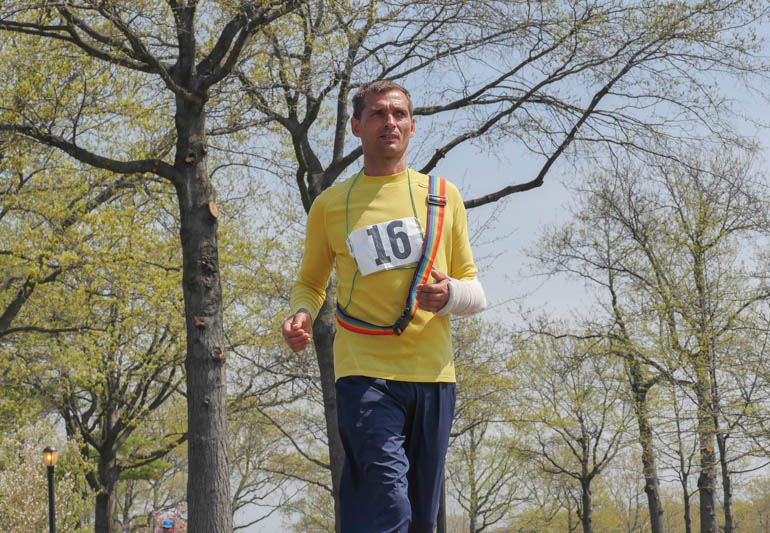 Soren with 201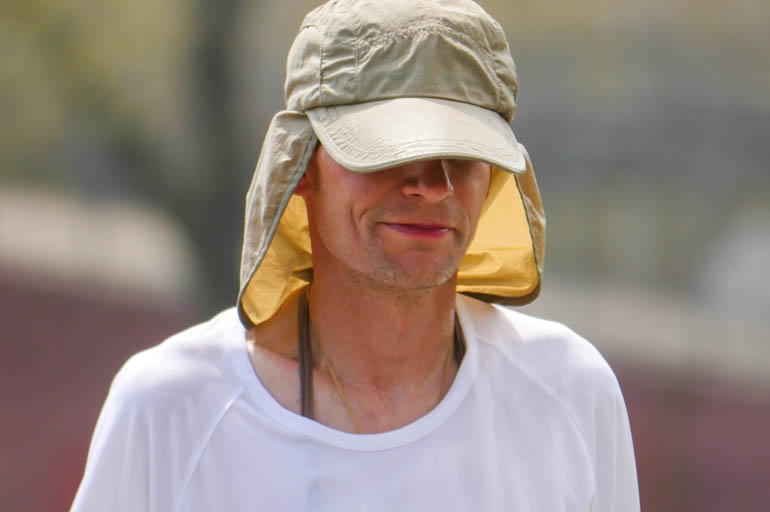 Elena with 181
The leaves are coming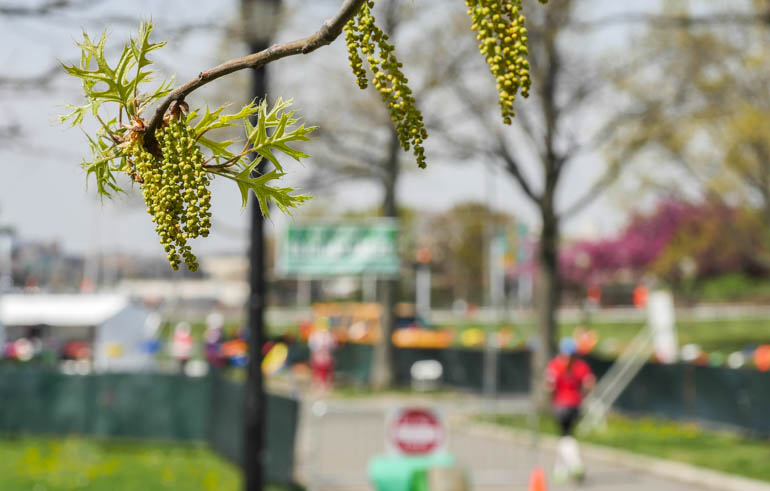 Bearly making it.
Stretching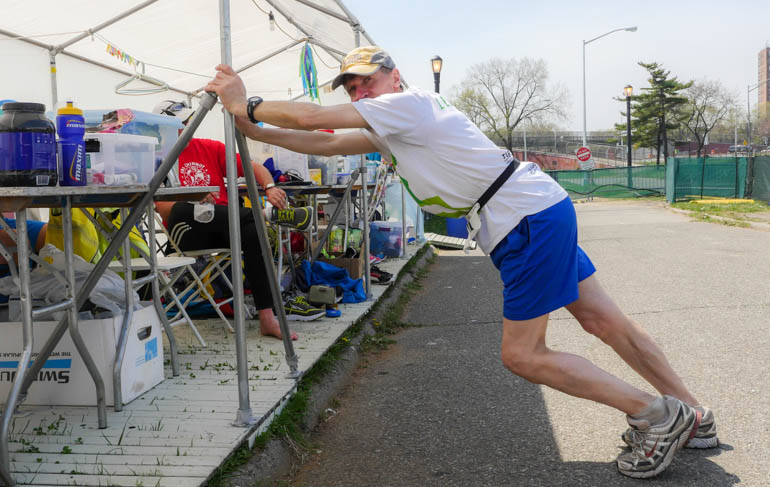 A horizontal stretch
Vinati with 178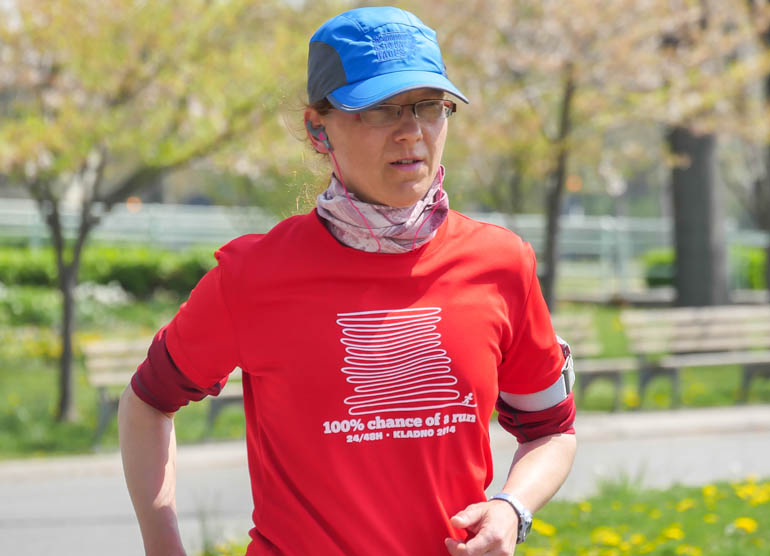 Andrey crossing the finish line.
Sergey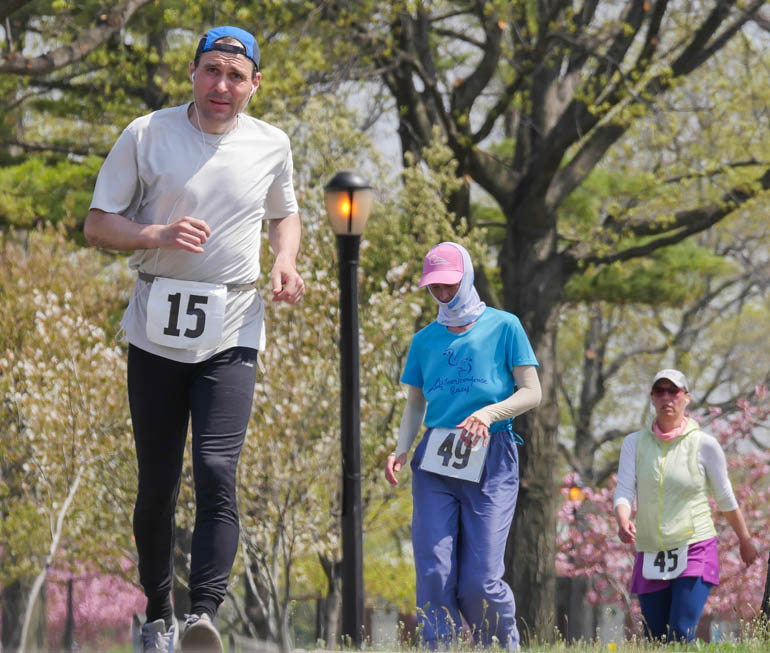 Budjrgal with 205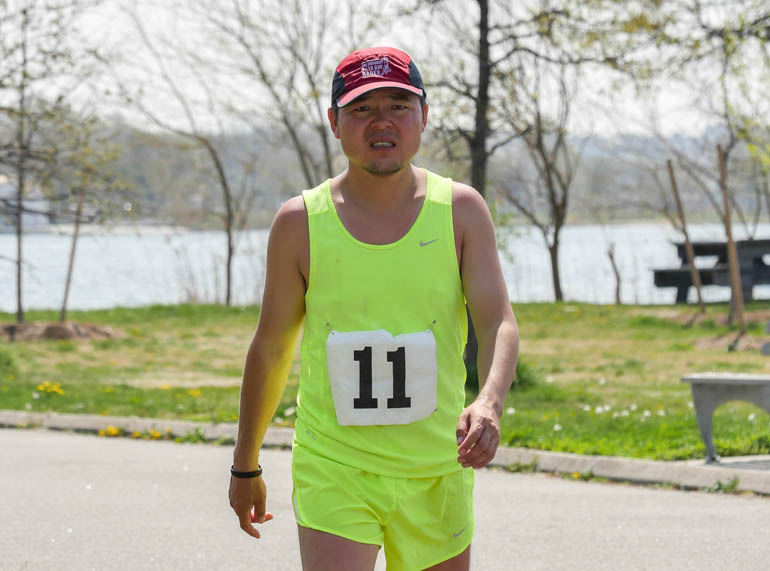 The little ones
Richard with some fast miles.
Kimberly has 191 miles
Girbhu getting a massage.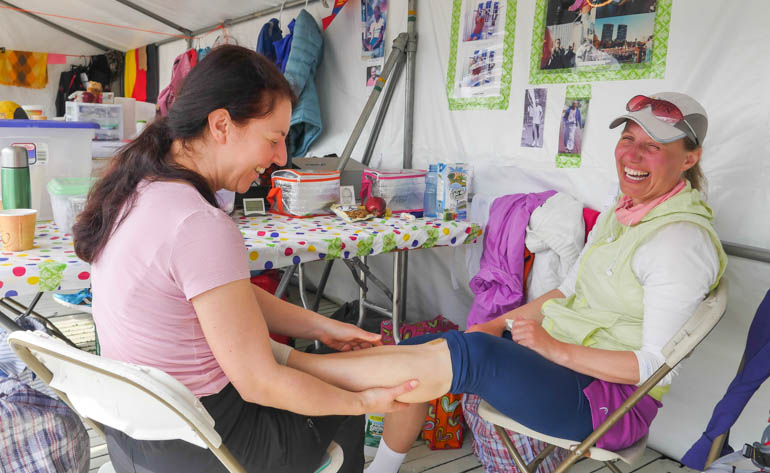 Gibhu has 152 miles
Taking a closer look at Pranjal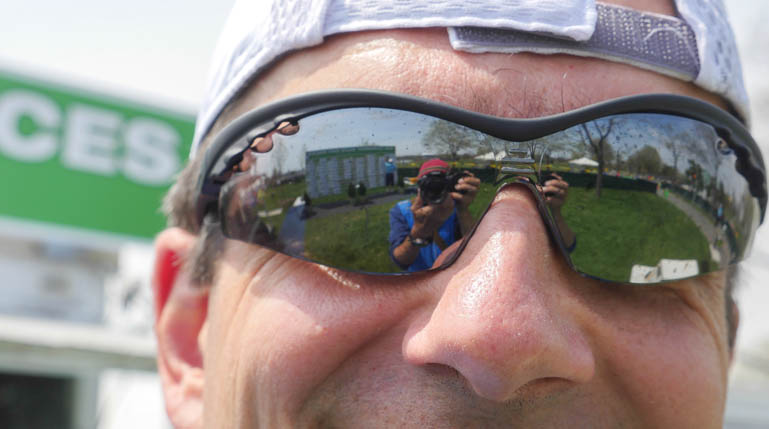 Pedrag with 167
Georgs with 164 miles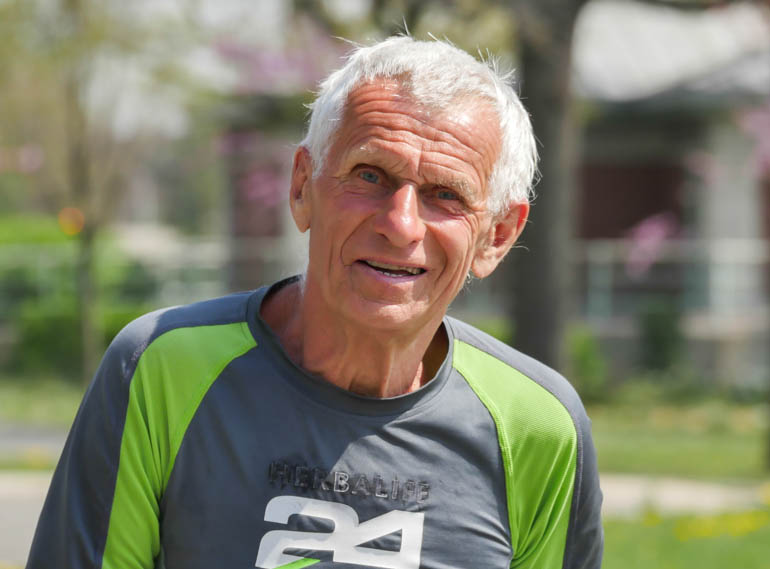 The 6 day runners are showing up.
Joe getting into battle before the battle has begun.
Georges and Erlinda Biondi back for the 3rd year but this year is Erlinda's turn to run.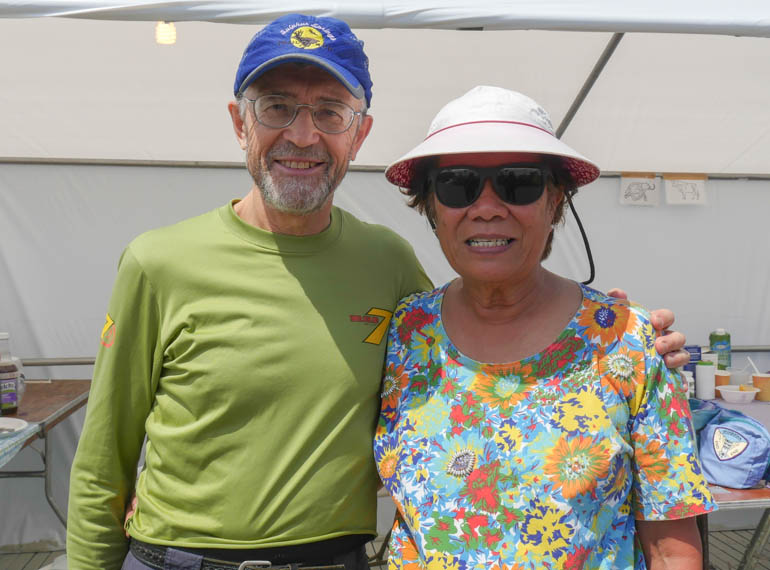 Janos has 160 miles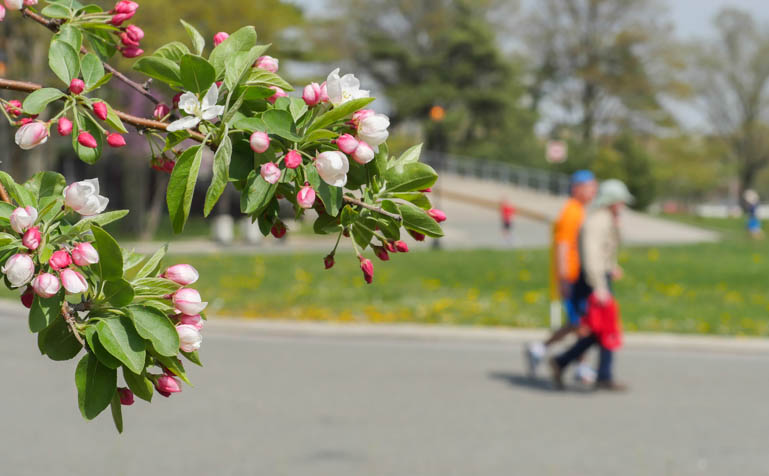 Counters
Not sure of the number or the age group of this one.
No odor problems
Working the board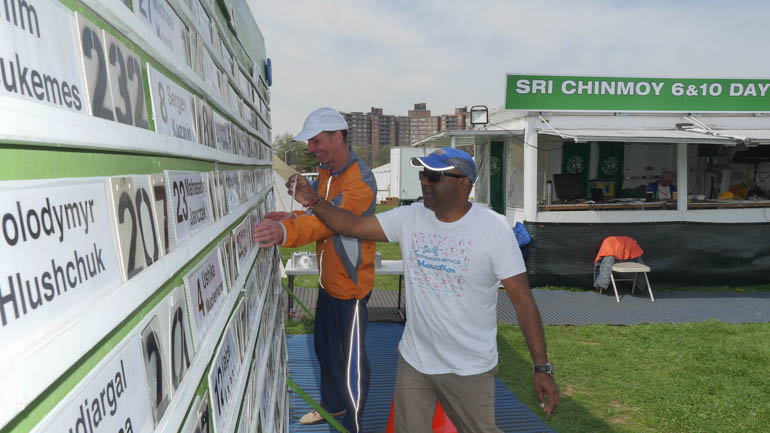 Sergey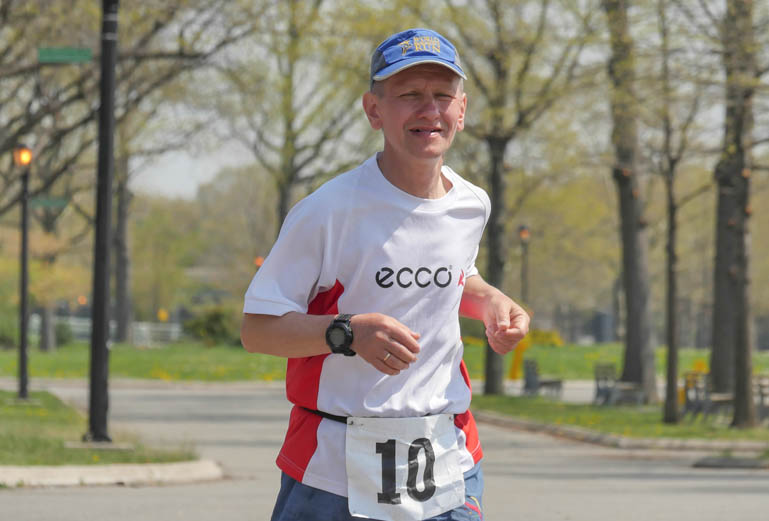 Oyungerel has 183 miles.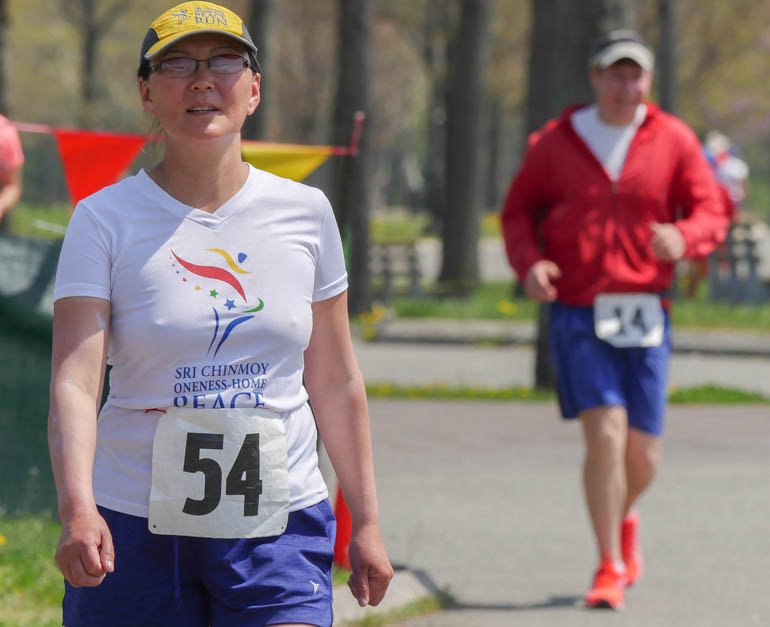 Listening to the miles go by.
Getting the miles and getting the picture
I must share my happiness
With the rest of the world
To make my life
Meaningful and fruitful.