Question: Did you ever run ultra distance?
Sri Chinmoy: My longest distance was 47 miles. I did it twice. Now I no longer do it, but every year about three hundred disciples of mine from all over the world come here on my birthday and run 47 miles. Being the spiritual father of the family, it gives me tremendous joy when I see my spiritual children run 47 miles. The number 47 is very important to me because in 1947 India got its independence. With this run we are celebrating our inner freedom.
Pratyaya has been the race organizer since the start.  Her team has nearly always been the same since day one.
It is such an amazing night.  Sleep and slumber are pushed aside for something dynamic and transformative.
For many it may be the most significant thing they do all year long, run the 47 mile race.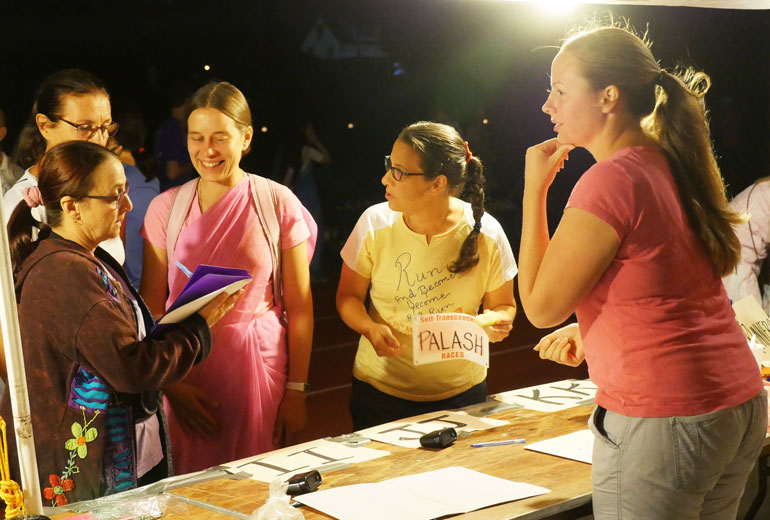 There are times when it is just the runner, the road, and the fat full moon above.
Mahiruha reciting poems
The first shift of counters.
Pools of light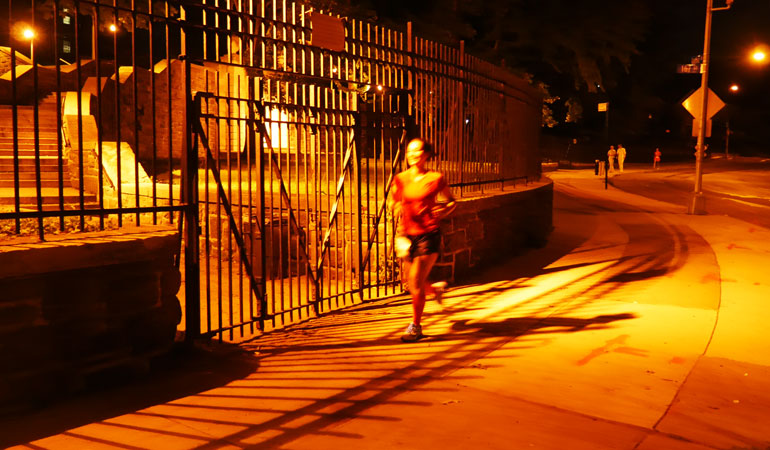 Always illumination
At the gate.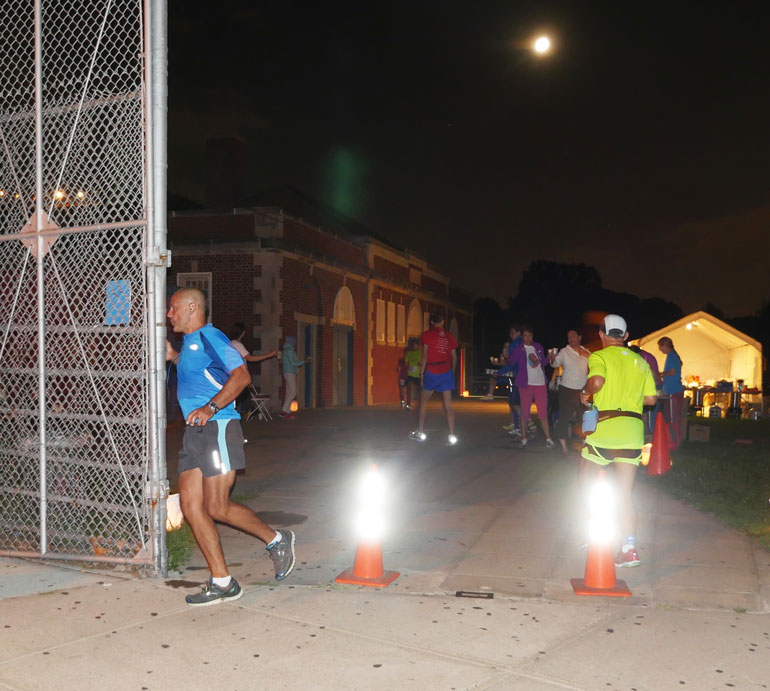 Powerful reminders on every step of the course
No impossible dreams
Nidhruvi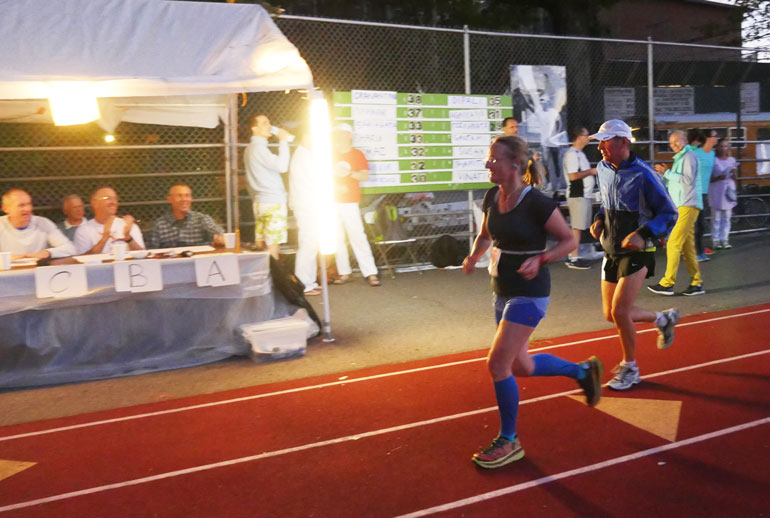 Empty streets and full hearts
The food tent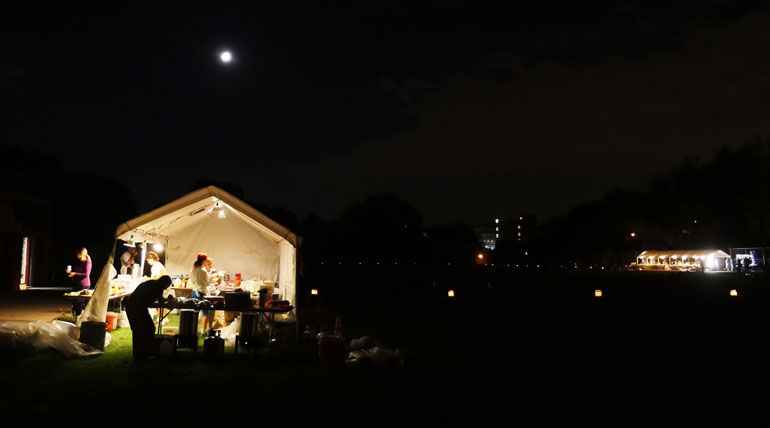 42 year old Granantan will be first in 6:12:08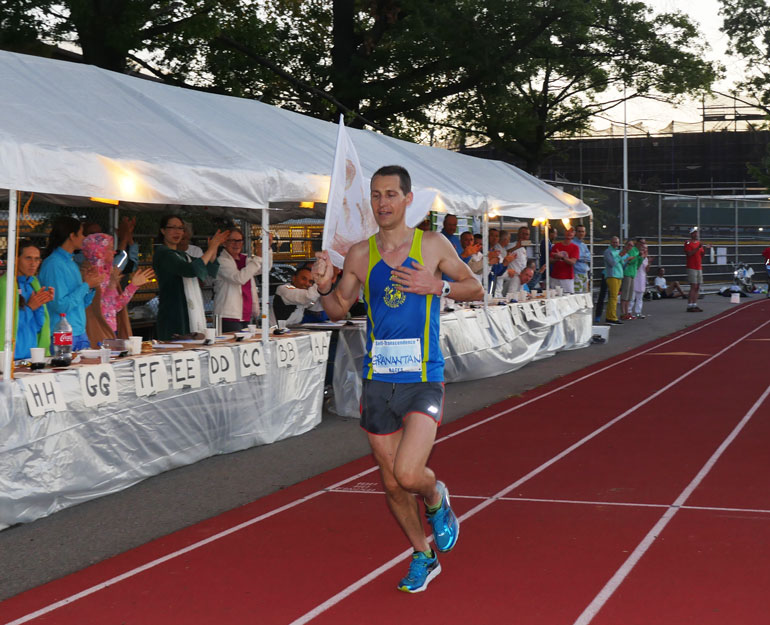 "I had a bit of short build up because I tore my medial ligament.  I had to bike ride for a few months and I have been running the last 8 weeks.  I am not overdone." (laughs)
For Granantan the real good news besides winning is that he has a personal best by 5 minutes. He says that that his winning time tonight surpasses his winning time he ran the race in 2010.  He also ran the marathon that same year.  He suggests that since he didn't run the marathon this year he should have been able to beat his previous time.
He says that 47 miles is not a distance that is ideally suited for him.  "It is probably a bit longer than is in my sweet spot."
"I really wanted to finish it."  He says that since he was coming off an injury he wasn't certain that he would run.  While meditating however he realized that he could.  He says he could hear the number 47 being repeated within himself.  "It was a real dream and encouragement."
It also confirmed to him that he would get better.  "Gradually week by week the knee did get better."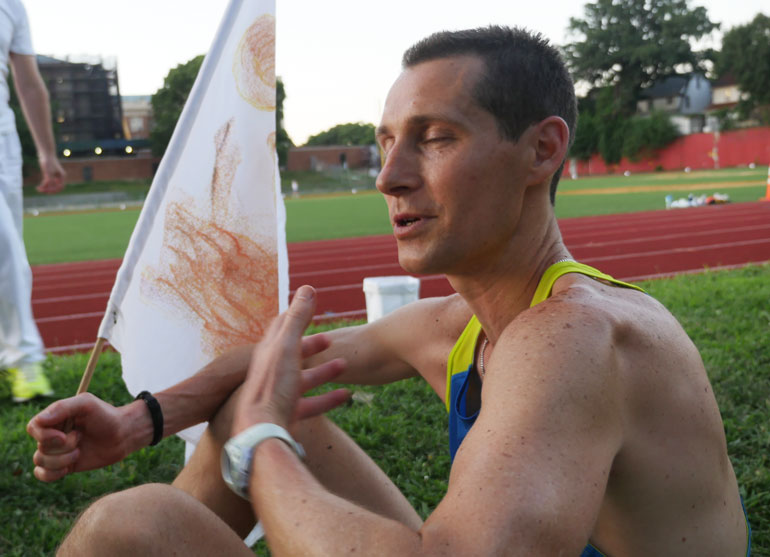 For much of the night he and Pushkar ran quite close to each other.  "He was a little bit behind.  I thought that he might catch up, but I felt comfortable running that little bit quicker.  In hindsight it was probably better to have gone a little slower. The last half was pretty tough."
"There were some tough moments when you just want to slow down and walk.  You just have to keep going.  I knew that I wouldn't be happy with myself if I did that.  I only walked once.   I was really proud of myself."
"I always felt Guru's encouragement.  Keep going, keep going."
He says that he hopes to have more training when he runs next year.  "It would be nice have that extra strength and fitness in the second half."
"I was trying to feel gratitude as much as I could.  There were some really nice moments when I felt Guru running in and through me. I tried to hold on to that.  You have to stay as positive as you can. Focus on all the good things."
Click To Play Interview:
Singing on the course.
Click to Play:
Making the turn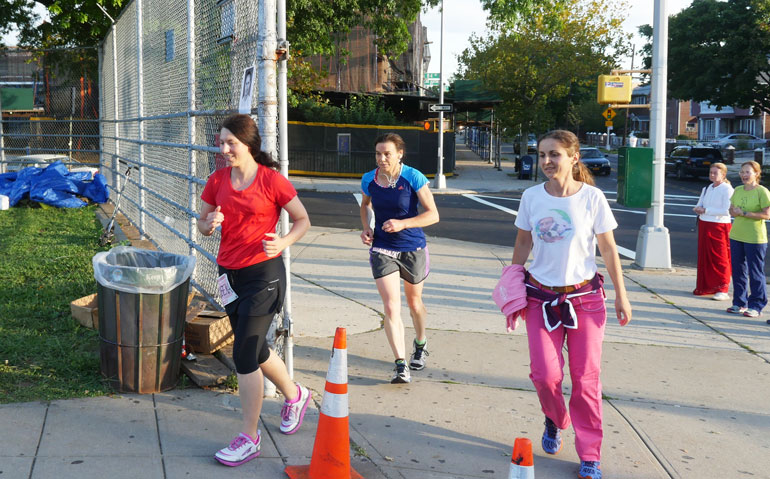 Gautami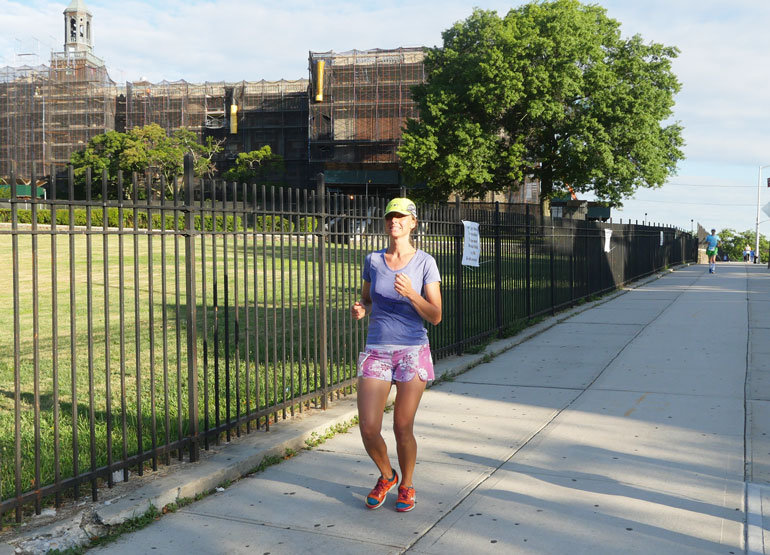 "The best way to spend August 27th.  It is so beautiful to imagine that you are a nicely packed present which now goes to the feet of Guru."
Pushkar is 2nd in 6:26:27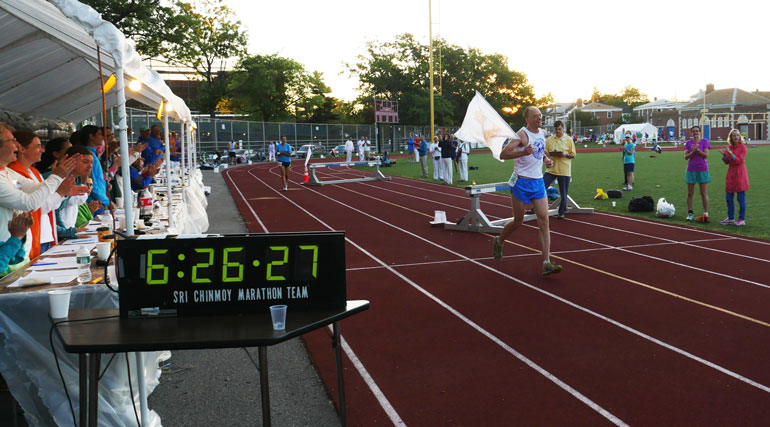 "I had quite a few physical challenges.  I was fighting with cramps and other tightness in the muscles."
"My first and most important goal I reached.  I was always in delight."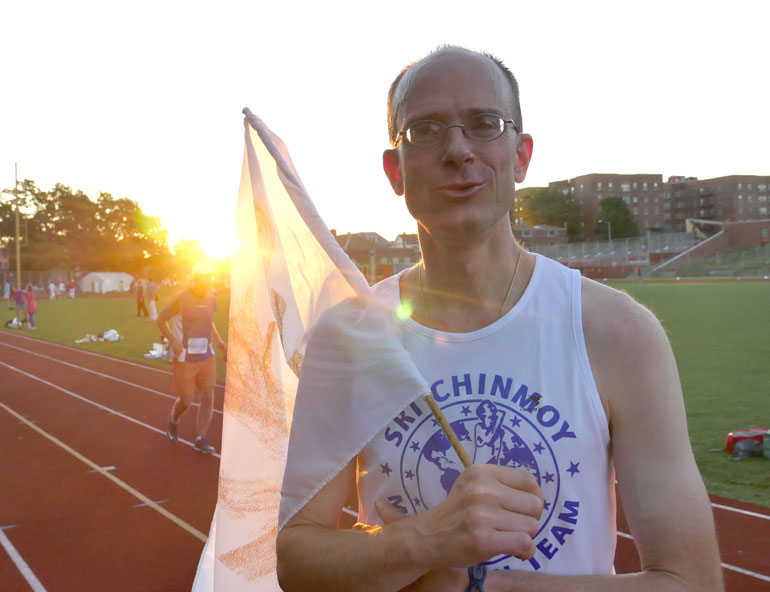 "It was really amazing.  The last 3 laps were such a hard effort to continue running.  It is unbelievable.  This is really something new for me."
Pushkar won the race in 2011 and his time was 4 minutes faster.  "Of course I tried to transcend myself.  I was on may and than it became clear that I would have a different experience." He says that he also felt delight in 2011. "Maybe then there was a little bit more focused.  I was also focused here but somehow it was a little bit different. Both were really wonderful."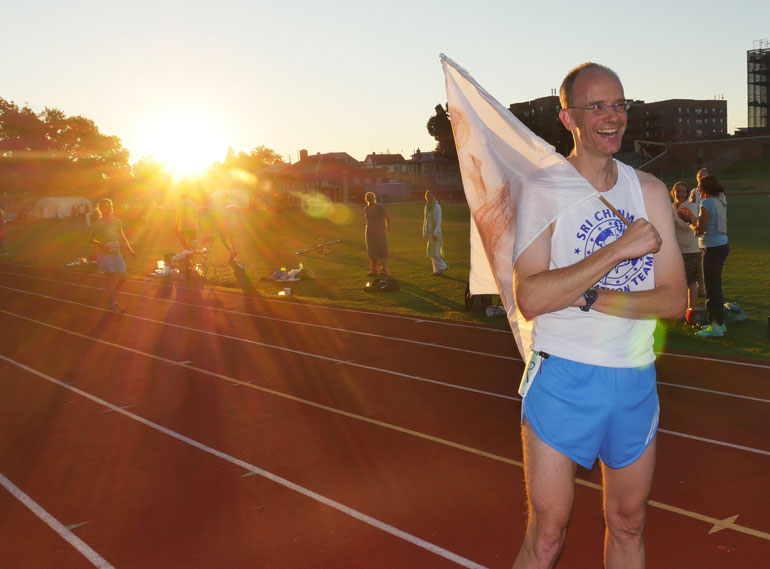 "I started a little bit too fast."  Through the past years he says he had many races which he competed at a very high level.  "Now it didn't work out that I would transcend my time.  It was really a wonderful experience.  I am very delighted and grateful that I started the race and finished the race.  It is the nicest present that you can offer to Guru."
Click to Play Interview:
"27 wins what can I do. I have to thank my Guru."  Dipali has just won the 47 mile race for the 27th time.  It is an unsurpassed record and one that is unlikely to be challenged at least for another generation.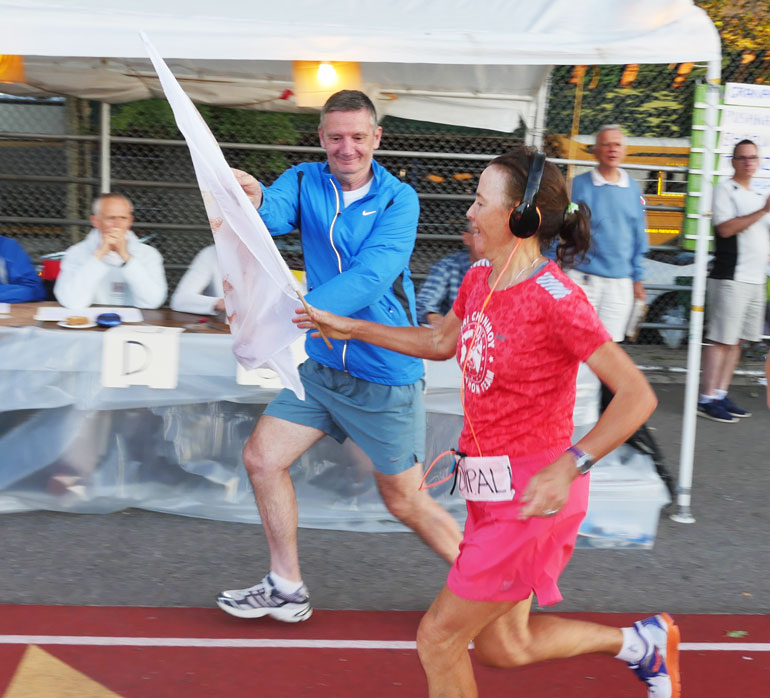 She has taken part in the race 30 times.  Her first race was in 1981 when the distance for that year alone was 50 miles.  It may be no small coincidence that August 27th is her birthday as well as Sri Chinmoy.  She started this great epic adventure when she turned 24 years of age.  Tonight she became 57 years old and won the girls division and was 3rd overall in a time of 6:42:31.  Though it is not her fastest time it is 13 minutes faster than last year.  It is also her fastest time in 7 years.  She ran 6:35:07 in 2008.
"It is just incredible. I am just overwhelmed with gratitude to Guru.  To run that time on my 57th birthday.  6:42 I did that time in my 20's.  Now I am nearly 60.  Guru is proving that age is in the mind.  We are all truly unlimited."
"I trained a little different this year.  A little bit more speed and weights through my brothers encouragement."  Dipali says that multi day running is very tiring on her legs.  "So I did a little less running and a little more speed.  Kishore also wanted me to take more gels.  It was important to eat every lap."
"Hridayinee is a great helper.  She has helped me in all my races.  The confidence comes too."
"I was just thinking tonight.  That if I do win tonight.  I am 57 on the 27th, my 27th win and I feel like I am 7 years old still.  I do.  I really feel like a 7 year old.  This race is very hard and you have to be serious and concentrate.  Inside of me is still that child.  Having fun.  If you don't stay 7 than you won't be able to do this race and get 27 wins.  It is very very special."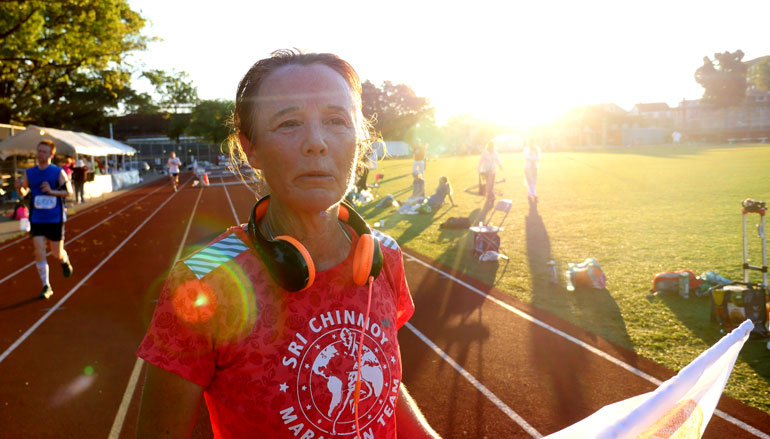 "I thank Pratyaya and her whole team.  They are wonderful they really take care of us.  They are really fulfilling Guru's wish to keep this race going after 37 years.  Also to encourage us to come out here and run for Guru on his birthday."
Click to Play Interview:
Tomaz is 3rd boy in 7:03:45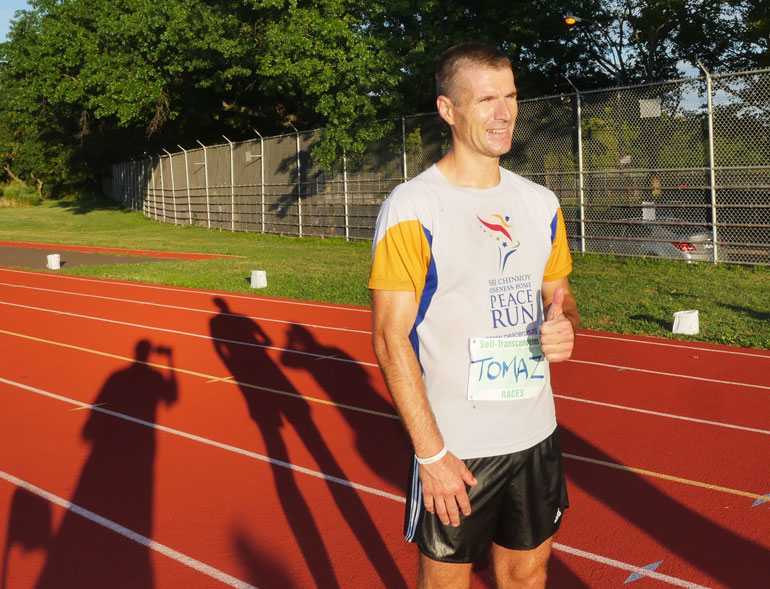 Sarvagata taking the flag.
In 1981, a day or 2 after the 50 mile race when she came second, Dipali took part in an impromptu run in a camp ground in Pennsylvania.  Despite the tiredness in her legs and having run further than she had run before the 24 year old Dipali saw what was before her, a unique opportunity to run with her spiritual teacher.
She hasn't stopped.
You tell the world:
Progress, progress, progress!
Progress within, progress without.
That progress is not and cannot be
A prisoner of time.