It was big, it was colorful, and it was a fitting tribute to Sri Chinmoy, who so loved playing tennis.   The gigantic tennis ball mosaic, made from 10,084 balls, was of course much much more than record breaking.  It was a true piece of art, it was a collaboration, it was a soulful offering, and if nothing else it was good old fashioned fun.  All those who witnessed its brief display, or took part in the many hours of its construction will have their own list of enthusiastic adjectives.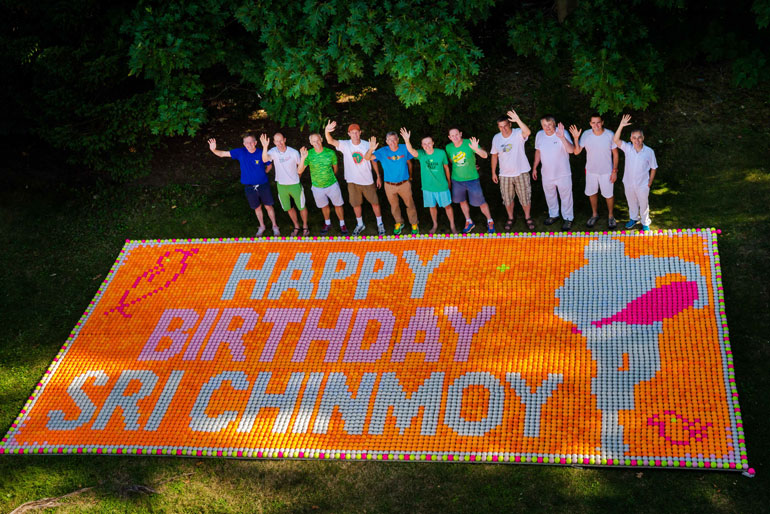 The creation of the tennis ball mosaic started off weeks earlier as an inspiration managed by Ashrita, who happens to have something like a devoted affection for setting new Guinness book records. Doing a spectacular new record on Sri Chinmoy's birthday is a tradition that he has been orchestrating now for more than 10 years.
Many, almost impossibly huge things have been hammered, glued, set afire, poured, and blended together each August 27th.  Each one is a fantastic project requiring lots of effort  but at the same time each new Guinness record is uniquely conceived out of an artful blend of vision, whimsy, love, and devotion.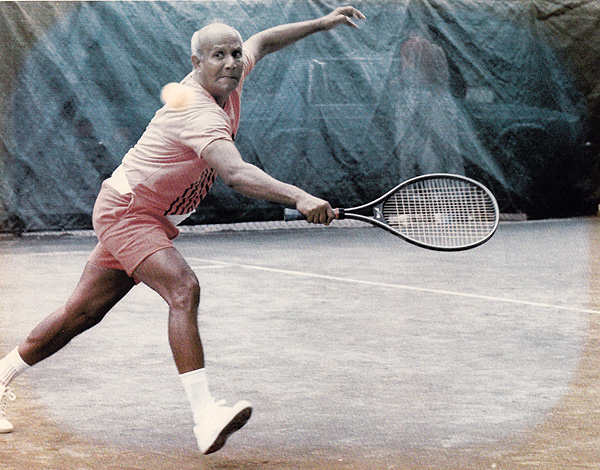 This August 27th would have been Sri Chinmoy's 84th birthday and for ideas and inspiration Ashrita consulted with Papaha.  That both loved tennis and each had had the opportunity to actually play tennis with Sri Chinmoy may have played a not small part in coming up with the idea. That the completed piece would than be displayed on the very ground that Sri Chinmoy had played so many games was also no coincidence.
The spiritual message of tennis:
Love, serve
And finally surrender
To the Supreme in the winner.
The loser who cheerfully
surrenders
To the Supreme in the winner
Becomes himself a real winner
In the inner world.
When I speak first with Papaha it is in the early stages.   He is alone, surrounded by tennis balls and plywood.  He is sitting in a chair in green suburban backyard and is remarkably cheerful for what is still going to be a difficult task to complete.  It is also a good time now to mention that as well as being an artist that he also teaches tennis.  I ask Papaha if the great big project is going a little too far? Hi confident answer, "No, not far enough." (laughs)
"I am the artistic director of the largest mosaic of tennis balls.  We decided on 10,084 for Guru's 84th birthday."  The complications arose he describes because the balls used could not be dyed or altered and so the design had to precisely incorporate commercially available tennis balls. "There was a lot of detail counting on a computer screen.  It was counting one dot after another.  If I was off by a couple of dots that would multiply as it got bigger."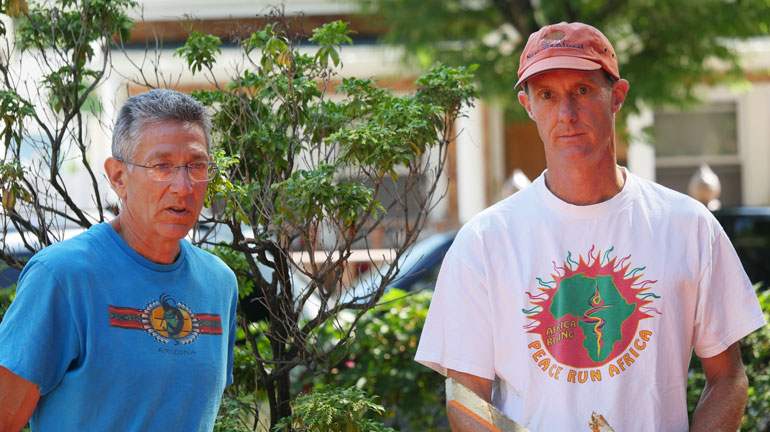 The mosaic idea he says was proceeded by other ideas that just didn't work out.  The mosaic was also at one time deemed too expensive.  "We finally lucked out with a very cheap tennis ball that you could buy at a dollar store.
As he shows me the design which in one part is simply large text but also incorporates the familiar figure of Sri Chinmoy caught in middle of  sweeping backhand volley.  "We did luck out and find a very beautiful shot of him sprinting towards you hitting a volley. I was quite blessed to be able to play Guru many times."  Papaha of course is from San Diego where Sri Chinmoy's most consistent tennis partner Mahiyan lives.  "He must have played with him a thousand hours or more.  It really brought it home to be able to do this record."
Papaha says that the previous record for tennis ball mosaic's was made up of text, along with the image of a hand, made from 2732 balls.  The one he is working on now which has to be ready by tomorrow also has the silhouette of Sri Chinmoy but also 2 Jharna Kala birds as well.  With still a day to go and many thousands of balls yet to be applied the old record was long broken.  "Right now we have more than three quarters of 10,084 balls, we are about 7,500." Papaha at this stage that his calculations will turn out to be exact.
As an artist and a tennis pro he says that working on the project has been, "an interesting mixing of worlds."
"It is a lot of fun especially with these bright colors.  The crews that have been coming have also been having a lot of fun.  It also has that ethereal brightness of doing something absolutely brand new."
Click to Play Interview:
Gallery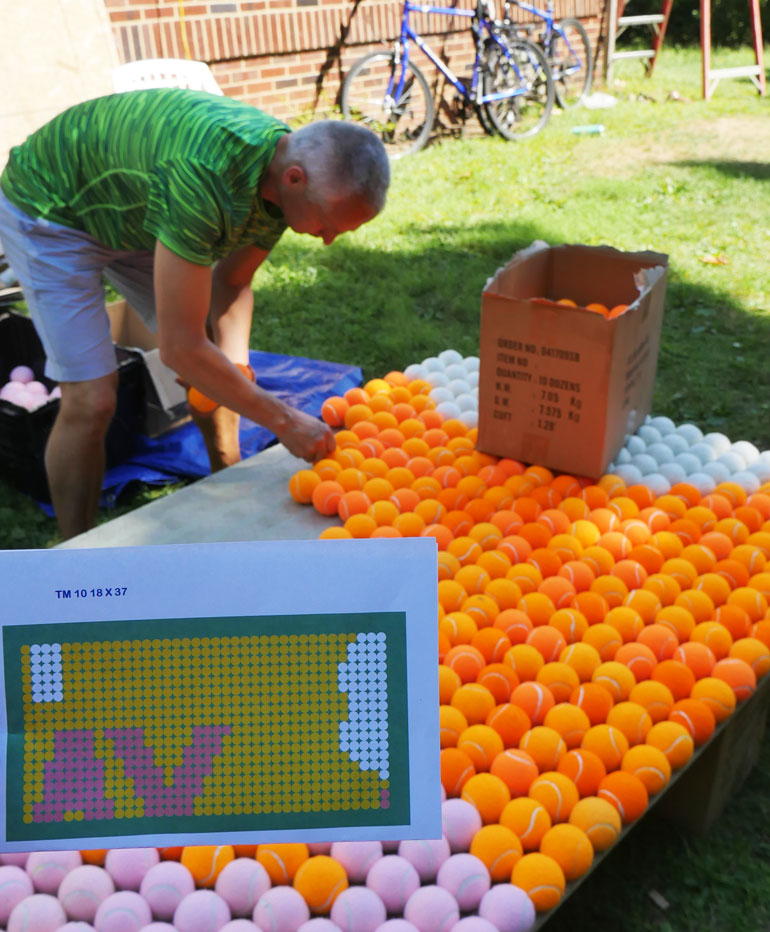 Annurakta
Pressing
Karteek
Budsamudra
Design
Concentration
Pataka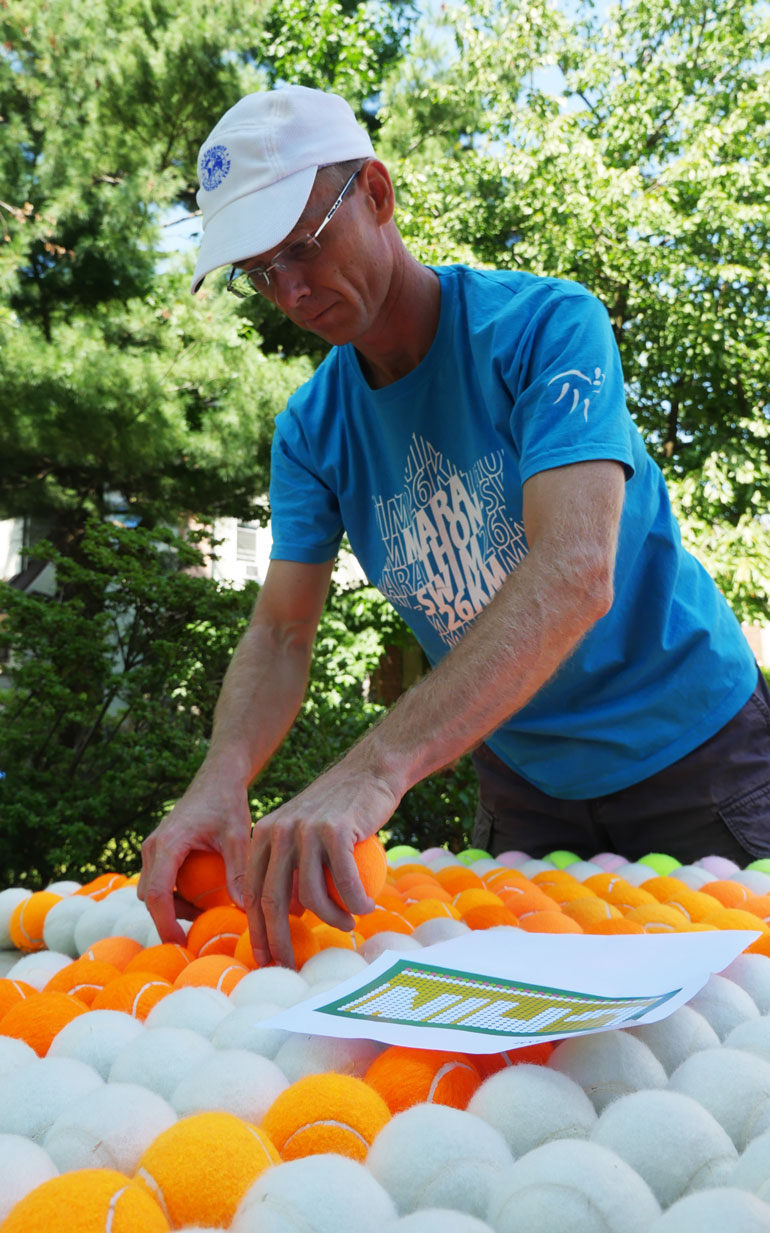 Taran on top of it.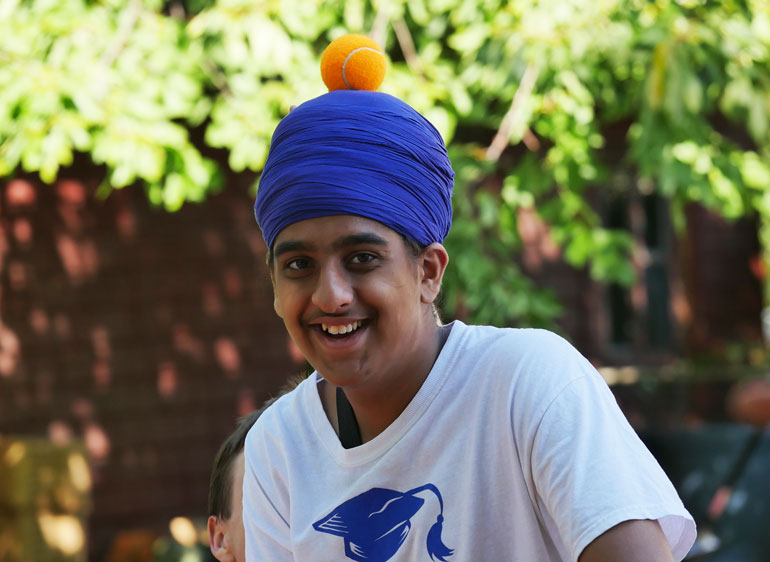 Wide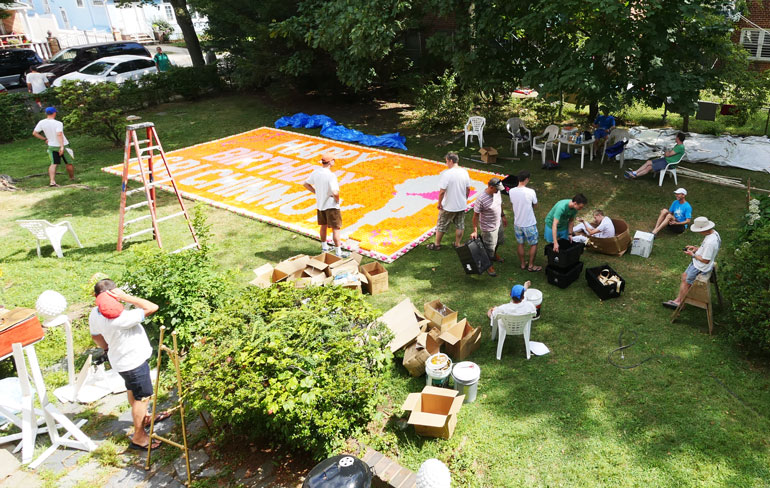 Final check
Sri Chinmoy playing Ashrita in 1981
"We were trying to think of something sweet to do to honor Sri Chinmoy's birthday which is tomorrow.  The rule for Guinness is that the tennis balls have to be manufactured in that color.  You can't dye them or paint them."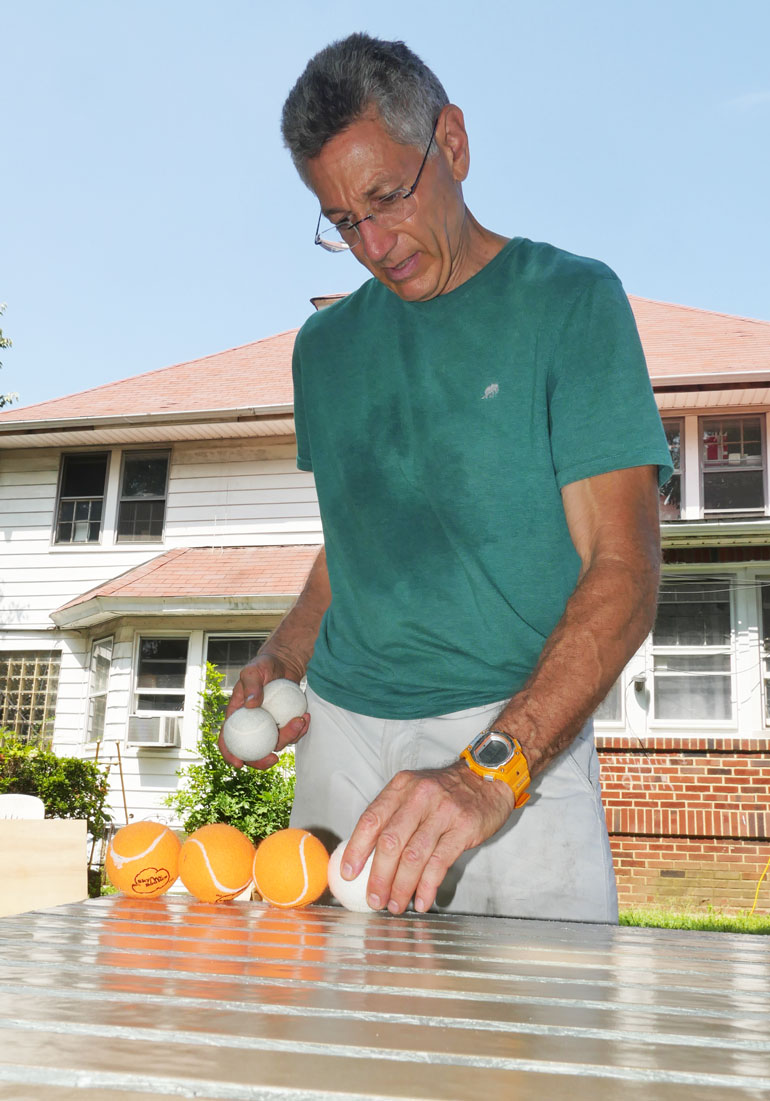 "The previous record was for 2,732 tennis ball that was done in Dubai.  We figured let's go for 10,084.  We came across a warehouse in Queens that had 10,000 balls.  We made the design based on the color of the balls that they had available."
The mosaic will be another Guinness record for Ashrita who now has nearly 600.  He says of course that it is absolutely a group effort to complete something so large as this.  "I am the organizer but Papaha is the designer and he is an excellent artist.  We also have about 20 people placing the tennis balls."
"It is really beautiful, I love it.  On one hand is going to be a silhouette of Sri Chinmoy playing tennis.  He was an avid tennis player."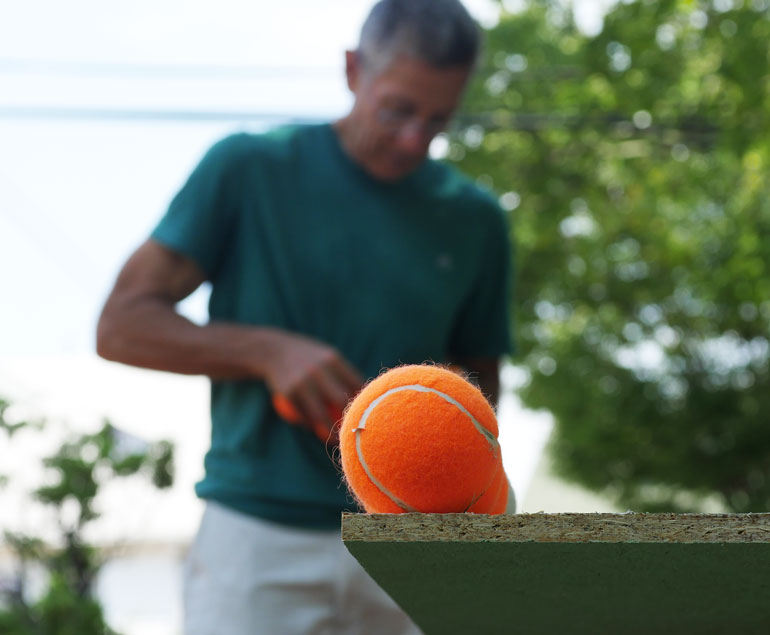 "We are going to give out the tennis balls to the kids in the neighborhood afterwards.  It is very very joyful, and tomorrow is our teacher's birthday, and we are going to display it on the tennis court (where he so often played.)
"We did 10,084 because Sri Chinmoy's birth anniversary is 84."
"Sri Chinmoy loved tennis.  He just loved the game.  Many famous tennis players visited him and played at our tennis court.  I think he saw tennis in philosophical terms.  Part of our philosophy is love and serve.  That is what you do in tennis.  Also the surrender of a tennis ball."
"For these projects we try and bring joy to people.  The colors are so bright and cheerful.  It is looking really nice.  It is a fleeting joyful experience.  It goes away and than we do something new."
Click to Play Interview:
Question: What are the different qualities of tennis and running?
Running reminds us of our inner journey, which is ahead of us. The goal is ahead, and we are running towards the goal. It is a great feeling, which eventually grows into a great achievement. Playing tennis reminds us of being an instrument. The tennis ball is a self-giving instrument, always trying to please us in our own way. Whichever way we want to strike it, the tennis ball surrenders. It is always ready to listen to us, according to our capacity. So tennis reminds us of a divine goal, which is to become a perfect instrument of God and to please God in His own Way, and running reminds us of our continuous journey along Eternity's Road toward the destined goal. Tennis and running are like two paths going to the same goal; they both ultimately reach the goal, but they reach it from different directions.