I start off my conversation this morning with Nirbhasa, by dealing with the painfully obvious subject matter of the abrasions to his face.  Which since it occurred 4 days ago is now old news.  He is looking much much better each day since he took a tumble last Friday.
He says it never worried him falling but was more concerned about the loss of time.  "I never really thought it was all over.  Up here (everything above his legs), there is no part of my body that I need to run with.  Including the brain. (laughs)
*Click on Picture Below to go to Drop Box to Play Day 38*………….Than click on OPEN in top right hand corner.  It may take a moment*

"I was a little worried that I would have to go for stitches.  That is an afternoon gone.  Thankfully within 10 to 15 minutes I was patched up and on my way."
He had said earlier that he believed that when he got into the second half, the race would become easier.  "It is certainly easier on the body.  In terms of miles it is still playing its little games.  It is like, O my God, how long have I got to go? Etc, etc."
"You know it is a real opportunity to work on developing all the inner spiritual qualities.  And actually being happy out here.  That is something I really try and do, right from the first lap.  Not think about how long I have to go."
Yesterday Nirbhasa ran 62 miles and now has 2223 miles done.  He has only 877 more miles to run.  I ask him if he sees the finish line now.  "That is good and bad at the same time.  It is still a long long way away.  2 weeks is long time by anybody's reckoning.  The days do pass by pretty quickly.  Once the finish line starts to appear you are saying, how long, how long?"
877 miles is the distance from Dublin to Prague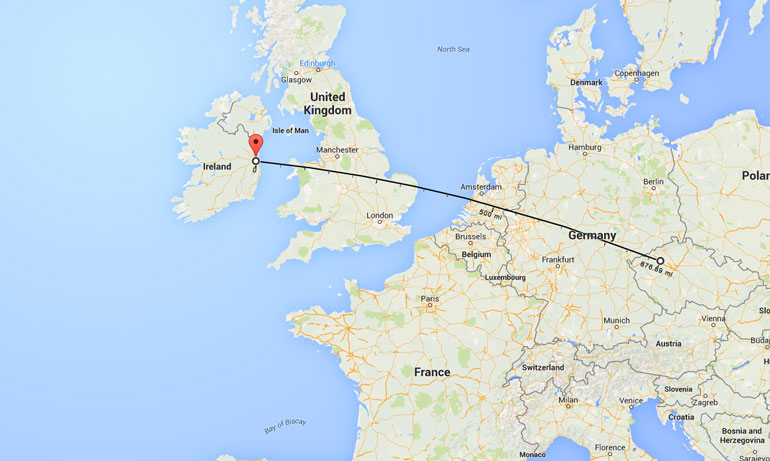 "I think the best advice if you have 40 days left or if you have 14 like we have here is to take each day at a time.  To enjoy each day and see what each day has to bring."
"You definitely feel that you can't do this by yourself. That somebody, you can say the highest part of your own being.  Your Soul, God, is doing this in and through you.  That is actually quite fun, because it is something that you can very tangibly feel.  So than you try and identify with that highest part.  Instead of identifying with your thoughts or your body.  You actually feel that something (somebody) is doing this in and through you."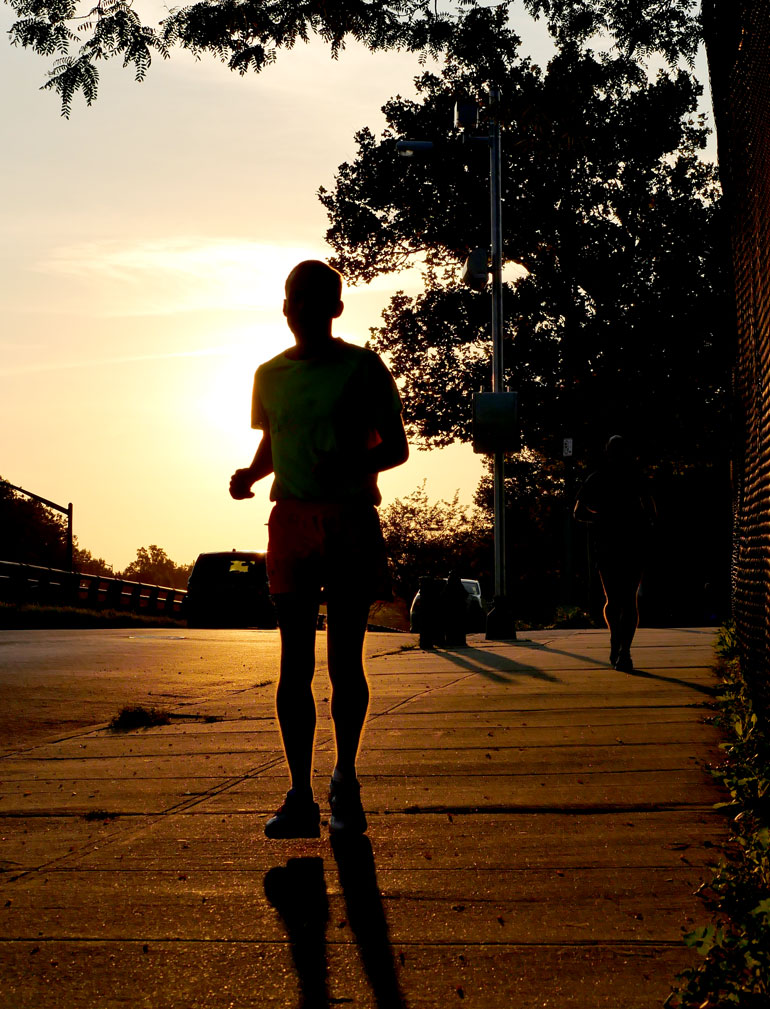 "I think one of the great things about this race, that I think would be impossible to replicate, under normal situation in the every day world.  Is simply the sheer amount of dedication that you need.  You are never, for the 52 days, you are never really switched off.  Even when you are off the course and go home and take a break.  It is really a tremendous dynamic focus.  You never waste a minute."
Click to Play Interview:
It is the last hot day for now.  Humidity will start dropping by tomorrow.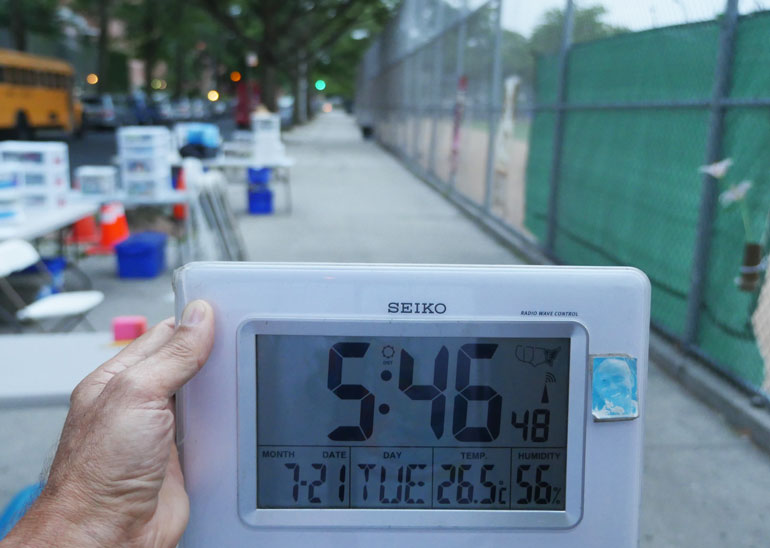 Suhashini practices a song as she waits for Kaneenika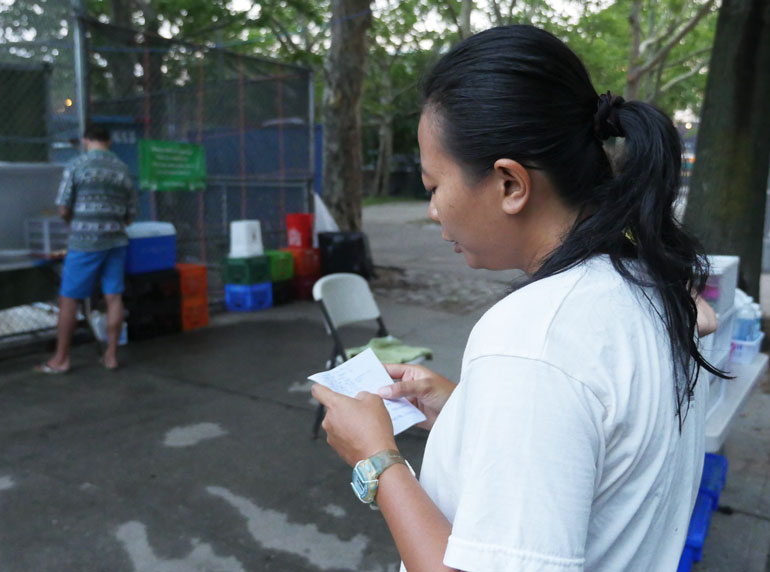 Parking in the morning is on the other side for the first few hours of the day due to street cleaning.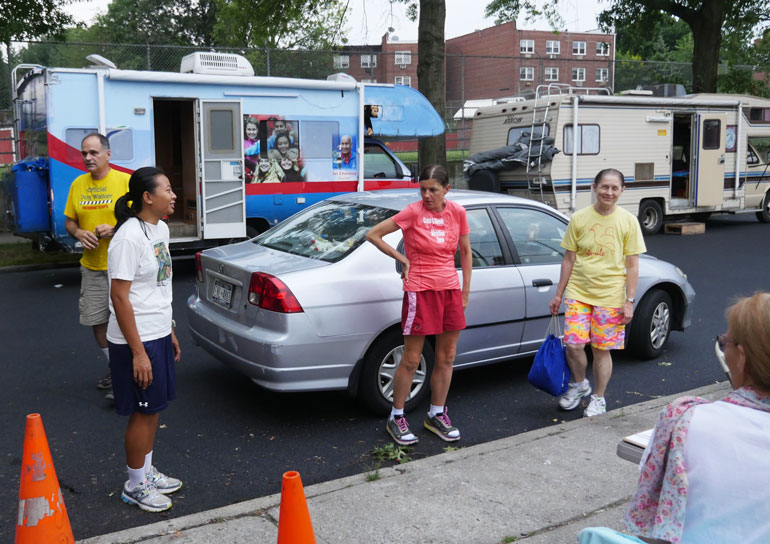 Nirbhasa readies himself for a long warm day, which will also be thankfully overcast for most of it.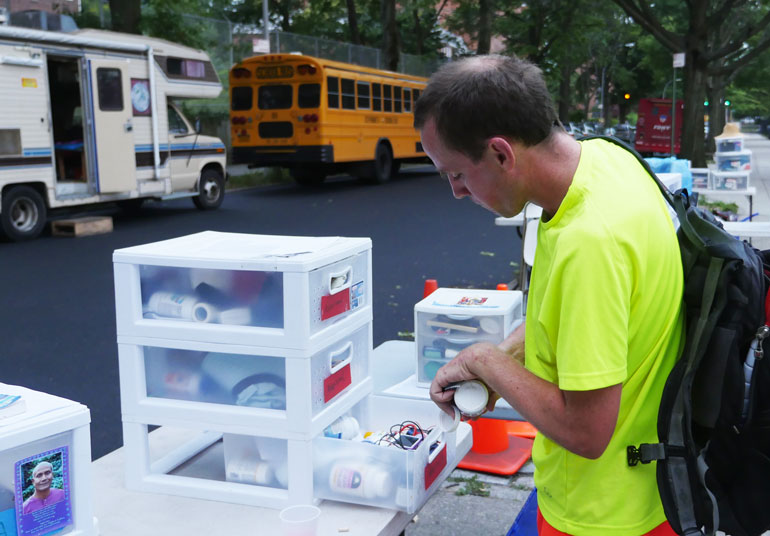 Surasa ready to go.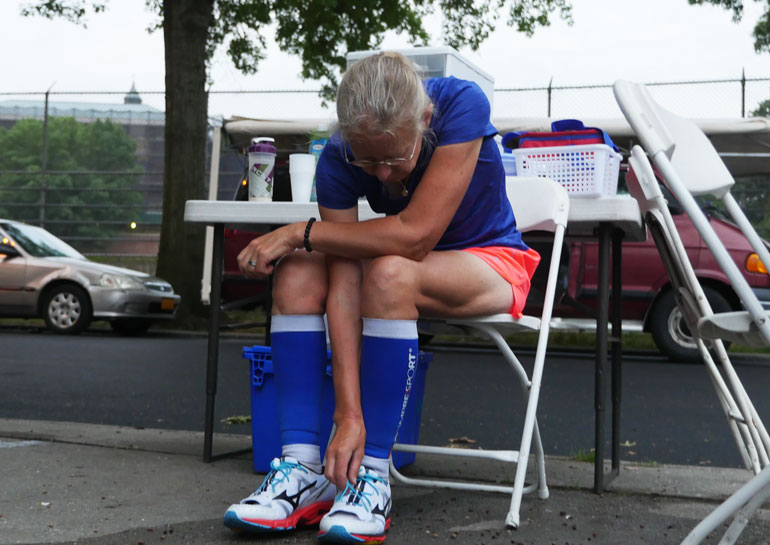 Yuri arrives with dirty laundry.
The hat may not move today.
Start Day 38
The silent words grow stronger and more bold.  The finish line and a new record not ever a given, and not inevitable, but now no longer need to be whispered behind a cupped hand.  Ashprihanal has 269 miles more to go.
He ran a relentless 74 miles yesterday.
Supporters are clamoring and cheering already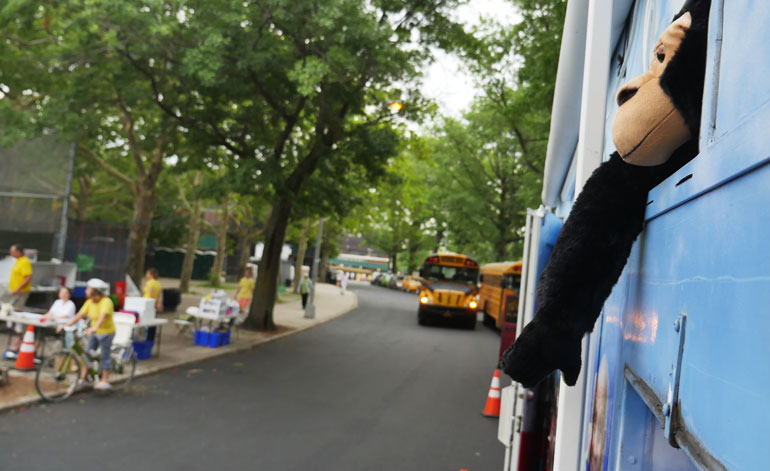 Grahak at the ready.
Ashprihanal has run 2831 miles and leads Madhupran by 56 miles.
Galya celebrates a birthday today.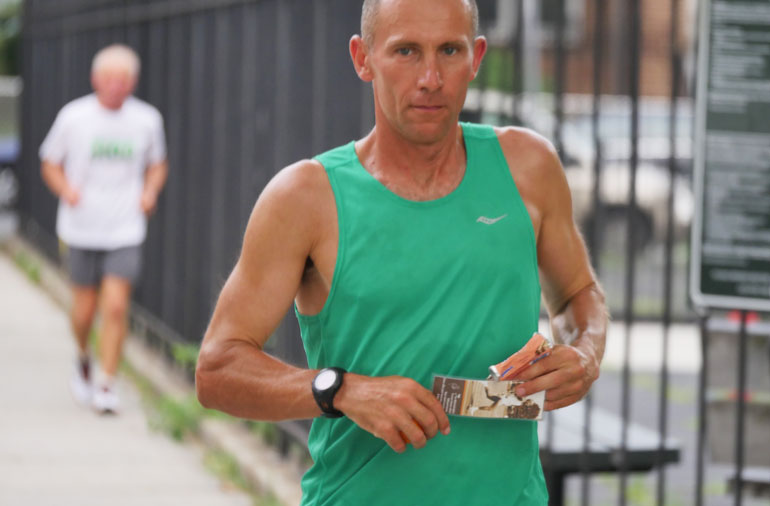 He ran 71 miles and has 2669 miles and his friend Stutisheel and family have a chance to celebrate o so briefly.
Nothing is lost.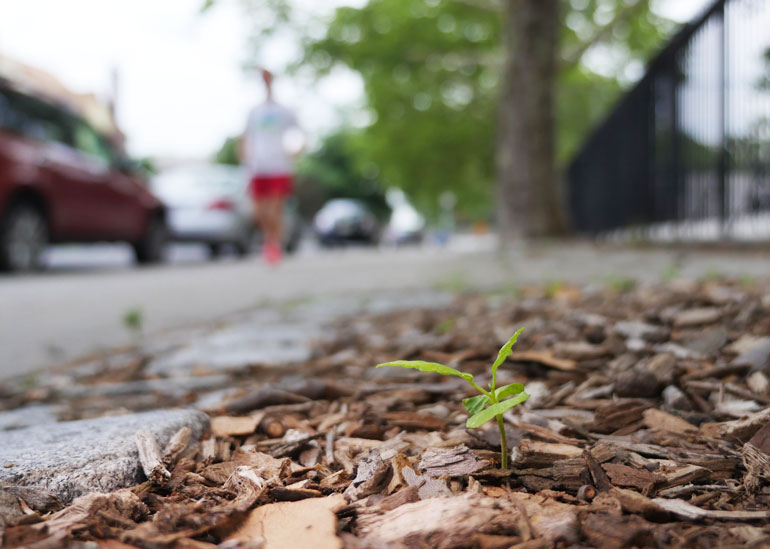 Vasu had 67 miles yesterday.  He now has 2571 miles.  He is 182 miles ahead of last year.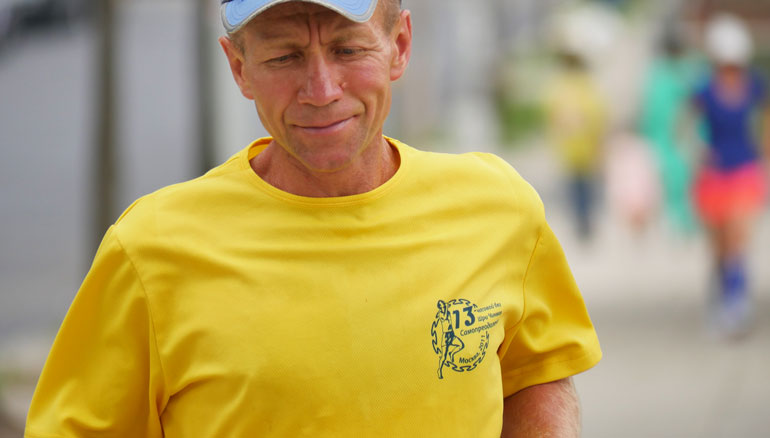 Nicolai at his side.
The camp.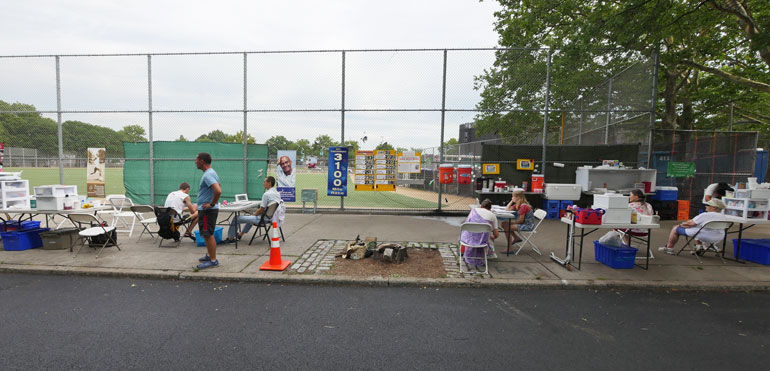 Yuri ran 63 miles yesterday.
He now has 2511 miles and is 50 miles ahead of last year.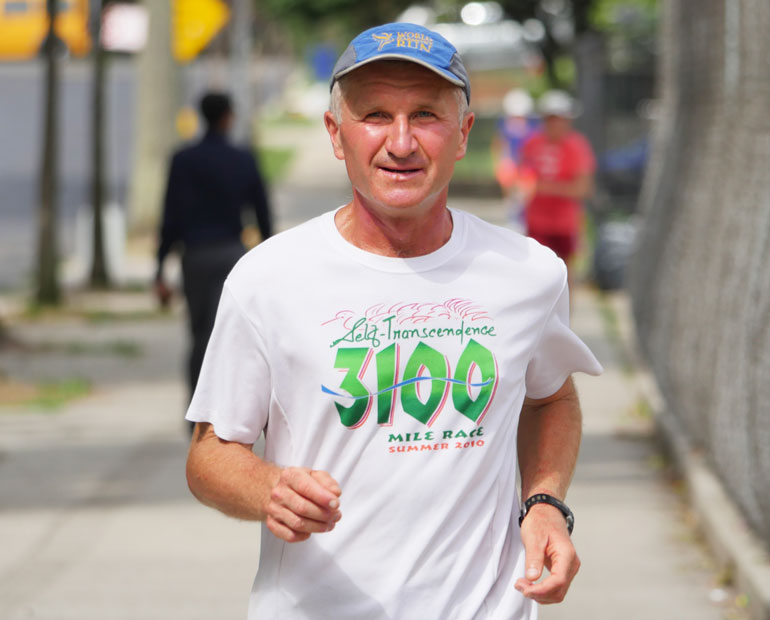 Reminders of Atmavir's birthday yesterday remain.
Atmavir did 46 miles yesterday and now has 2364 miles.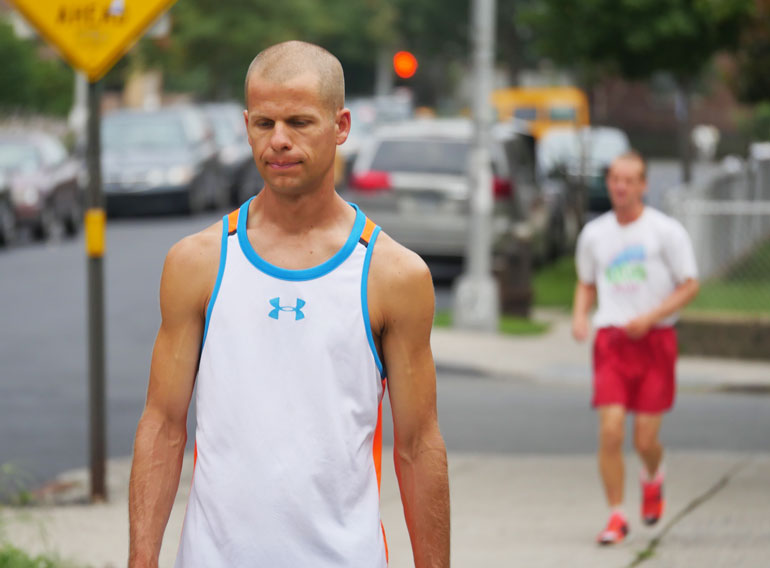 Surasa had a great day with 64 miles.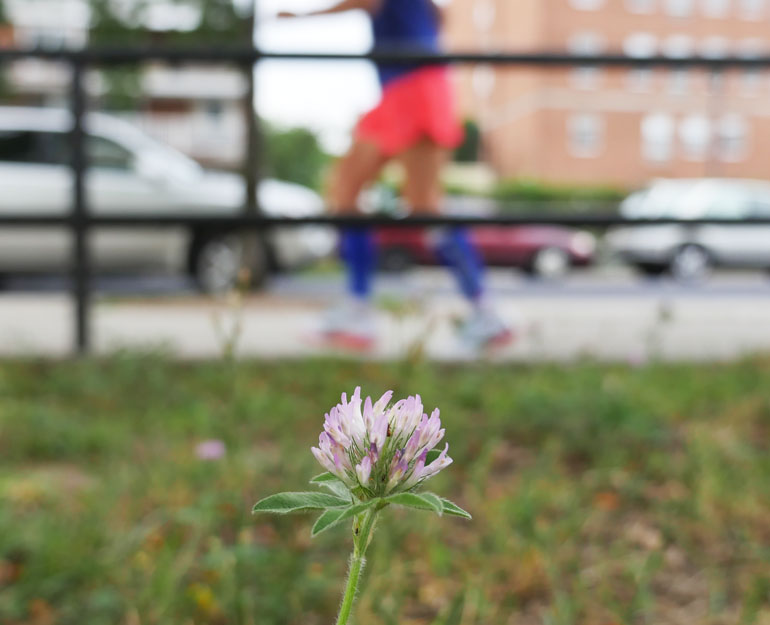 She now has 2303 miles.
The 800 miles she has left to run in the next 2 weeks would take her from Vienna to Istanbul.
Ishika could come along.
A stubborn patch of green.
Some very patient friend of Kaneenika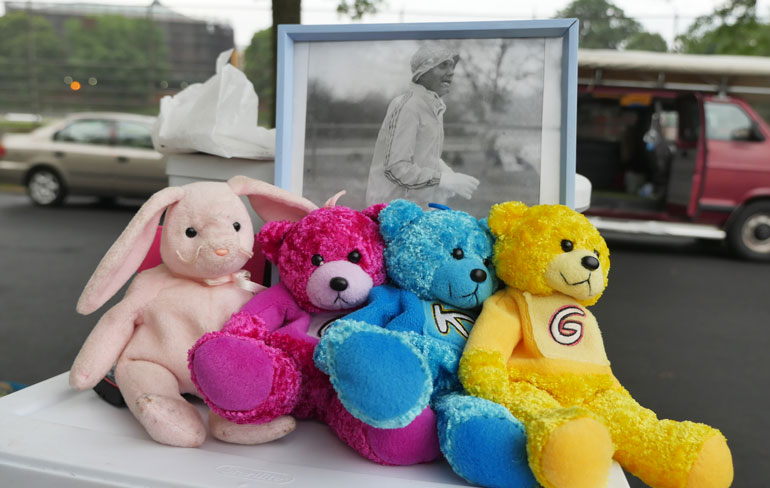 She ran 61 miles yesterday and has 2229 miles.  She is 6 miles ahead of Nirbhasa.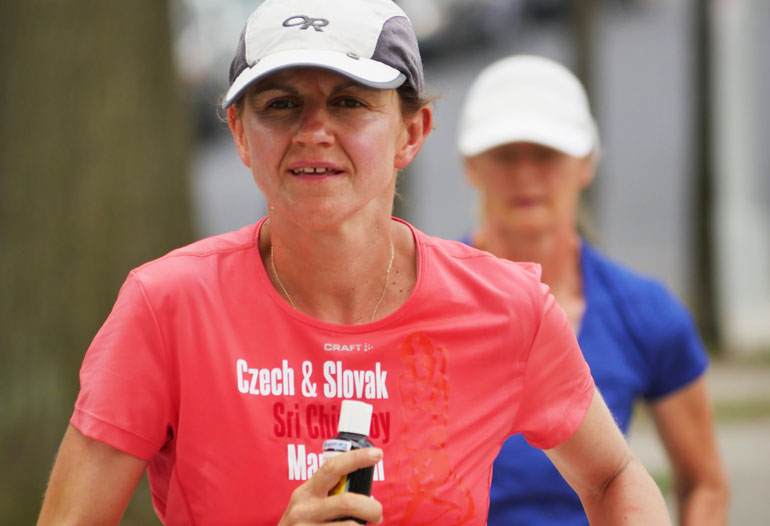 All kinds of flowers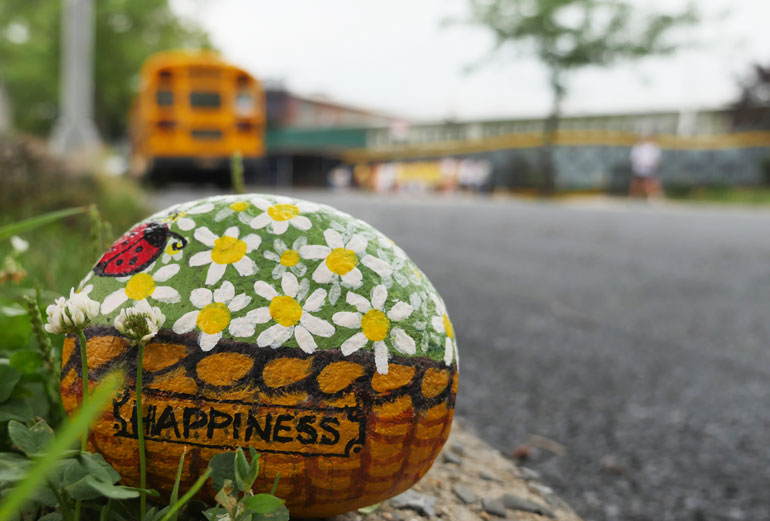 "The chicken told me come to the other side of the road, come to the other side.  I just don't know why."
Galya and Stutisheel running together
Stutisheel had 66 miles yesterday.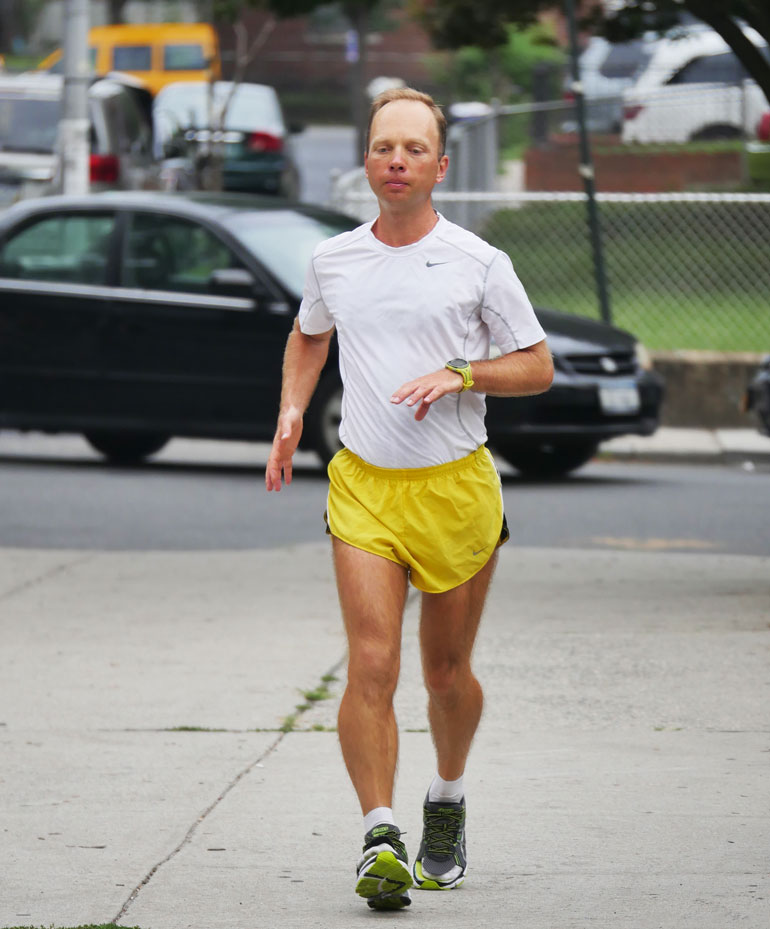 He has 2221 miles and is 2 miles behind Nirbhasa
Baladev has his eye on the ball and a batch of emails.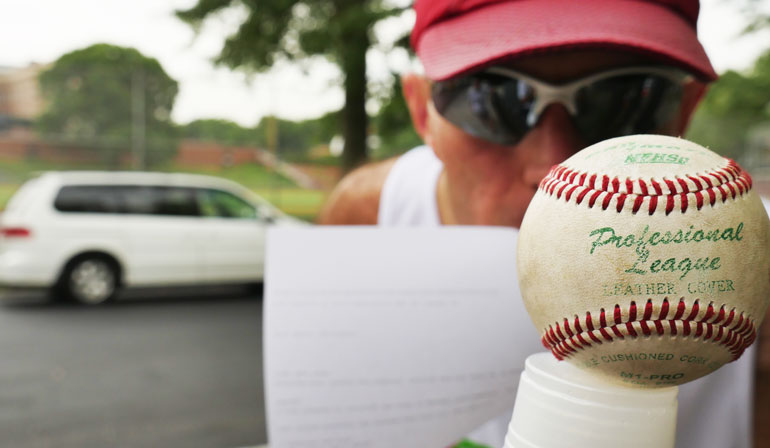 He ran 41 miles yesterday and has 1971 miles.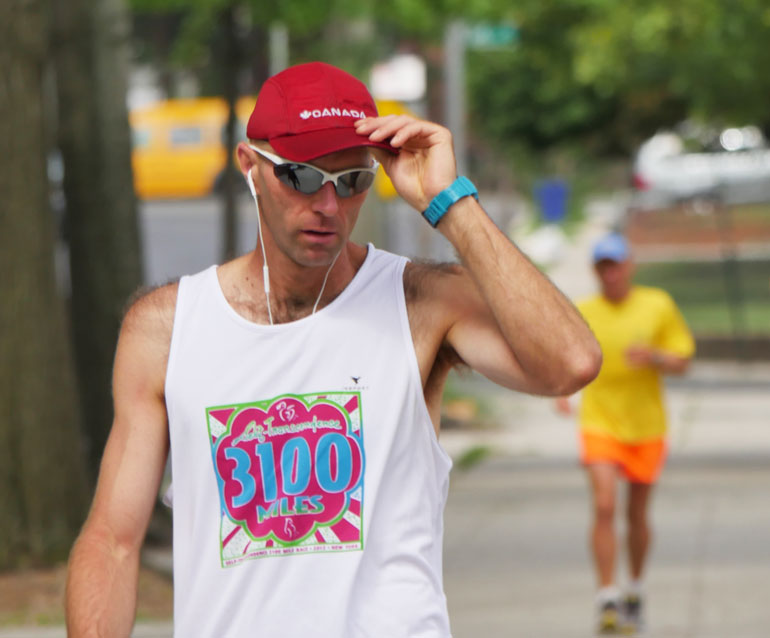 Anananda-lahari had 43 miles yesterday.
He has 1948 miles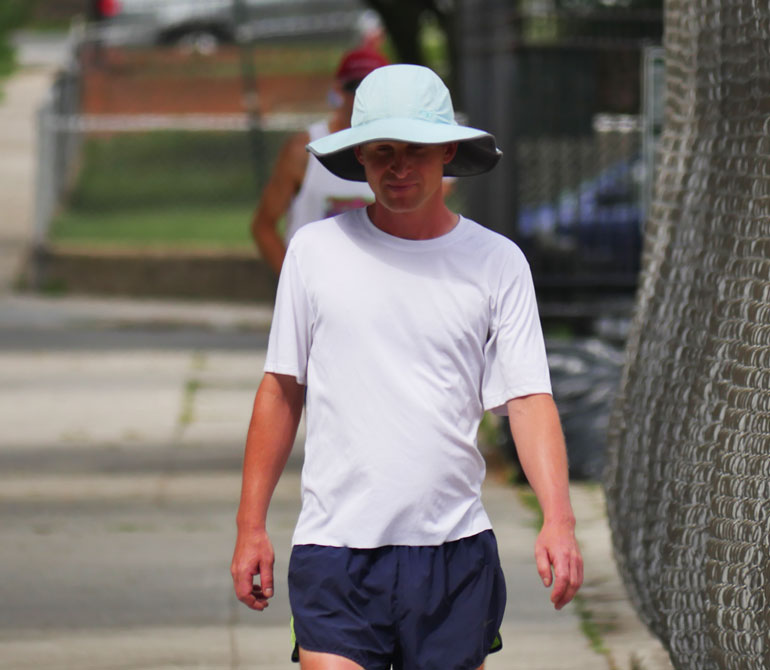 When Pati arrived for the start of the race this morning she looked as though she was in Ecstasy.  "Definitely this is the most beautiful, the happiest, the most amazing.  What ever you can name it.  All of it is here.  When I was back home in Russia, I was dreaming about coming here, as soon as possible to catch at least some part of the race while it was still happening."
Last year Pati helped Jayasalin who was running the race for the entire 52 days.  "So although I was not here physically this summer I was following a few times every day at all the race sites.  I was looking at how the runners were doing.  Looking at the pictures but inwardly I was very much here.  But I wanted to be even closer.  So I was praying to somehow make it here, and I did."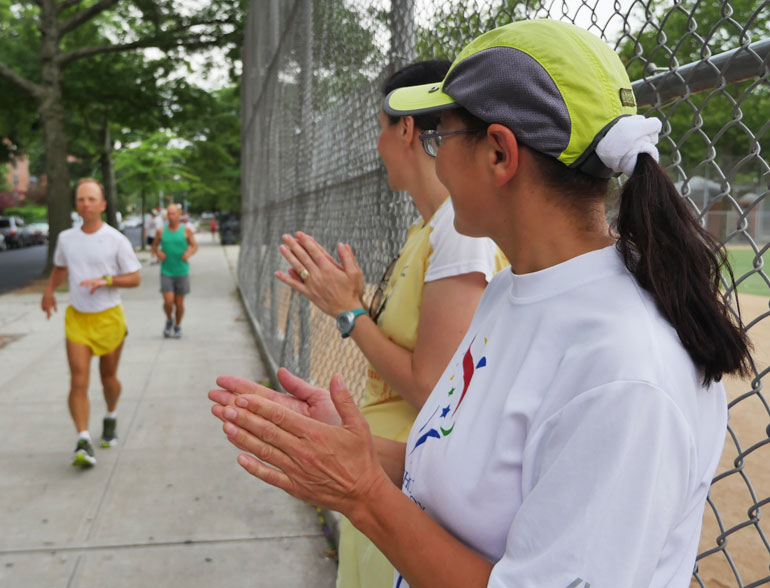 I ask Pati what it is that she thinks pulls her so strongly here.  "It is hard to express in words.  When I was coming here this morning.  My heart was jumping and ringing like a bell.  I wanted to see the runners, I wanted to see the race, but when I came here I couldn't say anything to anyone, because my heart was just full of joy and of gratitude, full of emotions.  Tears started to roll down my cheeks.  I couldn't say anything.  I could only just feel.  Still I cannot express the feeling."
Click to Play Interview: (Translator Kanala)
Aranyani recites the Daily Prayer
Click to Play:
Enthusiasm Awakeners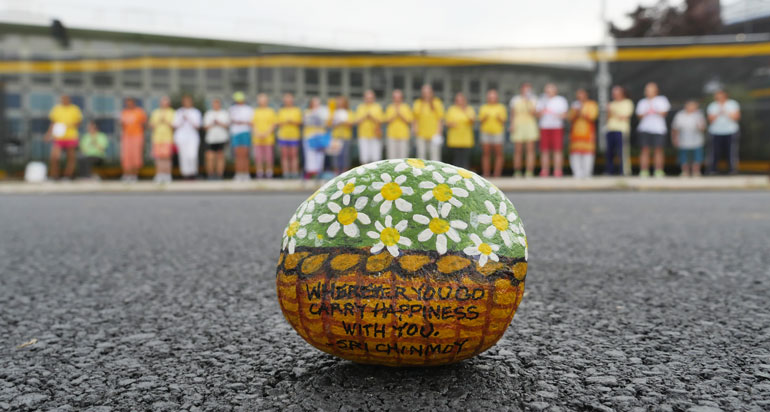 Click to Play:
You can transcend yourself
Only by discovering
And maintaining
  Your joy.