"I come every day because I can only be inspired by this race." Dipali probably does a lot of things really well.  The only thing I ever see her do most days though is run.  For hours her light strides prowl here and there around the Queens neighborhood in which she lives.
There may be some strict trajectory to her flights each day but most often she seems to flit here and there. She will suddenly pop up unexpectedly on some road you are walking when you least expect it.  The light cadence of her shoes dancing across the sidewalk.  A perpetual smile beaming beneath a large  pair of sunglasses.
https://vimeo.com/134034129
When the 3100 mile race is going on of course her orbits more frequently mesh into the cycle of the runners.  She loves the race very much but it has never called her to it.  Her race is Flushing Meadow and the yearly 6 day race.
"Right now I am truly inspired by Ashprihanal's performance.  I saw him last year start the 10 day race.  And I thought, that boy is on some special record, which he did.  He was doing 83 miles a day."
"This year I saw his first lap.  I have never seen Ashprihanal go out so fast on lap one.  I thought, he is after the record here.  Intuitively I felt it."
"To break down what he is doing, he is running an average of 76.58 miles a day.  From day one I have seen every record go of his predecessor Madhupran.  Ashprihanal to me is a low key champion."
"I come at all different times of the day.  I see different aspects of him.  I only admire him.  He is relentless and he flows.  The way he moves his body.  The way he swings those arms.  I can only relate to that he is pulling in light.  A force from above."
"He has Grahak helping him here this year.  This year he is really being taken care of.  Grahak is an incredible runner and now an incredible helper for him."
Dipali also recalls a story of how once when Sri Chinmoy was visiting the race, he wanted nobody to stand close to him.  "You'll never know what I am giving these runners." She said at that time that as he handed prasad to each runner a very close and sacred connection was made with each of them.
"I realized that this race is so sacred.  It is so profound.  These runners will always make it look easy, even though they are running incredible mileage each day."
I ask how important the course is for Dipali the rest of the year.  "I do tap into the effort that they leave behind here.  As we see every day crying, smiling, laughing.  They leave some part of their journey here.  I reflect on it, I remember it.  I have trained here for 20 years.  The essence of what they are leaving, what Sri Chinmoy left here.  It's here.  I find something so spiritual here, I come every day."
Click to Play Interview:
The heat and humidity today will be a test for all the runners.
The numbers will rise all morning
Team Stutisheel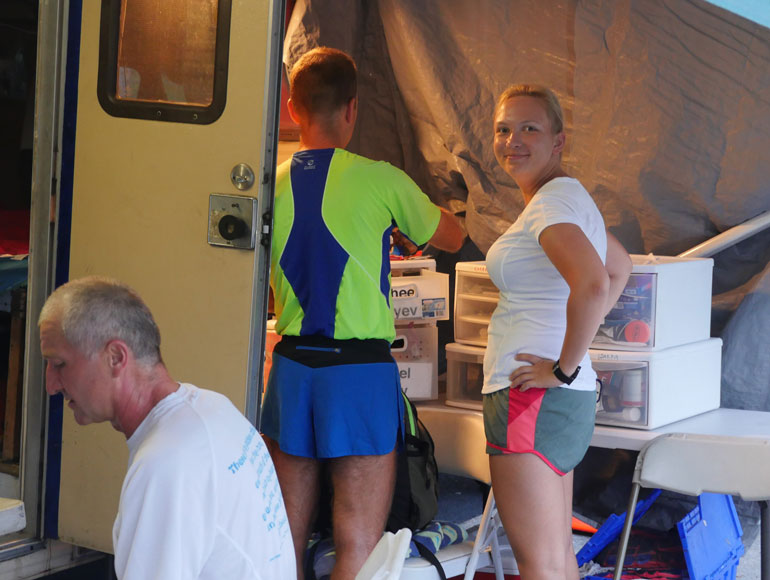 Vasu arrives.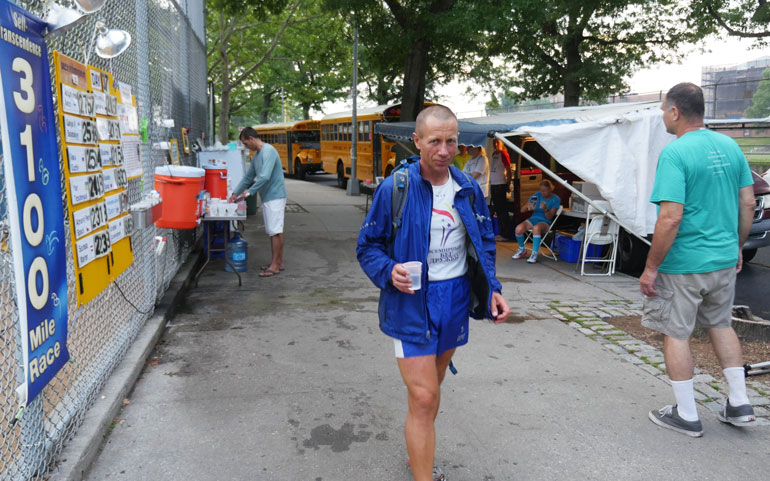 Start Day 37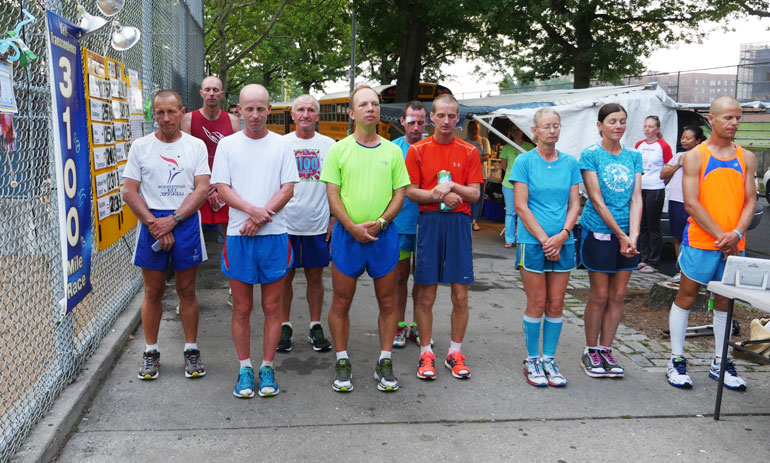 Ashprihanal ran 74 miles yesterday.
He is 43 miles ahead of the record.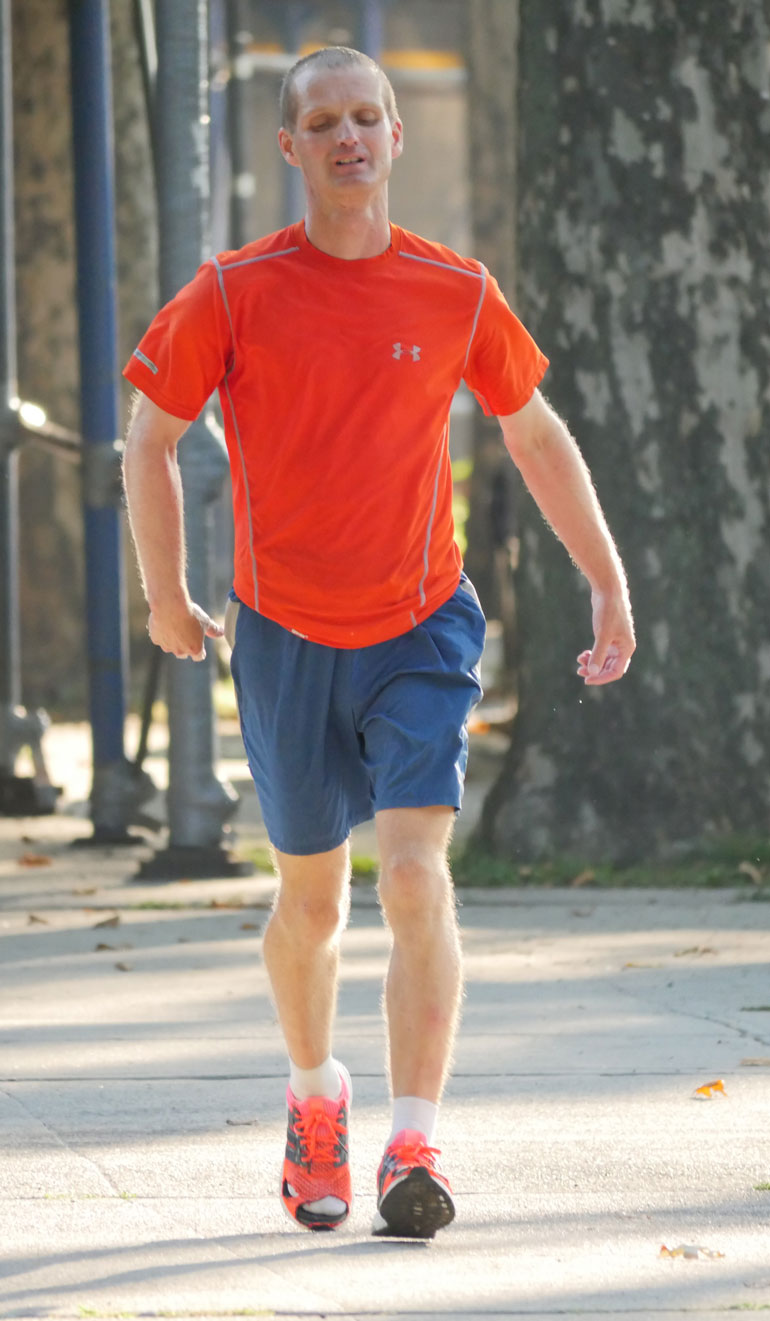 He now has 2757 and left everyone else far behind.
Staying on track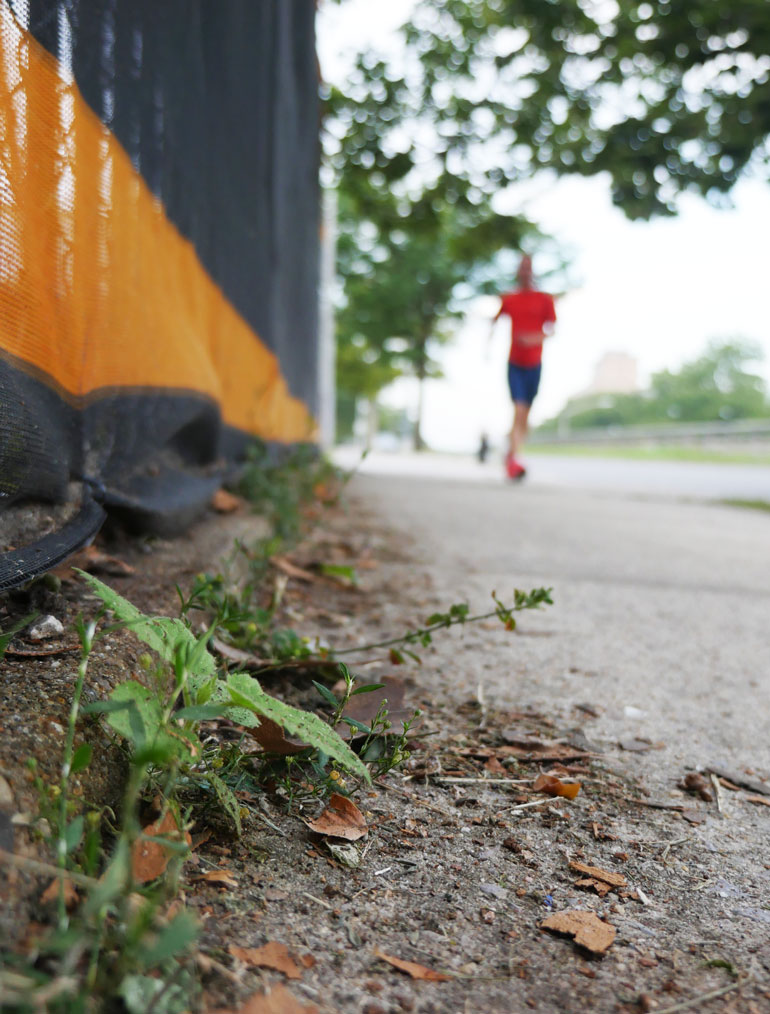 Galya had 71 miles and now has 2598 miles.  Tomorrow Tuesday is his birthday.
Vasu had 70 miles yesterday.
Vasu has 2504 miles
Yuri had 66 miles yesterday.
Yuri now has 2448 miles.
Drinking water every lap.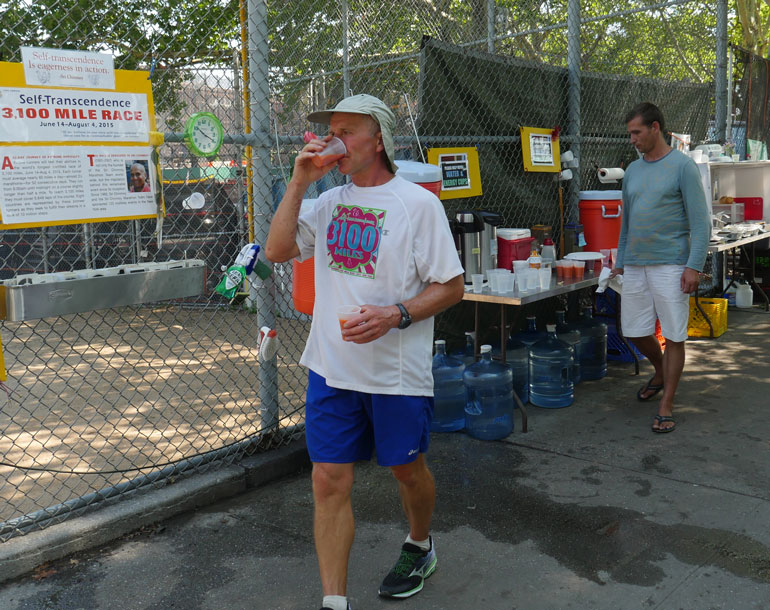 Lightness and beauty.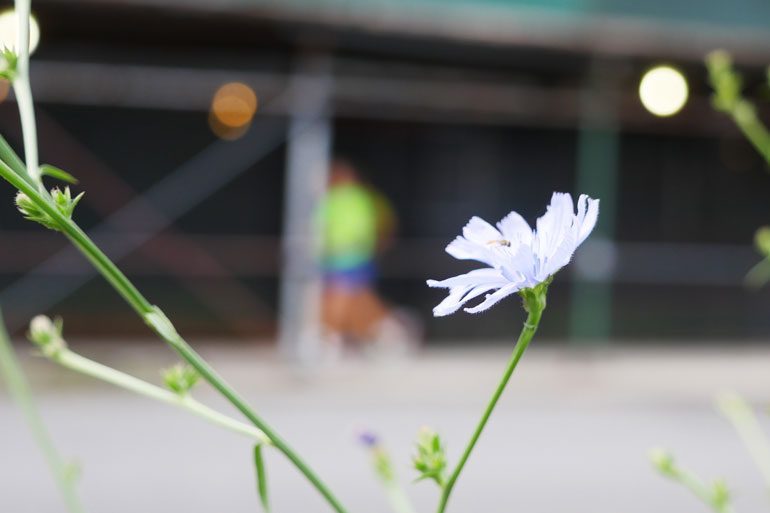 Today is Atmavir's birthday.  He had 58 miles yesterday and now has 2318 miles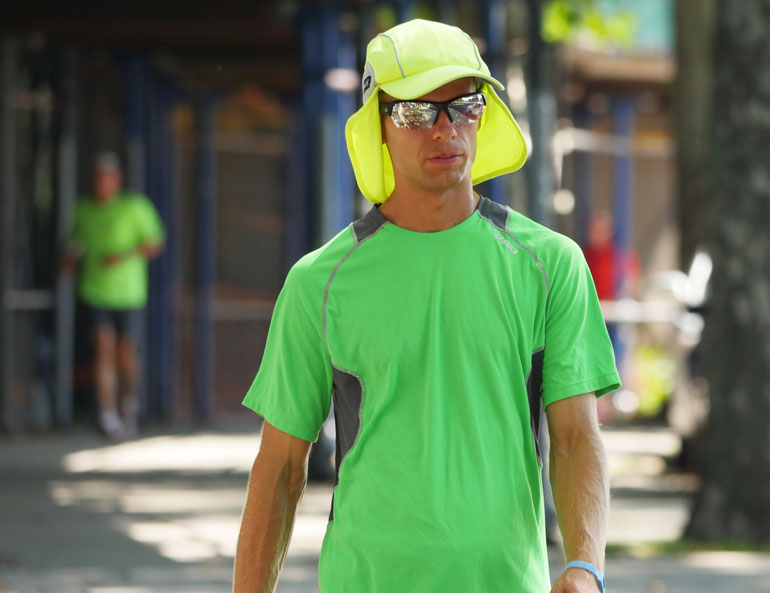 Everybody and everything needs a drink.
Surasa did 62 miles yesterday.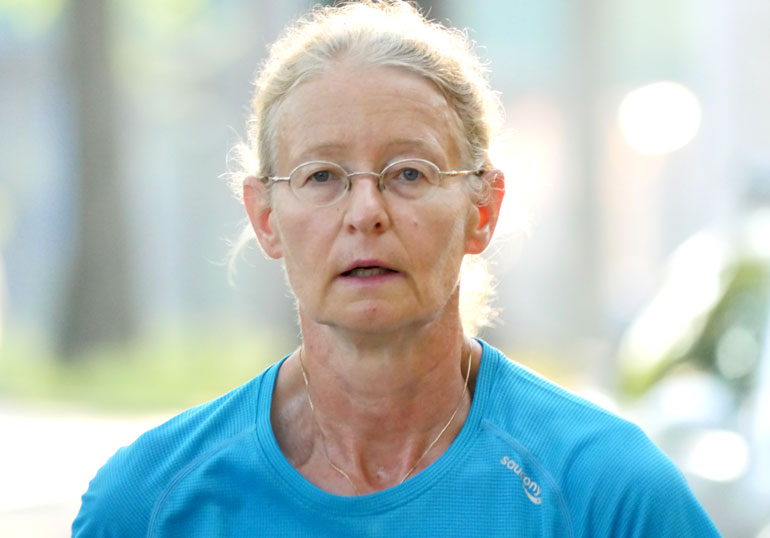 She now has 2239 miles.
Kaneenika had 57 miles yesterday.
She now has 2167 miles.
Anna keeping a close watch over her.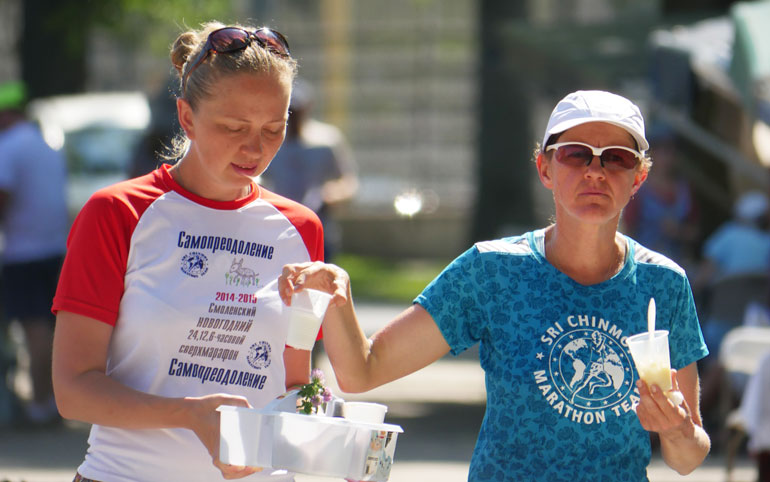 Larisa sings.
Click to Play:
Janos fixes everything
Klara cooks and stacks containers and……..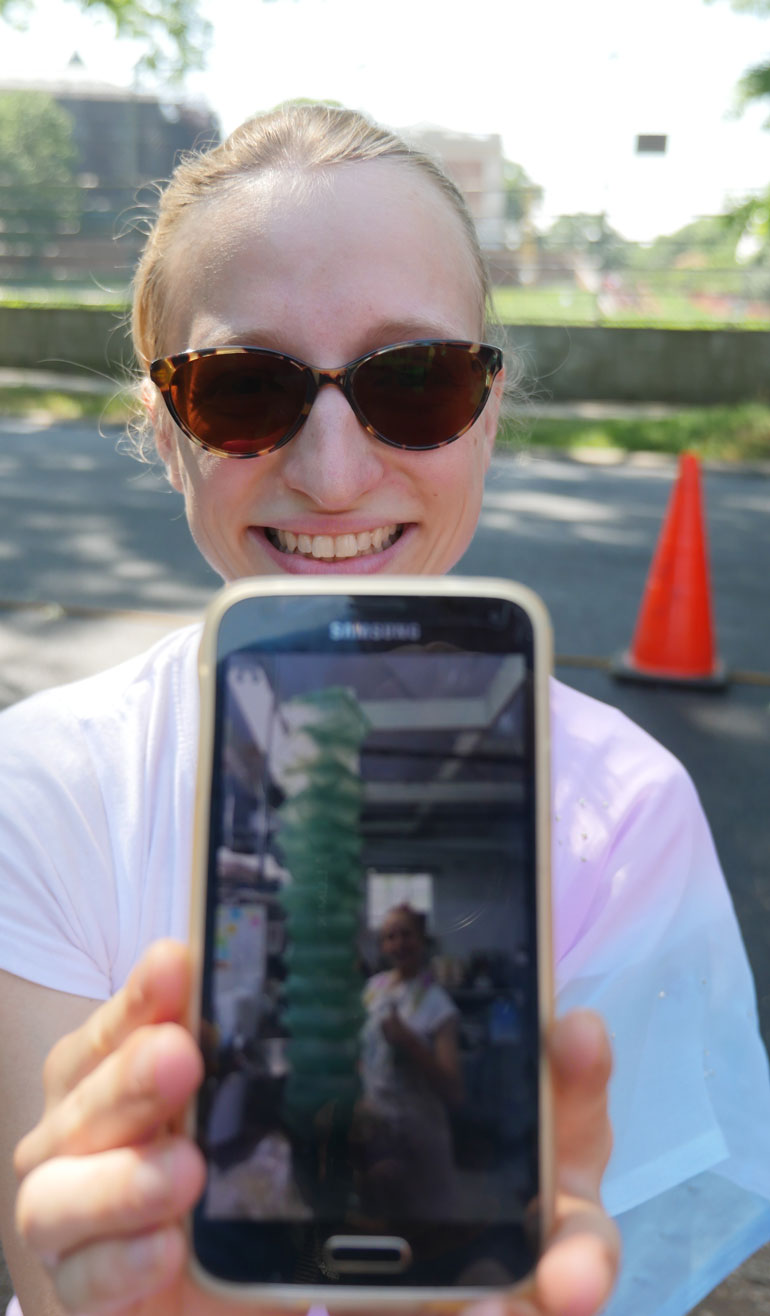 A perfect day to go sailing.
Nirbhasa had 61 miles yesterday.  He now has 2161 miles
Stutisheel had 62 miles yesterday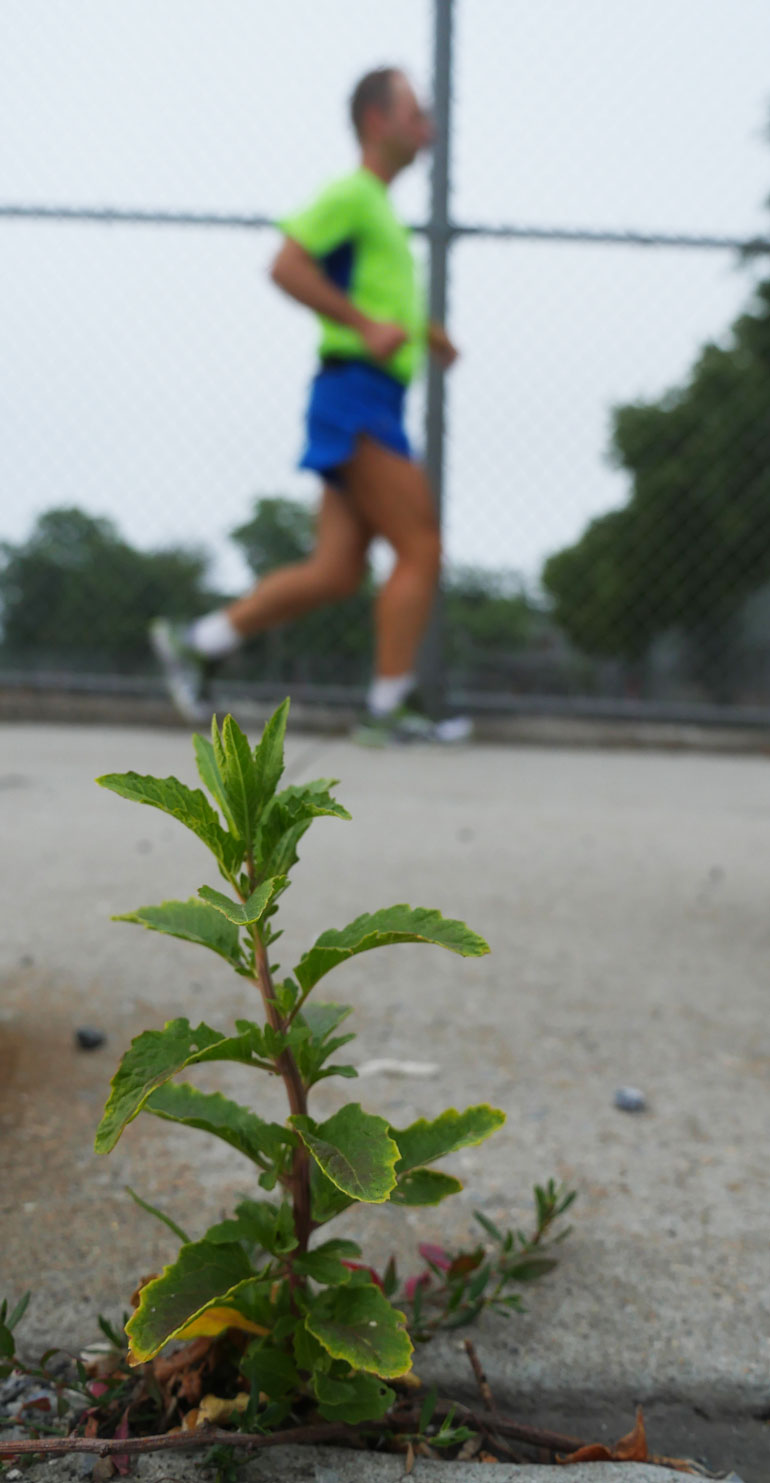 He now has 2154 miles.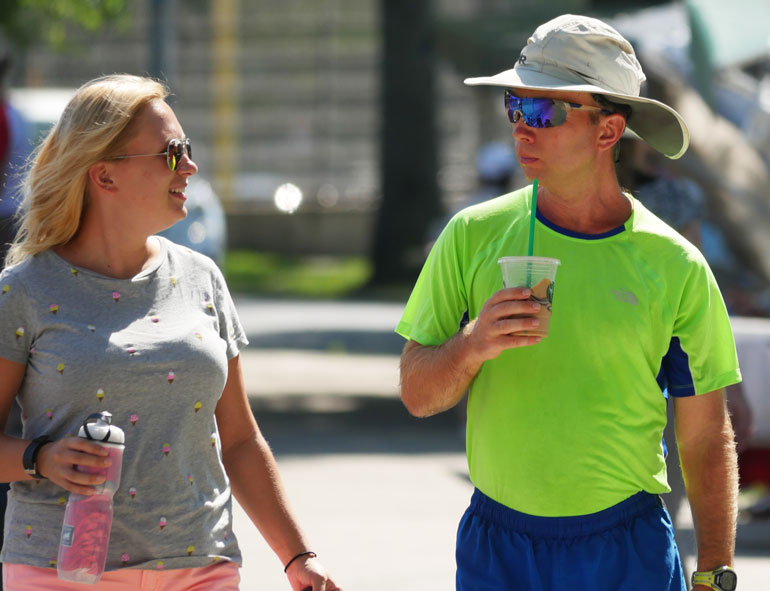 Two tired.
Enjoying the light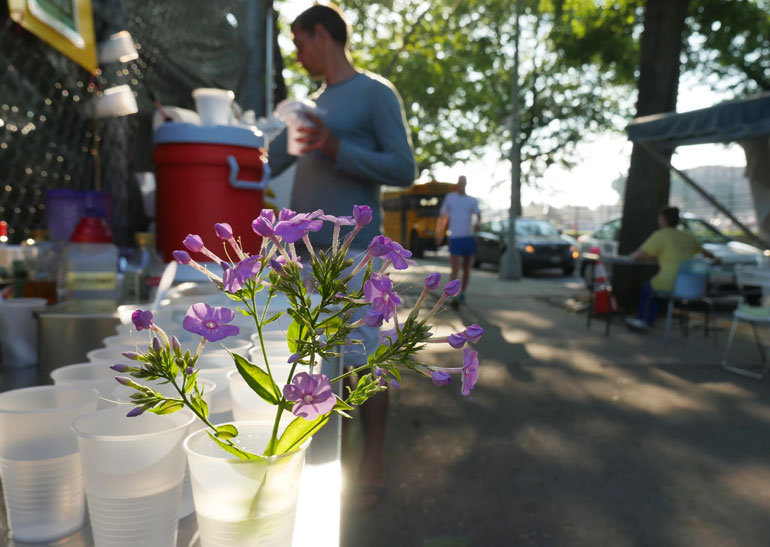 Baladev had 46 miles yesterday.  He now has 1930 miles.
A short clear moment
Ananda-Lahari ran 43 miles yesterday.
Niriha is fascinated by an aphorism of Sri Chinmoy that is on a poster hanging in the camp.
Just one smile
Immensely increases
The beauty of the universe.