"I am making a very special thing.  It is a juice made of carrots and apples.  It is full of vitamins and it is very good for runners."
Klara says this with such enthusiasm and warmth that I almost think for a moment that I have stepped out of the every day world and entered a sweet, wonderful, new reality.  Like Nirjharini herself, who has crewed the kitchen at the 3100 mile race for 11 years, this little kitchen I just walked into is like nothing most of us have ever seen before. And yes the food is divine.
It is not the stoves, sinks, and refrigerators that separates it from the from the mundane every day kitchen.  What makes me feel that I have entered some bright portion of heaven, is instead the warmth and love and patience, that permeates the spotless room.  It is a consciousness, for lack of a better word, that also seems to be part and parcel of every single aspect of the race.
The 5 girls who make up the core team of cooks work astonishing hours and create dozens of unique individualized portions.  Keeping the runners charged and fulfilled  for all the 18 hours they are on the course.  This all means that there has to be a very strict schedule from 5am and than on until 9:30 pm.  The runners themselves each have such unique needs and restrictions.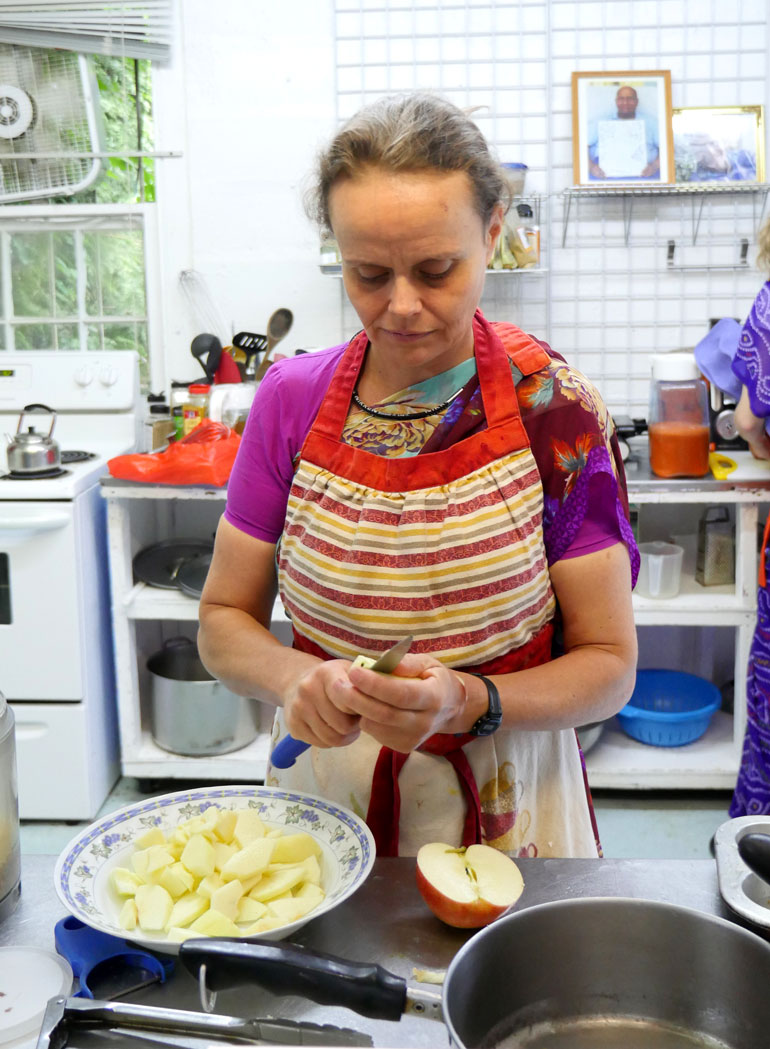 Nirjharini is giving me the grand tour, which I confess also included, a very large and very cold green smoothie drink.  Over on the far side of the kitchen, with her hands thrust deeply into a refrigerator full of greens, is Mandra.  She is doing so in order to make more of said delicious green smoothie, as a large portion of it disappeared mysteriously during the first minutes of my visit to the kitchen.
Mandra works as well in a restaurant back in her home in New Zealand.  She first came 5 years ago and had a very nice experience.  "It is like a oneness family.  Everybody looking after each other." She says she is not an expert cook but finds working here a wonderful opportunity to learn from others.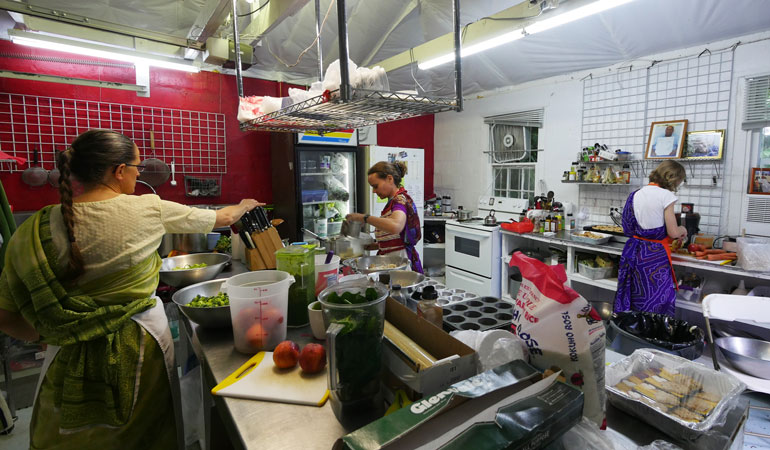 The runners she says all have special needs and those needs change. "Nirjharini is  wonderful at making things possible.  We have a wonderful setup so we can do just about anything."
The 2 girls who are not here right now are Karnayati and Hastakamala.  Of Karnayati she says, "she is most wonderful and I am extremely grateful to her.  She makes sure that everything is clean.  She is an amazing dishwasher.  It takes a lot of time."
"OOOPS !"
"The food preparation really has to ready be on time.  The runners are really hungry.  Every 2 hours the food has to go out."
"Hastakamala is here for the 2nd time.  She is wonderful. She is also a very nice cook.  I find we have a very great team this year."
Compared to her cooking job in Norway, "here we make a lot of small and different things.  You have to pay attention, and than there is the packing up."
"The whole race is wonderful, but when I see them finishing.  I am just so happy for them.  But for myself I could do this the whole year.  I love it." Before leaving Nirjharini added that the most important ingredient that she, and all the other cooks try and add to each recipe and dish is love.
Ashprihanal stretching as he gets out of the car.
It is clear cool morning and the temperature will not get much above 70 all day.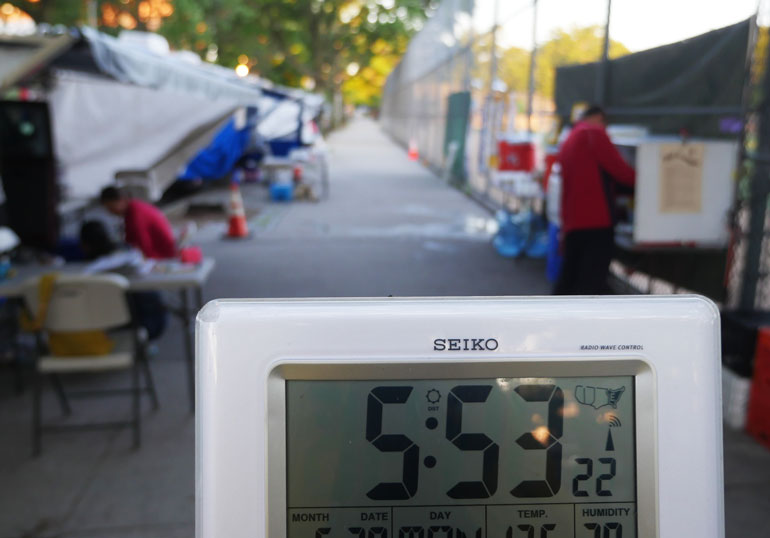 Yuri had a good day yesterday with 66 miles.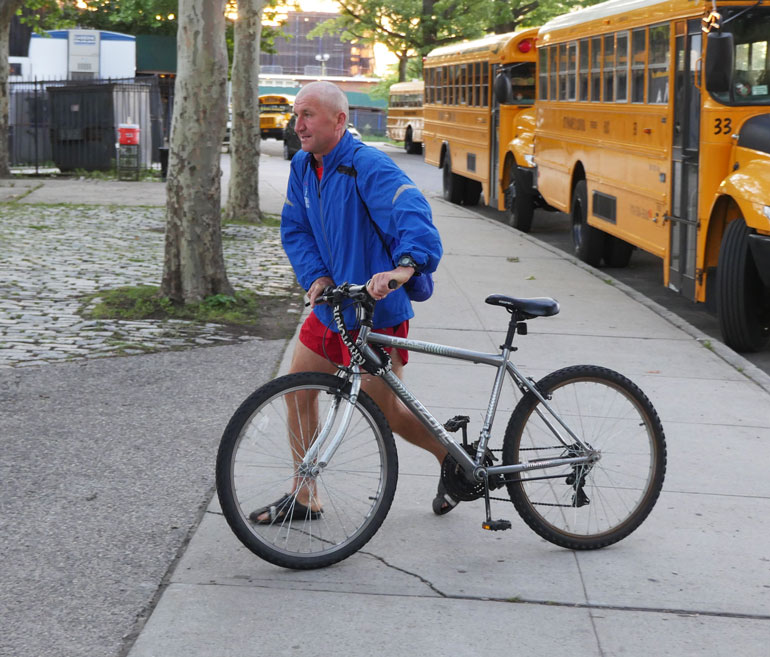 Baladev taking a few berries while Vasu arrives behind.
Janos turns 34 today.  He will later in the morning run 34 miles around the other block which is directly across the street.
Start Day 16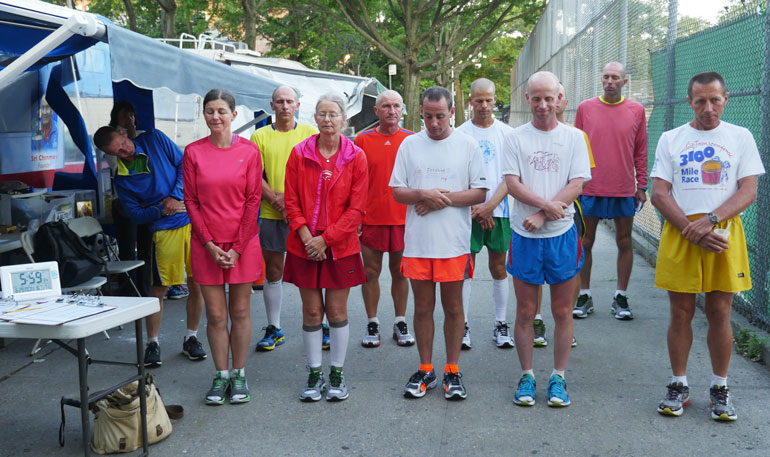 Observing the first light of day from a very high perch.
Ashprihanal for the past 15 days has found something very special within.  He ran 77 miles yesterday and has 1159 miles.
Later in the morning Nirjharini checks in with him and all the runners to make sure their food is perfect to their needs that day.
The Finn is flying again and again.
Atmavir has 1103 miles.  The cool day is perfect for him. He ran 72 miles yesterday
Galya ran 71 miles yesterday.  Here with Stutisheel illuminated by the early sun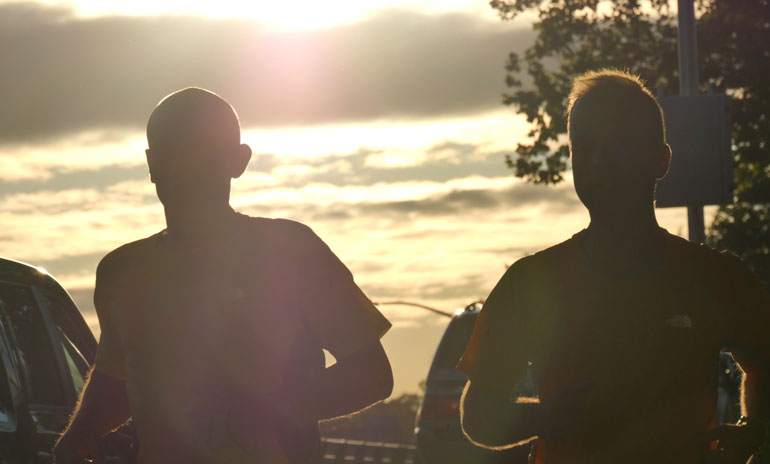 He looks very comfortable and confident.
The service road.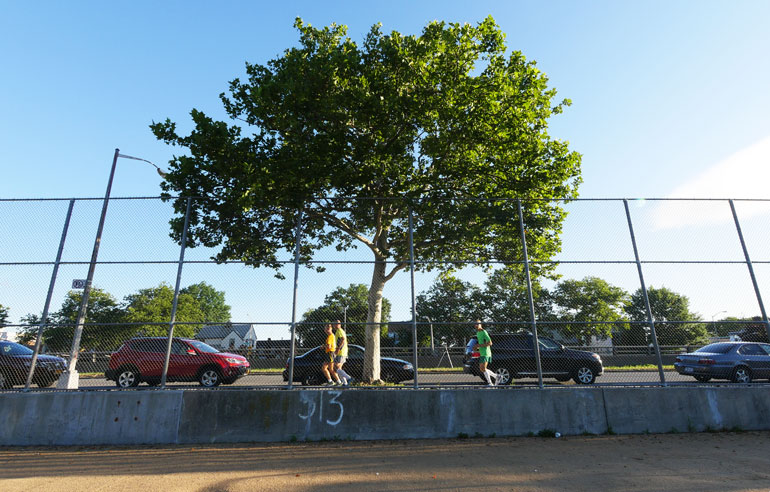 Yuri is definitely worth watching.
Yuri ran 66 miles yesterday and completed 1000 miles in 14 days and 7 hours.  He finished with 1040 miles.
Vasu with the sun at his back.
Vasu ran a very strong 71 miles yesterday and completed 1000 miles in 14 days and 12 hours. His 15 day total was 1021 miles.
Enjoying a moment with Surasa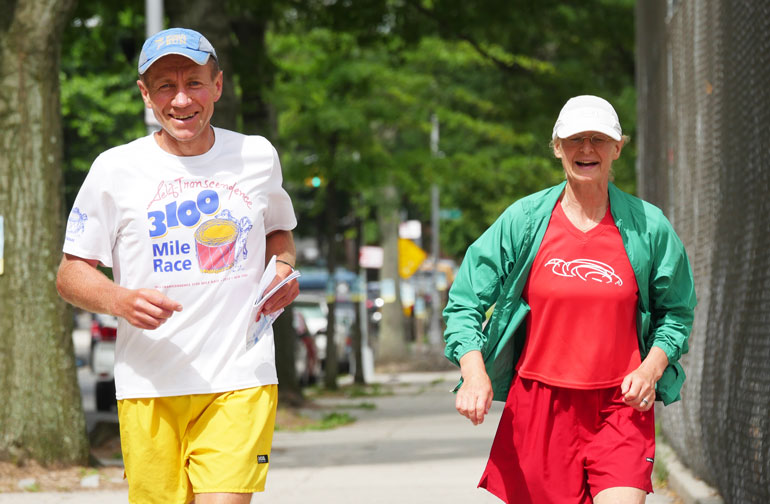 The hard, the soft, and the swift.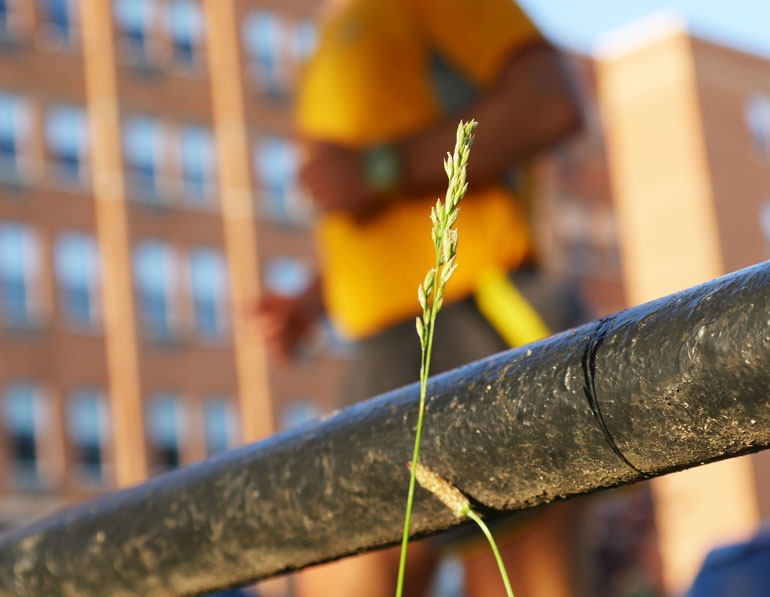 Stutisheel had 64 miles yesterday and has a 15 day total of 949 miles.
Who knows how many miles Galya and Stutisheel have already run together.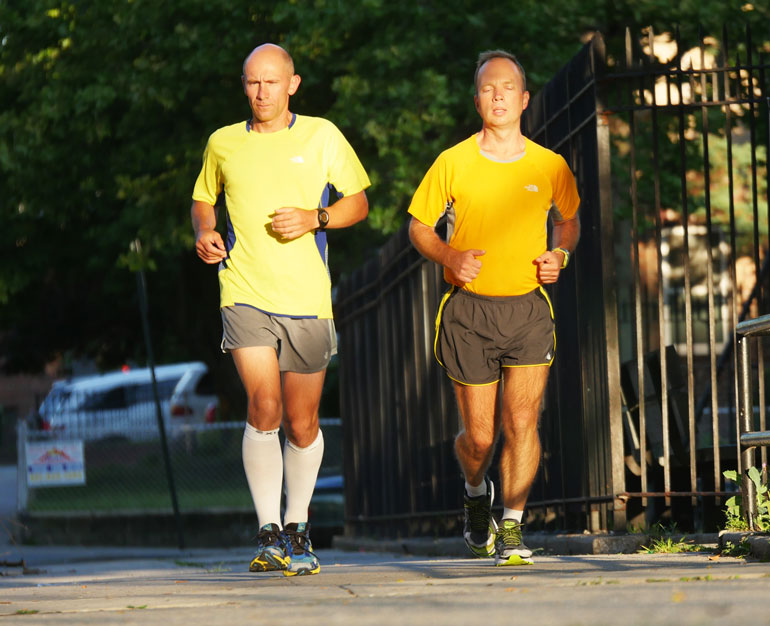 Little red clover
Nirbhasa had 60 miles yesterday.  He has 948 miles.
In the morning he takes a 15 minute break while Arpan works on his calves.
Doing incredibly well.
The little things
Surasa had a great day with 65 miles.  She has 909 miles.
Kaneenika is very close behind her with 906 miles.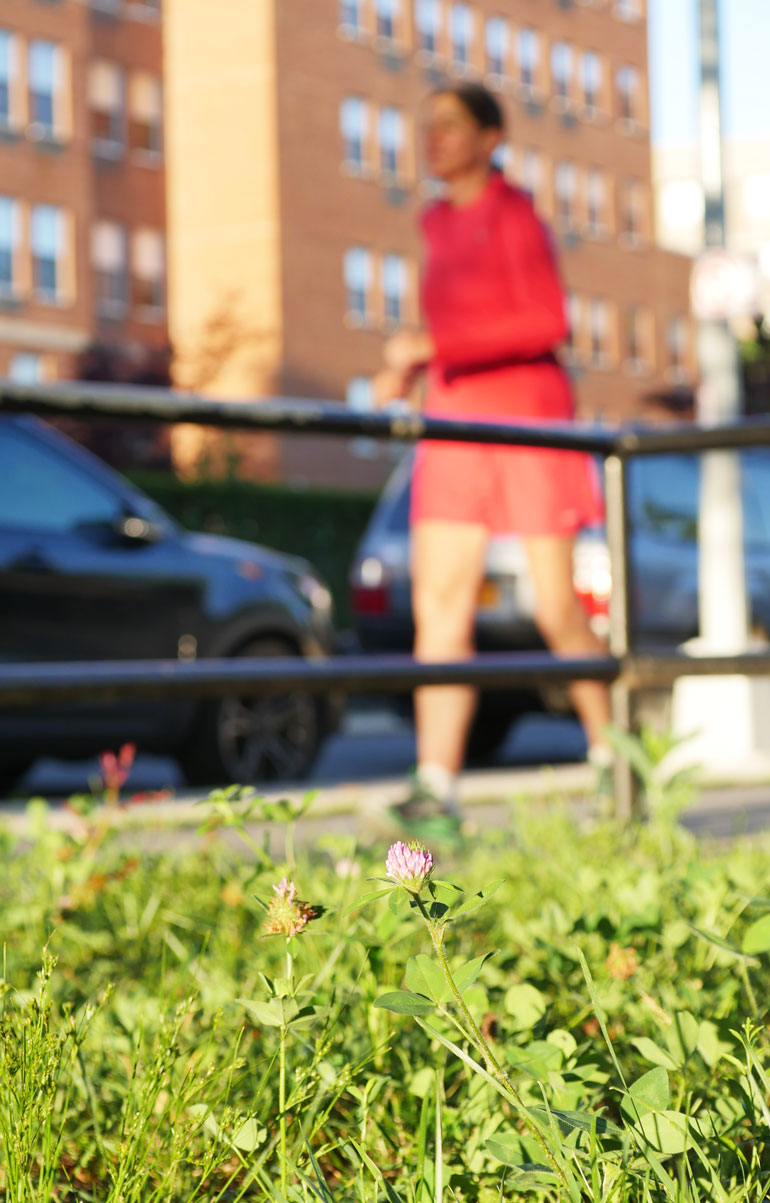 Kaneenika ran 64 miles yesterday.
She is having a great first time race.
Ananda-Lahari ran 55 miles yesterday.  He has 834 miles.
A poem on a balloon on a tree.
Baladev ran 53 miles yesterday and has 822 miles.
The grass is greener.
"I am running 34 miles today in order to celebrate my 34th birthday."  Janos has been helping at the race since day one.  This morning after he helped with the setup he started a many hour trek around the block across the street. He says that once or twice he has celebrated his birthday in the same way.
I ask him how he likes helping out at the race this year.  "It is very very nice.  I love to see the runners.  It is a very heroic effort.  I admire every single one of them.  It is a tremendous achievement what they are doing.  I bow to them."
"Generally I feel very very happy to be here.  I feel that I am doing the right thing by being here in New York for the race.  Of course I get to talk to all the runners and get some experience which I can use for my own multi day running for next year and the following years." Janos has run in the Spring Self Transcendence race twice. "I look forward to more."
"It is a spiritual experience.  While you are doing the race.  Most runners question why they are doing this.  The point is that you go deep within, and it is an extremely good tool to go very deep and see something that is very difficult to see.  In day to day life."
Click to Play:
Tomorrow the street is scheduled to be torn up.
Bipin and Rupantar discuss where to put the vans for the next couple of days.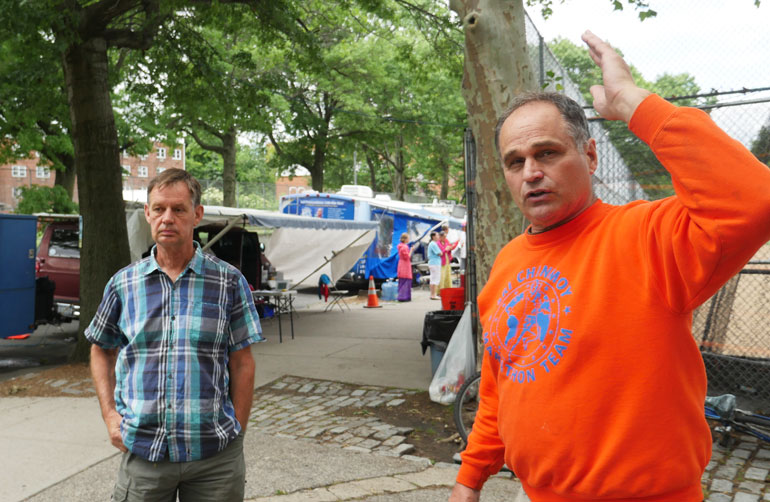 A cat arrives in camp.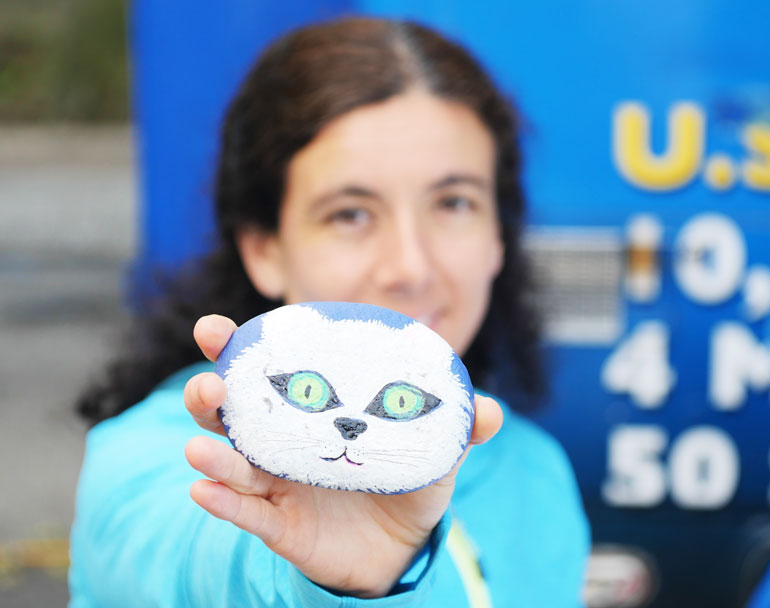 And I am not happy.
The cooks arrive with the 10 o'clock snack.  Which makes every body happy including the person who saw the gluten free muffins being made earlier.
* Note Pizza has been redone to perfection*
Lyalya recites the daily prayer.
Click to Play:
She than, with Galya's help translates it into Russian for Yuri, who looks forward to it every day.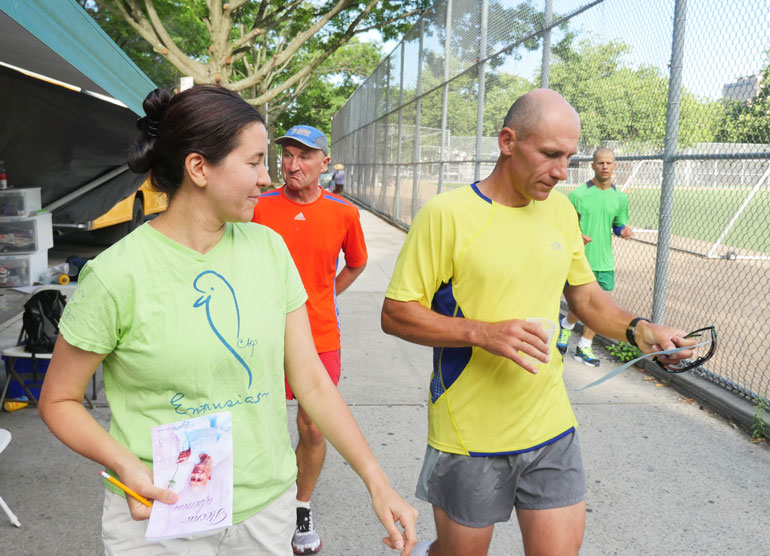 Enthusiasm Awakeners.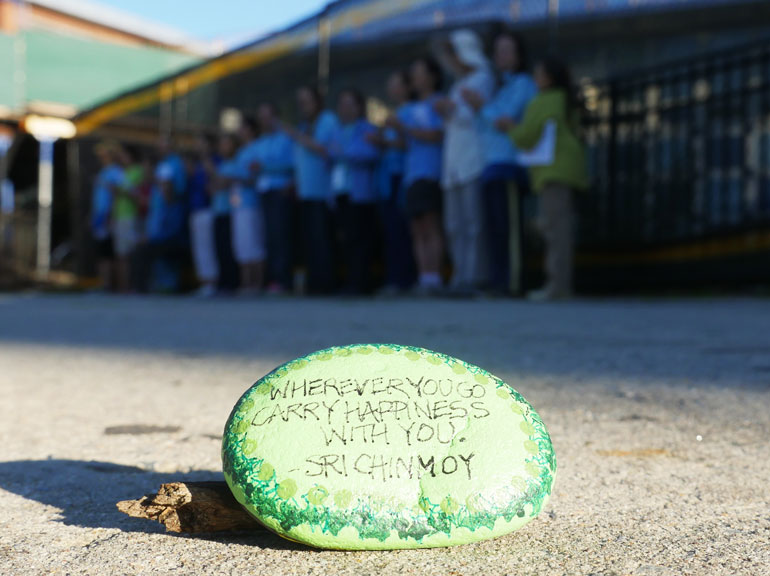 Click to Play:
The food of my eyes is scenery. The food of my nose is fragrance. The food of my ears is spiritual teaching. The food of my mind is clarity. The food of my heart is purity. The food of my soul is Liberation.