Sahishnu becomes animated as he speaks about the heavy rains that swept across the area last night.  He and Sandhani have long had the jobs of watching over the race during the dwindling hours of evening.   At midnight they put the race to bed and will not find their own beds for many hours after.
https://vimeo.com/132035469
To demonstrate the force of the rain and wind, he stretches out his arms and than sweeps them forward.  A gesture that conveys the full breadth and depth of the deluge that had to have made the race for much of the late night even more than the challenging experience it already is.
It was estimated that about 3 inches of rain fell in the period leading up to midnight when the race shut down for the day.
"It was miserable and still someone like Ashprihanal, Galya, and Atmavir can go over 70 miles.  It just shows you their athletic brilliance at the same time under complete control of the various elements.  It was thrilling to watch."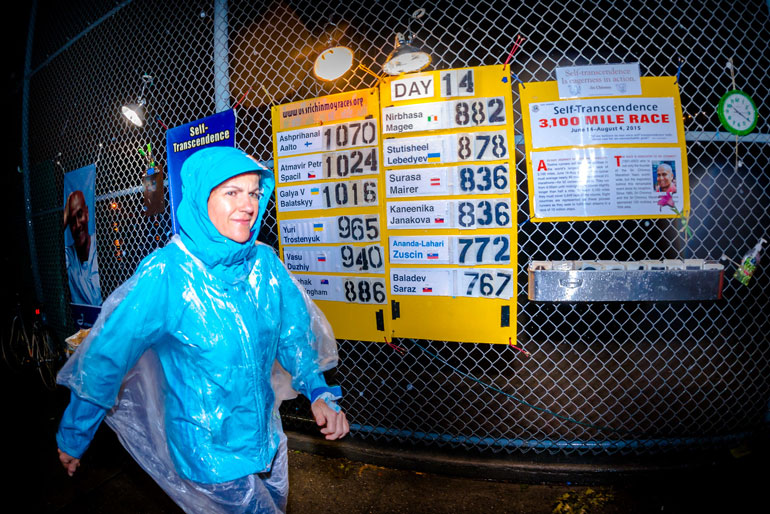 "Also the 2 girls.  Surasa and Kaneenika they were just pushing and pushing.  They had to change their outfits every 10 or 15 laps because they were drenched to the skin even with their hi tech stuff."
"It was amazing to watch such dedication.  There was nobody out.  There were no pedestrians out anywhere.  There were no crowds."
"This is only 2 weeks in."
Despite the heavy wind and rain last night Ashprihanal still managed to complete 77 miles yesterday.
With much sadness it came to pass that Grahak could no longer continue running the 3100 mile race. He stopped late Saturday morning.
His arthritic hip, which he had coaxed and bullied for 886 miles refused to take him and his dreams any further this year.  I hope to provide his thoughts on this regrettable situation soon.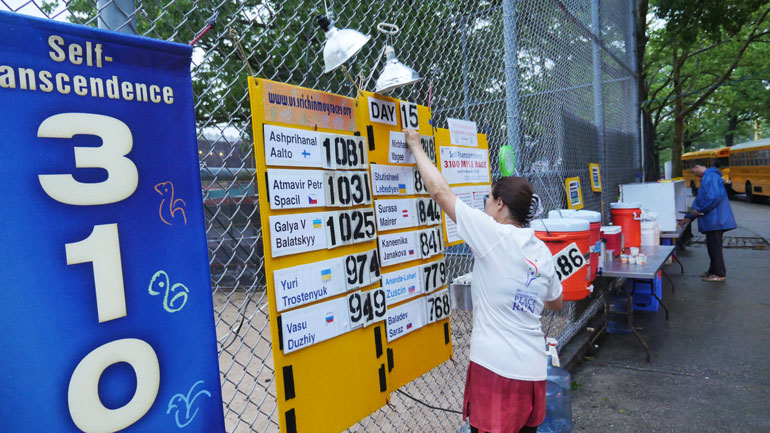 There is a misty rain this morning but the heavy showers are long past.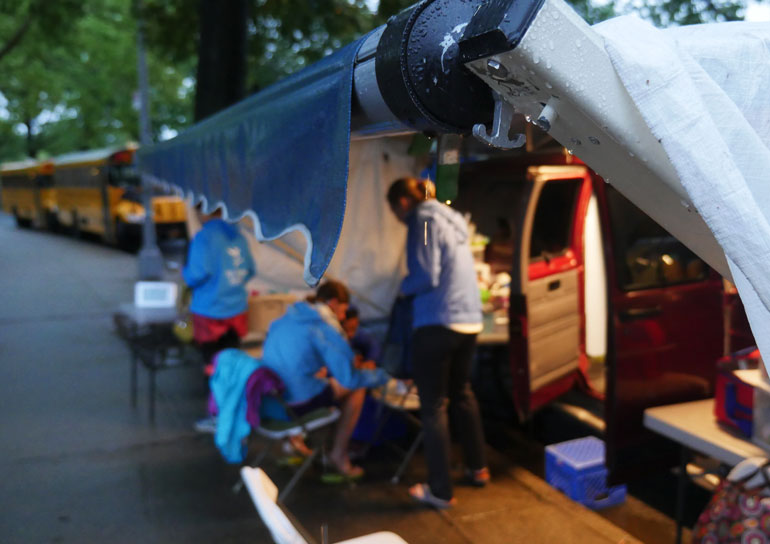 The atomic clock.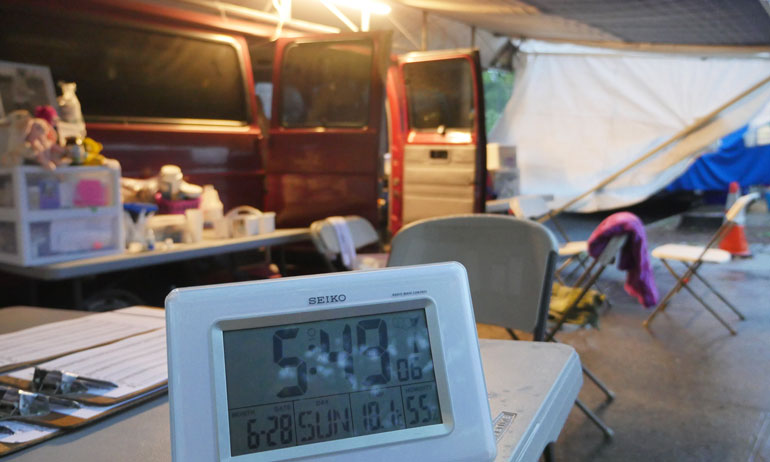 Start Day 15
The sun will shine only briefly today.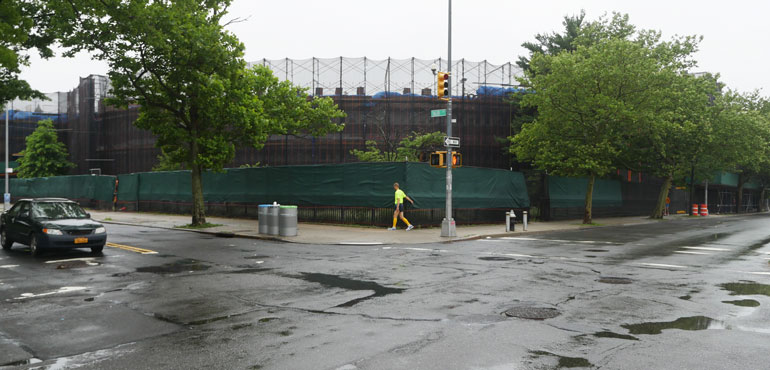 Ashprihanal climbing the hill.
He has 886 miles.
Soccer is being played on the infield.  Janos signals that a goal has been scored.
There is nothing dry.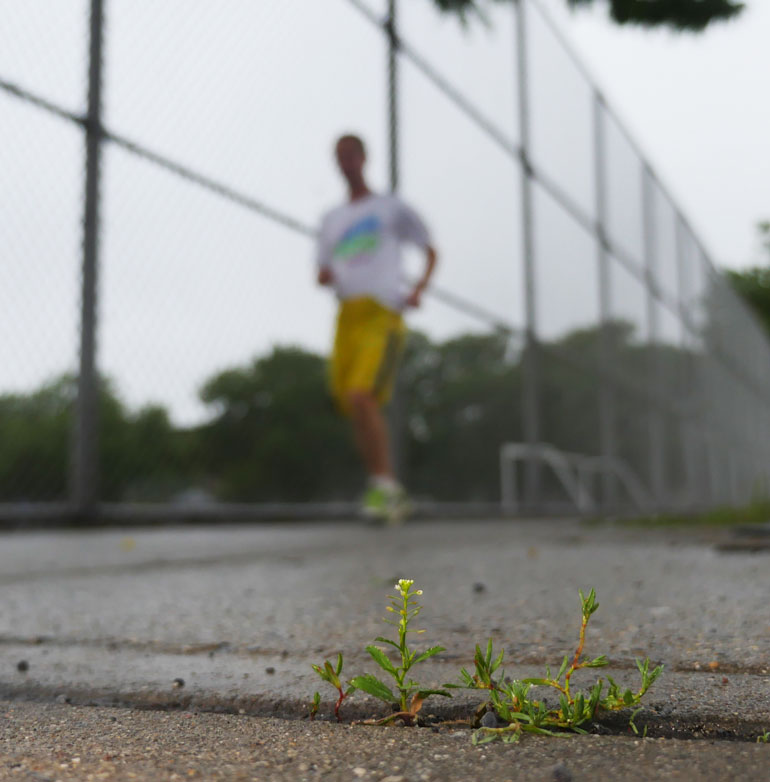 Shoes trying to dry but there will be little sun until tomorrow.
Atmavir had 70 miles yesterday.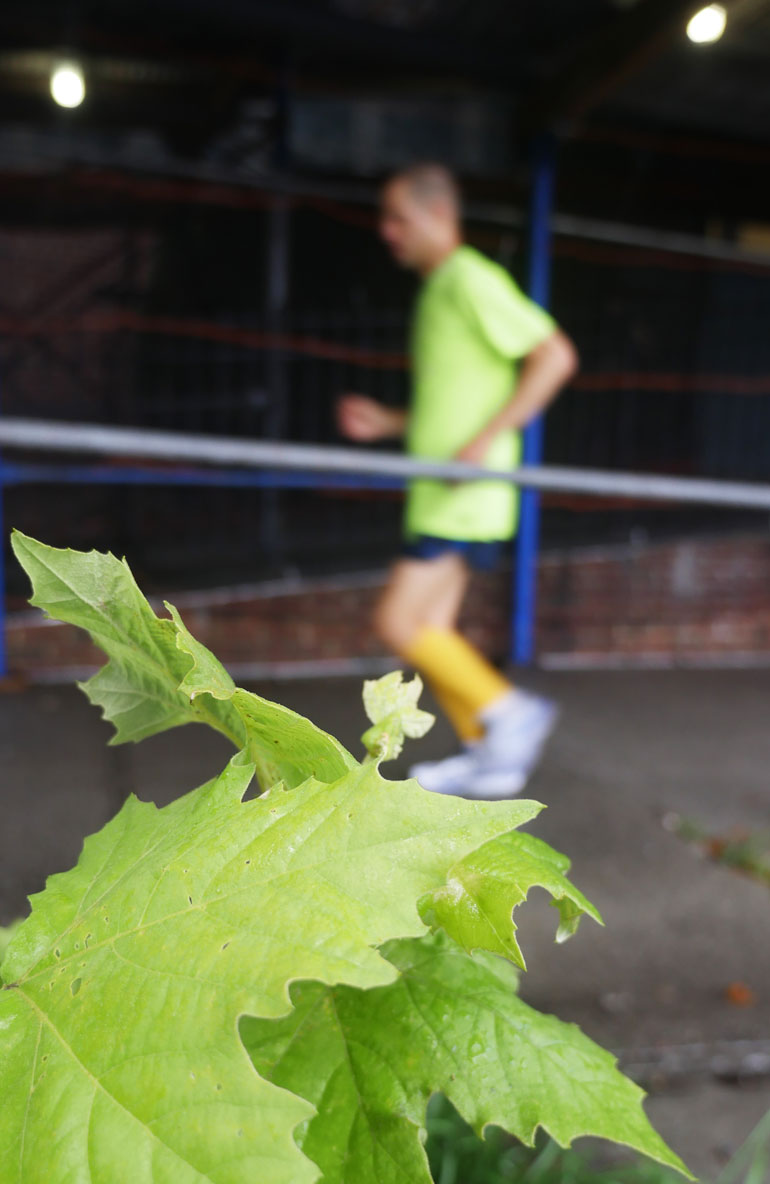 Atmavir made his first 1000 miles yesterday. His time was 13 days 9 hours
Galya made 70 miles yesterday.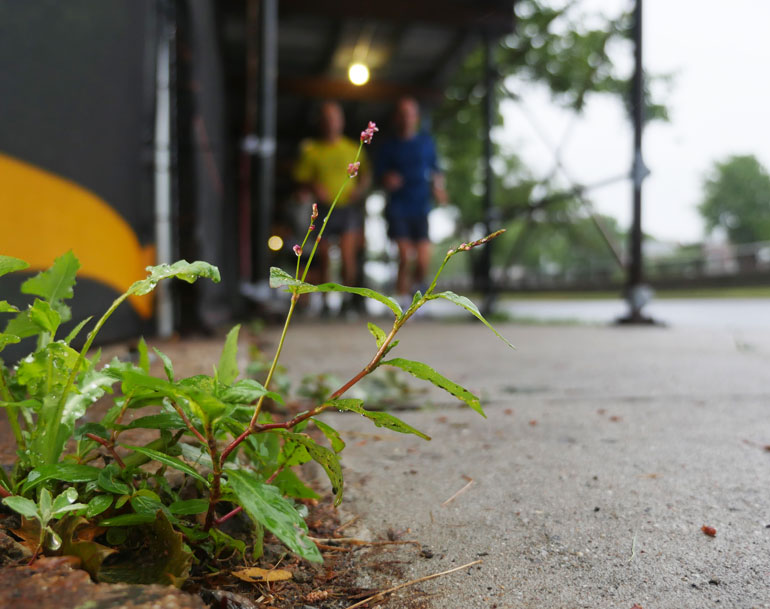 He made 1000 miles in 13 days and 11 hours.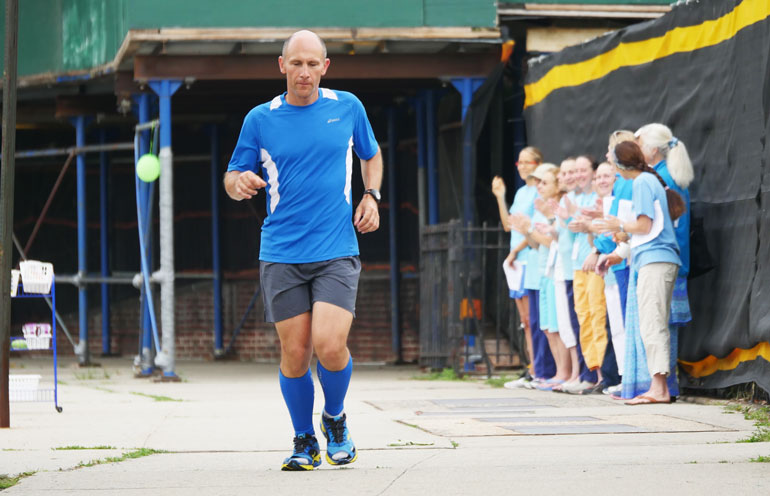 Just across the street.
Yuri had 65 miles yesterday and now has 974 miles.
Coming out of the earth.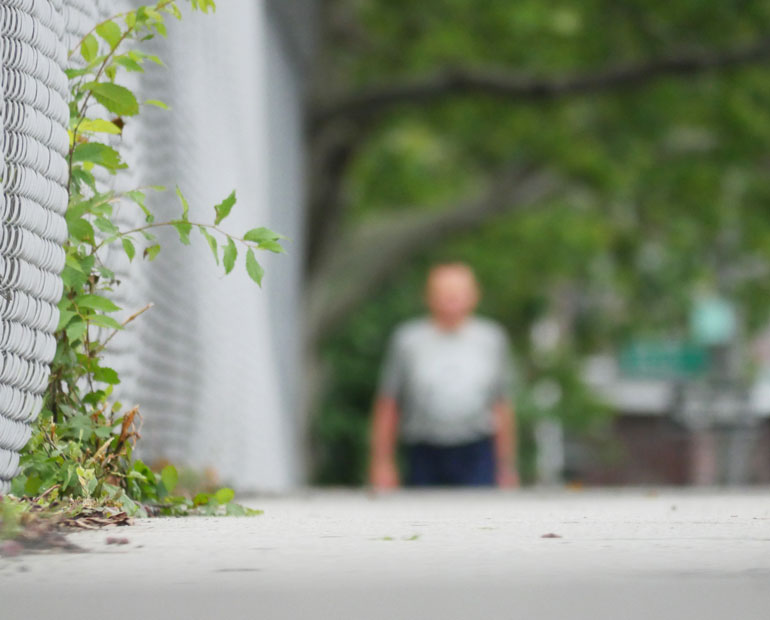 Vasu ran 66 miles yesterday.  He has 949 miles
For much of the morning he has been carrying a book of Sri Chinmoy's poems translated into Russian.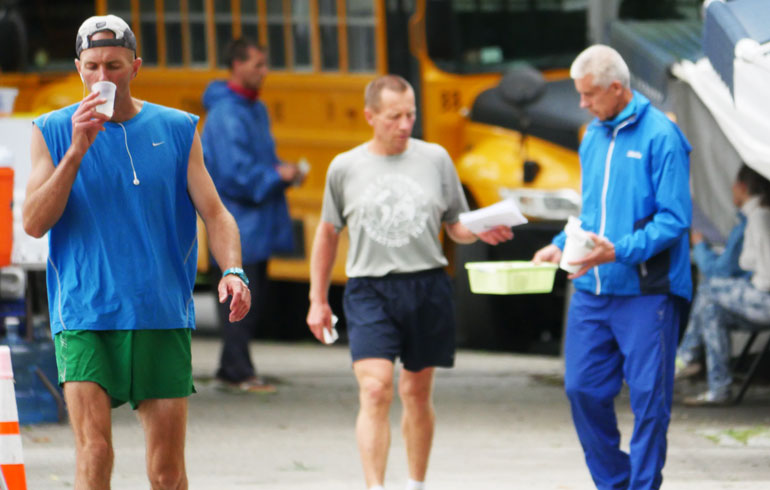 Nature responds
"This sidewalk is really really hard on your feet…. all 4 of them."
The drops waiting to fall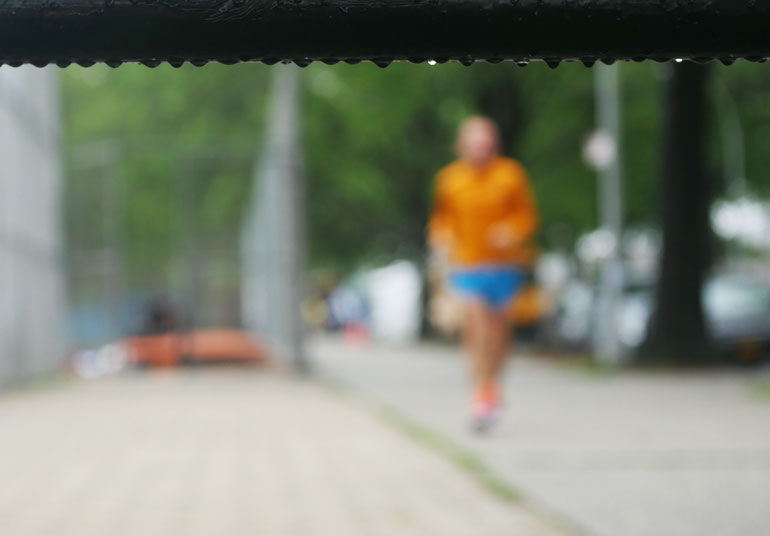 Nirbhasa had 55 miles yesterday.  His total 888 miles.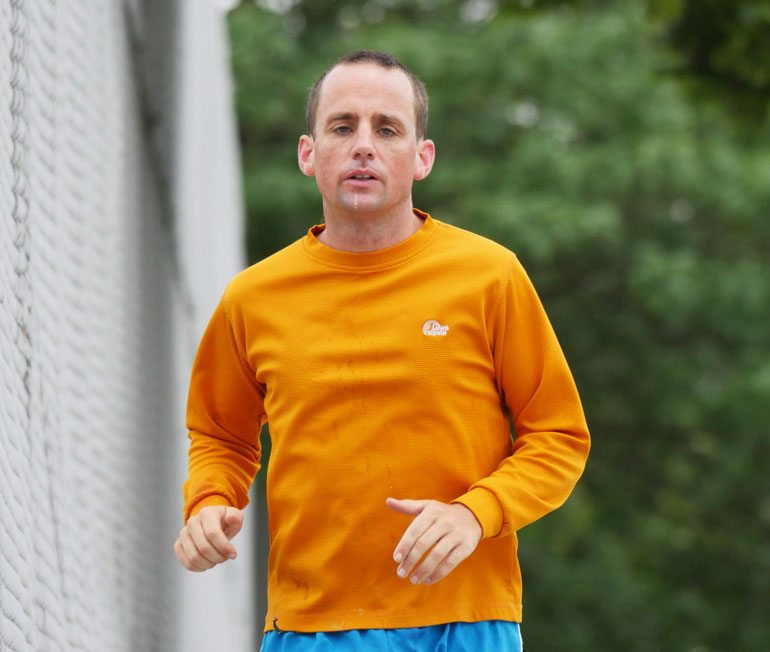 The roads are quiet on Sunday morning.
Stutisheel had 66 miles yesterday.  He now has 885 miles.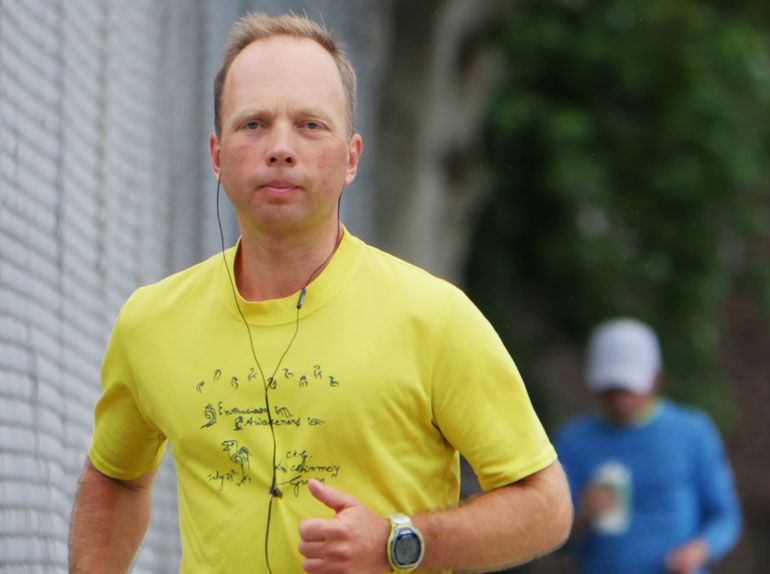 Coming through the trees.
Time and time and time.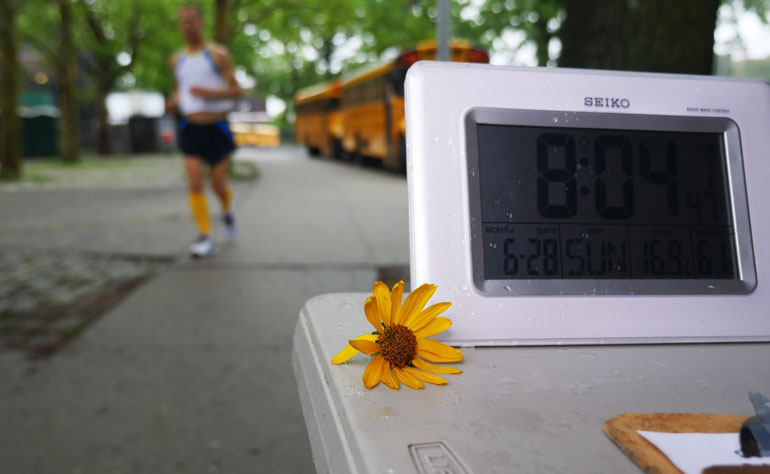 A tree branch came down last night in the wind.
Surasa had 64 miles yesterday.  The same as the day before when there was no rain.  She now has 844 miles.
Kaneenika had 63 miles.  3 more mile than the day before.
Kaneenika now has 841 miles.
Tamara is one of Kaneenika's helpers.  I ask her about helping here at the race.
"She is so cute.  I like being with her and helping her.  She is like a child.  A child consciousness it is so nice to be with."
I ask Tamara how is it possible to be childlike when everything about the race is so difficult.  "Yes, but it is very hard to run when you are not in a child like consciousness."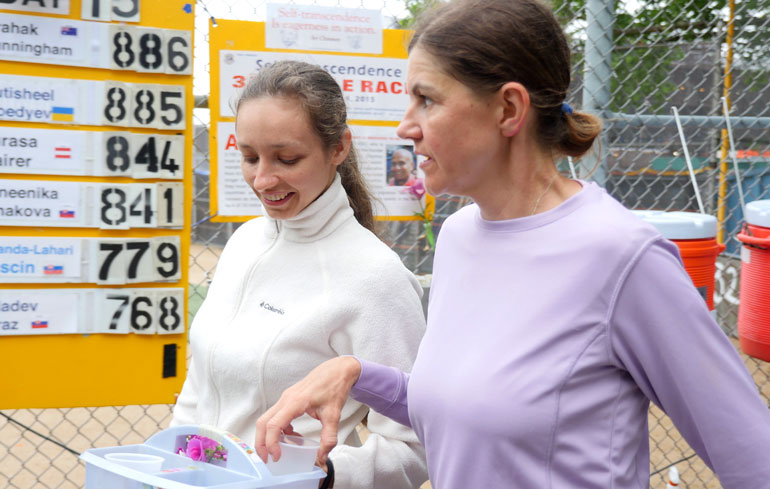 This is the first year that Tamara has helped at the race.  "I didn't think about being a helper.  But Kaneenika called me and she asked me to be her helper.  So I was happy to be asked.  But I would never just volunteer for such a job.  I was happy to join this."
"It is special.  When I came before to visit the 3100 I didn't realize how great it was.  I didn't feel anything special about the race.  But now since I am helping I like it more."
"It is also nice to be in the surroundings of disciples, so that we can share wonderful things between each other."
Click to Play Interview:
Rain drops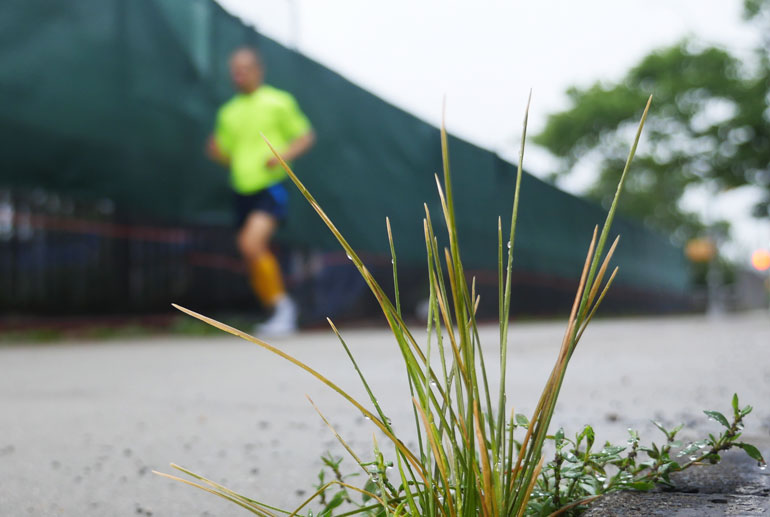 Ananda-Lahari ran 52 miles yesterday.  He has 779 miles.
The distance.
Baladev ran 51 miles yesterday.  He has 768 miles.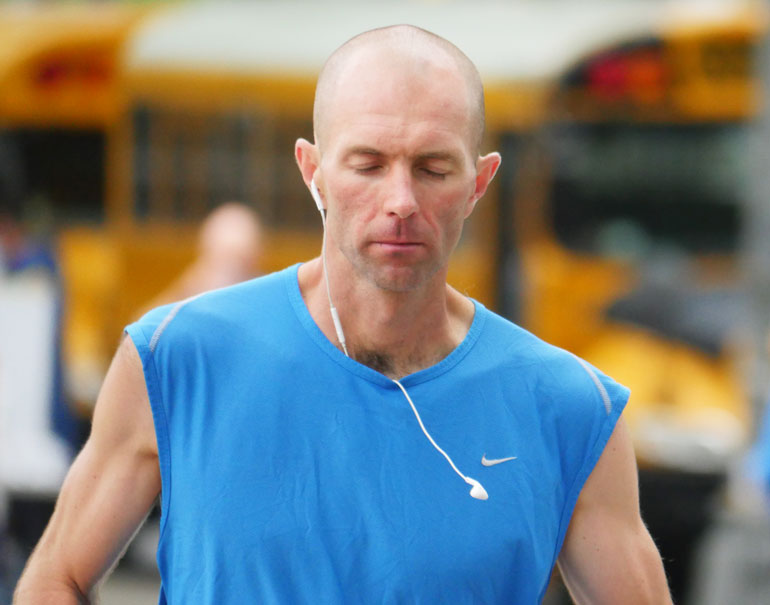 He recites 2 poems written by Sri Chinmoy.
Click to Play:
Poem of the day recited by Nicolai
Click to Play:
Enthusiasm Awakeners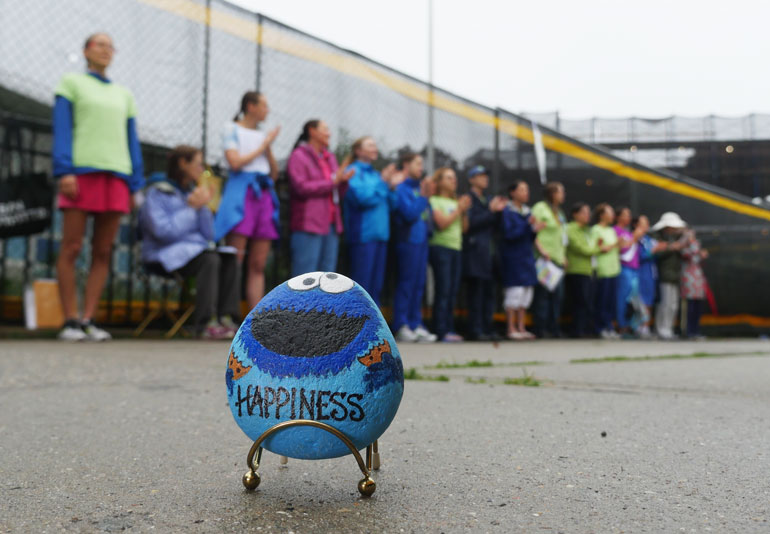 Click to Play:
My dedication to the world
Should be a beautiful gift
And not a demanding expectation.