The conditions at the race for most of last night and now, for most of the day, can only be gently described at best as challenging.
For several million New Yorkers, April 20th rolled in as a cold and rainy day, accompanied by generous gusts of wind.  A day which glowered in grim contrast to the glowing Spring day which immediately and brightly proceeded it.  For several million residents of New York city the unrelenting weather conditions were a damp inconvenience, that only briefly set back the inevitable triumphant return of Spring back to this now grey dull city.
For the 50 runners of the Self Transcendence 10 day race however there is no escape and no way but not to confront head on a day in which most of us would rather duck and hide and grab a warm hot coffee (sugar optional). Mileage must be completed no matter how ferocious is the weather.  Particularly when as the days slip past the miles do not get any easier.
Telling the story of just how bad it was here today is not easy.  A small comfort for the journalists whose toys and technology do not mix well with such conditions.  But for the runners there are no safe excuses if the course floods, your tent gets wet, and every article of clothing has suddenly become drenched, and nearly impossible to make dry once more.
Everyone is trying to do their best.  Every runner has some goal that they are reaching out for whether it be an obvious bold challenge or some quiet sacred one within their own hearts.  Aidas Adzijauskas a 43 year old runner from Lithuania has one of those astonishing, hard to comprehend kind of goals.
In his first 24 hours here he completed 86 miles.
He wants to set a new Lithaunia record for 10 days.  Aidas wants to break the mark of 901 miles set here in 2001 by Rimas Jakelaitis.  He is very nice and I was fortunate to be able to speak with him accompanied by a translator who is acting as his helper.  Making a surprise appearance during our talk was the record holder himself, Rimas.
Click to Play Interview:
The predominant fashion attire today were rain suits.
Making the counter's job none too easy, to tell one runner from another.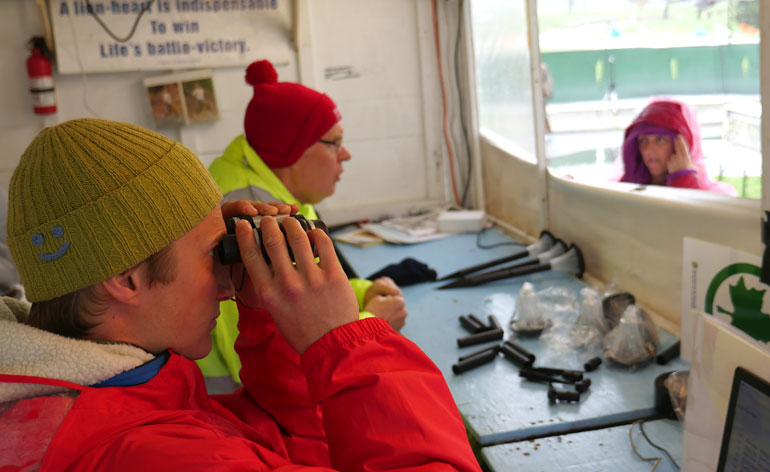 Ales had 73 miles for day one.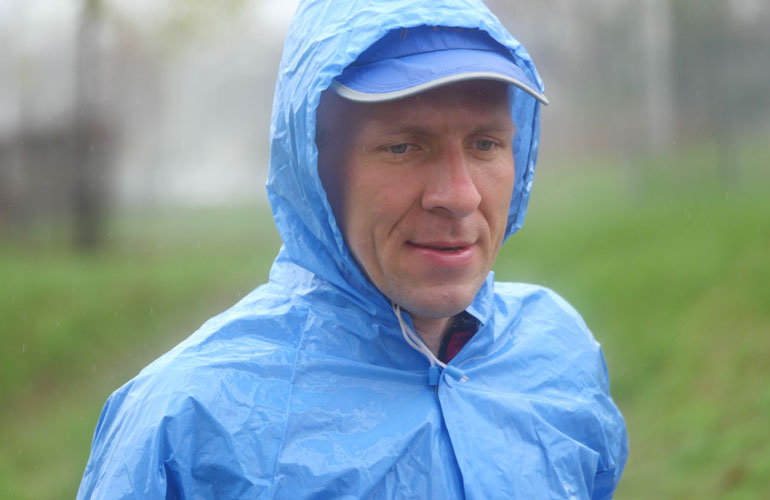 Even the dorms were having problems keeping out the weather.  Forget the possibility of drying clothes.
Certainly some tents did not perform well under the harsh conditions, and struggled to stay up even with human intervention.
Ananda-Lahari had 67 miles for his first day.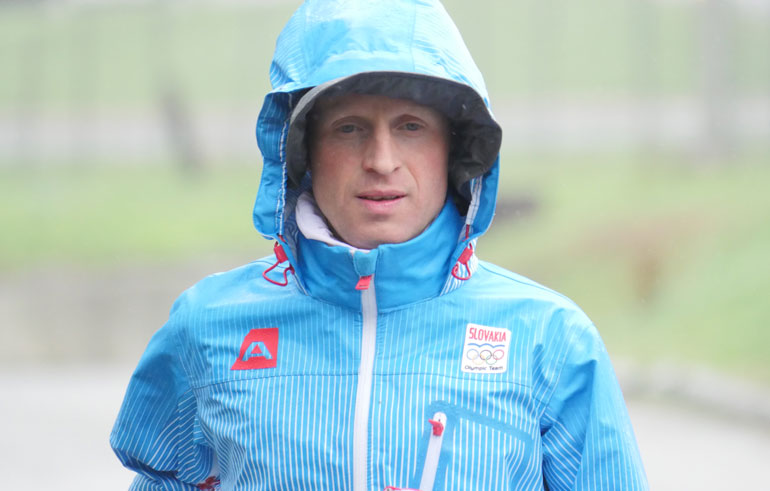 Lots of reason for caution today and into tonight.
Budjargal had a good first day with 81 miles.   That put him in 4th place for the men.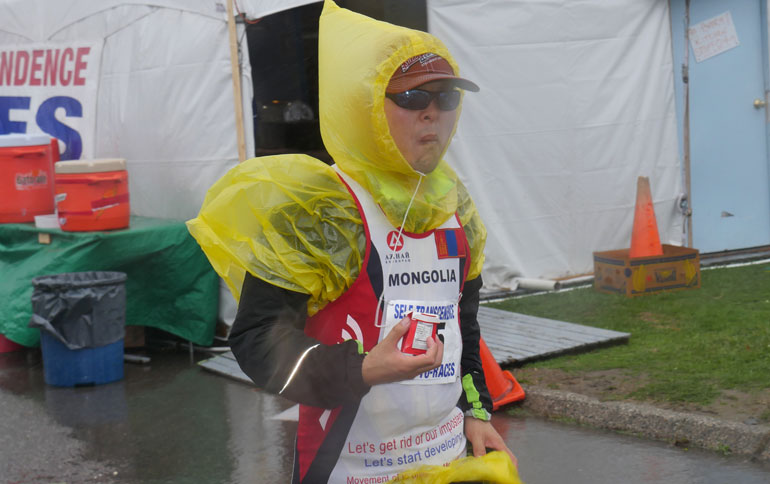 Devashishu encouraging the runners.
George Biondic had 68 miles for his first day.
One place that is always comforting and just a little warmer is the food tent.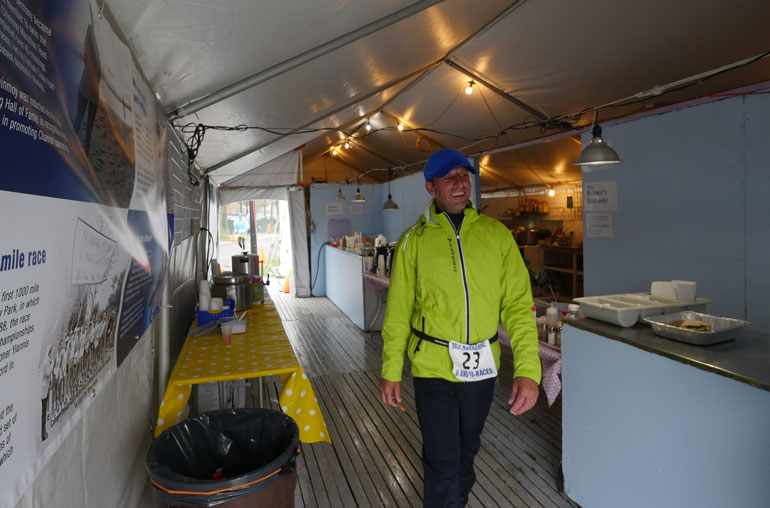 At age 72,  Georgs Jermolajevs from Latvia is going to surprise and perhaps astonish a lot of runners, not just here but perhaps around the world over the next few days.  His first day total of 87 miles was surpassed only by Atmavir and Pati.  The course may well be witness, as the race progresses, of some truly historical achievements.
In the dugout it is just a little drier and in some spots definitely prettier.
Chris Mak had 60 miles for his first day.
Karteek had a very good first day with 67 miles.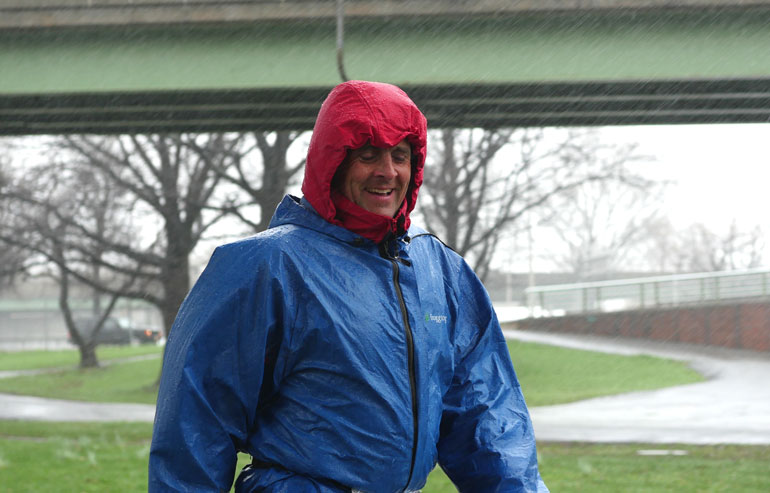 The trees have decided to blossom now no matter whether or not the sky appreciates it or not.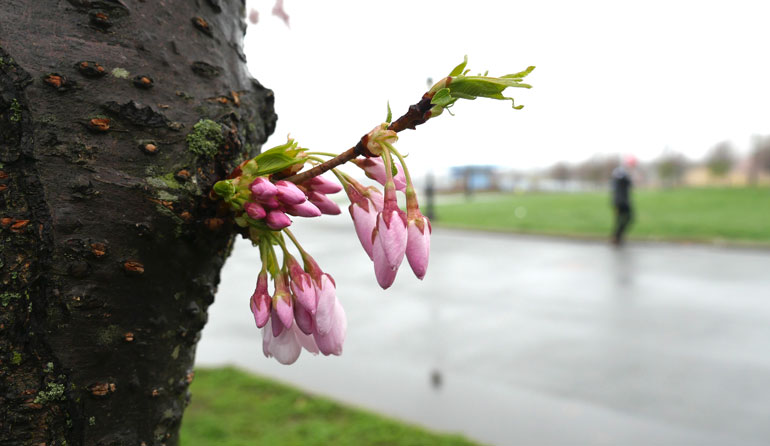 The roar of the highway traffic can never be avoided.
Gudrun had 62 miles.
The course is only really wet in a few places.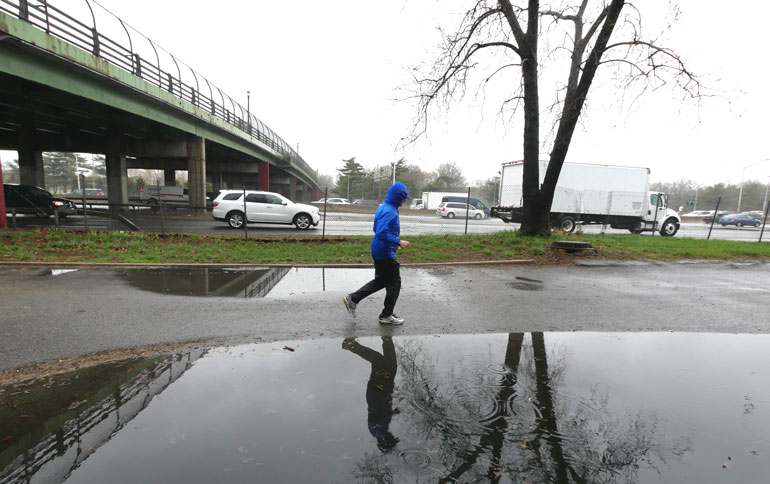 Gundega had 68 miles which puts her in 10th place in the ladies division.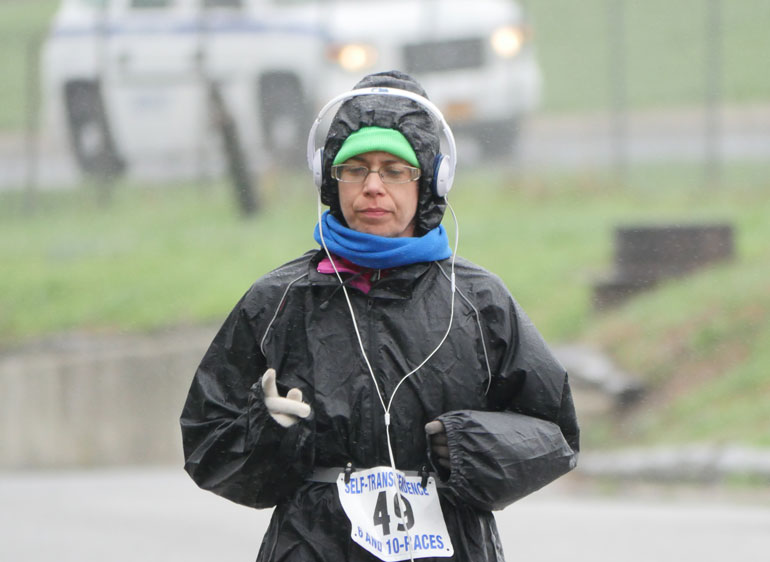 Taking a break at the right time is absolutely necessary.
Even some of the permanent residents of the park do it.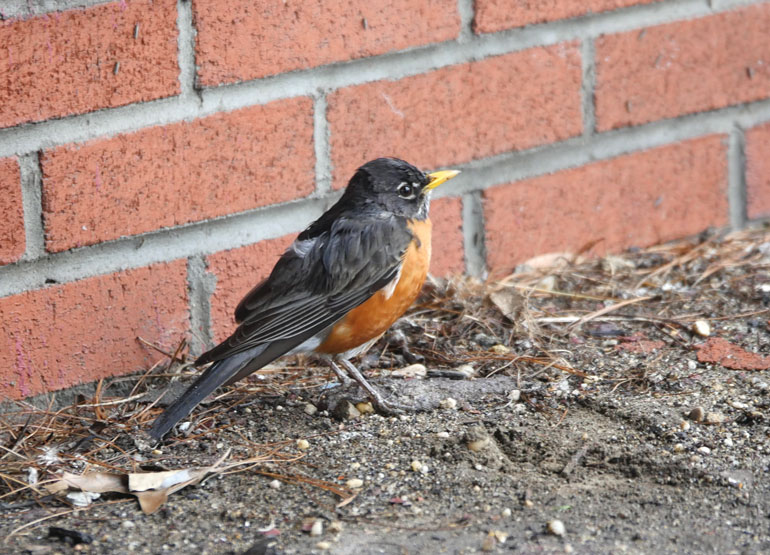 It was a constant battle to stay dry and regularly change clothes.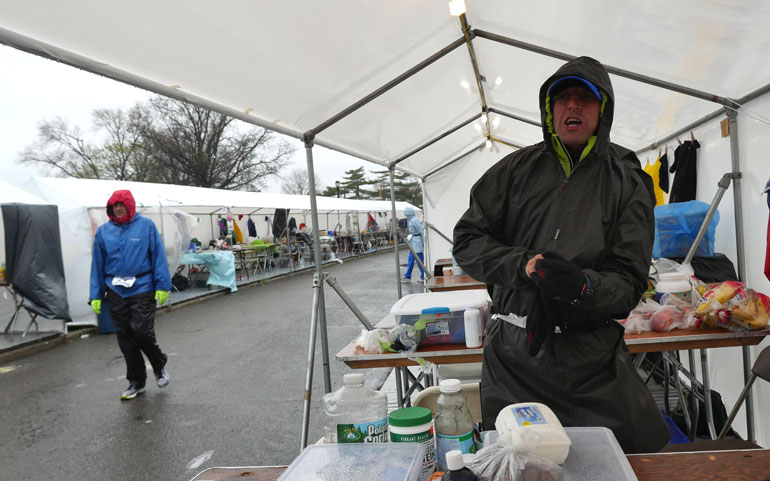 Janos had 63 miles.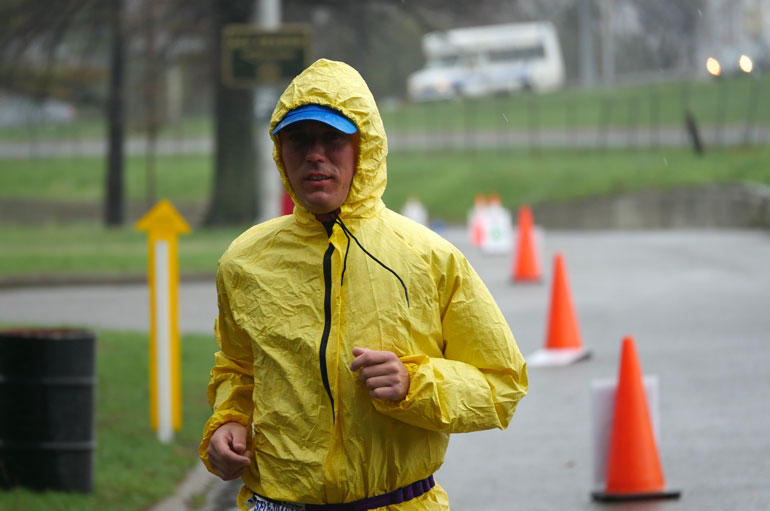 Manoshri had a good first day total of 67 miles.
Pictures of course can only show so much.  When faces have drifted off the lofty plateau of smiles, it does not mean that joy is not there where it is needed most, within the heart.
For Shamita a look of concentration does not speak much of her achievement here the past 24 hours.  Only the score board takes accurate note of the incredible 81 miles she ran her first day.
It is so incredibly wet and some might say cruel for such a long period of time.
But the weather is not the villain.  It does not dictate what goes on within.
Pati somehow found 90 miles her first day.  Putting her in 2nd place overall.
Beneath the superficial torment and the temporary suffering is so much much more that is good, that is positive, and that is soulfully fulfilling.
Sometimes hidden to those who watch from warm dry places.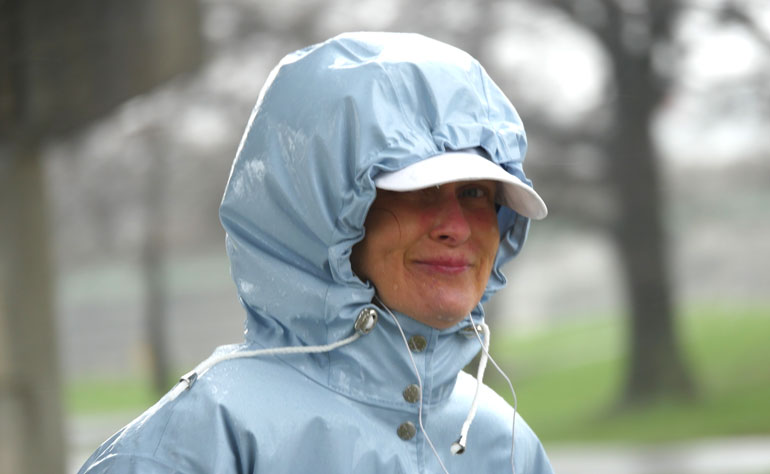 That there is a joy in listening and obeying the force of nature and allowing it to show you how to go on and on.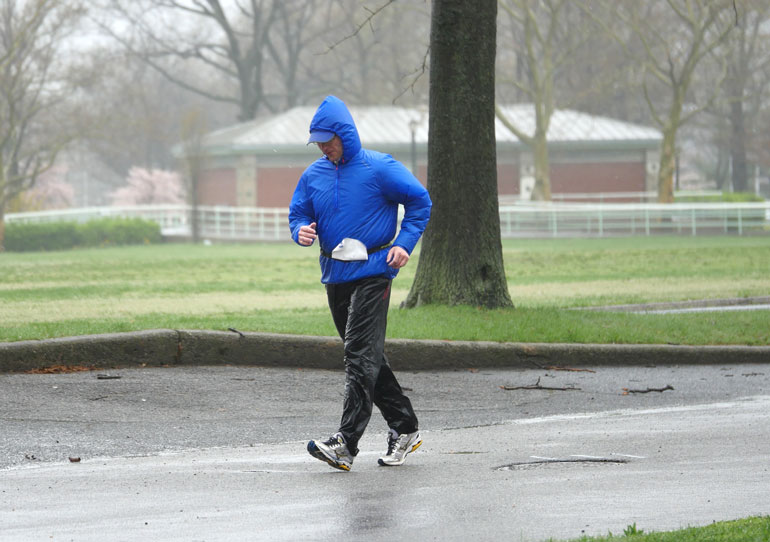 To listen to the body and pay attention only to its most important cries, the ones that truly need to be listened and attended to.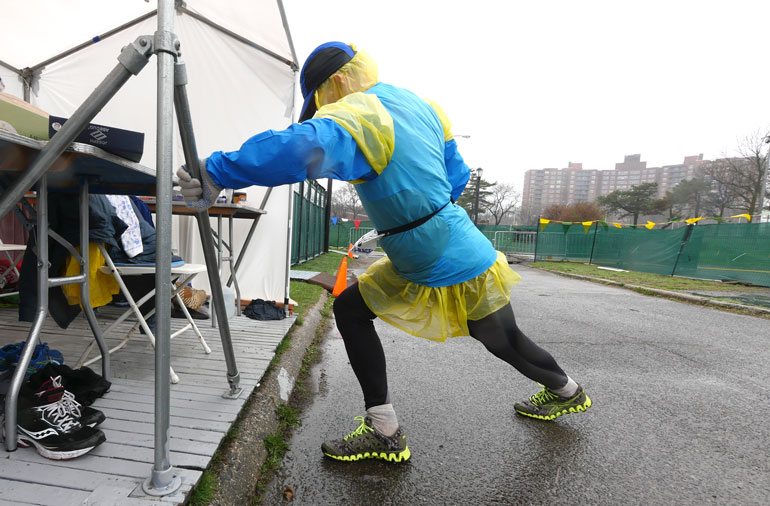 Nature does not want us to suffer, we just need to pay attention to what it is offering to us and appreciate it as much as we can.
Harita Davies is someone who has spent many days, hours, and miles here but has never run the 10 day race.  She has helped out many times and even run the 6 day race 3 times, the last time being 8 years ago,  but this is the first time she has run the 10 day.
One of the reasons she has not participated more she says is that she has had to deal with some heath problems.  Now she feels better and has wanted an opportunity for a long time to take on this tough challenge.  She completed 82 miles in her first 24 hours and says, "I feel strong and I feel good."
She feels the race, and in particular its challenging conditions, have helped her to turn to the best source of inspiration and strength.  That being all that she has learned from the many years she spent with her late spiritual teacher, Sri Chinmoy.
"Meditation, and staying in the heart, and not your mind, and really just staying positive, and staying grateful."
"Everybody has so much to be grateful for.  That is really the key to be happy.  I am so grateful that I can run, for many years I couldn't really run.  I have a great life.  I feel incredibly  blessed."
She has helped Dipali in the 6 day race quite a few times (Holds 6 day world record).  An experience that clearly not only inspires now but also provides a positive strategy, particularly in difficult conditions such as now.  "She stays so positive when she runs and keeps everything very simple."
"It is a whole different experience to be able to run."
Click to Play Video (Note poor audio quality):
Now is the time
     To make good use of time.
Today is the day
     To begin a perfect day.