Early this morning Nidhuvi came by me and spontaneously recited the daily Prayer.
The Happiness
of the the heart
Expedites the speed of the body
Guru Sri Chinmoy July 30th 2007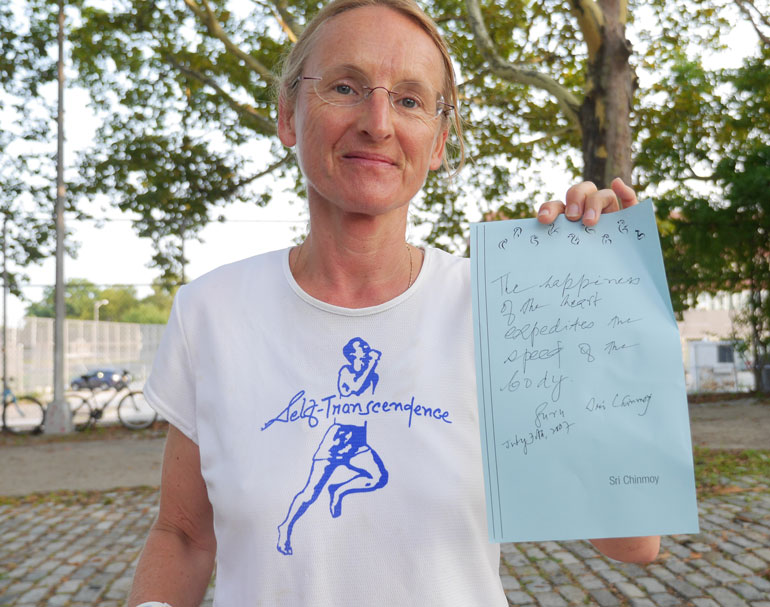 She told me it was going to be her motto for the rest of the day and continued on her way around the course.  A little later I ask her how it was working for her.  "If Sri Chinmoy wrote this then it must work."
"The important thing is to always remind myself to stay in the heart.  In my situation right now it is so hard to get out of the mind."  Nidhruvi now finds herself in the proverbial, stuck between a rock and a hard place scenario.  She has just 7 days of running left and has to run an average nearly 62 miles a day during this time in order to make the final 432 miles.   She has not been able to run even a 60 mile day now for more than a week.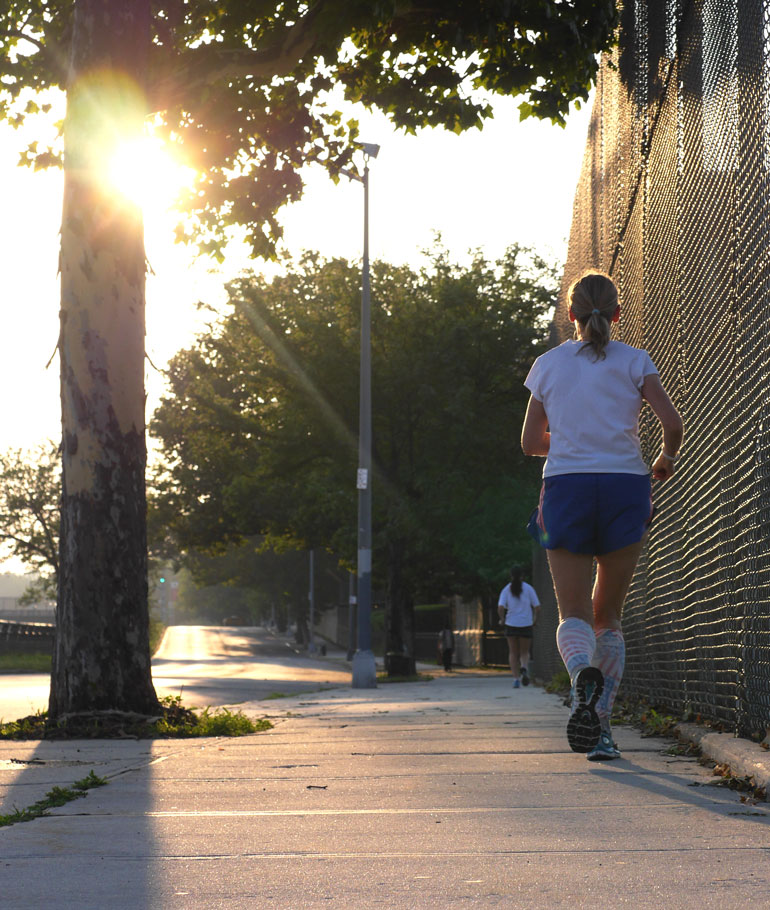 She describes a mental battle that rages from time to time inside.  Calculating laps and times and distances.  Trying to somehow work out a magic formula, that at this strict sad point in the race the math just might not work.  No matter what she does.
"I have been too much in the mind.  So when I read this poem in the morning I thought, I must really focus totally on the heart.  Because the outer miles do not matter any more.  At this point.  The most important thing is our inner progress and not what we reach outwardly.  The Supreme sees that we are giving everything."
The following clip shows the final few minutes of the first Women's Olympic Marathon in 1984.  In the first minute Joan Benoit can be seen winning the race, but if you watch just a little longer you will also see the entrance of 39 year old Swiss runner Gabriella Andersen-Scheiss coming into the stadium.
Clearly suffering from heat stroke she makes her staggering way around the final lap of the track.  An effort that will take her more than 5 long minutes and one in which she waves off any offers of assistance.  Knowing that even a touch from a medical person or any assistance whatsoever would immediately disqualify her from the competition.
She will finish the race in a time of 2:48  which places her in 37th position overall.  It is a time that would have been good enough to win the first 5 men's Olympic marathons.
*After 2 hours of medical care she had recovered*
My Lord, I run and run and run and run
To make You happy.
"My Child, you are the smile of My Eye,
You are the beauty of My Heart
And you are the pride of My Life."
As wonderful it is to have Sarvagata finish yesterday his absence on the course can be clearly felt.  He brought to the race so much energy and inspiration that he helped to motivate others.  By Thursday night the next runner will finish,Yuri.  The final days do not get easier for anyone.
The weather continues to be ideal but rain is forecast for Saturday.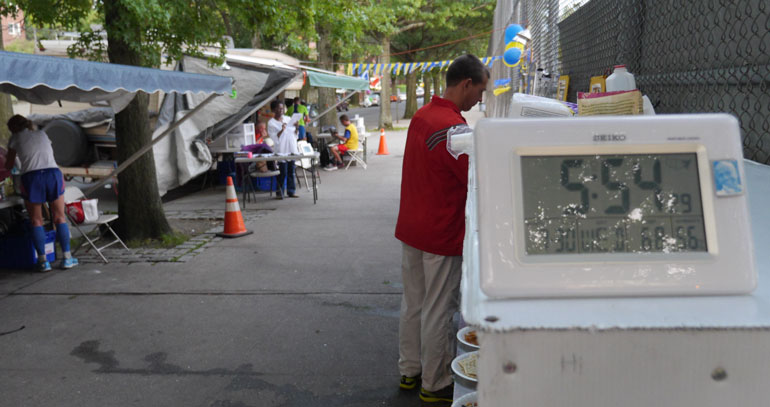 Bratislava is today's sponsor.
Tamara, Jayasalini's mom is now there first thing every morning to help.
Pranjal's toy was the big truck.  I am still trying to gather the info on who received which toy.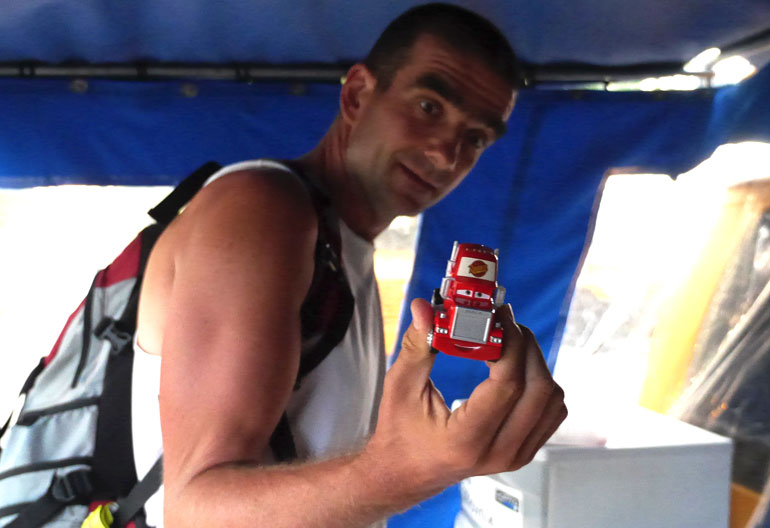 Start Day 46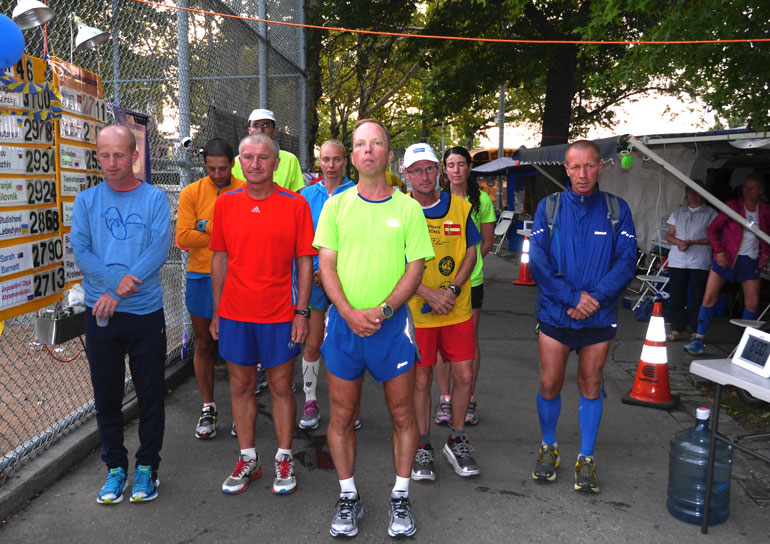 What Yuri has been able to do here this summer is literally shocking.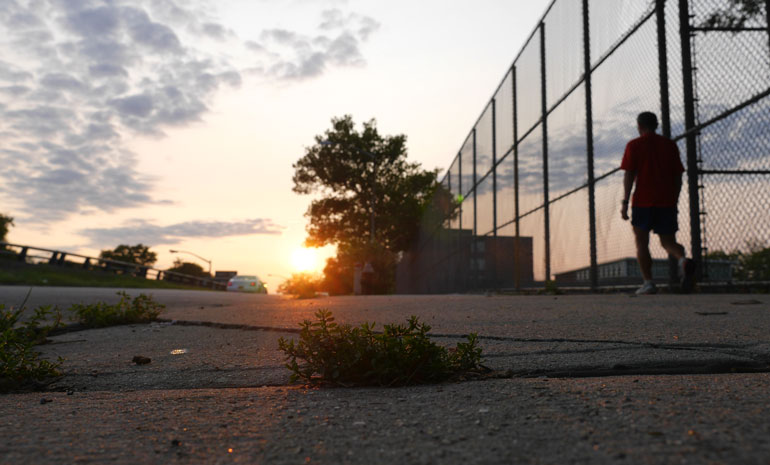 It is not just how consistent he has run here each day.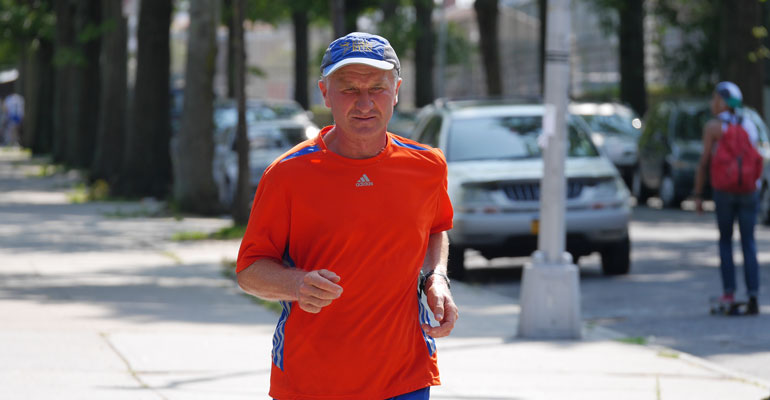 It is that his focus and discipline have been superb
Last night he ran 119 laps and this morning he starts with 2978 miles.  The 122 miles he has left means he will finish Thursday night.
He is close to 300 miles ahead of last year.  If this were the same race last year he would be leading the field by 40 miles.
The bear belongs to Ray I know.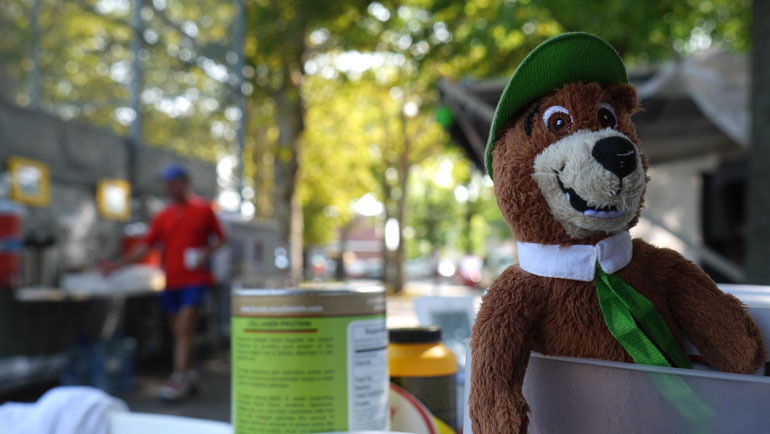 I hope to speak with Yuri in the morning.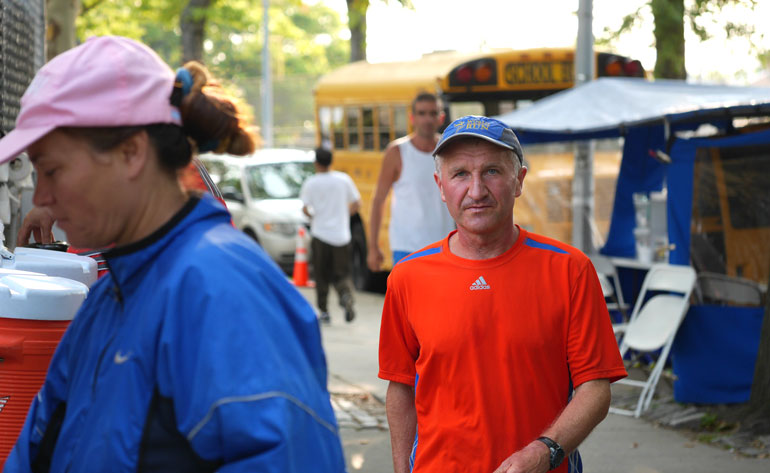 Vasu ran an amazing 138 laps yesterday.
He has clearly over the past few days shifted into a new gear.
His 2934 miles is 4 miles ahead of his time last year when he won the race.
He will most likely finish on Friday.
It is this kind of effort that also uplifts the performance of everyone else on the course.
They were out of lemon ice tea, so is Peach okay?
Pranjal did 114 laps yesterday.
He is now 98 miles ahead of last year. He starts the day with 2924 miles.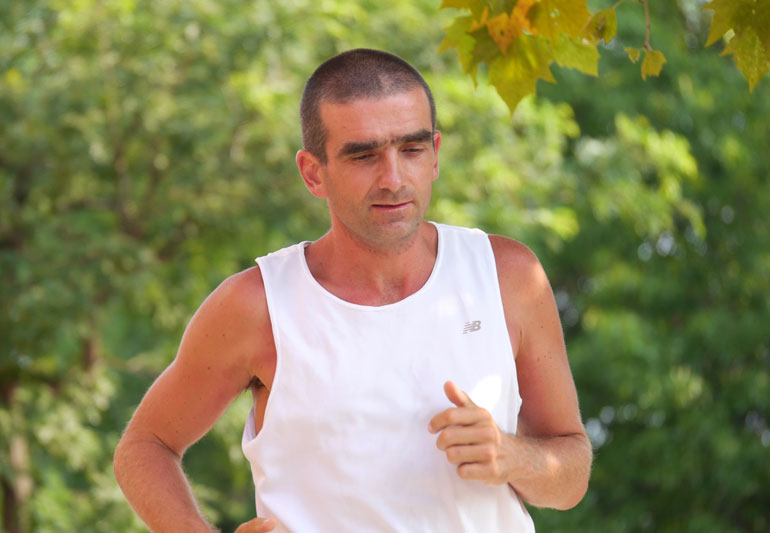 He should finish on Saturday morning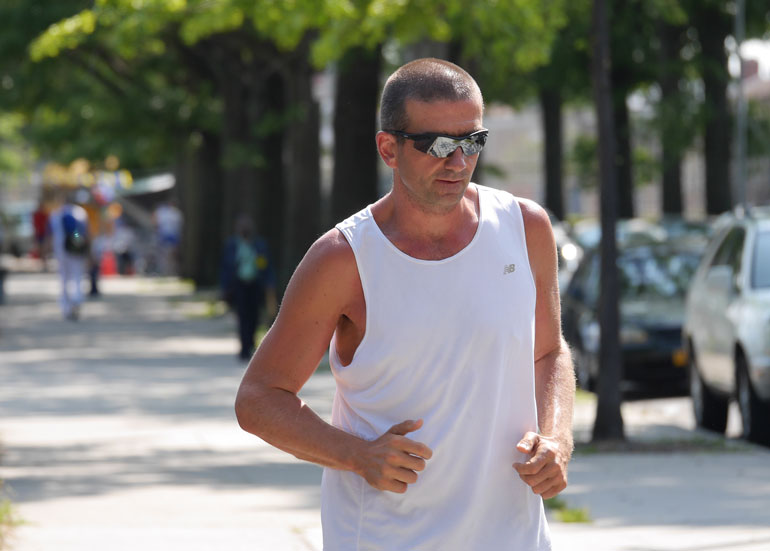 Stutisheel has been remarkably consistent.  He did 118 laps yesterday.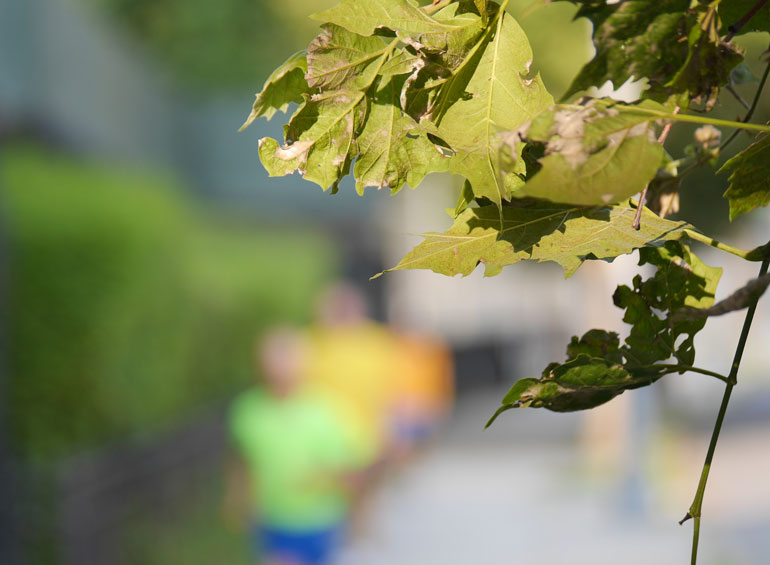 He has 2868 miles and should finish on Sunday.
A remarkable personal best for someone running here his 10th time.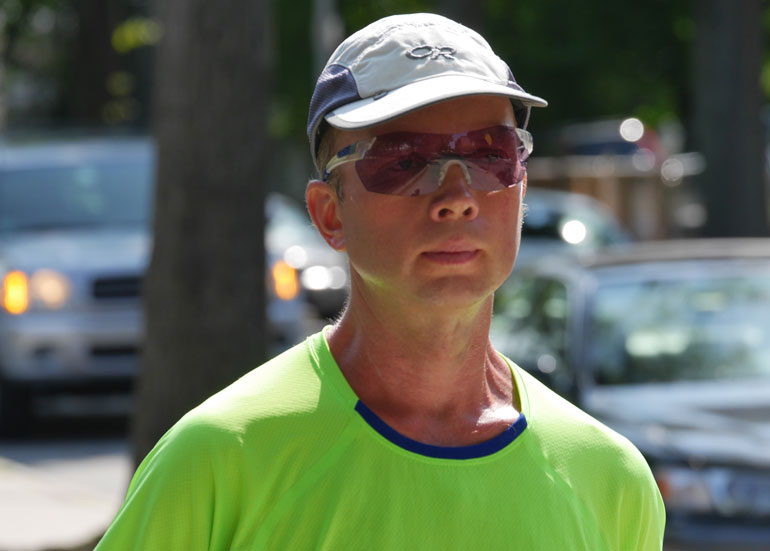 Sarah is now just 310 miles away from the finish line.
Her average pace is now 62 miles per day.  At this rate she will achieve the 2nd best ever women's time here.
She does a couple of laps this morning with Lotika.
Makes a pit stop and gets some advice from Atmavir before he heads back to Canada.
She ran 112 laps yesterday.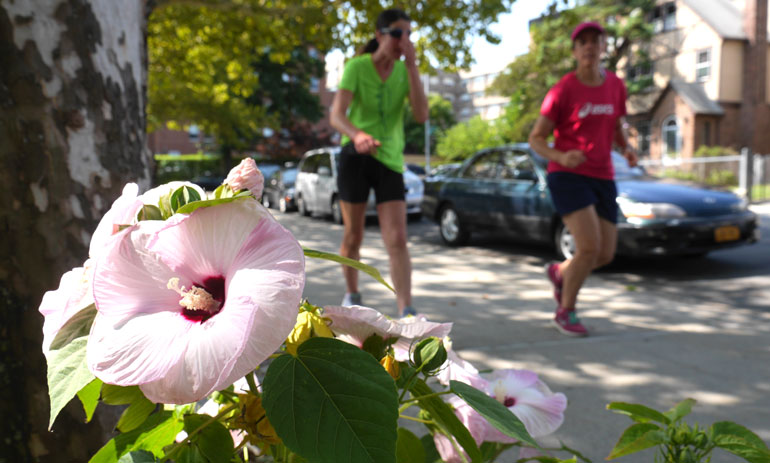 Hridayinee updates the board.
In case you wondered what happens to the old shoes.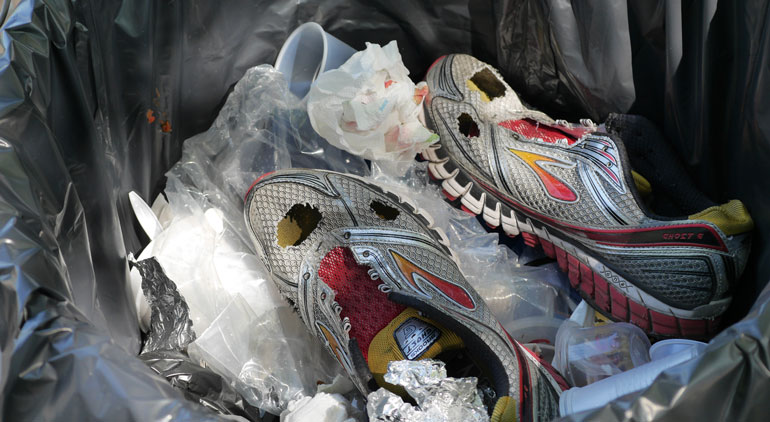 And yes a new dog can be taught tricks.  But I am not sure if counting laps is one of them.
What does a dog have to do to get away from all the photographers?
The light blesses all this morning.
She is now just 367 miles from the finish line
Her approach has not wavered since she began 45 days ago.
The recent appearance of her Mom Tamara is probably a great thing for the final hard miles.
By Jayasalini's table she seems to be always busy, "because it is needed."
"I do things for Jayasalini and also do things for other runners."
"Most importantly I am trying to inspire her."  She has lots of experience as a helper for her daughter having been to 2 10 day and 2 6 day races. "This is my first time at the 3100 mile race."
"Yes indeed it is much harder, for both runners and helpers."
She followed the race before coming as best as she could from her home in Moscow.  "In some pictures I saw that it was easy for her and that she was joyful, and full of life.  But in others and in Stutisheel's videos I could see as well that it was hard for her."
"But still I could see that she was able to transcend any kind of difficulties.  Even the ones that she was not telling me about."
I ask her Tamara why it is that Jayaslini can smile so much.  "It is probably her inner state.  Because she is very connected to peace and to giving joy to everyone."
As for the final days ahead which look like she will reach the finish line.  "I hope everything will be okay, and she will be able to finish with a good result."
As for herself, "I just want her to be happy and that she has everything well in her life.  The numbers are not important."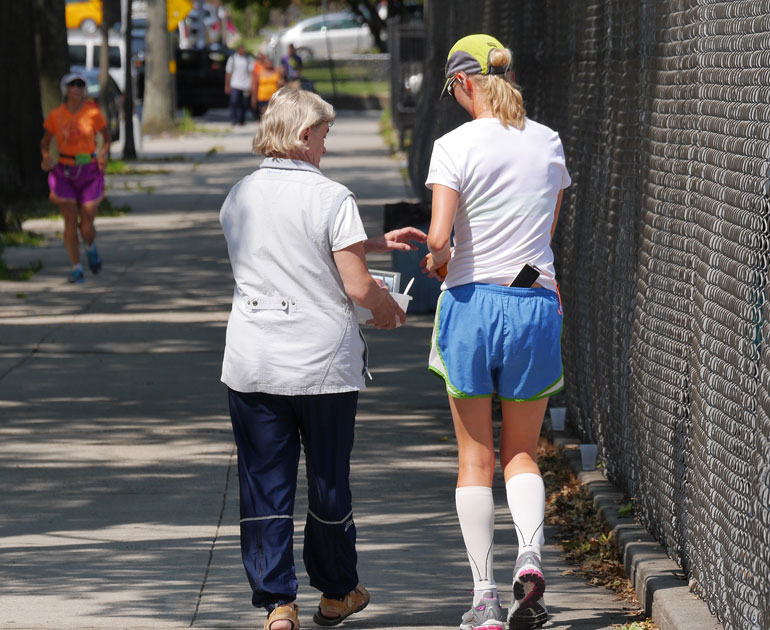 Click to Play Interview:   (Translated by Lotika)
Time appears to be passing more swiftly even though it isn't.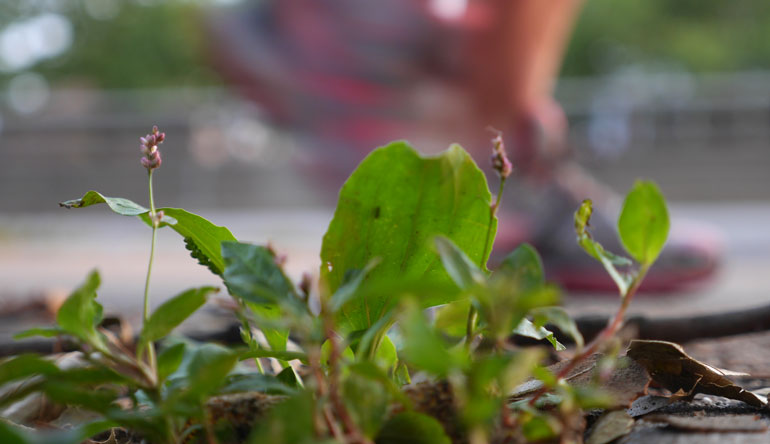 William is simply continuing to pound out the big days.  He did 118 laps yesterday.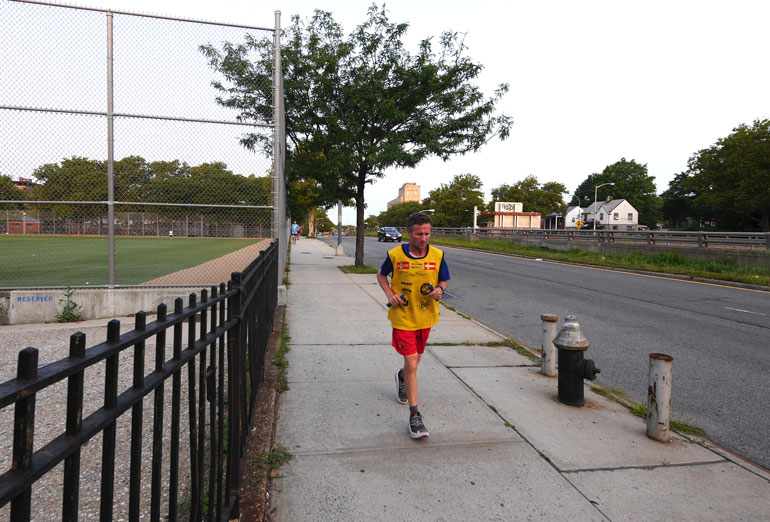 Sometime late this morning he passed Jayasalini on the board.
But you can't imagine he cares so much about such things now after 45 days of running.   So much further than every before.  He has 2711 miles and will most certainly finish in plenty of time at this rate.
He is certainly rewriting the Scottish record books and as Alan says, accomplishing something that the UK has not seen since the day of the great pedestrian Racing .
I ask Nidhruvi if the morning's prayer is also applicable to other races.  "Everything is energy, I think and I feel.  So I let the energy flow if I am happy.  Then it is something positive and I am not blocking.  But if I am in my mind.  If I am worried than I am stuck in my mind.  Then I guess I block the energy and I block the body's energy also."
"It is very practical."
"I think it is the secret of life.  I mean this short poem is the secret of life.  If you stay in your heart, and be happy.  Happiness can only happen in your heart.  Because the heart is free and open, and the mind is limited."
"It doesn't matter what we do, where we live, or what work we have.  We still have to remember the same thing, happiness in the heart."
"Open up your heart.  Close your mind door, and you will be free."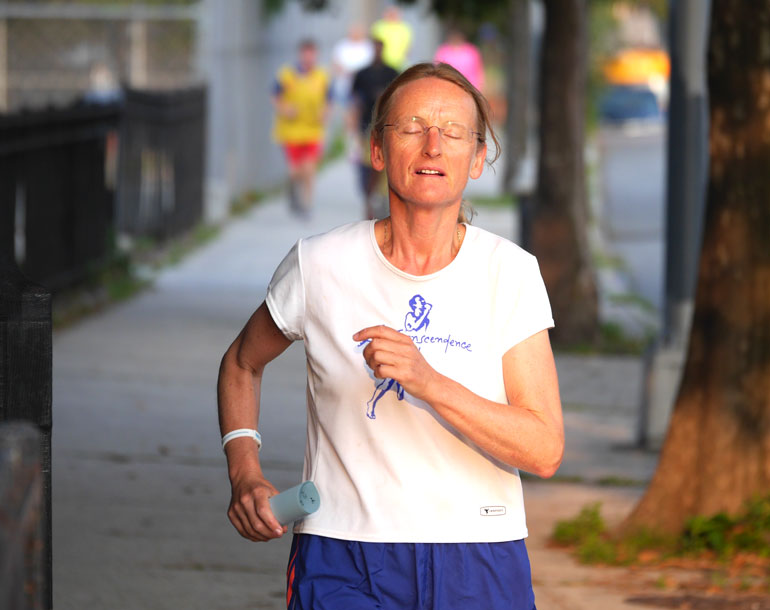 "It is a life task, from when we are little to when we are old.  This is what we have to work on.  I think that if we get that than everything will be fine.  There will be peace in the world.  Because when we are happy there is nothing that we complain about or criticize.  We criticize only when we are in the mind.  When we want the things that we want to have. But if we stay in this state of consciousness of happiness, than everything is flowing and you always do the right thing.  You see the bright side of life, and you see the light in others and you love them."
"That is my philosophy, love and happiness, they go together."
She says that in the race you also have to focus and there is always a standard.  "If we can't reach the 3100 than we try and get another focus.  Otherwise you are lost."
"This is not a normal race.  This is such a special race."  Things are happening here inwardly that she says are so high, "that you can't ever imagine."
She describes the task of the runners than to be good instruments for this consciousness and purpose to unfold as it is supposed to.  "If we are unhappy or we give up, or we are desperate, or we are in doubt."  Than how can the vision be brought forth she says.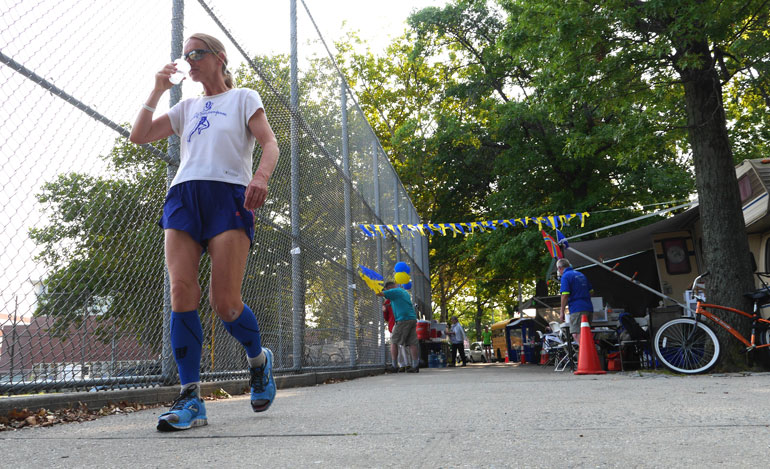 "It is a golden opportunity."
Click to Play Interview:
Everybody says, O the Peacock, such a great bird.  Have you seen him fly? Have you heard him sing? Ha!
Vishvarupani waiting for Nidhruvi.  She has done a great job along with Lyalya
Just down the block are more great helpers.
Baladev had 100 laps yesterday.
He has 2592 miles.
Baladev doing his best from morning until night
Teekshanam had 103 laps yesterday. He has 2382 miles so far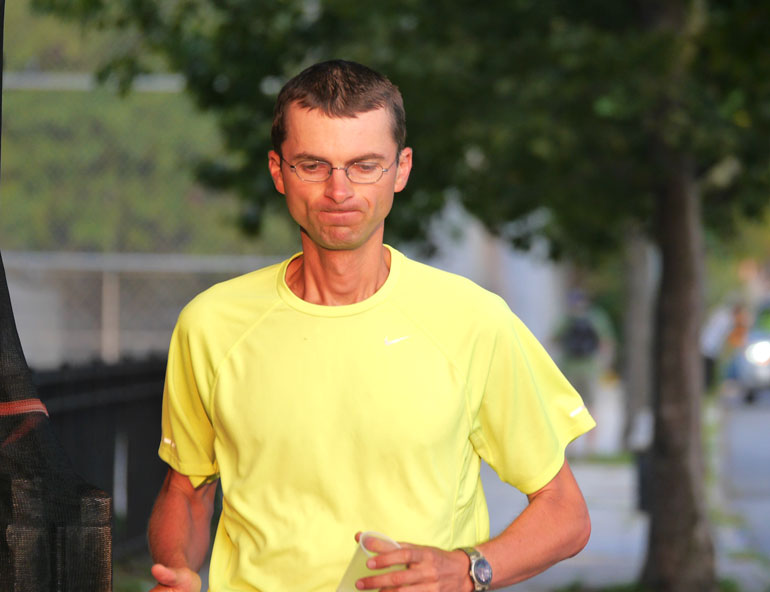 And when he puts on his hat latter he attaches the toy that Sarvagata gave him yesterday.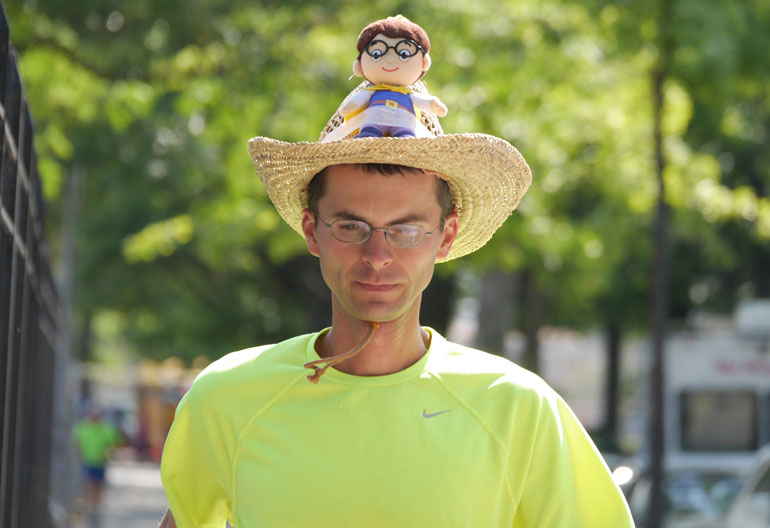 Somethings are not so easily attached
Life is about going places, hopefully up as best we can.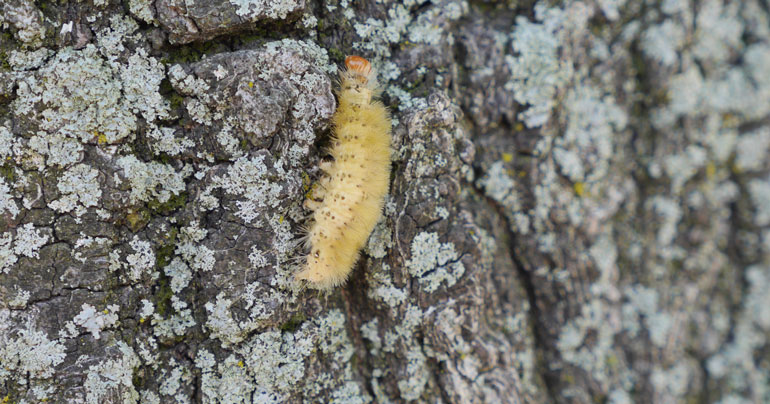 Ananda-Lahari is certainly going.
He did 79 laps yesterday and has 2078 miles.
Growth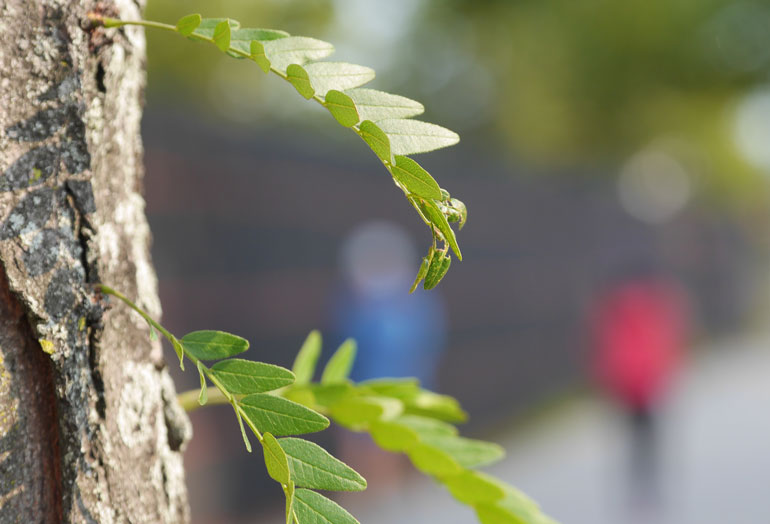 There is an honored guest at the race today.  Sarvagata has not forgotten how to sit or to check the lap sheet.
The sun passing above
Ray did 79 laps yesterday
The combination of Ray, William, and Alan is an interesting one to say the least.
And out of fairness I would never dare write a caption for this.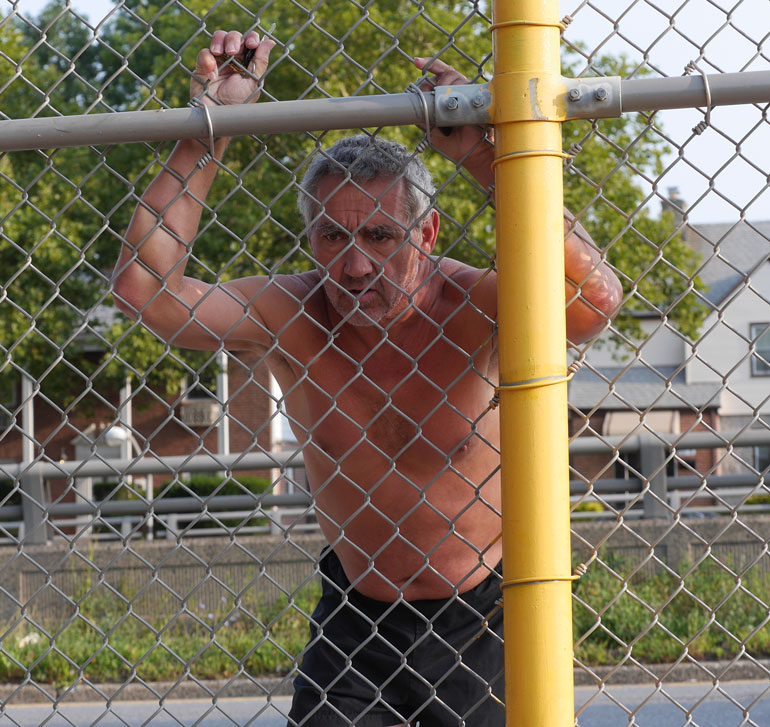 So I will let Ray and Nidhruvi instead walk off into the sunrise.
Enthusiasm Awakeners.
Song of the Day
Click to Play:
The happiness of the soul
Eventually conquers
And transforms
The sadness of the heart.
Sri Chinmoy, Seventy-Seven Thousand Service-Trees, Part 5, Agni Press, 1998