It is a scene he can never grow tired of and of course neither can we.  We who have watched his long odyssey unfold before us over these past 44 days and even longer.   For it is a run that began in many ways 4 years earlier.  One that can never be mistaken for as easy or that even reaching the finish line assured.  No matter how hard you press and push to make it there.
But 41 year old Sarvagata from Berdansk Ukraine does make it look so effortless today.   As he, with his sister at his side runs across the finish line in first place after 44 days, 6 hours, 58 minutes.
Sarvagata finish:
It is a victory as well made even sweeter with the knowledge that he has bettered his previous time by nearly 7 hours.  A time which can either appear, depending on how you choose to view it, as either infinitesimal or grand.
For how do you compare measurements of time against a distance that lies almost beyond belief itself. Though somehow we are able to grasp some small measure of what he has done.  Yet there is part within us all that understands and feels the bright promise that is above and beyond the numbers.  That thing which gave strength to his steps and courage to his heart calls out to us as well.
Some of us have had the good fortune to see so much of the splendid performance that he offered to this hard bit of road and also to the  world, who may not even notice.  For what he has done  here is not some thing he has achieved just for himself but it is also a gift that he freely offers to all.  To everyone who is hungry for the light of perfection and thirsting for the nectar of transcendence.
If there was any unique or special reason for him to succeed so well this year Sarvagata gives full credit to his sister.  "She was in every second of this race." At this moment he takes of the wreath he has just been given and places places it upon her head.
"We all understand really from the very depths of our hearts.  Today we celebrate not me, not this human being.  But the one who is behind all that.  You know who I am talking about."
Click to Play Speech:
"Another personal best.  Which is 69.996 miles per day.  He now moves from 5th to 4th all time.  This is the 8th fastest performance in the 18 year history of the race."
"I am so proud of him because, he doesn't talk a lot and he doesn't interact with the other runners a lot.  Because he is so focused, on playing the game.  Of excepting whatever comes.  He had such a great 10 day leading up to this.  Six weeks before the race started.  He ran 160 miles on the last 2 days.  He moved up from 5th or 6th place to 2nd for the gentlemen and 3rd overall.  It was a breakthrough for him he got well over 700 miles.  So he became the favorite coming into this race."
"He showed tremendous poise.  Running some nights running 20 to 30 laps under 6 minutes.  This after running thousands of miles at incredible speed.  He was also pulling everybody else behind him too.  There are going to be at least 4 or 5 personal bests in the top 7 or 8 finishers.  It is exciting to see a great performance.  From the Marathon team congratulations.  You are the 2014 champion."
"Please come back again."
Click to Play Interview:
A film from a few years ago.
Music by parichayaka:
I celebrate myself.
Not because I am perfect,
But because I admire
Perfection's core.
I celebrate myself.
Not because I have satisfied God,
But because I am nearing
His Satisfaction-Door.
Sri Chinmoy, Three Hundred Sixty-Five Father's Day Prayers, Agni Press, 1974
There is look to his face as he arrives and looks at the board perhaps one final time.  Just 33 miles more.
The girls arrive
A cameraman named Gilles for a French station is here to record some of the race.
Start Day 45
He stands one last time at the line.
One last meditation.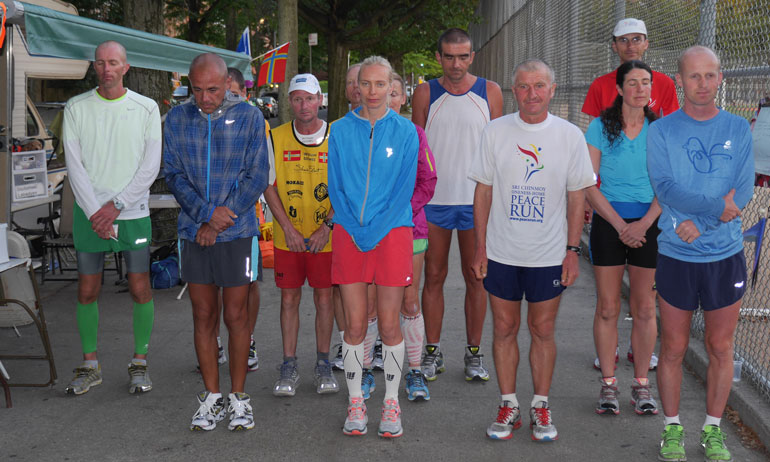 Then honored by all.
Once more a perfect day.  Vasu leads the way this morning and he as of this morning caught up with his pace of last year, 2859 miles.  He ran the most laps yesterday 131.
"I felt it yesterday.  It was like one day.  Everything happens in one day."  I had joked with Sarvadhara at the beginning of the race that she would soon be out of a job.
She says that everything appeared to go so quickly because, "everything was harmonious.  It was natural."
"We had to let everything go as it is."
"Now I don't feel that there was anything really important in my role. I feel that he can do it by himself, without any helpers."
"Really I am very grateful to him that he allowed me to be here and help him.  Because here I experienced some really sweet, very deep, and very meaningful things.  Because of this I feel I should be grateful to him for being here."
She mentions that before the race she spoke to Jaival, who has helped Sarvagata in the past.  She asked what advice he had to offer.  "He told me, just love him."
"I didn't think of loving him or not loving him.  It was just natural because he is my brother.  Of course I love him.  I have to say it was easy.  It was the most beautiful summer I ever had it was my summer vacation.  The easiest one.  The most fulfilling.  The most beautiful."
She has no plans for this evening or even tomorrow, now that the race for her as well will soon be over.  She says she wants to live one day at a time.  "it will definitely take him some time for him to get back to normal. To recover, and probably he will also need my help."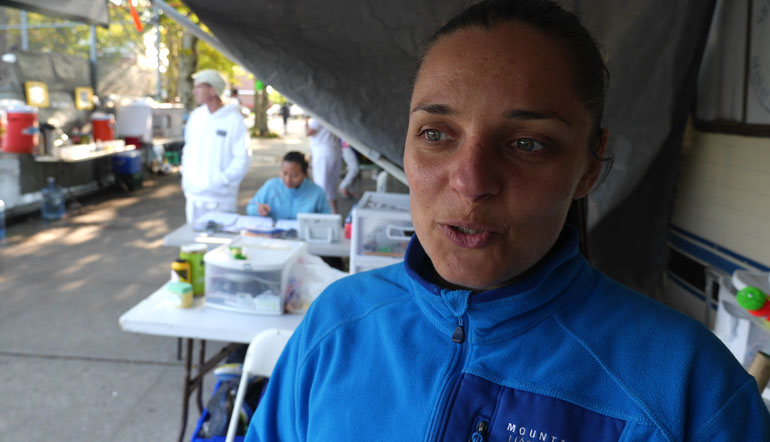 "I also want to spend more time with him.  All this time he has spent running.  And actually we didn't spend much time together at all.  Except for a few seconds every 6 or 7 minutes.  So I hope we will have some good time together.  Definitely I will come here not once and help other runners.  Or do something for the race."
Click to Play Interview:
A contest
Sometime over the last few weeks of the race Sarvagata wanted to show his gratitude to all of the other runners.   Sarvadhara says, "This project took me 2 weeks to gather all the toys together.  Because it was very difficult to find all the toys that he wanted."
Sarvagata very specifically saw a toy that he wanted to give each runner and it included lots of details including color and size.  "He even had a description of every toy. "
She went to lots of different stores in her search for the right toy and even bought some online, hoping that they would come on time. "It was a fun and exciting task that he gave me.  I think this ideas is just excellent, because every runner will have something."
She says that after he finishes this morning there will be a contest for all the spectators.  "They will have to guess which toy belongs to which runner."
If any of you would please care to make a guess as to which toy goes to which runner please offer it in the comment section here
or email the Sri Chinmoy Marathon team at
scmtny@earthlink.net
Yuri is a phenomenal 255 miles ahead of his pace from last year.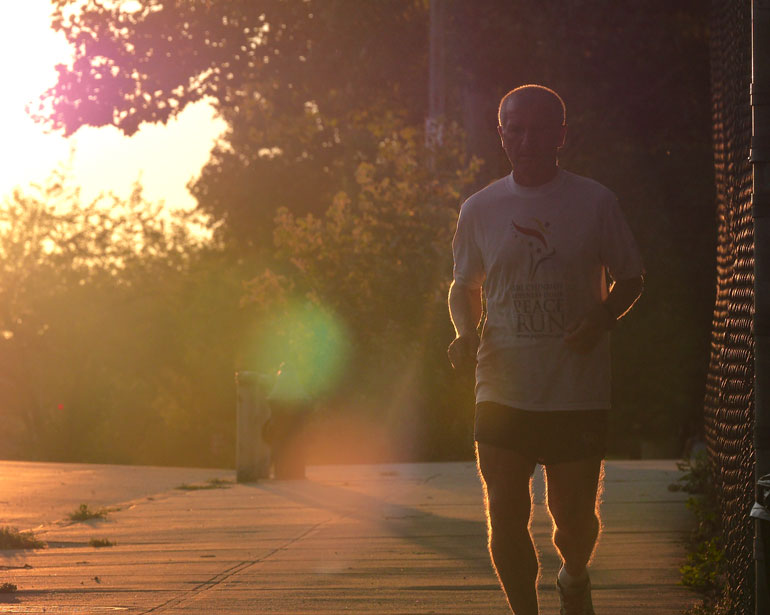 He ran 116 laps yesterday and starts the day with 2913 miles.  He should finish on Thursday night or Friday morning.
Pranjal also had 116 laps yesterday.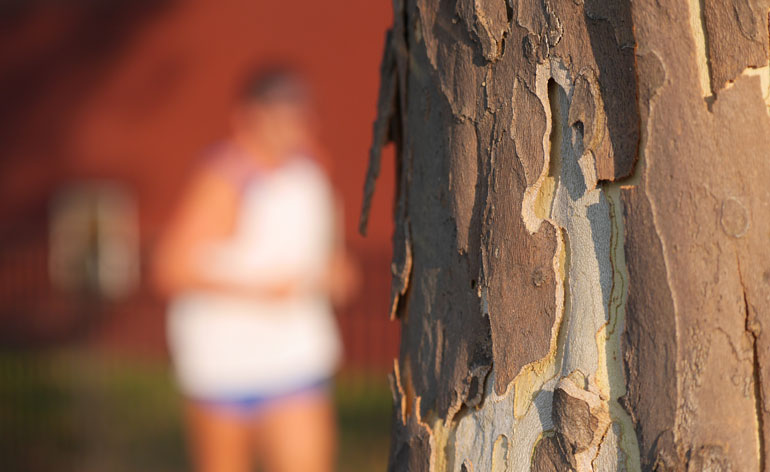 He starts the day with 2861 which is almost 100 miles more than he had last year.
He says it will not be a personal best and that he should finish on Friday.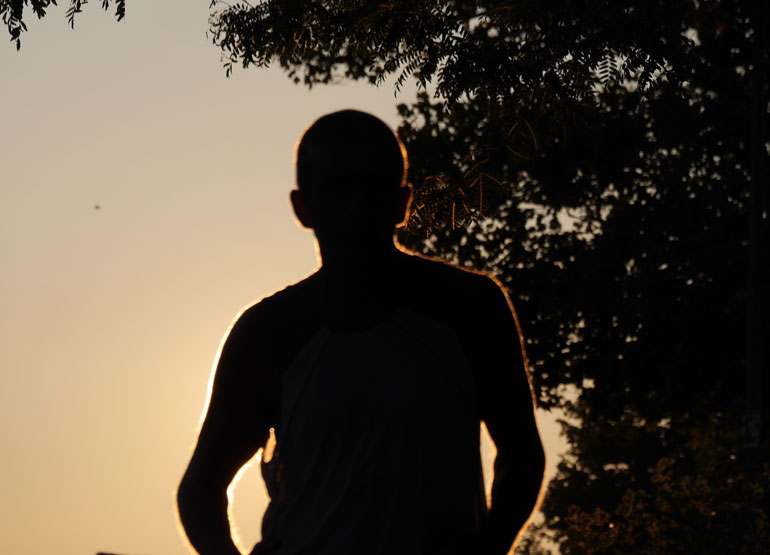 He had the most laps with 131.  Pranjal says that today Vasu will pass him on the board.  It doesn't matter at all.  They are both doing their best.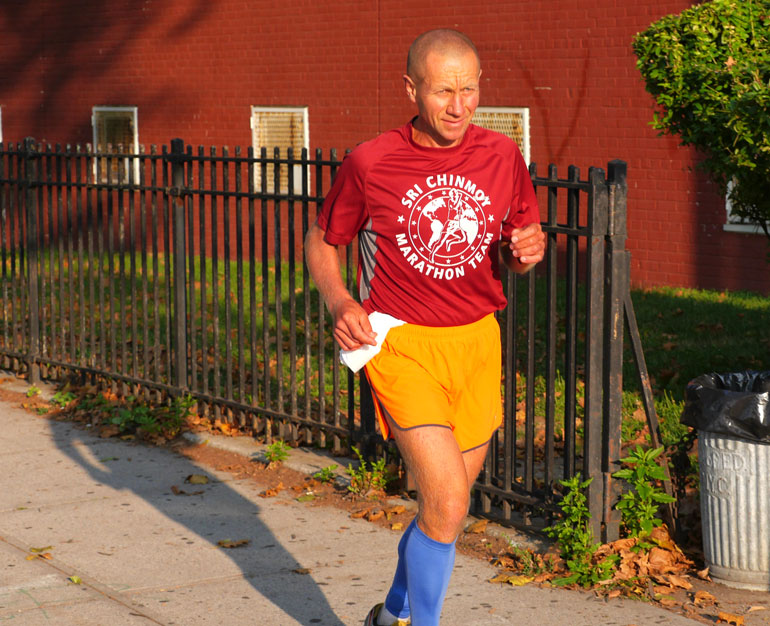 He has to keep running incredible miles to surpass his last years time.
Camp.
O I wasn't expecting any visitors. But please come on up.  I am on the second floor.

Come on in but watch out for that first step.
We can order out if you like.  My fridge is empty.  O, and I also have wifi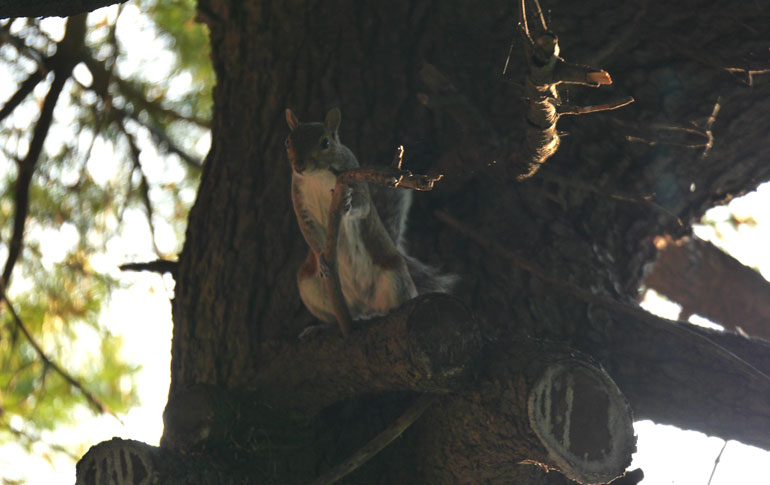 Stutisheel had a good day with 120 laps.
He has 300 miles to go.  He could finish with a personal best on Saturday morning.
Stutisheel has an experienced helper in his daughter Alakananda.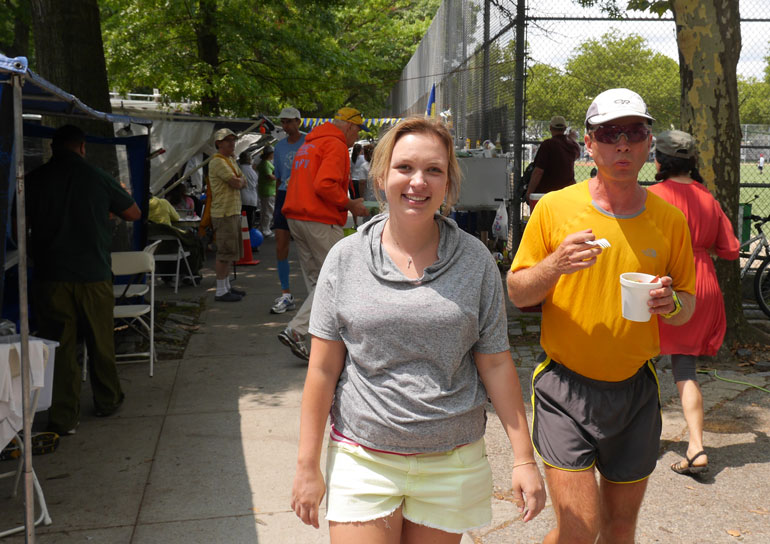 Sarah had an excellent day with 111 laps.
The blue group.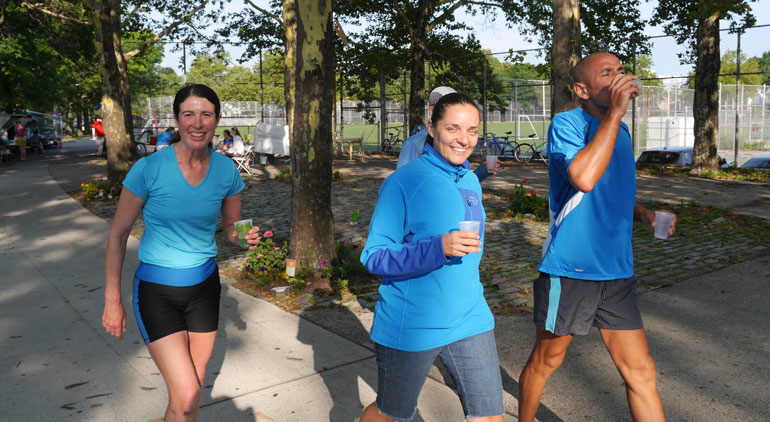 She has 2728 miles.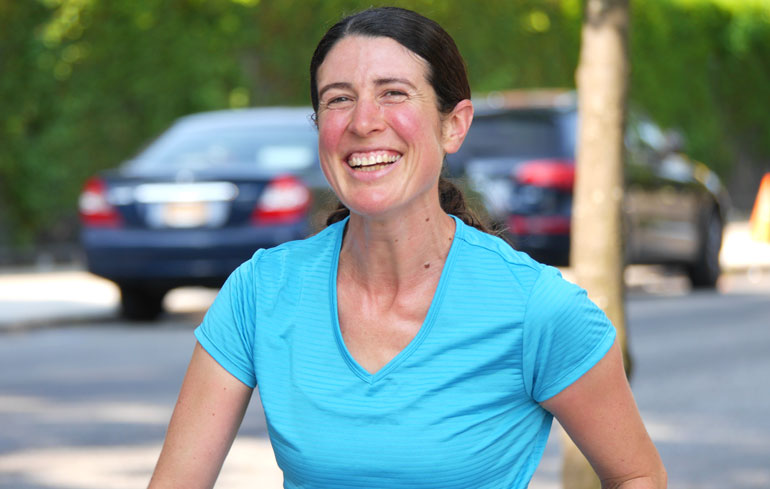 Jayasalini had 110 lap day.  Something she has not had in 9 days.
She has 2655 miles and runs some laps with Antana
Pati has a poem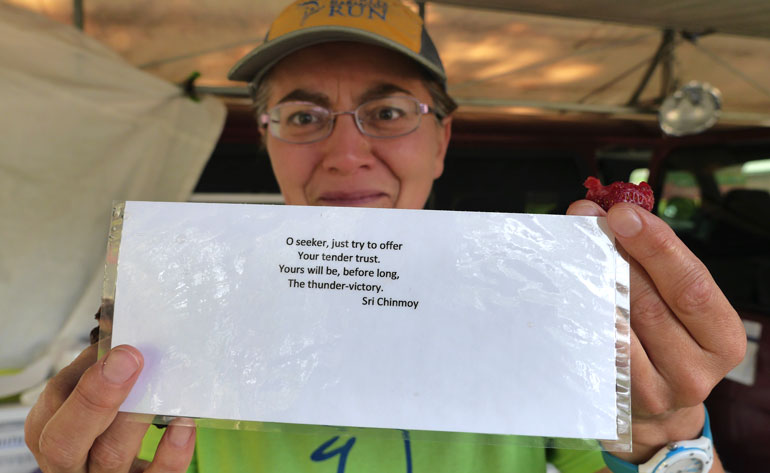 Jayasalini has 454 miles more.
Karabi counting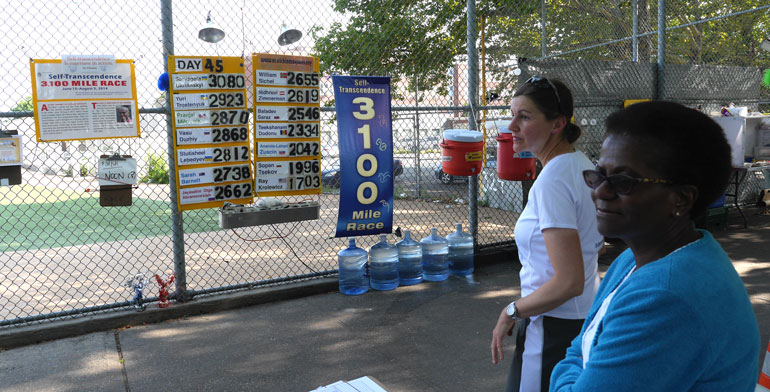 Morning snacks arrive.
The weather is working in William's favor and for everyone else.  No heat wave.  No heavy rain.
William had a big day with 118 laps yesterday.
He has 2646 miles so far and thus has 454 miles more.
His breaks are really short
He is precise in all things. Alan makes sure that it is so.
He only has 454 miles more.  So all he has to do is a little more than 56 miles a day over the next 8.
Nidhruvi had 107 laps yesterday.
She is running with every effort that she can.
She finds joy in the little things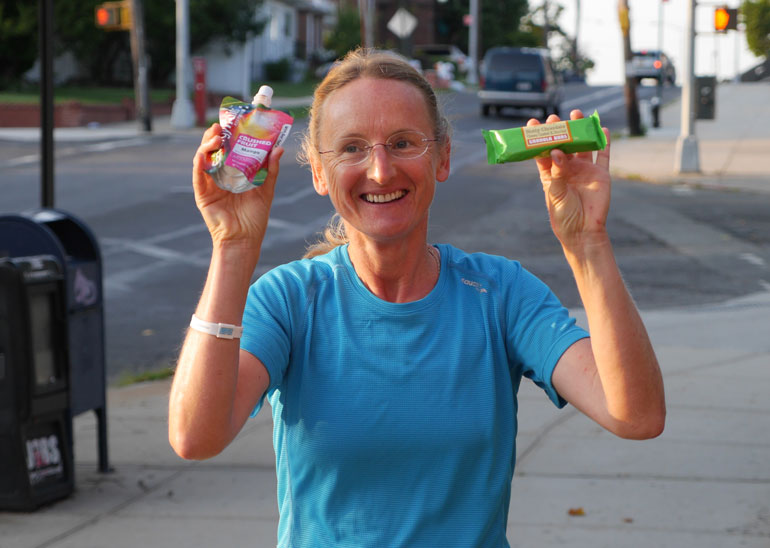 She has 2611 miles.  She has 8 days in which to run 489 miles.
We hope only for the best.
Baladev had 104 laps yesterday.
He has 2537 miles
This is his home.
He is 111 miles ahead of last year
O, we really shouldn't have ordered the extra large pizza
And definitely no extra cheese next time.
Teekshanam has had a whole series of good days now.
He had 113 laps yesterday
Looking more comfortable every day.  He has 2325 laps.
Materials both hard and soft, yet nothing lasts.
Ananda-Lahari had 92 laps yesterday.
He has 2035 miles.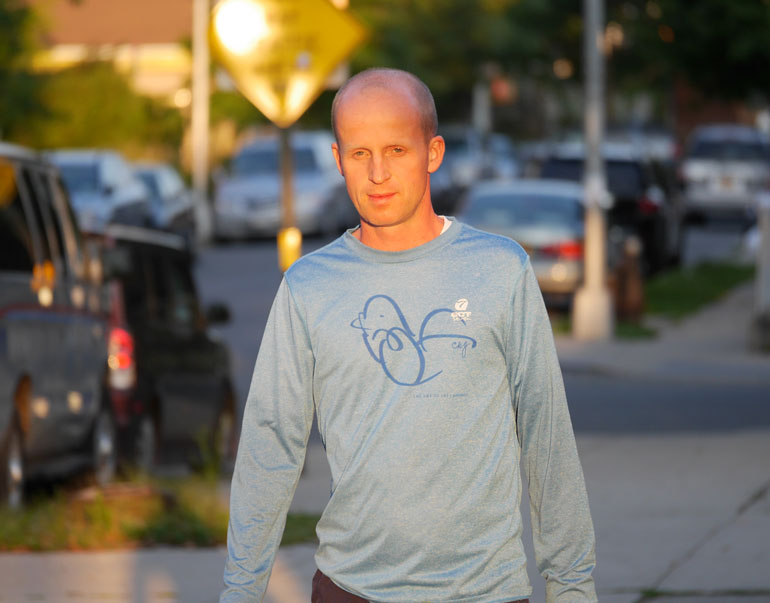 You never know who or what may be lurking in the tall grass.
Ray finished yesterday with 1700 miles.
I see him in the morning carrying a bicycle wheel.  When I ask him where the rest of the bike is he says he has it home already.  He found a bicycle last week without a front tire.
Apparently the lion was only looking for a friend.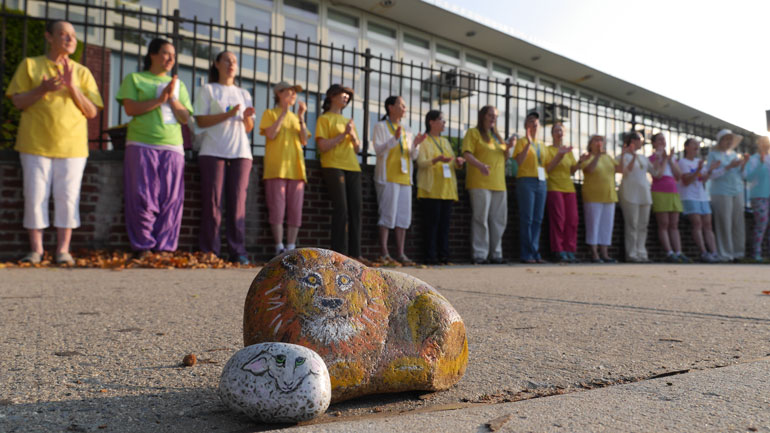 More things to be revealed
He runs one last morning here.
The sign says when he will finish.  But is it right?
This is the face of a champion.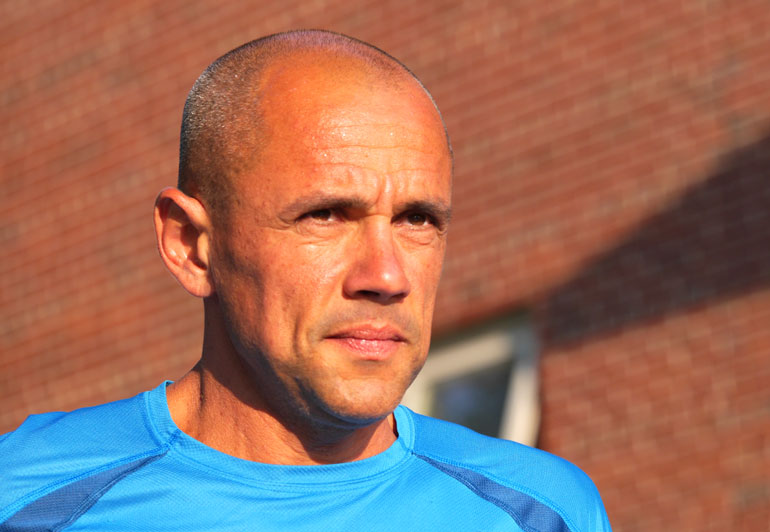 Sahishnu checks his papers
Push to the limit as much as you can.
The Enthusiasm Awakeners congratulate him for what he has accomplished here
Rupantar is interviewed about the race
Click to Play Interview:
The number is changed
The tape is broken
He is honored by all.
The Prayer of the Day
Click to Play:
Enthusiasm Awakeners
Song of the Day
Click to Play:
My adamantine determination
Is the secret of my every outer victory.
My soulful gratitude
Is the secret of my every inner victory.
Sri Chinmoy, Ten Thousand Flower-Flames, Part 47, Agni Press, 1982