We really know so little about most of the runners who started out on this great adventure a little more than 24 hours ago.  At the very least we can read a few sentences in the bio section of the race program.  Most often we simply look up at the results board and take some small measure of their accomplishments, at least to that moment in time.
Yet so much of who and what they are we do not know or can ever really appreciate.  As the race evolves we all gradually can catch glimpses of at least some of the pain and joy each is experiencing along the long hard way.  But so much about these runners remains enigmatic and sometimes a little unreachable.  Everyone is entitled to their privacy even if they are on public view for 18 hours a day.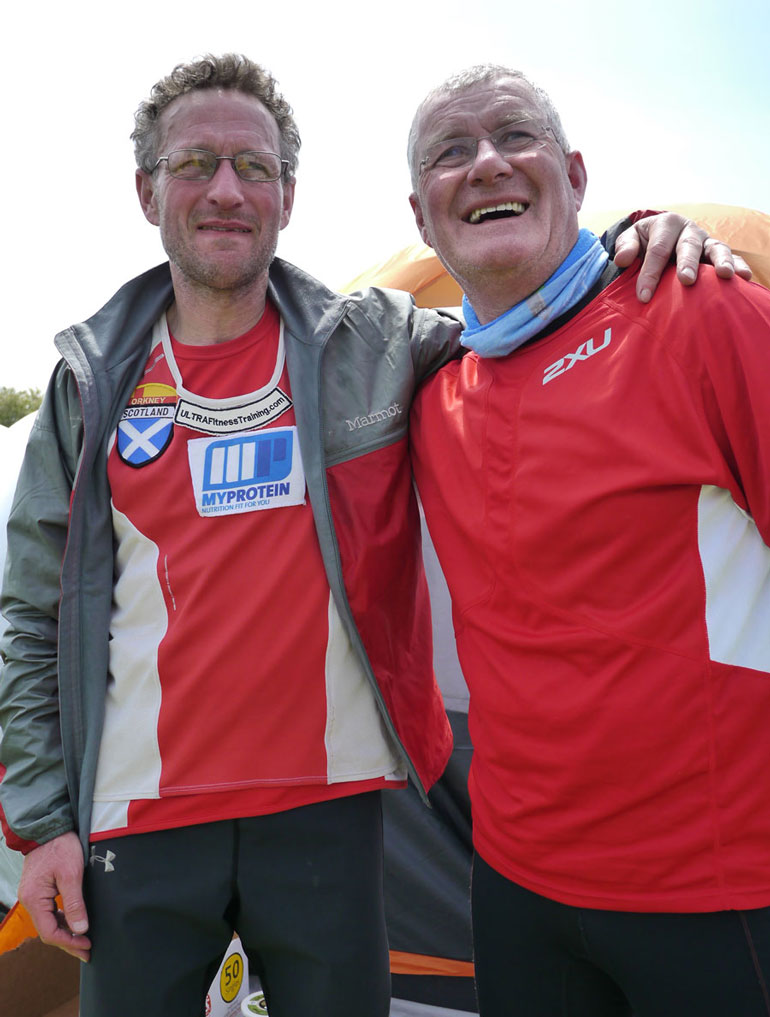 The first time William Sichel came to run a Sri Chinmoy marathon team race was in the spring of 2012.  At age 58 he was on a serious quest to attain the holy grail of Scottish distance running and still the oldest untouched record in the world.  Standing remote, and seemingly unattainable after 130 years was the Scottish 6 day record set at Madison Square garden in 1882, of 567 miles.  Set by a man oddly named Noremac ( Cameron spelled backward…. which he thought there were already to many of).
With the capable assistance of his handler Alan Young, he managed to complete 461 miles, a great accomplishment but not what he had sought.  He said at the time, "I think I will remember this as very very hard probably one of my toughest ever 6 day races.   (this is number 5) "They threw everything at me.  As you can hear I have an infection and some very tough opponents as well.  Put that into the mix and made it a very very hard race.  So to come out with a podium position I take that as a bonus."
Back in the Spring of 2012 William was 58 years old.  Noremac, the man who made set the record had been much younger and accomplished the feat on an indoor track, and did not have to contend with the cold, the wind, and the rain of Flushing Meadow, though there was lots of betting going on back then.  When William left New York that cool spring day he had his eyes now set on another goal.  One that was going to be incomparably and supremely more difficult to accomplish.  That was his running of the Sri Chinmoy Self-Transcendence 3100 mile race.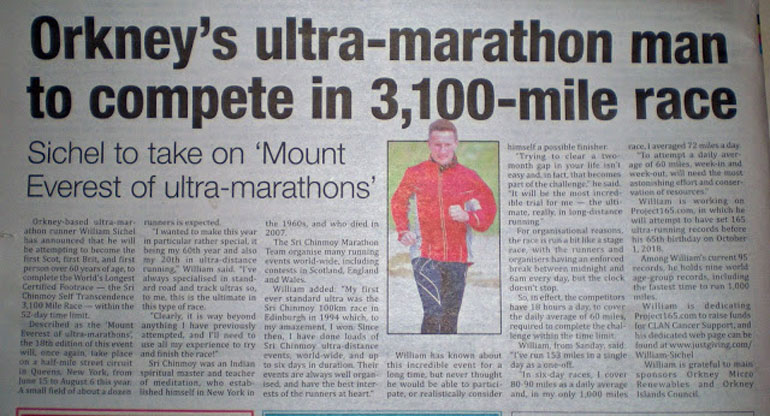 In the soft brightness of dawn he prepares himself to run on this his second day here, in those dim precious minutes before 6am.  He quietly moves about his table with precision and calmness, organizing all his bits and pieces, which aren't many.  He has no helper for this race, at least for now.
Many of the other runners are a generation younger than he, who turned 60 on October 1st last year.  His small slender frame and curly brown hair give no hint at his age or more importantly, just what an incredible athlete he is.  For William just may be the greatest multi day runner that the United Kingdom has ever produced.  But he is just the quiet and humble kind of man who is comfortable and at peace with himself. He is not interested in promoting and talking about all the things that he has done.  For now you can see he is more interested on focusing all his thought and energy instead on what he has in front of himself right now, running the longest certified race in the world.
With just a few key board clicks however all that  William has attained over an impressive career can be revealed.  In all his years of competitive running he has accomplished a truly illustrious resume of ultra running achievements.  To date he has achieved 95 records, which are recognized as Scottish, or UK, or even World records.   When he completes the 3100 mile record, some time still a long way off right now.  He will not only be the first person from Scotland and the UK to do so, he will also be the first person at the age of 60 in the world ever to accomplish this feat.
After which he doesn't plan on taking it easy any time soon, because before he reaches age 65 he is challenging himself to complete a grand total of 165 records.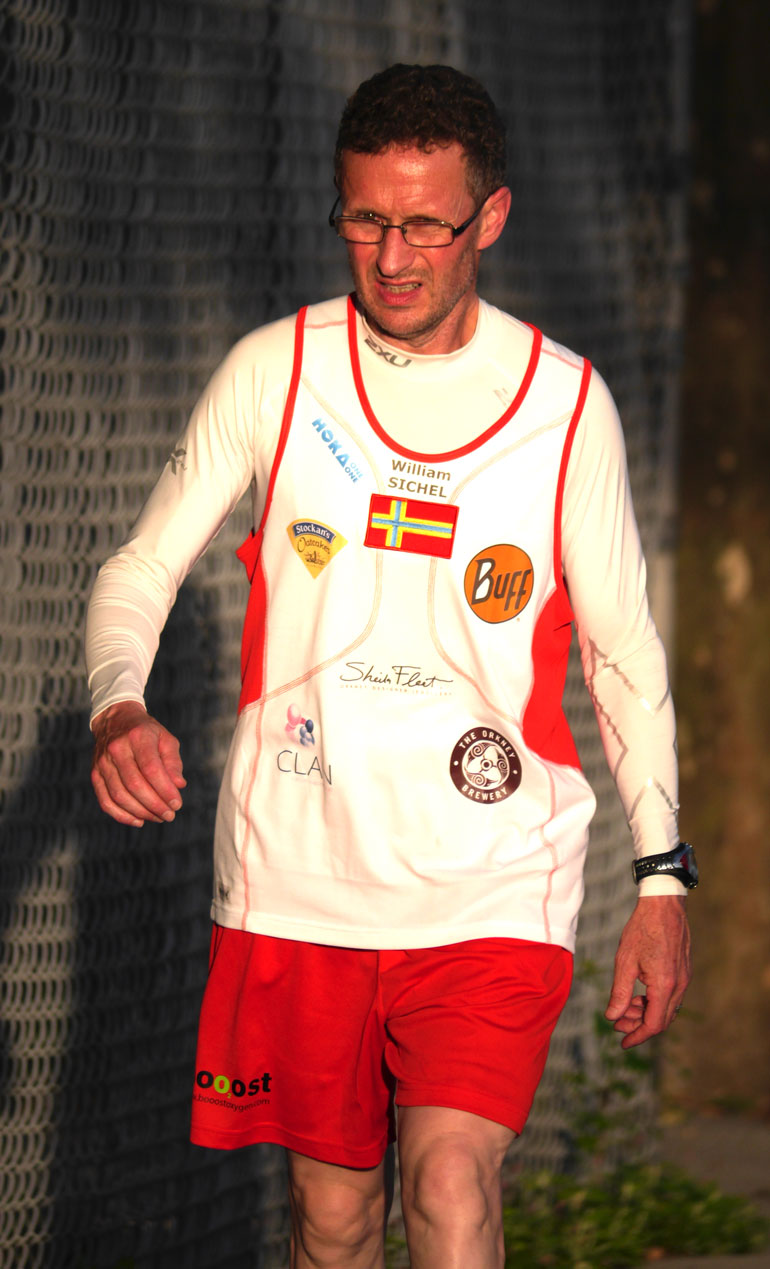 Early this morning I jog beside William as he moves along with his light economical whisper soft strides.    It is a little after 7am, a crazy time for most interviews, but kind of par for the course if you are a multi day athlete on the course for 18 hours a day, and also one who ran 71 miles the day before.  For someone who has accomplished as much as he has in his running career he is incredibly modest and thoughtful.  He describes that just to get to the starting line here was a real accomplishment for him.
He is also using the race here this summer to help raise money for a charity that helps those with cancer in North East Scotland.
Click to See Charity Site:
"I said before I came, just to stand on the starting line I needed a medal. (laughs)  Stapling my name to the starting list was an undertaking."  For like all the runners he also had to organize in advance for 2 whole months of his life.  "So that you can disappear.  That was all part of coming here."
Another interesting aspect as well about William Sichel is also where he comes from.  Like many of the runners here from foreign lands, running the 3100 mile distances is sometimes nearly enough mileage to get them back home again.  According to Google the distance from New York to Edinburgh is almost that number.  Perhaps an additional 100 miles more.
Google has also very generously offered an air fare of just over 1000 dollars should anyone of Alan's friends or supporters would like to come for a visit. But arriving in Edinburgh would still leave William with still a very long way to still yet go.  For he lives on Sanday in the Orkney islands.  A place inhabited by about 540 people, which perhaps has more sheep than humans.
A place, that has something like a little less that 50 miles of paved road, that is including all the streets, cul-de-sacs and lane ways.  In other words a place that is just about as remote from Queens New York as it is possible to be.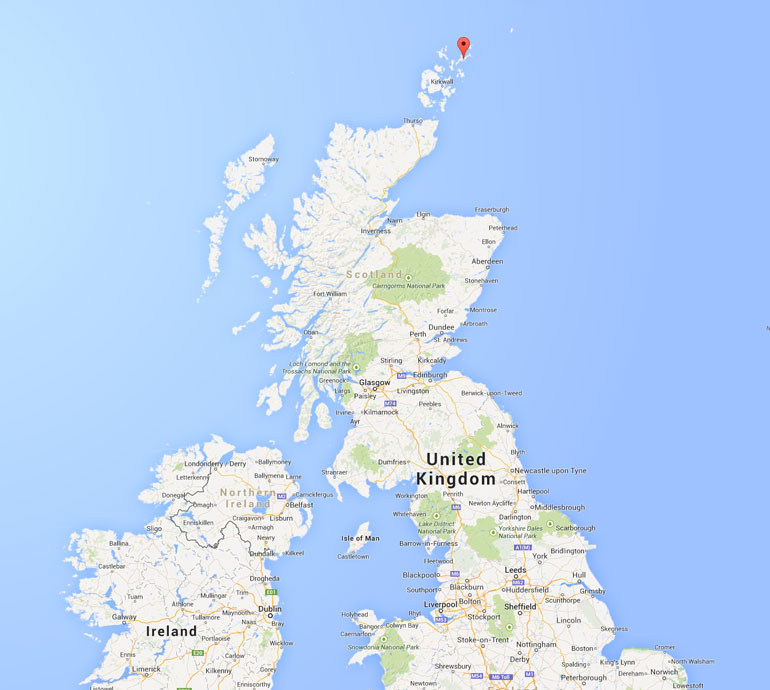 I was born
To go far beyond
Impossibility-confines.
Sri Chinmoy, Seventy-Seven Thousand Service-Trees, Part 38, Agni Press, 2004
The board this morning reveals all the celebration and all the woes of the first day on the course.  Since each runner has to average a little over 60 miles a day no one should be sad.
Things happen at their own unique pace here at this time of day.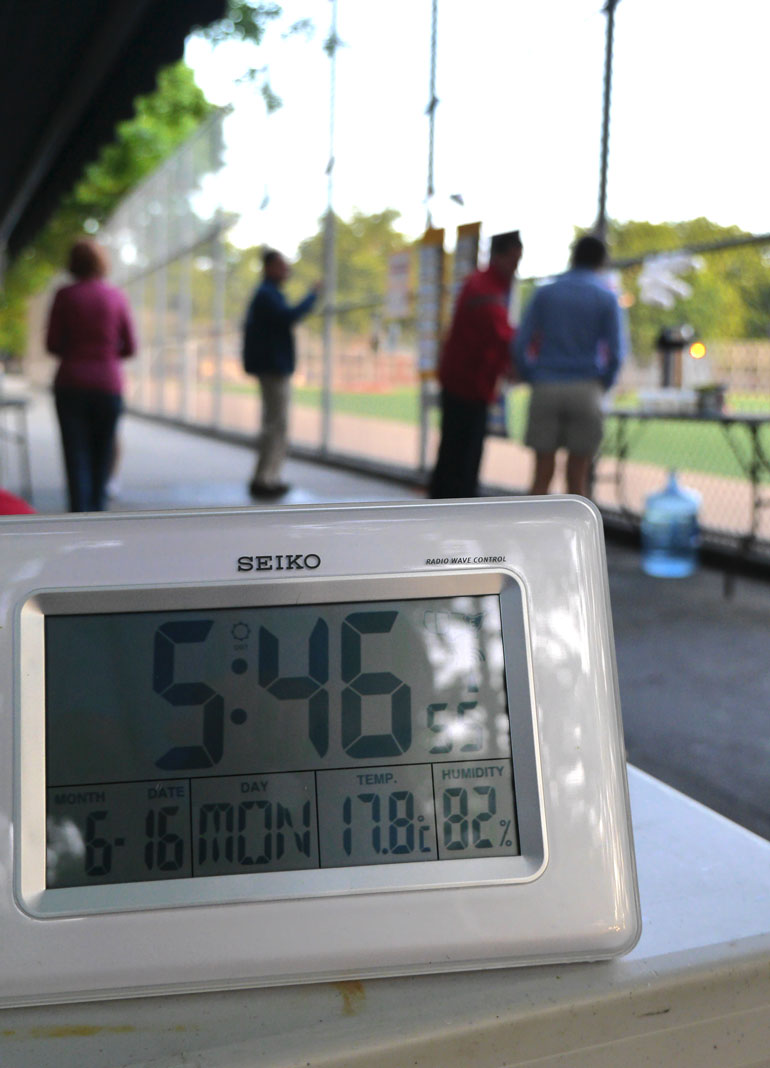 For friends back home taking a picture of the board every morning can reveal a lot to all those interested in just how well a runner is doing.
Teekshan has been added to the Slovaks all of who are very experienced.
Rupantar prepares his daily mini movie on his phone.
Yuri readies all his special supplements and raw food dishes.
Pranjal just gets his socks and shoes organized….. Though he usually has a snickers chocolate bar and a bottle of Coke.
Start:  Day Two
Sunday afternoon I came back to the race to show what it is like at a different time of day.
Sopan was getting a massage from the super great Mario
Something necessary and appreciated by all the runners.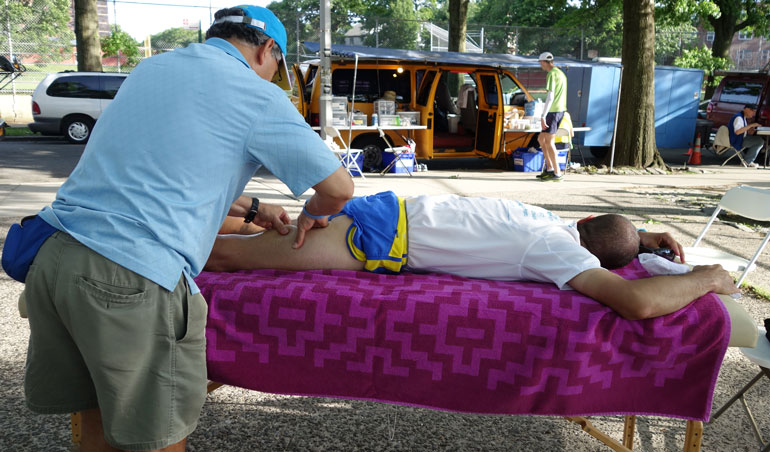 Sarvagata takes a long slow stretch to loosen up.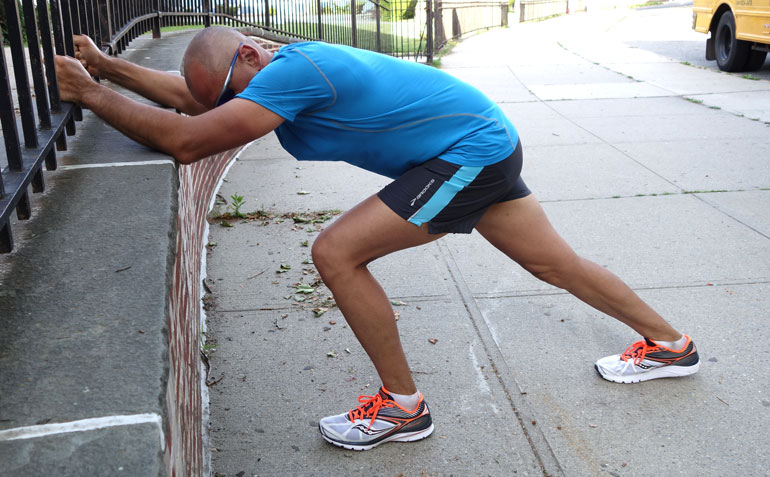 Mario weighs all the runners so that an accurate measurement is kept to see just how much weight is taking place, and to also avoid any problems.
Pavaka playing guitar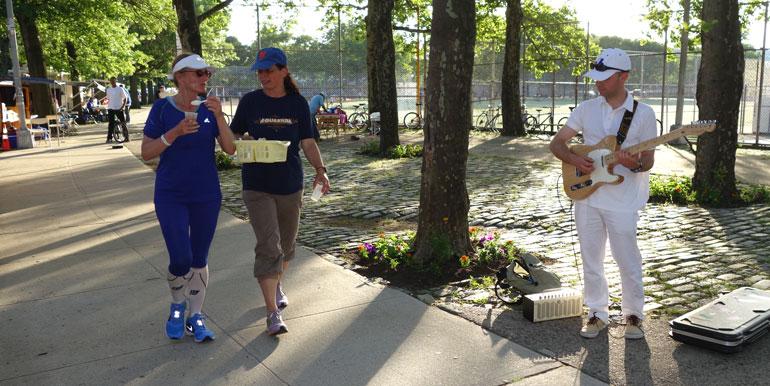 Just a typical afternoon at the race.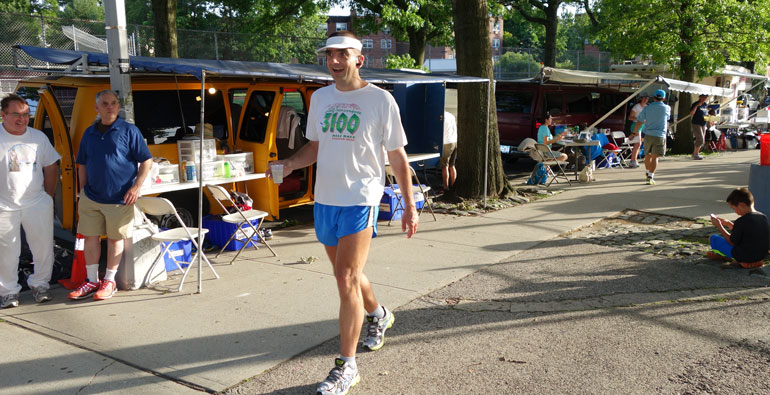 The weather will get a little hotter over the next couple of days.  But for New York this kind of day, low 80's is typical.
There will always be surprises but certainly one that I did not expect was Baladev running 75 miles on his first day. He has been here many times before but never run like this.
He has visited New York and the course a few times over the past year.   A couple of times I have met him here and been surprised at just how fast he was running around the course.
This is his 6th time at the race he is starting extremely well
He also seems to enjoy so much his time here on the course, no matter what happens.
Vasu leading with 79 miles in his first day is no surprise.
For a short distance Vasu runs with Volodymyr, a runner who most certainly will one day run this race as well.
Vasu won here last year and has come back prepared and strong.
Pranjal ran 72 miles.
Nothing seems to slow him down.  He starts the race weighing 212 pounds.
Sopan also had a good first day of 72 miles
She must be extremely delighted to start her first 3100 mile race so well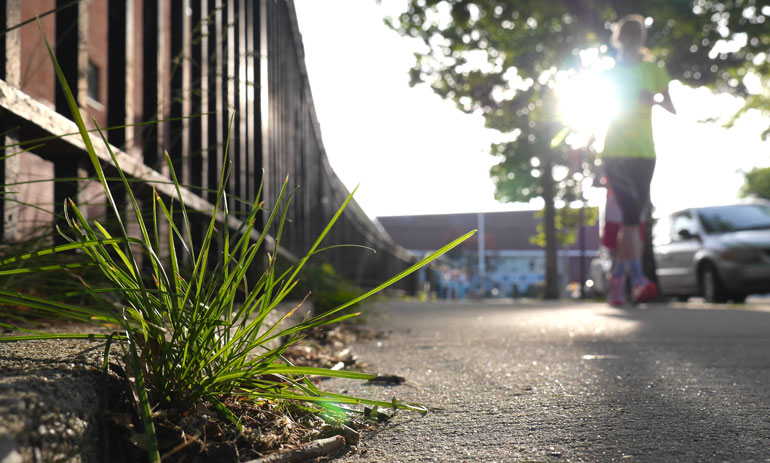 Jayasalini has 71 miles her first day.
The camp crew sorting out a bicycle problem
My first comment to William this morning was something like, 'he is not what he seems.'  That is, he has the dimensions in some ways of some slight ethereal being but to accomplish what he has he may be more like the great Scottish warrior William Wallace.  (Think Brave Heart and Mel Gibson)
"That is a profound question so early in the morning, " he replies.  He then lists all the various ancestral pools that have flown in together to create this phenomenal Scottish athlete.  "It is all mixed in there to make this modern William Sichel.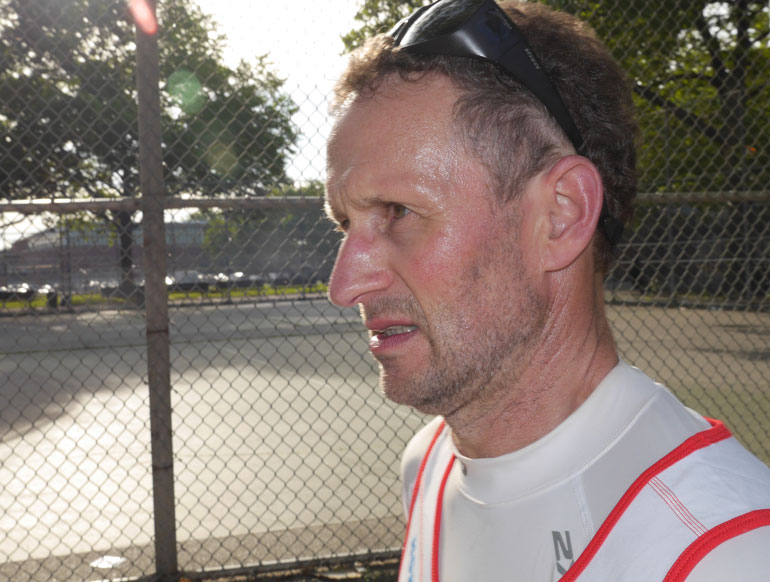 "I made the decision 18 months ago to come here.  I gradually built up the preparations for it logistically.  I have a very small business, I am self employed.  In a sense I can't just disappear.  An awful lot of planning and preparation went into just coming here, little alone doing the running as well."
He says that when he was in Flushing Meadow 2 years ago he was intending on coming to the 3100, "I just hadn't made it public."
I am curious why someone like himself with such an impressive number of records would come to this race.  "Well it is definitely out of my comfort zone.  I think the attraction was that I came into ultras from running standard marathons.  I had a short career as a marathon runner.  My background was very much road running."
"Then I went into track and ran ultras.  To me it was just a natural progression.  I never really got sucked into the trail running boom.  Simply because where I live trail running is very limited."  The circumference of his island, Sanday is approximately 83 miles. "No option for training on trails as such."
"So obviously the ultimate road race is this one, the longest one.  I had known about the race for a long time.  But I never thought it was something that I would ever physically ever get away to do.  It wasn't the case of, could I do it physically.  It was could I engineer 2 months clear in life to come.  So to me as a road runner it is the pinnacle.  Also I am finding out about the environmental conditions.  So it is the ultimate thing to aspire to really."
I am curious about how a man who lives at latitude 59 degrees will adapt to the New York which is at 40 degrees latitude 15 degrees further south.  The sun rises there now about 4am and does not set until 10:30.  At this time of year it doesn't get much warmer than 60.
He says that he has run the Badwater race.  "I have never done heat and humidity though.  That is new for me which is why I have done this preparation.  I completely redesigned my home gym.  I turned it into a New York summer, much to my friends amusement.  It has halogen heaters and humidifiers pumping steam into the room.  I knew I wouldn't have a chance otherwise.  I am really glad I did those 10x 90 minute sessions at up to 35 degree centigrade."
"I take my hat off to all the results that people get here.  Now that I have experienced all the conditions, as Rupantar described at the pre race meeting, an urban multi day.  With all the interruptions and life going on around you.  The crowds of school kids, the traffic, and the rest of it.  Really I can see why they celebrate a 70 mile day.  Because it is probably going to be few and far between."
He is quite content with his 71 mile first day here.  "I was hoping to do 70 on my first day, lay down a marker and see how I feel.  Learn the course and try and get a feel for it.  It was a good start.  It didn't take me long going to sleep last night.  The head touching the pillow was the situation last night.  The locals are calling it a warm day to me it was a hot day."
If William has any problem with the race at all it will certainly be weather related.  He describes how at 9pm last night it was still 24 degrees centigrade.  A temperature that locals describe as just warm but for William he considers hot.    It was a conditions that is just a hint of just how hot and humid it will soon be getting here on the course.
He had many fans and supporters when he ran the 6 day race 2 years ago.  He says that group now is, "bigger than ever."
"People who took a passing interest in what I do, were shocked or jolted into recognition.  I think when this one started coming on.  People said….WHAT!!!  They thought they had misheard the distance, or the duration.  For some it was obviously over their heads.  It jolted them into looking just a little closer at what I do.  They were surprised that I could do it little alone even start it.  There is definitely a huge increase in the number following me."
He tells me that being the oldest finisher of the race, at age 60, is one of the big inspirations for him.  The oldest so far was Surasa, at age 54 in last years race.
"I said, why not?  If you want to be honest, a fit 60 year can finish it, and co do a lot of things actually.  Time will tell on that one."
Click to Play Interview:
Sarvagata started out with an easy day of 66 miles.
Always a bit of mystery as to what the number of miles he will produce on any day.  But dedicated within as strong as any one on the course.
Fellow Ukrainian Stutisheel who is back after a years absence also ran 66 miles.
Stutisheel is at home here.
A place that he calls, 'Real Life.'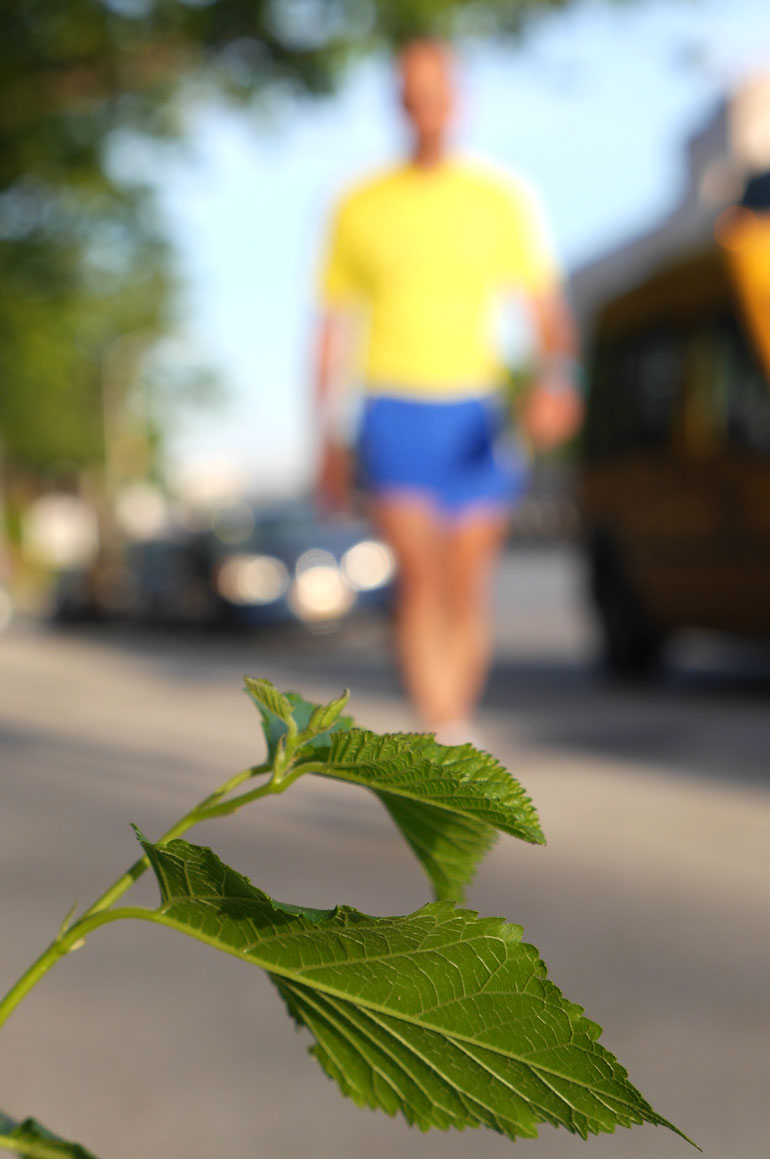 Teekshanam spent much of last summer here.  Now this is his race too.  He ran 66 miles.
Sarah seems to be running well.
She had a first day of 65 miles.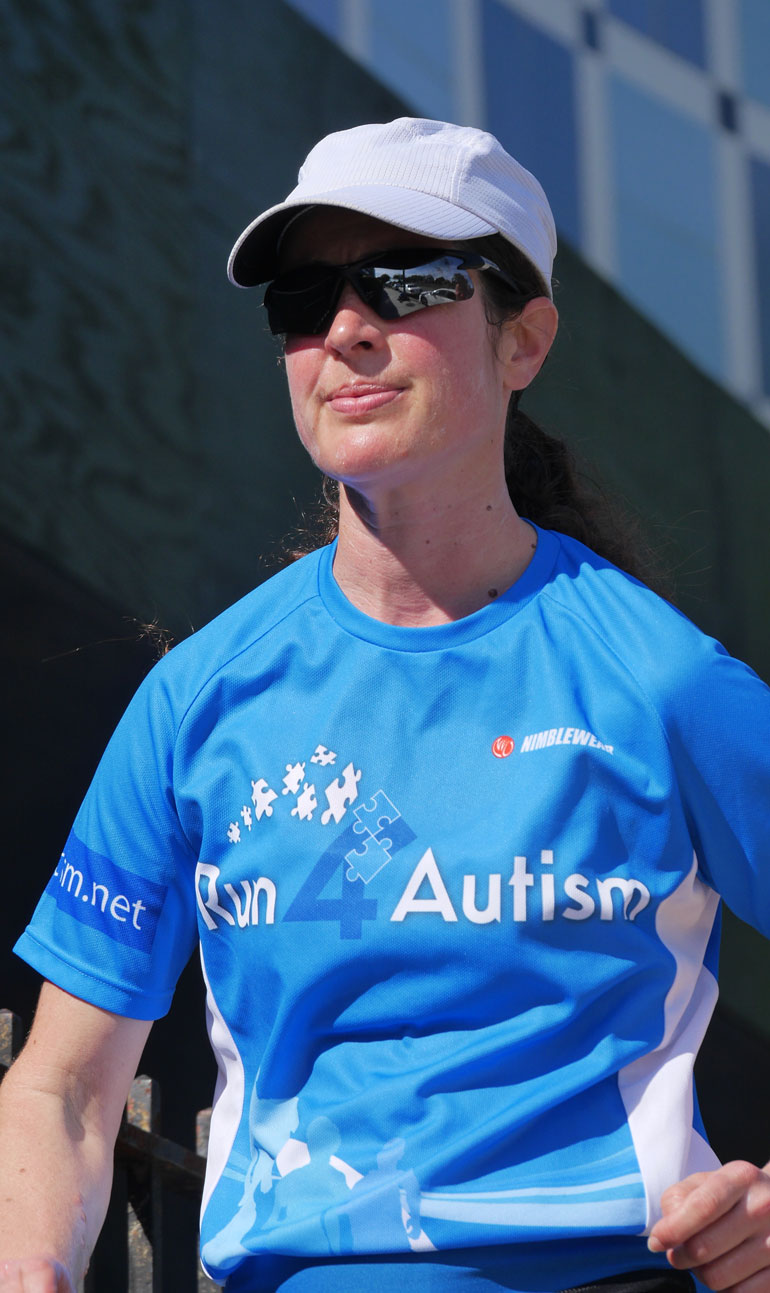 Ray seems to be making himself at home.
Ray had 65 miles yesterday. A good first day.
Ananda-Lahari had 60 miles
"It feels like it was just yesterday," says Nidhruvi who ran and completed the race for the first time last year.
"I was very sure that I would come back.  But I was not sure if it would be the next year.  But somehow it happened that I did come back.  The more that time passed by the more closer I felt myself drawing closer to this race again.  I actually only just decided in April."
"With me this time it was just a feeling."  She says this feeling is based simply on whether or not her spiritual teacher, Sri Chinmoy, inspires her within to do the race.  "I want to do the right thing."  She describes that also so many hurdles have to be crossed in order to come, much like William.  Finding financing and helpers of course a big part of it.  "It worked out so well that I couldn't believe it."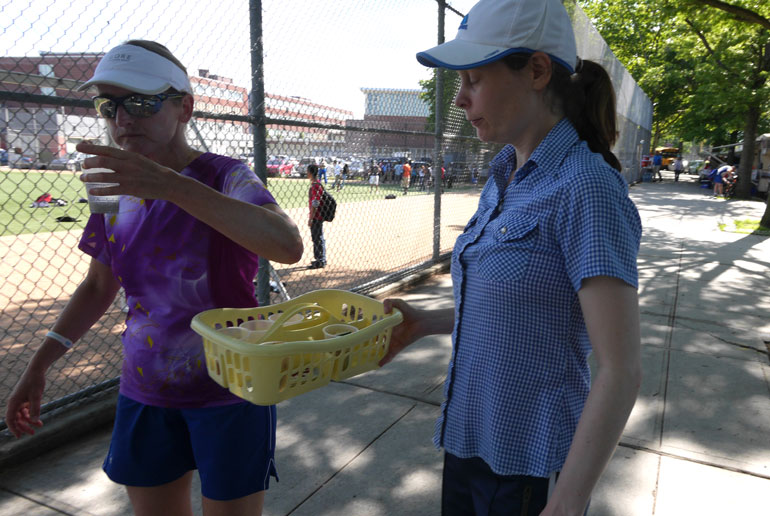 "The time has to be right.  So this appears that this is the time now (to be here and run), and I don't know how long it will last.  This is really not an easy race.  Something within me, my soul, just wants to do it.  I 100% know that I am definitely making lots of progress here.  You can learn so much here, every time, every day, every minute."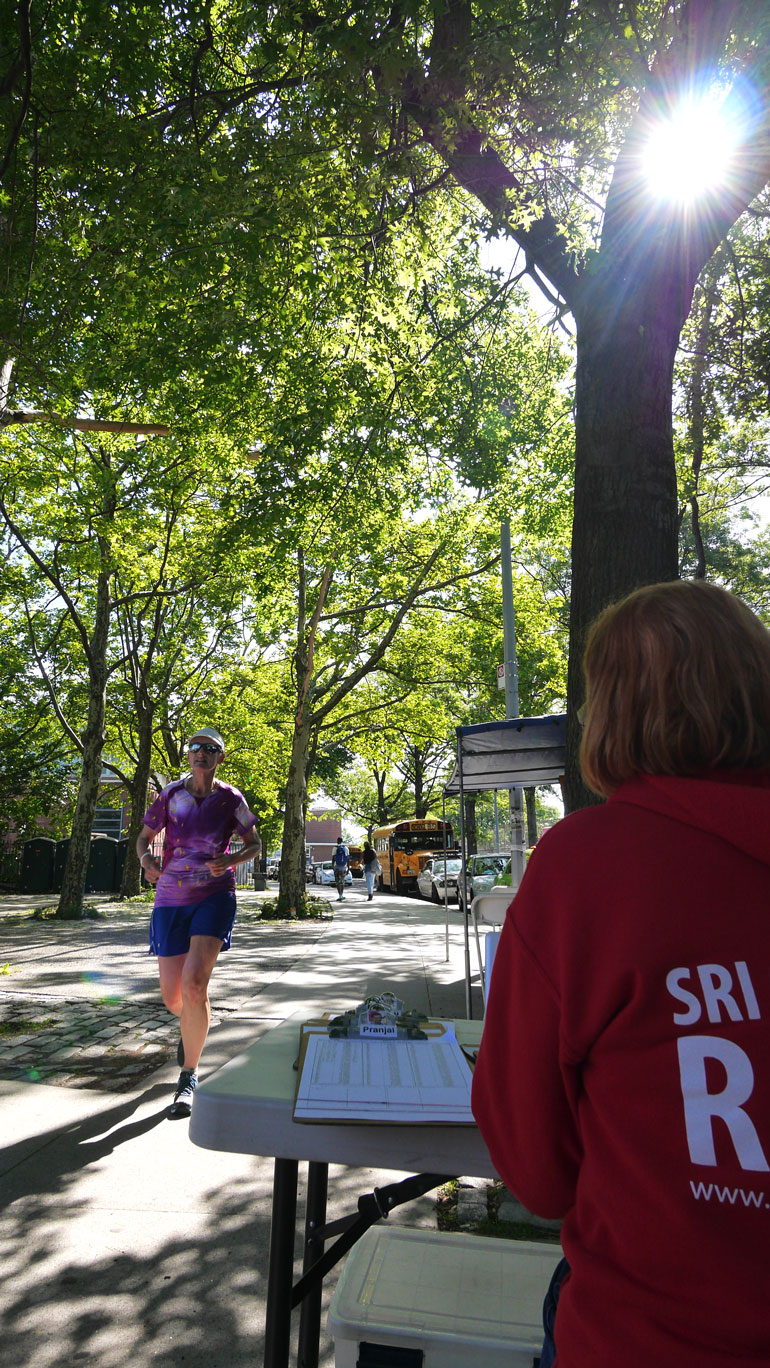 I mention that I took a picture of her bowing to Suprabha on the first day.  She ran the race 13 times, in the first 13 years.  "I just can't imagine how she did it.  Or how somebody can do it like she did it.  I admit, I could never do it, year after year. Therefore for me she is so exceptional.  I really admire her and just can't imagine, that someone could do it so often."
When asked about whether or not she misses Surasa not being here this year.  "She will be looking at the race site every day, and not just once."  Because of her injury she knows why she could not come back this time but believes she will return and run again.
As to being here last year she knows that being here then as is the case this year it is simply for her a matter of doing the right thing.  "Sometimes at home you always try your best.  But sometimes you can't, or, you don't want to.  Or your aspiration goes down.  But here you have to constantly on a spiritual track.  Because if you don't then you are not having a good time."
"You really work so intensely and so hard on your progress.  There are so many spiritual lessons that you get here.  Because you can't run away from yourself and your problems.  You have to just stick to it and work it out.  This you have to do constantly."
"For me being here is just about spiritual progress."
Click to Play Interview:
Enthusiasm Awakeners
Click to Play:
The message of self-transcendence
Is itself satisfaction,
Far beyond our imagination.
Sri Chinmoy, Seventy-Seven Thousand Service-Trees, Part 14, Agni Press, 1999