It is perfect.
It is perfect and yet our eyes alone cannot reveal this perfection to us.
It is perfect and yet no matter how long and how hard we analyze, calculate, and attempt to measure what is here we will still never succeed in fully understanding.
There are many things we sometimes call perfect.  Man made wonders of the world, magnificent monuments created by nature, and also those who have lived impeccable lives devoted to transforming the world, and have in some mysterious way have uplifted our own lives as well.  All things, places, people, and experiences that can help us transcend, above and  beyond where we currently find ourselves, can be perceived as being perfect to us.
This morning as the early chaos and energy of setting up the start of the Self-Transcendence gradually settled down I became aware of just how perfect it all was here.   Not that I could see it, and, not that in my mind I could understand all the whys and wherefores of just why this was so.
It was something that I was feeling within. As I looked at all those who were about to run, or to help in some small way, or were just there to watch and cheer, I knew they all were feeling this same thing. This sweet inner experience that communicated that all of us can and will transcend ourselves sooner than we can ever imagine.
It is not new to this race.  I am quite certain that 17 years ago it was also this same way.  But no, that is not quite correct.  My belief is in fact that this perfection, which is part and part and parcel of this Self-Transcendence 3100 mile race has just continued to expand each and every year that it has been run.  Its inner brilliance, illuminating in a subtle and sometimes bold and very clear way all those, who have not just found themselves on the starting line, but also who feel and identify in whatever way they can with what happens here, no matter where they are.
It is an event that has a unique way of embracing and captivating all those who are drawn to it.  This morning, the first of many more to come, was just a wake up call to me.  For a brief moment it was as though the clouds, that obscure the highest mountain peaks, had swept away and I could see the very summit.  A startling and vibrant reminder that it is we ourselves who believe and create the barriers to the heights we all have within us.  That the self-transcendence road is one that we all share and must take together.
* A special thanks to all those who have come back to experience and enjoy the race, through this blog*
True,
Nothing human is perfect.
But it is we
Who have to make everything human
Divine and perfect.
Sri Chinmoy, Twenty-Seven Thousand Aspiration-Plants, Part 176, Agni Press, 1993
 It starts out as just an ideal day to run.  The temperature will barely reach 80 degrees all day.  For now the board is only empty.  Soon that will all change.
Baladev is one of the first to arrive on his bike.
Vidura readies an important object, the sign up book for counters.
Nidhruvi very happy to start the race for the second time.
Each day of the race has been sponsored by different groups.  Today Rupantar gives thanks to Zurich for their help in keeping the race going.
Stutisheel has a close encounter with a special friend.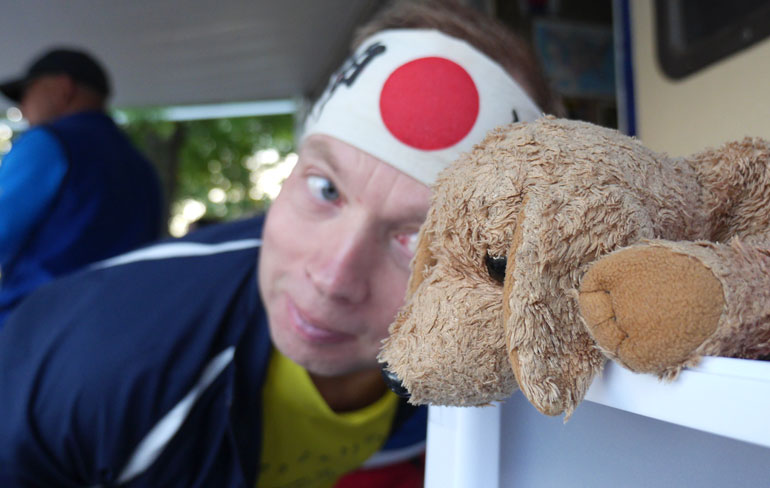 Sarah checks her messages.
William looking very calm for a man starting the longest and hardest race of his life.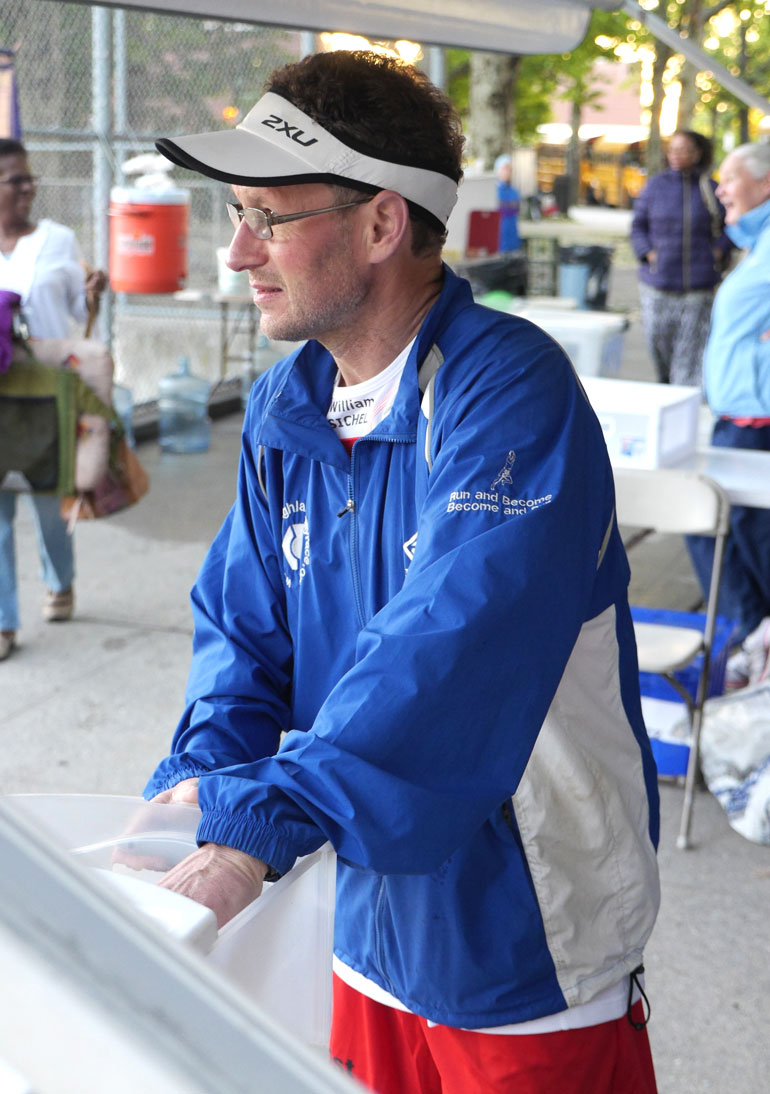 Sahishnu introduces all the runners.
Click to Play: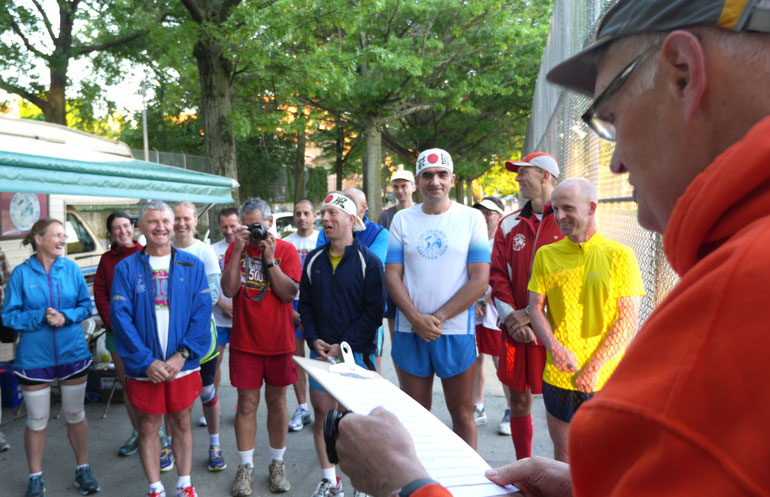 Start Day One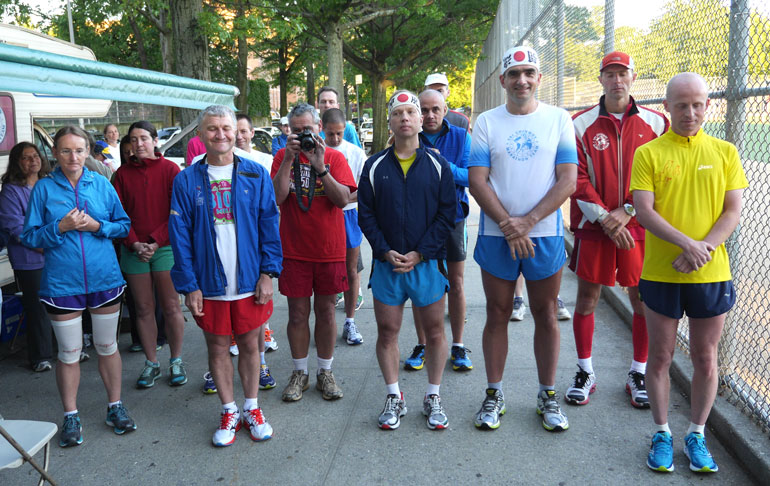 How do you begin to describe the joy on these faces of those running the very first lap of the race.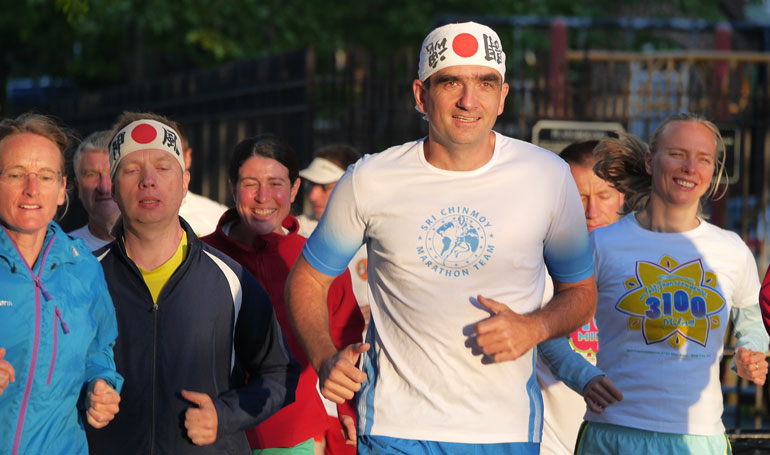 59 year old Ray Krolewicz from Pontiac South Carolina has come for the first time to this race, and yet for a long time he knew one day it would happen.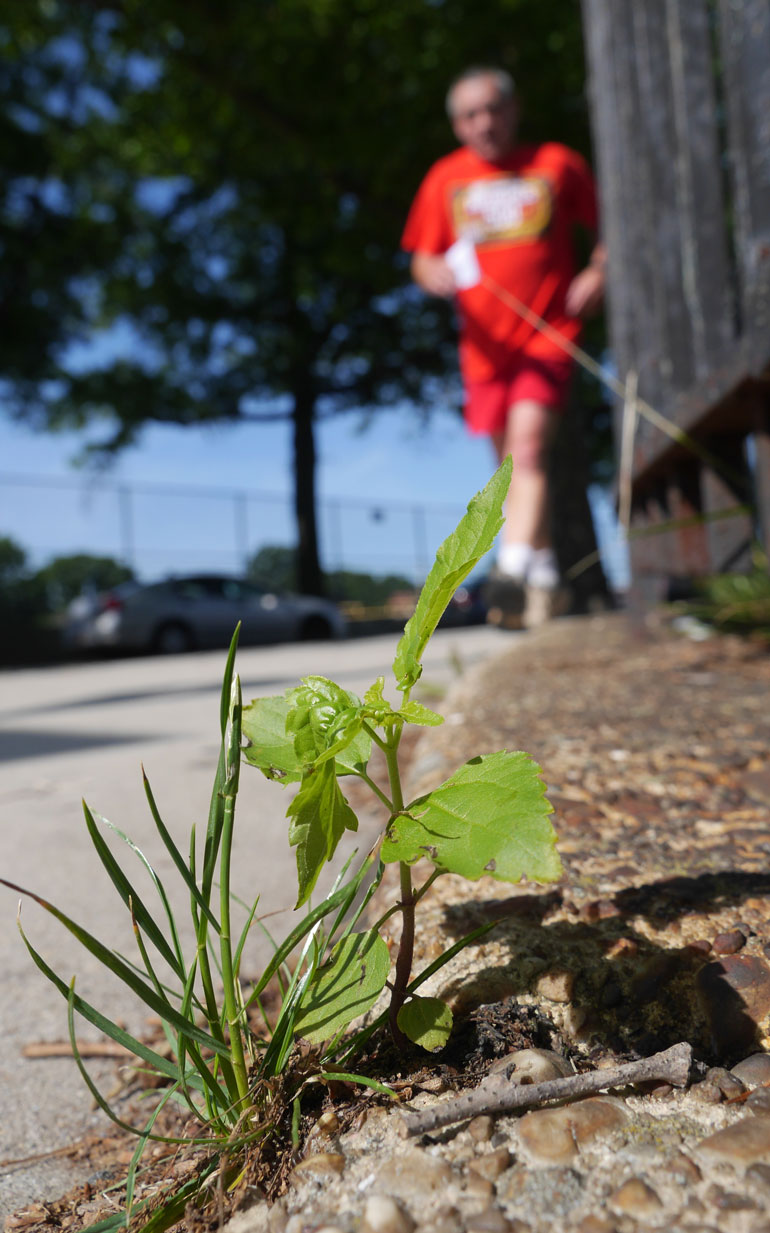 Many years ago when he was attempting to run one of the Sri Chinmoy Marathon team races, the 1000 mile race, he knew he would run this race one day.  As Ray, in his joking natural way recalls the event he says that his experience then was abysmal.  He was forced to leave the race after completing 514 miles.  He cannot recall the year exactly when this happened, but describes that in that whole period since then, the 3100 was always on his mind, "things never worked out."
"In 2007 I was at the 6 day race talking to Guru.  I said I have to come run this race (1300 mile race which was once held each fall.)  He said, that may be, but it is not your race.  Your race is the 3100.  We talked about it.  He felt that this format, to be strong all day, and get your rest (6 hours each night)"
"It shows how wise he was.  All the way back in the 80's when I had been running the races he had been watching me.  He said you are up and you are down.  You worry about people.  You worry who is gaining and who is losing.  In the 3100, everybody is down at the same time.  No one is working on you, and no one is gaining.  You are one of few who can just go, 18 hours every day.  Then you can take your rest at night."
"I stored that all away.  I said, should I do it this year? He said, no, not this year.  You will know when the time is right."  He fondly remembers that all important conversation.  "We lost Guru, later that year."
"His words have stuck with me, and from then I began more earnestly watching this race.  Last year I spent a lot of time on the course, and watching the runners.  I would go away and run races.  Beat myself up with a 100 mile race or a 50 mile race, but I kept returning to run here, with different fatigue levels."
"I think Guru was a genius, obviously.  He did know that I would know when the time was right."  He says he had considered running the race last year and spoke to the race directors, who in their own way echoed Sri Chinmoy's words, that Ray would have to be the one to know for himself when he should come and be part of it all.
On one particular part of the course he suddenly remembers being on the course last year observing the race going on.  "I was spending time watching and experiencing the joy.  I realized that it would probably be this year (2014), and I continued not to force the issue, but to just allow things to happen.  As it works out the time is right, and here I am."
"This race is the culmination of over 40 years of running.  I ran my first ultra marathon before we were calling them ultra marathons.  In 1971 I ran a 30 mile fund raiser for world hunger.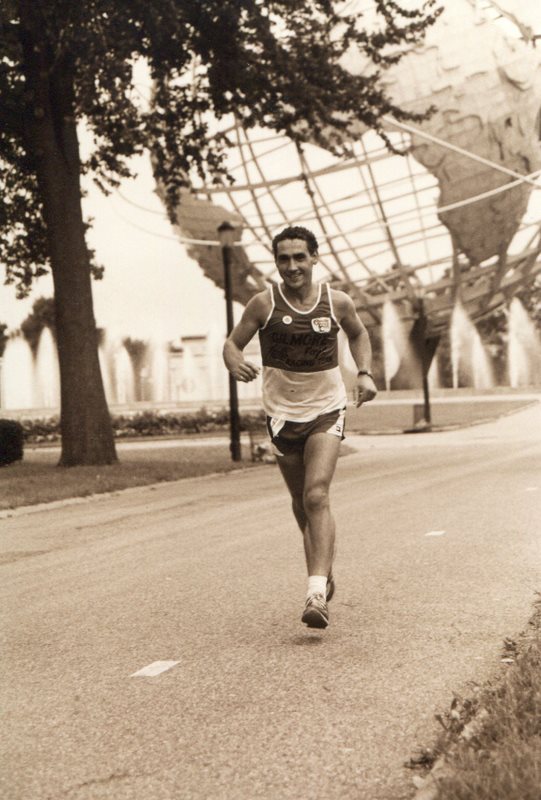 I have been running even longer than that.  But 1971 was a long time ago.  I love running.  I love the things Guru said through the years, about joy and just running.  I would be remiss if I didn't say I run fast and I have won races.  But there has been a joy in going out and hammering, and finding out what is inside of me, particularly when it is late in a race."
I ask him what his goals are here.  "I would like to finish.  I am not going to be brazen enough to predict that an hour and 15 minutes and 11 seconds into this race to say….O Yeah.  I got this in the bag.  But I feel good.  I feel strong.  I feel prepared. I feel mentally ready."  He describes taking care of all the things he could back at his home in South Carolina, enough that his absence would not create a problem.
"I may be an enigmatic person spiritually.  My basic belief is that I enjoy life.  I am at peace with the world every day, and always have been.  I know how to play, that is something Guru pointed out.  Gosh, I think it was 1984 when I was running around with a toy car, and he used that as an example.  See, Ray is running, and he is just playing."
His longest race up until was a 10 day race when he ran 614 miles.  "So, going 5 times further.  I am too much at peace with the world, to say, I am there.  I guess I am open minded to finding anything.  Every day is  a brand new day."
Click to Play Interview:
The morning is soft, bright, and gentle.
The air is fresh and promising.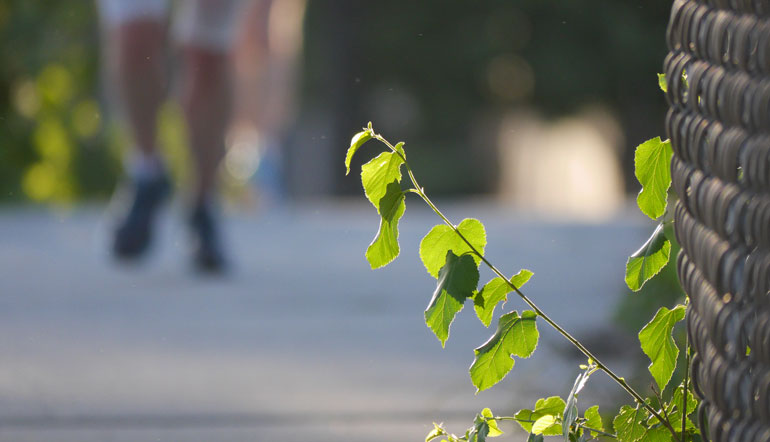 Last years race winner Vasu starts strongly.
He speaks to friends back home via skype.
It is a great day to run.
Yuri early on in the day.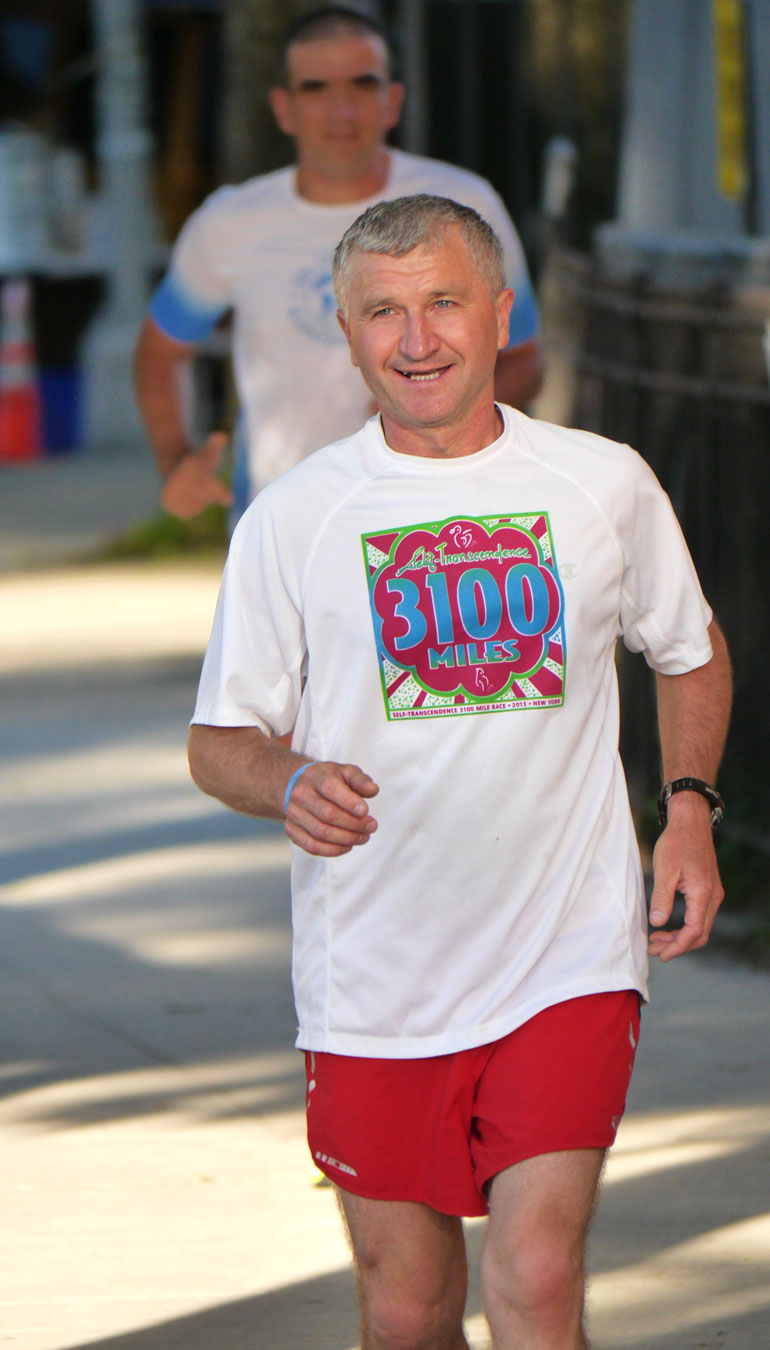 William seems well prepared for what will soon be hot and humid New York summer.
William, like Ray has lots of experience at multi day running.
Suprabha is here for the start.  She ran the race 13 times, something nidhruvi is very familiar with.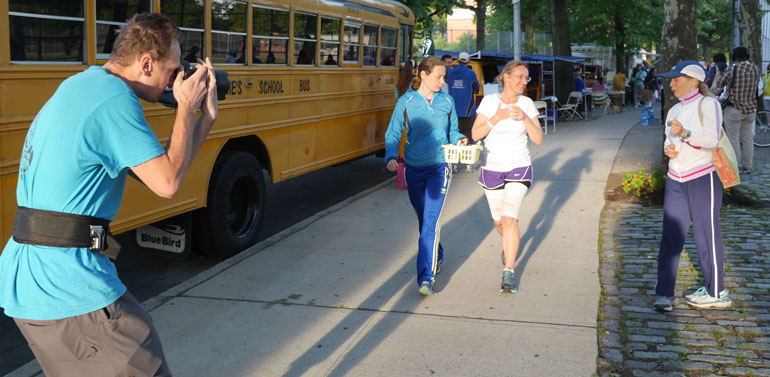 Nature has its own unique way of creating little patches of beauty.
Gardeners like Sanyogita and Samahita also are doing their part.
Teekshanam is a first timer who is starting the race gently.
It is a first day for all the runners.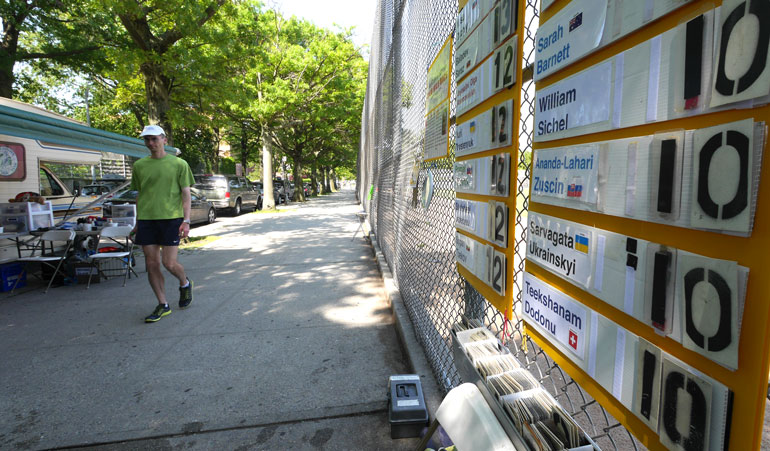 Many of the experienced ones start pushing early.  I ask Baladev why he runs so fast?  He says that it simply feels good for him to do so.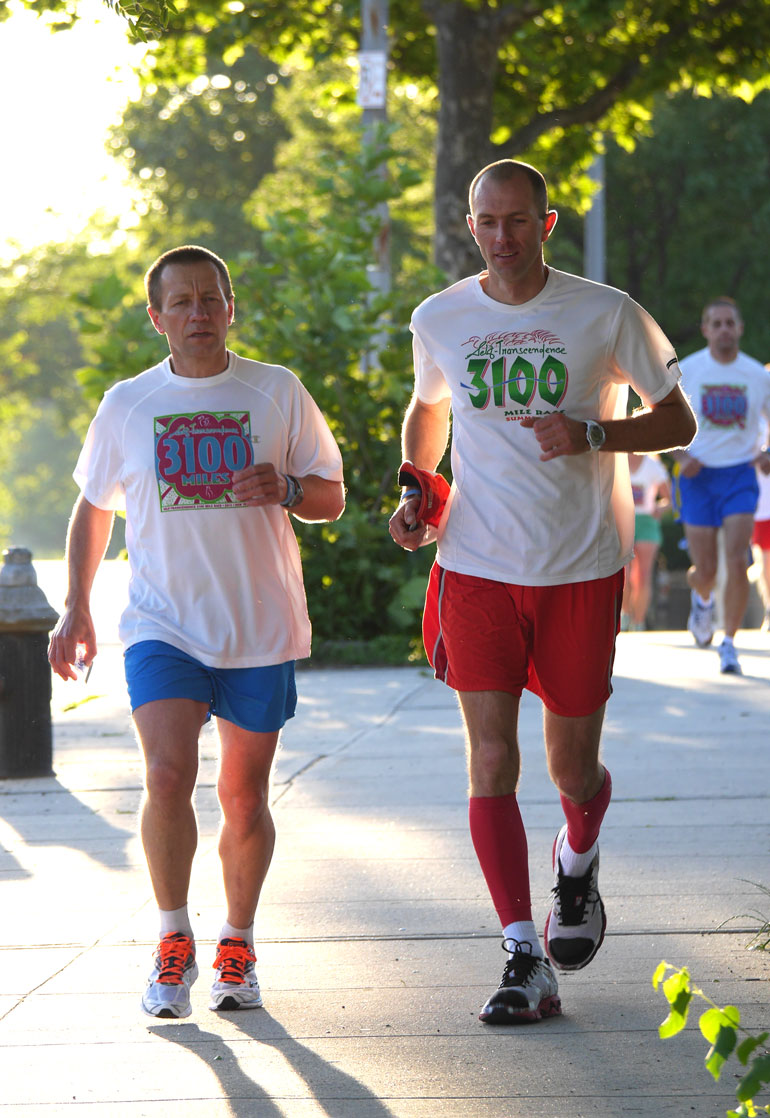 The scenery changes, the runner beside you stays by your side for just a while.
Sahishnu about to leave.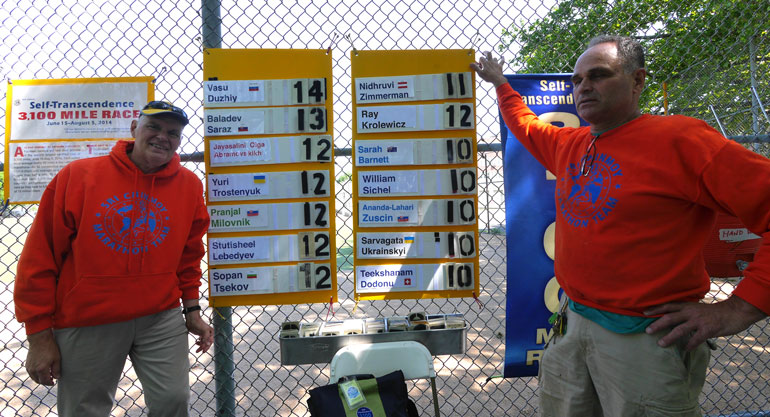 The mix and flow always changes.  Now Vasu runs with Sarvagata.
Sarvagata does not push.  At least not this morning.
Sarvadhara, his sister will be helping him in the race this year.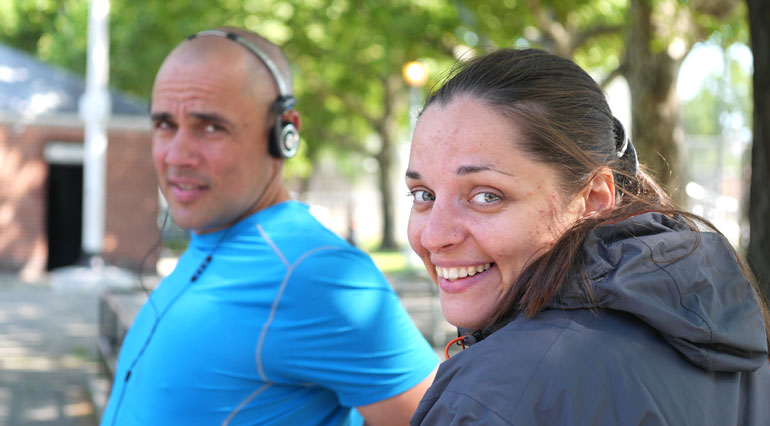 There will be plenty of miles to change speed but never direction.
Stutisheel looks as though this is his true home away from home.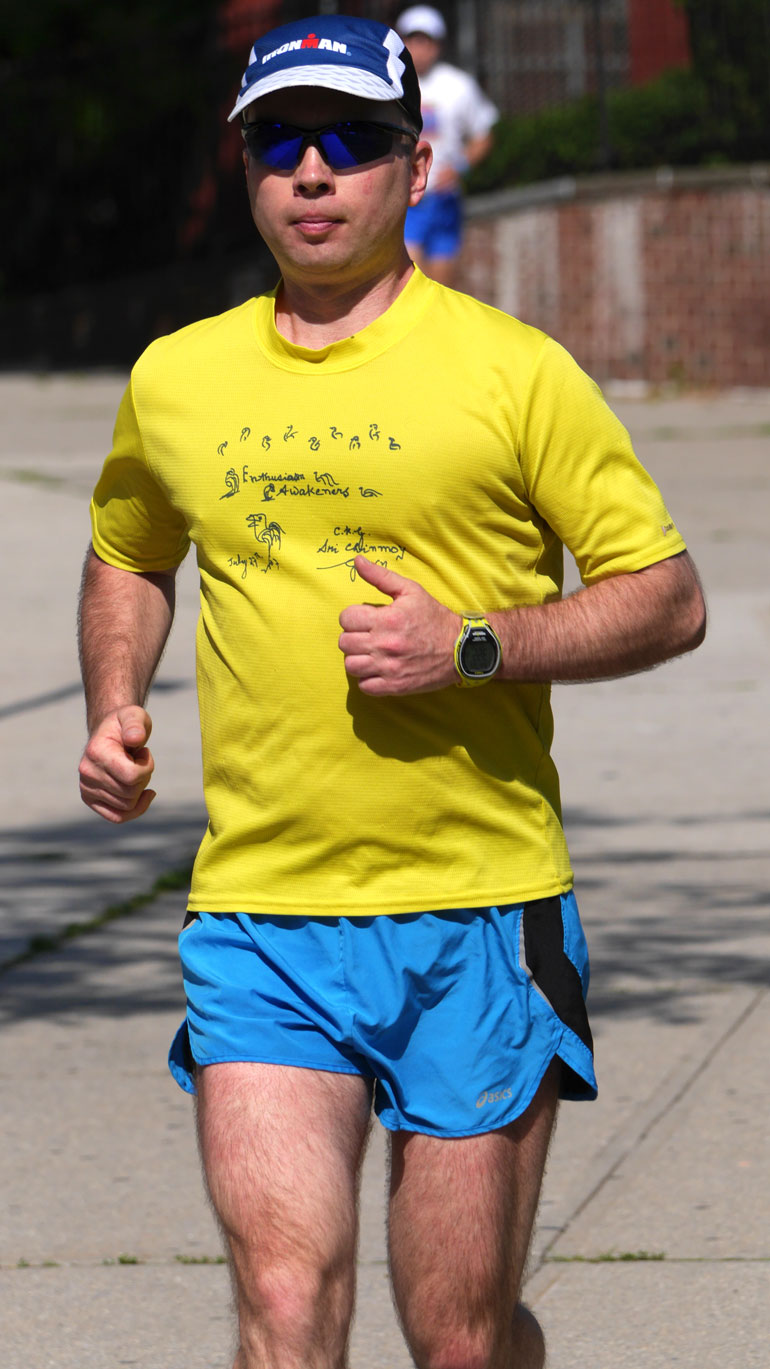 He stops briefly to rinse cool water on his head.
The ever joyous Ananda-Lahari.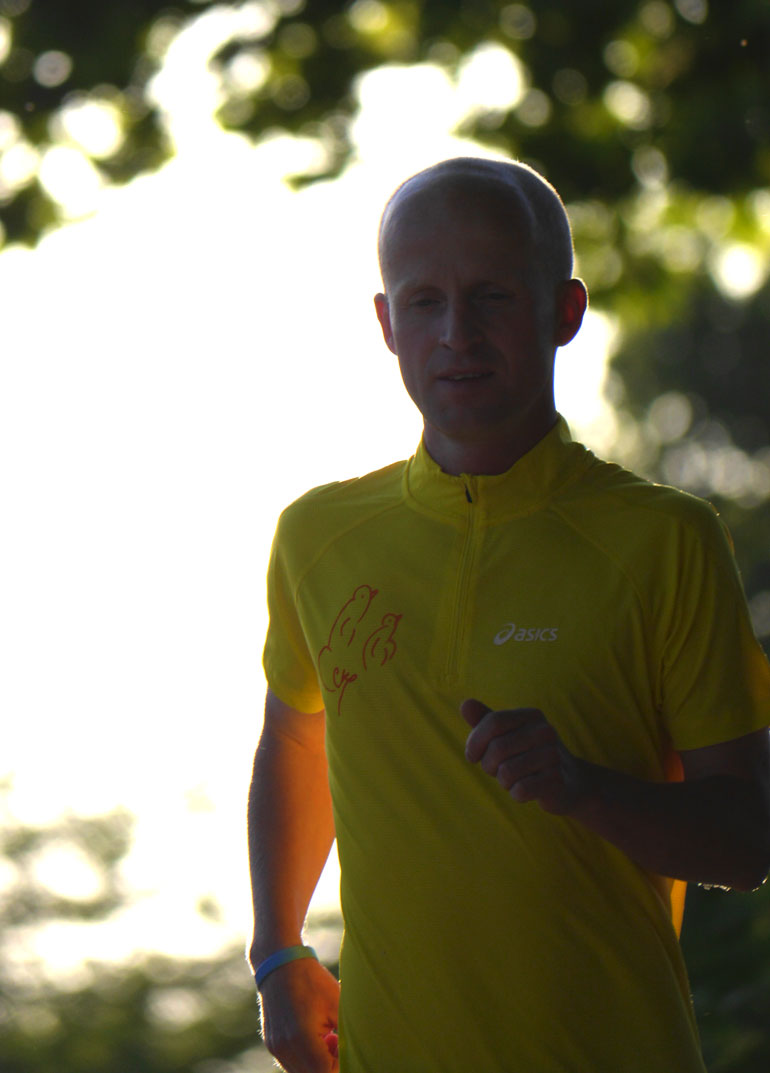 Some scenery around the course is just a little less inviting, unless it is your cup left there.
Jayasalini seems well prepared.
No one running here has completed the race more times than Pranjal.
He starts the race wearing a head band that was given to him by Sri Chinmoy in 2006.
Sopan looks very comfortable.  In 2005 he was the youngest to run the race at age 24,
Sangit Surabhi performs for the runners.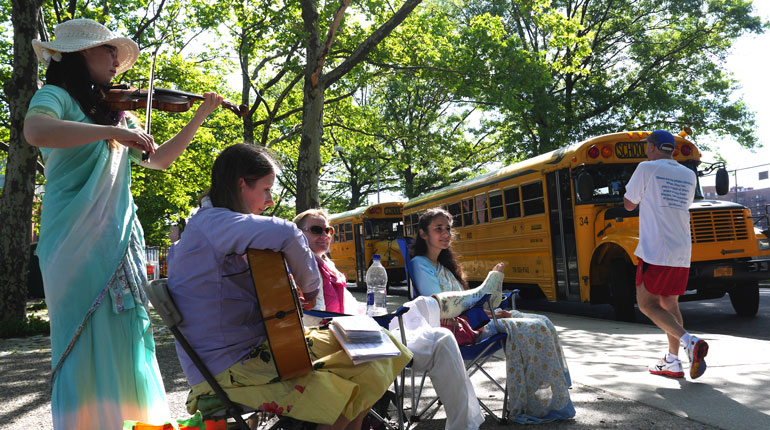 Click to Play Music:
Nidhruvi looking confident and strong.
Getting more than a little help along the way.
Cool shadows.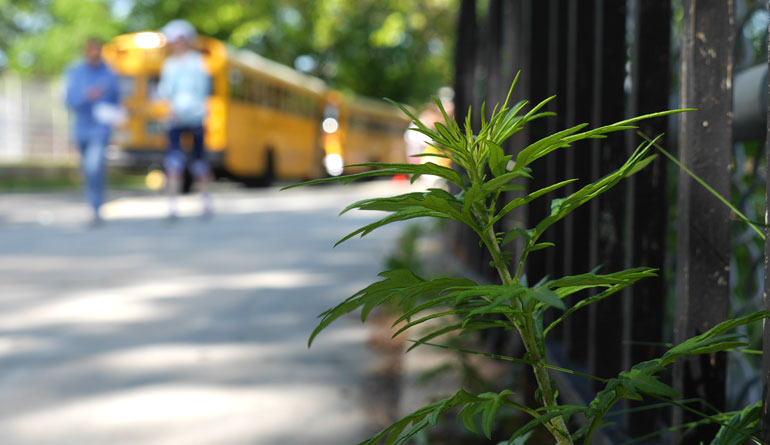 Sarah Barnett is an extremely capable and experienced ultra runner.  A few days ago she learned something totally new, but unfortunately not from running, but from nature.  "I was running in the forest and I came down with this big rash.  There is always something, so this was poison ivy."
Yesterday she was not able to attend the pre race meeting because she had to see a Doctor in order to get diagnosed.  At the time she had no idea what was happening to her.  She had arrived a few days before the start and in order to keep tuned up she went to a local park, where unfortunately poison ivy is quite common growing along the trails.  "I love those little paths going through, close to Cunningham Park.  At least it is not something dramatic.  It will be gone in a few days."
Pulak drove her to the Doctor yesterday and told her, "That is not shingles.  That is poison ivy."
Sarah had come last year to the race for the first time.  For many years she had wanted to run the 3100 but by a strange coincidence when she arrived at the start she also came with quite a bad previous injury.   "It was very difficult.  The race is never easy.  I don't I expect it to be easy for any runner.  It was just one of those situations were I suppose……not giving up.  And really feeling there is a purpose behind it when you can't see it."
Quite early on, because of her injury it became clear to her that she would not be able to complete the full distance.  "You know you think, this is pretty hopeless, you are injured.  Mentally you are feeling quite down……Maybe that is just life?"
"I have to thank a lot of the disciples because there were times when I really wanted to give up.  People like Dipali would come along and give me a big lecture.  No, you have come this far.  You do not stop."
"Anything that happens out here, it is like we all experience it.  People come and help you at the right time.  There is just some grace that helps you."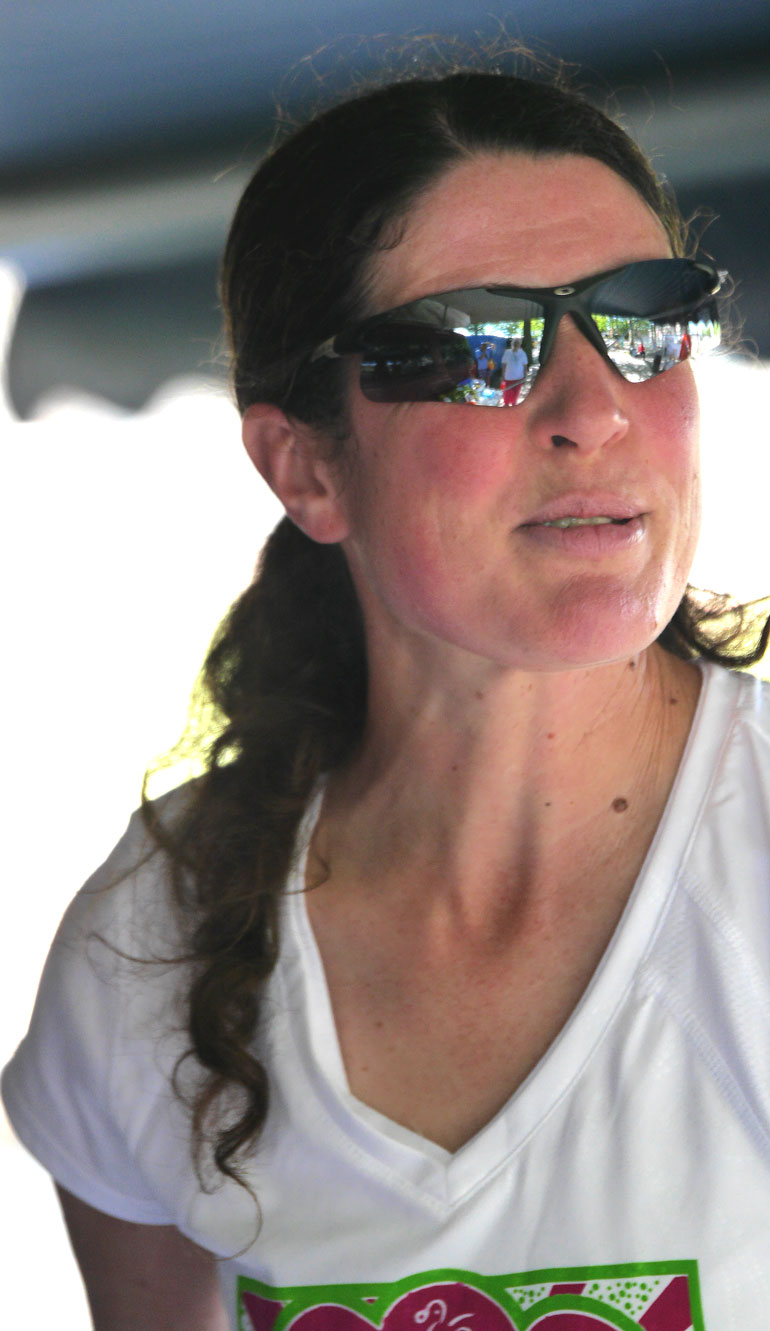 She says her goals this year are simply to do a little better and hopefully not be distracted by expectations.  You know it is not just the race but also the whole way through the year, you really have to work on your consciousness.  Here every problem comes up.  For me sometimes I get very angry.  It is a battle sometimes to keep your consciousness at a certain level.  So it is not just physical it is everything comes forward, all your emotions."
"Everything you have to go through in life, in the race often it is more intense.  So any problem you face in your every day life, I think it comes to the fore even more in this race.  So it is a challenge to get rid of your anger or depression, or whatever it is.  Hopefully you will transform it."
Click to Play Interview:
Enthusiasm Awakeners getting a big welcome back.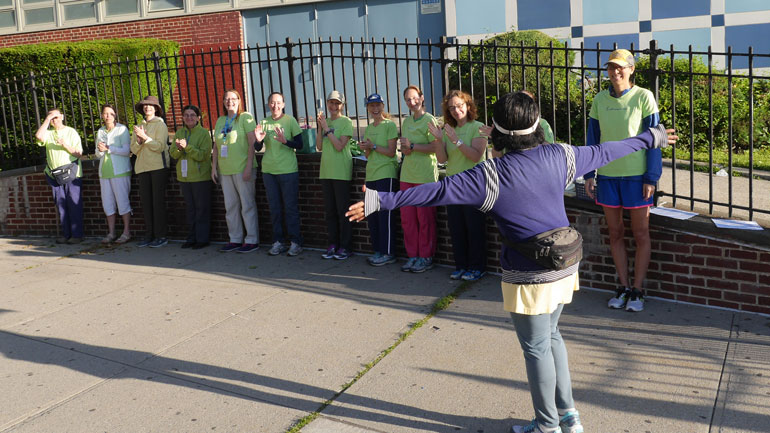 Click to Play:
It is I
Who have to make the choice
To make myself
Happy and perfect.
Sri Chinmoy, Twenty-Seven Thousand Aspiration-Plants, Part 170, Agni Press, 1992