This Self Transcendence race provides a lot of experiences to lots of people.  To the runners first and foremost it offers a one of a kind opportunity to really test and expand upon who and what they are.  When an athlete comes to this race it is impossible not to be challenged in every part of your being. It is simply too long and too hard not to feel its effects.
It may be possible in the early stages to offer up some resistance to its transformative nature but ultimately after a couple of days or a couple of hundred miles you cannot help but become part of a world that has been uniquely created only to make your view and experience of the world transformed.
Most of the time we can so easily observe our lives as static and attached to thoughts, notions, and situations that are comfortable to us.  But even to non spiritual individuals this concept can be at the best of times boring and at other times simply not right.  We cannot help but realize that  life has to expand and grow by its very nature.
As you watch the faces of the runners now and compare them to even a few days ago you can notice changes.  Yes there is tiredness and ripples of pain, but beneath the dull sheen of their exteriors a positive brightness is building within each and every one.
Almost 30 years ago now the Sri Chinmoy marathon team helped count laps for a 6 day race sponsored by the New York Road Runners club.  It was the first steps into the multi day world that the team took and from then on never looked back upon. Creating more and more challenging events not just in New York but also around the world.
Sri Chinmoy with Nathan Whiting
But many others who are drawn to this race also are positively affected as well.  You don't just have to be a helper who comes every day, you can also be a supporter from far far away.
I have already heard from many who are great fans of all the races the Sri Chinmoy marathon team sponsors.  Their identification with what is happening here is always moving and profound.  The support you offer the runners is always a wealth of inspiration that will come back and touch your own life as well.
Earlier today a young girl walking in the park with her Mom came by and was enthused by what she saw.
The board after 72 hours.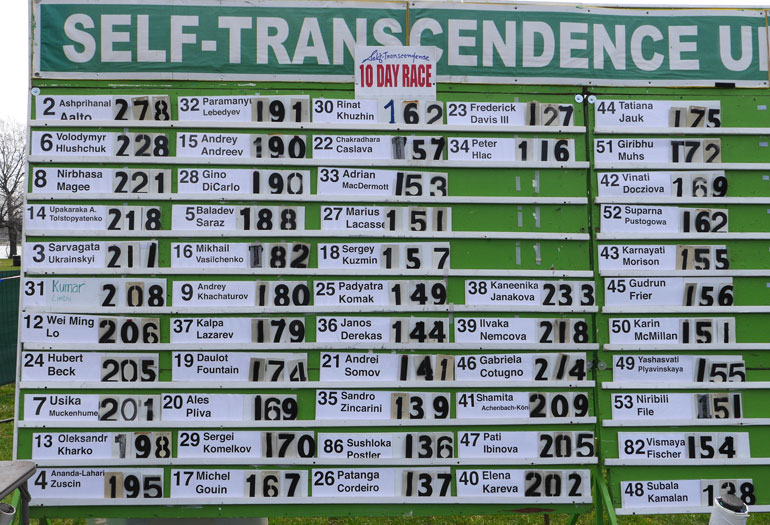 Ashprihanal is continuing to run an extraordinary race.
Once again another beautiful day in the park.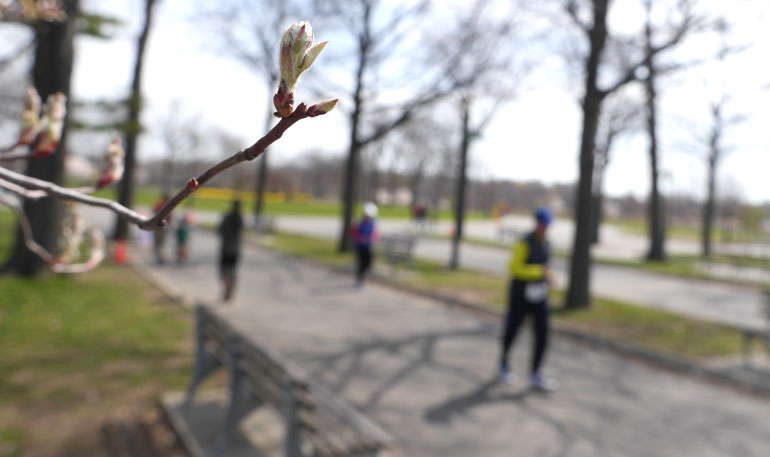 "I have been having a good time since I came here." Kaneenika is an amazingly talented runner and is leading in the women's field.  Just 3 years ago she won the race overall with 724 miles and would be leading this one as well if it weren't for the performance that Ashprihanal is giving.  She is currently 45 miles behind him in 2nd place overall.
The first 2 days she did not feel particularly well.  "The first 24 hours was tough." She has enjoyed the weather during the day but says, "the nights are still cold.  But I am not complaining.  I am really happy with the weather. It has been really nice."
Before the race she tells me that she just happened to read 2 books by Sri Chinmoy that talked about sleep and about competition.  She got inspired by them.  "I was thinking that I was sleeping too little and then I can't really perform.  Then I read what Sri Chinmoy said, maybe I can continue what I was doing.  I think it has been working so far."
As for competition, "we should only compete with ourselves.  Our progress is our victory.  It was the most inspiring thing that I read."
She says that before the race she was feeling strong.  I think the winter helped make me stronger.  The cold winter that we had in New York.  I don't like cold. I prefer warm weather.  It was not ideal."
This is the 7th time she has run here.  She feels as well this year that she is dedicating this race in particular to the 50th anniversary of Sri Chinmoy coming to America.  "My whole training I was thinking like that.  I was concentrating that I wanted to do something for Sri Chinmoy.  But I think that even just entering this race is special.  I am transcending myself every day.  It is quite an accomplishment for me."
For Akbota's Mom:…..thank you
"I was just telling my helpers that I am amazed that when I feel that can't move even one more inch."  Then of course she simply goes out again and runs another 70 mile day.
Click to Play Interview:
Hidden beauty easily revealed.
A runner stretches by the road and looks on.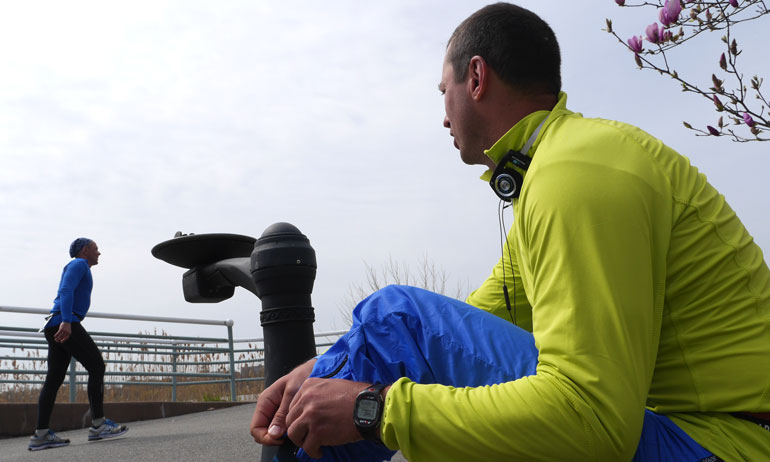 Sarvagata is one of those who is incredibly experienced.  He just seems to grow stronger every day.  He also sends his love to those who support him and cannot be here. He has 211 miles.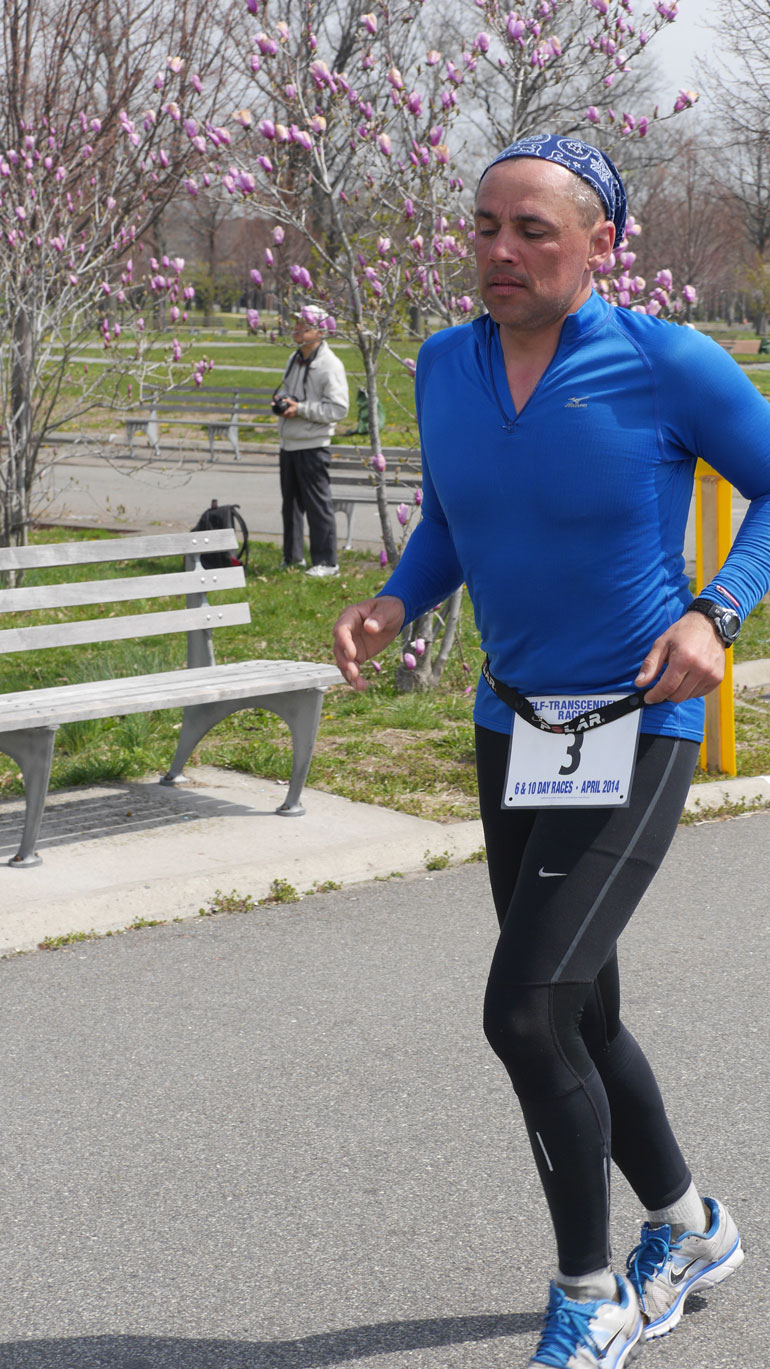 Volodymyr gets some help with his feet.  He is in 2nd with 228 miles.  I joke with him about whether or not he has learned English yet.  He tells me he knows only the most important words, like divine, Supreme, and transcendence.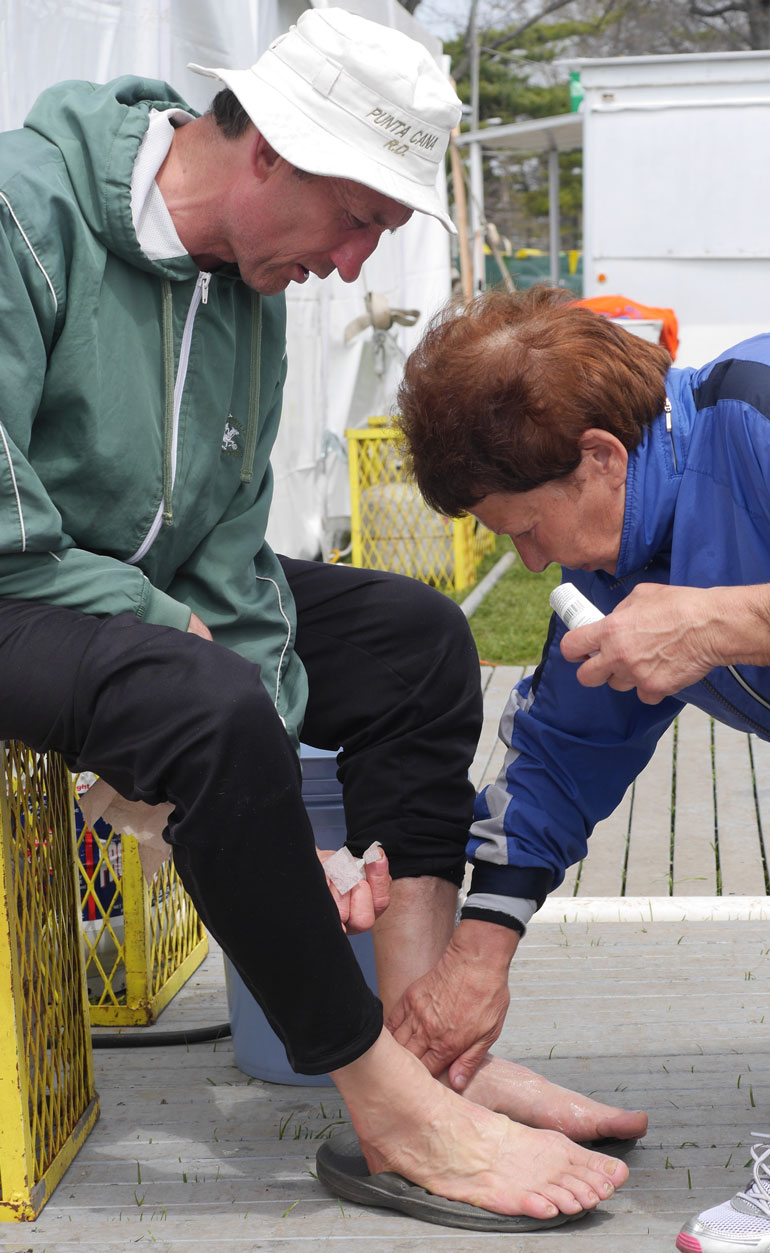 There is always unusual camaraderie on the course.  You never know who will be running with who.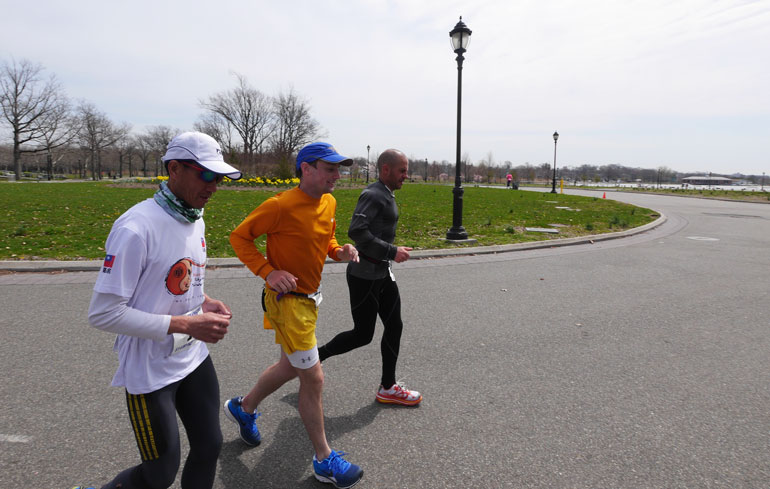 Lakshmana on water detail
Fred has had to pull out of the race and will be missed by all on the course.  His injury was such that a Doctor told him he couldn't run.  This happened at the beginning of the month.  Fred thought if he walked it would be okay and unfortunately this was not the case.
He plans on staying around for a few days more.
Click to Play Interview:
Some people just come by and want to help.  This man is being taught how to keep the score board up to date.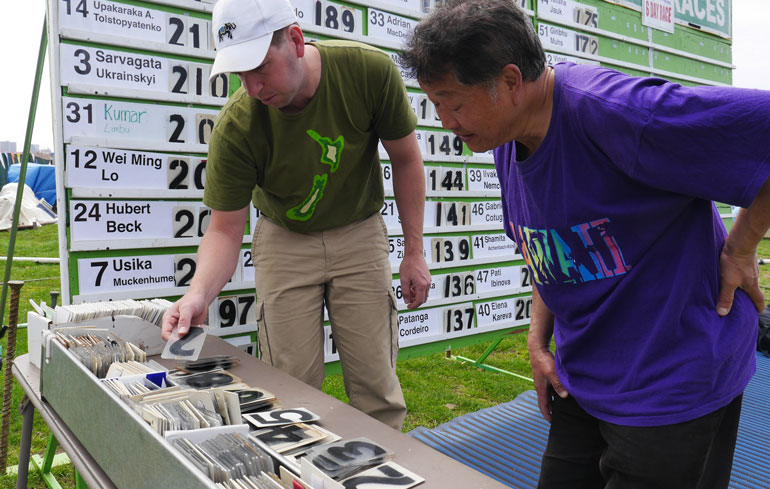 Pretty soon he is on his own and enjoying the race.
Maybe next year.
Some rain is expected so the crew prepares.
Shamita had a tough 2nd day.  She is feeling better and running better on her 3rd day with 209 miles.
Ashprihanal moves so lightly and so smoothly you sometimes do not notice that he is even there, until he has passed you by.
Vishmaya with 154 miles.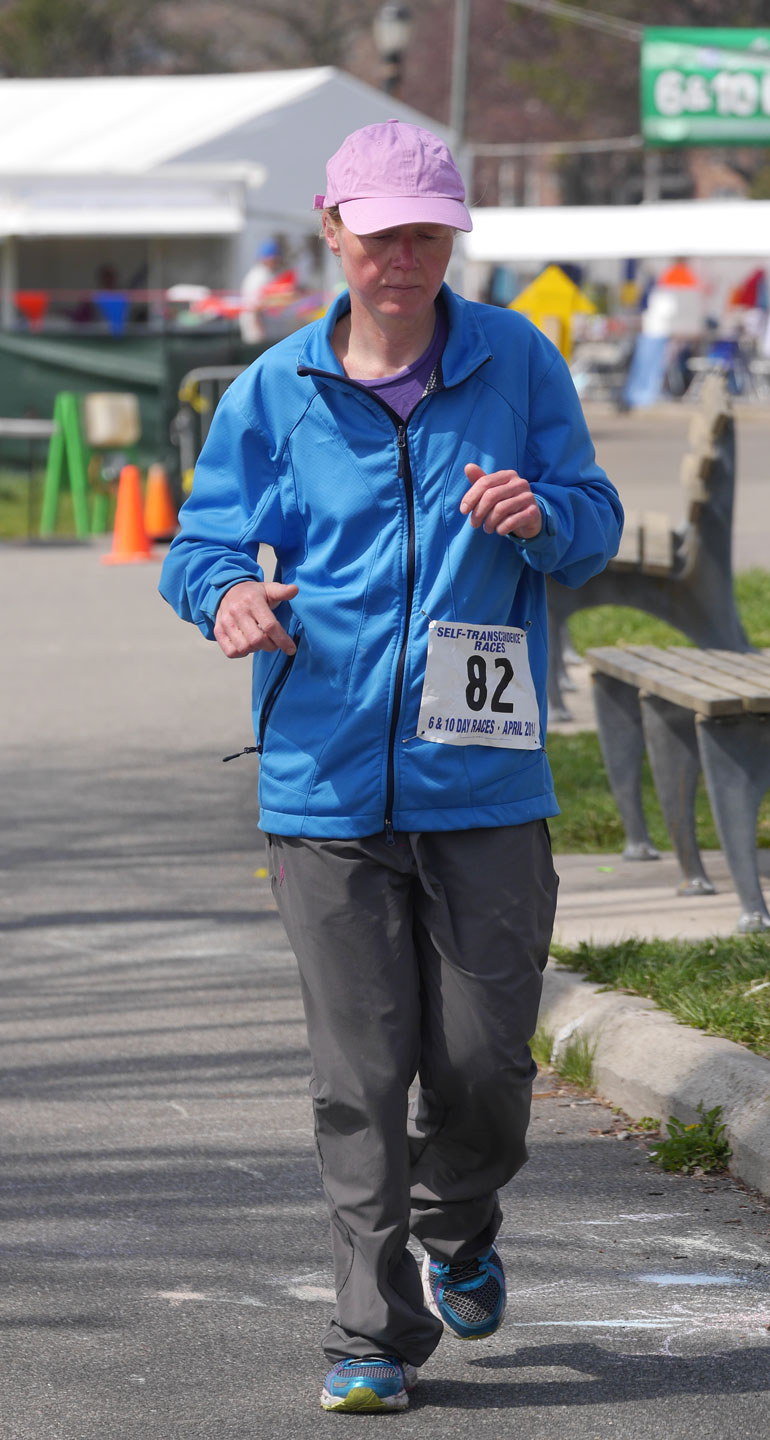 Perhaps why we have not seen any ducks in the camp yet this year.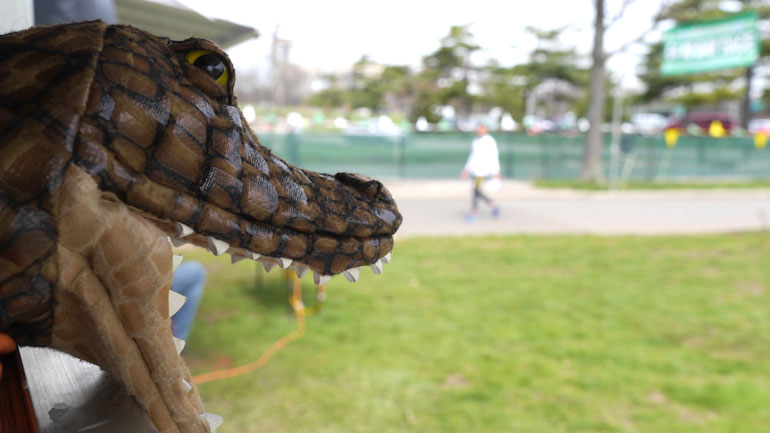 Andrey
Andrey
And with a flower beside the road.
Gabriela in 3rd place with 214 miles.
Daulot with 174 miles.
Elena by the Lake
Elena also with 202 miles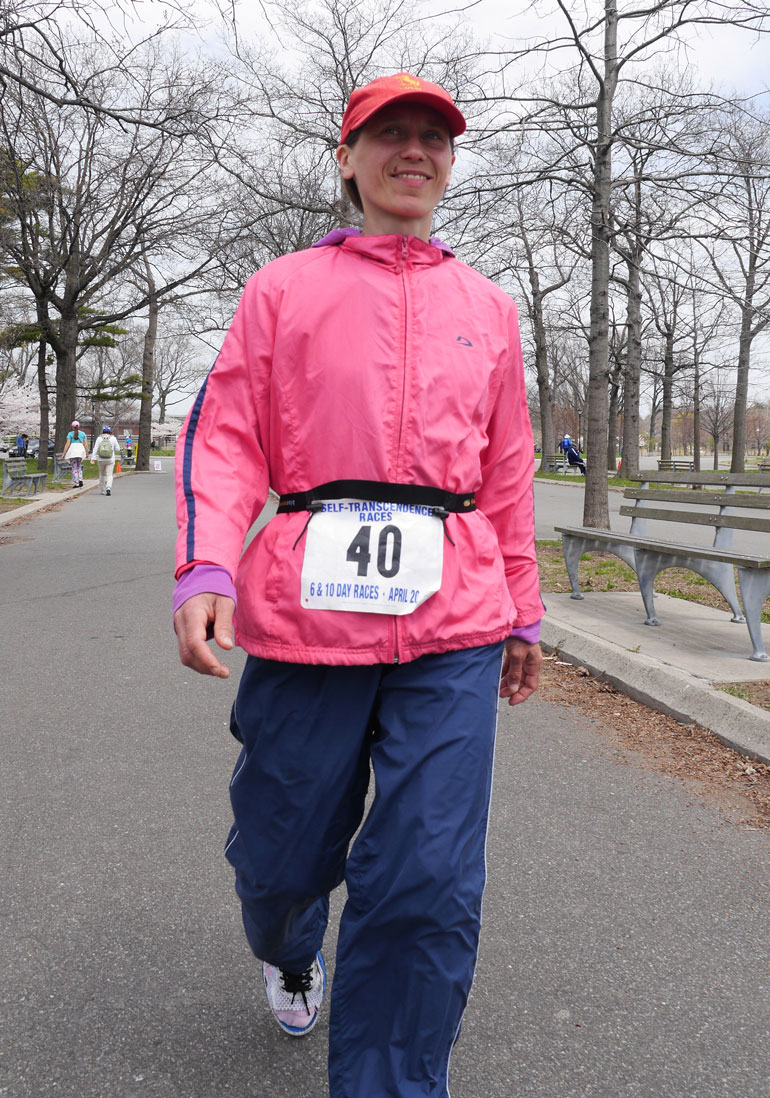 George has just arrived from Canada and is getting a tune up before he starts the 6 day race tomorrow.
Roger has just arrive from Wickham Quebec is back again this year
He is friends with Marius
Also friends with Michel Gouin who has 167 miles.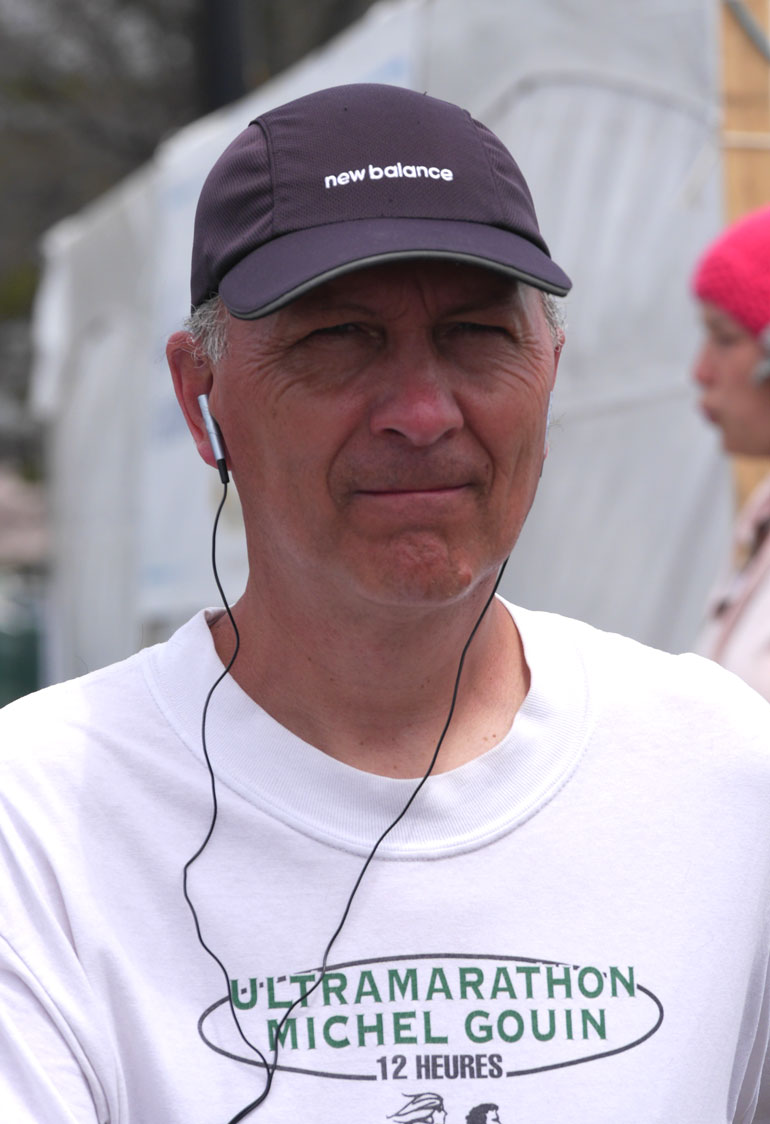 Maybe it is just that Karnayati is very popular…..Here with Dr. Mitch.
Then with Gudrun.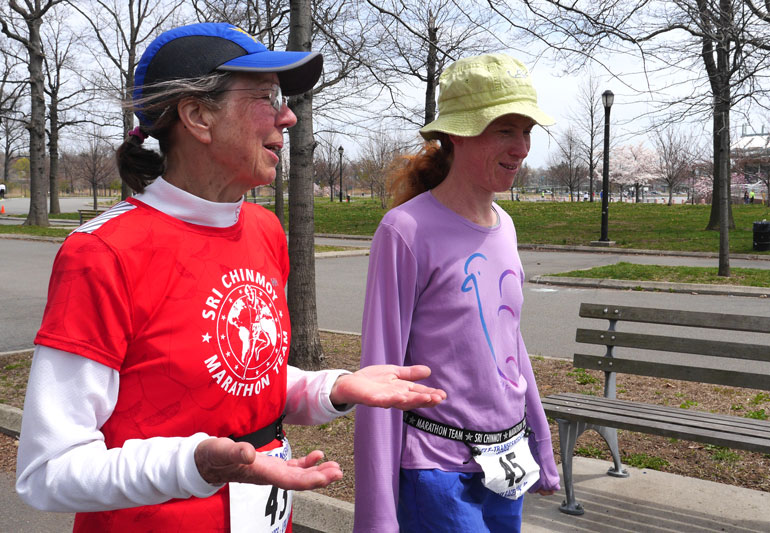 Then with Tatjana who has 175 miles to her 155 miles.
They tell me that they have met before but today is the first time this race that they have been together.
Karnayati says, "I mostly see her back, as she goes by and also sometimes her smile as we pass each other."
Asked about her mileage, Tatjana says, "I am very happy.  I didn't train so much, because I work a lot.  I have done a 6 hour race."  She says that most of her training came on the weekends.  She says that she that she has been here 2 times.  "The first time was when Sri Chinmoy was still here in 2007 and then came again in 2008.  "This is my 3rd time here."
"I just want to do my best.  I want to get a good experience, an inner experience.  I want to dedicate my run to Sri Chinmoy.  That is also why I came."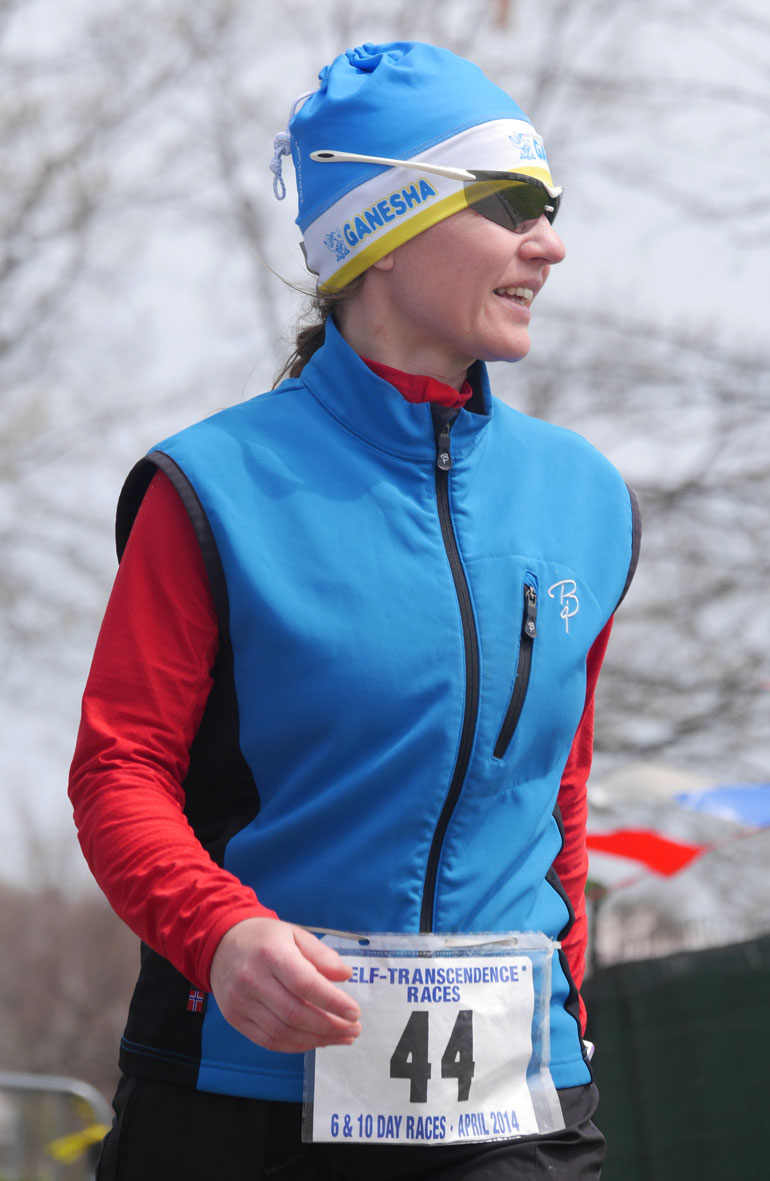 She feels that by running here it is her dedicated service to her late Spiritual teacher.   Whatever mileage that she manages to achieve she wants to offer them to him.
She is also very happy with her mileage and her experience thus far.  "I cannot say anything bad.  I am doing my best."  Her feet have become a problem with her recently.  She is also surprised, "Every night when I go to sleep I am very very tired.  Then every morning I am fresh.  I can go again the next day.  This is amazing."
Karnayati is more experience but agrees, "Every night I think, this is it.  I can't go on tomorrow.  I am so tired and so beat.  Then every morning I wake up and it is beautiful again.  It has been really nice.  I don't have any mileage goals.  I just want to stay happy.  It has been wonderful."
As for plans for the rest of the race.  Karnayati says, "I only know what is going to happen when it happens.  There is nothing I plan to change in the way I am doing things at this point."
Tajana says she wants to simply be more concentrated over the next 7 days.  "I want to settle down now and just see how to do it. But I am not thinking about the future.  Because it is too far away.  I am just thinking now and this mile."
Karnayati: "There is nothing else like it in the whole world."
Click to Play Interview:
The trees still beautiful.
Rinat enjoying Borscht in the kitchen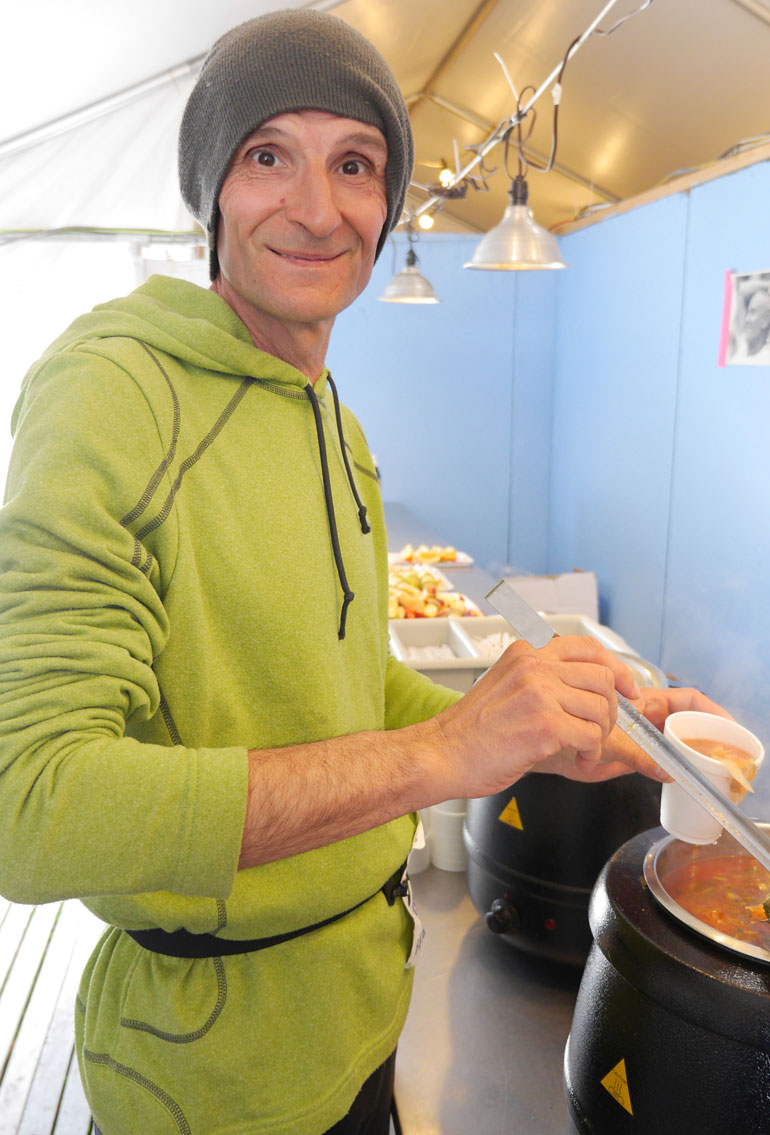 Andrey Somov
Paramanyu with 191 miles
Kodanda and his own man band.
Niribili with 151 miles
Looking towards the Unisphere.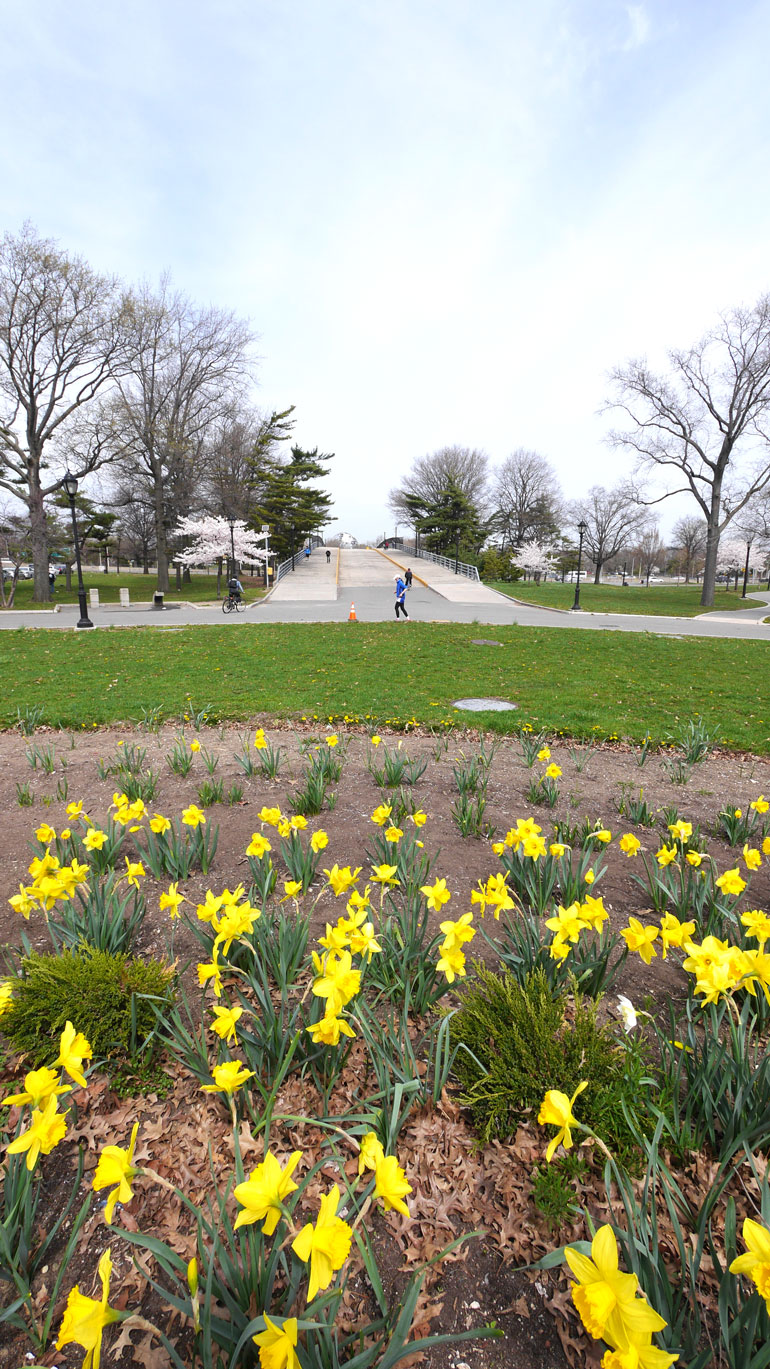 Nirbhasa is still in 3rd place with 221 miles.
Medur on technical support.
Kumar has 208 miles.
Kalpa doing his own shoe repair.
Hubert doing the usual morning maintenance but seems to be missing a razor.  Which I am told he will have tomorrow.
Of course all the runners need some maintenance.  Ilvaka who has 218 miles and is in 2nd place in the ladies category.  It is rare to catch her like this.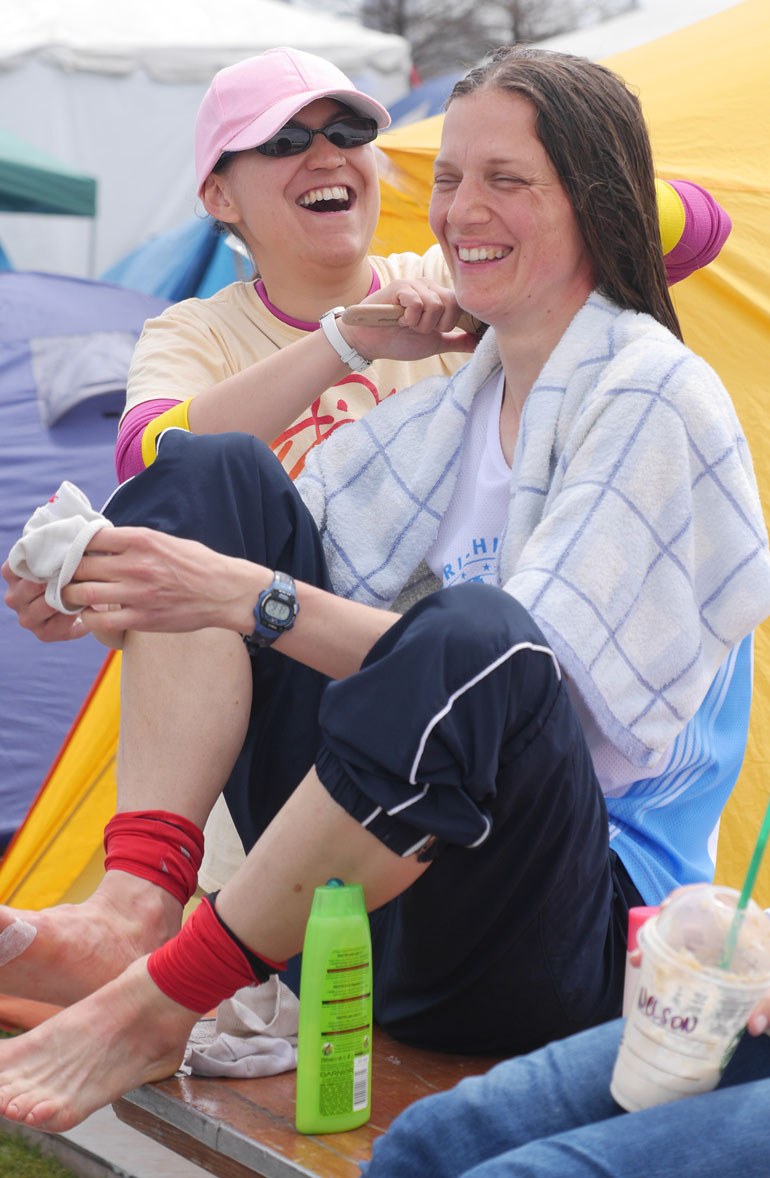 Girbhu has 172 miles.
"It is really special." Usika I speak to in a rare moment off the track.  "Yesterday Patanga called it the center of the Universe.  But you have to experience it."  He describes how it is one thing to imagine what it is like but it is only when you are fully involved in running can you appreciate this.  "Then you feel how special it is."
He says the ultra running community understand this.  "They can imagine what the other guys are going through.  Everybody is different but you can at least compare with your own experiences."
"This year, around Christmas, I checked the website of the Sri Chinmoy marathon team to check when the race started.  When he did he says, "I got such a wave of light, which I never had before from the internet.  So this is special."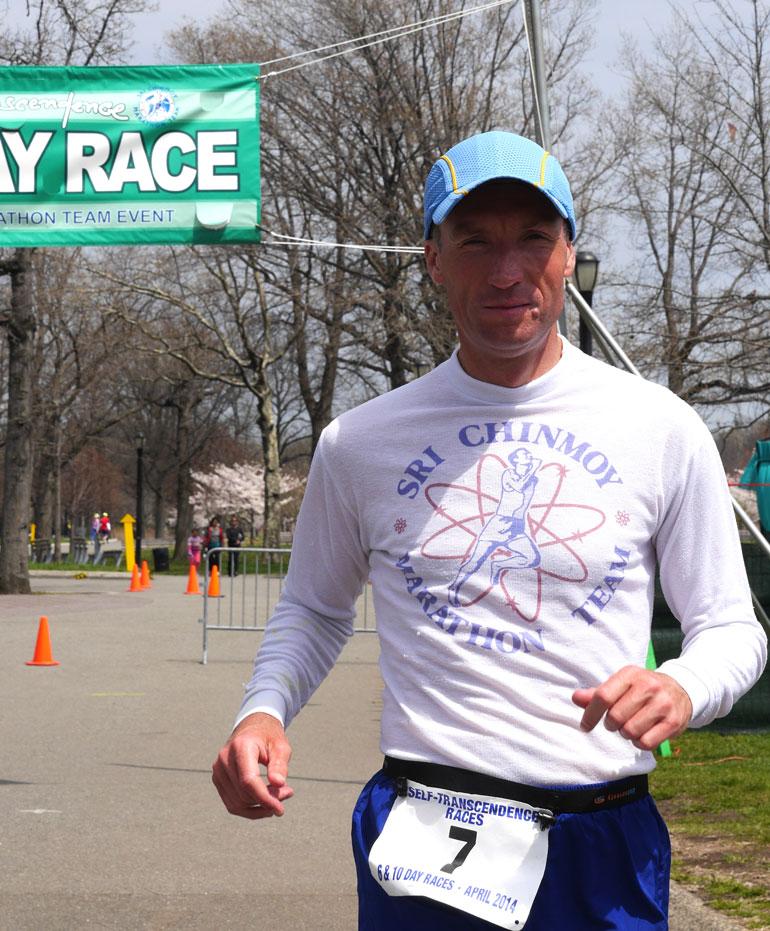 He has 201 miles so far.  "This is my best 72 hours since 1999.  Special year.  Special race.  Special blessing."
Click to Play Interview:
Question to Sri Chinmoy about his wheightlifting.  This must be very difficult physically.  Is it painful?
Sri Chinmoy: No, it is not actually painful, but it is a tremendous task, and very exhausting. Inner strength has to come to the fore, and the physical body has to receive the power that is coming from within. The physical body has to become a pure and perfect instrument of the spirit. I am doing these lifts with the physical body, but the strength and power are coming from within — from an inner source.
I am not competing with anybody. I am competing with myself. Last month I lifted up an elephant in Connecticut. It weighed only 1,200 pounds. This morning the elephant I lifted weighed over 3,000 pounds. It was more than twice as heavy as the previous one. So here also I am competing with myself. If we can compete only with ourselves, then this world will definitely be a better world. If we compete with others, by hook or by crook we try to defeat them, and that does not add to the divine qualities and capacities of the world. But if we compete only to increase our capacities, to transcend ourselves and to inspire others, then we will be better citizens of a better world.
Sri Chinmoy, Aspiration-Body, Illumination-Soul Part 2, Agni Press, 1993