At noon time, on this cool blustery day in Flushing Meadow the runners of the 6 day race, joined those already on the course for the Self Transcendence 10 day race.  Sifting through the bios it should be noted that the 80 runners out here, even for the geographically challenged, represent more than 20 countries.
No matter who you are at some point your language skills will definitely be tested.  Yet if there one thing here that is also unequivocally accepted is that there is only one universal language of any true importance.  It is how each runner communicates with their feet.  Just how far you go is all that anyone really cares about here.  That you attempt to give your very best everyone understands.  It is so achingly simply to recognize and yet so incredibly difficult to achieve.
We all are capable of flashes of perfection.  Those precious moments when the connection between what we are capable of and what we actually accomplish are in perfect sync.
But for the past 4 days runners have attempted to eek out every available step and mile within their capacity.  Push themselves in ways that they have most definitely prepared the best they could for,  but often there is a shocking disconnect between the practice world and reality.  That only in competition do you become aware of the wide chasm that separates them both.
If there is a consolation in this experience is that for many here the mileage and the outer performance are secondary to a more subtle goal.  One not measured or calibrated to any universal standards of perfection.
It is simply one's own personal self transcendence.  A journey that stretches out in front of us all.  A race that we started long ago and one who's finish line never ceases to call out to us all, and asks us always to go beyond the place that holds us now.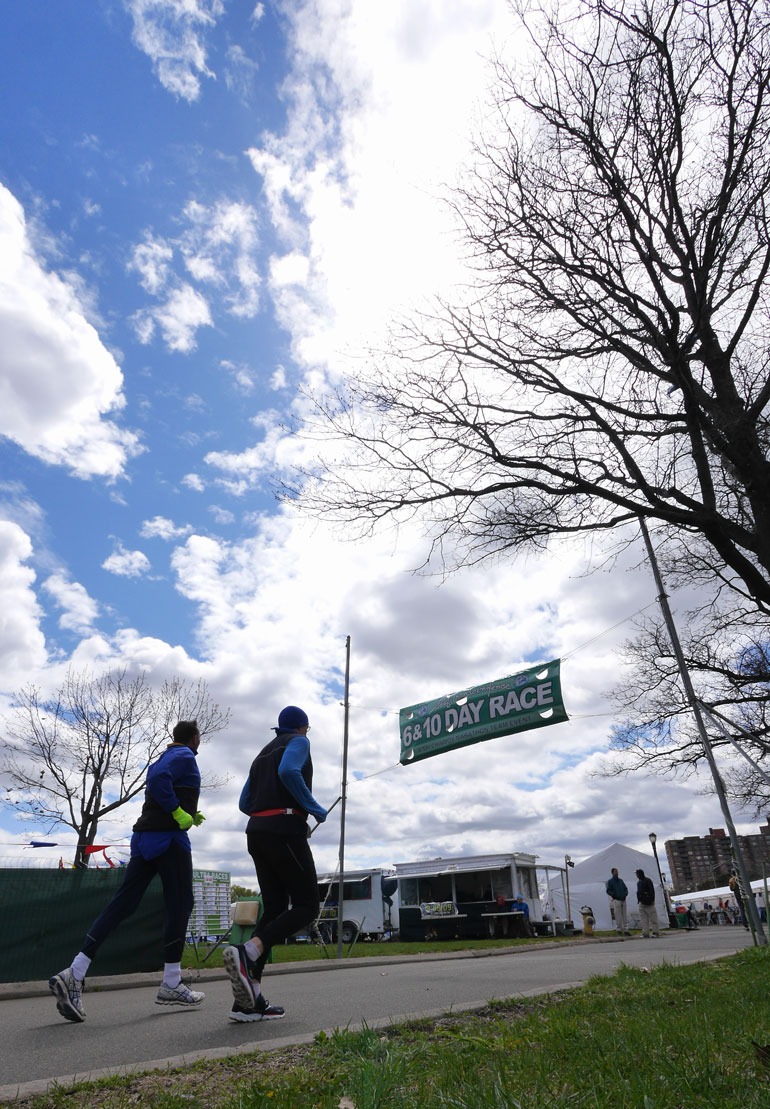 There is no race program or bio that can really do justice to the almost endless list of ultra running achievements of 55 year old Dipali Cunningham.  She is here once again this year with an unbroken streak of 16 wins in the women's Self Transcendence 6 day race.
There may be no competitor who devotes their training and efforts to this particular race quite like Dipali.  Around Queens she can be seen on long training runs at almost any time of the night and day.  She is superbly trained and supremely gifted for this race.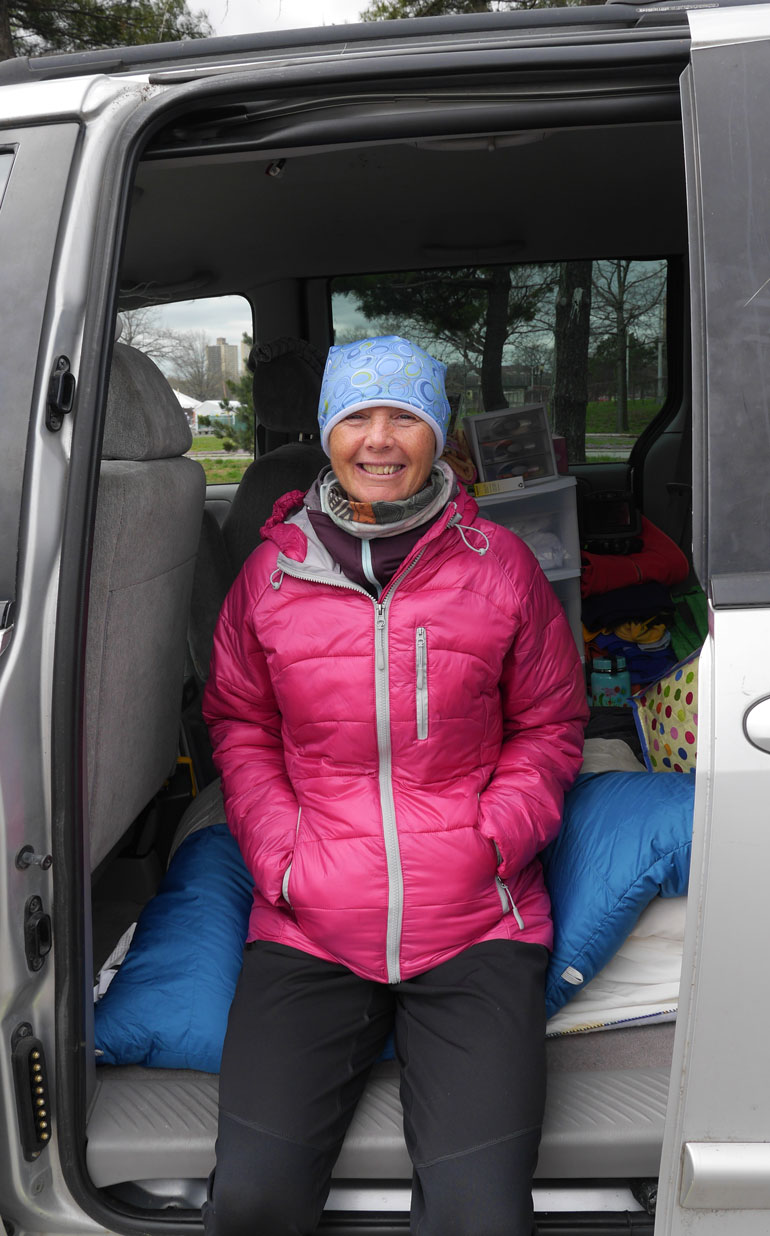 Last year before the race Dipali was very excited about all the new innovations she was going to do for the race.  This year she seems to also have worked out a new strategy as I come across her in the parking lot standing next to a van, which is also going to be home for the next 6 days.
"This is keeping warm camp 2014."  It looks fully loaded with clothes, supplies, and snacks.  I suggest that as good an idea as it is there could also be the unfortunate incentive of simply driving off some night.  She laughs and says that she won't ever have the keys to be able to do that particular escape maneuver.  "It could be scary.  You could be having a tough night, skip to the front seat and drive home."  She says that she saw how another runner used a van last year instead of a tent and she decided a few months ago that it was also going to b a good idea for her this year as well.
She gave it a test nap yesterday.  "It is quiet, its warm, there is no wind.  This is great.  I have thought it all over the past 2 months.  It was a little bit scary to do it after 23 years of living in a tent." Not coincidentally hers is not the only mobile rest stop parked next to the course. There are at least 2 others, including Don Winkley from Texas.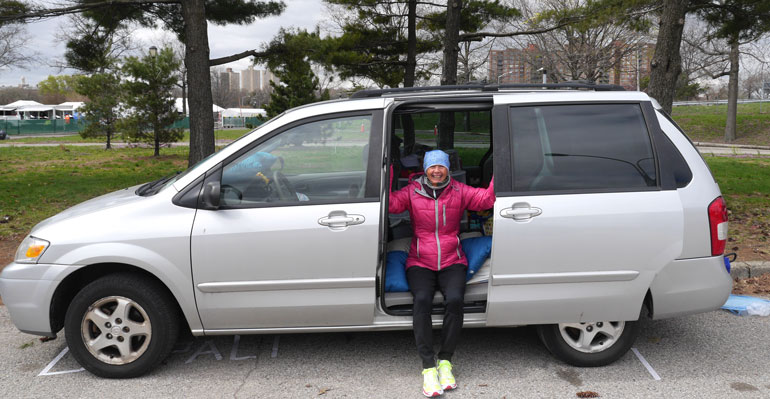 She has a team of helpers but new to her crew this year is Prapti from Ottawa.  Dipali says that instead of the runner usually asking around for help, Prapti came to her and volunteered instead.  "She wanted to do this.  I am so grateful that she wants to be part of my team."
She says that she had a cold last week but as of today she is feeling much better.  "There is always a goal and that is always to go one step further.  I always believe in Sri Chinmoy's philosophy of Self Transcendence.  And age is in the mind.  This is race number 17. I am happy and here we go."
Click to Play Interview:
The races has many faces and unless you are here all of the time you will not see them all.
Last night it was particularly pretty and the air was still and warm out on the course.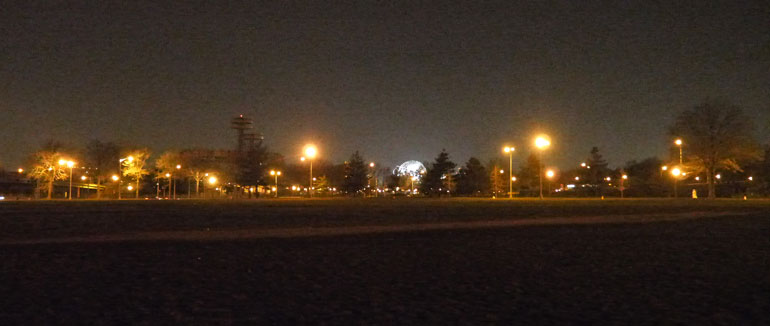 You never know exactly who you will see when the hours slip past midnight.
Hubert was out late.  He will complete 262 miles for 4 days.
Gino and Karin are out on the course late.  They will finish 4 days with 230 miles and 186 miles respectfully.
Michel is always out on the course late with Chantelle
Lo  Wei Ming is an incredibly talented 50 year old runner from Taiwan.
I had wanted to interview him for several days now but could never find anyone who could help interpret.   So despite this obvious obstacle, not knowing more than 3 words of his native language Mandarin I interviewed him just the same.  He spoke for nearly 5 minutes.  I believe he was happy to share talking about his experience but I have no idea what he said.
Should anyone be able to translate the following recording I would be very grateful.  He appears to have quite a few fans in Taiwan who are following his progress.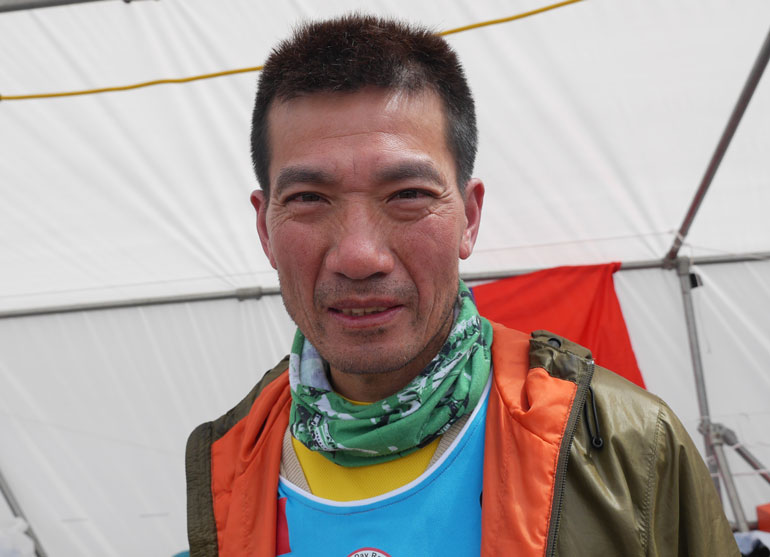 Click to Play Interview:
The 6 day runners and their helpers are out in force today making last minute preparations.
Many familiar faces have returned…John Geesler.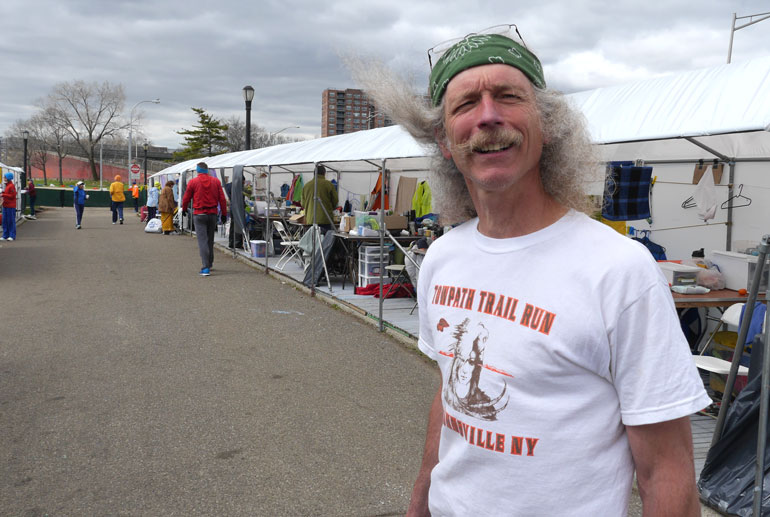 It wouldn't be a race without Luis Rios whose birthday is on Friday.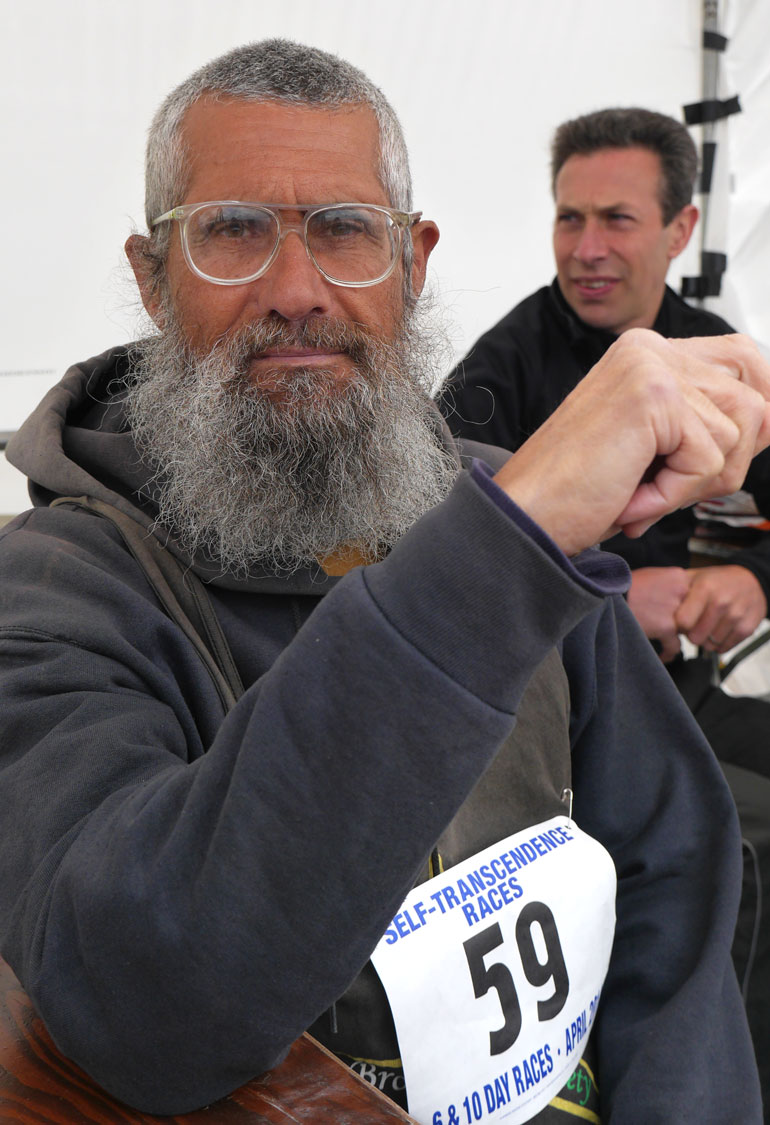 This is Elena and crew from Moscow.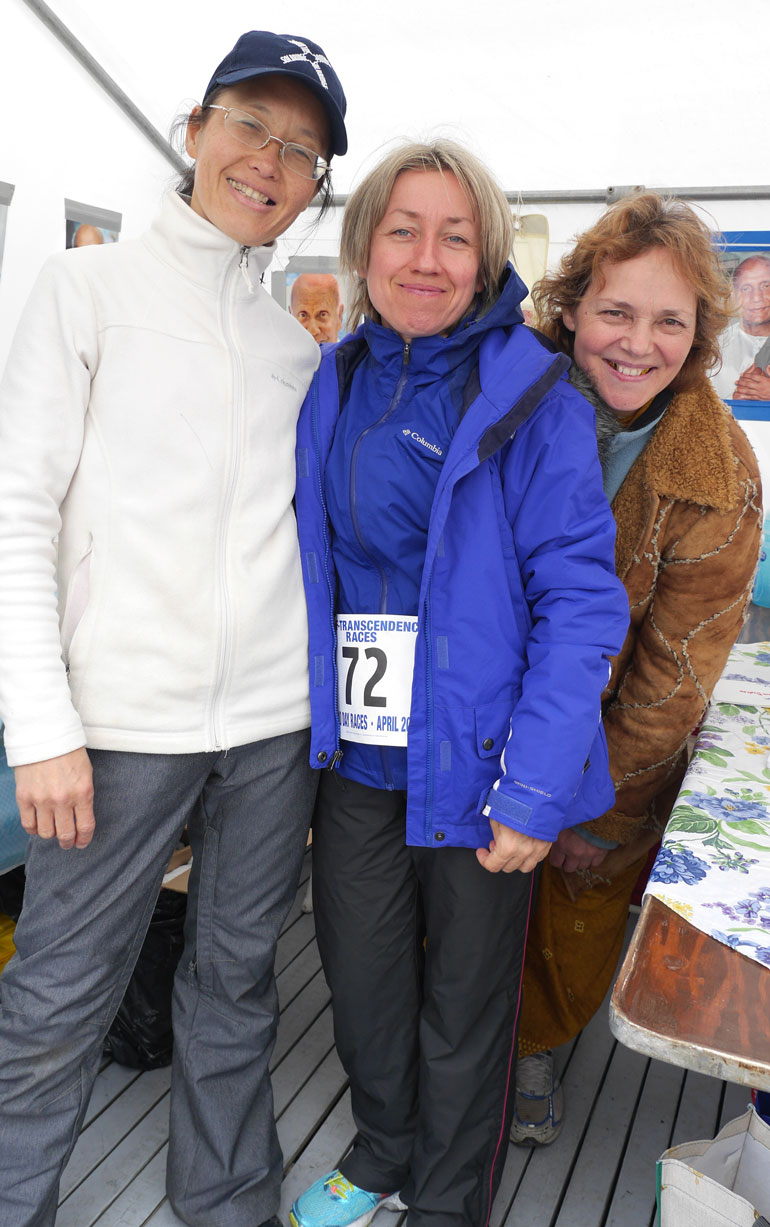 Eoin Keith and his wife Helen are here for the first time.  He is a formidable runner and has the distinction of being the Irish record holder for 24 hours (244.6km). This 45 year old runner's longest event prior to now is the 72 hour Across the Years Race in Arizona where he ran an incredible total of 300 miles.
"I have been wanting to try a 6 day race for quite awhile.  The longest I have gone is 3 days and I have only done one of those.  That went very well for me.  I always suspected that the longer it goes the more fun I am going to have.  The only way to find out is to actually get out there and run a longer race.  The 6 day is my first venture into the real long multi days."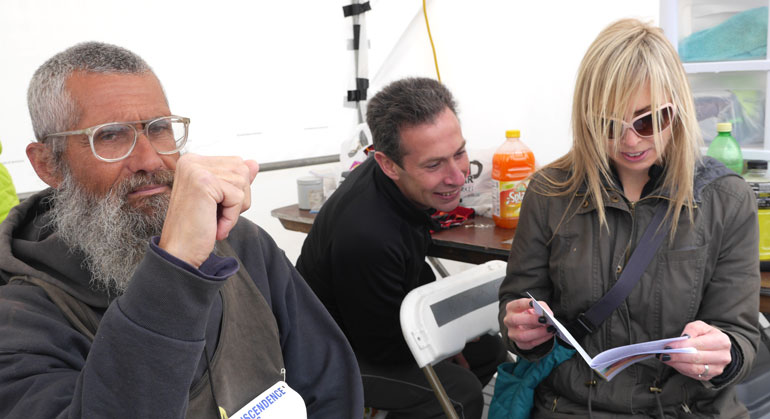 "If he was going to insist on the madness then I had to come and support him, " says his wife Helen.  "I had to come and support him and try and learn what it is all about.  I don't fully understand it yet.  I hope by the end of 6 days I will understand more why anyone wants to do it."
She mentions that Luis, who is sitting in a chair next to them is helping her understand.  When asked how many races he has done his answer, "I don't know."
Eoin says why he likes these kind of races.  "It is pushing out the envelop.  Seeing what you can do.  When I did my first 24 hour that seemed like a long way.  But now it seems so short.  That was nearly 10 years ago."  He mentions that just so happened to be the annual 24 hour race put on by the Sri Chinmoy marathon team in London.  "It was great.  They have fabulous organizers there.  They are lovely people and I really liked it."
"The one thing I like about the Sri Chinmoy races is the support, and the atmosphere tends to be fantastic.  Everyone is so supportive and welcoming.  It is great."
As for the weather he is hoping for hot and dry conditions.  He is not a big fan of cold wet Irish weather.  "I would like to be able to go back with a tan.  I will take what I can.  In Ireland we are used to dealing with any weather.  If you don't like the weather then wait 5 minutes, and you will something different."
I ask Helen whether or not Luis has told her anything.  "Mostly he has said how awful the nights are.  How cold they are.  I feel really guilty because I mentioned that I was staying in a hotel.  Now I have set that idea in his mind.   I think he likes suffering."
When asked if this is true, Luis's answer,  "NO."
Click to Play Interview:
The 10 day runners do not have the luxury of relaxing.  Ashprihanal has the lead by 50 miles.  Over 4 days his total is 344.
Last night he took a brief break in medical where Yuri worked on him.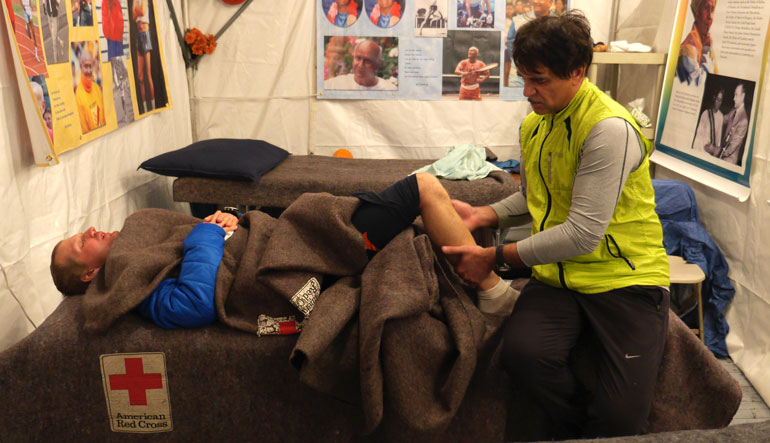 Nirbhasa had the most miles for 24 hours with 70 which Sarvagata also achieved.  Nirbhasa is in 2nd with 291.
Volodymyr is now in 3rd 284.  He took a break in medical this morning.  Sarvagata is in 4th with 281.  It will be an extremely close race between these 3 men.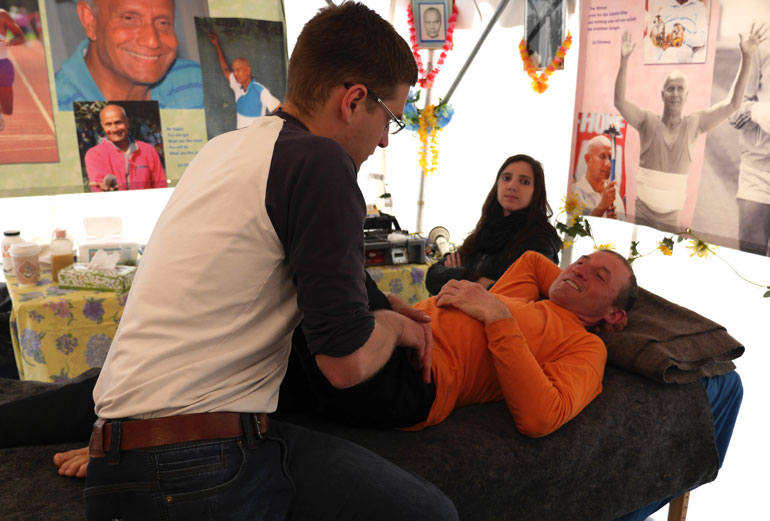 It is not a particularly cold day but it is windy.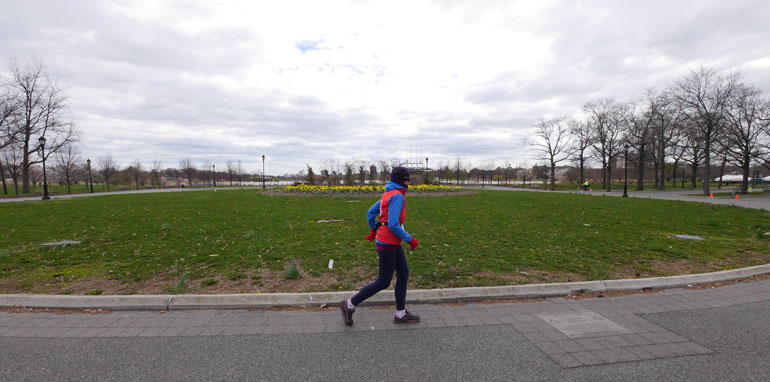 Kaneenika has 302 miles after 4 days.
Ilvaka is in 2nd place with 280 miles.
The sun shines bright for a short time and then hides away.
For the 10 day runners the new group will add new energy to the course.
Giribhu has 223
Adrian 204 miles.
The kitchen is being kept busy with these conditions.
There is hot food 24 hours a day.
At night the counting crew looks a bit like this.
Karin's daughter has a birthday today.  The present she wants is that her Mom take a shower before coming home.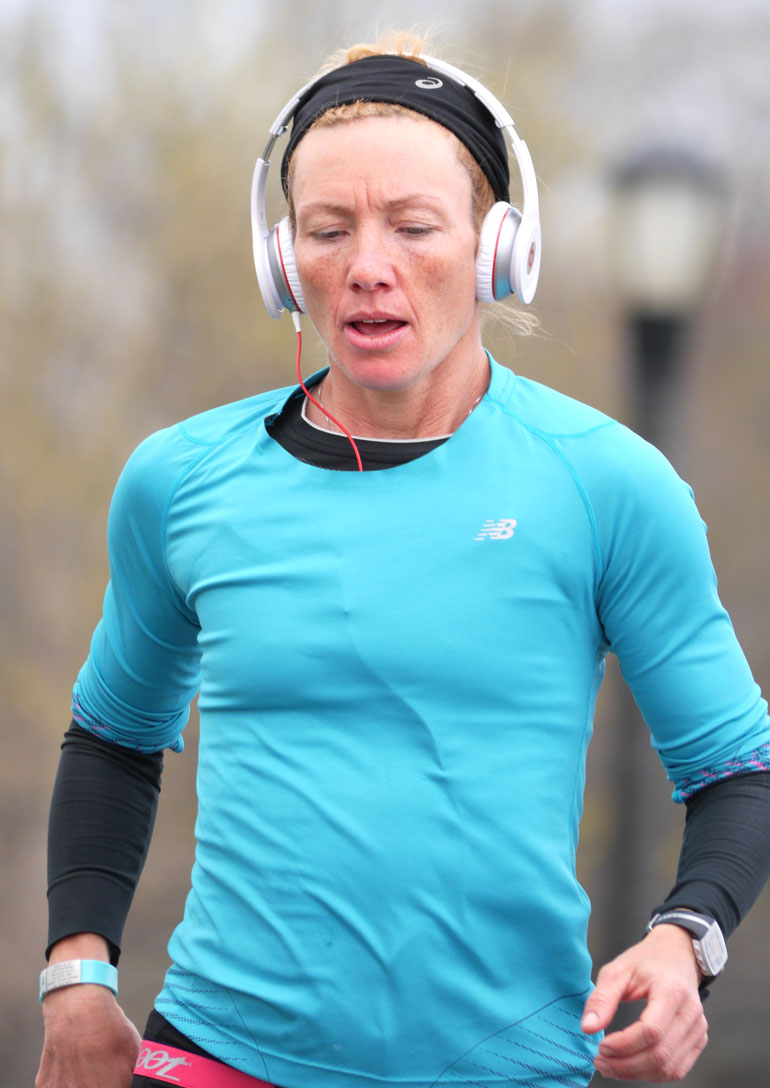 This morning before the start of the 6 day.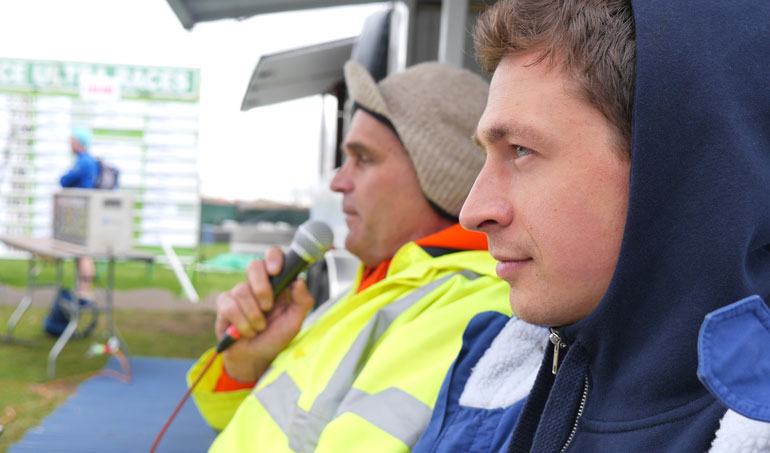 Sahishnu announces the names of the runners in the 6 day race.
Dipali is more than ready.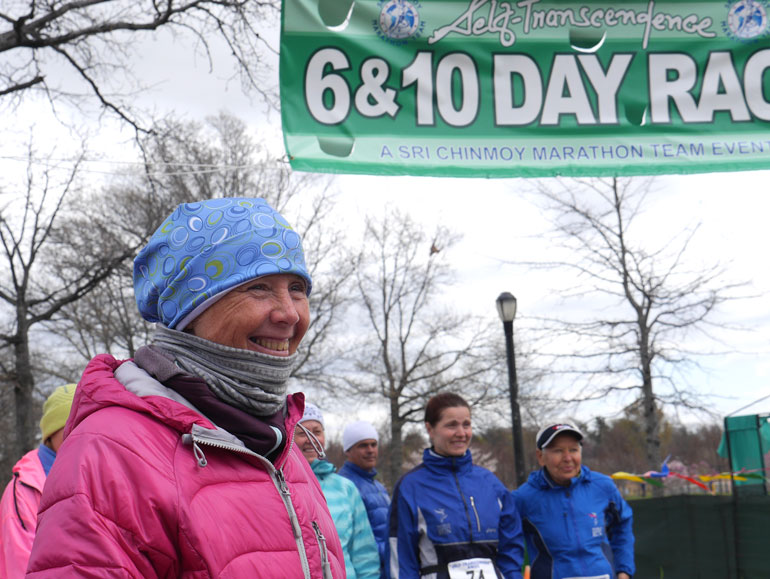 How it looks if you were in the group ready to run.
The first steps.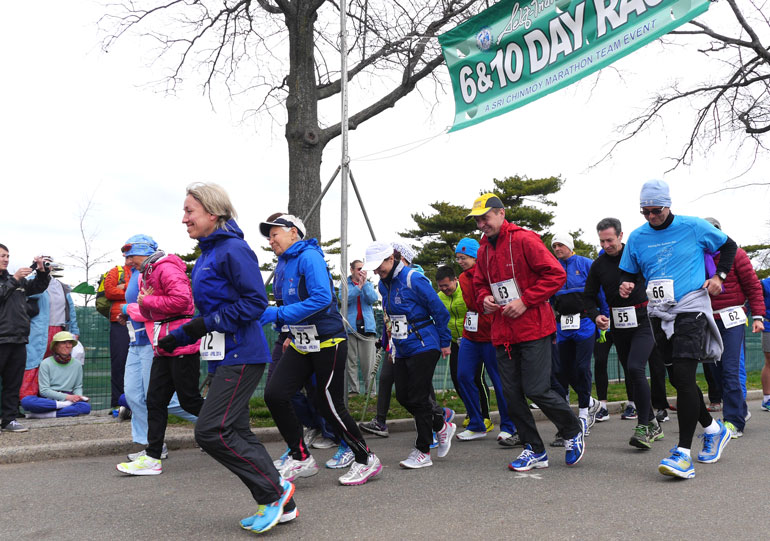 Dipali on the course.
Budjargal, a talented 32 year old runner from Mongolia goes out very fast.
He is being helped by Bayubakhuu who tells me more about this very interesting athlete.
"I live in New York city and I work for the Mongolian heritage foundation."  He will be helping Budjargal for the race.
He tells me that he is a 4 time winner of the 24 hour marathon that is held each year in Mongolia, sponsored by the Sri Chinmoy marathon team there.  His national record is 120 miles for 24 hours.
He will now be the very first Mongolian to participate in a 6 day race.  The longest he has gone so far is a 24 hour race.  He feels that it is now time to challenge himself with the longer race.  "I am sure he is well prepared for this."
"It is amazing.  All the people who participate here."  He is very enthusiastic and feels all the excitement that is all around the course.  "I wish there were more people who could see this and participate."
Click to Play Interview:
Elena from Moscow starts.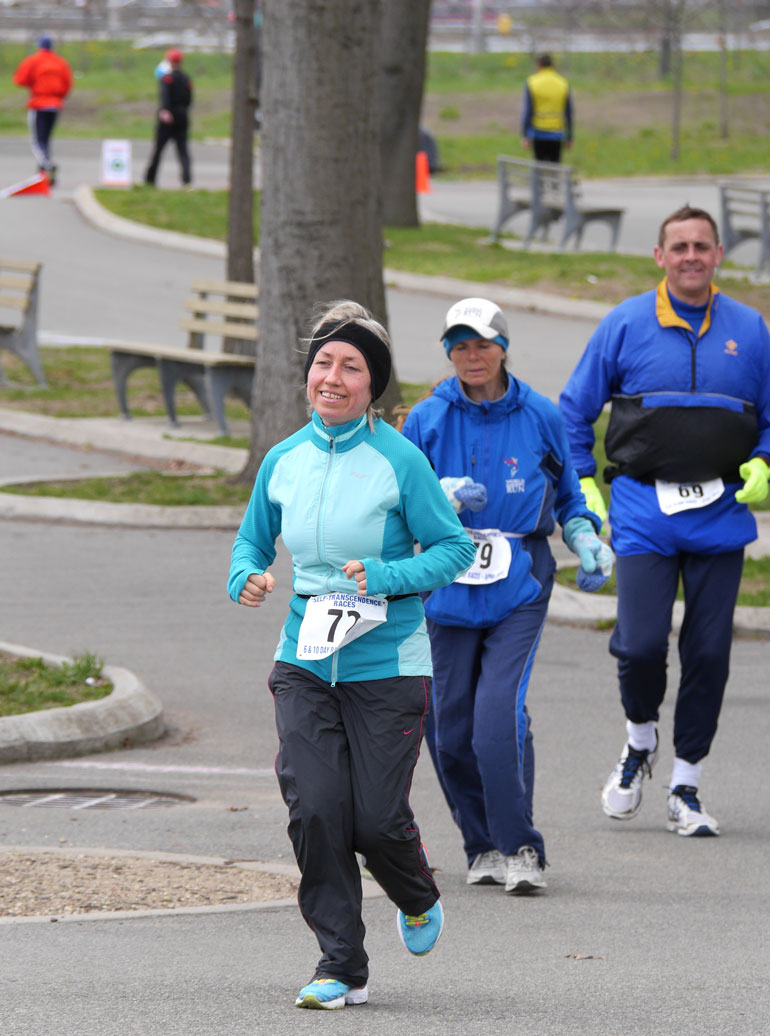 Galya will be interesting to watch.
Galya is extremely experienced.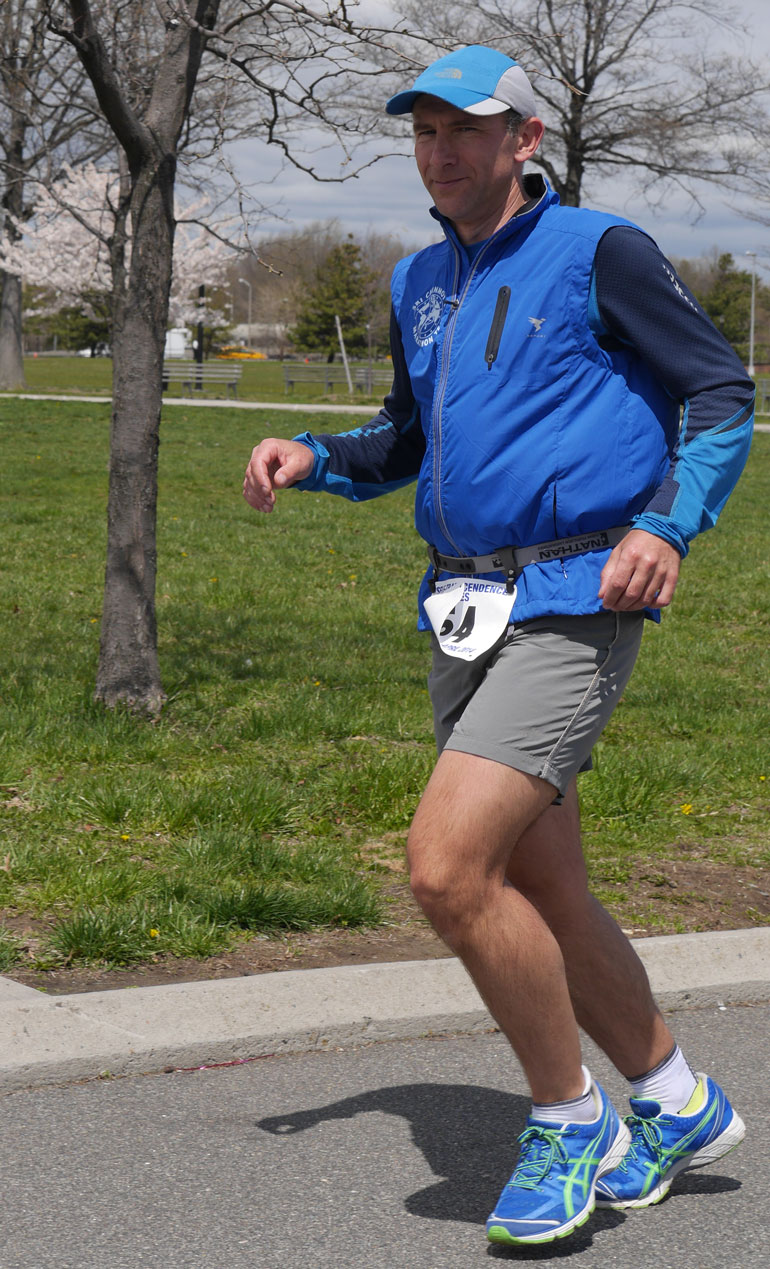 He has a personal best here of 481 miles in 2012
John Geesler enjoys running with the new guy Eoin who I suspect also enjoys running with John.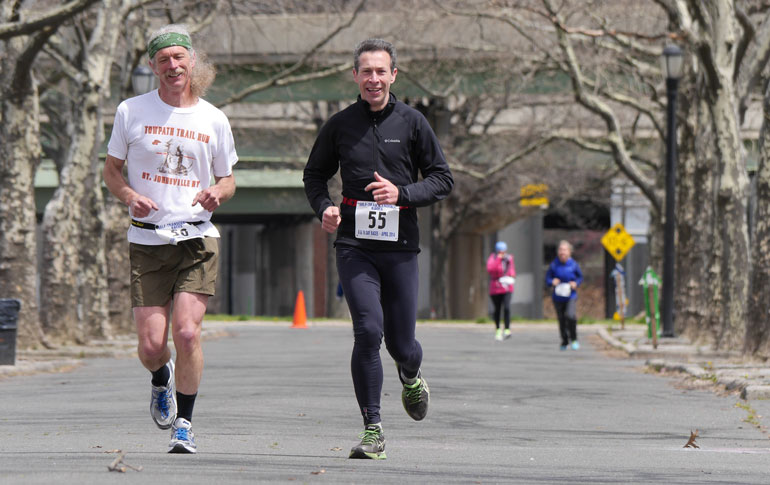 Deveshu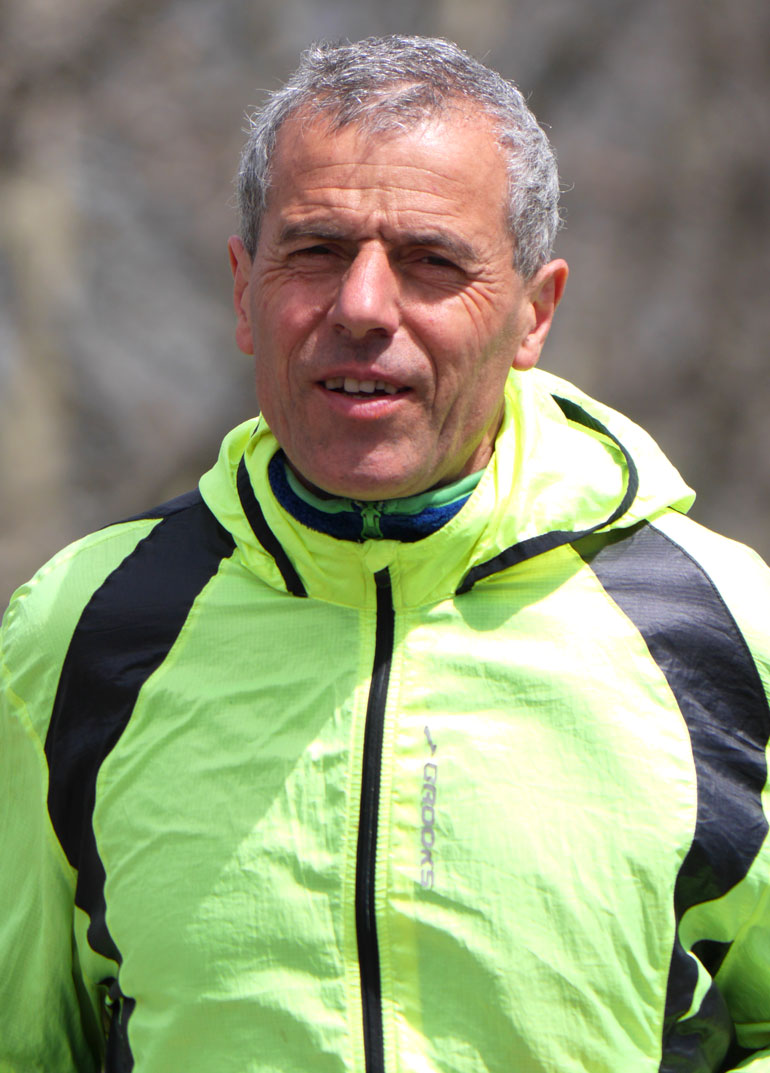 Gerry Shea from Ancaster Ontario Canada getting help from his Mom Diana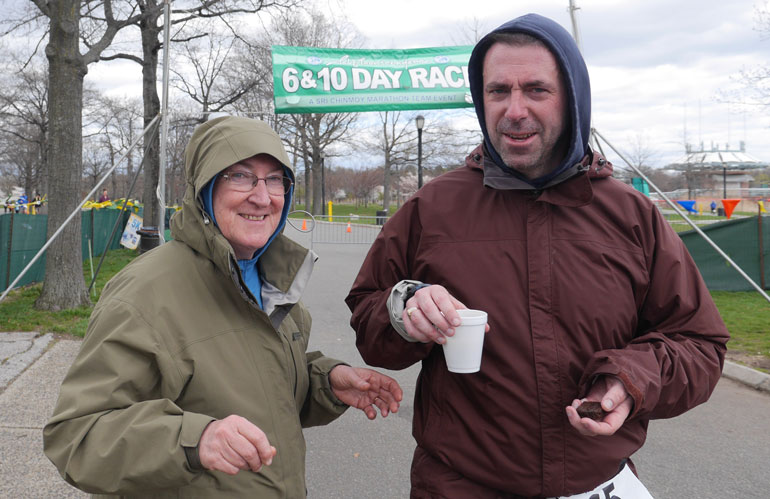 Anna
Budjargal running fast and focusing on that alone.
The veteran Don Winkley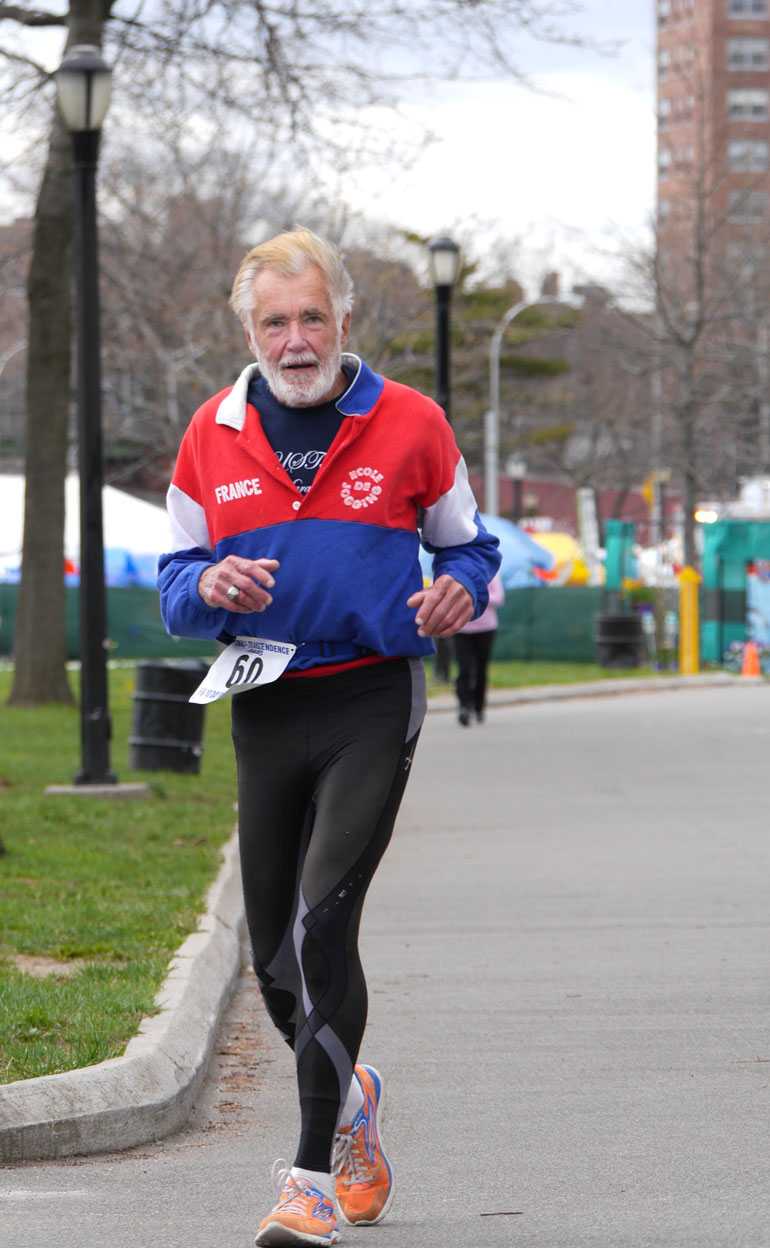 The counters are busy now.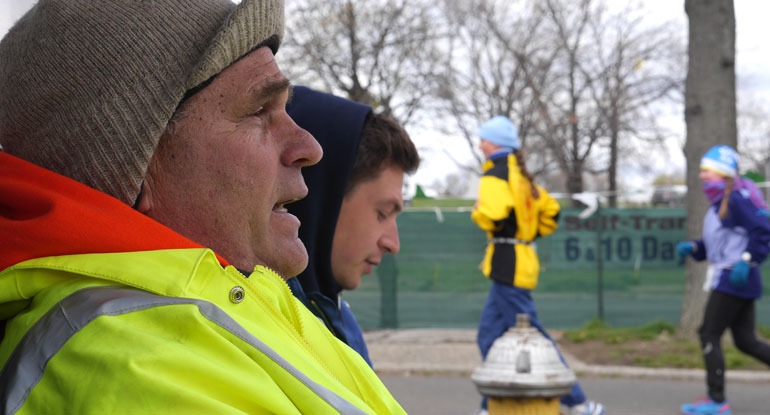 George Biondic from Aurora Ontario Canada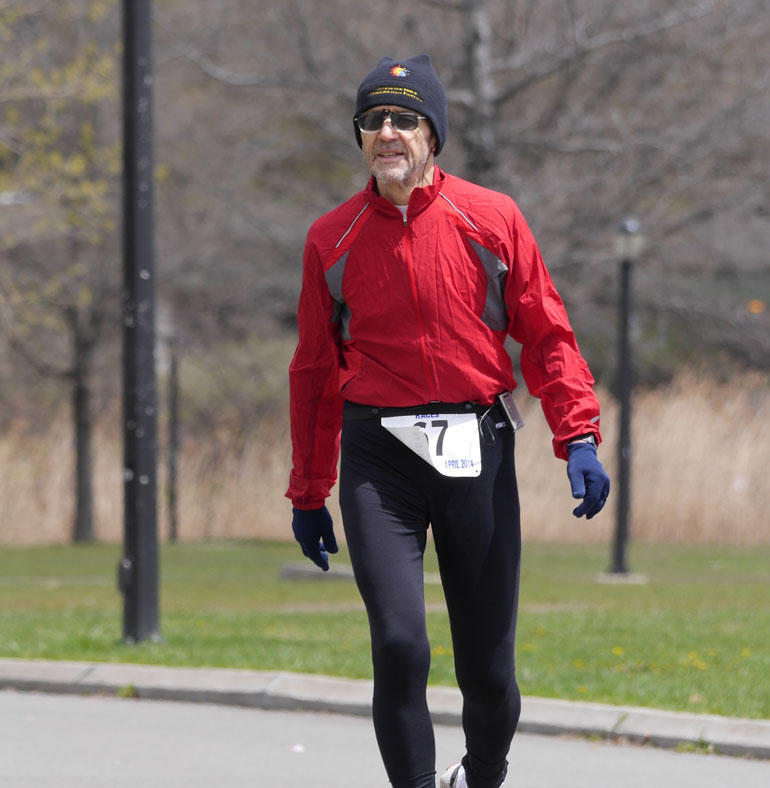 Another possible reason for the absence of ducks.  Does not explain why there are still small boys around.
No Escape.
The great Pratishruti.
The course is diverse.
Priyavadin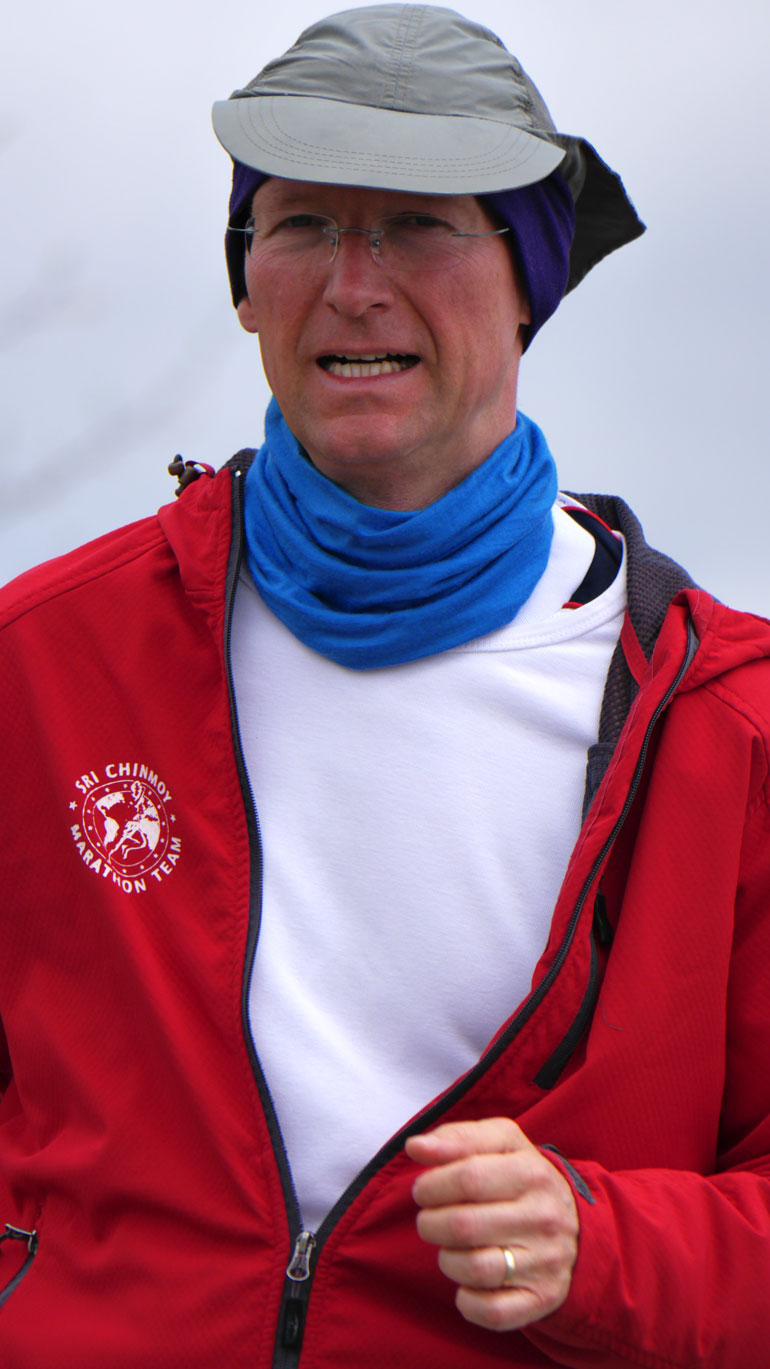 No time to sit.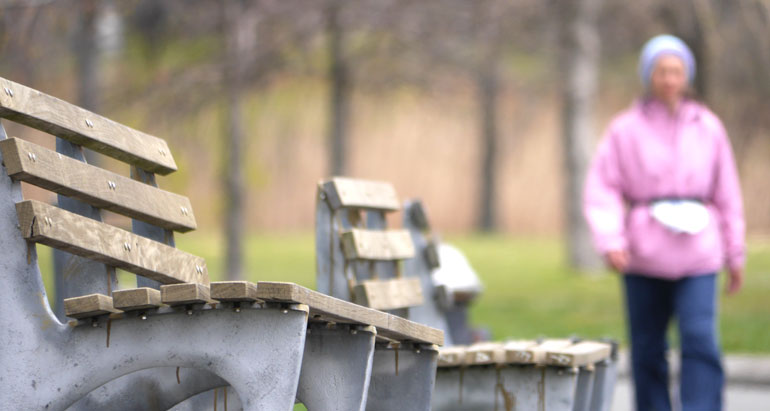 Roger, not bothered by the wind.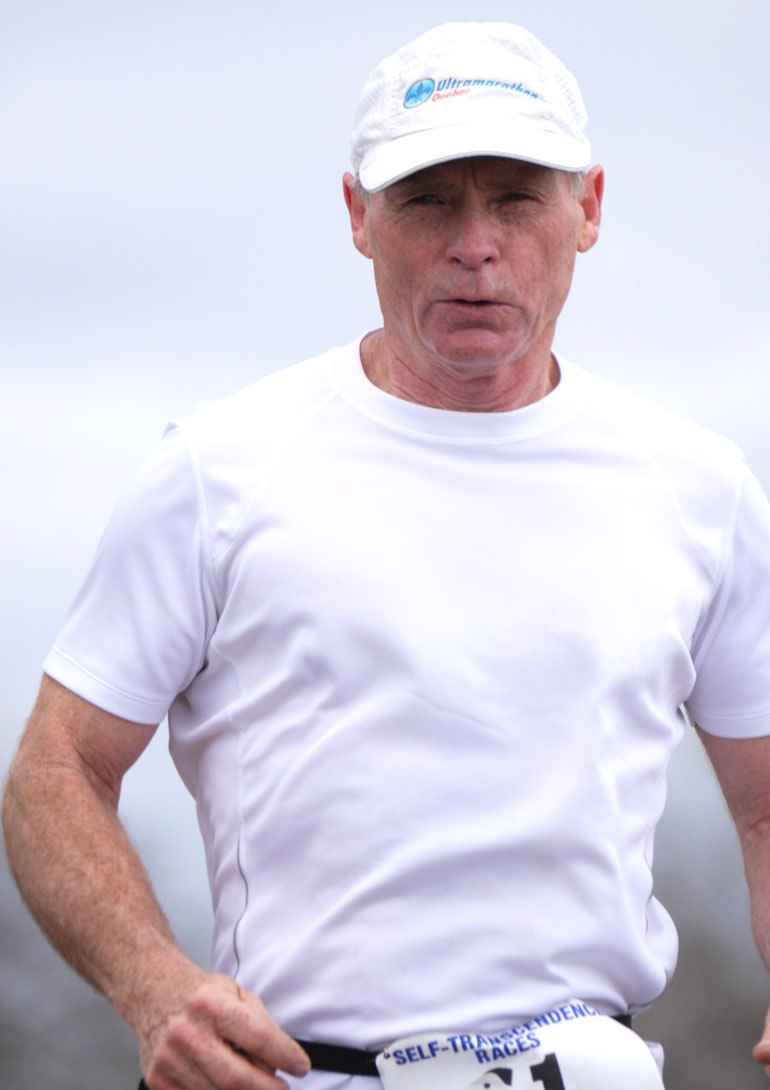 Rimas enjoying being on the road.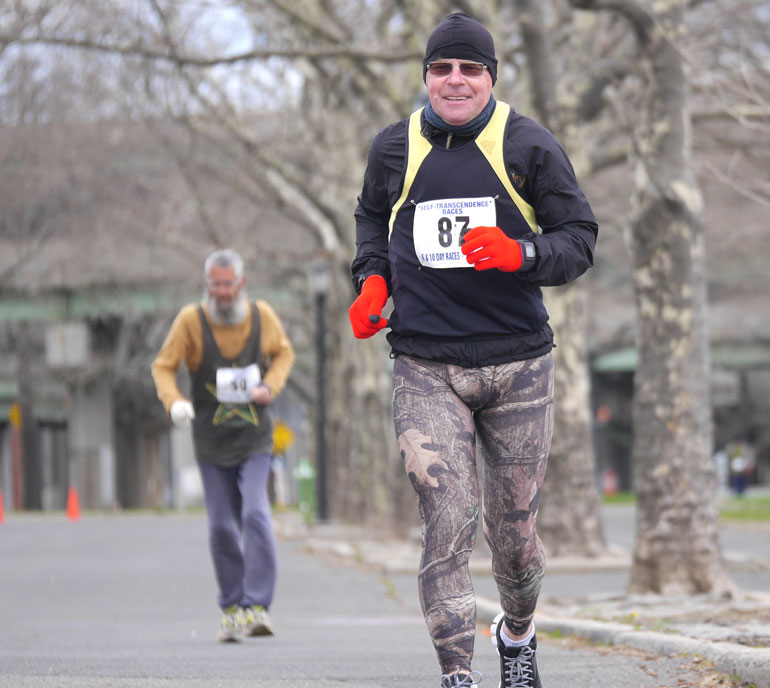 Vera.
Luis going hard.  He will soon be 66 years old.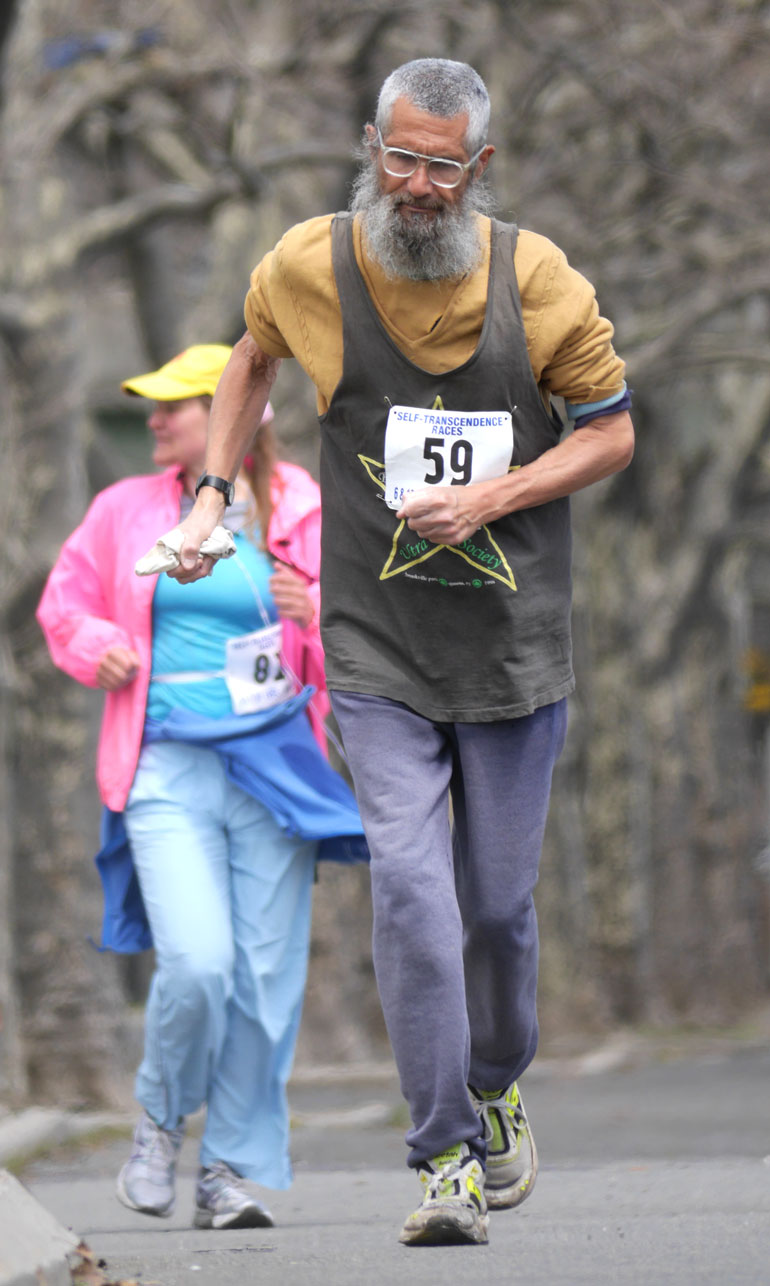 Two worlds, so close together and yet so far.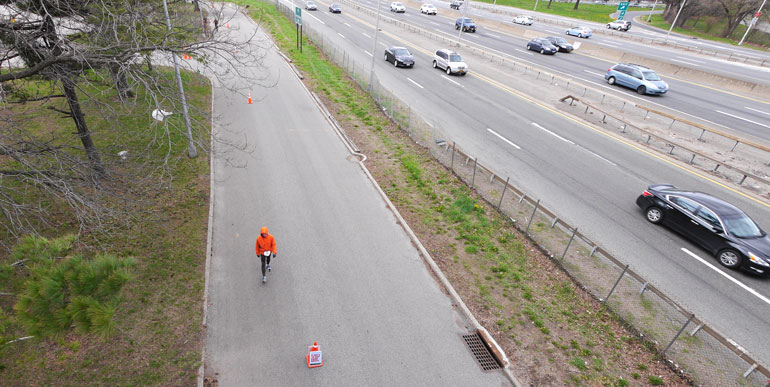 You do not have to know
How far you have to go.
Just remember:
The Goal is awaiting you.
Sri Chinmoy, Seventy-Seven Thousand Service-Trees, Part 29, Agni Press, 2002