The bright bell tone of the singing bowl radiates outward like a warm gentle breeze.  It's sound is light, clear, and soothing.  It's music reaches well beyond your ear and then on into some internal place calm, deep and still within the listener.  Utsahi smiles as he gently stirs his wooden mallet in a methodical even tempo around and around the worn outer rim of the bowl.  Something many other hands have probably done for more than a century.  Today the listeners are the runners who slip by and are only briefly caught up in its spell.
It gleams as it rests in the palm of his left hand.    To get it to sing is not difficult but your touch has to be precise. Neither can you press too hard or too lightly.  But once the musician maintains their oneness with the bowl presumably it would continue to sing out its perfect pure tone. The only reason it would ever stop singing is if the hand of the player grew tired and then could simply no longer make another precise revolution of its rim.
"It was made with lots of care because you can see all the little marks that the artisan put on it.  To just show that he loves the bowl and he created a sound that is unique in this world.  This sound you cannot hear anywhere else.  Just this bowl will create this sound.  It is like our souls.  Each of our souls has a sound, and we have to make it play."
"All singing bowls are unique and all the runners are unique as well.  And being unique we all have to express what we are here for, Our Journey's Goal.  The bowl wants to sing.  The runners want to run.  The bowls are happy when they play their tunes that they have been made to play.  And the artisan, God, has made them special, with special ingredients.  There are between 7 and 10 different metals in this bowl.  So we are all like that.  We each have special ingredients that we are made of.  And when we do what we are supposed to do, we are happy. "
"When the runners do what they are called to do, they are happy.  So maybe there is a relationship between the race and the bowls."
If our journey's goal is success,
Then we will be totally fooled.
.
If our journey's goal is progress,
Then God will be proud of us
.
And we shall be proud of ourselves.
Sri Chinmoy, Twenty-Seven Thousand Aspiration-Plants, Part 267, Agni Press, 1998
The excitement and clamor of the first day very quickly was whisked away which now reveals the unavoidable long hard road ahead,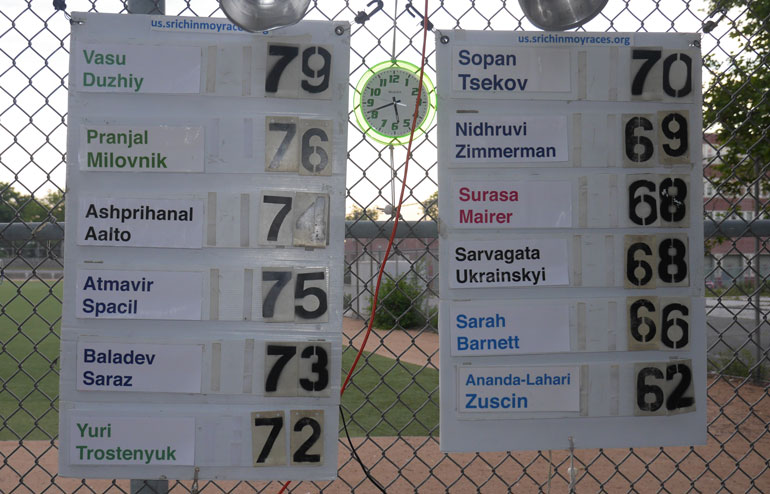 When I come early this morning Yuri and Vasu are doing exercises together in the park close by.  They hope to do these exercises every morning and also during the race.
Sarah attends to her troublesome foot.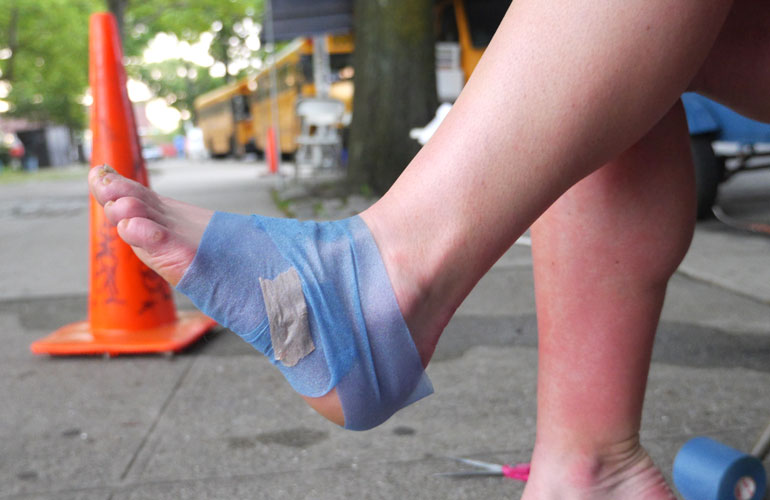 "I had real trouble with my foot injury most of the day.  About 9 or 10 o'clock it started to come good.  So at least I got a few nice hours in.  It is total grace because I think medical science would say it is not possible to run on an injured foot all day and then suddenly at 10 o'clock be okay.  So it is all an experience of grace."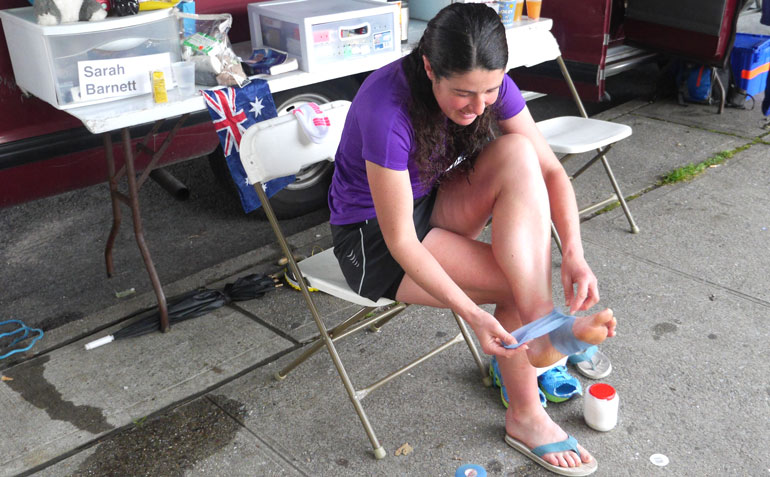 "I have to be careful with it.  I have to keep taping it up.  Arpan showed me a really good taping method.  I just need to protect it a lot.  I think it is going to be okay.  The race is just awesome."
Sopan checks out the first day's results.  He ran 70 miles.
Surasa stretches.
Nidhruvi has her own stretches.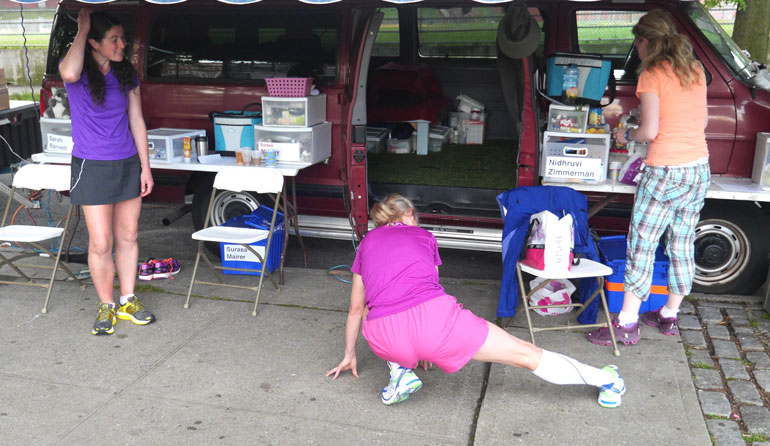 Jagadata, part of the crew.
The Start.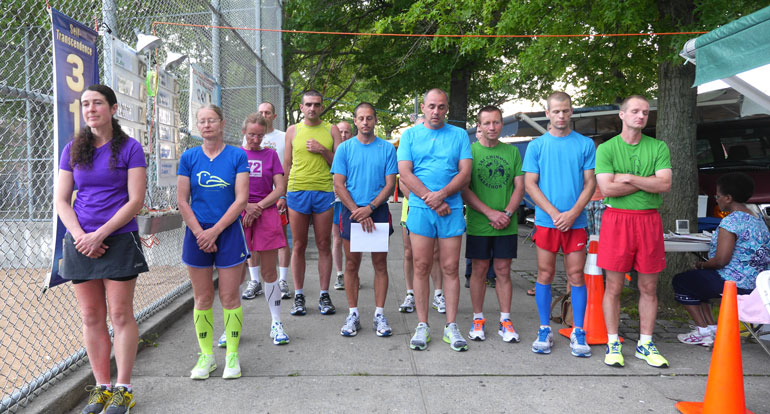 The early morning is particularly beautiful and still.
Vasu set the pace yesterday, something he did as well last year when he ran the 3100 for the first time.  I ask him what happened after he finished last year.  "After I finished I was happy.  I stayed for the August celebration and then I went home and went to work so that I could try and save some money for this year.  I have a job in a big factory and my boss was surprised.  Some friends at work contacted newspapers and they had interviews with me.  Two newspapers printed articles, with many photos from the race."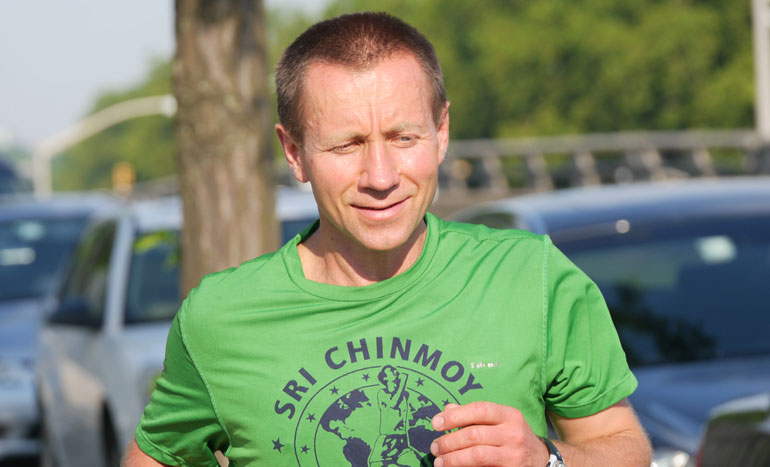 "For 3 months I didn't run.  I was strong after the race and was able to work again after 2 days.  But Dr. Kumar advised me not to run for 3 months."  He says that it was after this period that he visited Moscow from his home in St Petersburg and was able to run for 3 hours.   From then on he was able to resume his training.  He says that he was already thinking of coming again to run even last year.   "Sahishnu inspired me that I should run this race 10 more times.  I hope to do it."
He had a very bad blister in his foot last year and I ask him if he can avoid such injuries this time.  "I hope but I don't know."(laughs) Yesterday I had a little problem but I treated it and hope it will be better."
Ananda Lahari has some company.
The back stretch.
Atmavir having a bright moment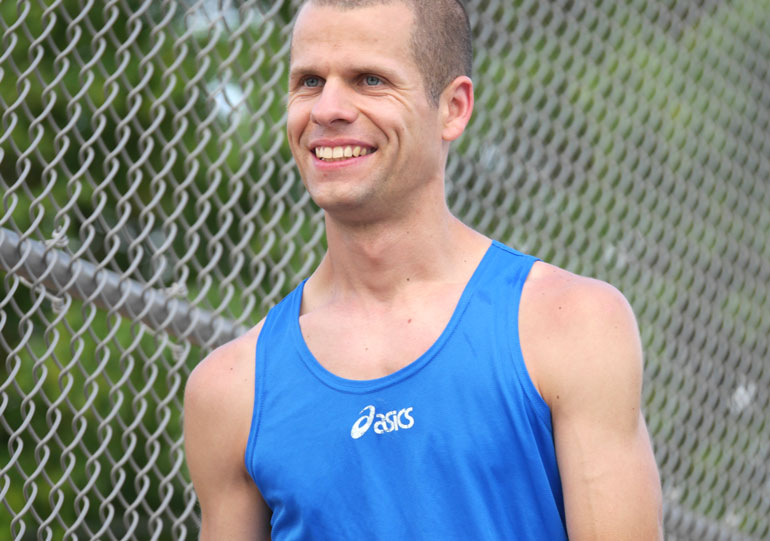 The camp.
Baladev perseveres
Surasa comes out of the forest into the camp.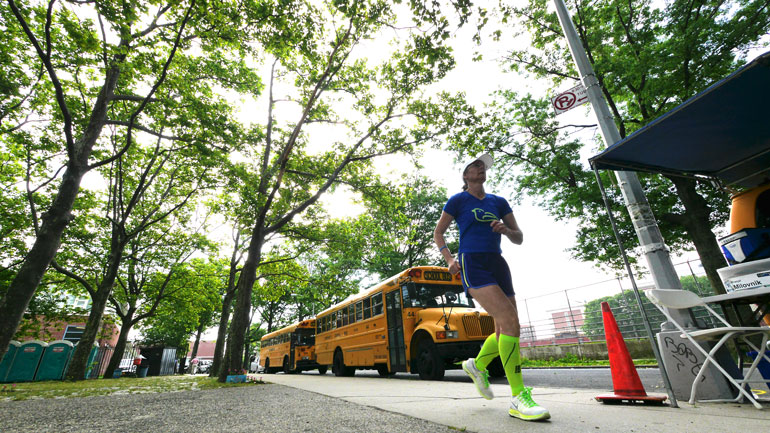 Kodanda entertains the runners.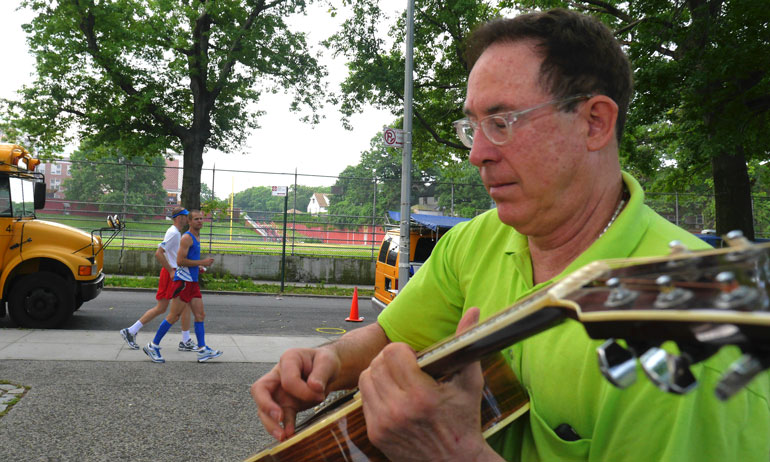 The course being cleaned by Karnayati.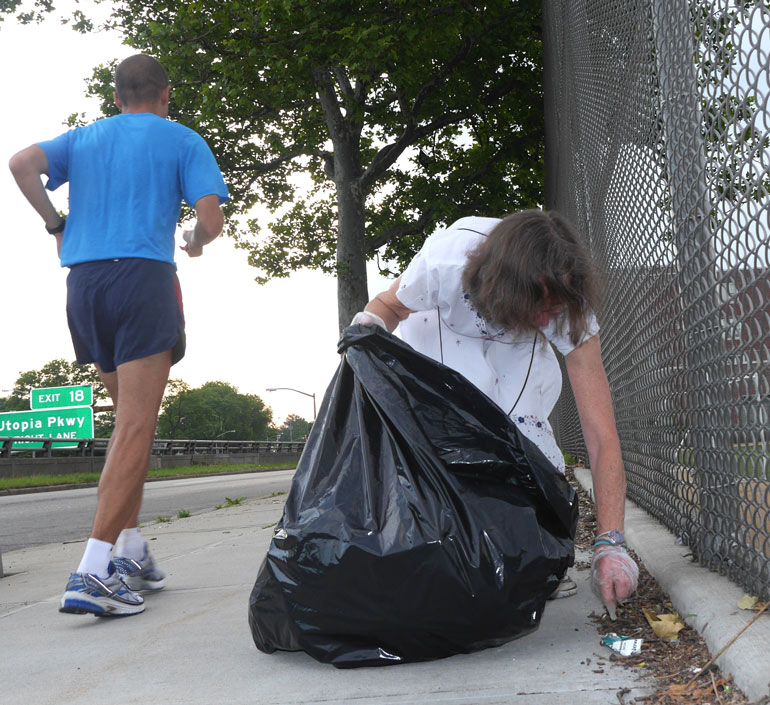 Medur experiencing Oneness.
Rupantar experiencing relief .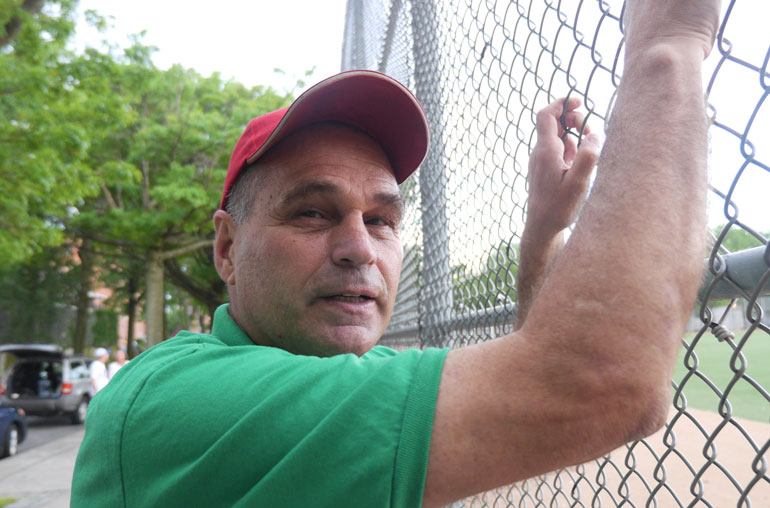 There is nature when you look.
Sarah's face revealing much and little.
Sarvagata gradually finding his rhythm.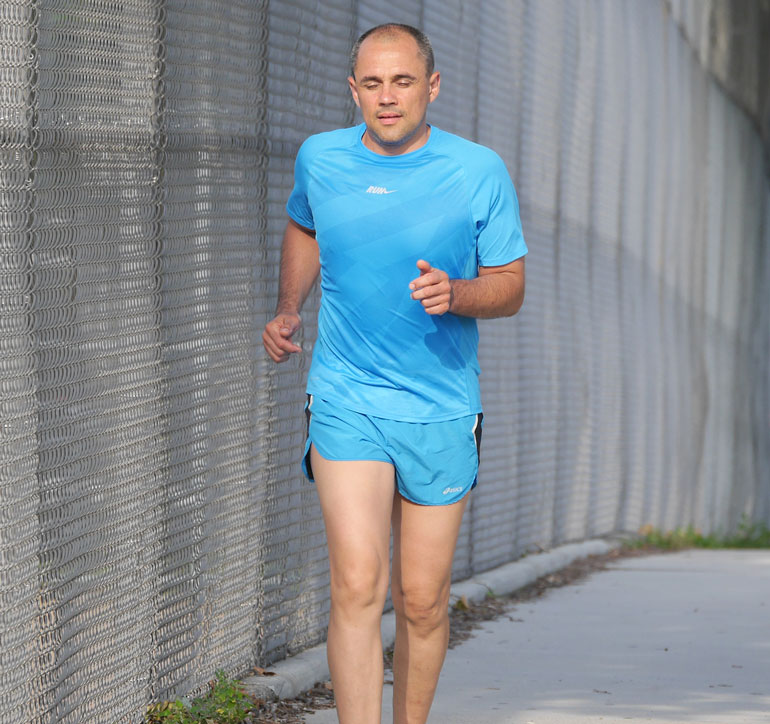 Yuri as bright as the sun.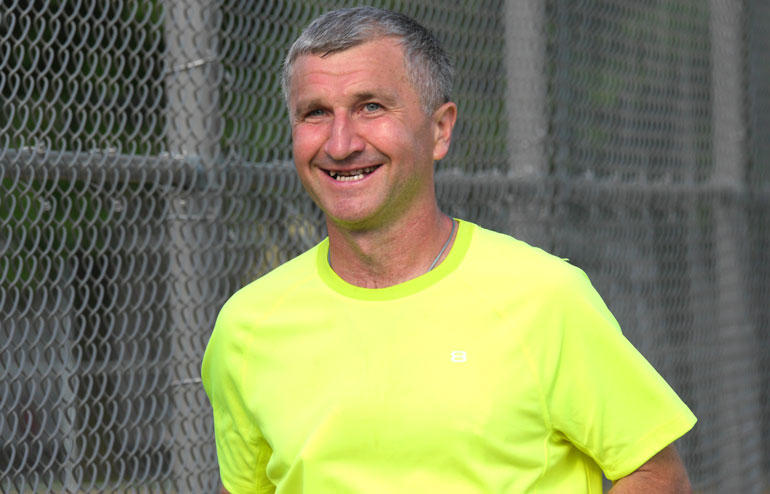 Surasa focused.
A teacher on the way to school looks on.
A Race prayer offered today.
Recited by Ananda Lahari.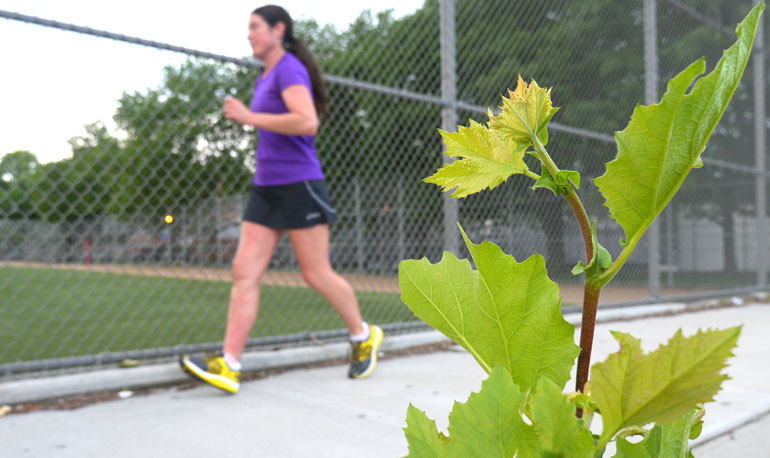 Pranjal finished 76 miles on his first day and when I ask him about it he tells me that he did not even notice his mileage.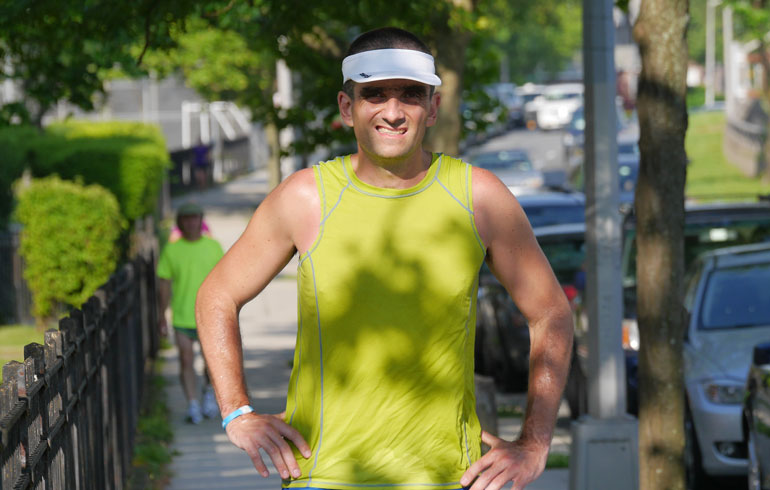 He did however this morning want to tell me that something happened to him yesterday that never happened before.  He says that he threw up, which he amusingly calls a 'Grahak.'  Named after his fellow 3100 mile runner and friend from Australia who in Pranjal's mind at least did this quite often during the race.  "He was a master of that."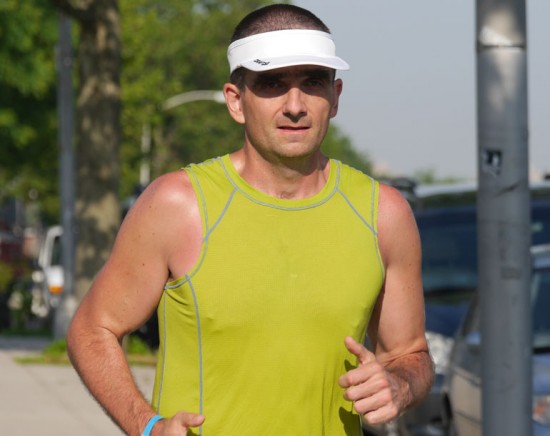 As for why he experienced it himself, he says, "it was funny my stomach just stopped working.  All the water just lay in my stomach, and didn't want to digest."  He tells me it happened to him around 8 o'clock last night.  It slowed him down for a while, then he felt a little bit better.  "But I lost a lot of energy because I couldn't digest.  I got sleepy.  By 11 pm I started to feel a little bit better.  Still even now I feel that it is not all okay.  It is probably because of the heat.  I was sweating a lot and I was drinking. "
"It is quite humid now but otherwise it is not bad, it could be worse.  This is my 9th year."
"I feel that my muscles are okay.  I don't have any problems with my bones, or anything, or blisters so far.  Usually the first few days your body starts to adapt to this rhythm and sometimes it is harder."
Parvati's Enthusiasm Awakeners.
My sweet Lord,
Something inside me is making me feel
That You are my journey's start
And You are my journey's only Goal.
Sri Chinmoy, Ten Thousand Flower-Flames, Part 93, Agni Press, 1983